This Instant Pot Vegetable Soup is healthy, flavorful, and so easy to make! Ready in just over 30 minutes, it's a one pot, veggie packed, vegetarian meal that your family will devour.
Also be sure to check out this Mexican vegetable soup, chicken vegetable soup and beef vegetable soup that you can cook in your Instant Pot as well.
I love a good long simmering soup recipe but I also love a quick version that I know will not skimp on any flavor or nutrients.
That's why turning my stovetop vegetable soup into an Instant Pot vegetable soup recipe has been my saving grace for busy weeknights.
When I say I love soup, I mean it! We ate soup every single day as kids because we were poor. And I still make soup almost every day. Meals for days!
It's the perfect meatless meal loaded with vitamins and a delicious way to boost your immune system all season long. I can guarantee you even if your kids don't love veggies that much, they will love this soup!
Other family favorites around here are Instant pot minestrone soup and Instant Pot lentil soup.
You may also love to browse over 50 of my favorite homemade soup recipes!
Ingredients and Notes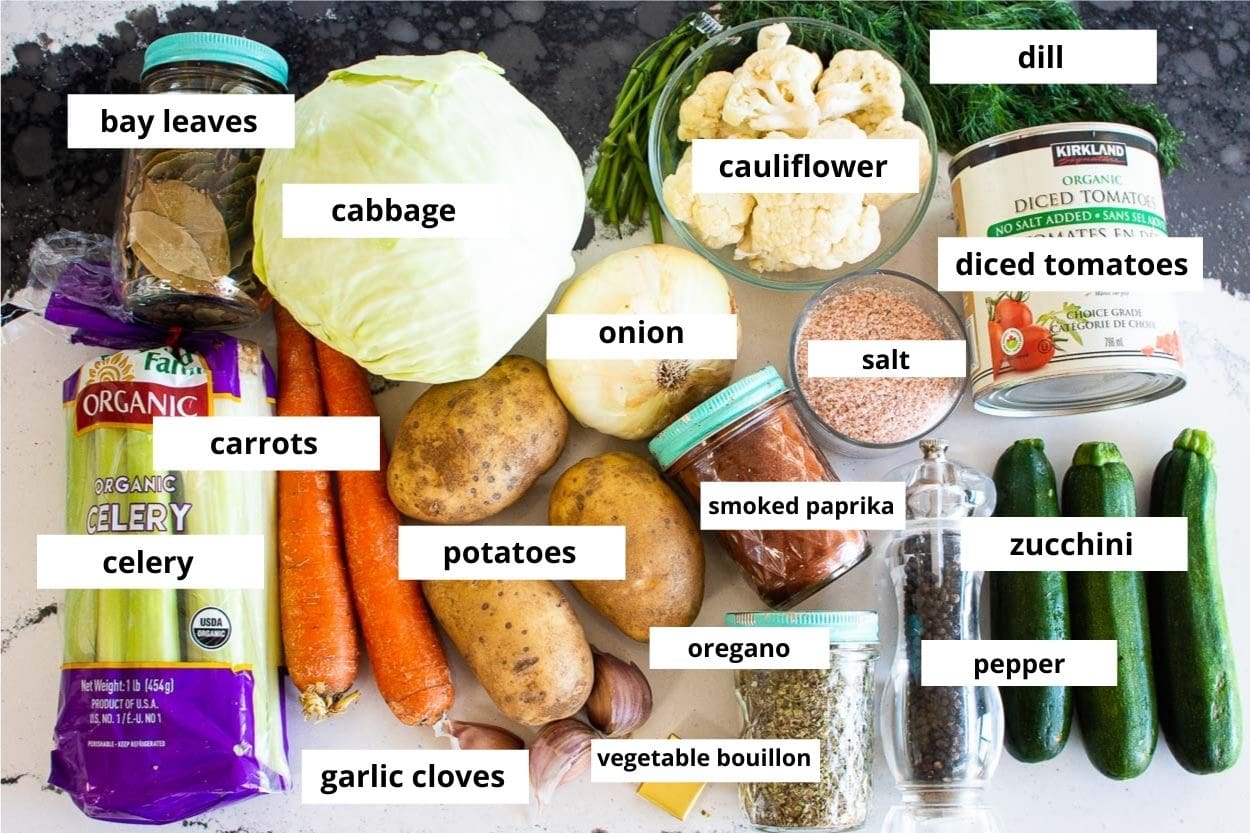 This big pot of veggie soup is super flexible with its ingredients. It's either a great way to cook with seasonal produce or clean out the fridge drawers!
Vegetables: I used zucchini, potatoes, celery, carrots, cabbage, cauliflower and onion. Add in more what you love or substitute for what you have on hand.
Diced tomatoes: Yields a lighter broth with chunks of tomatoes. I use low sodium or "no salt added", so if yours is not just adjust the salt to taste at the end. Fire roasted diced tomatoes would add additional flavor.
Vegetable broth: Keep soup vegetarian by using store-bought vegetable broth, vegetable base or veggie bouillon cubes diluted with water or homemade vegetable broth. Instant Pot chicken broth or homemade chicken broth could be substituted.
Fresh garlic: Freshly minced and divided. Adding in some right before serving adds additional flavor.
Seasonings: Smoked paprika, dried oregano, bay leaves, salt and freshly ground black pepper.
Fresh herbs: Fresh dill or parsley, added in after cooking for another layer of flavor.
Garnish (optional): Use yogurt for a vegetarian soup or garnish with freshly grated parmesan.
How to Make Instant Pot Vegetable Soup
Chop, saute, then pressure cook! This Instant Pot soup recipe comes together quickly for a healthy dinner.
Saute aromatics and seasonings first: Press Saute and wait until the display says Hot. Add oil, onion, and 2 garlic cloves, saute for 4-5 minutes.
Then press Cancel, add spices and saute for another minute.
Add remaining ingredients: Toss in veggies, broth, bay leaves, and diced tomatoes. No need to stir.
Cook on high for 2 mins: Turn the valve to seal and allow the pressure cooker to come to pressure. This will take about 20 minutes because it has a lot of liquid.
Food will cook during building up pressure, that's why actual cook time is only 2 minutes.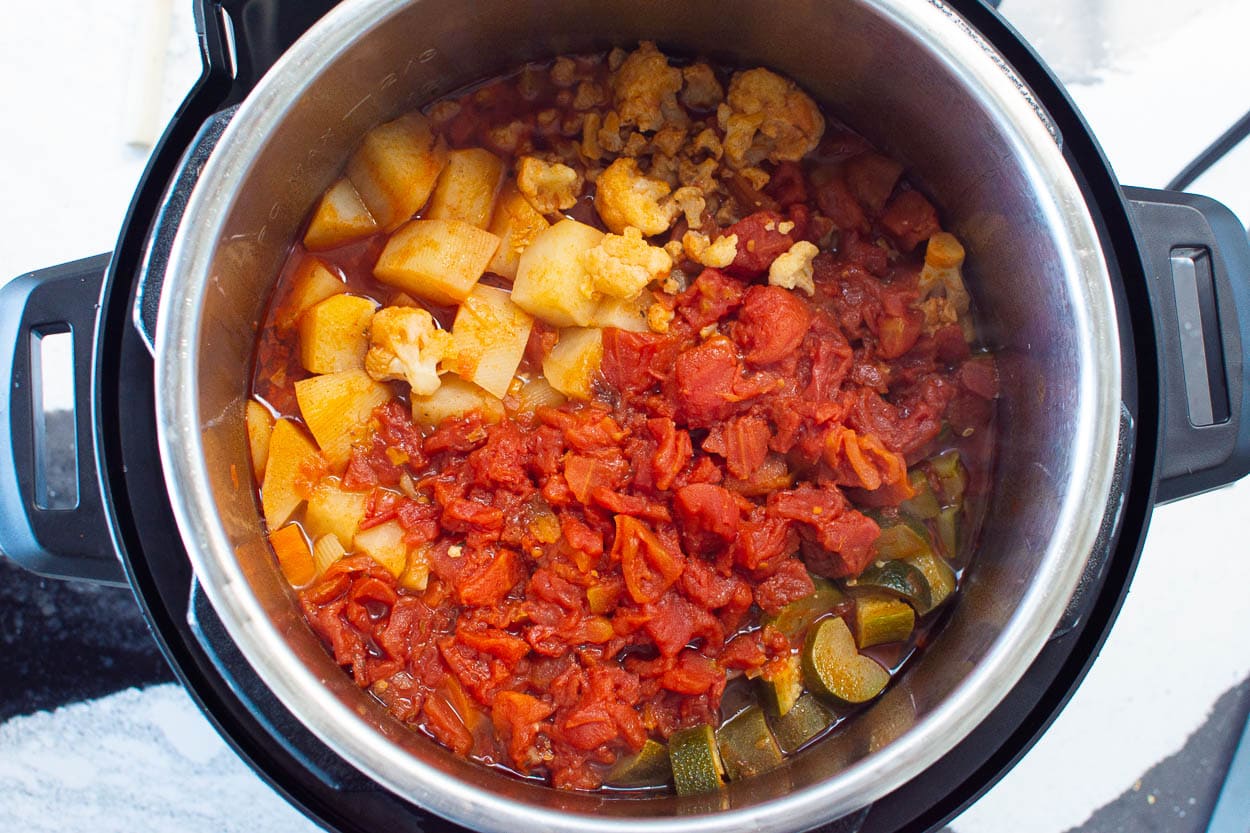 Wait 5 minutes, then release pressure: To avoid splatter and spillage on the counter, wait 5 minutes before turning the valve to Venting to Quick Release the remaining pressure.
Finish and serve: Add remaining garlic and fresh herbs to the fully cooked soup. It yields maximum flavor this way! Serve with optional garnishes.
Recipe Tips and Variations
Delicious as is, but you can do so much more to it!
Cruciferous veggies: Use any firm veggies in this soup but limit the number of cruciferous vegetables like cauliflower and broccoli.
Zucchini: If you like zucchini with more of a bite to them, add them in once the soup is cooked. That way they steam up a bit rather than cook all the way.
Add meat: Add ground beef, ground turkey, or Italian sausage by sauteing meat with onion before adding remaining ingredients. Add uncooked stew meat, leftover Instant Pot shredded chicken or holiday turkey to soup when adding broth.
Creamy: Make a creamy soup by adding plain yogurt to each bowl.
Beans: Add a little extra fiber with some cannellini beans, red kidney beans, black beans, chickpeas, green beans or even lentils.
Grains: Add 1/2 cup dry uncooked barley or quinoa before cooking.
Spice: A few pinches of cayenne pepper or red pepper flakes can add some heat. Italian seasoning would be great, too!
Serving Recommendations
There is nothing more therapeutic to this Ukrainian mom than knowing there is a pot of soup in the fridge. It means a healthy lunch is ready and waiting!
You can serve this vegetable soup as a light vegetarian dish with an appetizer like healthy spinach dip and a side of toasted whole grain bread on the side. Done like dinner!
It also makes a great side dish to a protein of choice like oven baked chicken breast or air fryer chicken tenders.
FAQs
Should I use the Instant Pot soup button?
Nah. Follow instructions as written. The Instant Pot comes with a variety of different buttons but the chances of you using anything other than the pressure cooker button are quite slim.

I have tested this Instant Pot recipe and have written it in a way that I think yields perfect results.
How long should I cook vegetable soup in Instant Pot?
I know what you are thinking, only 2 minutes for a cook time, it can't be true! Remember, though, that your vegetables will start to cook and soften as your pot comes to pressure, which takes about 20 minutes.
Can I make this in the slow cooker?
Recipe has not been tested, but you could try. It will take longer. Saute onion, garlic and spices in a little olive oil on stovetop first. Transfer to slow cooker with remaining ingredients. Cover and cook on low 4-6 hours until veggies are tender.
How do I store leftovers?
Leftover veggie soup can be stored in the refrigerator for up to 5 days in an airtight container. To reheat the soup, just simmer the desired amount in a small pot on low heat.
Can I freeze vegetable soup?
This soup freezes well and that comes from a girl who doesn't love to freeze vegetable leftovers. Make sure to leave some room for expansion inside the container and freeze for up to 3 months. Thaw on a counter.
More Instant Pot Soup Recipes
Browse my collection of the most popular Instant Pot healthy recipes.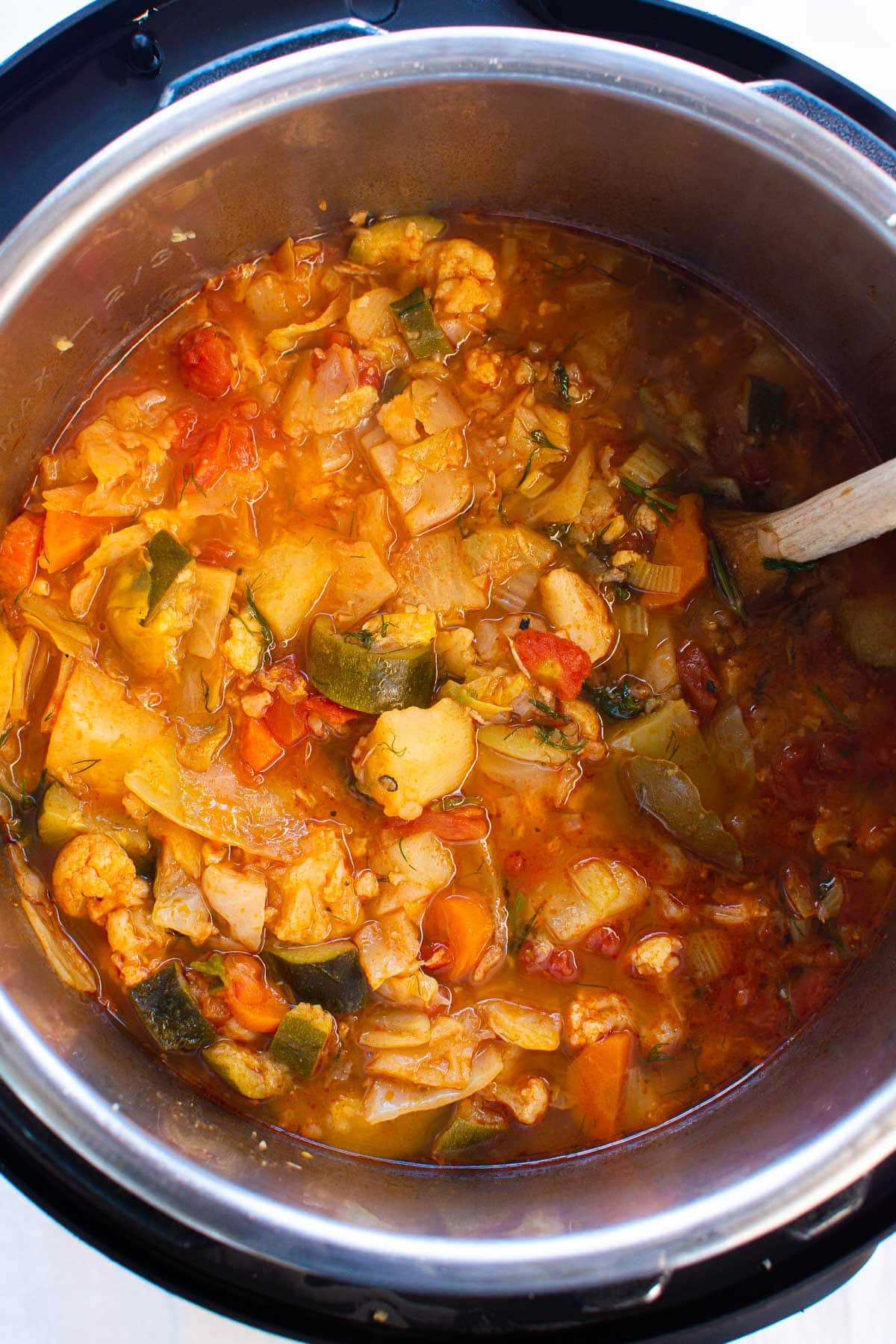 Instant Pot Vegetable Soup
This Instant Pot vegetable soup is healthy, flavorful, and so easy to make! It's a one pot vegetarian meal that your family will devour.
Instructions
On 6 or 8 quart Instant Pot, press Saute and wait until display says Hot.

Add oil, onion and 2 garlic cloves. Saute for about 5 minutes, stirring a few times. Then add smoked paprika, dried oregano, salt and pepper; press Cancel and saute for 1 more minute with residual heat.

Now add celery, carrots, zucchini, potatoes, cauliflower, cabbage, bay leaves, diced tomatoes and stock. No need to stir.

Close the lid, set pressure vent to Sealing and press Pressure Cook on High or Manual for 2 minutes.

After Instant Pot has finished cooking, wait 5 minutes and then turn pressure valve to Venting.

Open the lid, add remaining grated 1 garlic clove and dill. Stir gently.

Serve hot with freshly grated Parmesan cheese, dollop of plain yogurt and wholegrain bread.
Notes
Store: Refrigerate in an airtight container for up to 5 days. To reheat, simmer the desired amount in a small pot on low heat.
Freeze: Make sure to leave some room for expansion inside the container and freeze for up to 3 months. Thaw then reheat or simmer frozen soup covered on low heat.
Bouillon cubes: I use organic vegetable bouillon cubes diluted in water in place of stock. You can use either. I recommend to crumble the cube in your hands before adding to the pot to help it dissolve better.
Vegetables: If you like certain veggies like zucchini with more of a bite to them, add after to a cooked soup so they kind of steam.
Protein: Add leftover Instant Pot shredded chicken or stew meat when cooking.
Nutrition
Serving:
1.5
cup
|
Calories:
160
kcal
|
Carbohydrates:
30
g
|
Protein:
4
g
|
Fat:
3
g
|
Saturated Fat:
1
g
|
Sodium:
946
mg
|
Fiber:
7
g
|
Sugar:
10
g