Easy Instant Pot Lasagna Soup recipe with all the comforting flavors and far less work. Ready to serve in just over 30 minutes, this hearty soup is a quick weeknight dinner!
We also love this Instant Pot white chicken lasagna soup and Instant Pot lasagna!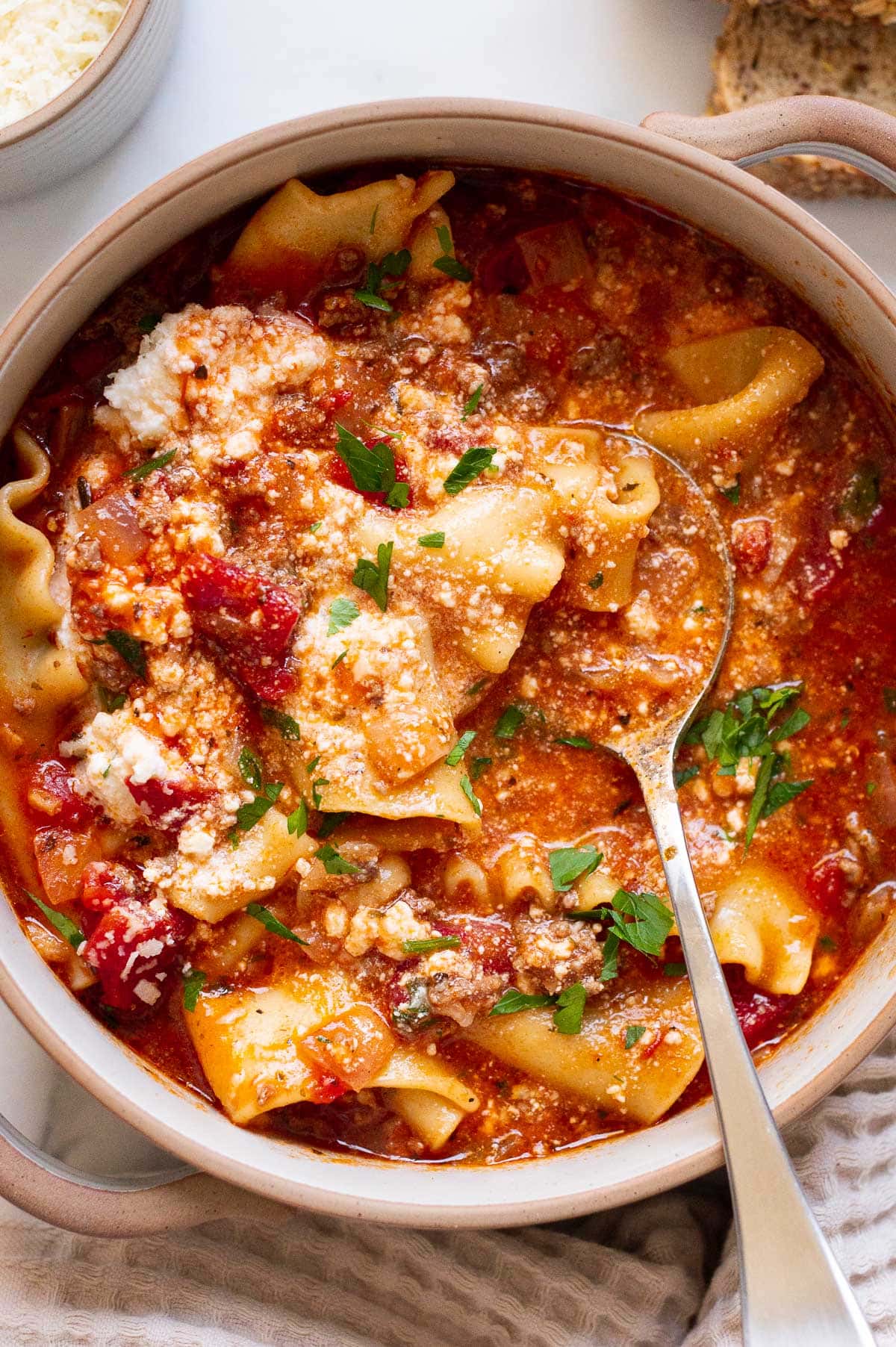 Kids love this Instant Pot lasagna soup! And busy cooks love it because it's easier to make than chicken lasagna roll ups, zucchini lasagna, and zucchini lasagna rolls.
Plus the cheesy topping makes it extra delicious, I call that a winner!
Why You'll Love This Recipe
Satisfy your lasagna fix: Loaded with ground beef, tender noodles, Italian seasoning, rich tomato broth, and cheese, this recipe is full of traditional lasagna flavor packed in a delicious Instant Pot soup.
No need to pre-cook the noodles: You can add uncooked pasta right to your electric pressure cooker.
Quick and easy: Lasagna soup in Instant Pot is fully ready in 33 minutes!
One pot meal: I love Instant Pot recipes because you can saute and cook all ingredients in same pot!
Ingredients for Instant Pot Lasagna Soup
The ingredients for Instant Pot lasagna soup are very simple, here's what you'll need.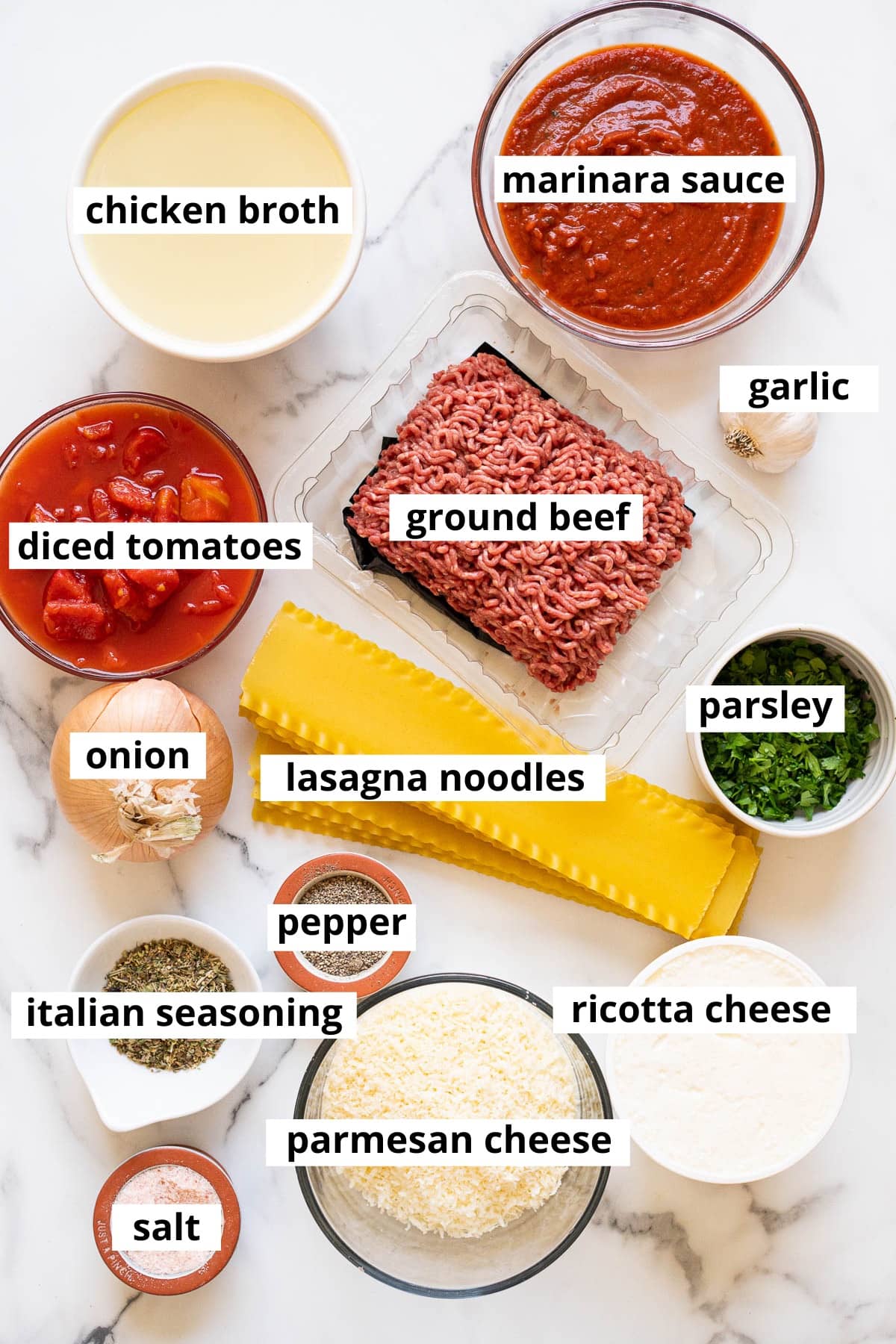 Onion: Yellow onion, finely chopped.
Garlic: Freshly minced garlic cloves is best for flavor, jarred minced garlic can be used in a pinch.
Ground beef: I like using extra lean ground beef, a fattier ground beef will have more grease and drippings.
Diced tomatoes: Aim for a can of low sodium diced tomatoes to avoid added sodium.
Marinara sauce: Homemade marinara sauce is my top choice for lasagna soup, you can use your favorite store-bought variety.
Chicken broth: Really any broth will add a rich flavor to your soup. Choose from low sodium chicken broth, Instant Pot chicken broth, vegetable broth, or beef broth.
Lasagna noodles: You'll need 8 sheets uncooked and broken into pieces.
Seasoning: Italian seasoning, salt, and pepper.
Parmesan cheese: If possible, use freshly grated Parmesan cheese for best flavor.
Fresh herbs: Finely chopped fresh parsley or fresh basil for classic lasagna flavor.
Garnish ideas: Ricotta cheese, more parmesan cheese, parsley, and basil.
How to Make Lasagna Soup in Instant Pot
Here are the step-by-step directions for making this lasagna soup recipe in Instant Pot. It's really simple and everything is done right in your Instant Pot, anyone can make it!
You'll also find a full recipe card below.
Preheat: Press the Sauté button and wait until the display says Hot, it takes a few minutes but you want it to be Hot before adding anything to it.
Add meat and aromatics: Add onion, garlic, ground beef and cook for 7-10 minutes. Use a wooden spoon to break it into small pieces, once it's mostly cooked through press Cancel.
Combine remaining ingredients: Now add in the diced tomatoes, marinara sauce, broth, lasagna noodles, Italian seasoning, salt and pepper. Then stir, making sure the noodles are separated.
Pressure cook: Close the lid and set the valve to Sealing. Press Pressure Cook on High or Manual for 3 minutes.
Release pressure: After pressure cooking, let soup stand for 5 minutes and then turn valve to Venting to release remaining pressure.
Finish soup: Sprinkle with parmesan cheese, parsley or basil and stir. If you have time, let it sit for up to 15 minutes for flavors to mingle.
Garnish and serve: Add a dollop of ricotta cheese, more Parmesan cheese and herbs, and serve hot.
Tips for Best Results
These easy tips help make this the best Instant Pot lasagna soup! It will jump up to the number one spot of your soup recipes list.
Separate lasagna noodles: After adding all ingredients, give it a gentle stir. You want the pasta submerged in liquid, so it cooks evenly but separated. This way it won't stick while cooking.
To thin out the soup: It's normal for soup to thicken as it sits and especially the next day. Thin it out only with broth to avoid diluting the flavor with water. I added 2 cups more in a few hours. You can also season it more with Italian seasoning, salt and pepper.
Don't release pressure immediately: Don't do Quick Release. Wait 5 minutes, otherwise soup will splatter a lot through the venting valve.
Let it stand: Just for 10-15 minutes to let flavors marry each other.
What Are the Best Noodles to Use?
You can use any wavy lasagna noodles. This time I used regular pasta.
Whole wheat lasagna noodles or Kamut noodles can be used, I would cook soup for 4 minutes then.
For brown rice or gluten-free lasagna noodles, you'll want to pressure cook soup for 2 minutes. Also they will fall apart a bit more.
You could also use other short noodles like farfalle (bowtie pasta) and penne pasta.
Recipe Tip
For a thicker soup, add more lasagna noodles, about 9-10 sheets. I used 8 noodles broken into pieces.
Other Variations
We love this twist on lasagna, it's super versatile too. Here are some fun variations to try.
Add veggies: Load up soup with vegetables and feel good about serving your family one of healthy Instant Pot recipes. 2-3 cups of chopped zucchini, carrots, celery, mushrooms, or bell peppers are just a few ideas.
Use ground turkey: Make soup healthier by swapping beef for ground turkey. You could even use ground chicken. Don't forget to use oil for sauteing the meat then.
Add Italian sausage: Use half ground Italian sausage and half ground beef. There is the possibility you would have to drain some fat.
Stir in cheeses in the pot: Get more cheesy and creamy taste by slowly mixing in up to 1-2 cups of freshly shredded mozzarella cheese or ricotta cheese.
Make it dairy-free: Omit Parmesan cheese and top with dairy-free ricotta cheese.
Add spinach: Boost nutrition and add more color with 2-3 cups of fresh baby spinach.
Make it lighter: Use a leaner meat such as ground turkey and skip the ricotta cheese, or top with cottage cheese or shredded mozzarella.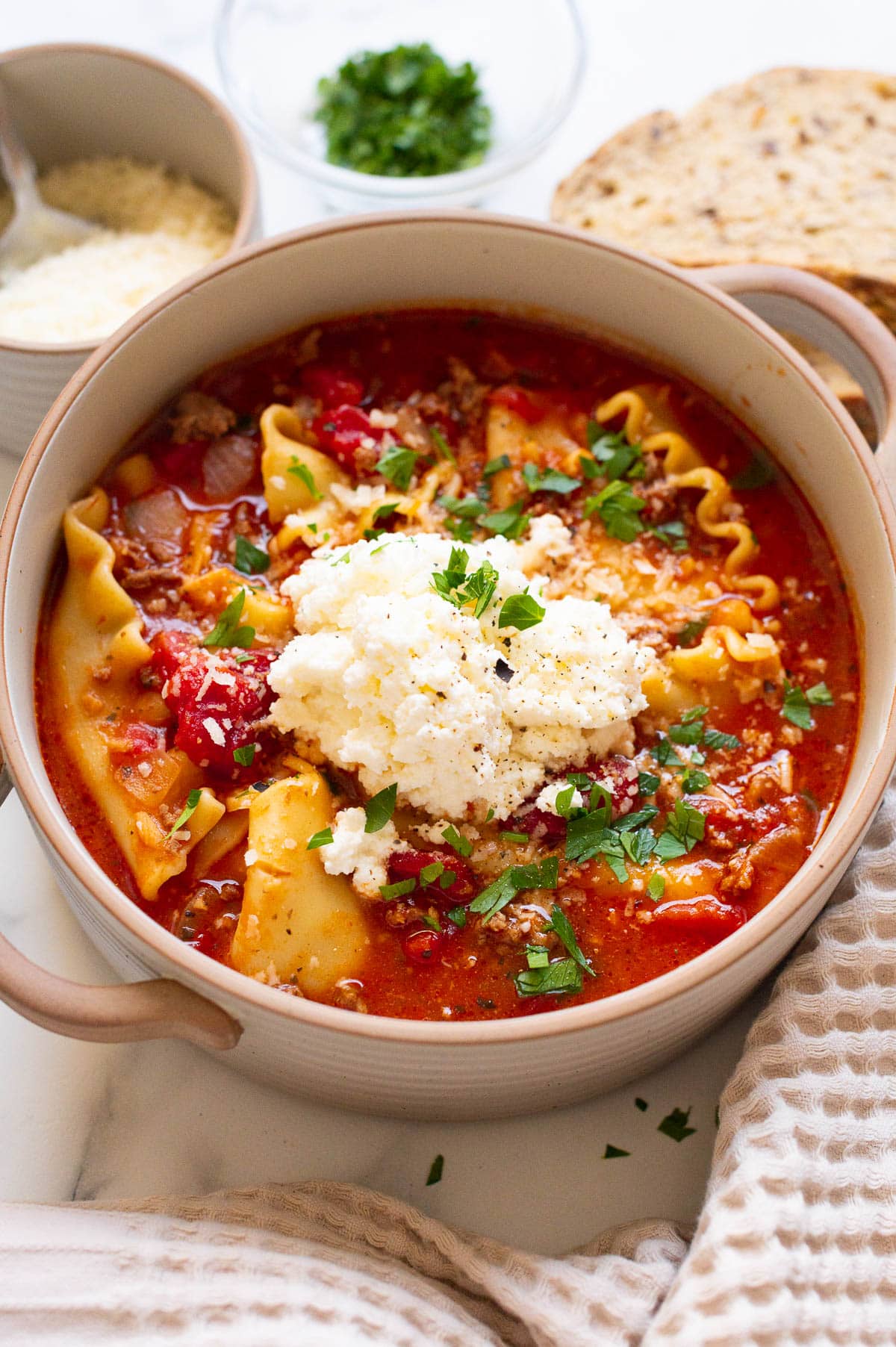 How to Top and Garnish Lasagna Soup
It's all about the toppings! I like to keep things simple and use what I have on hand. You can add all or any of these ingredients on top to add flavor to the soup:
Ricotta cheese: My personal favorite, I love the rich creaminess.
Parmesan cheese: Shaved or grated parmesan cheese is always a popular choice for Italian dishes.
Mozzarella cheese: For a mild, salty taste plus it melts into gooey deliciousness.
Fresh herbs: Add extra flavor and make your soup beautiful with parsley or basil.
And of course serve pressure cooker lasagna soup with crusty bread or whole grain bread!
How to Store and Reheat
Store: Refrigerate soup leftovers for 2 days. Technically it can last for 3-4 days but I find pasta becomes too soggy after 2 days.
Reheat: In a microwave or small pot on the stove. You can also reheat right in Instant Pot on Sauté mode if you are planning to consume all the leftovers. It's best practice to reheat only what you will eat.
Freeze: I don't recommend to freeze this soup as noodles become mushy once thawed.
FAQs
Will stirring the soup ingredients cause the Burn message?
No. With majority of Instant Pot recipes I recommend not to stir the ingredients to avoid Burn message. It doesn't matter with this soup since there is a lot of liquid.
Can I double the recipe?
You can double the recipe in an 8 quart or 10 quart Instant Pot. No change in cook time. A 6 quart Instant Pot is too small for a double batch of this soup.
Can I make it vegetarian?
Yes. For vegetarian lasagna soup, omit meat, add 15 ounces can of rinsed and drained cannellini beans, and be sure to use vegetarian friendly Parmesan cheese.
More Instant Pot Pasta Recipes
More Instant Pot Soup Recipes to Try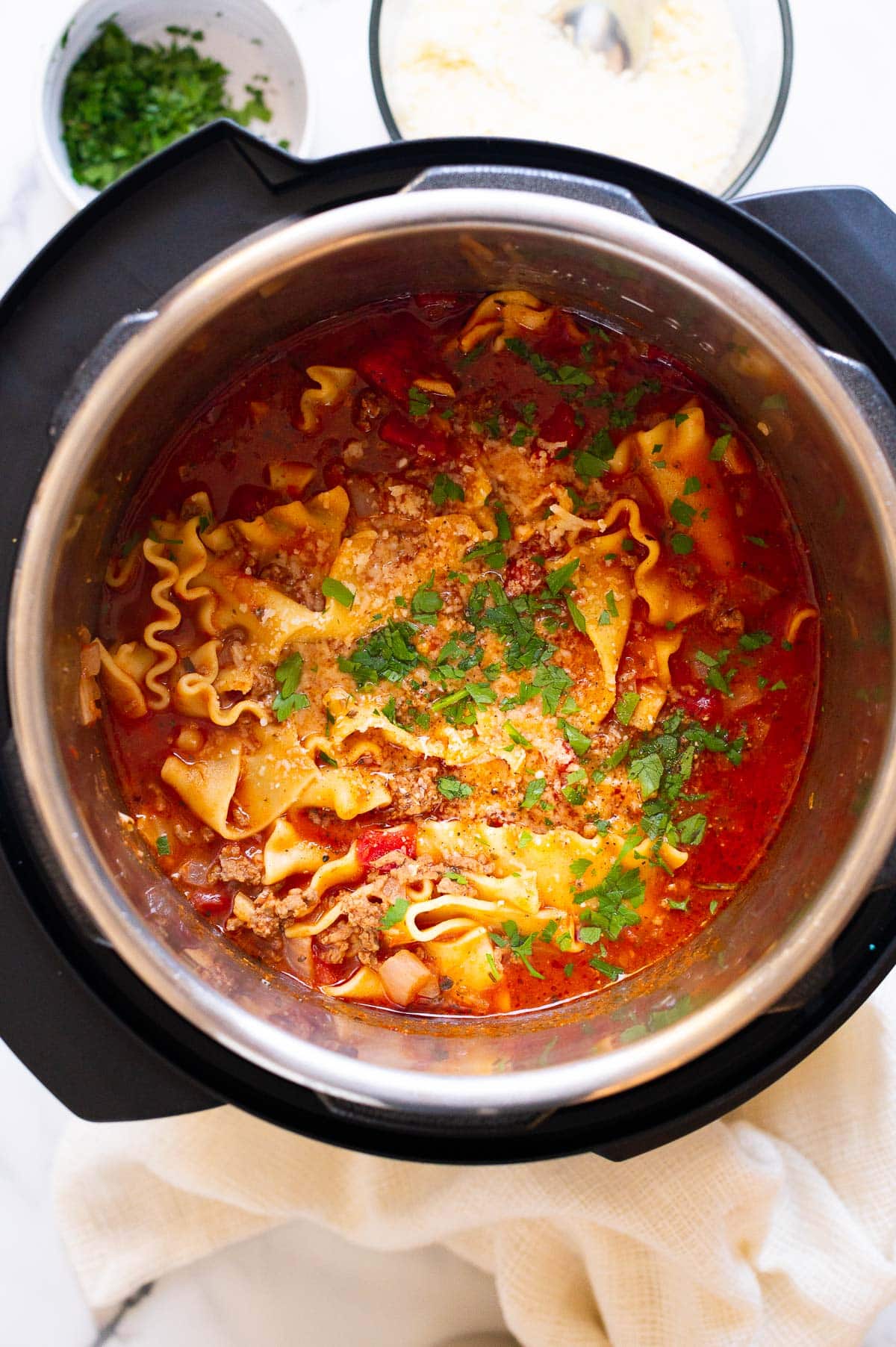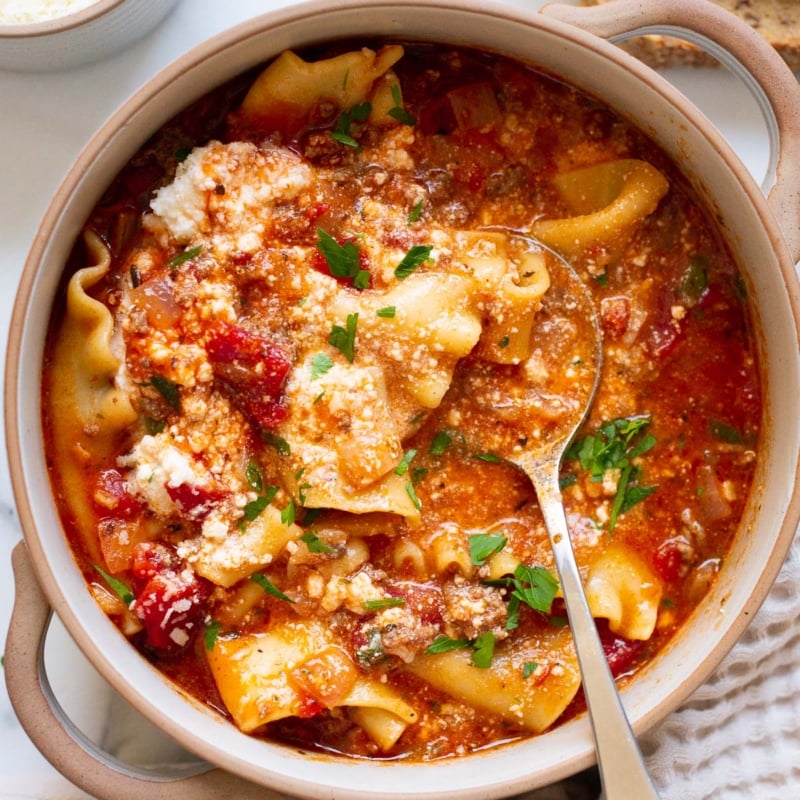 Instant Pot Lasagna Soup
Easy Instant Pot Lasagna Soup recipe with all the comforting flavors and far less work than a lasagna. On your table in just over 30 minutes!
Instructions
Press Saute and wait until Instant Pot says Hot. Swirl oil to coat and add onion, garlic and ground beef. Saute for 7-10 minutes, stirring often and breaking meat into small pieces. Meat should not be browned. Press Cancel.

Add diced tomatoes, marinara sauce, broth, lasagna noodles, Italian seasoning, salt and pepper. Stir well to separate the noodles.

Close the lid, set valve to Sealing and press Pressure Cook on High or Manual for 3 minutes.

After wait 5 minutes and then turn pressure release valve to Venting to release remaining pressure, called Quick Release.

Add Parmesan cheese, parsley or basil, stir the soup and I recommend to let it sit for 10-15 minutes uncovered or half way covered to allow the flavors to meld, if you have time.

Garnish individual bowls of soup with more Parmesan cheese, ricotta cheese and more parsley or basil. Serve hot with a slice of bread.
Notes
Store: Refrigerate soup leftovers for 2 days. Soup can last for 3-4 days but I find pasta becomes too soggy after 2 days. You can also thin out the soup with more broth and spices as it will thicken with time.
I don't recommend to freeze this soup because noodles will become mushy upon thawing.
Nutrition
Calories:
278
kcal
|
Carbohydrates:
31
g
|
Protein:
22
g
|
Fat:
7
g
|
Saturated Fat:
3
g
|
Trans Fat:
0.2
g
|
Cholesterol:
38
mg
|
Sodium:
539
mg
|
Fiber:
3
g
|
Sugar:
5
g