These 35 Healthy Soup Recipes will help you create nutritious and delicious soups and stews in an Instant Pot, slow cooker, or on the stove top.
On a wet or bitter cold day, a warm bowl of soup or stew feels like a blanket of comfort. In addition to that, healthy soups are full of veggies and lean protein. As a result, they provide your body with the energy it needs to race through the rain or shovel snow off of the driveway!
Healthy Soup Recipes – Quick Links
The best news of all is that many soup recipes are freezer-friendly. This means, you can make a large batch and serve some right away. Then, freeze the rest and it will be ready to heat and eat whenever you want! Most soups will keep well frozen for 3 to 4 months.
To make things easy and convenient for you, all of the soup recipes in this collection are separated into categories. If you click on one of these 5 links, you'll be taken directly to the part of this post that has those recipes.
Chicken Soup and Turkey Soup Recipes
Instant Pot Soup Recipes
Slow Cooker Soup Recipes
Healthy Stew Recipes
Healthy Vegetarian Soup Recipes
Now, let's get this soup party started!
Healthy Chicken Soup Recipes
If we were to take a poll, I think we might learn that almost all of us grew up eating bowls of chicken soup when we were feeling under the weather.
These healthy chicken soup recipes are perfect for the cold, wet, dreary days of winter. Plus, they are sure to chase away the sniffles during cold and flu season!
Turkey – The Other Chicken
Turkey soup may be less popular, but the health benefits of turkey are just as good as chicken. After all, poultry is poultry, regardless of the variety.
Healthy Instant Pot Soup Recipes
Because of its ability to steam, bake, and even saute with little to no oil, a multicooker is the perfect kitchen appliance for making healthy meals.
When you have had a busy day, come home and put the ingredients for one of these Instant Pot recipes into the pot. Then, push a couple of buttons, grab your favourite beverage and make a beeline for the couch to relax while dinner cooks.
Slow Cooker Soup Recipes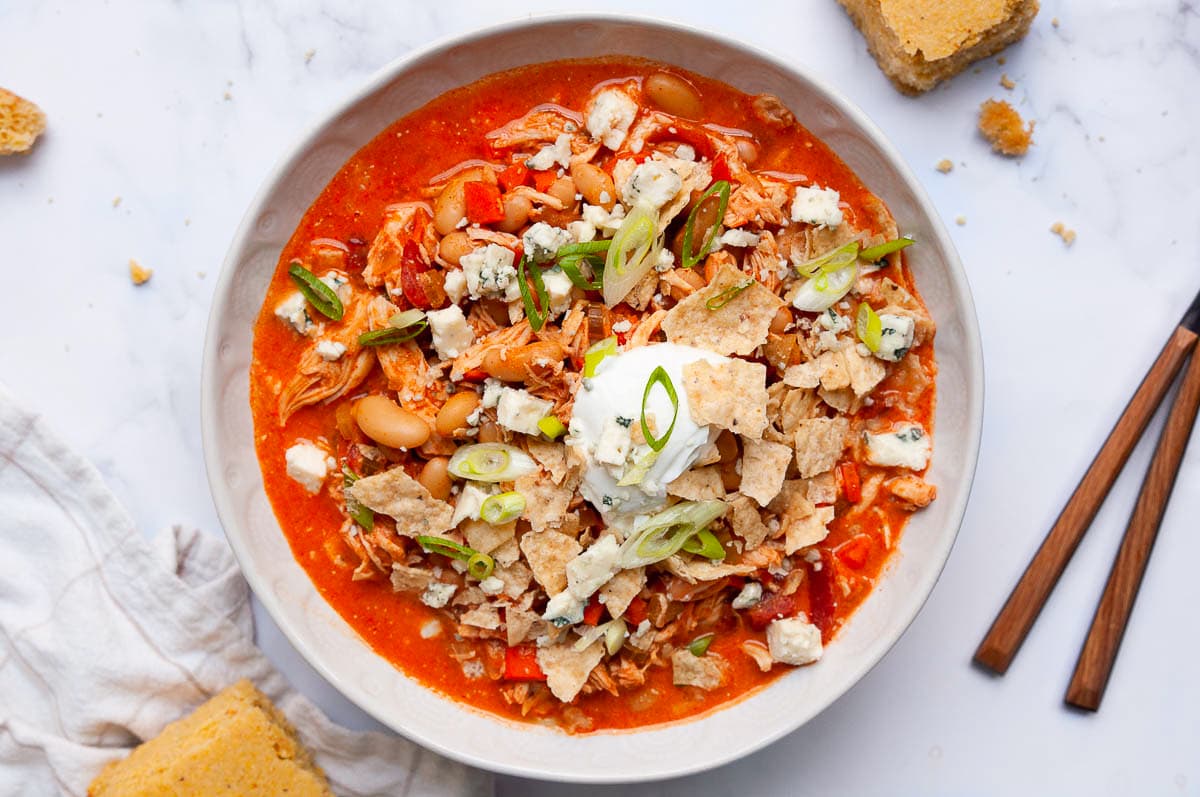 When you need a meal and you have no time to make it, let your slow cooker come to the rescue. These slow cooker soups are simple to make, hearty, and delicious!
Healthy Stew Recipes
If you want healthy soup recipes for meals that will stick to your ribs and keep you full, one of these healthy stew recipes is the perfect choice!
Healthy Vegetarian Soup Recipes
Make one of these flavourful and nutritious vegetarian soups for meatless Monday, or any other day! These soups don't have meat, but don't let it stop you from serving them with a meat-based main dish!
Print
35 Healthy Soup Recipes
These 35 Healthy Soup Recipes will help you create nutritious and delicious soups and stews in an Instant Pot, slow cooker, or on the stove top.
★ Did you make this recipe? Please give it a star rating in the comments.