An ultimate collection of 45 Best Healthy Instant Pot Recipes for busy families. Most importantly, these tried, tested and true easy pressure cooker recipes actually WORK! I test each recipe at least 3 times, so you don't have to! Simple and kid approved ingredients to make healthy dinner ideas a breeze.
Introducing 45 Best Healthy Instant Pot Recipes every pressure cooker owner needs!
Hi! My name is Olena and I'm a working mom of 2. And I "don't have time to cook". Sounds familiar? We live off of Instant Pot recipes, soups and healthy freezer meals. 100% honest truth – I am obsessed with mine. Even in the warmer weather, I make summer Instant Pot recipes almost daily because it keeps my kitchen nice and cool.
Instant Pot is life changing. It's a magic pot!!! You rarely have to saute anything and just throw everything in the pot and walk away (to do other mom/dad chores). At least, I don't have to babysit my dinner. Sounds like a dream, doesn't it? I know.
If you are wondering, I have 2 Instant Pots: 6 quart Instant Pot Lux and 8 quart Instant Pot Duo. I also own 6 quart Cosori.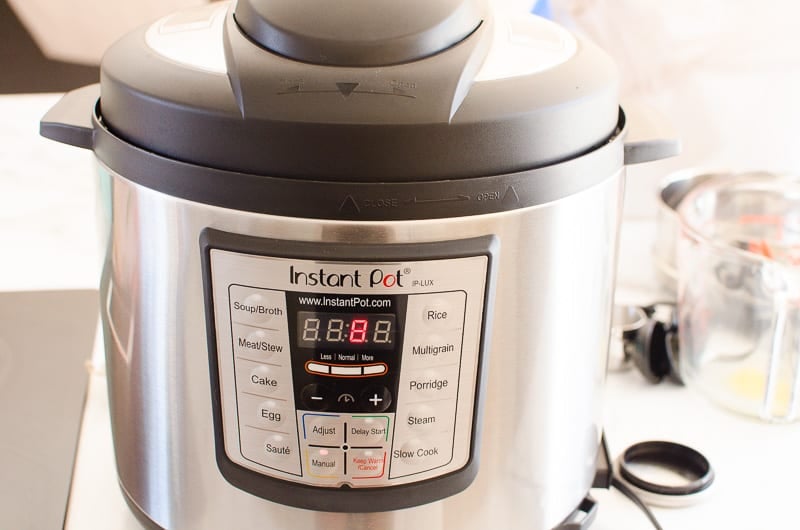 Why You Need an Instant Pot (Pressure Cooker)?
Main Instant Pot Tips and Tricks
Below are 5 the most important ones, but be sure to check the guide and I promise you your mind will be blown. There is also a free printable there. Also, be sure to check out these beginner Instant Pot recipes – they will help you become more confident in using your new modern day pressure cooker.
Always Add Water: If I could give you one main tip for using Instant Pot, it is – always add water or broth. Instant Pot is a pressure cooker and it creates pressure from heating up thin liquids. Without it, this appliance simply won't work.
Don't Overfill: Never fill the Instant Pot higher than the 2/3 mark you see on your inner stainless steel Instant Pot liner. Or even 1/2 full for expanding foods like rice. Pressure needs room to build up. Always follow the recipe and ask the cook for advice if you would like to double it.
Avoid Burn warning: Add tomato products on top (last), don't stir, make sure the valve is set to Sealing (to prevent liquids from evaporating) and always add liquid. Check out my 10 tips to avoid Instant Pot burn message and even how to fix one.
Natural Release vs. Quick Release: There are 2 easy to release pressure from your pot before you can open the lid (it won't let you otherwise). Natural Release which is basically letting pressure subside on its own until the pin drops. And Quick Release is when you turn valve to Venting right away after cooking or any time while pin is still up.
Cook Time vs. Total Time: Instant Pot is not that Instant. First, it needs to build up pressure, then cook, and then often takes time to release pressure. I try to indicate it in all my recipes as I update them. However, electric pressure cooker still saves a lot of time as meal prep is quick and then you can just walk away.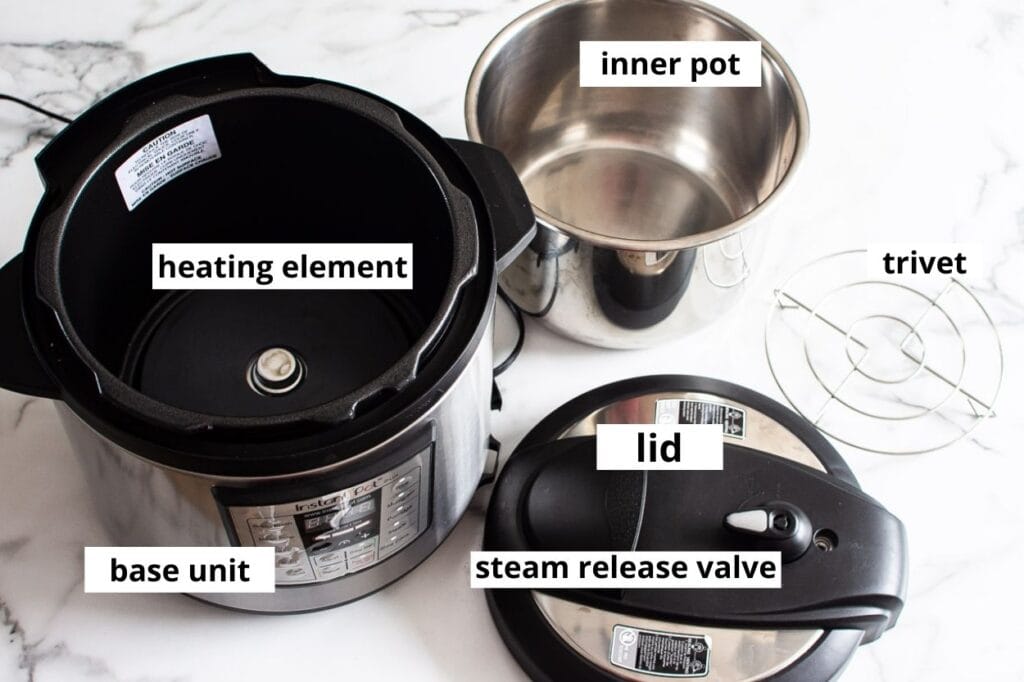 Most Common FAQs
Can I double recipes in Instant Pot?
Some recipes you can double and some not. Please ask if you don't see an answer on any Instant Pot recipe on my website you would like to make. The rule of thumb is, you can double the recipe only if there is enough room to double ingredients not exceeding PC max line. Most soup recipes would be hard to double, however some can be.

Also, you have better chances to double the recipe with 8 quart or 10 quart Instant Pot rather than with 6 quart.
Do I have to adjust cook time if I change amount of ingredients?
No. With Instant Pot cooking it is about the thickness of food rather that the amount. After, see if cook time needs to be adjusted to less or more. It is very hard to say exact cook time for smaller or bigger Instant Pots because they take less or more time to build up pressure because of their volume. For some foods it is crucial and for some it's not.
What you should not cook in an Instant Pot?
Breaded foods like healthy fried chicken will come out soggy, or any cookies (yes, there are some recipes) because we all know best cookies are chewy inside and crispy outside. Breads – while Instant Pot is great for bread proofing it cannot bake it. Steak and healthy salmon burgers sure will come out overcooked, rubbery and completely ruined. Also dairy based and with a thickener like cornstarch or flour sauces should be all added at the end on Saute mode to avoid scorching and Burn.

Instant Pot cooks with steam, so any dish that can be ruined with steam is not a good candidate for pressure cooking.
How do I adjust Instant Pot recipes for 3 quart Instant Pot?
You have to cut ingredients in half and keep same cook time.
What are the best things to cook in a pressure cooker?
Meat, especially tough cuts like cheap beef or pork roast. Frozen meat because it doesn't have to be thawed, or dried beans because they don't have to be soaked, or hard boiled eggs because they peel perfectly. Any grains because they all cook by absorbing liquids.
Can you leave the house with the Instant Pot on?
In my opinion Yes and here is why. It is not official Instant Pot opinion but rather my personal common sense, life and cooking experience speaking. Instant Pot is equipped with multiple presets, safety and shut off mechanisms, and temperature sensors. It is a smart machine. Once your meal has finished cooking, pressure will subside on its own and you will come back home to a delicious cooked meal. To be more sure I come home to a cooked meal, I like to leave the house after Instant pot has pressurized.

Worst case scenario even if you get Burn, Instant Pot will shut off after displaying the message 5 more times. And Burn message doesn't mean your meal has been ruined, rather temperature inside is overheated and a bit of burn has occurred.
Have any Instant Pots exploded?
Majority of us have heard at least one story about old stovetop pressure cookers exploding. That was back then and these days electric pressure cooker aka Instant Pot doesn't explode unless used improperly. It is equipped with 13 safety features to prevent Instant Pot from operating in any unsafe manner. It will automatically stop working or reduce internal pressure if sensors sense a problem.
What size of Instant Pot most online/book recipes call for?
Most recipes you see online and in cookbooks are tested in 6 quart pressure cooker. It is the most popular size among users because it feeds for 2-6 people and takes less room to store (Instant Pot is bulky).
Healthy Instant Pot Breakfast Recipes
I love setting Instant Pot steel cut oats with Delay timer before I go to bed and wake up to freshly cooked oatmeal. Or how about Starbucks copycat egg bites served with healthy fruit salad?! Once you get yourself the silicone molds, this Instant Pot breakfast recipe saves a lot of money.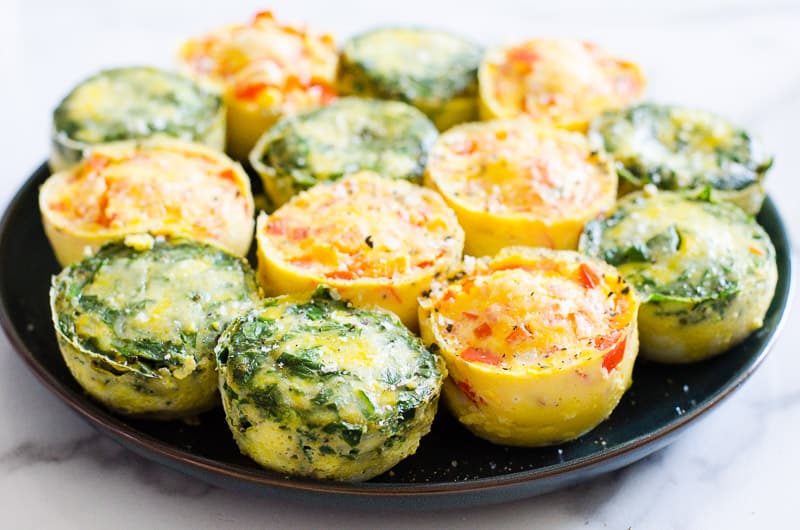 Healthy Instant Pot One Pot Meals
Imagine meat, side and veggies all cooking in one pot in under 30 minutes to make a healthy dinner. That's the magic of Instant Pot recipes. Skip washing multiple pots, pans and utensils tonight!
Healthy Instant Pot Chicken Recipes
Chicken is the most cooked meat in America. And it comes out super juicy and tender when cooked in an Instant Pot. The second best feature of the Instant Pot is being able to cook meat from frozen. Now you can always have a plan, if you forgot to have a plan. And those chicken leftovers, transform them into teriyaki chicken meal prep!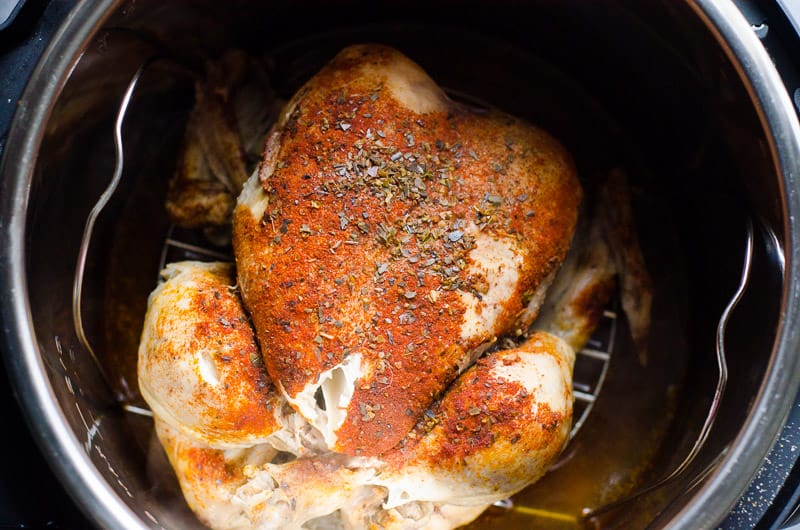 Healthy Instant Pot Meat Recipes
It is so easy to cook red meat, especially more affordable tougher cuts and roasts, in your instapot. Instead of cooking low and slow in your oven or slow cooker, have Sunday dinner ready in an hour or so.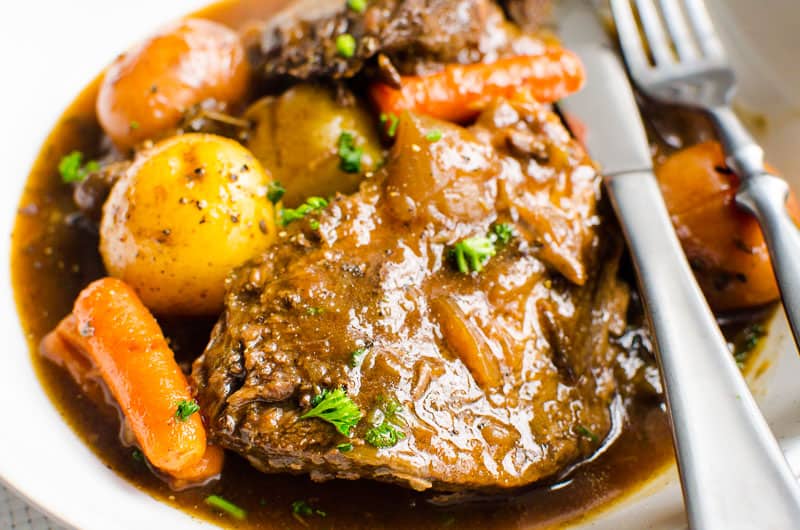 Healthy Instant Pot Soup Recipes
Stew and soup can be made in a pressure cooker in a fraction of the time it takes to cook on the stovetop. But these recipes taste like they have been simmering all day. Flavorful food is another Instant Pot magic and as you can tell by the amount of Instant Pot soup recipes below, this Ukrainian girl is slightly obsessed with them.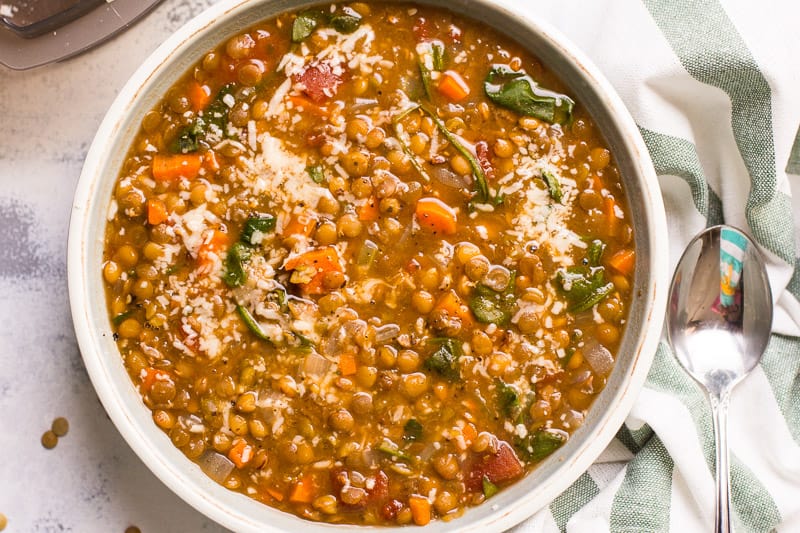 Enjoy!
More Healthy Recipes
45 Best Healthy Instant Pot Recipes: Instant Pot Frozen Chicken
One of our most popular and the best Instant Pot recipes! Whole chicken rubbed with simple smoky spices cooked from frozen until juicy and tender. Better than any rotisserie chicken with 5 minutes prep.
Instructions
In a small bowl, whisk salt, pepper, garlic powder, smoked paprika and dried oregano until combined. Set aside.

Rinse frozen chicken with cold water and dry with paper towel. It is necessary to remove the frost. Transfer to a large bowl.

Drizzle with a bit of oil and rub with your hands spreading all over the chicken. This will help spices to stick to meat.

Sprinkle prepared spice mix evenly around chicken, while holding onto the wing and turning.

Transfer seasoned chicken to previously prepared Instant Pot chicken breasts up.
Close the lid, set pressure vent to Sealing and press Pressure Cook on High or Manual button:
For 6 quart Instant Pot:
4 lbs whole chicken – 60 minutes.

5 lbs whole chicken – 70 minutes.
For 8 quart Instant Pot:
4 lbs whole chicken – 40 minutes.

5 lbs whole chicken – 50 minutes.

6 lbs whole chicken – 60 minutes.

After, you have to let Instant Pot release pressure on its own until the pin drops down – called

Natural Release

. It should take about 15-30 minutes depending on the size of your pressure cooker. 8 quart takes longer.

Open the lid and carefully remove chicken onto platter, or using tongs or knife, remove pieces right in the pot and serve. Chicken will be super tender.
Notes
Store: Refrigerate in an airtight container for up to 5 days.
Freeze: Fully cook, cool completely and freeze in an airtight container or resealable freezer bags for up to 3 months. Thaw in a fridge or on a counter.
Cooking time varies based on the size of your chicken and Instant Pot.
Larger size 8 quart Instant Pot has larger volume (area) for more pressure to build up. Thus, it takes longer to bring pressure up and down.
Average natural pressure release is: on 8 quart – 40 minutes, on 6 quart – 15 minutes.
Do not turn valve to Venting as chicken still keeps cooking while pressure is coming down.
Nutrition
Calories:
318
kcal
|
Carbohydrates:
1
g
|
Protein:
27
g
|
Fat:
22
g
|
Saturated Fat:
6
g
|
Cholesterol:
109
mg
|
Sodium:
684
mg
|
Fiber:
1
g
|
Sugar:
1
g