An ultimate collection of 45 Healthy Instant Pot Recipes for busy families. Quick and easy Instant Pot meals with simple ingredients, fast prep and kid approved.
If you are still learning how to eat healthy using an Instant Pot, you are in the right place. 🙂
45 Instant Pot Recipes
Introducing 45 healthy Instant Pot recipes every pressure cooker owner needs!
Hi! My name is Olena and I'm a working mom of 2. And I "don't have time to cook". Sound familiar?
Then you need an Instant Pot ASAP. 100% honest truth – I am obsessed with mine. Even in the summer, I use it weekly because it keeps my kitchen nice and cool.
With Instant Pot meals, you rarely have to saute anything. You can just throw everything in the pot and walk away (to do other mom chores). At least, I don't have to babysit my dinner. Dinner is ready, it's healthy and everyone loves it. Well, most of the time. 🙂
Sounds like a dream, doesn't it? I know. Instant Pot is life changing. It's a magic pot!!!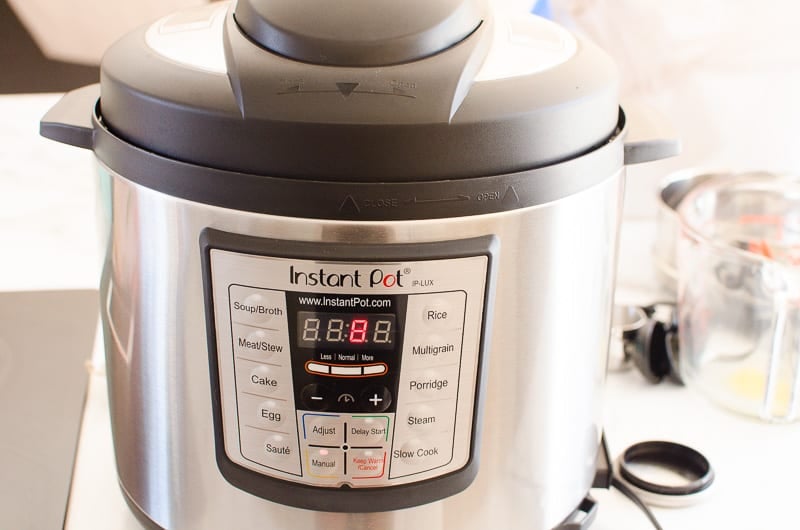 Why You Need an Instant Pot (Pressure Cooker)?
Easy: Hands off cooking method.
Convenient: Makes true one pot meals.
Quick: Prep time is a maximum of 10 minutes.
Tasty: Food comes out more flavorful.
Frozen: Can cook meat from frozen.
No soaking: Cook beans from dried without soaking first.
No oops: You don't have to plan much ahead.
Make ahead: Amazing for meal prep.
Instant Pot 101
Do you need some help with your Instant Pot? Check out these resources.
Browse, pin and bookmark for easy healthy Instant Pot recipes anytime you need.
Healthy Instant Pot One Pot Meals
Imagine meat, side and veggies all cooking in one pot in under 30 minutes to make a healthy dinner. That's the magic of these healthy instant pot recipes. Skip washing multiple pots, pans and utensils tonight!
Instant Pot Spaghetti is a healthy one pot dinner that is ready in 20 minutes. Pasta, meat and sauce – all cook in one pot. It is a true Italian meal with a lot of flavor and little effort. So hearty!
Instant Pot Chicken Alfredo with milk and Parmesan is creamy, saucy and absolutely like a heavy cream restaurant quality alfredo. And nobody will complain.
Instant Pot Chicken and Rice is absolutely scrumptious one pot meat with chicken breasts or thighs, white or brown rice and veggies. It is ideal for busy weeknights.
Lazy Instant Pot Lasagna is made without a springform pan in 30 minutes. Uncooked pasta, meat and sauce combined in a pressure cooker makes the best, easiest and healthiest lasagna! I don't think I will ever go back to making lasagna the traditional way!
Instant Pot Chicken and Potatoes is an easy one pot chicken recipe with no sauteing required. This recipe is a "set it and forget it" healthy dinner in your electric pressure cooker.
Instant Pot Beef Stew is a one pot dinner with fall apart beef and lots of vegetables cooked in a delicious gravy sauce. Just like my Ukrainian grandma used to make!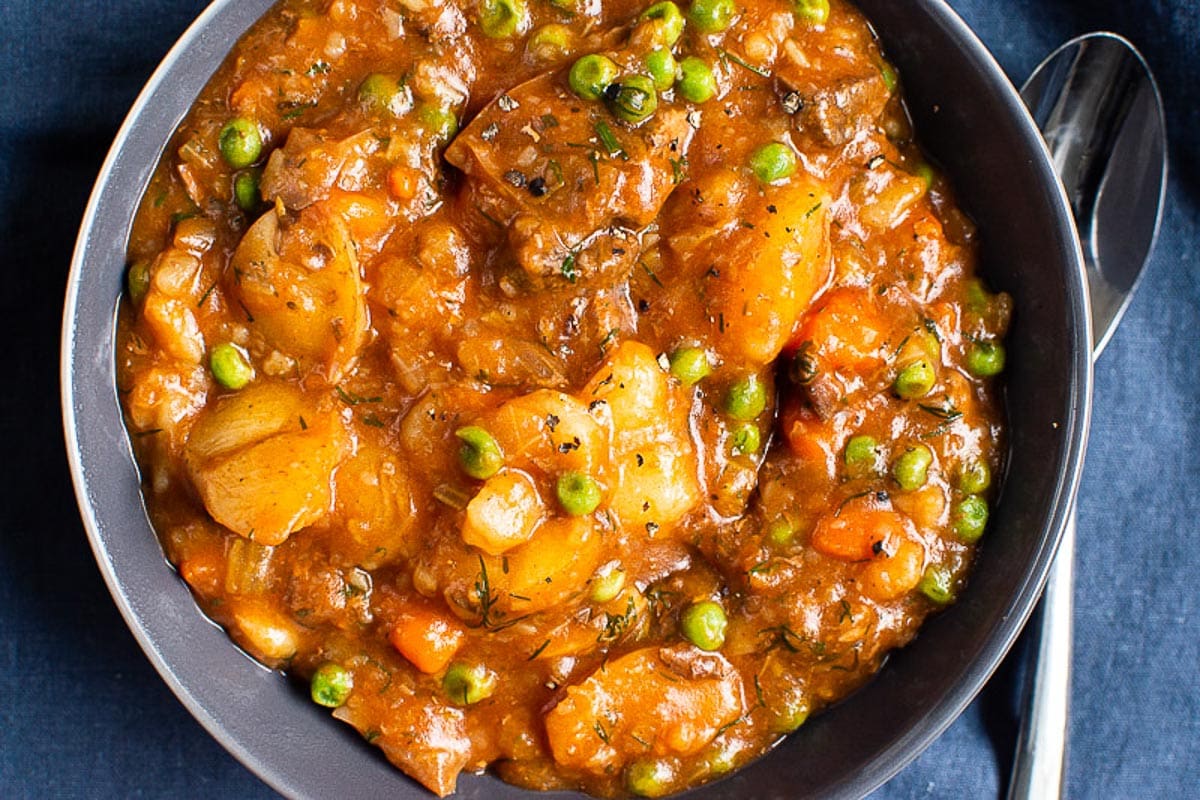 Instant Pot Jambalaya is a delicious one pot meal with veggies sauteed in sausage drippings, tender chicken, rice, succulent shrimp and lots of Cajun spice, seasonings and flavor.
Instant Pot Parmesan Chicken Pasta is a 30ish minute one pot meal with tomato sauce, chicken breasts and gooey cheese on top. Full of staples, kids' favorite and so easy!
Instant Pot Meatloaf and Mashed Potatoes is classic comfort food that is ready in under one hour. This recipe is definitely going to be one of your family favorites!
Instant Pot Mac and Cheese is creamy, mouthwatering and a hands off family comfort food. Made healthy-ish with only 1 cup of cheese and any kind of noodles, this pasta dinner recipe is ready in 15 minutes.
Instant Pot Ground Beef Stroganoff is a healthy and easy 30 minute pressure cooker family meal. Pasta, meat and sauce all cooked in one pot.
My version of Instant Pot Cabbage Rolls is lazy where cabbage rolls are unstuffed and made into a casserole. It is a one pot meal and the ultimate comfort food from my Ukrainian grandma's recipe made in electric pressure cooker.
Instant Pot Stuffed Peppers with any ground meat, any rice and in half the time of your mom's. Juicy, flavorful and an easy weeknight meal – sign me up!
You can make Instant Pot Rice and Beans recipe tonight! With dried black beans, no soaking, no sauteing, in 30 minutes flat. Bam!
Instant Pot Ground Turkey Quinoa Bowls is a healthy 30 minute pressure cooker one pot meal. Quinoa, meat and veggies all cook in same pot with a delicious Asian flavored sauce.
Healthy Instant Pot Chicken, Turkey and Meat Recipes
Chicken is the most cooked meat in America. And it comes out super juicy and tender when cooked in an Instant Pot. The second best feature of the Instant Pot is being able to cook meat from frozen. And it is also so easy to cook other types of meat in your instant pot. Now you can always have a plan, if you forgot to have a plan.
Juicy Instant Pot Chicken Breast from fresh or frozen in 25 minutes from start to finish using simple ingredients. Use for meal prep, quick dinners or you name it.
EPIC Instant Pot Chicken Thighs that are juicy, tender, flavorful and ready in 30 minutes. Not to mention, it is a 5 ingredient chicken recipe!
Instant Pot Pork Carnitas is crowd pleasing, juicy and crispy, Mexican pulled pork served in tacos, burritos or salads and topped with quick pickled onions. Crazy EASY and so GOOD!
These Instant Pot Meatballs are life changing! Make with any meat, no sauteing, with or without sauce, fresh or frozen, as an appetizer or even add pasta for a one pot meal.
Instant Pot BBQ Chicken makes flavorful and healthy pulled chicken in 30 minutes total. Serve with rice, salad or make wraps and freeze for busy nights.
Instant Pot Teriyaki Chicken is healthy, sticky and delicious made with fresh or frozen chicken. An easy pressure cooker dinner the entire family will love!
These tender and juicy Instant Pot Pork Chops are so flavourful. With a perfectly seasoned outer crust topped with a luscious gravy, this restaurant quality meal is ready in under an hour!
Instant Pot Chicken Tacos are the most easy tacos with fresh or frozen chicken breasts. This recipe is a 30 minute healthy dinner idea I promise will become your go-to!
Instant Pot Frozen Chicken or make rotisserie style whole chicken in the pressure cooker with only 5 mins of prep. This chicken comes out super juicy!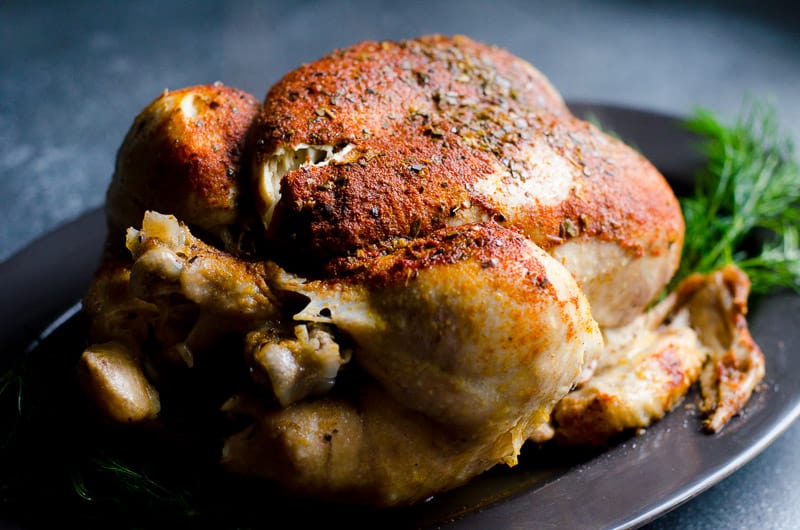 Instant Pot Butter Chicken is such an easy healthy 30 minute dinner. You can make this recipe whenever you crave Indian food. Many readers give it 5 stars and call this recipe authentic.
Instant Pot Stir Fry is a one pot wonder with frozen chicken, frozen vegetables and healthy easy teriyaki sauce. Do you need to be saved at the end of the work day? Then this healthy Costco Instant Pot dinner with 5 mins prep is for you!
Instant Pot Ribs are the most juicy, flavorful and easy pork ribs you will ever try. Smothered in homemade healthy BBQ sauce or use healthier store-bought. Ready in unheard of for ribs 1 hour. Instant Pot magic!
Instant Pot Pot Roast with chuck or rump roast cooked in as little as 1.5 hours. You can also add baby carrots and potatoes to make this dinner a one pot meal. Comforting meal with tender (not mushy) vegetables, fall apart beef and delicious gravy!
Chicken Burrito Recipe for busy people! Meal prep 17 chicken burritos in an hour in the Instant Pot and freeze for later. Or turn chicken burrito into a low carb burrito bowl.
Instant Pot Turkey Breast is super juicy, ready in an hour and you can even make the gravy in the same pot. Save time, money and feed a small gathering. It's perfect!
Healthy Instant Pot Soup and Stew
Stew and soup can be made in a pressure cooker in a fraction of the time it takes to cook on the stovetop. But these recipes taste like they have been simmering all day. Flavorful food is another Instant Pot magic.
Instant Pot White Chicken Chili is an outrageously delicious dinner made in one hour with only ten minutes of prep. Pantry ingredients, creamy and WOW your family chili recipe.
Instant Pot Chicken Noodle Soup just like my Ukrainian grandma used to make. It is easy, hearty, healthy and delicious. Serve with fresh dill or parsley, lots of pepper and toasted whole grain bread. Yum!
Buffalo Chicken Chili made healthy and yet creamy in the Instant Pot. You can even turn this recipe into a freezer meal.
The best Instant Pot Lentil Soup with green or brown lentils, canned tomatoes and spinach. Only 5 mins of prep and no sauteing.
Instant Pot Chicken Tortilla Soup is everything you love about Mexican food in a one pot 30 minute meal. Delicious and  healthy soup loaded with chicken, veggies and tortillas, this soup will warm you to the bones.
Instant Pot Butternut Squash Soup is quick and made easy with simple ingredients. This pressure cooker soup is super creamy and cozy with warm spices.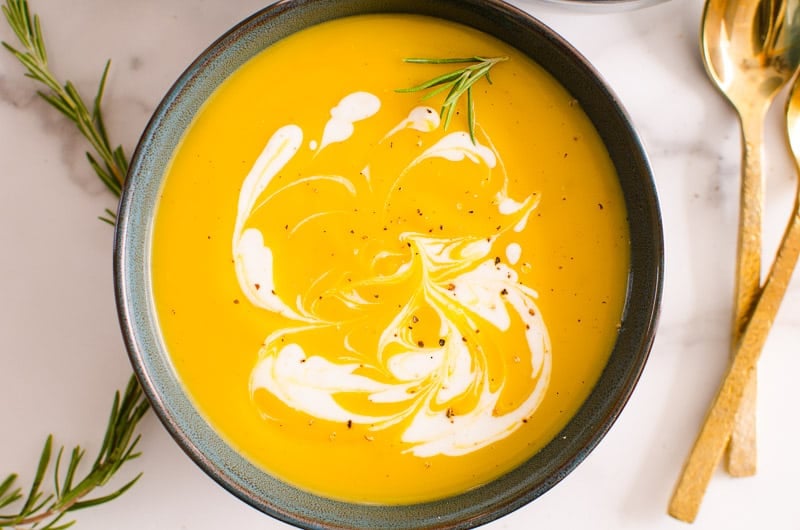 Instant Pot Zuppa Toscana is a rich and hearty Italian sausage and potato soup. It is so easy to make Olive Garden's soup healthy at home.
Instant Pot Taco Soup is one of the easiest dinners of all time. Made with mostly pantry ingredients, it is full of flavor, delicious and nutritious.
Instant Pot Split Pea Soup is a true 10 minute set and forget recipe. You don't have to soak the peas or saute the veggies. Pea soup is cheap, filling and healthy.
Instant Pot Black Bean Soup is a hearty and delicious vegan soup with no soaking of beans required. Even most avid carnivores and kids will love this soup!
Instant Pot Borscht is my Ukrainian grandma's borscht recipe adapted for a pressure cooker. Serve this hearty cabbage and beet soup with lots of dill, garlic and sour cream. So good!
Instant Pot Minestrone Soup is a flavorful hearty Italian soup with beans, pasta and veggies. Not only it is delicious and comforting but nutritious.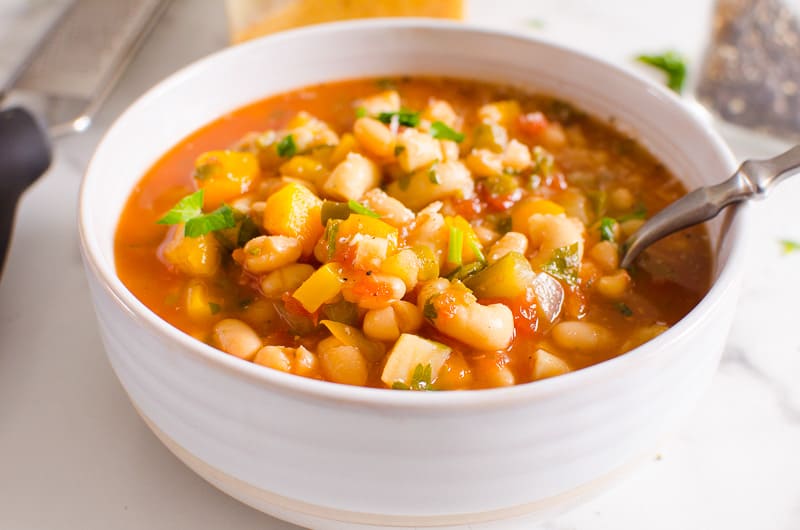 This Instant Pot Vegetable Soup is easy, healthy and comforting. It cleans out the fridge and tastes unbelievable with 2 secret ingredients.
Instant Pot Turkey Chili is the ultimate fall and winter comfort food. Ground turkey, beans, veggies and spices simmer for 15 minutes in your electric pressure cooker with a taste like it has been cooking all day. You can even make this chili with dried beans.
This Instant Pot Chili with ground beef, canned or dried beans and a few pantry staples is thick, hearty and flavorful. A reader shared this recipe with me and now it's our new favorite. It is called Two Day Three Bean Chili but thanks to the magic Instant Pot, it is ready in 1.5 hours.
Enjoy!
More Healthy Recipes
45 Healthy Instant Pot Recipes: Instant Pot Frozen Chicken
One of our most popular Instant Pot recipes! Whole chicken rubbed with simple smoky spices cooked from frozen until juicy and tender. Better than any rotisserie chicken with 5 minutes prep.
Print
Save
Rate
Ingredients
4.5

lbs

whole frozen chicken

1 1/2

tsp

salt

1/4

tsp

ground black pepper

2

tsp

garlic powder

2

tsp

smoked paprika

2

tsp

dried oregano

Oil

1

cup

cold water
Instructions
In a small bowl, whisk salt, pepper, garlic powder, smoked paprika and dried oregano until combined. Set aside.

Rinse frozen chicken with cold water and dry with paper towel. It is necessary to remove the frost. Transfer to a large bowl.

Drizzle with a bit of oil and rub with your hands spreading all over the chicken. This will help spices to stick to meat.

Sprinkle prepared spice mix evenly around chicken, while holding onto the wing and turning.

Transfer seasoned chicken to previously prepared Instant Pot chicken breasts up.
Close the lid, set pressure vent to Sealing and press Pressure Cook on High or Manual button:
For 6 quart Instant Pot:
4 lbs whole chicken – 60 minutes.

5 lbs whole chicken – 70 minutes.
For 8 quart Instant Pot:
4 lbs whole chicken – 40 minutes.

5 lbs whole chicken – 50 minutes.

6 lbs whole chicken – 60 minutes.

After, you have to let Instant Pot release pressure on its own until the pin drops down - called

Natural Release

. It should take about 15-30 minutes depending on the size of your pressure cooker. 8 quart takes longer.

Open the lid and carefully remove chicken onto platter, or using tongs or knife, remove pieces right in the pot and serve. Chicken will be super tender.

Serve however you like: with pasta and salad, with

quinoa salad

etc. Save bones for

Instant Pot bone broth

. And that flavourful broth at the bottom of the pot makes amazing

soup

the next day.
Store: Refrigerate in an airtight container for up to 5 days.
Freeze: Fully cook, cool completely and freeze in an airtight container or resealable freezer bags for up to 3 months. Thaw in a fridge or on a counter.
Notes
Cooking time varies based on the size of your chicken and Instant Pot.
Larger size 8 quart Instant Pot has larger volume (area) for more pressure to build up. Thus, it takes longer to bring pressure up and down.
Average natural pressure release is: on 8 quart - 40 minutes, on 6 quart - 15 minutes.
Do not turn valve to Venting as chicken still keeps cooking while pressure is coming down.
Nutrition
Calories:
318
kcal
|
Carbohydrates:
1
g
|
Protein:
27
g
|
Fat:
22
g
|
Saturated Fat:
6
g
|
Cholesterol:
109
mg
|
Sodium:
684
mg
|
Potassium:
302
mg
|
Fiber:
1
g
|
Sugar:
1
g
|
Vitamin A:
532
IU
|
Vitamin C:
2
mg
|
Calcium:
21
mg
|
Iron:
2
mg
Join today and start saving your favorite recipes
Recipes and images are a copyright of ifoodreal.com. It is against the law to republish recipes anywhere including social media, print and all world wide web. Nutritional info is provided for informational purposes only and to the best knowledge.