Healthy and juicy Baked Chicken Breast in the oven with 5 minutes of prep. This simple chicken breast recipe will become your go-to! Just like my cilantro lime chicken and baked chicken thighs.
Serve alongside quinoa or brown rice, use to make healthy chicken salad or meal prep.
How to Cook Chicken Breast in Oven
It's no secret chicken is America's most popular meat and chicken breast is the most sold cut of chicken. There is "a rumor in town" that chicken breasts are dry. And it is sort of true. So I will show you the best way how to bake healthy, juicy and flavorful chicken breast in the oven. With simple spices and no marinating.
This easy chicken breast recipe will become your favorite!
Tips for Juicy Chicken Breast:
Bake uncovered to avoid poached or steamed chicken.
Do not over bake and remove chicken from the oven when internal temperature is around 150 degrees F.
Let meat rest covered after baking to ensure juiciness. That's when it will reach internal temperature of 165 degrees F.
Slice against the grain.
To save money, you can buy chicken breast with bone in and skin on. Then remove skin and save bones for soup.
1. Chicken Breast Seasoning:
I'm from Ukraine where 30 traditional dishes are made with same 15 ingredients. I'm a strong believer in simple cooking. My recipe needs only a few simple spices. It's the cooking method that makes this chicken breast the best in the world!
Smoked paprika
Dried oregano, basil or Italian seasoning
Garlic powder
Salt and pepper
Light olive oil or avocado oil
Tip: Use grated clove of fresh garlic instead of garlic powder. If you love garlic like me and have time. 
Can I Use Regular Paprika?
There is a big difference between regular and smoked paprika. The smoky flavor. Right! Just like if you were to make my healthy barbecue sauce without the liquid smoke. It would be just a glorified ketchup. Same goes for oven baked chicken breasts. Smoked paprika adds unbelievable flavor.
You can use regular paprika but the breast wouldn't be the same. Find smoked paprika in a supermarket near you, stock up and use up.
2. How Long to Bake Chicken Breast?
The secret to tender and juicy chicken is to bake it quickly at high temperature. Baking chicken breast at 350 or even 400 will steam it rather than bake. And produce dry meat.
Cooking time varies depending on thickness of meat. It's very easy.
Thin under 2 inches thick: Bake for 25 minutes.
Thick over 2 inches thick: Bake for 35 minutes.
Or in both cases until internal temperature of 150 degrees F. Make sure to check with instant read thermometer before removing chicken breast from the oven.
Tip: Do not cover chicken during baking. Covering chicken breast during baking will result in "boiled" like chicken. 
Cooking Frozen Chicken Breast:
Follow instructions above and add extra 10 minutes to baking time. It is a loose recommendation and depending on thickness, make sure to check with meat thermometer for 150 degrees F internal temperature.
3. Let It Rest and Slice:
Remove baking dish from the oven, cover with silicone lid or foil and let chicken breast rest for 5-10 minutes. Letting meat rest and cool down a bit allows the muscle fibers to better hold onto the juice. Another secret to juicy perfectly baked chicken breasts.
Tip: Do not skip.
After resting, it's time to cut your juicy tender chicken. Slice against the grain. Not lengthwise but crosswise. The way that makes short slices. Just watch the video. Or this is a great demo.:)
How Many Calories in a Boneless Skinless Chicken Breast?
I used 2 lbs or 3 large chicken breasts. There are 8 servings. 1 serving is 1/2 cup and it contains 151 calories. Please note nutritional information is estimated to serve as a guideline only.
What to Serve With Chicken Breast?
Our default is quinoa or brown rice with a version of cucumber and tomato salad depending what's in the fridge. We are Ukrainian-Russian household, for sure.:)
If you are watching carbs, I highly recommend to try my cauliflower mashed potatoes that taste so real. Or if it's warm enough to fire up the BBQ, try these mind blowing grilled vegetables.
How to Store or Freeze Chicken Breast
Refrigerate baked chicken breast for up to 5 days in an airtight container. To keep chicken moist, slice right before serving.
Freeze cooked chicken for up to 3 months, again in an airtight container. I love glass containers because there are numerous studies on how chemicals contained in plastics are in our bloodstream. Plus so much better for the planet. I think it is best to cut, slice or shred your chicken before freezing it. It will thaw faster and you can add it to your meal right away. Frozen and thawed chicken is great to be added to casseroles.
More Healthy Chicken Breast Recipes
In case you are looking for more healthy easy chicken recipes, I got you covered!
Print
Baked Chicken Breast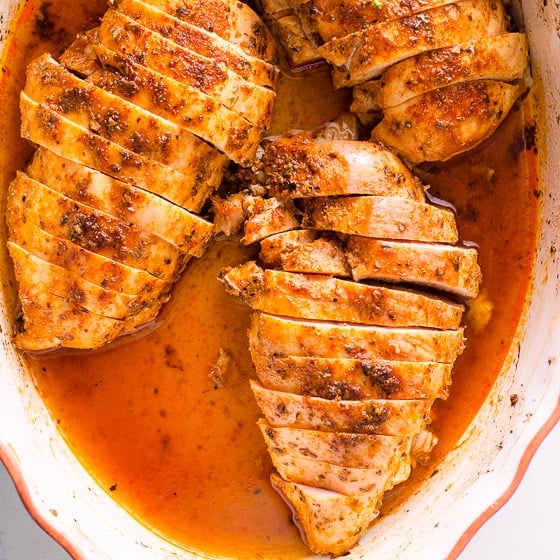 Healthy and juicy Baked Chicken Breast in the oven with 5 minutes of prep. This simple chicken breast recipe will become your go-to!
Author:
Prep Time:

5 minutes

Cook Time:

35 minutes

Total Time:

40 minutes

Yield:

8

servings

1

x
Category:

Dinner

Method:

Oven

Cuisine:

North American
Scale
Ingredients
2

lbs boneless & skinless chicken breasts

1 tbsp

avocado or olive oil

1 tsp

smoked paprika

1 tsp

garlic powder

1 tsp

oregano

1/2 tsp

salt
Ground black pepper, to taste
Instructions
Preheat oven to 450 degrees F.
In a medium baking dish, place chicken, drizzle with oil and sprinkle with smoked paprika, garlic powder, oregano, salt and pepper. Using tongs or hands, move chicken around to coat on all sides evenly (I place bottom of breast on top of seasoned one and then swoosh around).
Bake for 25 minutes (thinner) to 35 minutes (2″+) or until 150 degrees F internal temperature. Remove from the oven, cover with foil or lid, and let rest for 10 minutes for the juicies to settle (don't skip!).
Slice against the grain and serve along any side with a salad. Meal prep for the week, use in salads and casseroles.
Store: Refrigerate in an airtight container for up to 1 week.
Freeze: Freeze in an airtight container for up to 3 months.
Notes
I used 3 huge organic breasts.
You can use regular paprika, however the best chicken is with smoked one. Just buy it.:)
★ Did you make this recipe? Please give it a star rating in the comments.