This Instant Pot Shredded Chicken is the easiest way to turn fresh or frozen chicken breast into juicy, fall-apart-tender shredded chicken in 20 minutes. Use it in tacos, soups, salads, casseroles, and more! It's a great way to batch cook for easy meal prep for the week and it's freezer-friendly so it's ready for quick weeknight meals in a pinch!
Other meal prep items we love to make are Instant Pot beans, Instant Pot quinoa and Instant Pot brown rice. When life gets busy, it helps to know you have healthy items on hand to stick with your clean eating lifestyle.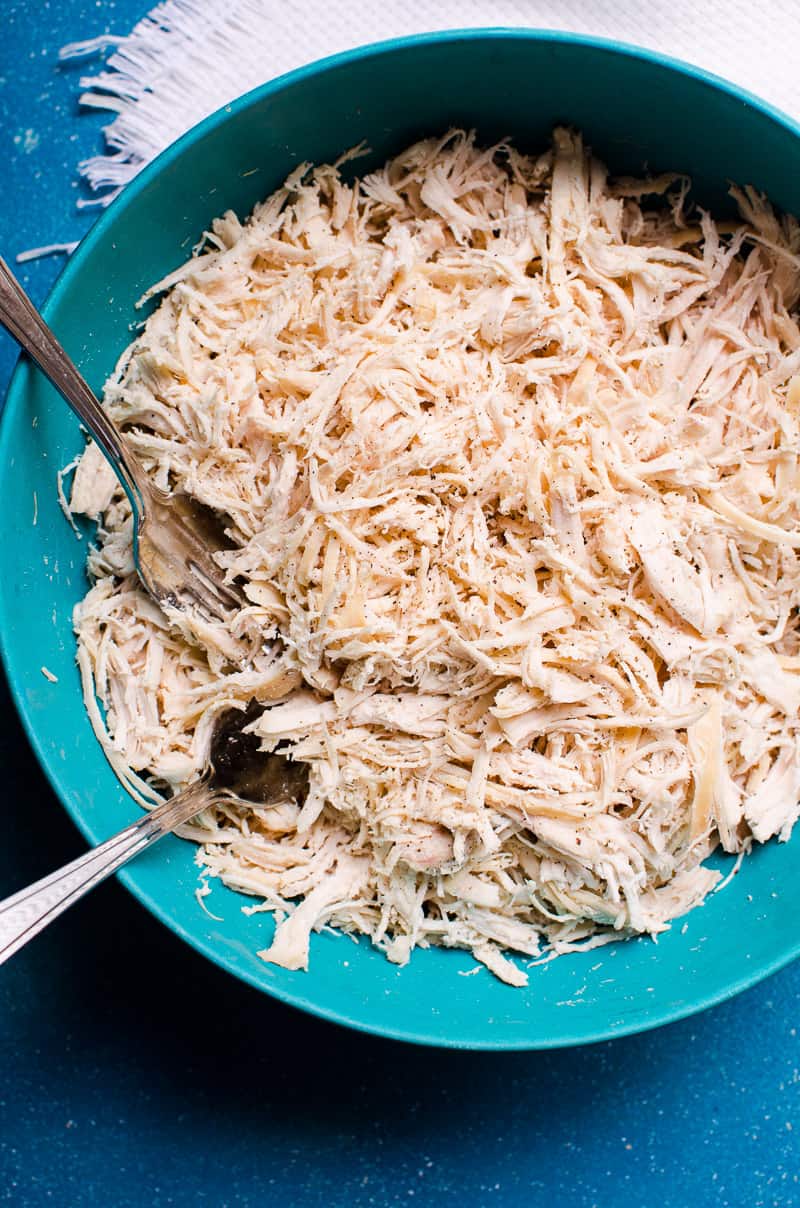 Instant Pot Shredded Chicken
Ok, so this Instant Pot shredded chicken recipe isn't really a recipe but since most meat-eaters have chicken at least once a week, we have some serious business to discuss! Plus, as a food blogger, I've come to learn that there is always someone looking for tips on ways to make life just a little easier. I mean, who doesn't love a good life hack?!
Pressure cooker shredded chicken is my absolute favorite way to get it done. So many chicken recipes require shredded chicken, like tacos, soups, salads, casseroles, and more, so naturally, I want something quick, easy, and basically a no-brainer.
Cooking chicken in Instant Pot results in juicy, tender, and easily shreddable chicken. The pressure cooker works its magic and with just a little bit of water, a simple seasoning of salt, pepper, and garlic powder, you get incredibly flavorful chicken, ready to be used in all of your favorite recipes. It's the best!
If you've tried shredding baked chicken breasts, you'll know that it's a hit or miss. It can either be too hard to shred if it's cooked too long, or rubbery if it's not cooked enough. Or just that it's not as juicy and tender as you'd like. If you've tried the slow cooker, you'll understand why having a quick and easy (and better) alternative is life-changing!
As you know, I'm all about keeping things as pure and simple as possible, with healthy meals at the forefront for healthy lunch ideas and healthy dinners. Well, this Instant Pot chicken recipe doesn't get much more pure and simple. It's healthy, fast, and ridiculously easy!
Why This Shredded Chicken in Instant Pot Works?
SO SO easy and basically hands-off.
The chicken ends up perfectly cooked every time.
Juicy, tender, and flavourful chicken ready to be used in all kinds of recipes.
Fantastic for meal prep. Make a lot and use it throughout the week.
Freezer friendly which means you can make a big batch and freeze some for later.
Such a versatile ingredient used in so many ways from soups, salads, casseroles, and wraps.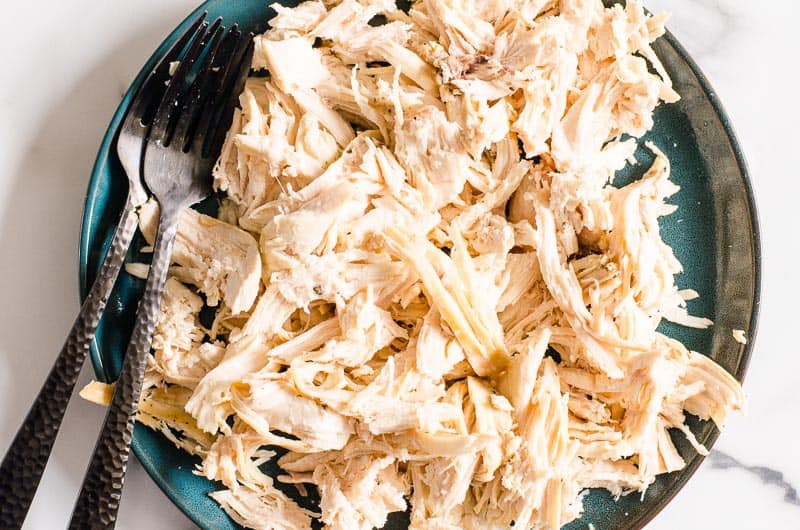 Ingredients for Instant Pot Shredded Chicken
Pressure cooker shredded chicken is a great first recipe to try if you're new to the Instant Pot world.
Chicken breasts or thighs: You can use either, they both shred well. Chicken breast is leaner and tends to be less juicy than the more flavorful and juicy thighs. However, the IP does an amazing job of keeping as much moisture in as possible. Chicken breasts also look prettier than shredded thighs.
Seasonings: Garlic powder, salt, and pepper. Other than that you just need chicken and water because 90% of the time I end up adding shredded chicken to chicken salad or chicken tostadas and each recipe has its own seasonings.
Water or broth: I use water but you can use broth for extra flavor if you'd prefer.
How to Make Shredded Chicken in Instant Pot
Prep: Add 1 cup water to the bottom of the Instant Pot along with the trivet if you have one. You actually don't even need it.
Add chicken: Then lay chicken breasts or thighs as many as you can fit in a single layer. You do not want to stack them on top of each other. Season by sprinkling spices on top.
Cook: Cook on High-pressure. Once you hear the beep, wait 5 minutes and then Quick Release the pressure.
Shred chicken: If you look around online, there are so many ways to shred chicken or meat in general. You can do so using 2 forks or meat claws. If you are making many lbs of chicken breasts at a time, I have seen people using a hand mixer.
Rehydrate meat: Add remaining broth in 1/4 cup increments back into the shredded chicken until desired juiciness. It helps a lot!
How Long To Cook Chicken in Instant Pot
Fresh chicken under 2.5″ thick: 10 minutes
Fresh chicken over 3″ thick: 12 minutes
Frozen chicken: 15 minutes.
Tips for Shredded Chicken Breast Instant Pot
Shredding: Warm chicken shreds easier than cold chicken.
Cubing: Instead of shredding, you can cube chicken. For example, like in this healthy chicken pot pie casserole.
Frozen chicken: You have to make sure chicken pieces are separated. It will not cook evenly and you will end up with raw parts if you don't separate them. When cooking Instant Pot frozen chicken breast, you will notice it takes a little longer for the pressure cooker to come to pressure, than it would with fresh chicken.
Size of Instant Pot: The cook time remains the same no matter the size of your pot. It just means you may be able to fit fewer pieces (or more) depending on the size.
Amount of liquid: Make sure to use the amount as directed. Anything less may cause your chicken to burn and won't allow it to be as moist and juicy as possible.
Tip: Add more of your favourite seasoning to the recipe if you plan to eat the chicken as is and won't be adding it to another recipe. For example, if you're tossing some onto a bowl of leafy greens for a salad. You'll need to jazz up the flavour!
Add-ins and Variations
Ramp up the flavour using the following list of seasonings for inspiration.
Italian Seasoning blend
Oregano
Rosemary
Paprika / Smoked Paprika
Lemon pepper
Taco seasoning
FAQs
Is this the same as pulled chicken in pressure cooker?

Pulled chicken is chicken that has been shredded, yes. However, in North America, pulled chicken usually refers to shredded chicken that has been cooked with loads of saucy goodness or a dry rub seasoning. You can definitely make both in a pressure cooker (see our BBQ Instant Pot chicken), and the consistency and texture are the same. It just depends on who you ask if they are different names for the same thing.
What other meat can I shred in the Instant Pot?

All kinds of beef like flank steak, skirt steak, rump roast, a brisket, short ribs, all come out fall-apart tender when cooked and shredded in the Instant Pot. You can also shred pork like boneless pork, pork loins, ribs, and more.
Why is my Instant Pot chicken rubbery?

In most cases rubbery chicken means it's undercooked and that's no different with the Instant Pot. It probably means it needed more cook time under pressure to really tenderize the chicken.
Can you overcook shredded chicken breast in Instant Pot?

I suppose you could, although it is pretty hard to do, especially when you follow recipe instructions from bloggers (i.e. me) who have tested their recipes over and over again to make sure everything is as it should be. The Instant Pot was designed in a way that it measures the weight of what is in the pot and times the pressure accordingly. Also, the moisture it creates within the pot, as it captures all the steam is a surefire way to get perfectly cooked, tender chicken breast.
Serving Recommendations
Use shredded chicken to its fullest potential in all kinds of ways! There is something for everyone, any day of the week.
Need more inspiration? Look through these 65 clean eating chicken recipes and find new ways to feed your family!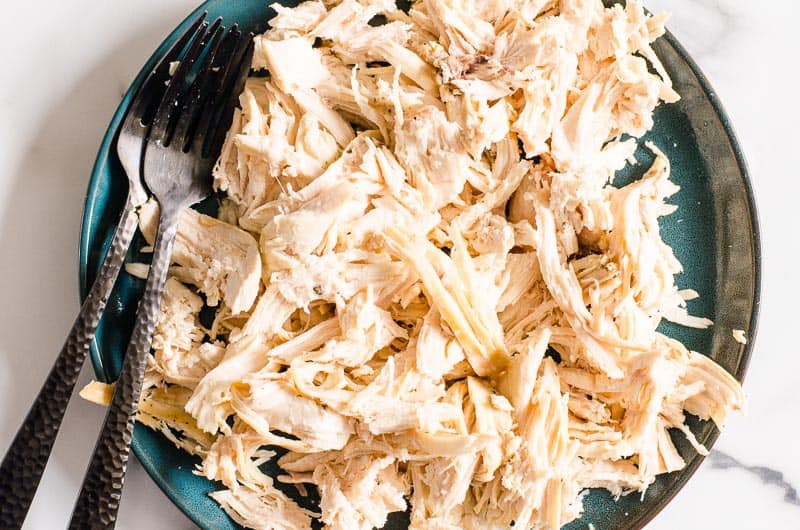 Making in Advance
Storing: Shredded chicken will last for up to 5 days in the fridge. Perfect for teriyaki chicken meal prep on Sunday for a busy work week ahead.
Freezing: You can also freeze shredded chicken for up to 3 months in an airtight container. Freeze in 2 cups portions for easy use in recipes.
Reheating: To thaw, just place on a counter for 2-3 hours. I also remove the lid to speed up thawing. You can also place a blob of frozen shredded chicken on a trivet in Instant Pot with 1/2 cup water and Steam for 2 minutes.
More Instant Pot Recipes
Did you know we have entire Youtube channel dedicated to healthy Instant Pot recipes and tips?! Make sure to subscribe and hit the Bell icon not to miss new videos.
Hope you enjoy this super easy Instant Pot shredded chicken. I often make this recipe after a trip to Costco where I stock up on chicken and healthy snacks.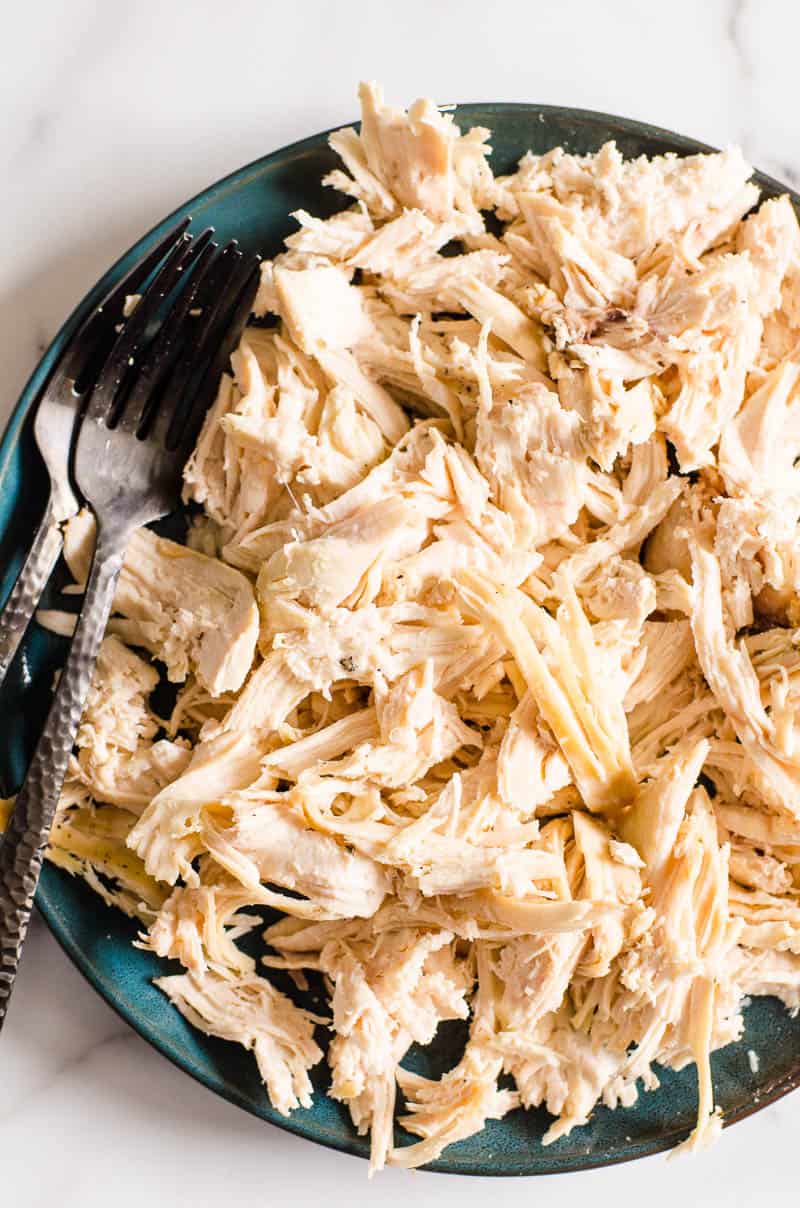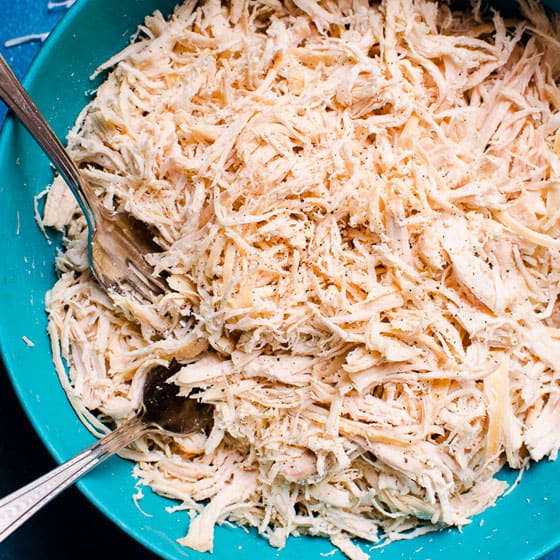 Instant Pot Shredded Chicken
This Instant Pot Shredded Chicken is the easiest way to turn fresh or frozen chicken breast into juicy, fall-apart-tender shredded chicken in 20 minutes. Use it in tacos, soups, salads, casseroles, and more! It's a great way to batch cook for easy meal prep for the week and it's freezer-friendly so it's ready for quick weeknight meals in a pinch!
Instructions
To the Instant Pot, add water and place trivet inside or skip trivet.

Lay chicken pieces in a single layer (if using frozen make sure they are separated) and sprinkle with garlic powder, salt and pepper. Toss to coat evenly with tongs or hands.

Close the lid, set pressure vent to Sealing and press Pressure Cook on High or Manual for 10 minutes for fresh under 2.5″ thick, 12 minutes for fresh 3″ and plus thick or 15 minutes for frozen chicken breasts or thighs.

Display will say ON, Instant Pot will take about 10 minutes to come to pressure, you will see a bit of steam coming out from a valve, then float valve will rise and countdown will begin.

After 10-15 minutes your chicken is ready, Instant Pot will beep and display will say OFF.

Wait 5 minutes and do Quick Release by turning sealing valve to Venting position.

Open the lid and your chicken breasts are ready for meal prep, casseroles, salads etc.

Shred or cube, and save the stock at the bottom for soup.
Notes
Store: Refrigerate in an airtight container for up to 5 days.
Freeze: Fully cook, cool completely and freeze in an airtight container or resealable freezer bags for up to 3 months. Thaw in a fridge or on a counter.
Really, you just need chicken and water to make shredded chicken in Instant Pot. Because 90% of time I end up adding shredded chicken to recipes that have their own seasonings.
Nutrition
Calories:
61
kcal
|
Carbohydrates:
1
g
|
Protein:
5
g
|
Fat:
4
g
|
Saturated Fat:
1
g
|
Cholesterol:
20
mg
|
Sodium:
312
mg
|
Fiber:
1
g
|
Sugar:
1
g