This easy Instant Pot Shredded Chicken Breast is super tender, juicy, and flavorful! Cooking shredded chicken in the Instant Pot requires basic ingredients, only 20 minutes and is the best way to cook fresh chicken breast or even frozen.
Another family favorite is this Instant Pot pulled chicken and Instant Pot butter chicken recipe.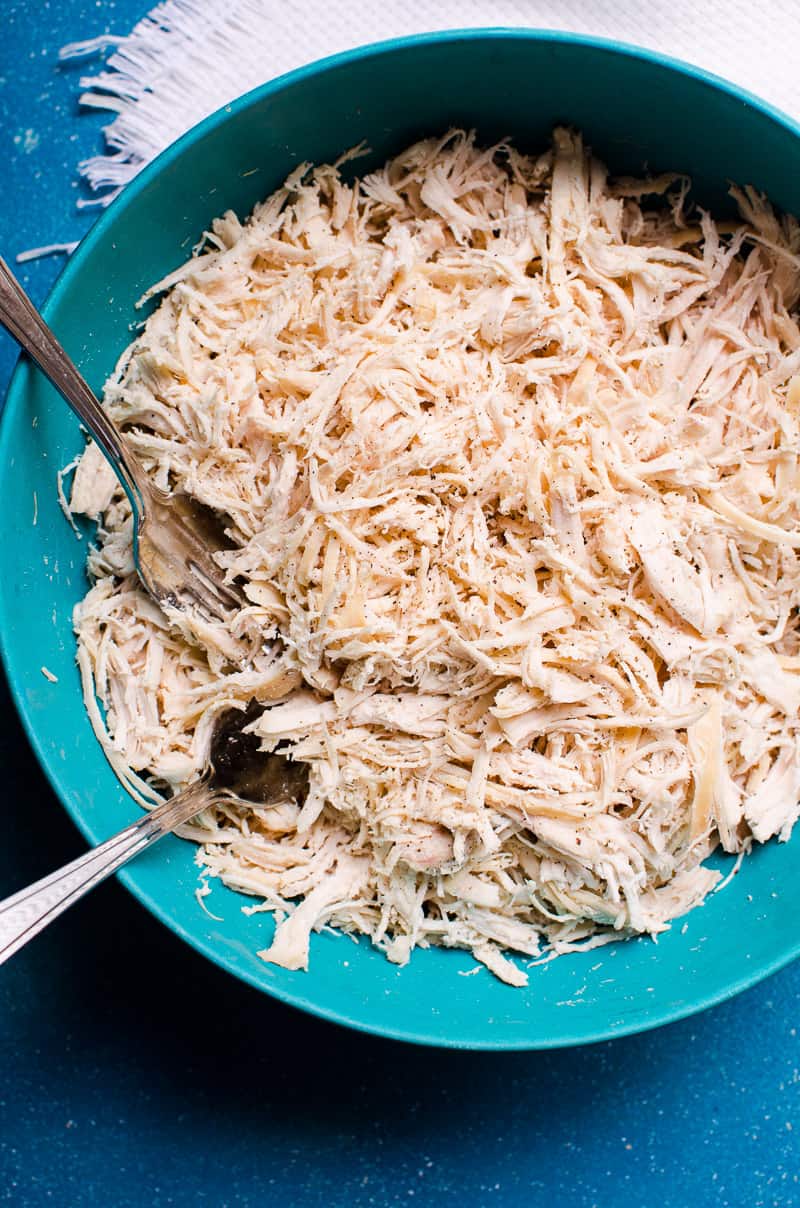 This Instant Pot shredded chicken breast recipe isn't really a recipe but since most meat eaters have chicken at least once a week, we have some serious business to discuss!
So many different recipes require shredded chicken, like tacos, soups, salads, casseroles, and more. So naturally, I wanted an easy recipe that results in tender chicken! And pressure cooking is my favorite way to cook food, so here we go.
If you've tried shredding oven baked chicken breasts, you'll know that it's a hit or miss. Cooking chicken in the Instant Pot results in juicy, easily shreddable and delicious chicken every time. Just like making shredded chicken in crock pot is foolproof as well.
The electric pressure cooker works its magic and with just a little bit of water, a simple seasoning of salt, pepper, and garlic powder, you get incredibly flavorful chicken, ready to be used in all of your favorite dishes.
Use right away for weekly meal prep or freeze some for later, it's simply the best and will become your go-to recipe!
Ingredients Needed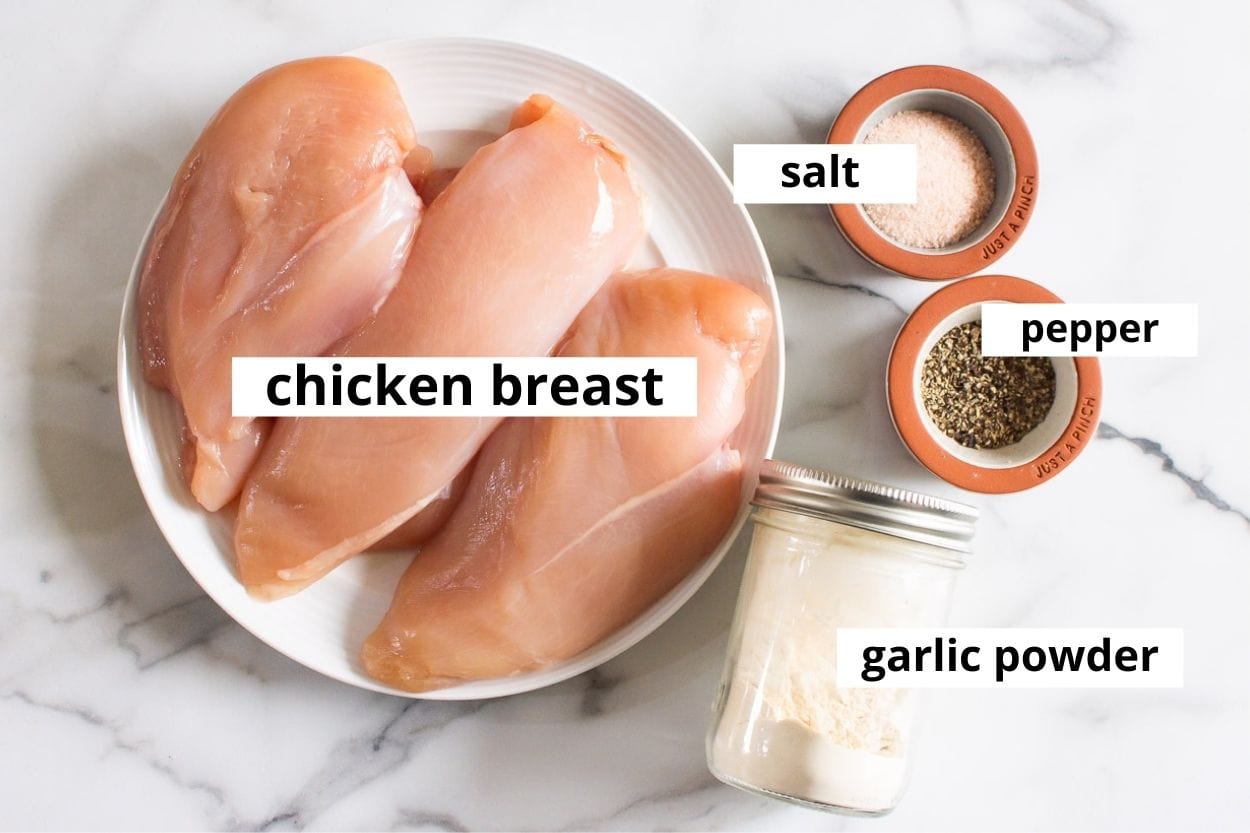 This shredded chicken in Instant Pot is a great first Instant Pot recipe. It uses basic ingredients and is the easiest way to cook up to 3 pounds of juicy chicken breasts!
Chicken breasts: I prefer boneless skinless chicken breasts either fresh or frozen although boneless skinless chicken thighs work, too.
Seasonings: Garlic powder or onion powder, salt, and pepper. I keep this simple knowing I will be adding the chicken most likely to a recipe, but you can feel free to season with a spice of choice.
Water or broth: I use water but you can use chicken stock or broth for extra flavor if you'd prefer.
How to Make Shredded Chicken in the Instant Pot
Making this Instant Pot shredded chicken recipe is so simple, but here are the exact steps I take to ensure it turns out great every time.
First you will want to add 1 cup of liquid like chicken broth, Instant Pot chicken broth or water to the bottom of the Instant Pot to prevent burn notice. Feel free to use your trivet or not.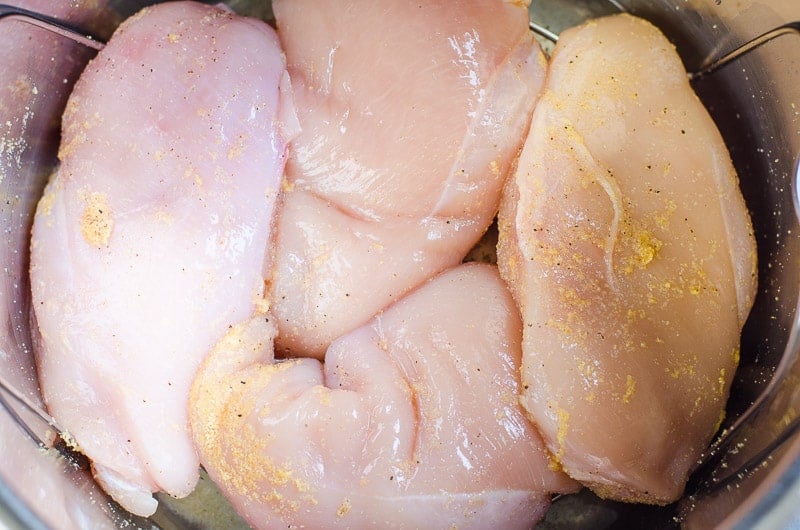 Add raw chicken: Then lay boneless chicken breasts or thighs as many as you can fit in a single layer. You do not want to stack them on top of each other. Season by sprinkling spices on top.
Cook: Cook chicken on High pressure for 10 – 12 minutes depending on thickness of chicken breasts. Once you hear the beep, wait 5 minutes and then do Quick Pressure Release to release remaining pressure. To check if chicken is ready, make sure internal temperature is at least 165 degrees F.
Recipe Tip
You can also do Natural Pressure Release which means you can walk away and let the pressure subside on its own, do your thing, then come back and shred chicken any time.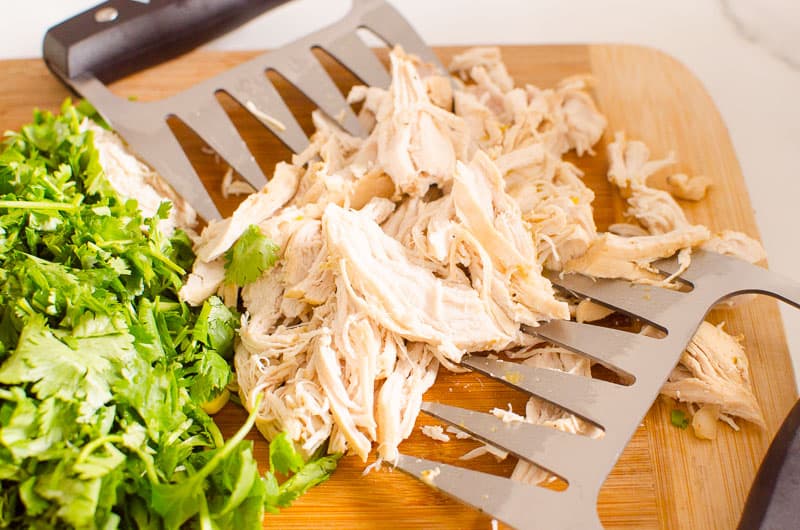 Shred chicken: You can do so using 2 forks or meat claws. If you have a big batch, a hand mixer or stand mixer may be best.
Recipe Tip
To rehydrate meat, add remaining broth in 1/4 cup increments back in until desired juiciness.
Tips for Best Results
Shredding: Warm chicken shreds easier than cold chicken.
Chicken thighs: Boneless chicken thighs can be used if preferred, cooking time remains the same. Thighs are more flavorful and breasts leaner, you can even use a mix of both.
Size of Instant Pot: The cook time remains the same no matter the size of your pot. It just means you may be able to fit fewer pieces (or more) depending on the size.
Use different seasonings: Instead of the simple blend of salt, pepper, and garlic powder feel free to add a few teaspoons of these blends or spices.

Paprika or smoked paprika
Lemon pepper
Ways to Use Shredded Chicken
Use easy shredded chicken to its fullest potential in any of these 65 healthy chicken recipes! There is something for everyone, any day of the week.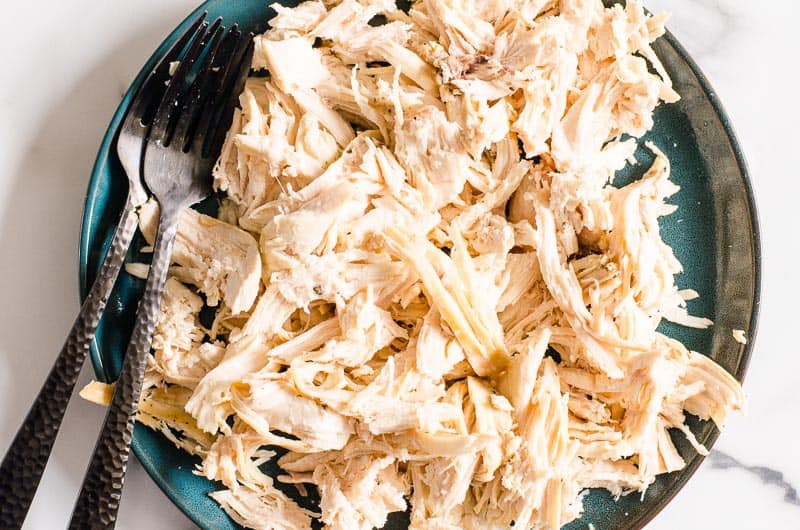 FAQs
Do I have to use a trivet?
No. I actually prefer to cook this chicken without a trivet as it comes our more flavorful and moist cooking in liquid.
Can I use chicken thighs?
Sure, they are a great option. You can even use a mix of both and will need to cook it for same time.
Why is my chicken dry or rubbery?
Dry chicken is caused from overcooking. If you have followed my Instant Pot method exactly, though, the moisture created within the pot, captures all the steam and is a surefire way to get perfectly cooked chicken breast.

To fix dry chicken, just add a bit of cooking liquid to pressure cooker shredded chicken, mix and voila.

In most cases, rubbery chicken means it's undercooked and that's no different with the Instant Pot. It probably means it needed more cook time under pressure to really tenderize the chicken.
How long does shredded chicken cooked in the Instant Pot keep?
You can keep this for up to 5 days in the fridge. It's perfect for a week of work lunches when meal prepped on Sunday.

You can also freeze for up to 3 months in an airtight container. Freeze in 2 cups portions for easy use in recipes, thaw in the fridge.
More Instant Pot Chicken Breast Recipes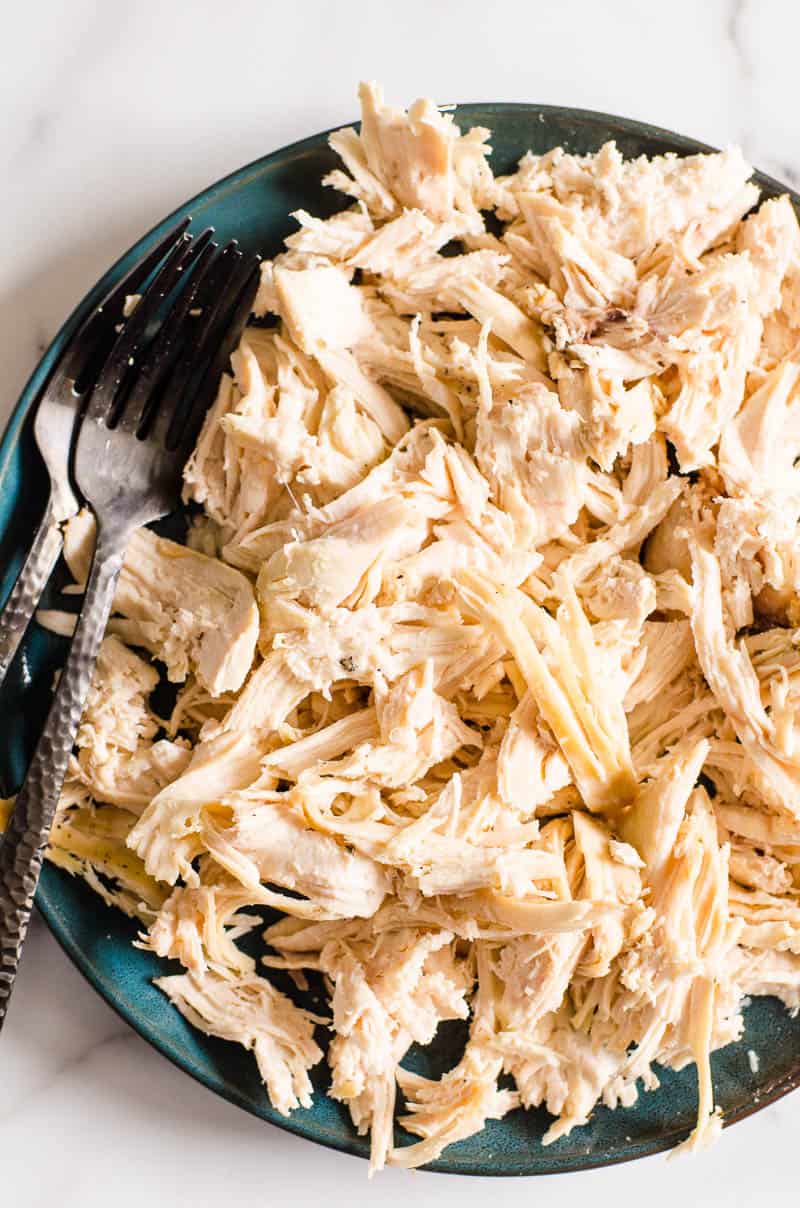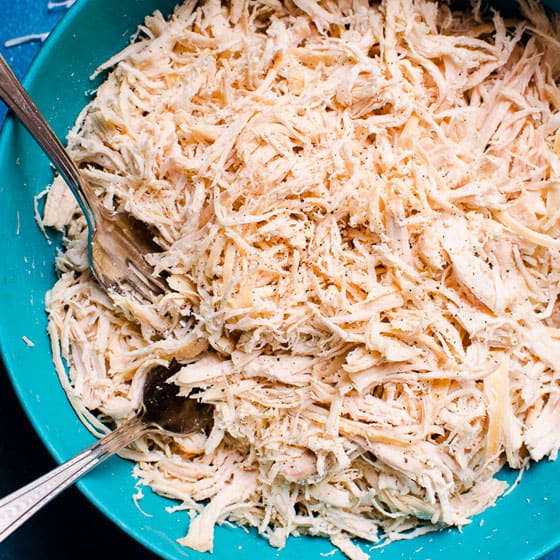 Instant Pot Shredded Chicken
This easy Instant Pot Shredded Chicken Breast is super tender, juicy, and flavorful! Cooking shredded chicken in the Instant Pot is the best way to cook fresh chicken breast or even frozen.
Instructions
To the Instant Pot, add water and place trivet inside or skip trivet.

Lay chicken pieces in a single layer (if using frozen make sure they are separated) and sprinkle with garlic powder, salt and pepper. Toss to coat evenly with tongs or hands.

Close the lid, set pressure vent to Sealing and press Pressure Cook on High or Manual for fresh chicken breast under 2.5" thick – 10 minutes, for fresh chicken breast 3" and plus thick – 12 minutes, and for frozen chicken breast – 15 minutes.

After wait 5 minutes and do Quick Release by turning sealing valve to Venting. Open the lid and your chicken breasts are ready for meal prep, casseroles, salads etc.

Shred chicken breasts using two forks or meat claws on a cutting board or plate.
Notes
Store: Refrigerate in an airtight container for up to 5 days.
Freeze: Fully cook, cool completely and freeze in an airtight container or resealable freezer bags for up to 3 months. Thaw in a fridge or on a counter.

Save the stock at the bottom for soup.
Nutrition
Calories:
61
kcal
|
Carbohydrates:
1
g
|
Protein:
5
g
|
Fat:
4
g
|
Saturated Fat:
1
g
|
Cholesterol:
20
mg
|
Sodium:
312
mg
|
Fiber:
1
g
|
Sugar:
1
g