From low-calorie options, to the perfect side for chicken, or steak, to the holidays- this list of 65 healthy sides is sure to supply a dinner side that satisfies for all tastes and occasions. With options including balsamic grilled vegetables, creamy cauliflower mac and cheese, and healthier mashed potatoes, these recipes impress without making you feel guilty!
Love healthy eating? I've got recipes for every meal and occasion: healthy breakfast ideas, healthy lunch ideas, and flavorful healthy dinner ideas. You can even find tons of healthy dessert recipes here!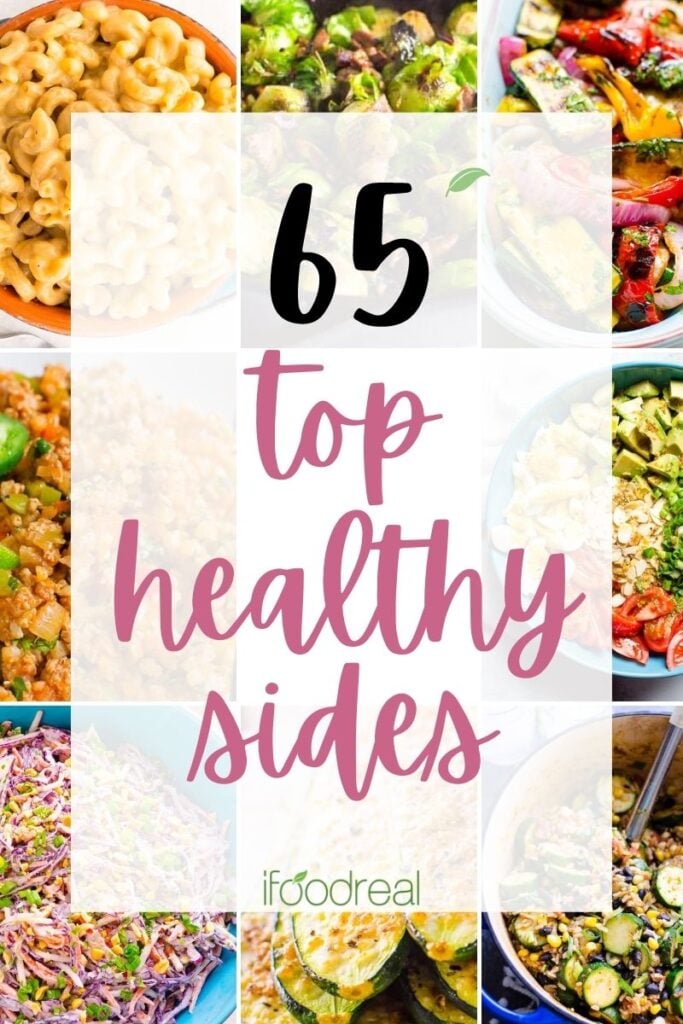 Easy Healthy Sides for Any Meal
While choosing the main protein of the meal might be simple, finding the perfect delicious and nutritious, healthy side dish recipe may not be quite as easy. Luckily, this list of 65 healthy sides has something for everyone – including quick and simple 15-minute recipes, slow-cooker, Instant Pot, and even meal-preppable options below!
Whether you're looking for a lighter take on an usually unhealthy classic (like potato salad or mac and cheese), want to try a refreshing salad (like this healthy broccoli salad), or want to discover something you've never tried before, this list is filled with a wide variety of ingredients, cooking methods, and even seasonal-based side dish recipes to love!
Best of all, the side dish recipes are split into simple categories to make things easier; whether you're looking for a side to chicken, steak, a holiday table, and more! Plus, keep reading for other top tips, FAQs, and more! Ultimately, these wholesome, healthy side dishes are packed with healthy ingredients and tons of flavor to become the perfect addition to any nutritious meal!
Why These Side Dish Recipes Work?
This list of 65 healthy sides reduces all unhealthy processed foods, chemicals, and preservatives – instead relying on healthy, wholesome ingredients!
These side dish recipes also reduce harmful fats and sodium, relying on healthy ingredients swaps!
If you're wanting to 'eat the rainbow' then look no further, with veggies of all colors below, you can choose the perfect side dish (or two) to pack in tons of nutrients!
These healthy dinner sides are also easy to follow and prepare, perfect for last-minute meals and tired parents!
There is also tons of variety, for no matter what you're in the mood for; whether it's a healthy salad, creamy pasta, or hearty grain-based side, there's something for everyone!
Top Tips for Healthy Dinner Sides
Be aware of creating a balanced meal: With a balanced meal containing ¼ protein, ¼ carbs, and ½ vegetables, you can use this list of healthy sides to find exactly what you need!
Not all fats are bad: When trying to eat a healthy diet, many people try to avoid ALL fats and as many calories as possible. However, not all fats are bad for us! Instead, learn to make healthier ingredients swaps without swapping to items packed with chemicals and other nasties in a bid to be 'healthier'.
The same goes for calories: It's been hammered into us that to avoid putting on weight we should reduce calories (often to ridiculous levels). However, for someone who wants to create a healthy lifestyle (and not an unsustainable diet), please remember that our bodies need calories to run efficiently. Instead of undereating or turning to odd 'diet' foods filled with chemicals and low-nutrient ingredients, choose sides that will nourish your body instead!
Even healthy eaters can enjoy cheese (and bacon): I think this is important to state right from the get go and you'll see both ingredients featured multiple times in the side dish recipes below. By making healthy ingredient choices and limiting certain ingredients, I've found a way to still enjoy 'decadent' ingredients, without felling guilty (or weighed down).
Enjoy the rainbow of ingredients: To pack in a full range of vitamins, minerals, and antioxidants, it's best to eat a wide array of the rainbow with different fruits and veggies' starting with these nutritious side dish recipes!
FAQs
Why are side dishes important for meals?
As an omnivorous family, side dishes are where I pack in lots of veggies (and tons of nutrients) to pair with the protein of choice. A balanced meal contains a proportion of protein, fiber, carbs, starchy foods, etc. So the perfect way to ensure you're eating healthy, balanced meals is by pairing your protein with nutritious (and delicious) healthy sides!
What is the healthiest side dish to eat?
This really depends on your definition of healthy. All of the below healthy side dish recipes have either been explicitly designed to be healthy or are a lightened-up version of a usually unhealthier dish. The results are recipes packed with flavor and nutrients – with a limited amount of harmful fats, salt, and other 'baddies.'
What are some high protein sides?
When it comes to high-protein sides, look out for ingredients like quinoa and beans, which are naturally high in protein (and in several of the recipes below). To skip straight to them, you can either use the table of content of CTRL+F/CMD+F on your keyboard will bring up a search bar to type in your keyword (ingredient).
What are low-calorie sides?
Lucky for you, I have a whole section of low-calorie side dish recipes on this post to enjoy.
Healthy Sides for Chicken
This baked healthy zucchini casserole combines nutrient-dense zucchini with a simple blend of seasonings and just enough cheese to feel 'decadent' without weighing you down. In fact, this healthy side dish is low-carb, gluten-free, and is a great way to eat more greens! Pair with lemon butter baked cod for simple dinner idea.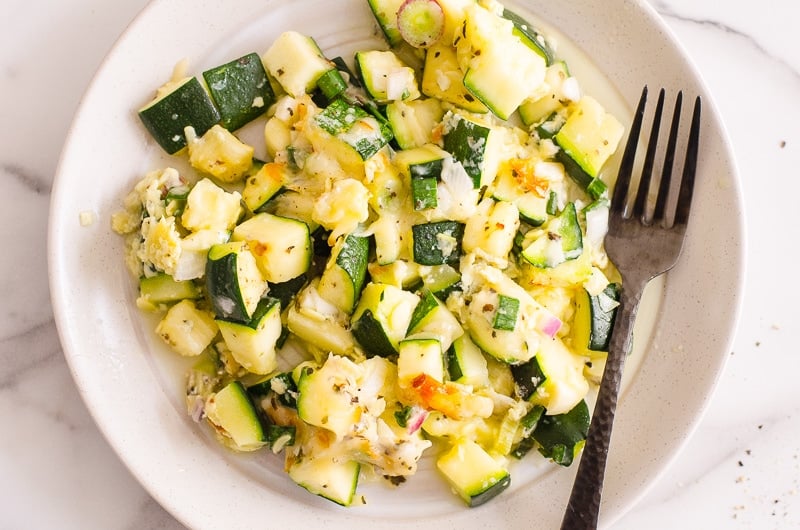 These healthy zucchini fritters are wonderfully crispy outside with a tender middle and require just five simple ingredients. Best of all, though, this recipe is highly versatile and can be adapted to gluten-free or dairy-free, and can be baked or pan-fried! These fritters even double up as an appetizer or snack!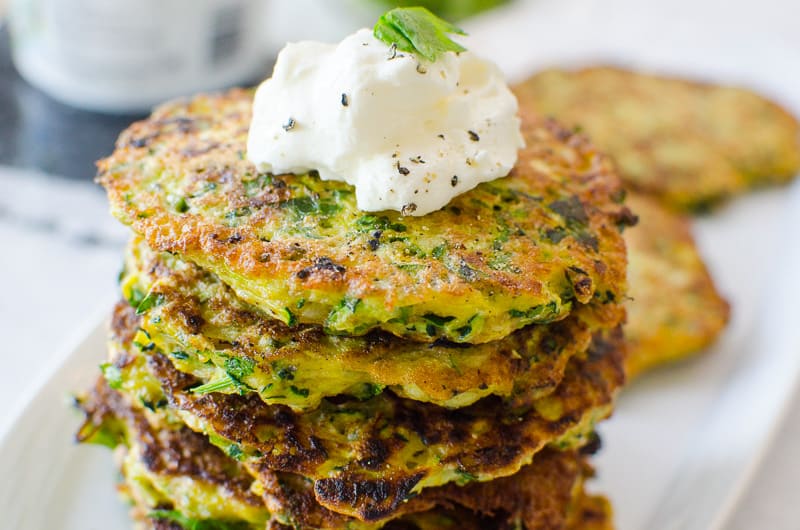 During grilling season, I implore you to try this ridiculously simple yet tasty recipe for grilled romaine lettuce. With a tangy, smoky, savory taste – this will become a must-have on any grill day! Forget your notions of limp, wilted warm lettuce because this recipe provides wonderfully crisp yet flavorful results. Every. Single. Time! It's perfect for enjoying alongside your favorite grilled proteins like grilled salmon and grilled shrimp skewers!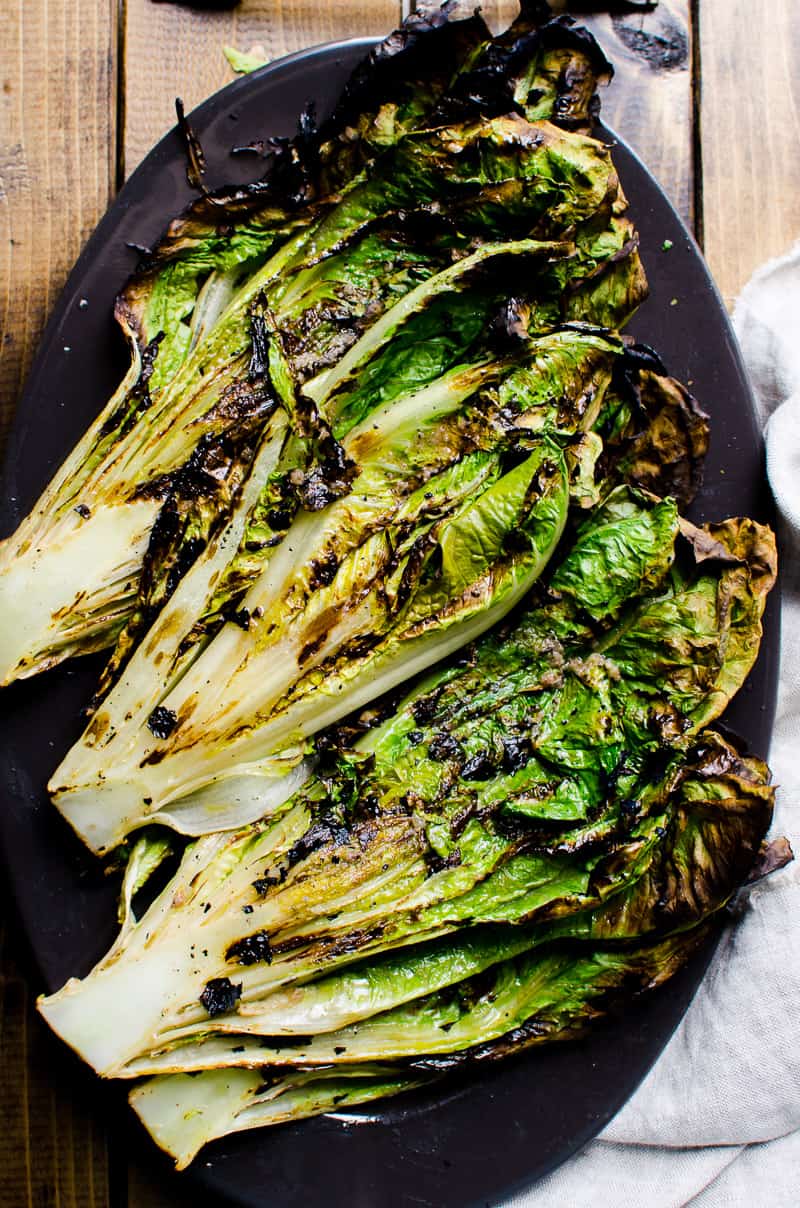 Healthy broccoli salad is wonderfully creamy yet contains far less fat by ditching the mayonnaise and replacing it with a greek-yogurt-based sauce. With the combination of broccoli, bacon, cranberries, sunflower seeds, and cheese – this vegetable salad is also packed with flavor and texture – perfect for serving at picnics, potlucks, and cookouts! Try this vegetable salad with turkey sliders for a delicious dinner idea.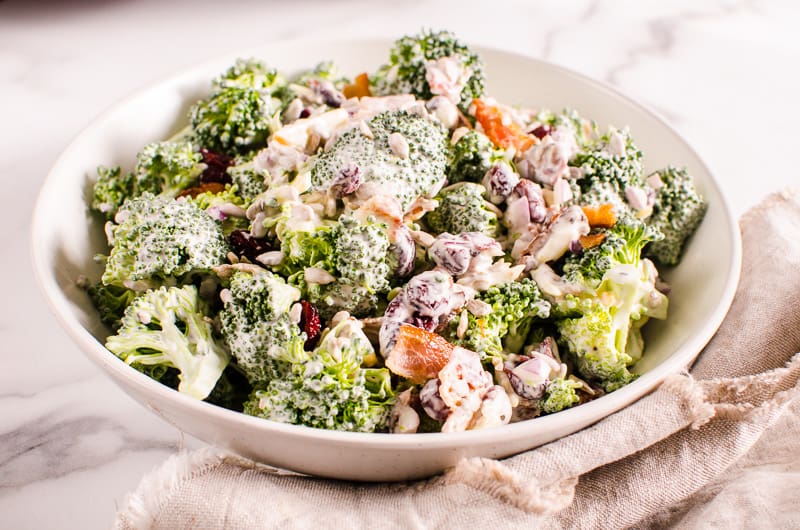 Asian-inspired cauliflower stir fry with bell peppers is packed with sweet and savory flavor, tons of nutrients, and is ready in under 20 minutes! Serve these flavorful veggies up over your favorite grain of choice: noodles, rice, quinoa, etc. For a lower-carb meal, pair this simple stir-fry with cauliflower rice instead! Then pair with chicken and voila!
Unsurprisingly, this quinoa and bean-based black bean quinoa casserole makes for a super protein-dense meat-free side. With a combination of corn, bean, quinoa, and cheese, this quinoa casserole is perfect for sharing alongside Mexican flavors. Better yet, it's hearty enough to be enjoyed as a side or main!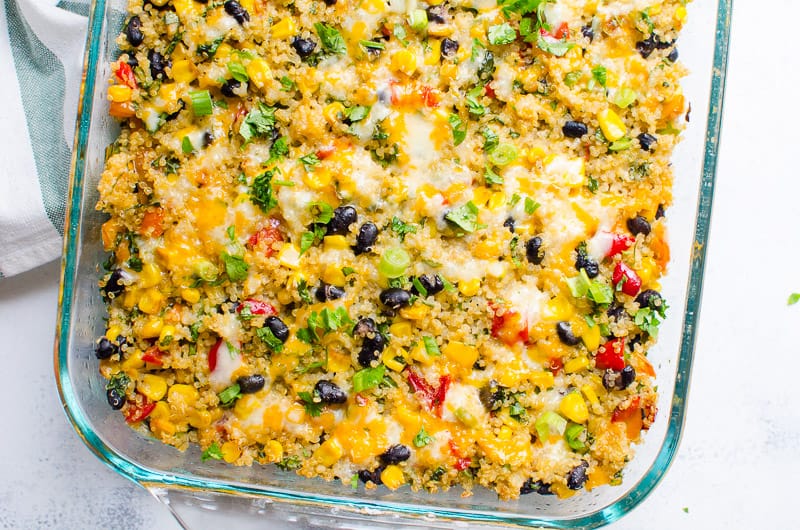 Simple roasted veggies are one of our favorite sides here at iFoodReal, especially when they taste as finger-licking delicious as these healthy oven roasted sweet potatoes. With a combination of warming spices and a simple method, you end up with practically melt-in-the-mouth sweet potato morsels that pair wonderfully with proteins, grains, noodles, wraps, burritos, and salads. Honestly, the list of dinner pairing ideas is endless!
This healthy zucchini and tomato pasta doubles up as a light main or hearty side. In just 20 minutes, you can enjoy this simple dish that combines tender zucchini with bursting tomatoes, garlic, basil, and the perfect amount of parmesan to add tons of flavor without tons of fat. This crowd-pleasing vegetarian pasta dish makes for an ideal side for cookouts, picnics, potlucks, and more! Better yet, you can mix leftover chicken directly into the pasta for a quick and simple meal! Browse through 45 of my favorite healthy pasta recipes.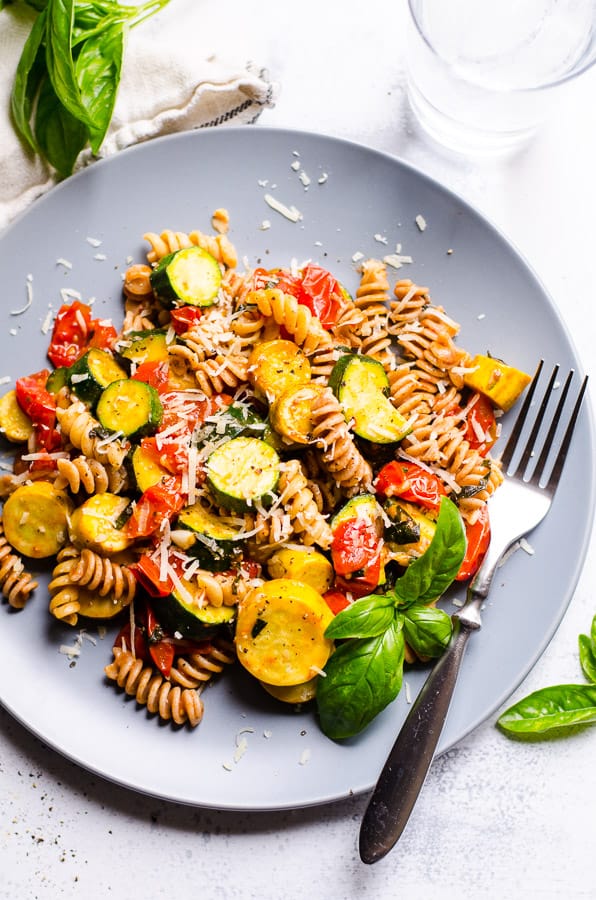 With just 6 ingredients and 30 minutes, you can whip up this fresh, flavorful (and cheesy!) zucchini tomato bake. This simple healthy side is perfect for using the summer bounty of ripe, in-season zucchini and tomato. Best of all, it's versatile enough to pair with all sorts of proteins, grains, and meals!
If you like coleslaw and you like Thai flavors, then you'll love this Thai-inspired peanut 'slaw! By combining regular slaw veg with scallions, cilantro, and a creamy 5-ingredient peanut sauce, this peanut slaw is the perfect addition to picnics, potlucks, BBQs, and for a mid-week meal side- all in just 10 minutes, too!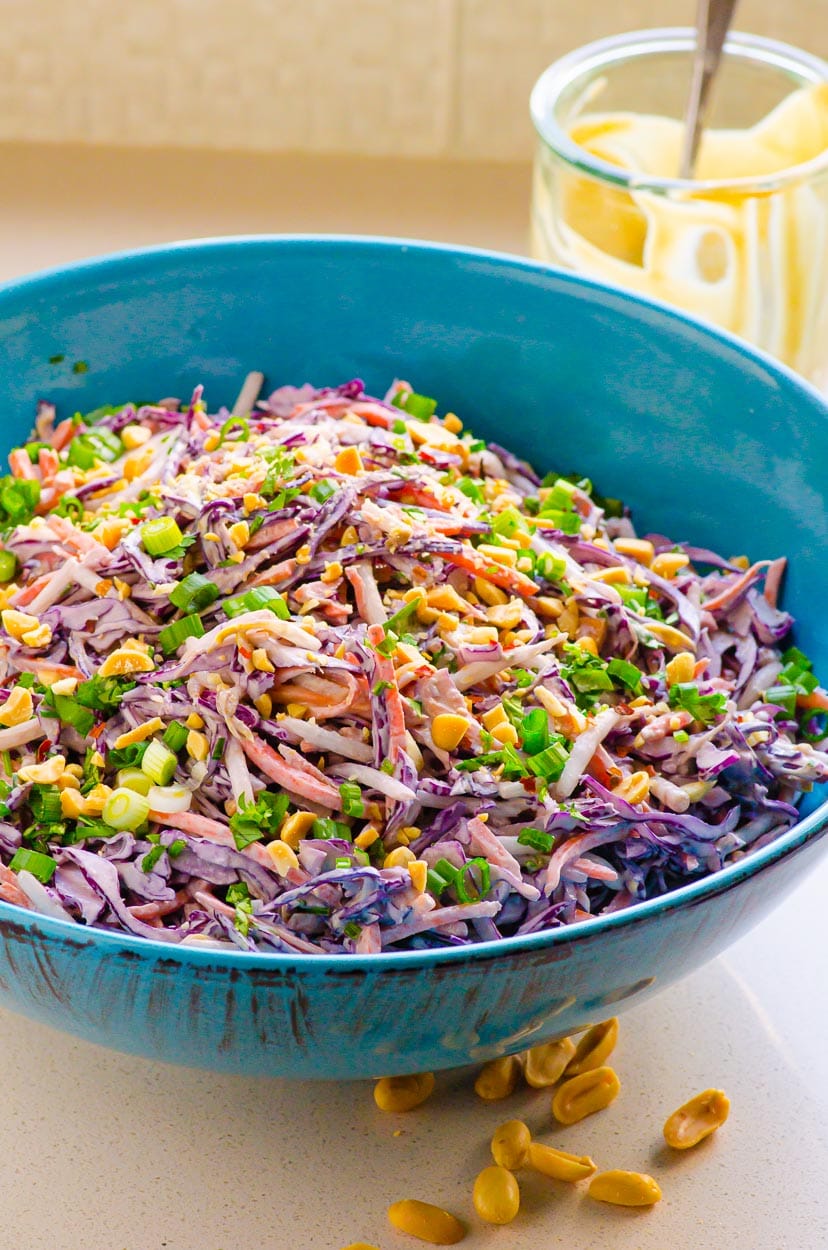 While simple, this broccoli quinoa salad is packed with enough flavor and texture to impress even the broccoli-cautious. This simple salad is packed with plant-based protein, nutrients, and taste and texture (thanks to the chew of quinoa and crunch of toasted almonds). Combine that with a simple olive oil and lemon-based dressing, and this simple salad is the ultimate flavor booster for any potluck!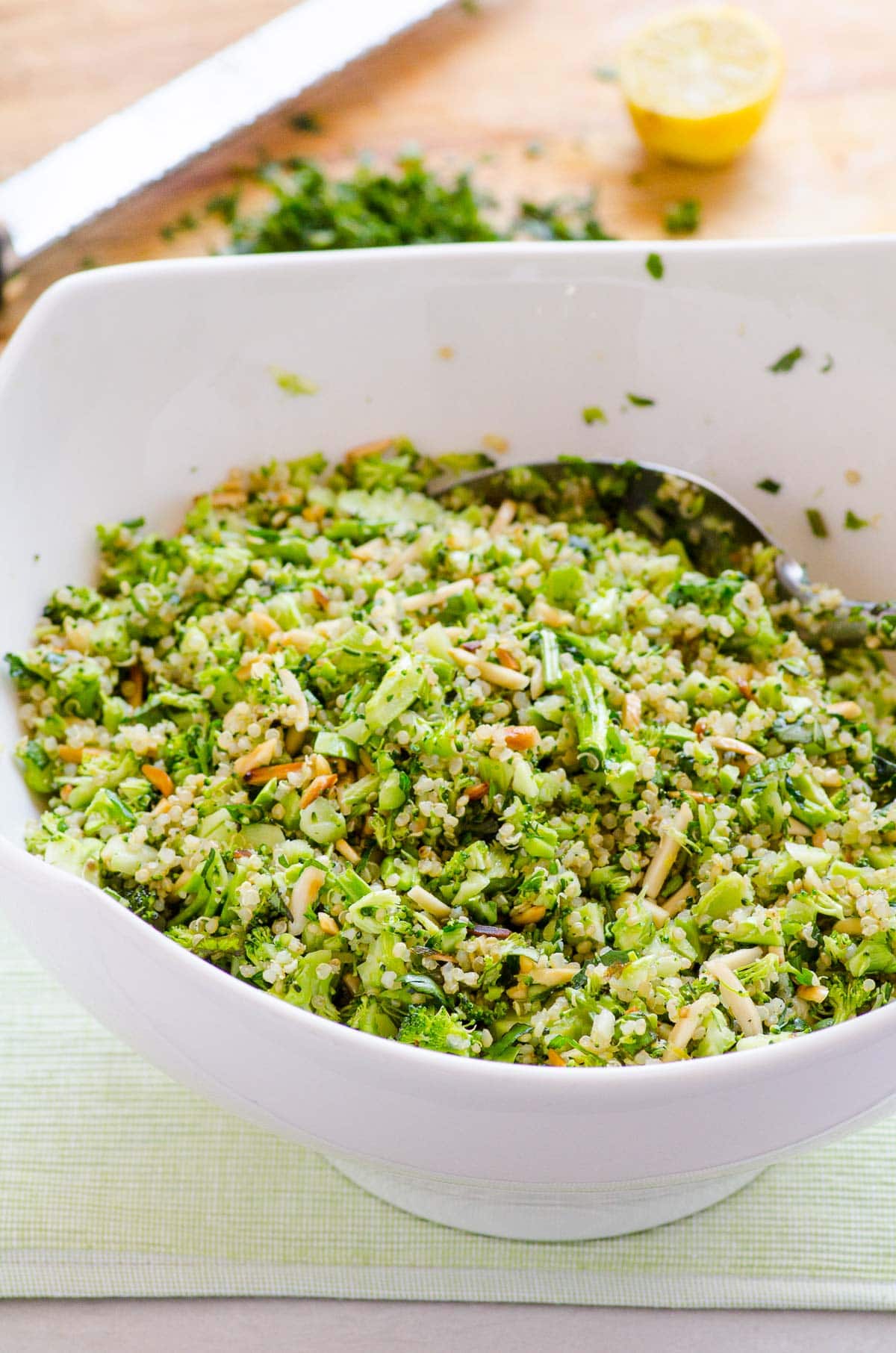 This simple mushroom and broccoli stir-fry is packed with healthy plant-based protein and fiber. Combine the veggies with toasted walnuts and hearty brown rice for what doubles up as a healthy dinner side or main. Then, combine it with your favorite protein for a complete, nutritionally dense meal in under 30 minutes!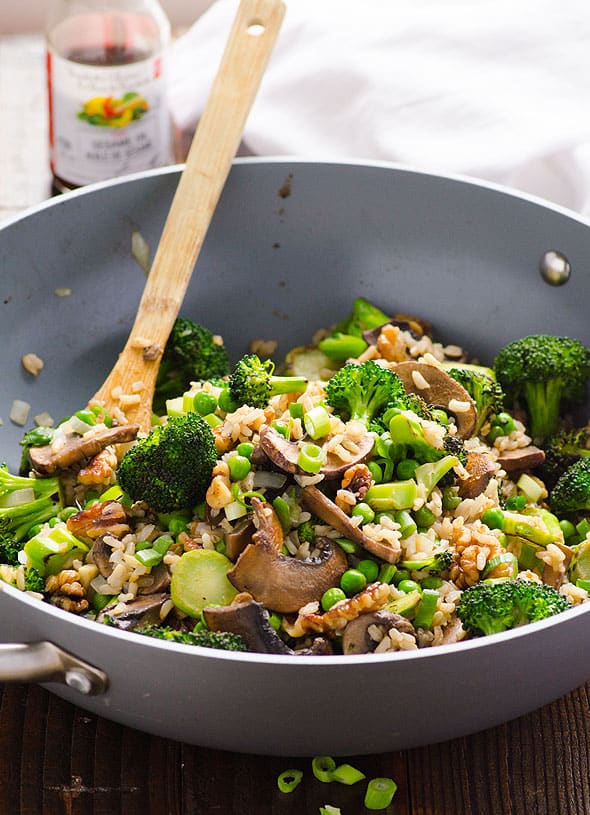 If you're a big fan of quinoa, then let me introduce you to buckwheat and this buckwheat stir fry with mixed vegetables! This 'seed' is packed with protein and nutrients (like quinoa), is naturally gluten-free (like quinoa), and has a nutty, chewy flavor/texture (similar to quinoa!). When combined with lots of veggies and just enough cheese for a 'creamy' topping, this makes for a healthy side that's perfect for serving with your protein of choice!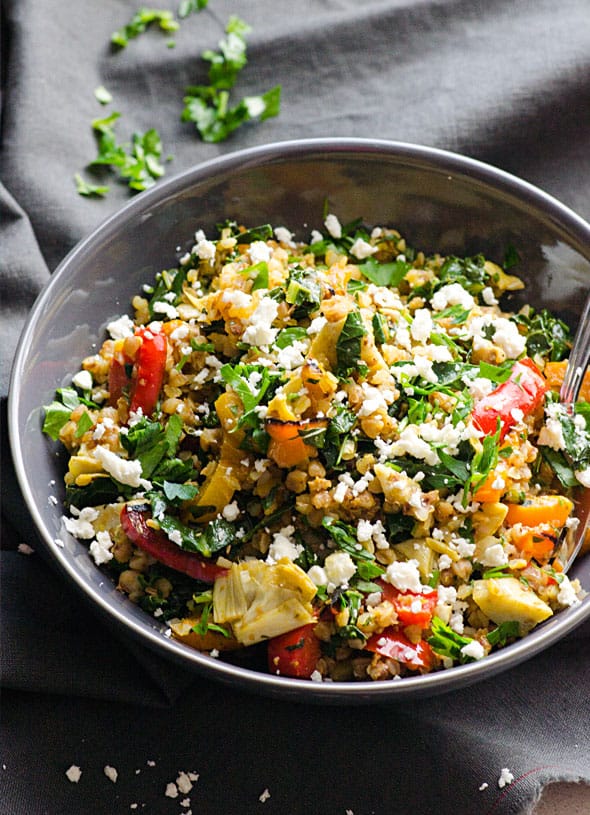 If you like the combination of sweet and savory, then this antioxidant-rich avocado blueberry quinoa salad is a must for your summer table! The combination of avocado, quinoa, pecans, and blueberries is an excellent blend of flavor and texture and a good source of heart-healthy fats, complex carbs, and protein. Then, top it off with a simple lime-basil dressing for a summery, healthy side!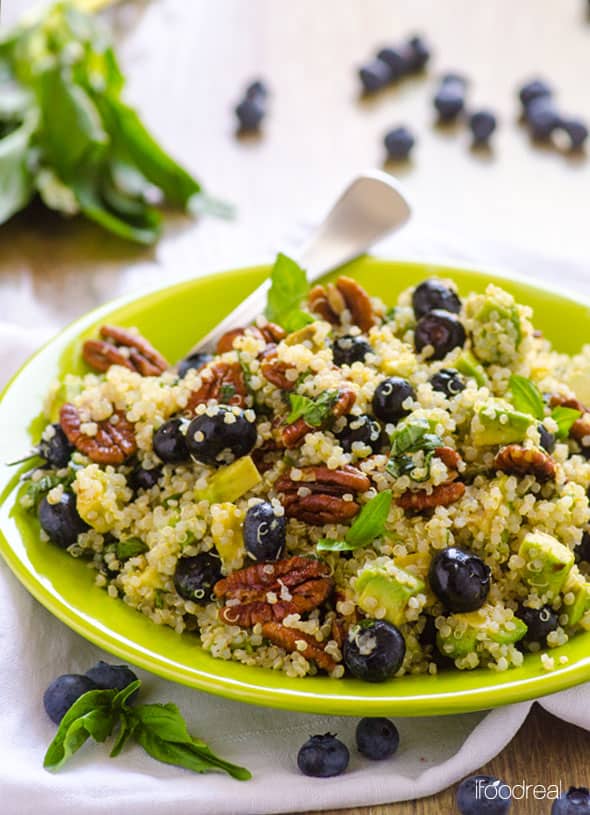 At the height of summer, when tomatoes are at their ripest, this simple cucumber and tomato salad is a must-have on my dinner table. It's made up of just 6 ingredients and is ready in minutes for a side salad that is bursting with flavor! Better yet, it's neutral enough to pair with all sorts of proteins and mains.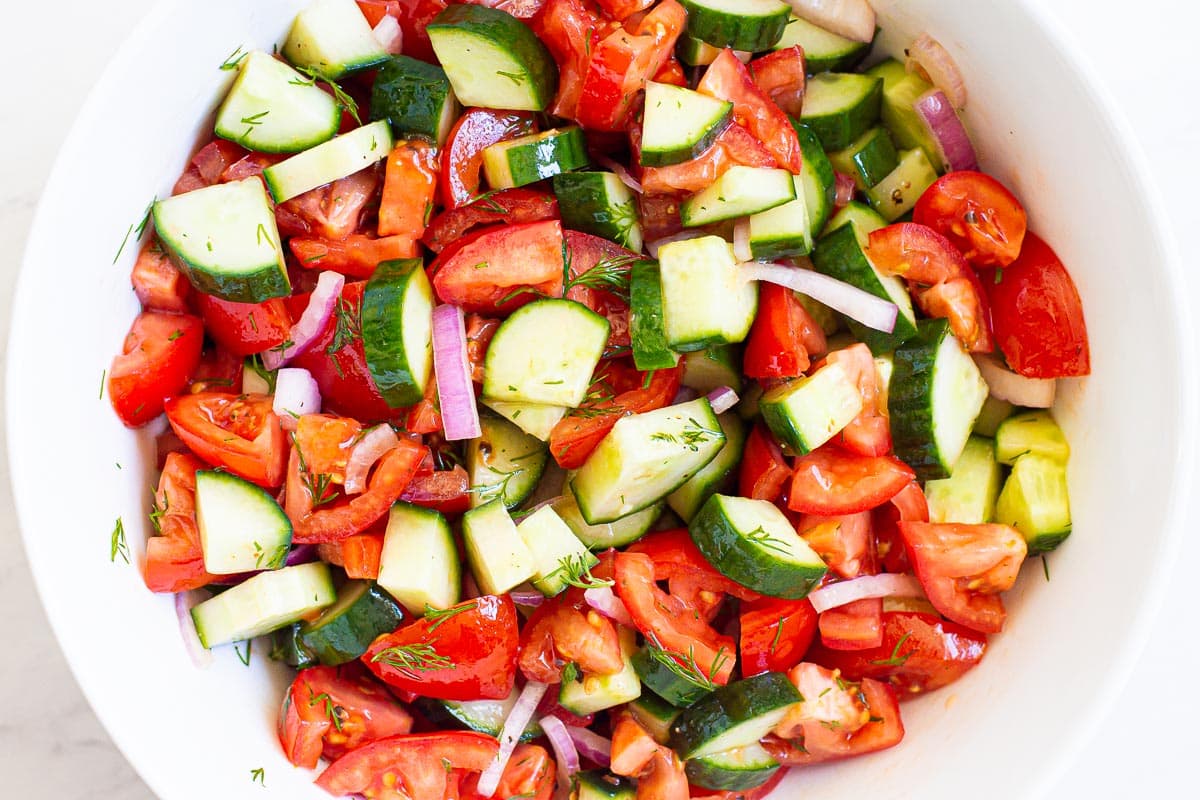 Baked parmesan zucchini are packed with cheesy flavor and yet super low-calorie! Enjoy them as a healthy appetizer or side to flavorful mains like lemon chicken or grilled cedar plank salmon!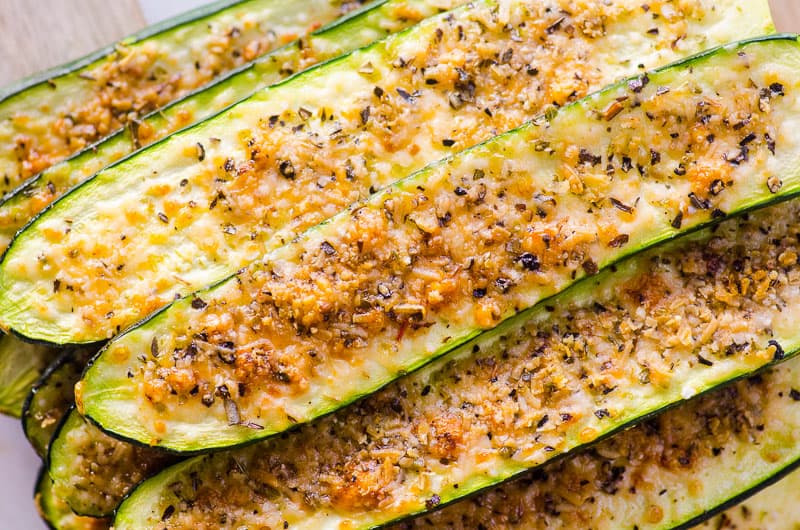 The perfect side for chicken and sometimes we even put the chicken in the salad! Tossed with a healthy Caesar dressing and sourdough croutons, this side will be one you make over and over again.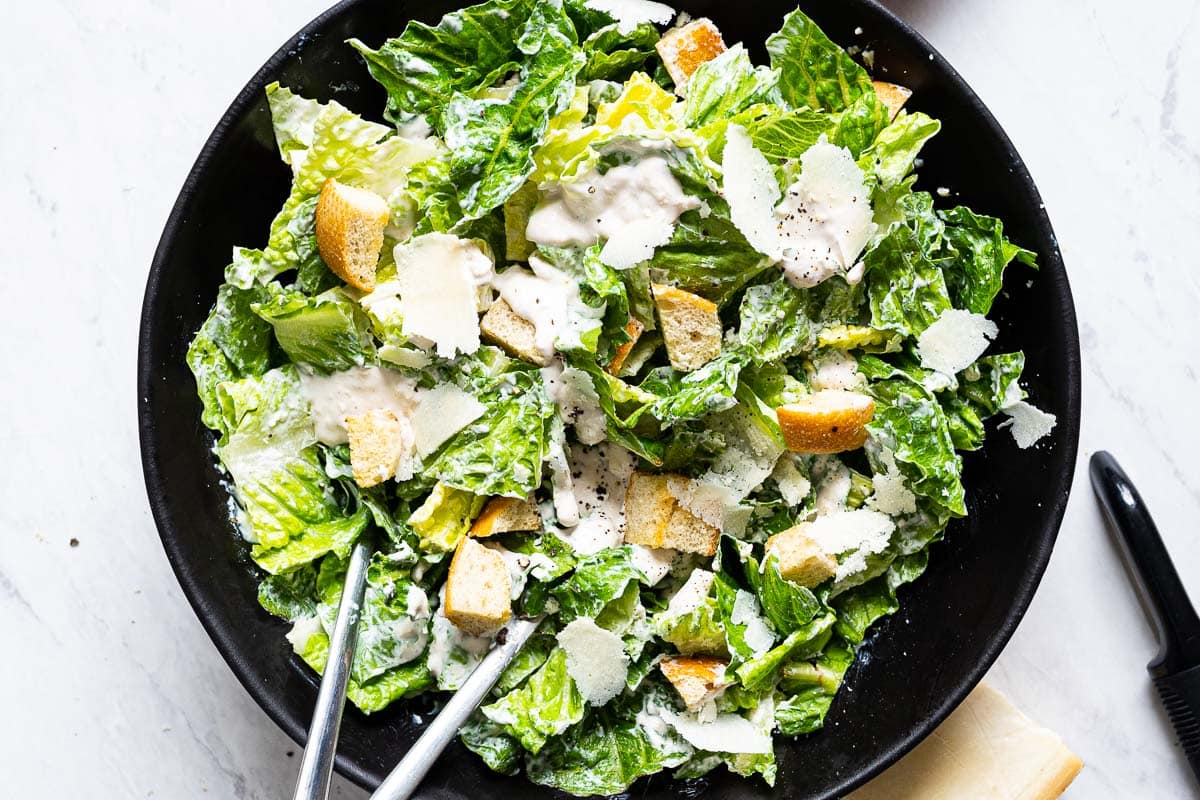 Healthy Sides for Steak and Burgers
No BBQ table would be complete without a large dish of this flavorful balsamic marinade for grilled vegetables! This combination of thick-cut veggies are grilled to a semi-tender, charred result and tossed in a tangy balsamic marinade makes for the ultimate flavorful grilled veggie side (even kids will love it!). Best of all, they're so versatile that they pair well with tons of mains and can be enjoyed warm or cold!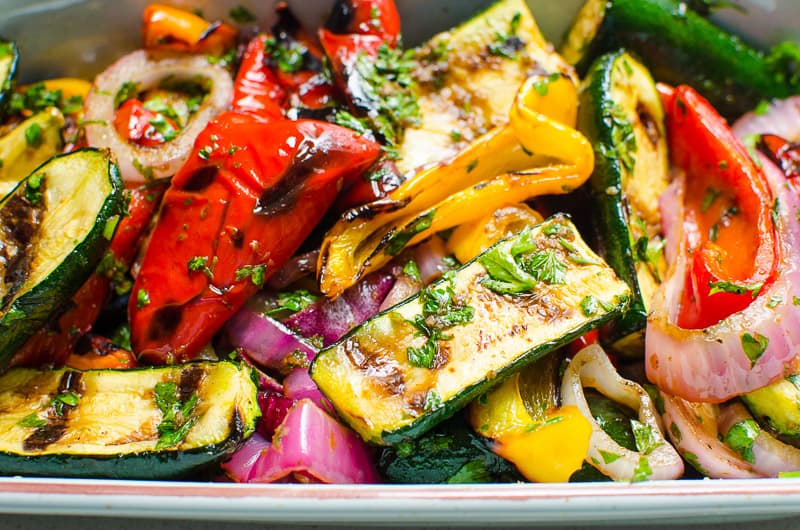 I've made no secret of the fact that, here at iFoodReal, I'm a little healthy zucchini recipes obsessed. So along with skillet and baked versions, this simple grilled zucchini is a fantastic way to enjoy this nutritional veg during grill season! However, with just 5 simple ingredients, 20 minutes, and multiple cooking methods, you can enjoy this zucchini healthy side year-round!
Bacon Wrapped Asparagus
Yes, you read that right – even as a healthy eater, I've found ways to enjoy bacon in my diet still (and my family thanks me for it!). This bacon-wrapped asparagus side dish recipe is oven-roasted for a delicious combination of crispy, tender, and juicy. Finish it off with a bright splash of lemon juice and serve as an appetizer or side at dinner parties, potlucks, and during the Holidays.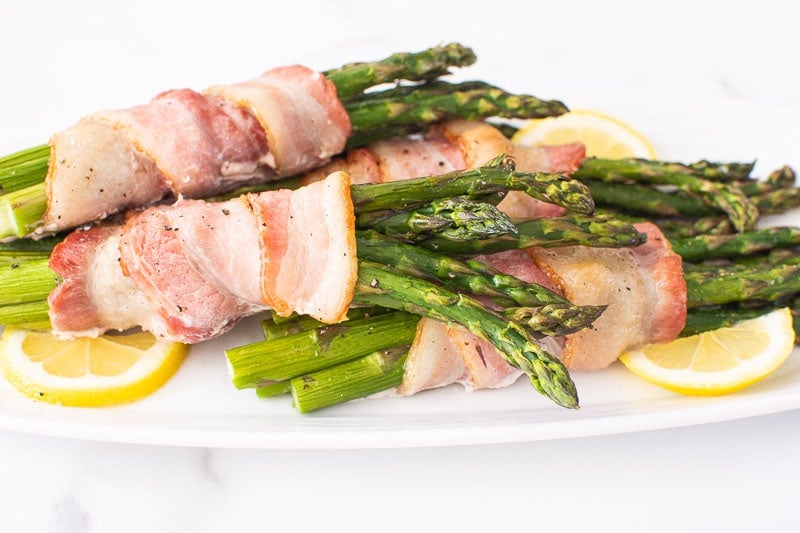 Healthy and mac and cheese in the same sentence?! Yes, please! This healthy mac and cheese uses just one pot and is ready in 15 minutes. The results are creamy, cheesy, and packed with flavor, yet a healthier version to regular, fatty mac!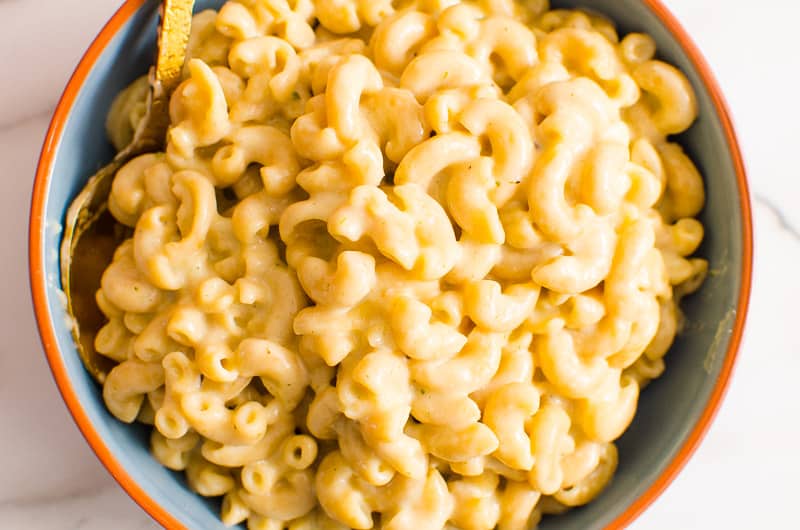 If a picture speaks a thousand words, then for these skillet potatoes, those words would include tantalizing descriptions like hearty, savory, bacony (that's a word, right?), crispy, flavorful, delicious, more-ish…. and easy! All you need for these crispy skillet potatoes is 5 ingredients. The result is a healthy dinner side that doubles up as a breakfast side, too!
Just like the above, this sweet potato and eggs tray-bake pairs wonderfully with mains or for breakfast. With a combination of hearty sweet potatoes, protein-dense eggs, bursting tomatoes, and salty-savory feta cheese, this simple one-pan meal is flavorful and perfect for serving with meats (especially for mopping up the oozing yolks!).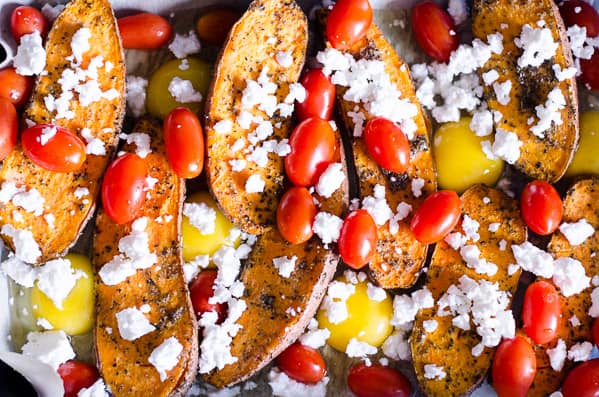 This zucchini potato bake is a simple and healthy dinner side with a Ukrainian twist, combining the hearty veggies with a yogurt (instead of mayo), garlic, and dill-based dressing! The result is a rich and creamy veggie side that is surprisingly light and healthy!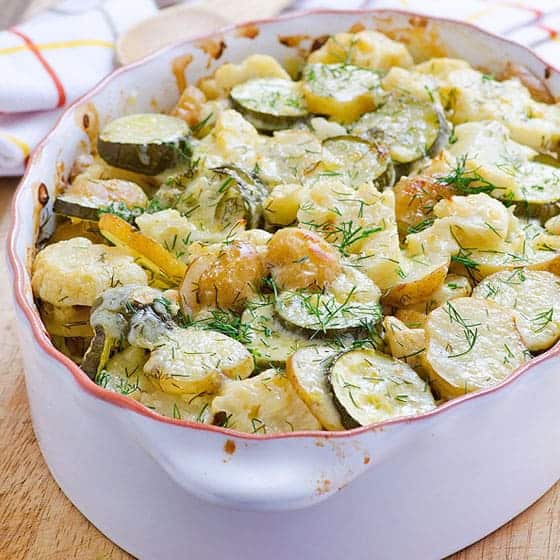 This baked mac and cheese with cauliflower is made healthy using brown rice pasta and an abundance of cauliflower. The result is a dish with tons of added volume, but not calories – meaning you can get away with a delicious cheesy topping, too! Best of all, while healthier than regular mac and cheese, your kids will still love it! Serve it up with a steak for a hearty, crowd-pleasing meal!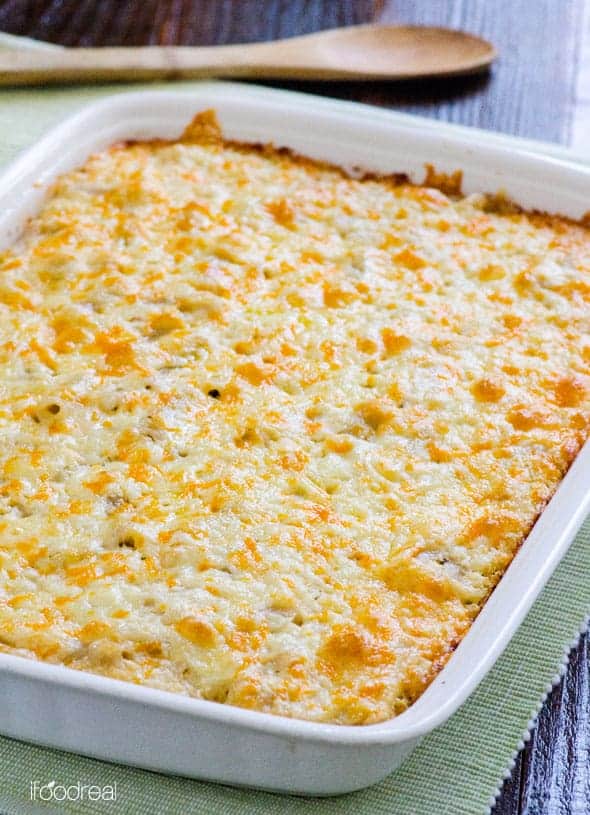 This creamy, umami-rich, mushroom stroganoff makes for a hearty 30-minute vegetarian meal or side (and substitute for regular beef stroganoff). However, aside from serving up with pasta, this creamy dish also makes for a great steak topping! Try it, and you'll see!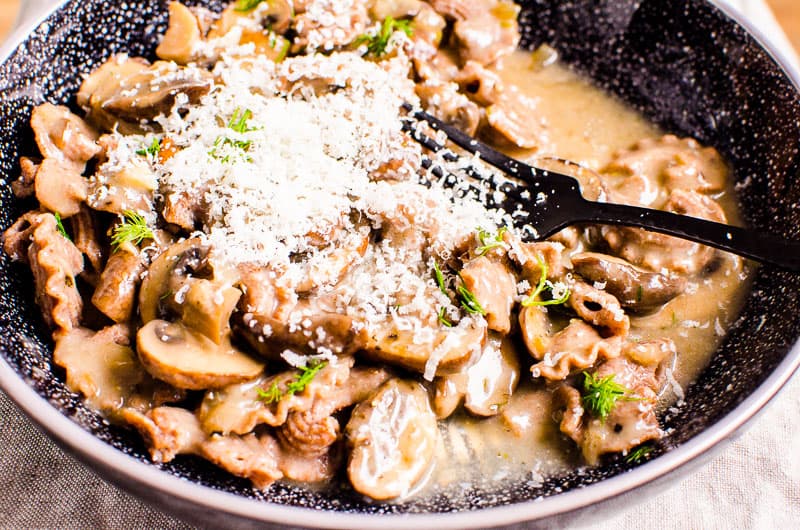 My picnic/ BBQ tables wouldn't be complete without a massive down of healthy potato salad. However, unlike regular mayo-laden potato salad, this version uses Greek yogurt as the main base for the creamy dressing, with just enough mayo to taste rich without weighing you down. You can make Instant Pot potato salad, too!
Any spud lover knows the power of a well-baked 'jacket potato.' However, unfortunately, the baking process isn't exactly quick. Luckily, these Instant Pot baked potatoes are ready in HALF the time (under 25 minutes) and are wonderfully tender inside!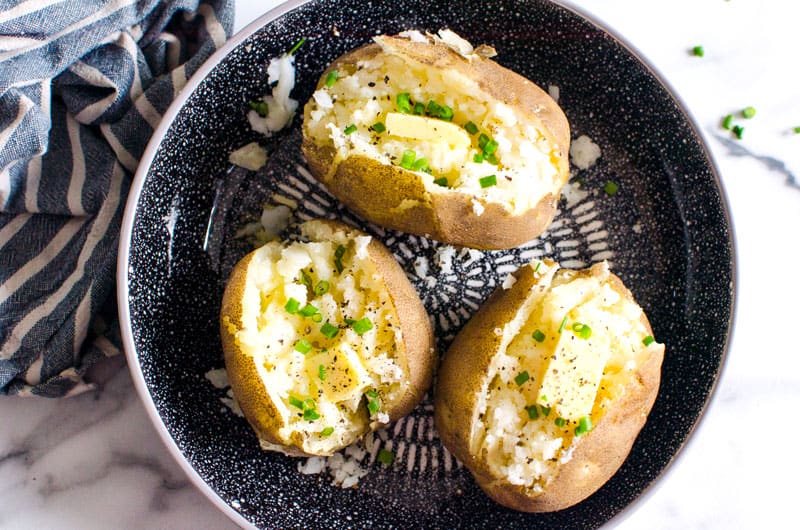 Skip the questionable tinned versions for a delicious homemade Instant Pot baked beans recipe. By using an Instant Pot, these flavorful baked beans are ready in just a fraction of the time it regularly takes for similar recipes. Yet the resulting beans still taste slow-cooked with a sweet, smoky, savory sauce packed with depths of flavor and perfect as a healthy side for any BBQ or picnic!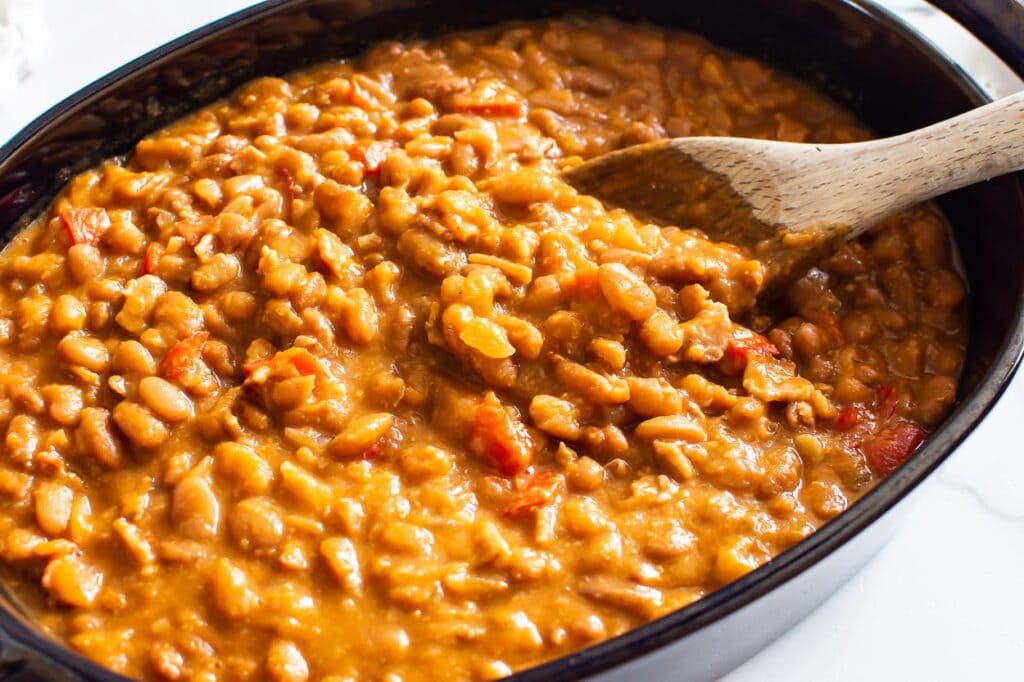 In as little as 10 minutes of cooking time, you can enjoy tender, sweet, and flavorful Instant Pot corn on the cob, perfect for serving at BBQs, potlucks, picnics, and more! Enjoy as-is, top with your topping of choice, or remove the kernels to serve in Mexican street corn salad, tacos, alongside steaks and burgers, and more!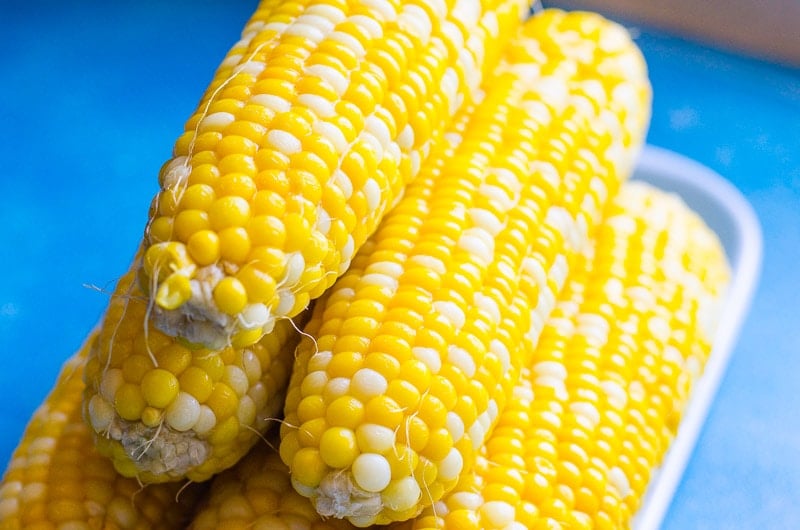 Lightened up and perfect as a meal on it's own or tasty side, this 20 minute healthy tuna pasta salad is a crowd pleaser.
Low Calorie Side Dishes
This creamy cucumber salad combines fresh and crunchy cucumbers with dill and yogurt (or sour cream) for a simple, flavorful, refreshing low calorie side dish recipe. Best of all, this simple salad is gluten-free, low-cost, healthy, and can be enjoyed at any time of the year!
Swapping carb-heavy rice for lighter cauliflower rice turns with flavorful cauliflower risotto into a great 'light' and healthy dinner side. Even better, this recipe is ready in just 15 minutes and is a hearty yet low-carb, keto-friendly side. In fact, a single portion contains just 11g net carbs (a THIRD of regular risotto!)!
If you're serving more of a Tex-Mex or Mexican-inspired meal, then this Mexican cauliflower rice makes for a flavor-packed, nutrient-dense, and low-carb, healthy side! Omit the ground turkey and serve alongside carne asada steak or this healthy turkey burger recipe for a delicious and hearty meal!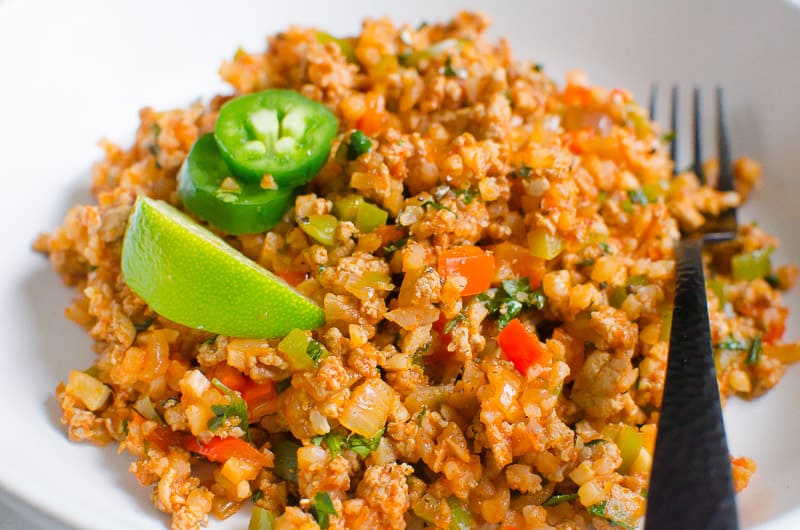 Egg fried rice is given a healthier glow-up using cauliflower rice (aka cauliflower fried rice). This version of the popular side dish is ready in just fifteen minutes, and you almost won't believe it's made from cauliflower! Plus, you can use fresh or frozen cauliflower rice!
You can serve this cilantro lime cauliflower rice with chicken (as pictured) or shrimp cooked directly into the dish. Alternatively, omit the meat and serve this fragrant Mexican-inspired, low-carb cauliflower rice as a side to a well-seasoned steak or healthy black bean burgers.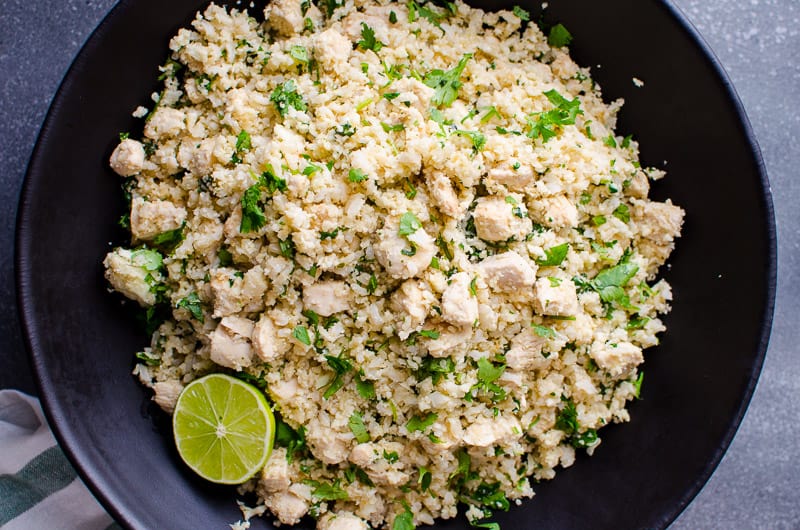 Stepping away from Mexican inspiration is this Thai cauliflower rice. This Thai-inspired cauliflower rice is wonderfully aromatic with ingredients including red curry paste, coconut milk, fish sauce, maple syrup, peanuts, cilantro, and jalapenos. It will pair wonderfully with chicken breast on the grill and chicken breast in the oven, grilled salmon, and carne asada steak!
This cheesy cauliflower rice allows you to get your fill of ooey-gooey cheese while still making the most of your summer's veggie bounty. Packing in tons of zucchini, this cauliflower rice healthy dinner side is packed with flavor and takes just 15 minutes to prepare! Best of all, it's neutral enough that this healthy side is super versatile and pairs with all sorts of mains and meals!
When you realize how light, tasty, and simple this sauteed zucchini recipe is, it'll soon join your healthy side dish recipes rotation! All you need is five ingredients and just 5 minutes to prepare the ultimate pan-fried zucchini for potlucks, BBQs, picnics, and mid-week meals!
For a lighter, low-carb version of family-favorite creamy mashed potatoes, try this cauliflower 'mashed potatoes' recipe. This mashed cauliflower is amazingly smooth and creamy and is a perfect 'light' alternative to serve on holiday tables with your bone in turkey breast or alongside savory pot roast!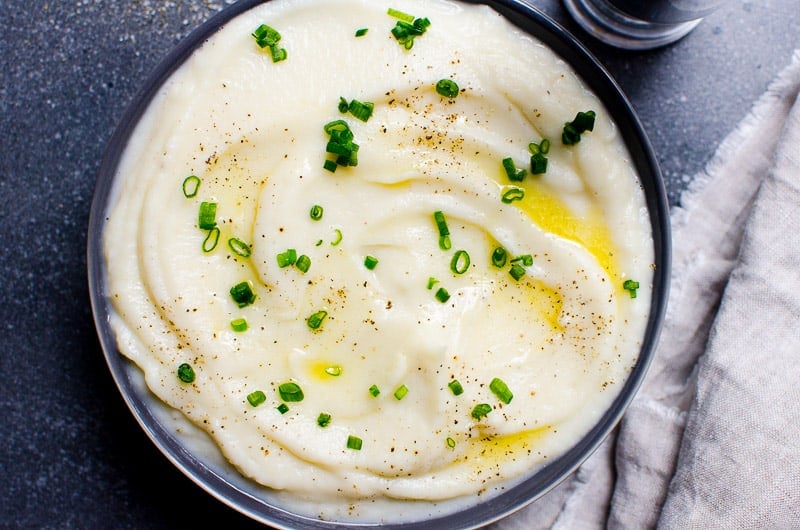 Simple sauteed vegetables are my favorite when I'm running low on effort and still want to serve my family a nutritious meal. This sauteed broccoli with tomatoes is simple to prepare and takes just 15 minutes from start to finish.
It also makes for the perfect healthy dinner side to steak and other proteins or mains. I serve it with grilled meats during the summer, and later on, it pairs wonderfully with healthy chicken pot pie casserole and other heartier 'cozy' meals.
These cauliflower breadsticks are cheesy, won't crumble when held, and are a delicious low-carb, gluten-free, Keto-friendly, low-calorie breadstick alternative. If anything, this cauliflower cheese bread is MORE decadent with bubbly cheesy and a 'pizza'-esque taste, and yet a single portion contains just 29 calories and 2g net carbs!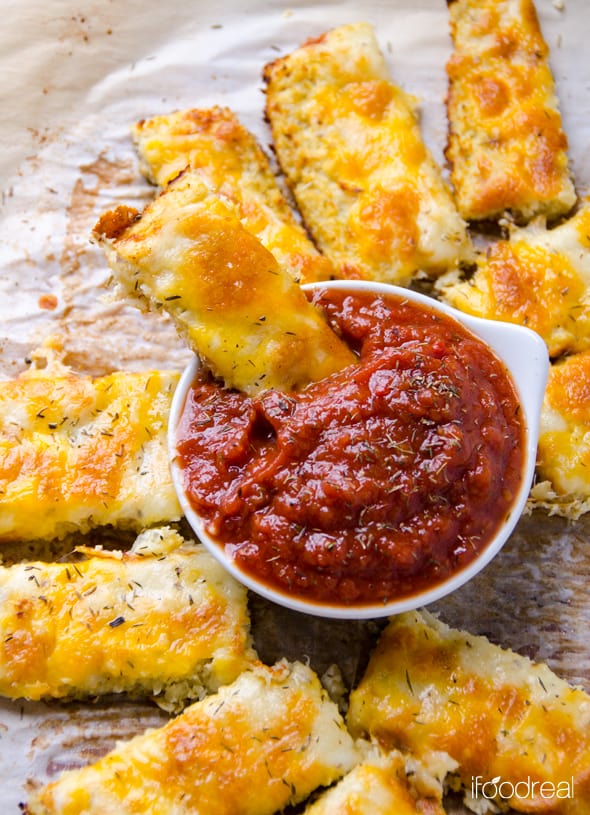 For another cheesy cauliflower-based treat, why not try these cauliflower biscuits?! No, they aren't as light and fluffy as regular biscuits (more like a cheesy veggie muffin or cauliflower tot). However, they make for a delicious biscuit alternative and are still delicious!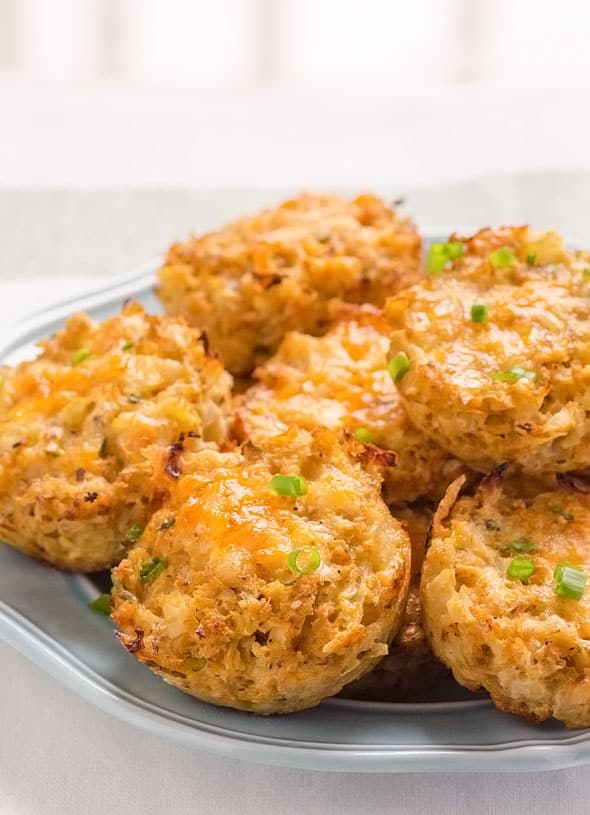 For all the hands-off cooks out there, a slow-cooker is a godsend. While there's already a cauliflower mash recipe in this list, this slow cooker cauliflower 'mashed potatoes' recipe is truly effortless! Add all the ingredients, leave to cook, then drain and puree into a creamy, dreamy mashed consistency perfect for serving on a Holiday table with turkey breast or alongside a sirloin tip roast.
For a lower-carb version of a family classic, why not try this cauliflower potato salad. Not only does this recipe swap out all the potato for low-carb cauliflower, but the dressing reduces the mayonnaise, relying on Greek yogurt instead to create a wonderfully creamy sauce. The results are a creamy, dreamy result – and you won't even miss the potatoes! Perfect for serving with healthy BBQ pulled pork.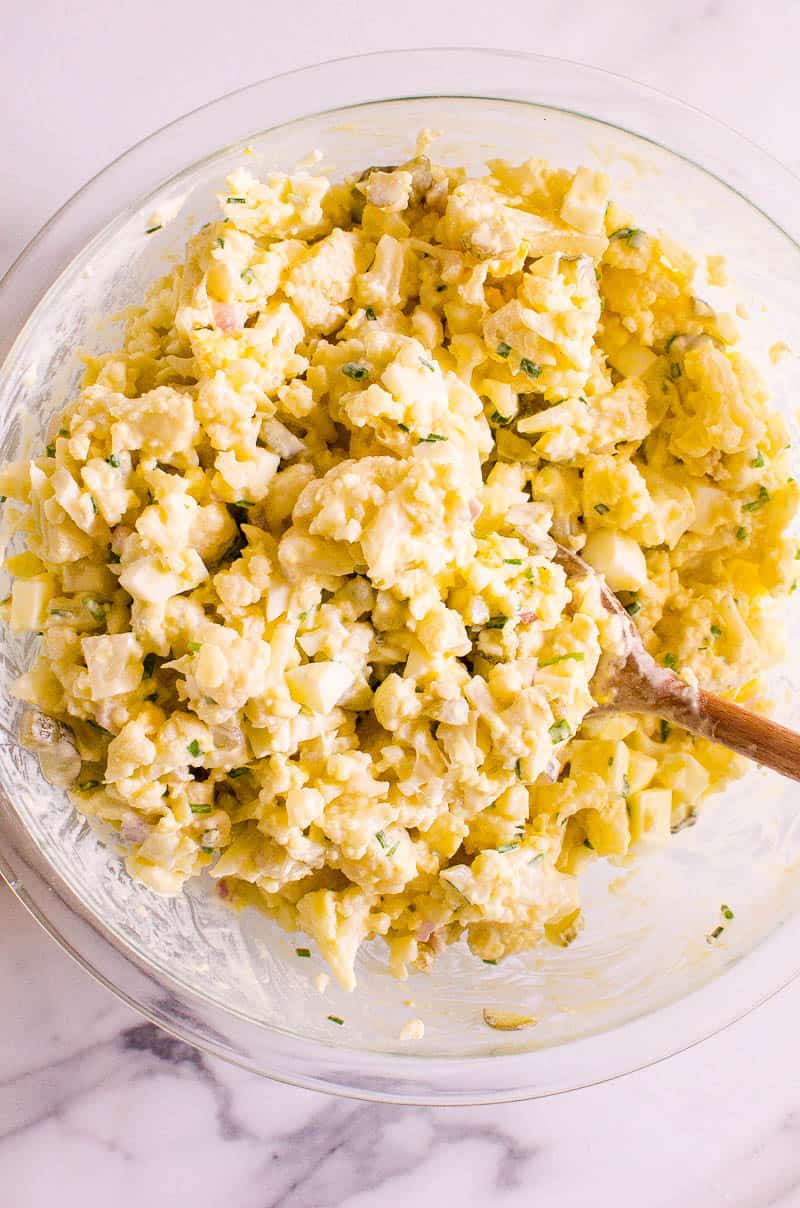 All the taste of your favorite chicken wing but lower calories and healthier! Air Fryer buffalo cauliflower is crispy and dripping with your favorite buttery buffalo sauce. Make for a healthy side with all your favorite mains.
Healthy Veggie Side Dishes
Roasted veggies are my ultimate favorite low-effort healthy dinner sides. For example, this roasted asparagus recipe requires just minutes of hands-on prep before transferring the veggies to the oven to be roasted to perfection – no limp or mushy asparagus here!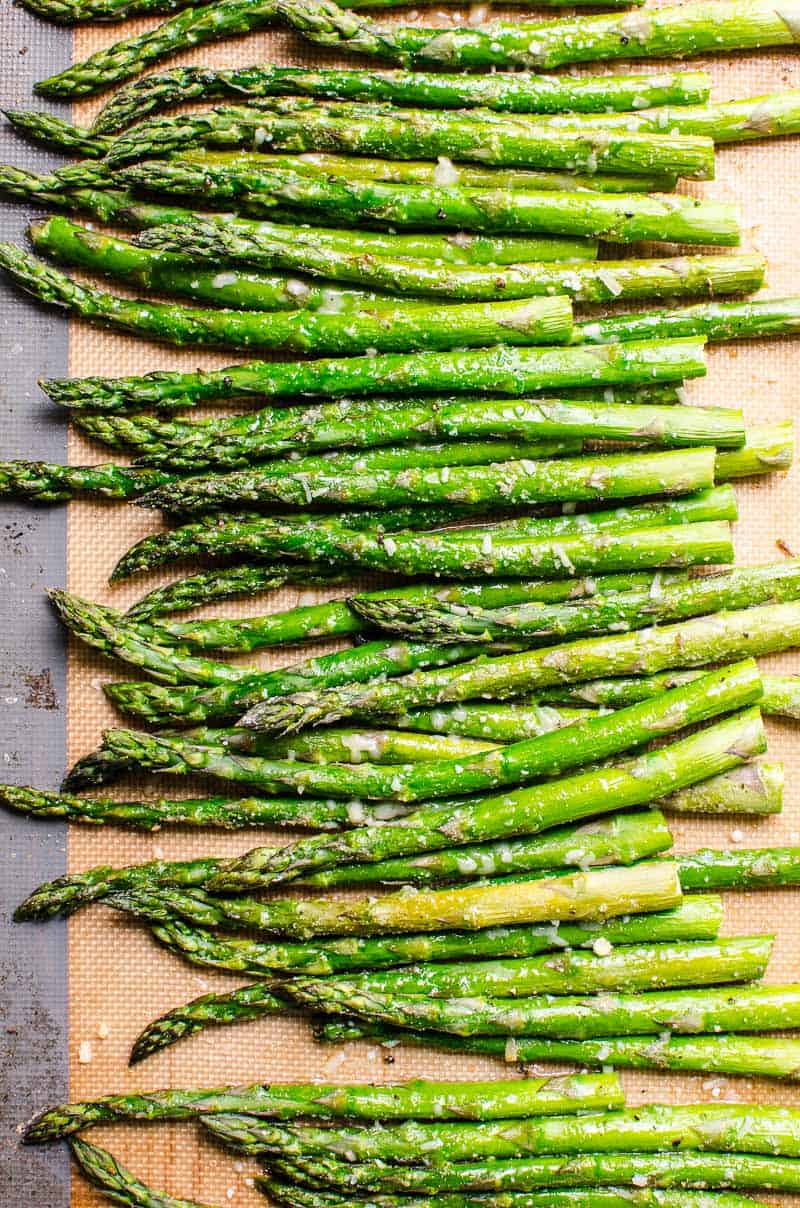 Kale has exploded onto the health food scene as a bit of a 'superfood' over the last few years. However, when prepared incorrectly, it can be bitter and lackluster. When combined with pumpkin seeds, dried cranberries, and a creamy poppyseed dressing, this sweet kale salad is officially a crowd-pleaser! Combine with cooked shredded chicken breast in pressure cooker for a grab and go lunch or light dinner.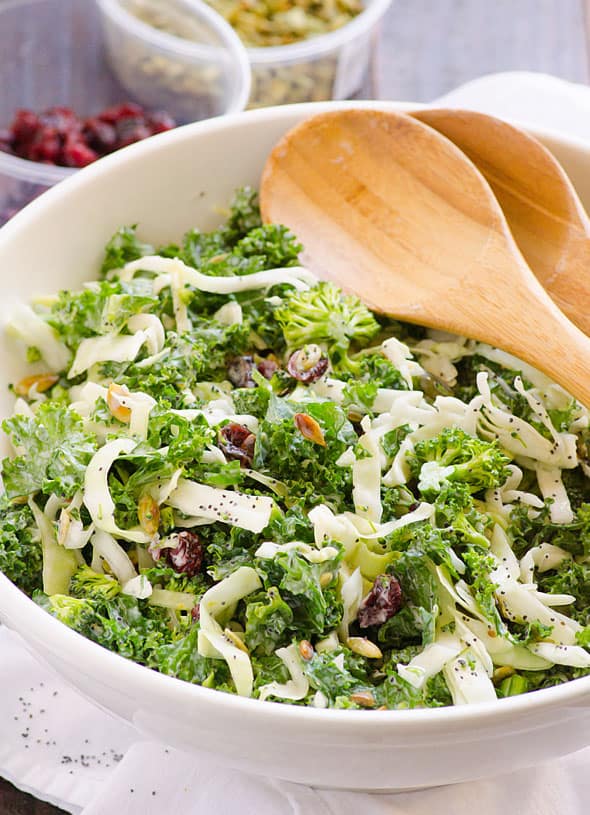 I'm fully convinced that most people who hate sprouts only do so because they've only ever tried them boiled. Turns those haters into fans, though, with this simple parmesan roasted Brussel sprouts recipe. By baking them, these little veg are wonderfully crispy on the outside and tender in the middle. You can even top them off with cheese!
If you like caesar salad, then this lemon kale salad with garlic and parmesan is right up your alley and a perfect healthy side dishes recipe to add to your salad arsenal! It combines nutritious kale and toasted nuts, tossed in a simple lemon and garlic dressing. The result is a simple yet flavorful healthy side dish recipe that pairs endlessly with mains and meals! Meal prep friendly and great with Instant Pot chicken.
In just twenty minutes, enjoy these Instant Pot beets; tender, flavorful, and ready to be added to salads and used as a side or even within other dishes like soups, stews, smoothies, and even desserts!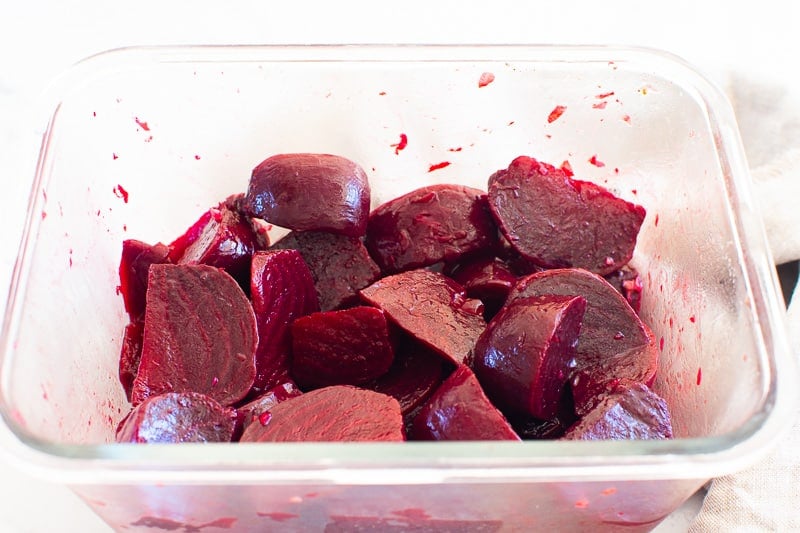 If you want a more traditional use of the tender beets, though, then try this salad of beets with goat cheese and pine nuts! The combination of sweet, earthy, savory, tangy, and salty pair wonderfully and make for a wonderful healthy dinner side!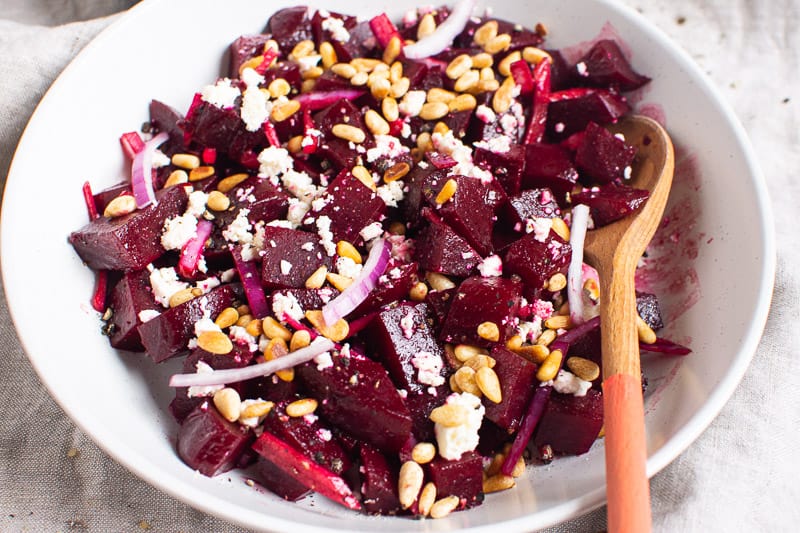 Instant Pot Steamed Vegetables are an easy way to get delicious, tender veggies on your plate with little time and effort. Serve Instant Pot vegetables with melted butter, and a sprinkling of Everything Bagel Seasoning ensures that even your kids will be asking for seconds! Perfect with any main like barbecue chicken!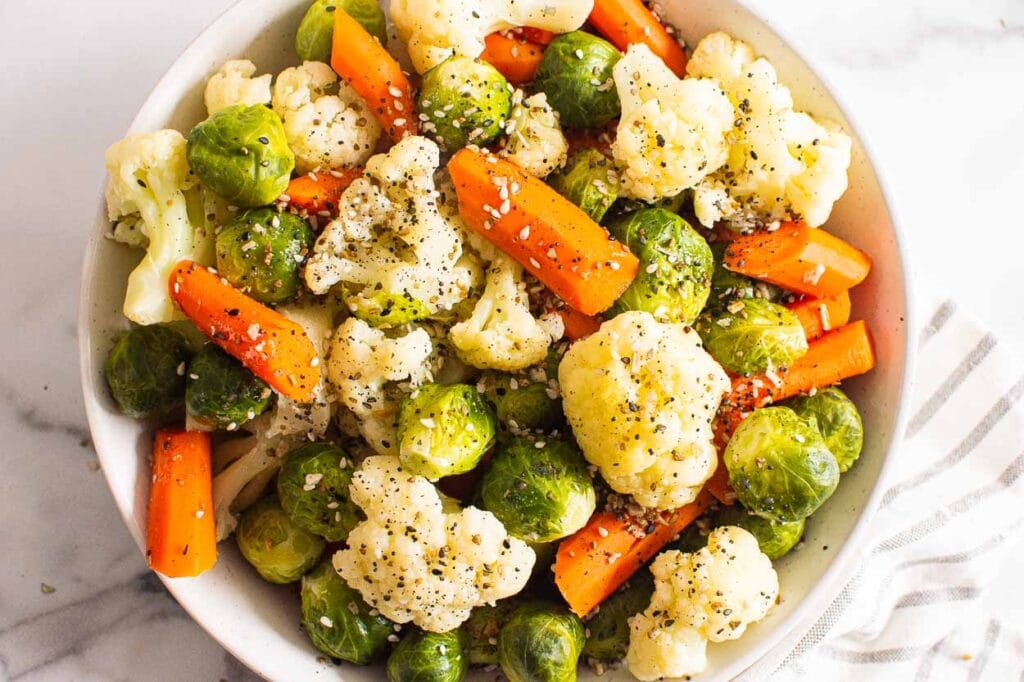 During asparagus season, it deserves to be center stage; whether on its own entirely or used to make delicious and nutritious salads. This asparagus salad combines tender asparagus with creamy avocado, protein-dense boiled eggs, juicy tomatoes, and crunchy slithered almonds. When tossed with a simple Dijon vinaigrette, this warm salad is perfect for serving as a healthy side to the protein and/or grain of your choice! Try any of these healthy chicken recipes for a perfect pairing.
This Asian chopped salad is vibrant in color, with a crunchy, satisfying texture and wonderfully bright and fresh flavors. Combining red cabbage with lettuce, edamame, cilantro, and a homemade Asian dressing, this simple 20-minute salad is practically begging to be served alongside proteins like Instant Pot ribs or baked honey garlic chicken.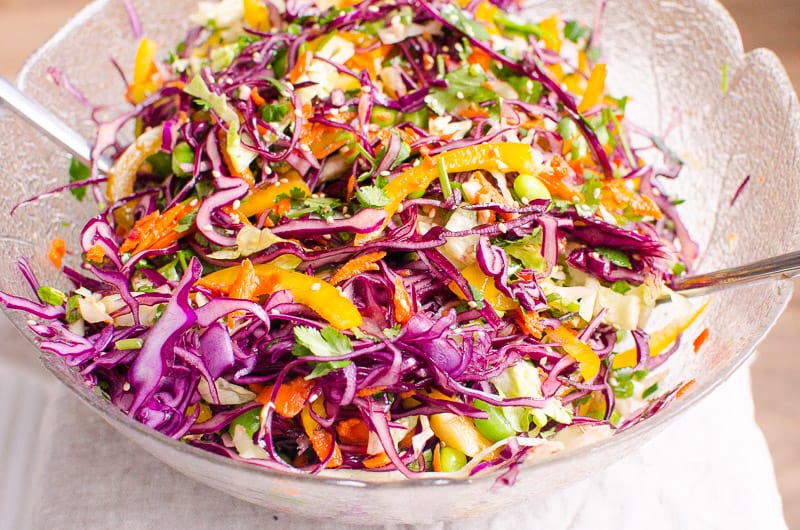 If you're looking for a quick, simple, and super budget-friendly meal or side, then this cabbage stir fry is for you. With a combination of inexpensive cabbage, carrots, and noodles as the base, this easy cabbage lo mein style dish is easy on the wallet, ready in 20 minutes, and packed with nutrients! Serve with chicken thighs made in crock pot for an easy weeknight dinner.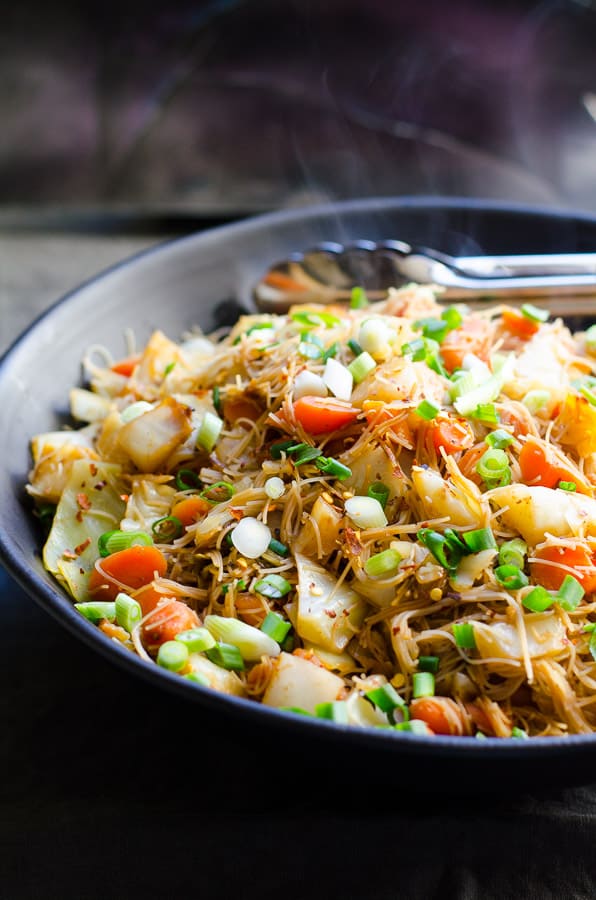 This traditional Greek salad recipe is crunchy and hearty from raw vegetables, Kalamata olives, and feta cheese. The combination is wonderfully salty and savory, making for a hearty and filling healthy dinner side salad. Pair with the protein of your choice (we recommend Greek chicken kabobs!) and, no matter what, this 6-ingredient salad will shine!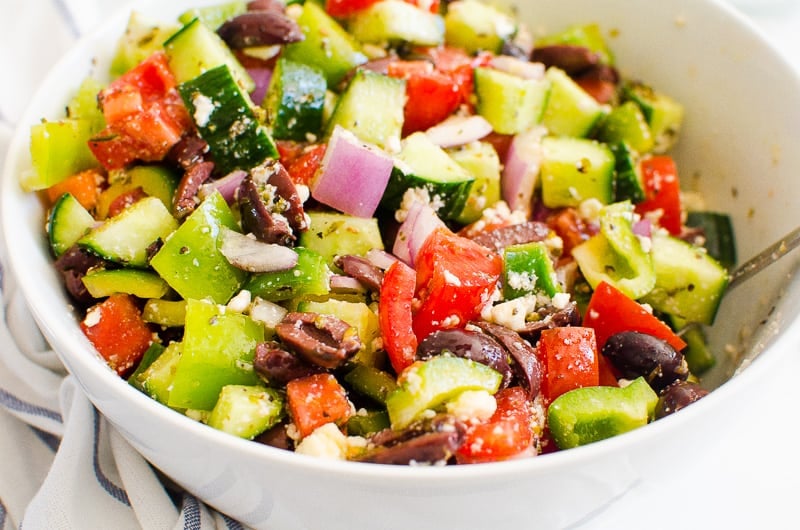 Rice Side Dishes
During summer, zucchini manages to find its' way into everything, like this classic tex mex rice and beans (and zucchini)! It contains a ton of flavor, fiber, plant-based protein, and nutrients. Plus, it pairs wonderfully with all sorts of proteins and meals, or even tacos – making for a nutritious and delicious healthy dinner side!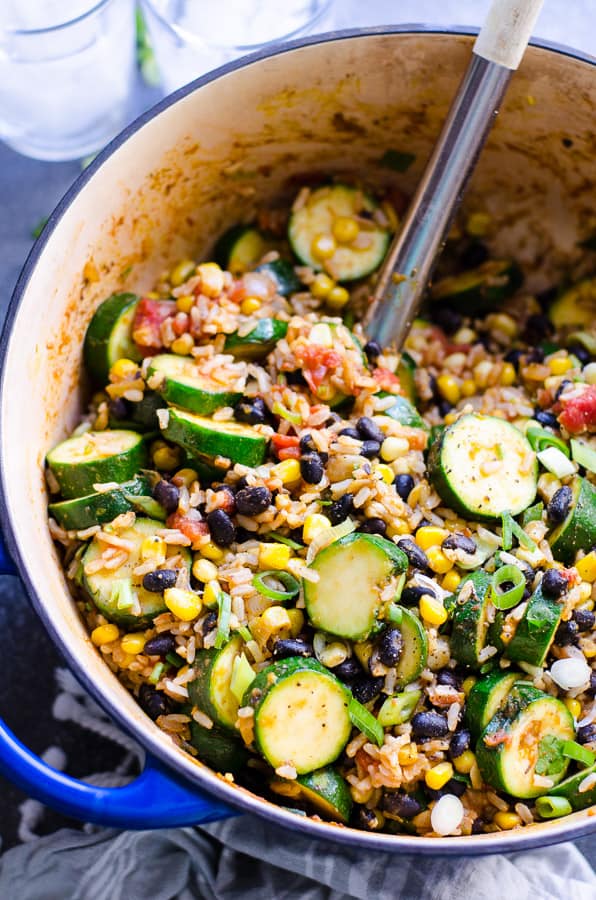 For brown rice that is wonderfully fluffy and tender every single time, try this failproof method for Instant Pot brown rice. It's cheap, versatile, highly nutritious, and perfect for pairing with an almost endless amount of meals! It's a staple in this household – especially when pairing with chicken!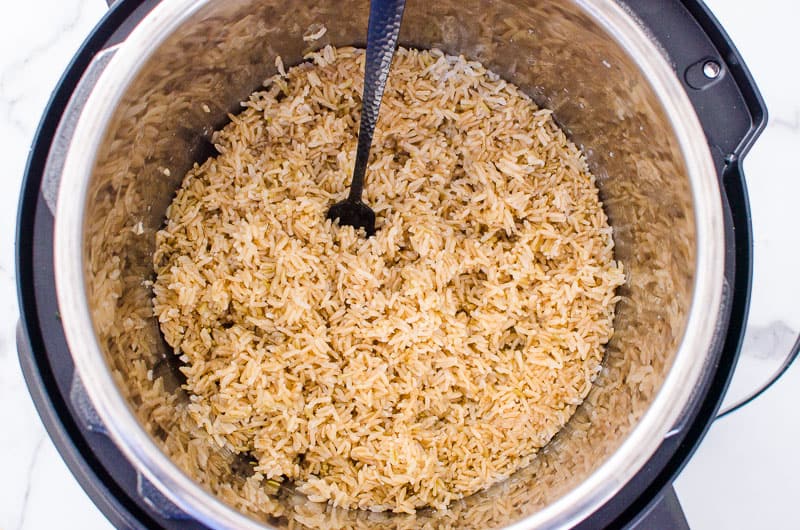 This Instant Pot rice and beans requires no soaking of beans, no pre-sauteing, and no other annoying extra steps. Instead, this simple method practically chucks everything together, and in under 30 minutes, voila – a delicious, flavorful, healthy rice side dish ready to serve with baked chicken breast, ground beef tacos or any number or mains.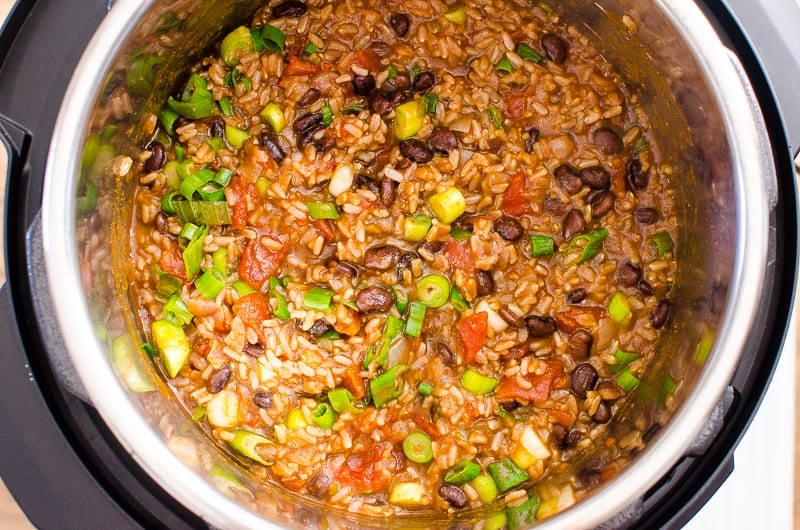 Holiday Side Dishes
In my opinion, no holiday table would be complete without mashed potatoes. However, with regular versions laden with cream and butter, this recipe teaches you how to make homemade healthy mashed potatoes that are creamy, fluffy, and flavorful – but with only a fraction of the fat and calories! This healthy mashed potato recipe uses just 4 ingredients (plus salt and pepper), swapping out entire sticks of butter and cream for milk and just enough butter to be decadent without being overly fatty!
For one of the easiest holiday healthy side dish recipes, I recommend serving up these garlic green beans. They're super easy to prepare and are packed with flavor thanks to sauteed garlic combined with butter and olive oil. The results are tender-firm green beans that are sure to get rave reviews!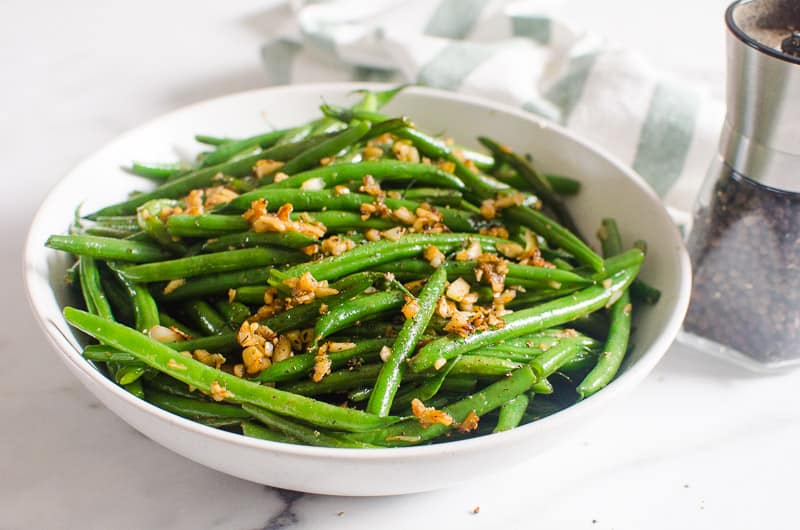 Once again, bacon comes to save the day, turning sprouts from something 'to be avoided' to something your guests (even children) will enjoy! This sauteed Brussels sprouts side combines the ingredient with bacon and pecan for savory, salty flavor and crunchy texture, combined with the subtle sweetness of maple. The results are a must-have on any fall table!
Whether you're looking for a nutritious meat-free side or main, this parmesan pumpkin quinoa with spinach is sure to delight all on any Thanksgiving our autumn table. In just 30 minutes, from start to finish, you can enjoy this cheesy, savory, flavorful pumpkin dish that is packed to the brim with protein and nutrients. Usually, I'm too busy using my pumpkin for sweet treats like healthy pumpkin pie, but this savory dish is truly delicious!
Stuffed mushrooms make for a quick and easy appetizer or side. These parmesan mushrooms are even easier, though, swapping out complicated fillings for a simple (and truly flavorful) bubbling parmesan cheese. With just 15 minutes and 2 ingredients, get ready for everyone to be asking for seconds!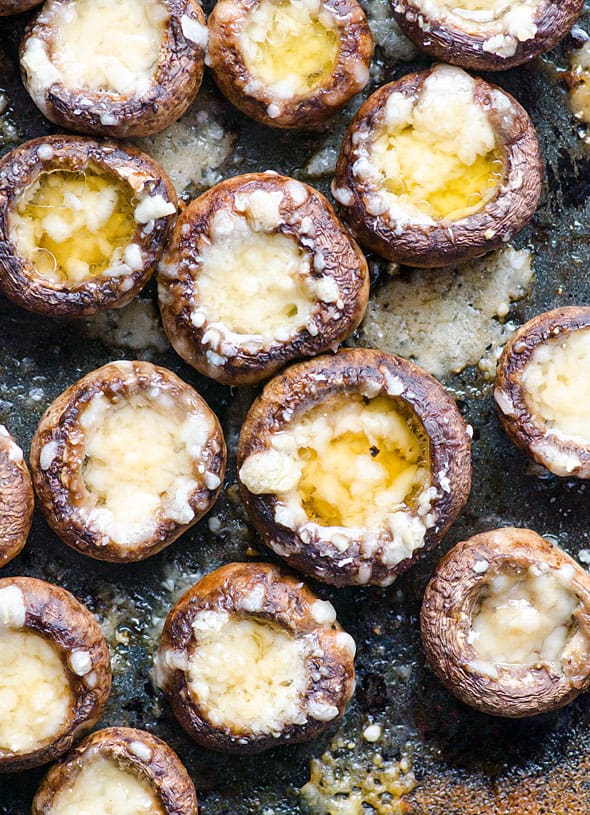 What Holiday table would be complete without a creamy sweet potato casserole. However, this time we've made things slightly healthier for this healthy sweet potato casserole. By swapping out the mallow topping, we've instead relied on a crunchy pecan, and sugar topping that melts in your mouth yet is still much lighter than the regular dish! This healthy dinner side can even be prepared ahead of time and frozen.
Another classic healthy dinner sides recipe for any holiday table (Especially Thanksgiving) is a creamy green bean casserole. However, this healthy green bean casserole omits tinned soups and other 'heavy' ingredients to make a dish that's entirely from scratch with low-sodium, lo-calories, and lighter alternatives! Plus, the results are out of this world!
More Healthy Meals to Enjoy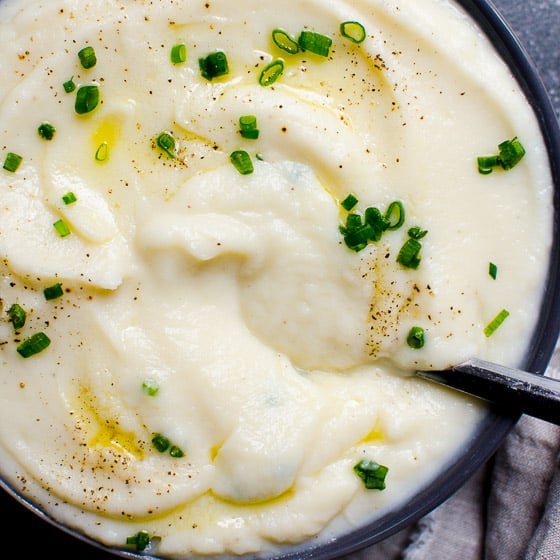 65 Top Healthy Sides: Cauliflower Mashed Potatoes
Cauliflower Mashed Potatoes is an easy, versatile top healthy side dish. Cauliflower 'potatoes' are a great low carb alternative as well as a great way to add a vegetable to your comfort food dinners, during the holidays or anytime you crave a creamy mash but need it to be 'healthier'.
Instructions
Separate cauliflower into florets, then cut into smaller chunks.

In a medium pot, combine cauliflower, garlic and enough cold water to cover the vegetables.

Place a lid on top and bring to a boil. Reduce heat to low and cook for about 10 minutes or until cauliflower is fork tender. Drain.

Add butter or olive oil, salt and ground black pepper to taste.
Notes
Serve:

Cauliflower mashed potatoes taste best fresh and consumed same day. Next day, there is a very prominent cabbage smell.

Reheat:

I do not suggest to reheat it next day. I recommend to make only what you will eat same day. You can cut the recipe in half.

Freeze:

I also do not suggest to freeze it. I tried and I did not like the results.

Make cauliflower mash thicker by removing extra water. Place drained cooked cauliflower florets in a towel lined bowl and let cool down until safe to handle. Then hold onto the ends, make a ball and twist to squeeze out extra moisture. 
You can use frozen cauliflower. It will take a few more minutes to come to a boil rather than fresh cauliflower. 
Cooking garlic: Cooking garlic makes it less spicy. Once mashed with cauliflower it adds nice flavor.
Can I add cream cheese or sour cream: Sure, add to taste, but note it will change nutritional value.
Use a regular potato masher  if you would like a more 'rustic' with chunky texture "potatoes". 
Nutrition
Calories:
184
kcal
|
Carbohydrates:
31
g
|
Protein:
12
g
|
Fat:
5
g
|
Saturated Fat:
2
g
|
Cholesterol:
8
mg
|
Sodium:
503
mg
|
Fiber:
12
g
|
Sugar:
12
g