Man, oh man, oh man…Sweet potato hummus in June? Why not! At last, summer is full of beach and backyard snacking.
Last week our dear friends flew over for a short visit from Calgary. We met Jenn and Denis 9 years ago on the airplane on the way to Cancun. We both were running away from a small child, for a week, to the same resort. We borrowed their pen and then obnoxiously stalked them on a bus. The rest is history. Me and Jenn are a deadly combination – from driving with a smashed window across the border after shopping in outlets to a wine tasting while husbands are watching kids for 40 minutes outside the store. We know how to let it go.

Despite pouring rain, me and Jenn, decided to hit the farmer's market on Saturday. Like most loyal real food crazies. I also decided to stick Jenn's gorgeous face on iFOODreal so she can finally forget that "I am a famous food blogger" and leave me a damn comment on 60% of my recipes she makes.
So, we stocked up on 3 huge bags of produce, eggs and bread. Test tasted and bought a pricey jar of hummus. Took a selfie. And headed home to eat lunch at 2PM, drink coffee (I still don't – a separate topic) and play a horrible people's party game.
Total bill was $60. I think that is pretty good…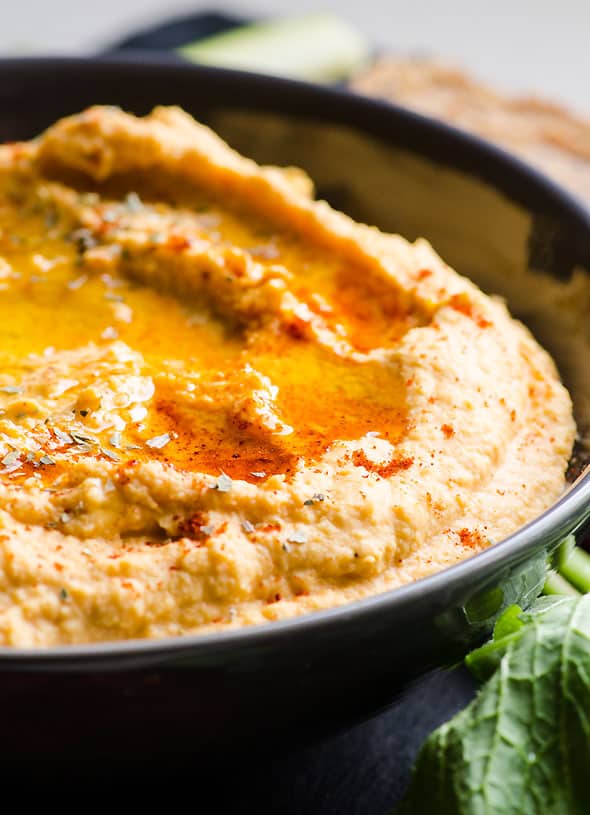 So, yam and chipotle sweet potato hummus was in one of the bags. Me and Jenn couldn't stop. Despite a high price tag we decided to get it because a) it went well with kale and root vegetable burgers from Costco we were serving for lunch b) I wanted to recreate the recipe.
Hummus didn't disappoint. Tiny $7 jar gone at lunch. It was velvety smooth with smoky and sweet flavours and a touch of acidity. Heaven!
I recreated hummus on Tuesday. Light was so good that day I even could take photos of our dinner at 6:45 PM. Sweet potato hummus with veggies was part of it. The rest of dinner took another 45 minutes. I panfried Costco's wild salmon burgers. Made pasta for the kids and Alex. Sautéed green beans that I placed on top of pasta sprinkled with freshly grated Parmesan cheese (for the kids and Alex – somehow Alex always falls into "kids" category…hmmm).
I also massaged some desperate Dinosaur kale with olive oil, salt and garlic. Then grated raw beets on top. Kind of quick salad. Needs a bit more work.
Alex showed up from work, folded laundry and poured us our favourite club soda. He is good at that. And supporting Hollister…
Smokiness of the sweet potato hummus comes from chipotle pepper. It is a very spicy vegetable (fruit?). Long time ago I bought a tiny 4 oz jar, primarily for making healthy turkey chili. Then I emptied the contents into a glass container lining with parchment paper between the layers and froze. So, whenever I need a chipotle pepper I defrost the jar for a bit and scoop off what I need. Layers prevent peppers from sticking into one big ice ball.
Enjoy, and try my garlic hummus recipe next.
Print
Chipotle Sweet Potato Hummus
Sweet potato hummus recipe with yams, chipotle in adobo and chickpeas. Delicious, creamy and perfect for veggie dipping.
Author:
Prep Time:

10 minutes

Cook Time:

5 minutes

Total Time:

15 minutes

Yield:

12 servings
Instructions
In a small saucepan, add sweet potato and water just enough to cover. Bring to a boil, reduce heat to low and cook for 5-7 minutes or until fork tender.
Scoop out sweet potato and add to a powerful blender or food processor, along with 1/4 cup water from sweet potatoes. Add remaining ingredients and process until very smooth. If necessary pause and scrape down the walls with a spatula. I blend the hummus until fluffy and whipped. The longer you process and the more powerful your machine is, the smoother hummus' consistency will be.
Transfer to a serving bowl, drizzle with extra olive oil (if desired) and sprinkle with smoked paprika and dried oregano. Serve with whole grain crackers or easy dipping vegetables like celery sticks, baby carrots, zucchini/cucumber slices, snap peas, grape tomatoes, radishes etc.
Store: Refrigerate in an airtight container for up to 1 week. Do not freeze.
Notes
*Use less to taste if using salted canned chickpeas.
★ Did you make this recipe? Please give it a star rating in the comments.