Where do I begin?! Let me just say this: I'm not a huge traditional mac and cheese person but I love spaghetti squash mac and cheese and my zucchini mac and cheese. Now, here is a mind blowing combination: pasta, roasted cauliflower and garlic, and cheese => baked and I died. This roasted cauliflower mac and cheese is such an awesome hybrid of two dishes, delicious and contains half of large cauliflower head in here. My kids had seconds, licked the plates and after my toddler told me "I like you".
When you rice/finely chop cauliflower and mix with grains or other vegetables, it adds volume and lowers calories. Living proof in readers' reviews of skillet cauliflower gratin, sesame cauliflower with bell peppers, and pasta with cauliflower and pumpkin seeds.
I have promised to post this recipe back in Spring but it never happened. I apologize it's a little bit late but in time for Fall and Winter comfort food days. I used brown rice penne pasta and organic marble cheese. You can also use quinoa or corn pasta and any of your favourite cheese.
The higher fat content, the tastier cheese is. But you could definitely go for reduced fat cheese. I personally don't care lately because I do not eat much cheese and when I do it's very little. I like this cauliflower mac and cheese casserole best when it cools down a bit and cut into slices.
You could also throw in some broccoli or peas. It freezes really well too. For milk, I have previously used 1% cow's milk and unsweetened soy milk this time. Both tasted delicious. Any milk would work, just make sure it's not flavoured or sweetened.
I haven't tried to make this roasted cauliflower mac and cheese casserole gluten free but if you have experience with arrowroot powder or any gluten free flour, feel free to use it. Cornstarch should work too but will change the colour of the dish to lighter green. Enjoy!
Print
Roasted Cauliflower Mac and Cheese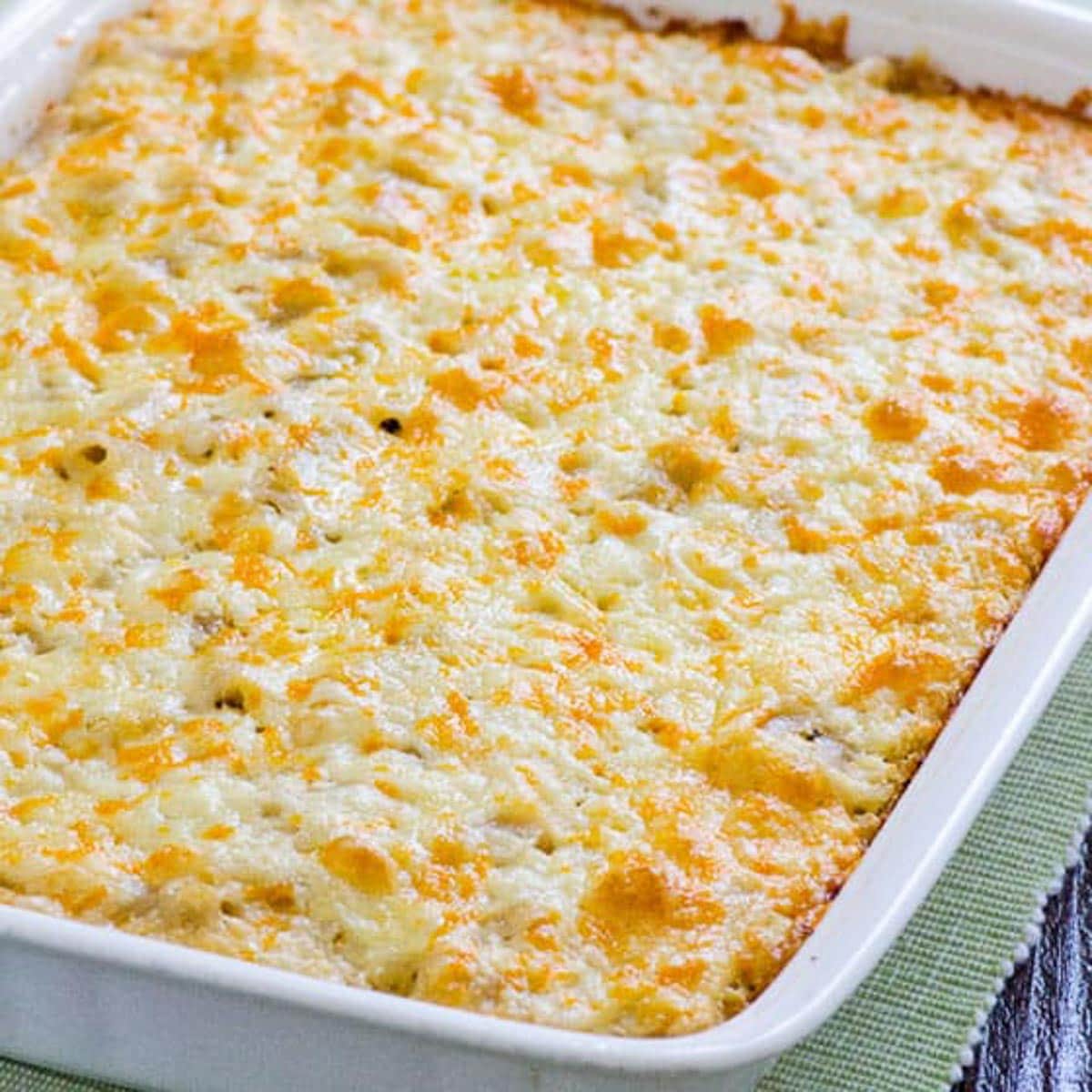 Cauliflower Mac and Cheese made healthy with brown rice pasta, roasted cauliflower, garlic and cheese that will wow even the little ones.
Author:
Prep Time:

5 minutes

Cook Time:

42 minutes

Total Time:

47 minutes

Yield:

9 servings
Ingredients
1/2 large head cauliflower (1.5 lbs), riced in a food processor or minced
1 small onion, finely chopped
5 garlic cloves, minced
1 tbsp olive oil, extra virgin
1/4 cup whole wheat flour (I used spelt)
2 cups milk (I tried with 1% cow's and plain soy milk => both delish)
3/4 tsp salt
1/2 tsp ground black pepper
2 cups (8 oz) marble cheese, shredded & divided
Cooking spray (I use Misto)
Instructions
Preheat oven to 400 degrees F. Spray 9″ x 13″ baking dish with cooking spray and set aside.
Bring a medium pot of water to a boil and add pasta. Cook for 10 minutes on low, stirring occasionally. Drain, rinse with cold water, drain again and transfer to a large mixing bowl. If using any other pasta, follow package instructions and under cook by 4 minutes. Also add cauliflower to the bowl. Set aside.
Preheat large skillet on low heat and add olive oil, onion and garlic. Cook for 2 minutes, stirring occasionally. Add flour and cook for another minute or until flour is well combined. Whisk in milk, raising heat to medium – high, and bring to a boil. Reduce heat to low – medium and cook for 5 minutes. Remove from heat, add 1 cup of cheese, salt and black pepper, and stir until the sauce is smooth. Pour into the bowl with pasta and cauliflower, mix well. The mixture should be thick and not saucy.
Transfer mixture to previously prepared baking dish, level with spatula and top with remaining cheese. Bake uncovered for 25 minutes or until cheese is bubbly and golden crust and edges appear. Cut into 9 slices and serve hot.
Store: Refrigerate in an airtight container for up to 3 days or freeze leftovers for up to 3 months.
Freeze: Assemble, tightly wrap with plastic and then foil, and freeze for up to 3 months. Thaw in the fridge overnight and bake as per instructions + 15 minutes.
Make Ahead: Assemble, cover and refrigerate for up to 48 hours. Bake as per instructions.
★ Did you make this recipe? Please give it a star rating in the comments.