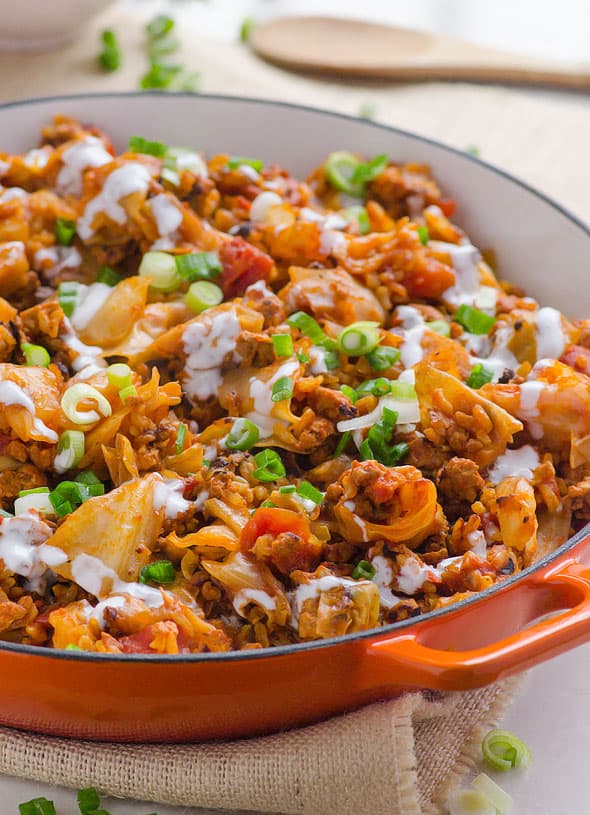 The story behind these lazy cabbage rolls follows as this. On New Year's Eve we hosted a Ukrainian dinner party for our friends. One of the dishes I made were lazy cabbage rolls. Everyone loved how they were big and meaty. I, on the other hand, swore that day it was last time I made cabbage rolls. Honestly, it took me hours and I was so frustrated in the process I had to take a walk in the park.
I followed others advice to freeze and thaw cabbage instead of boiling it. Well, that didn't work well, so I ended up boiling it. It was so much mess and work! I was happy to eat them, and a glass or two of wine definitely cheered me up, but now I understand why I haven't made cabbage rolls for years.
Some years ago, I posted a cabbage rolls casserole which is delicious but requires finely shredded cabbage. I really wanted to try the skillet with larger chunks of cabbage so it's less mush and mess. I love cabbage but any time I shred it, my kitchen becomes a mess. This skillet came out OMG! When cabbage meets tomato sauce, salt and pepper, it becomes one of the most flavourful dishes ever. Plus it adds fiber and complex carbs. Overall, this dish hits all food groups spot on.
Lazy cabbage rolls are perfect for lunches and leftovers can be frozen. I know for us this is enough for 2 meals. If you like cooked cabbage, you might also like cabbage and carrots stir fry with brown rice noodles and pan fried cabbage with apples. Enjoy!
Print
Lazy Cabbage Rolls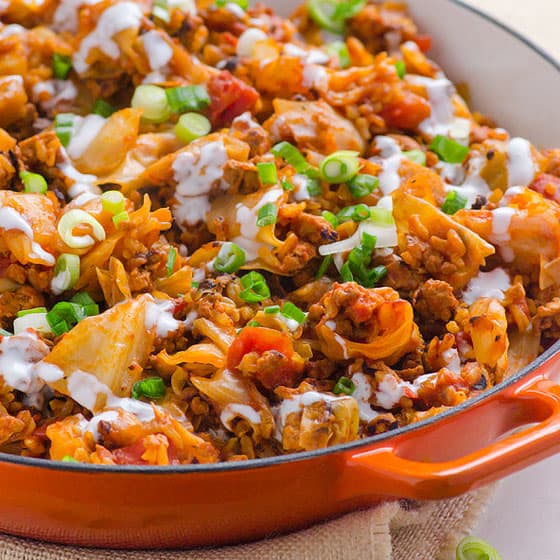 Lazy Cabbage Rolls Recipe is so darn easy and flavourful, replaces my Ukrainian grandma's labour intensive cabbage rolls. SO tasty and EASY!
Author:
Prep Time:

5 minutes

Cook Time:

75 minutes

Total Time:

1 hour 20 minutes

Yield:

6 servings
Ingredients
1 large onion, chopped
1 tbsp avocado oil
2 lbs ground turkey, extra lean
3 lbs cabbage, coarsely chopped
14 oz can tomato sauce (I used low sodium)
2 x 14 oz cans diced tomatoes
1 cup brown long grain rice, uncooked
1 1/4 cups any stock*
1 tsp oregano
1 tsp thyme
2 tsp salt
Fresh herbs (dill, parsley, green onions) & Greek yogurt, for serving
Instructions
Preheat large deep non-stick skillet on medium heat and swirl oil to coat. Add onion and cook for a few minutes, stirring occasionally. Increase heat to medium – high, add turkey, oregano and thyme; cook for 10 more minutes, breaking into small pieces and stirring occasionally.
Reduce heat to low – medium, add cabbage, cover and let it cook for a few minutes so it will be easier to stir. Add tomato sauce, diced tomatoes, rice, water, salt, pepper and stir well. Bring to a boil, cover, reduce heat to low and cook for 55 – 60 minutes. Do not open! Check if rice is cooked and if not (mine was) add 1/4 cup water, cover and cook for another 5 – 10 minutes. Serve warm topped with Greek yogurt and herbs.
Store: Refrigerate in an airtight container for up to 4 days.
Freeze: Fully cook, cool completely, and freeze in an airtight container for up to 3 months. Thaw in a refrigerator overnight. Reheat in a microwave or in the oven at 375 F for 10 minutes.
★ Did you make this recipe? Please give it a star rating in the comments.