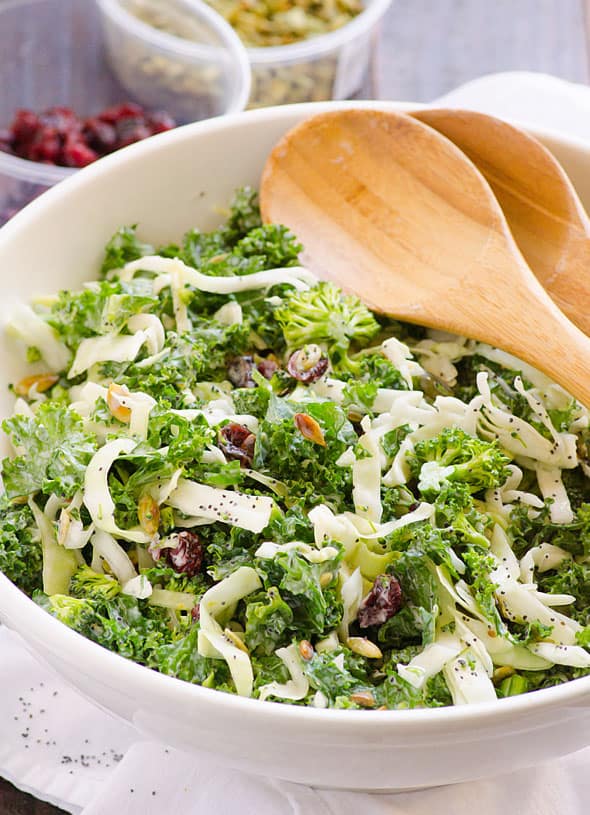 You know that salad kit with kale, pumpkin seeds, dried cranberries and poppyseed dressing everyone raves about?! I have heard about it from my friends, neighbours, sister in law; seen it on Instagram etc. OK, so I found it at the grocery store, automatically turned around to read the ingredients list and. I don't want to sound pessimistic but I was short of being impressed.
What made me most mad about this sweet kale salad is a big claim of 7 superfoods inside. OK, fine I get it, it's better than eating a Big Mac but holding this bag I felt like being tricked by creative marketing brains, once again.
My #1 issue is the poppyseed dressing, which I assume why everyone likes this salad so much, is full of GMOs, sugar and frankly crap. This sweet kale salad dressing is the one health professionals warn us to stay away from. McDonald's also sells superfood salad with 500 calorie dressing that will kill benefits of 20 superfoods. As soon as I see soybean oil my radar goes off like crazy – the cheapest GMO oil ever. Then egg yolk from GMO fed chickens and white refined sugar from GMO sugar beets.
#2 issue is none of those sweet kale salad ingredients are organic or at lest non GMO project verified. At least one, come on! A bunch of organic kale at the grocery store is $2.50, wholesale my guess is probably 2 – 3 times less. Organic pumpkin seeds are cheap too. Then those cranberries coated in more sugar and GMO oil. No, this is not a good salad to buy.
I decided to see how hard it is to put a healthy version of Sweet Kale Salad Recipe together. Well, about 10 minutes, from scratch, all organic and truly healthy!
I have used 1/5th of those organic cranberries and pumpkin seeds for the salad and paid $8 for both in total. The rest my kids will happily snack on. I didn't add brussels sprouts because I do not love them and cleaning/shaving process that much, neither I am in love with endive. But you can add them. I sampled the poppyseed dressing (literally licked a tiny drop of it) at someone's house and it wasn't hard at all to recreate at home (another version of my healthy poppy seed dressing). This salad came out delicious!!!
Another idea to healthify this superfood store bought monster is by throwing out packaged sweet kale salad dressing and making your own. At least you won't have to buy and chop veggies, and measure bulk items if you are really short on time.
Add some homemade sourdough croutons for an extra special touch!
However, still I would stock up on organic produce as much as possible. My recent grocery trip I spent $30 for organic: 3 lbs Gala apples (our favourite), 5 lbs potatoes, 5 lbs carrots (my kids love to snack on long peeled carrots), 4 lbs onions and a bag of celery.
I have also been enjoying spring in full swing by walking or running every day. Fresh air helps to clear your mind, supply blood with oxygen, increase good spirits and improve sleep. Flowers are popping up here and there.
Happy first days of Spring! Treat mom to this salad for a healthy brunch along with healthy french toast casserole!
Sweet Kale Salad
Sweet Kale Salad Recipe is a healthy version of famous salad kit: kale, cabbage, broccoli, pumpkin seeds & cranberries with homemade sweet kale salad dressing.
Ingredients
1

bunch kale

ribs removed and finely chopped (about 4 cups packed)

2

cups

cabbage

shredded

2

cups

broccoli

finely chopped

2

cups

brussels sprouts

shredded (optional)

1

cup

endive

chopped (optional)

1/2

cup

dried cranberries

1/2

cup

pumpkin seeds
Instructions
Add kale, cabbage, broccoli, brussels sprouts and endive (if using), cranberries to a large salad bowl. Toast pumpkin seeds in a small skillet on low-medium heat until lightly brown, about 2 minutes. Stir frequently and watch closely not to burn. Transfer to a salad bowl.

In a small bowl or

salad dressing shaker

, add

Poppyseed Dressing

ingredients and whisk or shake to combine. Pour over salad, gently stir and serve.
Notes
Store: Refrigerate assembled salad for up to 24 hours. Dressing can be refrigerated for up to 5 days and added to salad as needed.
Nutrition
Serving:
1.67
cups
|
Calories:
140
kcal
|
Carbohydrates:
23
g
|
Protein:
8
g
|
Fat:
4
g
|
Saturated Fat:
1
g
|
Cholesterol:
1
mg
|
Sodium:
241
mg
|
Fiber:
4
g
|
Sugar:
11
g