This homemade Poppyseed Dressing recipe is made with 7 simple ingredients for a light and creamy salad dressing or dip. Way better than store-bought!
Other dressings we love is this raspberry vinaigrette, avocado cilantro dressing and healthy ranch dressing!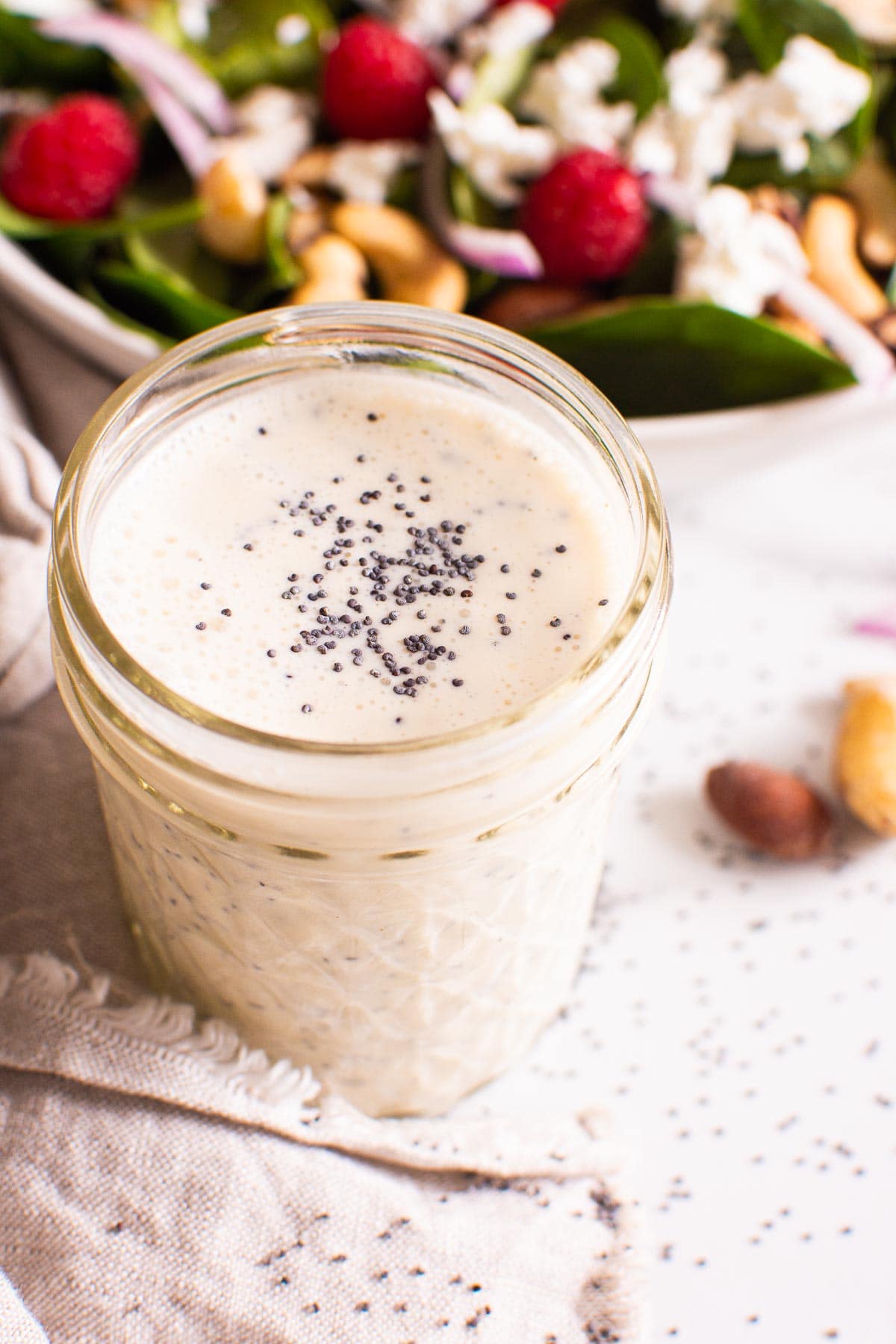 Why You Will Love This Recipe
Once prepared, this poppyseed dressing is creamy, light, and slightly sweet with a hint of sweet onion flavor and crunchy poppy seeds.
It goes particularly well with fruity salads like spinach and strawberry salad.
Quick: Prepare this salad dressing in 2 minutes with just a bowl and a whisk.
Light: This creamy poppy seed dressing recipe is creamy without the use of mayo.
Easy: It is made with just 6 fridge and pantry staples for whenever you need it!
Healthy: Homemade salad dressing means avoiding all the sugars and additives in store-bought dressing.
Versatile: This poppy seed salad dressing is gluten-free, oil-free, refined-sugar-free, and can even be made dairy-free!
Ingredients for Poppy Seed Dressing
To make poppyseed dressing recipe, you will need just a few simple ingredients.
Greek yogurt: I recommend using Greek yogurt that is at least 2%+ fat. You can also use regular yogurt and omit the water.
Maple syrup or honey: You can alternatively use granulated sugar. For a sugar-free version, use a sugar alternative like Swerve or monk fruit sweetener.
Mustard: I use a teaspoon of Dijon mustard but dried mustard powder should also work.
Vinegar: This is pretty versatile. I recommend white vinegar, apple cider vinegar, or rice vinegar.
Poppy seeds: You could toast the seeds for a more robust flavor in this poppyseed dressing recipe.
Onion powder or onion flakes: While you could use fresh onion, I recommend to use dried onion because it's just as simple to add in the dried onion powder for a delicious flavor!
Salt and pepper: To season, feel free to adjust the amount to personal preference.
Water: To thin the poppyseed dressing slightly. Depending on what yogurt you use, this amount can vary.
How to Make Poppyseed Dressing
Here is how to make this poppy seed dressing in just one step.
Combine the ingredients: Combine all the poppyseed dressing ingredients in a small bowl and whisk with a fork or a whisk.
Alternatively, you can add everything to a jar with a tight fitting lid and shake. I prefer to use a mason jar, as I can then transfer that to the refrigerator.
You could even use a small food processor without the poppy seeds to begin with. Then pulse them in for just a second or two at the end.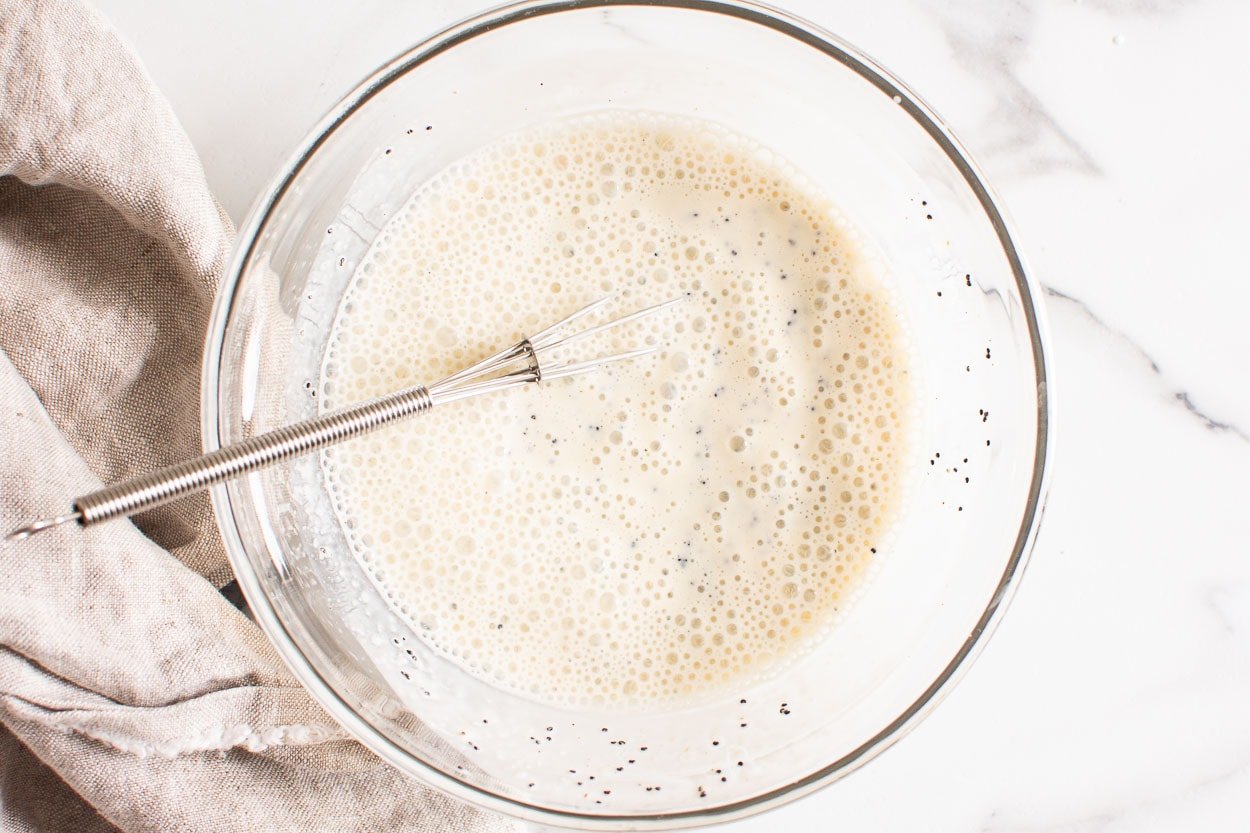 Tips for Best Results
Here are my top tips for the best homemade poppyseed dressing recipe!
Leave it to marinate: Though it's not necessary, leaving the poppyseed dressing for 30 minutes to marinate in the fridge, it will allow all the flavors to meld and enhance the overall flavor.
Adjust to personal preference: Homemade salad dressings are easily adjusted, so feel free to tweak amounts to personal taste. Want it tangier? Add more vinegar. Sweeter? Add a drop more honey.
The amount of water you need to add to the poppy seed salad dressing will depend on the yogurt you use. I recommend first mixing it without water and slowly adding water in as needed. For example, Greek yogurt will usually need some, whereas regular yogurt may not need any.
Don't omit the sweetener: It might be tempting for those who limit sugar to try to do so with this recipe too, but don't! The balance between the maple syrup and acidic ingredients is a must to get the best flavor!
Don't use non-fat yogurt: Use yogurt with a fat content of 2% and higher. Why? Because non-fat 0% yogurt lacks flavor (and honestly tastes a little chalky to me) which you don't want for this poppy seed dressing recipe.
Add-ins and Recipe Variations
There are several ways you can adjust this poppyseed salad dressing recipe, including the below options:
Make it even more creamy: To keep the poppy seed dressing light but add some of the extra richness from mayo, you can substitute just 1-2 tablespoons of yogurt for mayonnaise instead.
Non-creamy version: Want more of a poppyseed vinaigrette? Swap out the Greek yogurt for high-quality olive oil for stronger flavor or neutral avocado oil for mild dressing.
Pureed fruit: This poppyseed dressing recipe is not only perfect for fruity salads and dishes, but it tastes delicious with fruit in it too. I recommend to add a bit of pureed mango or raspberries.
Orange: A couple of spoonfuls of orange juice will also elevate this poppy seed salad dressing flavor. You can even add in some orange zest.
Cardamom: I love the combination of poppy seeds and cardamom. All you need is a teeny weeny pinch of it.
FAQs
Could I make vegan poppyseed dressing?
You can make vegan poppyseed dressing. Just swap out the Greek yogurt for a dairy-free yogurt instead. I recommend using dairy-free Greek yogurt but regular yogurt will also work. Just make sure it's not flavored.
Where to buy poppy seeds?
If you are like me and were not sure, poppy seeds are located in the baking aisle of any supermarket, with the spices. This may be the case for your supermarket too!

All you need for this poppyseed dressing is a small bag since you only need a tablespoon. I store the rest in a glass jar in the pantry but you can also refrigerate or freeze them for longer-term storage.
Is poppy seed dressing good for you?
When buying poppy seed salad dressing from a supermarket, maybe not as much, but homemade poppyseed dressing is made with all-natural ingredients and is refined sugar-free. More so, poppy seeds contain several minerals including manganese which is important for bone health and blood clotting, and a combination of healthy omega fatty acids which are great for heart and skin health.
How Can I Use Poppyseed Dressing?
This poppyseed dressing recipe is the perfect accompaniment to fruity salads and ingredients like kale, arugula, spinach salad recipe, and sprouts. Here are just a few dishes you may enjoy it with:
You can also use it as a dip for fruits and vegetables or drizzle over berries and tropical fruits.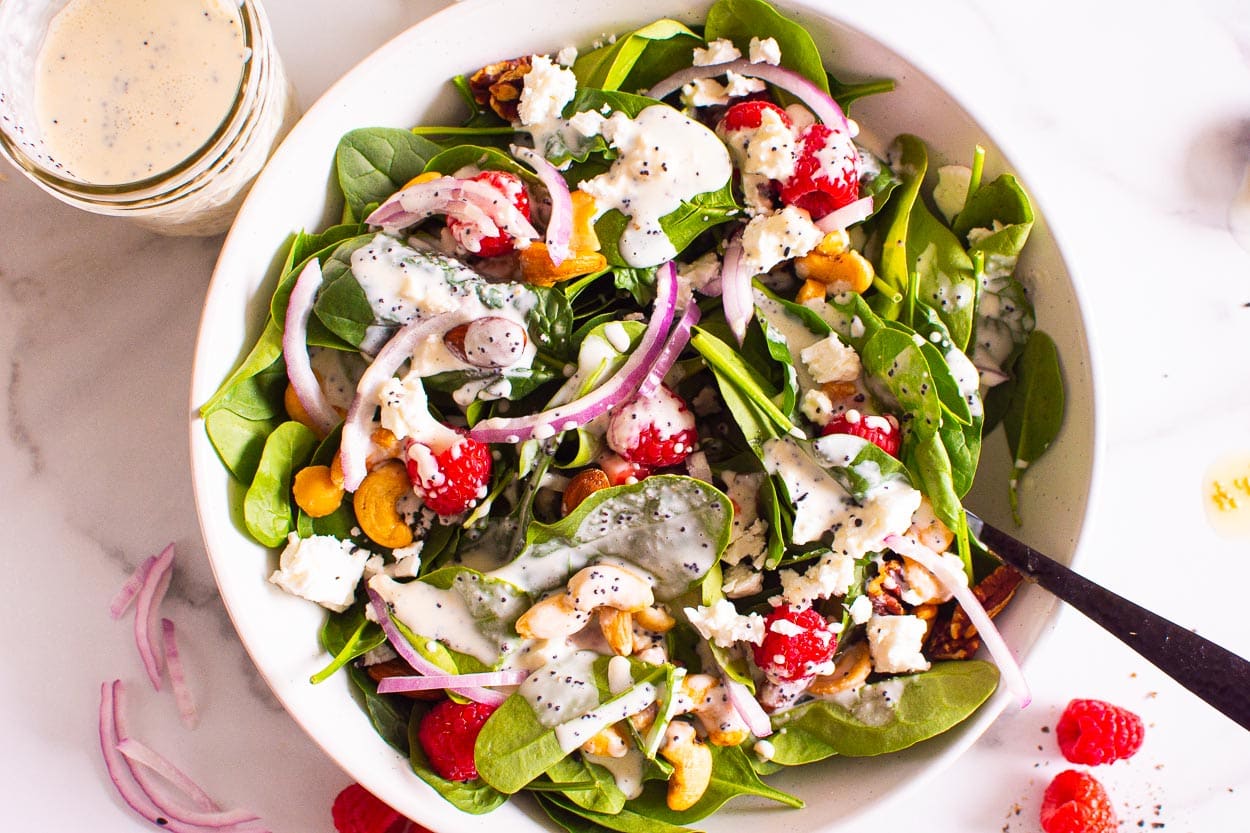 Can I Make It Ahead?
This poppy seed dressing recipe tastes even better with time to marinate and let all the flavors meld. I recommend making it a few hours in advance and storing it in the fridge until you're ready to use it.
How to Store It
Store: Once prepared, refrigerate the salad dressing in the refrigerator for up to 7 days.
Shake or stir the dressing before each use, as yogurt can settle on the walls of the container a bit.
Freeze: Do not freeze, due to the yogurt your dressing would alter in texture upon thawing.
More Salad Dressing Recipes to Try
You might also enjoy browsing through my entire collection of healthy salads paired with healthy salad dressings for more lunch inspiration!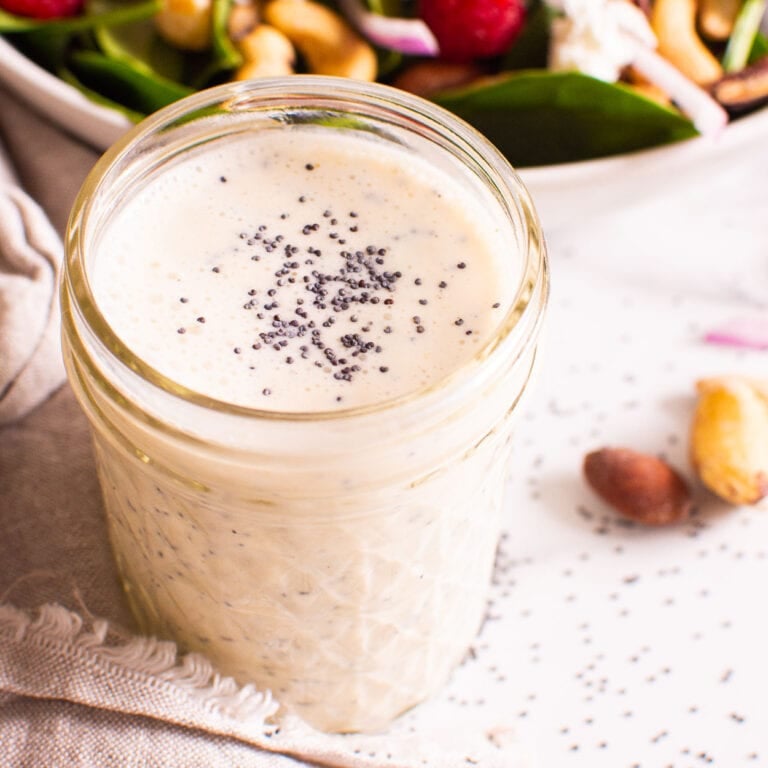 Creamy Poppyseed Dressing
This homemade Poppyseed Dressing recipe is made with 7 simple ingredients for a light and creamy salad dressing or dip.
Instructions
In a small bowl or jar with a tight lid, add yogurt, water, maple syrup, vinegar, mustard, poppy seeds, onion powder, salt and pepper.

Stir well with a fork/whisk or shake to combine.
Notes
Make ahead: M

ake dressing a few hours in advance and store in the fridge until you're ready to use it. May need to shake or stir right before serving.

Store: Refrigerate in a glass airtight container for up to 7 days. Do not freeze.
Regular yogurt: You can use regular (not Greek) yogurt, just omit water.
Nutrition
Serving:
0.25
cup
|
Calories:
39
kcal
|
Carbohydrates:
5
g
|
Protein:
3
g
|
Fat:
1
g
|
Saturated Fat:
1
g
|
Trans Fat:
1
g
|
Cholesterol:
1
mg
|
Sodium:
316
mg
|
Fiber:
1
g
|
Sugar:
4
g