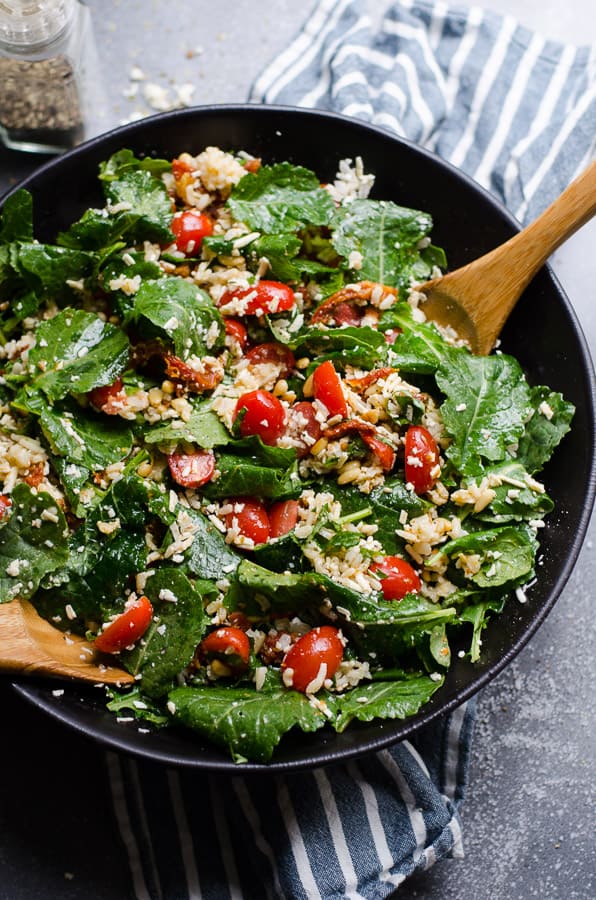 If you are bored of kale and quinoa (I am!), try baby kale! I am dead serious – baby kale tastes nothing like kale. Odd but true.
Last week, this baby kale salad recipe was a breath of fresh air. With leftover brown rice, julienned sun dried tomatoes, sweet grape tomatoes from Mexico, toasted pine nuts, salty feta cheese, a crazy amount of fresh basil and homemade Greek vinaigrette. Nowadays, we use full grown kale for making smoothies and maybe an occasional sweet kale salad recipe because it is that good.
When you set your foot into the produce department, be prepared to see 2 types of baby kale. Type 1 is like shown above – soft and delicate with round shape leaves. It reminds me of small raspberry leaves, I grew up with plenty of raspberry bushes around our house. Baby kale tastes nothing like real kale, instead it has a tiny amount of zest like arugula. I'm in love!
Type 2 baby kale looks like mini oak leaves with purple undertones, like in this Mexican kale salad. Usually can be found in Costco and Save on Foods (Canada). I personally prefer #1 (mine is from Superstore – Canada).
I do not make my own salad dressings as often as I wish because my tastebuds are perfectly fine with a drizzle of olive oil, a splash of any vinegar like apple cider/balsamic/white, salt and pepper. Both, me and Alex, didn't grow up with salad dressings, so we like to keep things simple on busy weeknights. However with berry season upon us (or Costco's organic frozen berries right now) you absolutely have to give this berry salad dressing a try!
This time though, I made Greek type vinaigrette, which was super simple and is still in my fridge. In a week, we used it in numerous salads and on sandwiches. I keep a few glass bottles from store-bought salad dressings and reuse for making my own. Love it!
Grape tomatoes from Mexico are exceptional right now! So juicy and sweet. I prefer to use grape tomatoes in this baby kale salad recipe because they keep their juices intact vs. chopped regular tomatoes. Just a personal preference.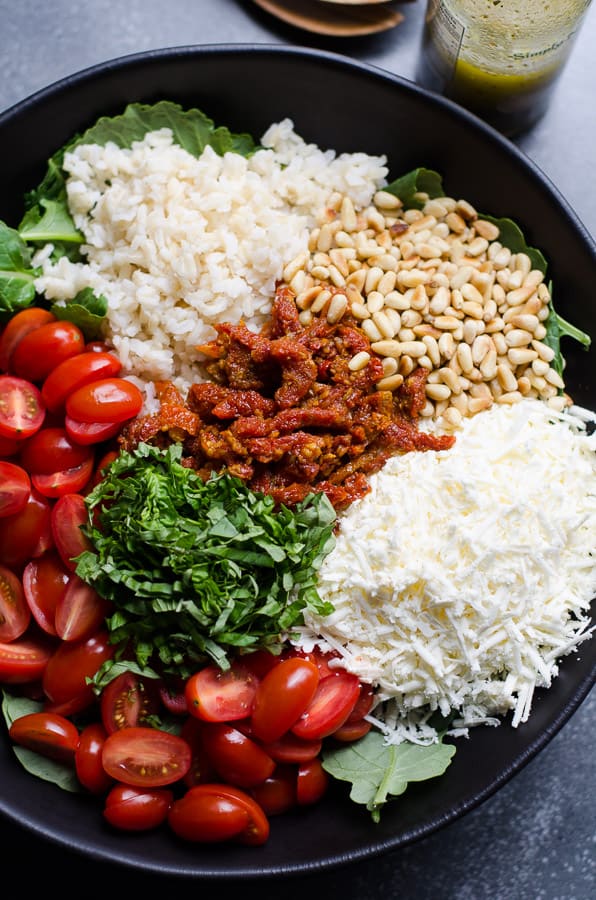 A few cups of leftover brown rice for a doze of healthy carbs to make this baby kale salad more like a one meal type of salad. The day I made it, this salad was my lunch and dinner. Grating feta cheese instead of cubing allows for more even distribution of flavour throughout and yields a true Mediterranean experience in every bite. And toasted pine nuts, sun dried tomatoes and a handful of fresh basil was a call from the heart to make summer feel closer to us, as La Nina has no intention of leaving us just yet.
Cheers, and can you believe I didn't have any wine for 8 days?! I might be onto something…
Print
Baby Kale Salad Recipe
Baby Kale Salad Recipe with feta cheese, grape tomatoes, sun dried tomatoes, basil, brown rice or quinoa and easy Greek vinaigrette that makes enough leftovers and refrigerates for a few weeks.
Author:
Prep Time:

8 minutes

Total Time:

8 minutes

Yield:

6 servings
Ingredients
Greek Vinaigrette:
Baby Kale Salad Recipe:
5 oz (1 small package) baby kale
3 cups grape tomatoes, halved lengthwise
2 cups cooked brown rice or quinoa
2 cups feta cheese, grated
1/2 cup sun-dried tomatoes, thinly sliced*
1/2 cup pine nuts, toasted**
1/2 cup basil, finely chopped
Instructions
In any small glass container with a lid, combine Greek Vinaigrette Ingredients and whisk or shake well to combine (time when store-bought salad dressing bottles come in handy). Set aside.
In a large salad bowl, add Baby Kale Salad Ingredients, pour about 1/5th of the Greek dressing (later more to taste) and gently toss to mix.
Store: Refrigerate dressed salad covered for up to 2 days. Salad dressing can keep well for a few weeks. Place bottled dressing in a cup with hot water to "melt" solidified in the fridge olive oil.
Notes
*I used julienned sun dried tomatoes packed in oil. I recommend to drain and squeeze them well otherwise it will be just too much oil in a salad when combined with the dressing. **To toast pine nuts, just add them to a skillet and panfry on low heat until toasted, watching carefully and stirring occasionally. Takes about 3 minuets or so.
★ Did you make this recipe? Please give it a star rating in the comments.