This flavorful Turkey and Rice Soup is the perfect way to use your leftover turkey! Tender turkey, rice, and vegetables are simmered in a savory broth with fresh parsley and lemon juice added at the end.
Another comforting soup we make with Thanksgiving leftovers is this turkey noodle soup recipe.
After a weekend of feasting on decadent Thanksgiving dishes, a steaming bowl of turkey and rice soup is a welcome sight. Just to recharge after an indulgent eating and honestly to cook less.
I bet you already figured out this meal is a great way to use up your roasted turkey breast or really any turkey parts. Plus, you probably have all other ingredients on hand.
I personally think this leftover turkey rice soup recipe is the best reason to skip Black Friday shopping. And once you taste it, I know you will agree!
Serve it with a simple green lettuce salad and some crusty bread for a light lunch or dinner! You can even mix it up with the type of rice you prefer.
Why You'll Love This Soup
Quick and easy: Ready in just shy of 40 minutes, it's practically effortless since we are using leftover turkey.
Flavorful: A splash of lemon juice, zest and parsley at the end, elevate this simple soup recipe to next level!
One pot: No need to make a huge mess and clean up is a breeze.
Ingredients You Need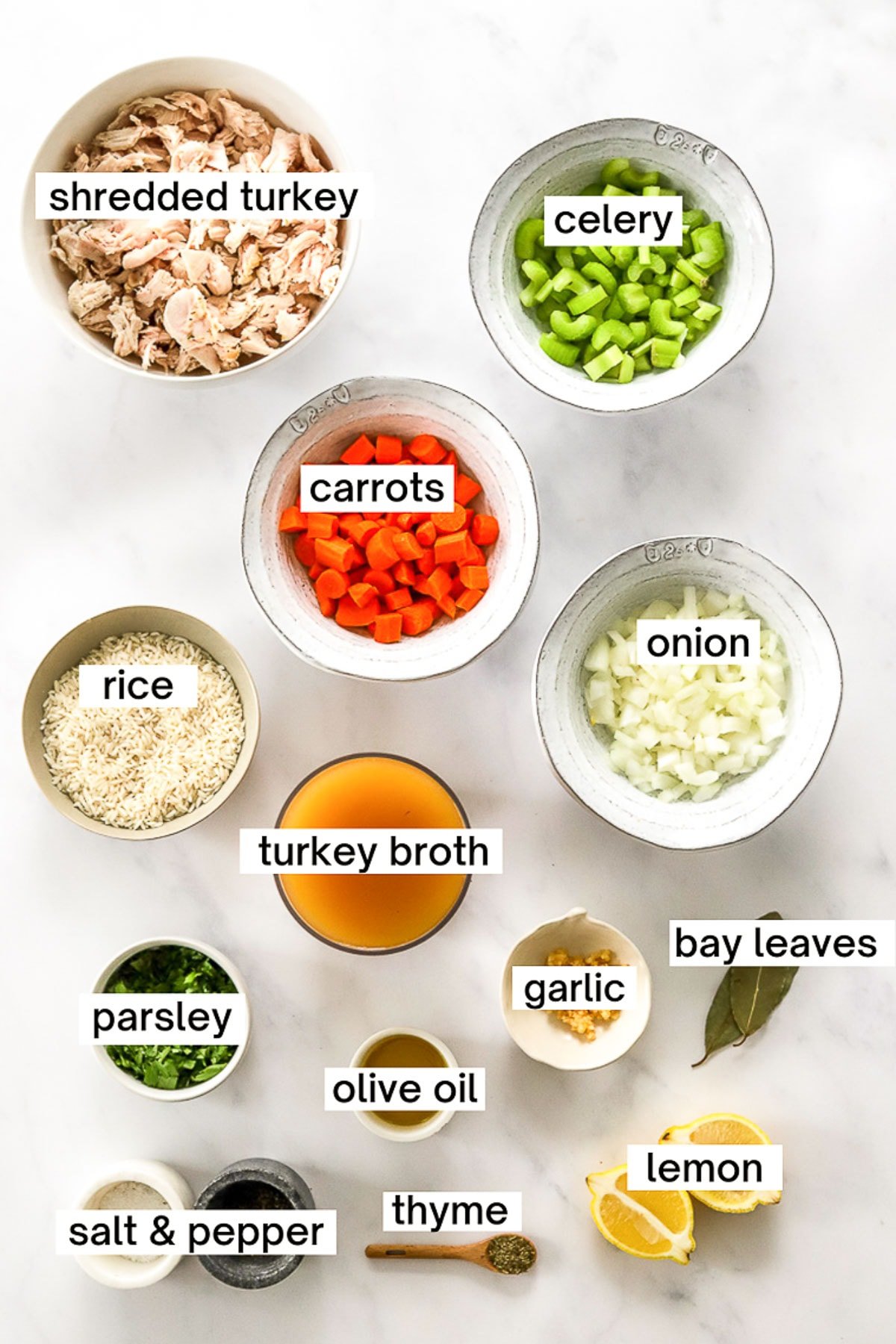 This leftover turkey soup recipe needs just a handful of simple ingredients besides the holiday leftovers. It really takes advantage of what you have on hand.
Leftover turkey: White meat, dark meat, or a blended combination of the two. I make this soup without carcass but you can use the bones to make broth. Please see instructions a bit lower.
Veggies: Yellow onion or white onion, chopped carrots, and celery.
Olive oil: For sauteing your vegetables, salted or unsalted butter could be used.
Broth: Turkey broth or homemade turkey broth would be my first choice. But you can use chicken broth or vegetable broth.
Rice: Long grain white rice or brown rice. You will have to cook brown rice a bit longer, for about 30 minutes. Original recipe calls for uncooked grains but you can also use about 3 cups of any leftover rice.
Seasonings: Dried thyme, bay leaves, salt and ground black pepper. A dash of poultry seasoning would be nice as well.
To finish: Fresh lemon juice and lemon zest and freshly minced garlic cloves. Also finely chopped, flat leaf parsley or curly parsley, whatever you have on hand.
How to Make Turkey and Rice Soup
Leftover turkey soup with rice comes together easy in one pot! Here is a quick overview but you can find full recipe card below.
This delicious soup requires a few minutes of prep and it tastes like it has simmered all day.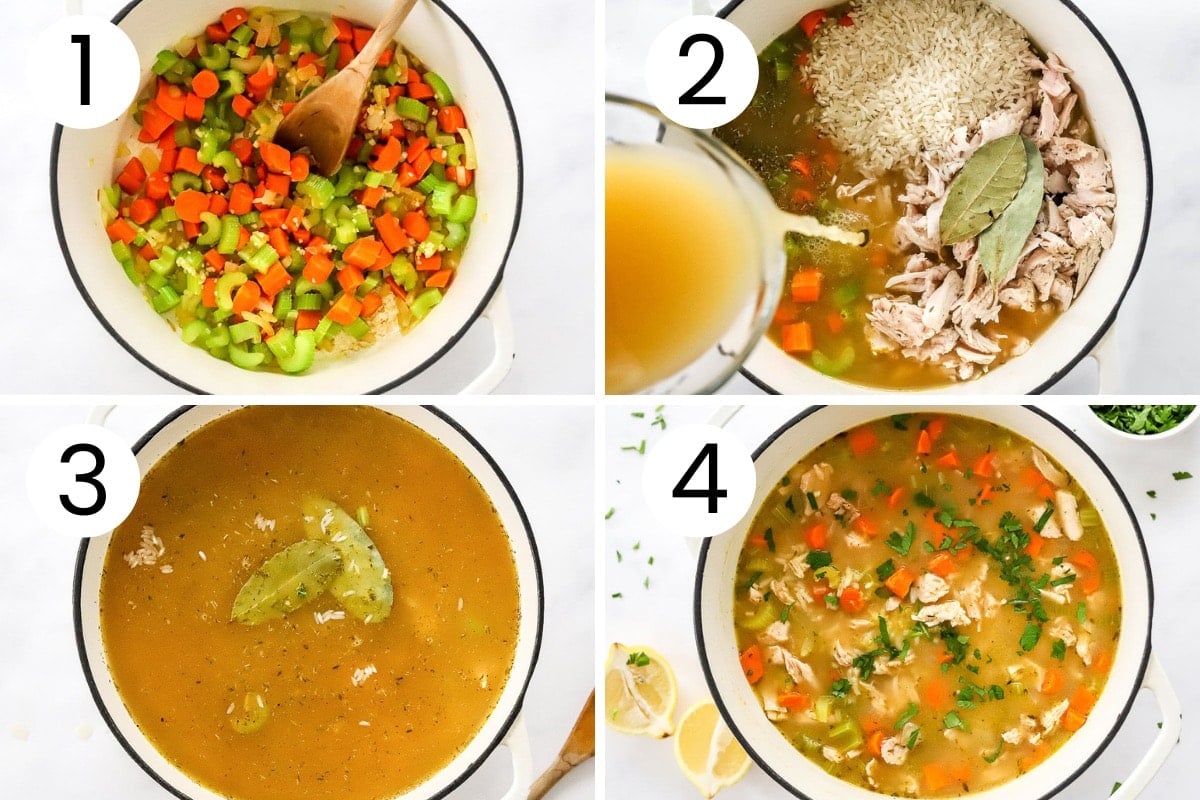 Saute vegetables: Preheat large pot over medium heat and add your favorite oil for frying. I like olive oil for hearty soups. Then saute onion, garlic, carrots and celery for about 5 minutes. You don't have "to sweat" them.
Add remaining ingredients: Add your broth of choice, uncooked rice, leftover turkey meat that has been shredded or cubed, salt, pepper and bay leaves. Now stir.
Simmer: First bring mixture to a boil and then simmer for 20 minutes or until rice is cooked. Remove a few grains with a spoon, blow and taste. I like my rice al dente.
Finish it off: Add lemon juice and zest, and fresh parsley. You want to add them at the end so they keep their flavor instead of cooking it off. That's it! That's why we call it easy turkey soup, really 4 steps.
How to Make Turkey Stock
You do not have to make homemade turkey stock for this soup but it's nice to use up a turkey carcass, if you have one.
Grab a large stockpot that can fit in your turkey carcass, or break it into 2 pieces.
Add a few bay leaves and whole peppercorns, peeled and uncut whole onion, 4-5 large garlic cloves, few ribs of celery and few large carrots. You can season it now but I like to add salt and pepper to taste at the end.
Then add enough cold water to cover it all and bring to a boil. Once it's all boiling, reduce heat to low, cover half way with a lid and simmer turkey stock for a few hours. Occasionally, you want to skim off the foam with a fine mesh strainer.
Let cooked stock to cool down for a few hours, then strain and divide between large jars. Refrigerate it for up to a week or freeze for up to 3 months, don't forget to leave some room for expansion in the containers.
Soup Variations
Other rice: You can use brown rice or even a wild rice blend, but they will both increase the cooking time and you may need to add more liquid at the end. If this is a concern, make rice separately and add it cooked to the soup at the end.
More lemon: If you love fresh citrus, use the juice of the whole lemon!
More rice: Add about 1 cup total, if you like thick soup.
Vegetables: Want to skip chopping altogether? Use your favorite frozen blend of vegetables like corn, peas, and carrots. Add them near the end of the cooking time.
Expert Tips
Flavorful meat equals flavorful soup: Leftover Thanksgiving turkey like bacon wrapped turkey adds savory flavor while leftover boneless turkey breast lends notes of rosemary.
Timing: Make this dish within 5 days of cooking your turkey. After that, you will need to discard or freeze your turkey meat.
Taste as you go: That way you can adjust seasonings, or even add more! Fresh herbs like sage, rosemary, or extra thyme are perfect choices for a turkey rice soup.
Dutch oven: I recommend to use a large heavy bottomed pot or large Dutch oven as it will distribute heat more evenly in this healthy soup.
Serving Recommendations
While it is a one pot meal, no one complains when I serve it with crusty bread, gluten free biscuits or almond flour cornbread!
Warm biscuits are also delicious and soup with salad is a classic pairing as well.
How to Store and Reheat
Store: Turkey & rice soup is best served right away but will keep well up to 4 days in the refrigerator. Rice will absorb liquid as it sits and may need to be thinned out with additional broth when reheating.
Freeze: Freeze in airtight container for up to 3 months, thaw in the refrigerator before reheating.
Reheat: Simmer soup on low in a saucepan. You can even do this with frozen soup.
Freezing Tip
If you plan to freeze it, it is best to rinse your rice before adding it to the pot. Homemade soups with starchy ingredients like rice, will be thicker when thawed then reheated. You may also need to thin it with broth.
FAQs
Do I need to sweat my vegetables?
While you don't need to, you certainly could! In step one, you will need to add a pinch of salt, then cover your vegetables to 'sweat' them. This is done to increase depth of sweet flavor from the vegetables. You may need to add more oil (fat) so they don't burn.
Should I rinse rice for soup?
Rice has a starchy coating. If you like thin and brothy soup, rinse the rice. If you like hearty and thicker soup that is almost a creamy turkey soup, there is no need to rinse it. The powdery starch naturally helps to thicken it.
Do you cook rice before adding it to the soup?
I don't and you don't have to. But my grandma and mom always cooked rice separately and added it to the pot at the end. It helps to keep soup "clear" and brothy.
How do you keep rice from being mushy?
Plain and simple – do not overcook it. That's why I like to use long grain rice and not short rice because it comes out more al dente.
More Leftover Turkey Recipes
Leftover Turkey and Rice Soup
This flavorful Turkey and Rice Soup is the perfect way to use your leftover turkey! The savory broth is finished with fresh parsley and lemon juice at the end.
Instructions
Preheat large pot on medium heat and swirl oil to coat. Add onion, garlic, carrots, celery and cook for 5 minutes, stirring occasionally.

Add turkey broth, rice, leftover turkey meat, salt, pepper and bay leaves.

Stir, bring to a boil, then reduce heat to low and simmer for 20 minutes or until rice is cooked.

Add lemon juice and zest, parsley, stir and adjust salt and adjust any seasonings to taste.

Serve hot with a slice of crusty bread.
Notes
Store: Refrigerate in an airtight container for up to 4 days.
Freeze: Freeze in airtight container for up to 3 months.
Reheat: Simmer soup on low in a saucepan. You can even do this with frozen soup.
Broth: Feel free to use chicken broth.
Rice: You can add more rice if you like thick soup. Rinse rice to remove starches for more clear and less thick broth.
Brown rice: Cook for 30 minutes and you might need to add a bit more broth at the end.
Nutrition
Serving:
1.5
cup
|
Calories:
212
kcal
|
Carbohydrates:
19
g
|
Protein:
19
g
|
Fat:
6
g
|
Saturated Fat:
1
g
|
Trans Fat:
0.1
g
|
Cholesterol:
63
mg
|
Sodium:
366
mg
|
Fiber:
1
g
|
Sugar:
3
g