Healthy, high protein Turkey Chili recipe is bursting with flavor, fiber, and nutrients – thanks to lean ground turkey, mixed beans, peppers, and a simple spice blend. Prepare on the stovetop or in the slow cooker for a hearty, comforting meal that satisfies!
Love healthy chili recipes? Our other family favorites include healthy white chicken chili and Instant Pot beef chili.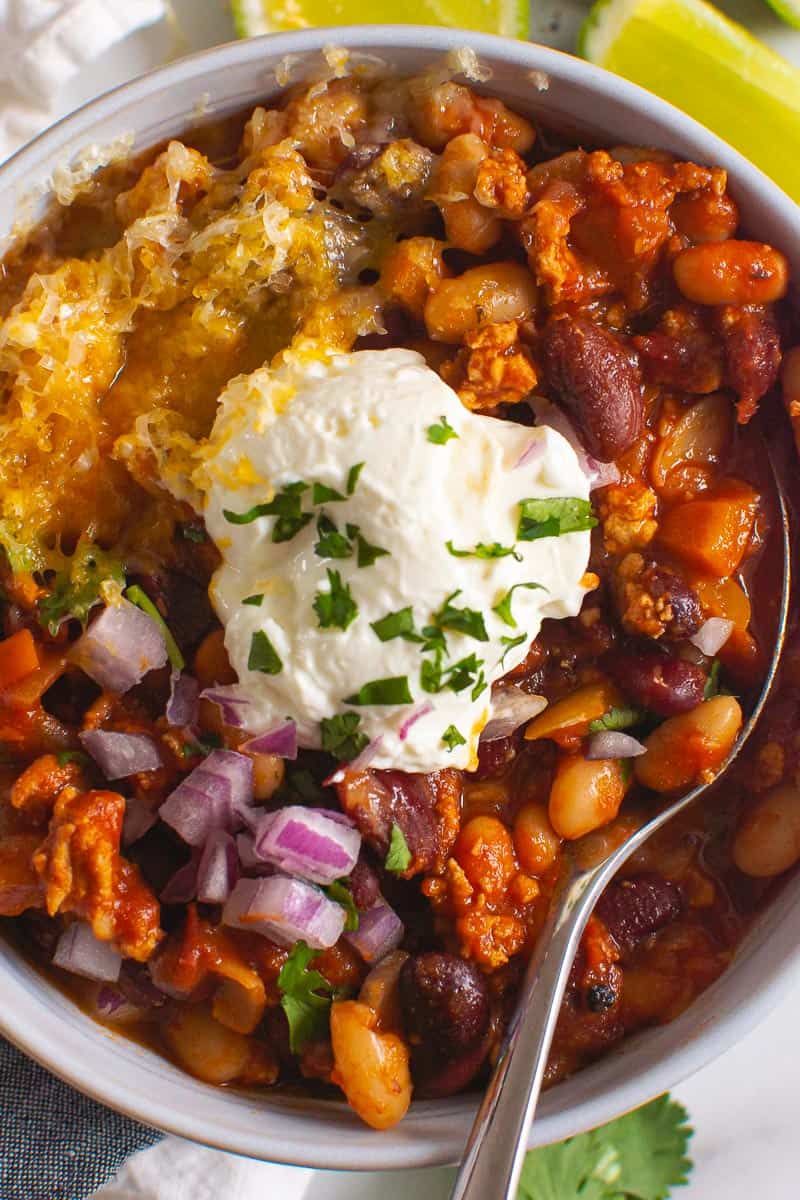 Healthy Turkey Chili Recipe
Fall is the perfect season for enjoying warming soups and stews like this hearty stovetop or slow cooker turkey chili. Inspired by The Biggest Loser TV show, it's packed with protein and fiber but low fat, and low sodium thanks to lean ground turkey and carefully selected pantry staples and seasonings!
Healthy turkey chili recipe is customizable to flavor and dietary requirements. Swap out the protein, add in extra veggies, sub or ditch the beans, and adjust the heat to your desired level- then load up with your favorite chili toppings; bowls will practically be licked clean!
Why Make Ground Turkey Chili?
Prepare two ways: Make a delicious stovetop or crockpot turkey chili!
Pantry friendly: Ground turkey chili uses just a handful of simple spices, beans, and veggies.
Versatile ingredients: Swap out lean ground turkey for chicken (or meat alternative), use leftover turkey from the holidays, and mix and match your beans and veggies!
Super nutritious: High protein, healthy turkey chili recipe is high fiber, low fat, low sodium, and low calorie.
Meal-prep friendly: Store leftovers for up to 5 days in the fridge (it tastes even better on day two) or for 3 months in the freezer! 
Minimal prep: Chop, sauté, then this recipe simmers hands off, on the stovetop or as slow cooker turkey chili!
Heat adjustable: Tweak the spice levels to your needs.
Tried and tested: Over a decade of making this stovetop/ turkey crockpot chili, it's the best you'll try!
Ingredients for Turkey Chili Crockpot or Stovetop
This simple healthy turkey chili recipe is made almost entirely of pantry staples and simple ingredients.
Ground meat: I use extra lean ground turkey (packed with protein but low fat!), but ground chicken would also work. You can even turn this into a 'leftover turkey chili' with holiday leftovers (read FAQs).
Aromatics: You'll need garlic and onions (yellow/white) for this healthy turkey chili.
Veggies: I use a combination of celery and bell peppers (any color – though I particularly like green peppers, which are more bitter). Alternatively, you could use a deseeded green poblano pepper. There are several veggies you could add to this turkey veggie chili (read add-ins section below).
Beans: I recommend using a variety of low sodium beans for the most flavorful and hearty high protein chili. We use red kidney beans that are big, thick, and starchy and smaller white beans like navy beans, cannellini, or great northern beans. Lima beans or black beans work too.
Seasonings: You'll need chili powder (or cayenne pepper- adjust to taste), taco seasoning (I use homemade low sodium), and canned chili in adobo sauce.
Liquids: I use low sodium tomato sauce (or a can of crushed tomatoes) and low sodium chicken stock for a low salt turkey chili that's still packed with flavor. If you use versions that aren't low sodium, be aware it may taste overly salty.
Keep reading below (after the recipe how-to) for more information on any add-ins and recipe variations!
Favorite chili toppings:
Lime wedges
Fresh parsley, cilantro, or green onion (scallions)
Shredded cheese – like Pepper Jack, Monterey Jack, Tex Mex, Cheddar cheese (mild or mature), or Cotija cheese (saltier)
A dollop of yogurt (natural or Greek yogurt) or sour cream – use low fat if preferred.
Tortilla chips
Chili slices or even a little chili sauce, for those who like things even hotter
Avocado slices or guacamole
Sliced raw cherry tomatoes and/or red onions
Fresh salsa (like pico de gallo)
If you're serving this to a large crowd, create a 'platter' of everyones' favorite chili toppings – to pick and choose!
How to Make Turkey Chili
There is a full recipe card below.
Making turkey chili on the stovetop is excellent for those last minute dinner ideas. I highly recommend using a high quality Dutch oven like Lodge or heavy bottom pot (second choice) to ensure even cooking.
Brown the meat: Preheat a large 5–6-quart Dutch oven, heavy bottom pan, or ceramic non-stick large skillet over high heat. Once hot, add the ground turkey and cook until it crumbled into small pieces (around 5 minutes), stirring and breaking it up constantly. Then, transfer the meat to a bowl and set aside.
Sauté the vegetables: Add the onion and garlic and reduce the heat to medium. Allow them to sauté for a minute or two, stirring occasionally. Then add the finely chopped celery and bell pepper and cook for a further five minutes. Stir only occasionally to allow the veggies to brown (which will provide tons of flavor to the ground turkey chili).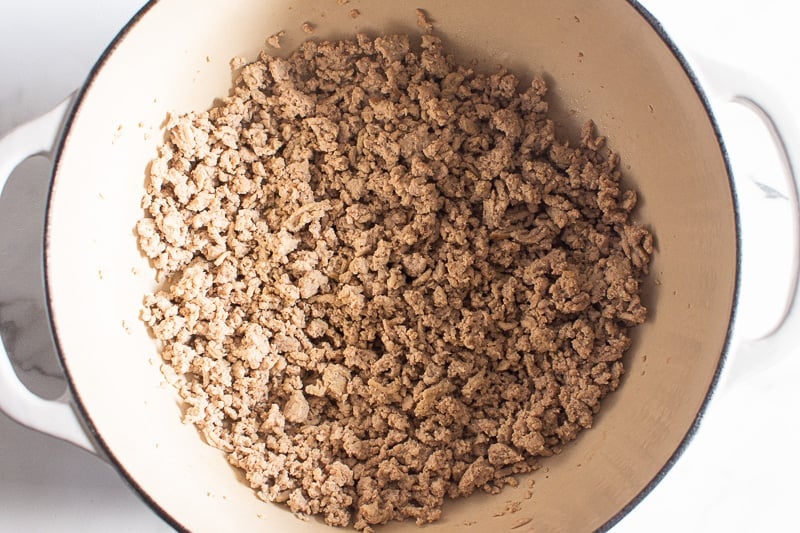 Add the remaining ingredients: Add the meat and all the remaining ingredients back into the Dutch oven/pot, stir, and cover with a lid. Bring the mixture to a boil, reduce the heat, and simmer for about 30 minutes.
Taste, adjust, and serve: When it's ready, do a final taste test and adjust any seasonings. Then serve a bowl of this healthy turkey chili topped with your favorite toppings. I like to use shredded cilantro, yogurt, and cheese with some finely diced red onions.
Slow Cooker Turkey Chili
I love making turkey chili in a crockpot (slow cooker) for those busy days when dinner needs to be ready when I walk in the door. Do the prep in the morning (or even the night before), then leave it to slowly simmer away all day, you may also love slow cooker turkey meatloaf!
Sauté ingredients: First, brown the meat and sauté the aromatics and vegetables in a pan (as written above for stovetop version).
Transfer to slow cooker: Along with the meat and veggies, add the beans, tomato sauce, broth, chipotle pepper, and seasonings to the crockpot. Then, mix, cover, and cook on LOW for 8 hours or HIGH for 4 hours. Finally, taste, adjust seasonings, and serve with your favorite toppings!
Optional Add-In's and Variations
More vegetables: There are tons of ways to up the heartiness of this healthy turkey chili with even more vegetables. Chopped green beans, cauliflower, okra, corn, carrot, pumpkin/sweet potato/ butternut squash, etc.
If you're using extra fresh vegetables, I recommend only adding them to the slow cooker turkey chili in the last 40-60 minutes of cooking, so they don't become too mushy!
Sweetener: You can use brown sugar, coconut sugar, or maple syrup/honey to balance the acidity from the tomatoes if needed.
Cumin: Cumin is a popular chili addition. Add around one teaspoon, then increase to taste if preferred.
Chipotle pepper in adobe sauce: You can use 2 tsp smoked paprika and a little more chili powder, to taste.
Extra heat: To add more of a kick to your ground turkey chili, you can add fresh deseeded jalapeños or other chilies. You could also add a can/jar of chopped green chilies (though these aren't particularly hot).
Oil free: Sauté the meat and vegetables with water or broth instead.
Make keto chili: Skip the beans and make this keto chili recipe.
Bean free turkey chili: Up the veggies, and include starchy potatoes/sweet potatoes so it's just as hearty!
Vegetarian chili: While it's possible to omit the meat, I recommend substituting your favorite meat-free alternative. No need to sauté first – just add it to the pot (or add to the crockpot chili in the last hour). Also, use vegetable stock. Alternately, make Instant Pot vegetarian chili or Instant Pot rice and beans.
Tips for Best Results
Cook your own beans when possible: Buying and cooking dried beans saves money and is healthier. You will consume less sodium, avoid BPA, and possibly will eat organic.
For a thicker, creamier turkey chili: You can either use an immersion blender directly in the pot or transfer a small amount of the beans and chili sauce to a blender and process until creamy. Then pour it back into the pot and stir.
For thicker slow cooker turkey chili: Remove the lid in the last 30-40 minutes and allow it to cook for the remainder of the time with it off.
Don't skip the sauté: This helps to pack in tons of depth of flavor to the ground turkey chili to stop it being 'bland.'
For a soupier ground turkey chili: Add some extra chicken or veggie broth to achieve the correct consistency.
Don't rush the simmer stage: The ingredients need time to meld and develop or it will taste lackluster!
Freezer meal turkey chili: First, do the sauté steps, allow it to cool, then transfer all the ingredients (except the broth) to large Ziplock bags, flatten and freeze for up to three months. Then, thaw in the refrigerator overnight, add to the stovetop/ crockpot with the broth and cook.
FAQs
What beans are best for healthy chili?
You can use all sorts of beans in this healthy turkey chili, including navy, kidney beans, black beans, pinto beans, great northern, etc.

I particularly like using kidney beans (large, slightly firm, and hearty) and pinto beans (slightly creamier) – both of which absorb flavors well. Turkey black bean chili is another favorite option of mine.
How to make turkey chili thicker?
There are several ways. You can remove a portion (1/4-1/3) of the beans/liquid and blend it into a paste, then mix it back into the pot. Alternatively, you can add a thickener like cornstarch or arrowroot (create a slurry first, then pour it into the chili and increase the heat, stirring until thickened).
How can I make turkey chili taste meatier?
Surprisingly, adding a spoonful of cocoa powder and a splash of coffee (or some coffee powder) or beer can help add extra 'beefy'/meaty flavor to the healthy turkey chili.

A dash of soy sauce added to the browning meat can also help add a beefy flavor to the healthy turkey chili – but should be avoided if you are aiming for low-sodium turkey chili.

You can also add other 'meaty' ingredients like chopped mushrooms – for umami flavor and texture.
Is turkey chili healthy?
It sure is! This healthy turkey chili recipe is packed with protein and fiber yet remains low fat and low calorie! More so, the combination of ingredients is packed with vitamins and minerals, too!
How do you fix bland chili?
With this ground turkey chili recipe, that should never be a problem! However, if you want more ways to add depth of flavor, there are several ways to do so.

Increase the seasonings, add a splash of booze (wine or beer), use something acidic like vinegar or brine for depth of flavor, or even add a little coffee powder.

If you aren't worried about sodium levels, you could also add soy sauce or Worcestershire sauce.
Can I use leftover cooked turkey?
Absolutely – if you have leftover turkey, shred or slice it, skip sauteing and add to the pot. The cook time doesn't change because the longer it cooks, the more flavorful the turkey chili.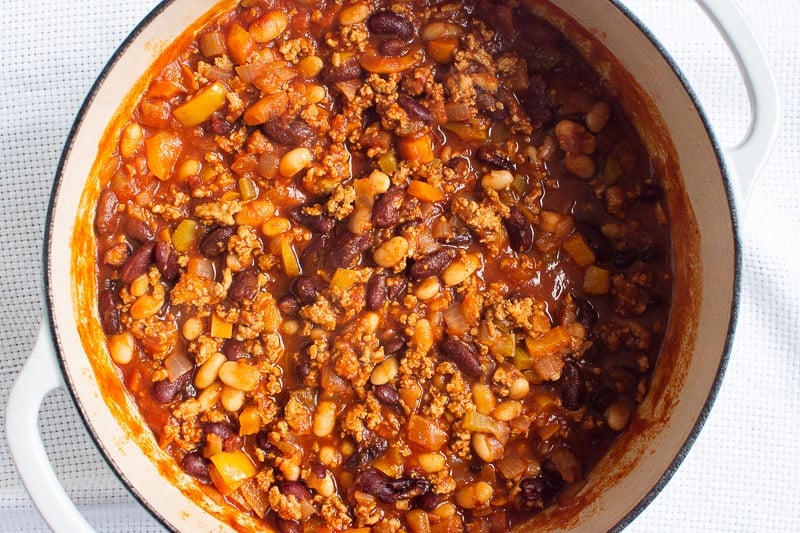 Serving Recommendations for Turkey Chili
You can enjoy a big bowl of this healthy, high protein ground turkey chili as is with your toppings of choice (see ingredients section for recommendations) or serve it alongside your favorite sides, including:
Making This Recipe in Advance
Make ahead: If you cook your own beans, this can be done in advance and kept in the fridge/freezer. To cut down on prep further, you could also pre-sauté the ground turkey and veggies the night before and place them back in the pan with the remaining ingredients when you're ready to cook the stovetop/crockpot turkey chili.
Store: Refrigerate the leftovers for up to 5 days in an airtight container. Like borscht soup and wine, this turkey chili tastes better every day as the flavors marinate.
Freeze: Make sure to cool the healthy turkey chili completely and then freeze in a glass container or Ziplock bag (flattened with excess air removed) for up to 3 months. Thaw in the fridge overnight before reheating
Reheat: Reheat the desired amount of chili in a pot by simmering on low heat. Cover and stir occasionally until warmed. You can also reheat the ground turkey chili in the microwave until piping hot.
More Hearty Soup Recipes to Try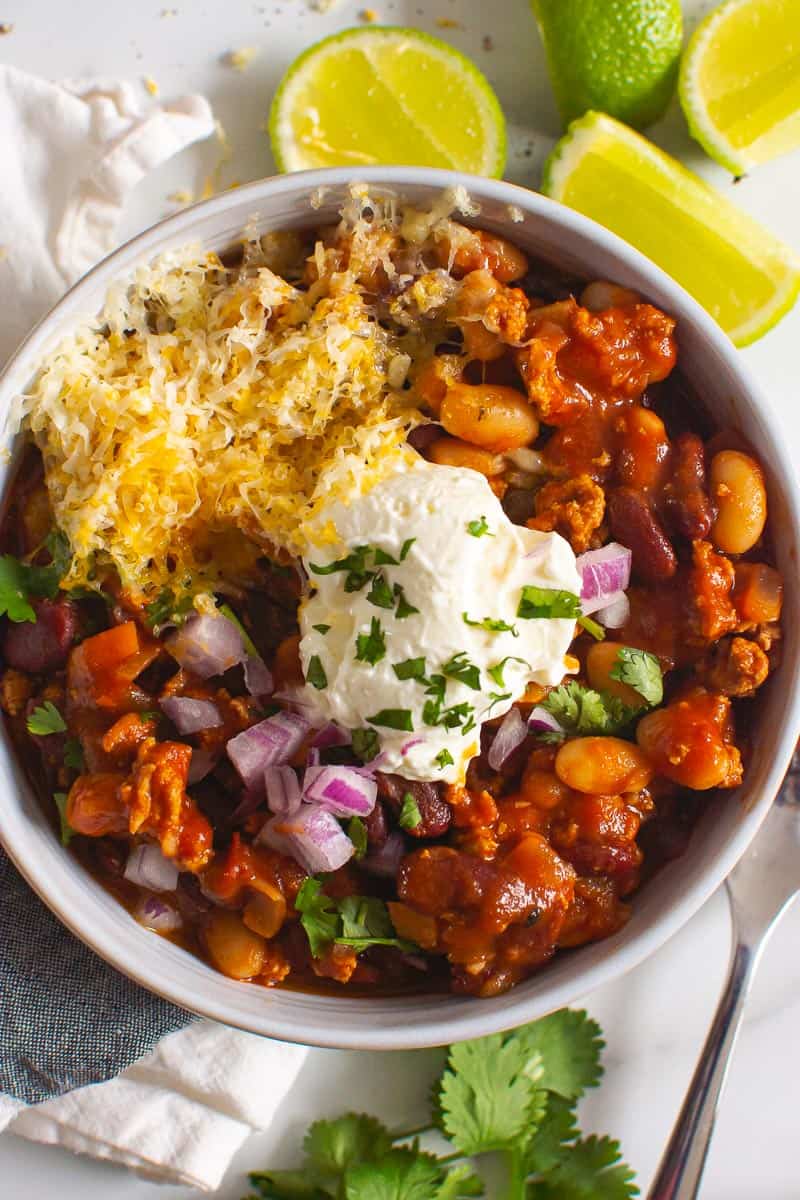 Healthy Turkey Chili
Healthy Turkey Chili prepared on the stove top of slow cooker is bursting with flavor with lean ground turkey, kidney beans, and warm spices.
Ingredients
1

lb

ground turkey

extra lean

3

garlic cloves

minced

2

medium onions

finely chopped

3

large celery stalks

chopped

2

medium bell peppers

chopped

14

oz

can low sodium red kidney beans

drained & rinsed

14

oz

can low sodium white beans

drained & rinsed

28

oz

can tomato sauce or crushed tomatoes

low sodium

1

cup

chicken or vegetable broth

low sodium

1

tbsp

chipotle pepper in adobo sauce

minced

1

tbsp

chili powder

low sodium

1

tbsp

taco seasoning

low sodium

Salt and ground black pepper

to taste

Oil

for frying

Lime, cilantro, cheese, yogurt, chips etc.

for serving
Instructions
Preheat large 5-6 quart Dutch oven, heavy bottom pot or ceramic non-stick skillet on high heat and add ground turkey. Cook until small pieces form or about 5 minutes, stirring and breaking into small pieces with spatula constantly. Transfer to a bowl or large slow cooker, and set aside.

Return skillet or pot to medium heat and swirl a bit of oil to coat. Add garlic and onion, sauté until translucent or 5 minutes, stirring occasionally. Add celery and bell peppers, sauté for 5 more minutes, stirring occasionally. If using slow cooker, transfer there, or leave in a dutch oven.

Then to either add red kidney and white beans, tomato sauce, broth, chipotle pepper, chili powder, taco seasoning and pepper.

Cover, bring to a boil, reduce heat to low and simmer for about 30 minutes. In slow cooker, cook on Low for 8 hours or on High for 4 hours.

Stir and adjust salt to taste, if necessary. Serve warm with your favorite toppings!
Notes
Store: Refrigerate chili for up to 5 days in an airtight container.

Reheat desired amount of chili in small pot by simmering on low heat. Cover and stir occasionally until warmed through.

Freeze: Make sure to cool chili completely and then freeze in a glass container for up to 3 months. Thaw in the fridge overnight.
Nutrition
Serving:
1.5
cups
|
Calories:
288
kcal
|
Carbohydrates:
38
g
|
Protein:
29
g
|
Fat:
2
g
|
Saturated Fat:
1
g
|
Cholesterol:
42
mg
|
Sodium:
508
mg
|
Fiber:
12
g
|
Sugar:
8
g