Easy Caprese Pasta Salad looks and tastes like summer. Tossed together in one bowl and 20 minutes, this refreshing pasta salad is the perfect side dish or light lunch.
For another twist on the classic caprese salad, we also love baked chicken caprese and caprese pasta.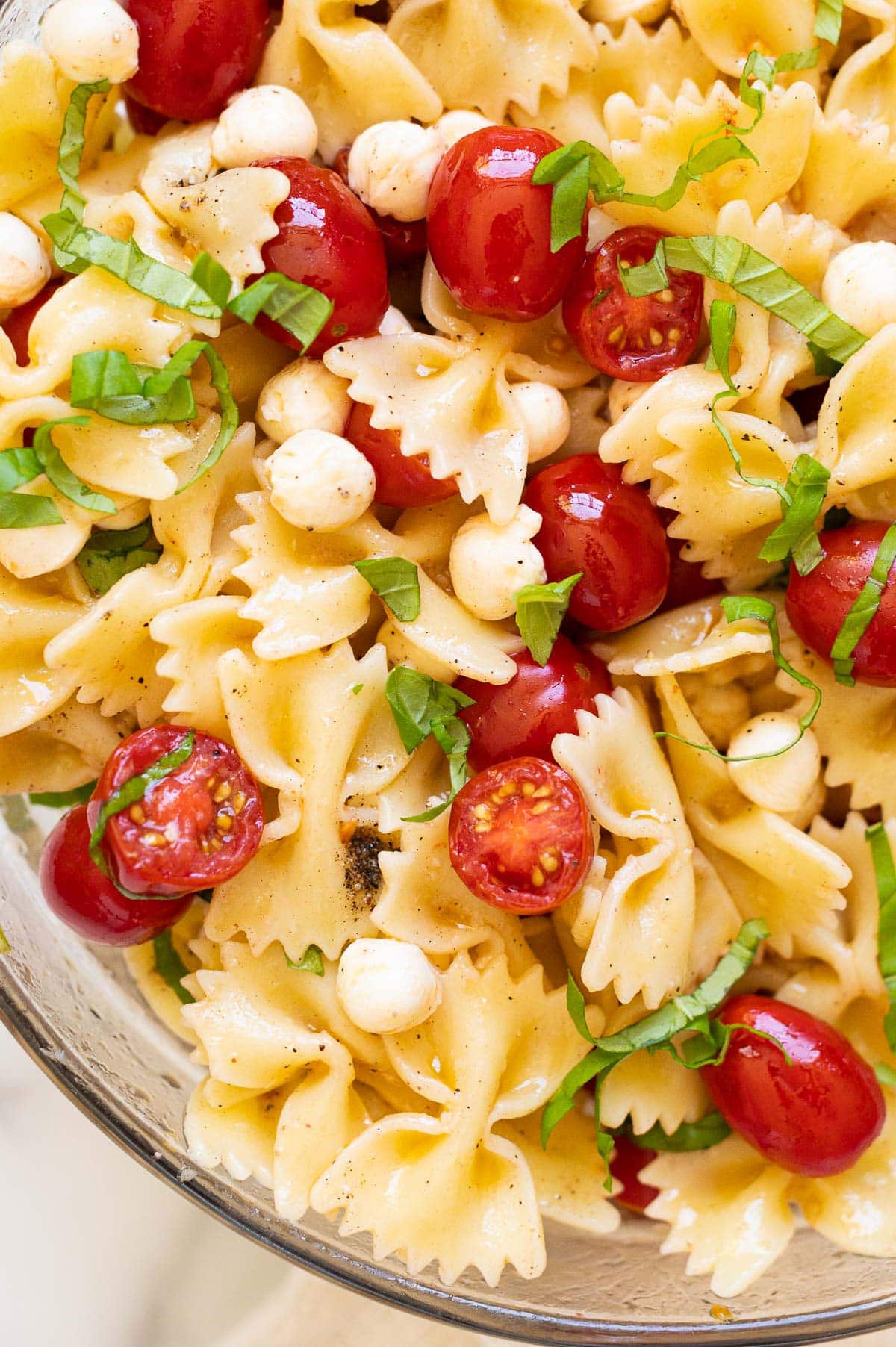 Juicy tomatoes, creamy mozzarella, and fresh basil is everything I am craving right now.
I made this caprese pasta salad recipe after a day of boating with my family, and the savory flavors were just what we needed on a hot day!
Why You Will Love This Recipe
Summer-y: One of my favorite summer recipes! It's bright, fresh, and one of the best ways to enjoy fresh tomatoes.
A crowd pleaser: Caprese pasta salad has always been a potluck favorite. It's delicious warm or cold with a burst of flavor that goes with anything.
So easy: One of the easiest salad recipes out there. Cook the pasta, add all ingredients to a large bowl, and toss. That's it!
Make ahead and easy to transport: Make this simple salad the day before your picnic, BBQ, or gathering. Store it in the fridge and let the flavors mingle or keep the dressing separate and assemble just before serving.
What Is Caprese?
The caprese salad is named after the island of Capri. It became super popular for its fresh Italian flavors of tomato, basil, and mozzarella cheese. Originally created as an appetizer but so incredibly delicious, it has inspired many more recipes.
This pasta salad combines the classic Italian taste with your favorite pasta and drizzled with a light vinaigrette, these bright flavors belong on your table this summer!
Ingredients for Caprese Pasta Salad
You'll need a small list of seasonal ingredients and pantry staples to make this caprese pasta salad recipe.
Uncooked pasta: I love bowtie pasta or farfalle pasta because the dressing can squeeze into the small crevices.
Grape tomatoes: Adds juicy sweetness to the salad. I had grape tomatoes on hand, you can also use cherry tomatoes.
Garlic cloves: I highly recommend fresh minced garlic, minced garlic in a jar doesn't have the real fresh flavor.
Olive oil: Extra-virgin olive oil is a traditional Italian ingredient with the best flavor for salad dressings.
White wine vinegar: For tangy flavor.
Seasonings: Salt and pepper to taste.
Bocconcini: I like to use bite-sized bocconcini pearls or cocktail bocconcini. You can substitute with diced mozzarella balls or fresh mozzarella log.
Fresh basil leaves: For garnish, color, and taste.
How to Make Caprese Pasta Salad
Caprese pasta salad is a breeze to make in just 20 minutes! Here's a quick overview, there is also a full recipe card below.
Cook pasta: Add cold water and a pinch of salt to a pot, bring to a boil then add pasta. Cook for 8-10 minutes until al dente, stirring occasionally.
Make vinaigrette: While pasta is cooking, add olive oil, vinegar, garlic, salt and pepper to a large bowl and whisk. Then add tomatoes and stir to combine.
Marinate pasta: Drain pasta and immediately add the warm pasta to the bowl with the tomatoes. Stir to combine and let salad sit for 20 minutes. This allows pasta to marinate and cool off.
Finish the salad: Add bocconcini and basil, give it one more stir and enjoy!
Tips for Best Results
Here are my top tips to make a simple caprese pasta salad the most flavorful!
Cook pasta al dente: To ensure the pasta isn't mushy, especially if you are making it ahead of time.
Don't rinse cooked pasta: Adding warm pasta to the bowl helps makes it soak up more flavors of garlic and olive oil.
Chop some of the tomatoes: Grape and cherry tomatoes are small, but I like to halve the bigger ones to add more flavor to the salad with their juices and ensure uniform bite sized pieces.
Chop large size mozzarella: If you have larger mozzarella cheese, chop it into bite-sized pieces for even distribution.
Add cheese to cold pasta salad: The cheese is added just before serving, once the pasta has cooled, so it does not melt.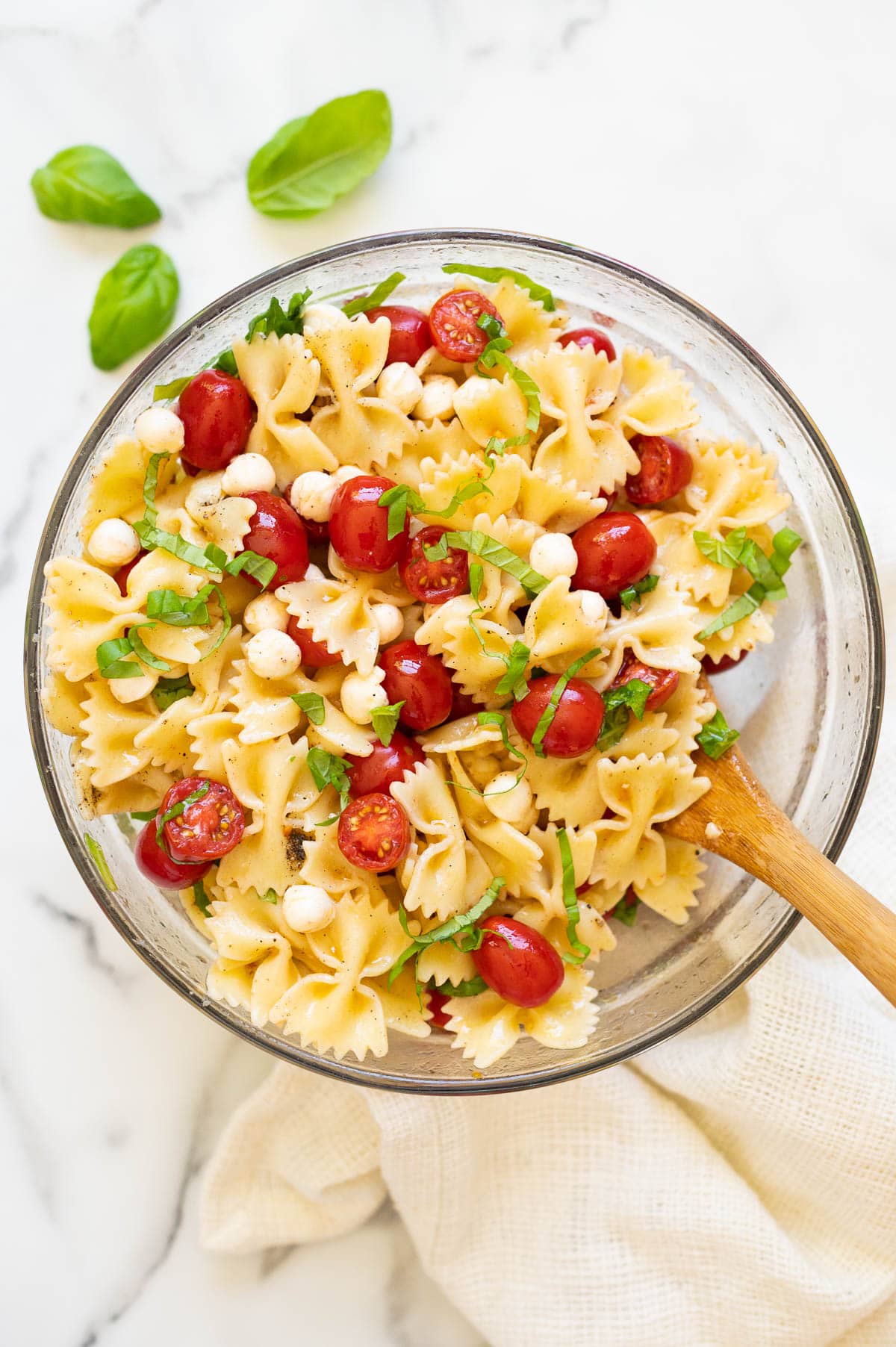 Variations and Subtitutions
Here are some fun mix-ins you may like to try!
Add balsamic vinegar: A drizzle of balsamic vinegar adds a sweet and sour taste. White balsamic vinegar would maintain the nice color of the pasta salad, but it's hard to come by. You can use regular balsamic vinegar, just be ready for color change.
Fresh mozzarella substitute: Try fresh, quality chunky feta cheese or goat cheese.
Types of tomatoes: Add a rainbow of colored tomatoes for more color. You can also slice up bigger tomatoes like roma tomatoes, beefsteak tomatoes or tomatoes on the vine.
Add protein: Make it a heartier salad with canned tuna along with some olives. Or use up some leftover grilled chicken.
Use any small pasta: The dressing will stick to any small pasta with texture like penne, fusilli, rigatoni, or rotini pasta. You can also use gluten-free pasta, just be sure to follow package instructions for al dente.
Basil substitute: Fresh lemon thyme or mint adds amazing bright flavor.
Add more vegetables: Avocado, bell peppers, sliced raw zucchini or mushrooms would all be amazing additions to this summer salad.
Add basil pesto: 3-4 tablespoons adds a rich, earthy taste.
What to Serve Caprese Pasta Salad with?
Caprese pasta salad is incredibly versatile! It's great for sharing so you can double the recipe for your next potluck, it's satisfying and filling on its own for a quick and easy lunch, and it's the perfect side dish to almost any entrée.
Our personal favorites to serve with the salad are bruschetta chicken, baked chicken caprese, spinach feta burgers, grilled chicken burgers, and Greek chicken kabobs.
How to Store
Store: Leftovers should be kept in a glass airtight container and stored in the refrigerator. Basil turns black and tomatoes release juices with time, so I would say 3 days is most optimal although I don't believe it would last that long because it is so good!
Freeze: I do not recommend freezing any pasta salad because the tomatoes, cheese, and pasta will not thaw well.
FAQs
Can I make caprese pasta salad ahead of time?
Yes! I recommend keeping the prepped ingredients stored separately until ready to serve for the best results.
What is the best pasta to use?
Any short pasta with texture or crevices is best. The small shape matches the size of the other ingredients and the dressing sticks and works its way through the curves.
Can I freeze it?
I do not recommend freezing caprese pasta salad. The textures of the pasta, tomatoes, and bocconcini will be mushy and rubbery, and the flavor will not be as vibrant. This salad is best served fresh.
More Pasta Salad Recipes to Try
Best Caprese Pasta Salad Recipe
Easy Caprese Pasta Salad looks and tastes like summer. Made in one bowl in 20 minutes, this pasta salad is perfect side dish or light lunch.
Instructions
Bring a pot of salted water to a boil and add pasta. Cook until al dente, stirring occasionally, for about 8-10 minutes.

While pasta is cooking, in a large bowl add olive oil, vinegar, garlic, salt and pepper. Whisk. Add tomatoes and stir to combine.

Drain pasta and add warm pasta (no need to rinse it with cold water) to a bowl with tomatoes. Stir and let it sit to marinate and cool off for 20 minutes.

Add bocconcini and basil, stir and serve.
Notes
Store: Refrigerate pasta salad covered for up to 2-3 days. Reheat 20 seconds in a microwave warm to "melt" olive oil.
Freeze: Do not freeze pasta salad.
Nutrition
Calories:
347
kcal
|
Carbohydrates:
32
g
|
Protein:
12
g
|
Fat:
20
g
|
Saturated Fat:
4
g
|
Cholesterol:
12
mg
|
Sodium:
224
mg
|
Fiber:
2
g
|
Sugar:
3
g