10 Healthy Salad Dressings for all your healthy dressing needs. Whether you want something tangy, light and refreshing, or rich and creamy, there's a dressing for everyone! Best of all, all the options below are so much healthier than store-bought options with no excess fats, preservatives, chemicals, sugars, and sodium – instead, they're made with healthy, wholesome, clean ingredients and pack in tons of flavor!
Looking for even more healthy inspiration? Why not browse through my entire list of healthy salads and sauce recipes!
Why We Love Healthy Salad Dressing Recipes?
If you want a never-ending supply of inspiration for fun, fresh, and interesting salads then having a few healthy homemade salad dressing recipes in your recipe arsenal is a must! Honestly, I believe a lack of dressing ruins even the best-planned salad, especially for those who are already 'salad-weary'.
Unfortunately, as it is, most store-bought options seem to be packed with chemicals and unnecessary ingredients that mean you either have to eat such a small amount or end up ingesting tons of empty calories and nasty ingredients. Even low-fat versions are deceptively 'healthy' since they're usually packed with even more chemicals and sweeteners. Luckily, making a healthy salad dressing at home is ridiculously simple; most rely on less than 10 ingredients, just a few minutes to prepare and can often be stored for between 1-2 weeks!
I've already shared recipes for several homemade healthy sauces like BBQ sauce, Thai sweet chili, and chimichurri sauce, so why not do the same for healthy salad dressing recipes too?!
How to Make a Salad Dressing Healthy
I think that the key to a healthy homemade salad dressing is using wholesome, clean ingredients. Sometimes it's as simple as making a few healthy ingredient swaps; think yogurt in place of mayo – and you're rearing to go!
Almost every salad dressing needs a healthy fat; whether it's extra virgin olive oil or using a yogurt base – avoid hydrogenated and unhealthy fats! After all, fat isn't the enemy when healthy fats are chosen.
I also like to keep an eye on sugar and sodium levels – use just enough to balance the dressing for a delicious and healthy salad dressing recipe. Most store-bought options use far more than is necessary!
Plus, let's be honest, one of the biggest benefits of making your own healthy homemade salad dressing is that you are able to be in complete control of the ingredients and able to customize them to your individual taste. That way you can achieve delicious results every single time without the long list of artificial and unhealthy ingredients. More so, 90% of the time, a healthy salad dressing recipe costs far less to make than they are to buy!
Serving Recommendations for Homemade Salad Dressing
When it comes to adding healthy homemade salad dressing recipes to my list of 'go-to's, I love something that's versatile; for dressing, drizzling, dipping, and use as a sauce. Here are a few suggested recommendations:
You can also serve any (or all) of these healthy homemade salad dressings as part of a party spread alongside other appetizers/sides (including crudites, falafel, parmesan mushrooms, and chicken kabobs), dips (like healthy 7-layer dip, French onion dip, spinach dip, and taco dip), and other healthy snacks!
More FAQs on Healthy Dressing
What is the healthiest dressing for salad?
I don't think there is any ONE healthiest option, as long as they're made with healthy, wholesome ingredients. I like to swap out my healthy homemade salad dressings based on what I'm eating them with. A simple balsamic vinaigrette, for example, is light and pairs well with most leafy-green salads. However, as you'll see in the list of healthy salad dressings below – there are options for those wanting some creamy, tangy, light, etc.
What is a healthy alternative to salad dressing?
There's no need to avoid salad dressings if you're making them at home. These 10 healthy salad dressing recipe options use healthy, wholesome, and fresh ingredients. This list includes a simple balsamic vinaigrette, fruity raspberry dressing, and creamy healthy ranch dressing among others – so you'll never get bored with salads again!
Are all store-bought salad dressings bad for you?
In order for the dressings to be shelf-stable, even the 'healthiest' store-bought salad dressings usually still contain stabilizers and preservatives. Unfortunately, they also usually contain excess levels of sugar, sodium, and unhealthy fats. In the worst-case scenario (which unfortunately is most of the time), store-bought salad dressings are packed with artificial ingredients and chemicals.

Many people choose low fat, and low-calorie options, thinking they're healthier. Unfortunately, to make up for the lack of fat and calories, they usually contain even more chemicals in the form of sweeteners.
Favorite Homemade Healthy Salad Dressing Recipes
This Raspberry Vinaigrette is quick and easy to make and contains just 6 simple wholesome ingredients for a healthy homemade salad dressing with the perfect balance of sweet and sour! Not only is this simple salad dressing loaded with fresh raspberries, subtle citrus, and a velvety smooth texture – but it's also gluten-free, dairy-free, and refined sugar-free. Best of all, you can swap out the raspberries for other berries too – perfect for days when you're not in the mood for something creamy for your salad- like this grilled chicken salad and strawberry spinach salad.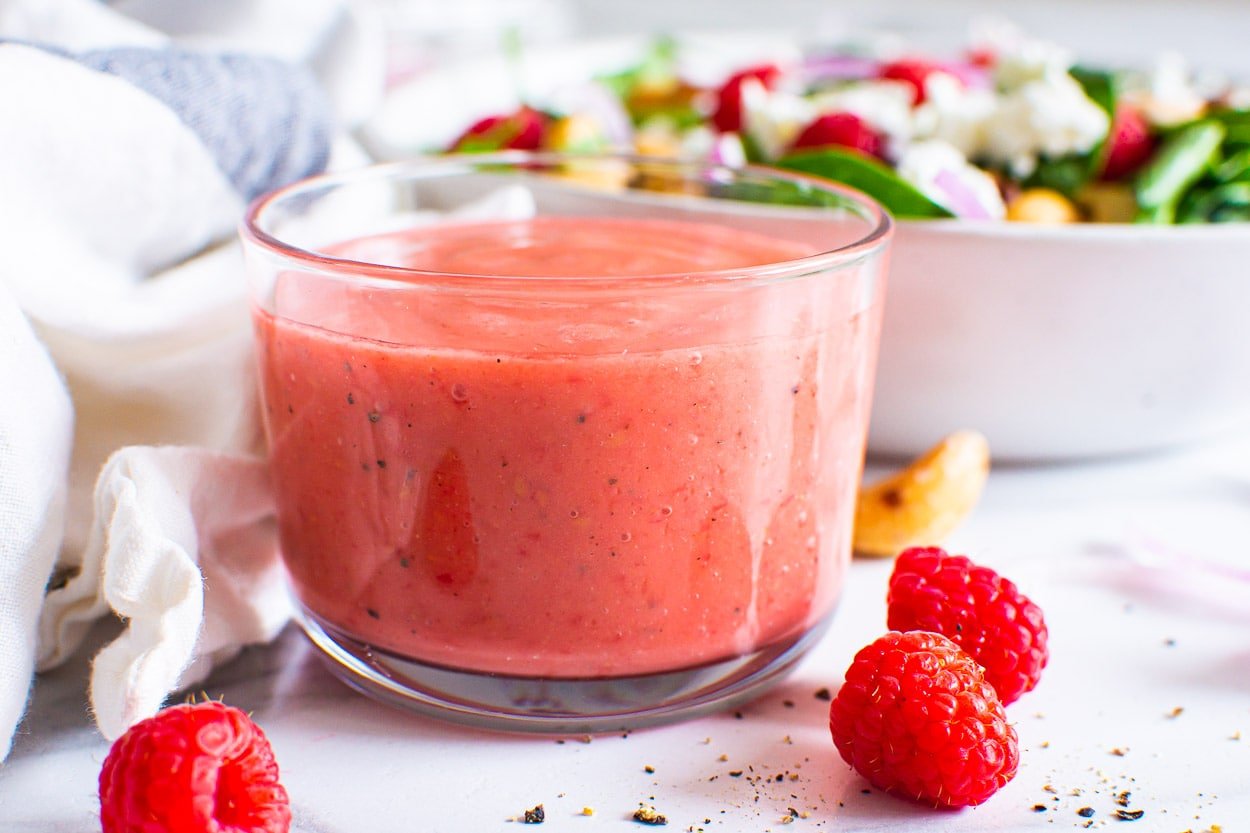 Prefer something super creamy and loaded with healthy fats? Then this Avocado Cilantro Dressing might be the one for you! It's creamy, fresh, zesty, with a hint of garlic – all with just 5 simple ingredients and now unnecessary sugars, preservatives, or other additives! Instead, this avocado dressing is packed with heart-healthy fats, potassium, and antioxidants. All you need is a few minutes to prepare this dressing, too, then it's ready to drizzle over salads, nachos, proteins, and more! This healthy salad dressing recipe goes particularly well with Mexican and Tex-Mex salads, like this Mexican bean salad, mango black bean salad, or Mexican kale salad!
This healthy Poppy Seed Dressing is one of my favorite all-purpose salad dressings. It's light and creamy with a subtle sweet onion flavor and slight crunch from the poppy seeds. I'd go as far as to say it's perfectly balanced in flavor with tangy, sweet, creamy, and savory elements! Unlike regular mayo-based poppy seed dressing, this version is yogurt-based, too – for a fraction of the calories and fat- and requires just 8 kitchen staple ingredients and 2 minutes to prepare! You'll want to pour it over everything- though it goes particularly well with fruity salads like spinach and strawberry salad or sweet kale salad.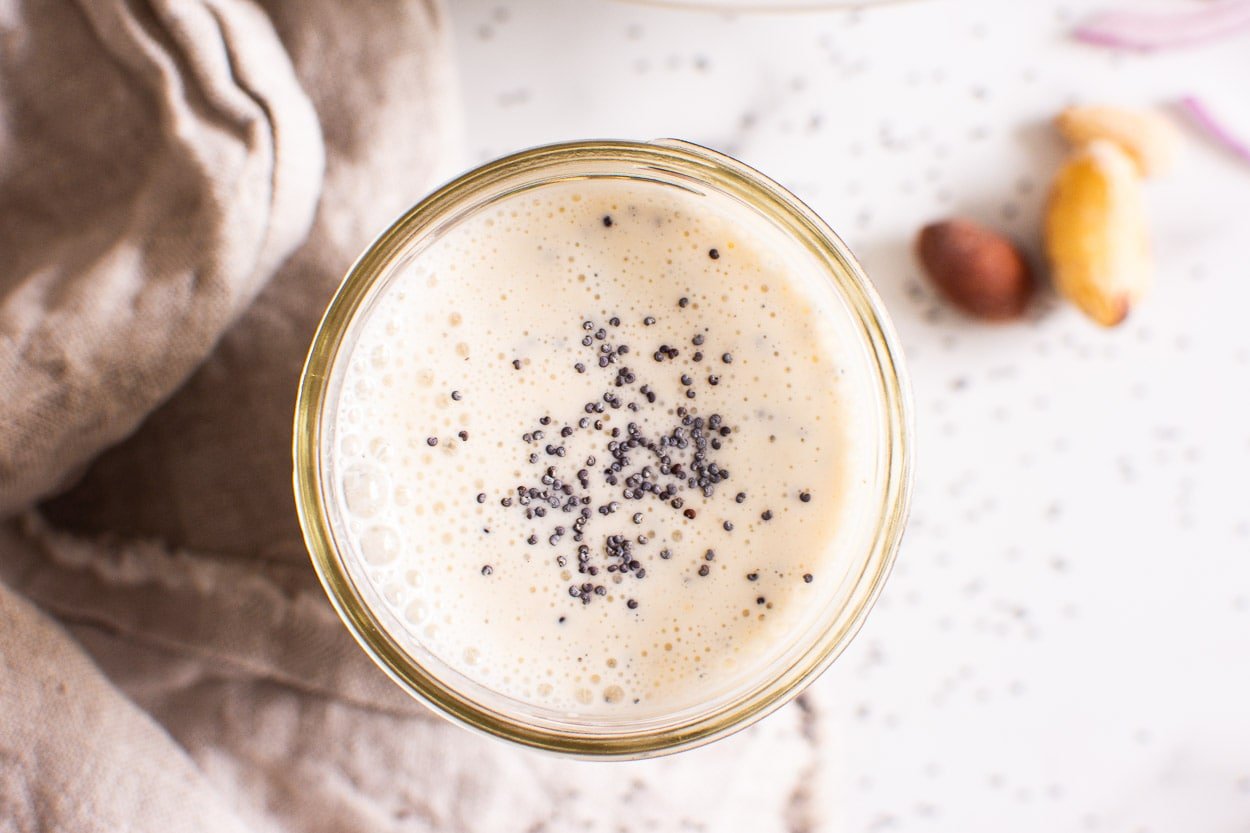 If Asian flavors are your jam, then this Asian Salad Dressing is for you. It's ready in under 5 minutes and is sweet, tangy, and zesty with the addition of ginger, rice vinegar, sesame seeds, and more. It's light, flavorful, and so much healthier than store-bought alternatives. Best of all, it's also incredibly versatile and will taste just as delicious with several subs and omissions. I love serving it with salads like this rainbow Asian salad. You can also use it to marinate meat (like grilled chicken) and in Asian slaw.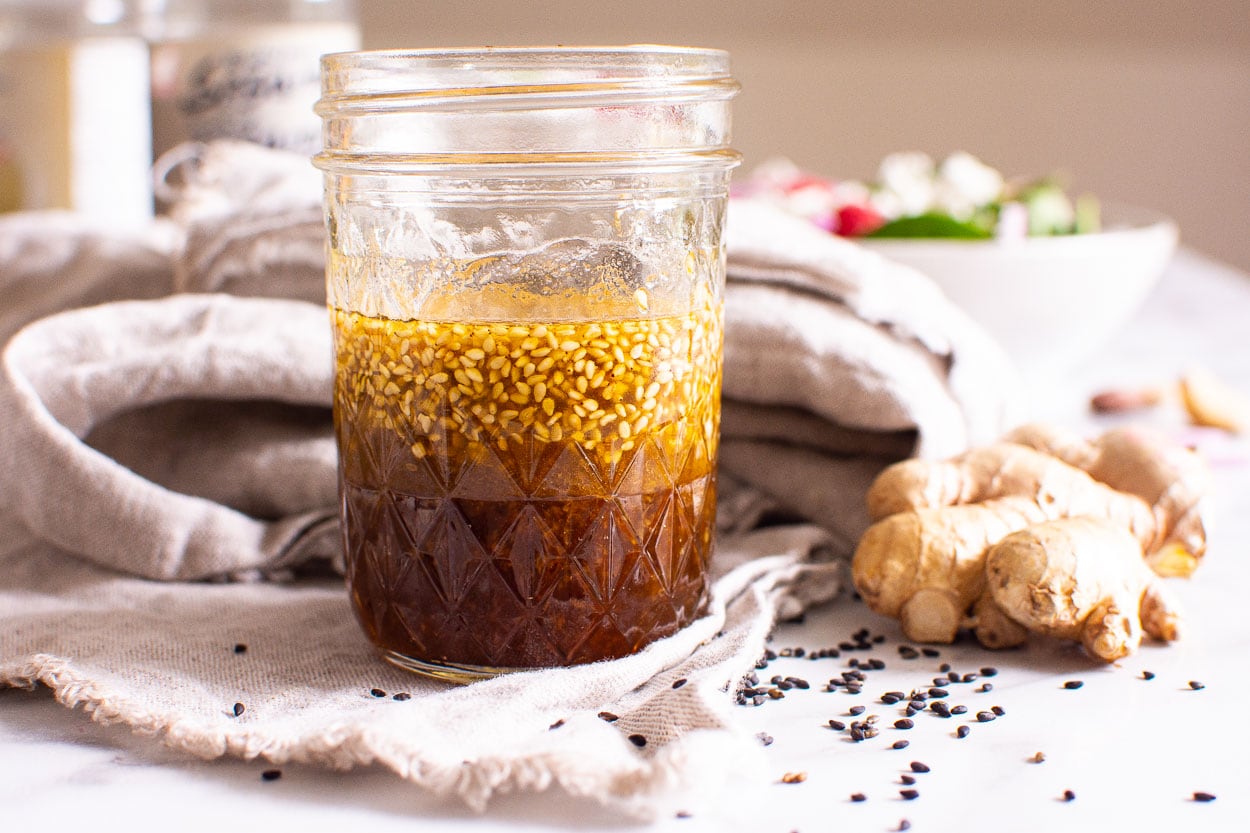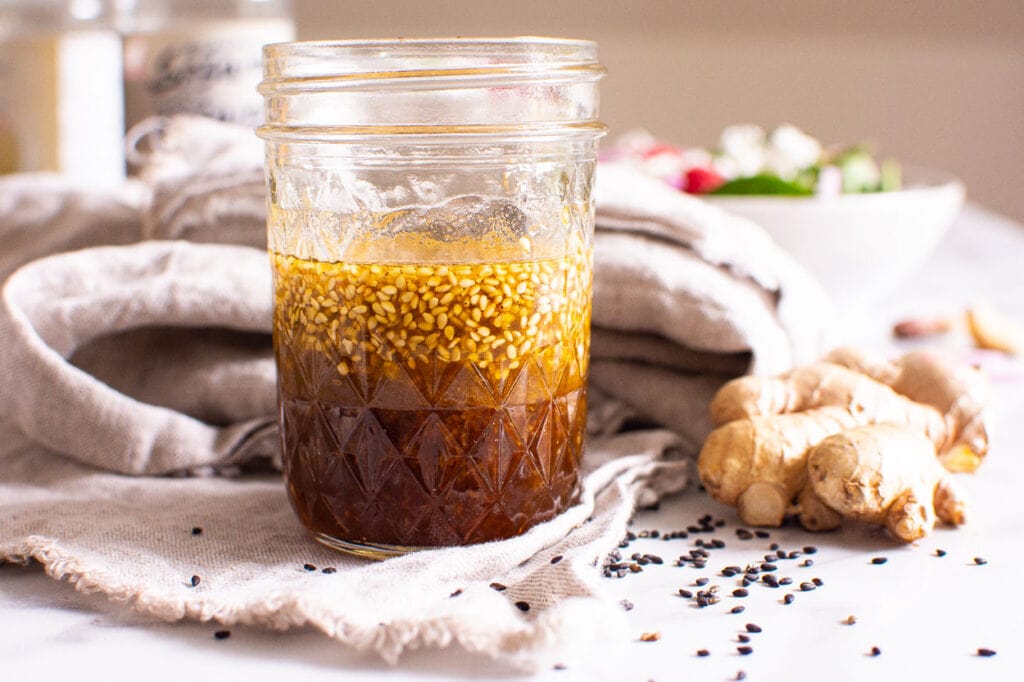 I initially posted this creamy Lemon Tahini Dressing alongside some quinoa falafels. However, it also makes for a great all-purpose dressing (particularly with Middle Eastern cuisine and simple salads like this Kale parmesan salad) with smooth creamy (and ever so slightly bitter) tahini, tangy lemon, pungent garlic, a little salt, and water to thin it down to the correct consistency. This healthy salad dressing takes just a couple of minutes to prepare and is easy to adjust to your liking, too!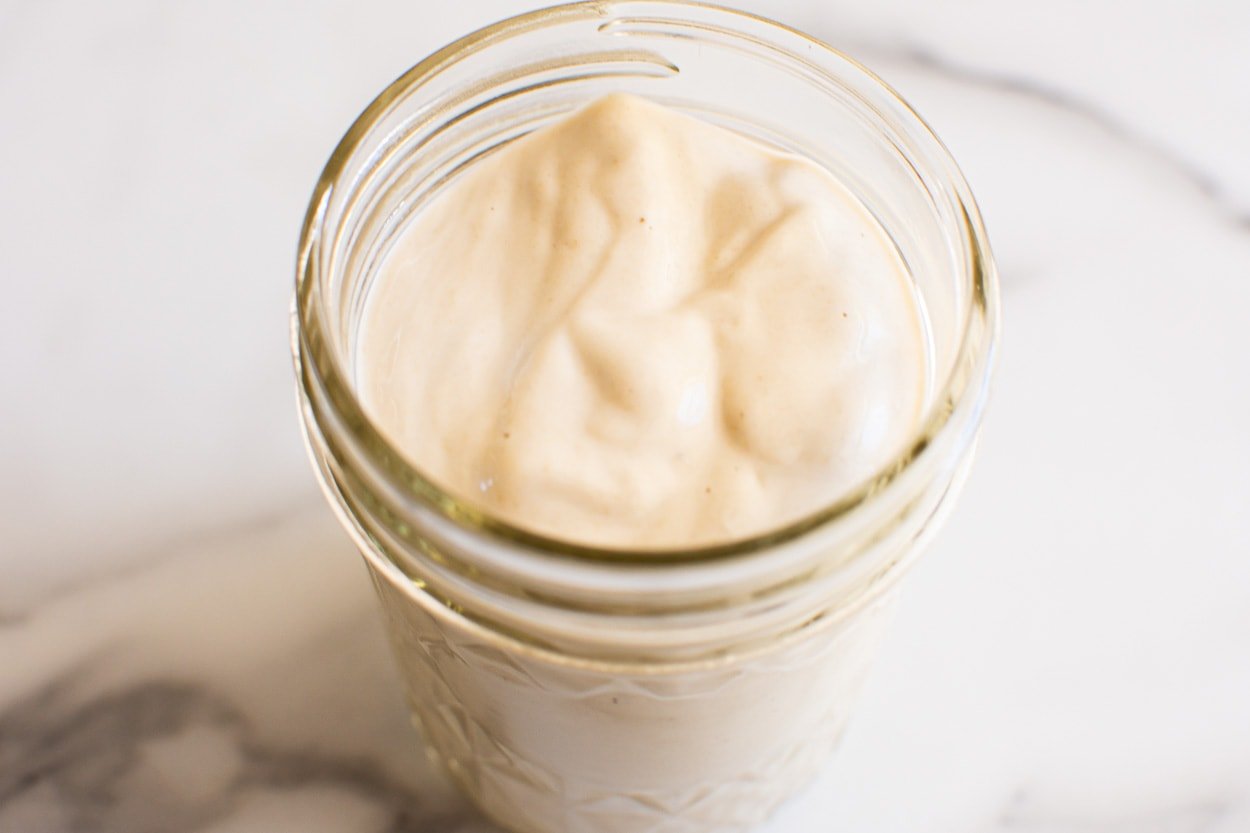 If you're a fan of peanut butter, then you have to try this 5-ingredient Easy Peanut Sauce. It's creamy, slightly sweet, slightly savory, and packed with umami flavor. You can make this healthy homemade salad dressing heat-free for kids, or bump up the spice to personal preference. Plus, it takes just minutes to prepare and is then ready for all your dipping, drizzling, and dressing needs- like its peanut slaw and Thai noodle salad.
Looking for the ultimate 'simple' healthy salad dressing, then why not try this simple Balsamic Olive Oil mixture. Balsamic vinegar has a sweet, tangy, complex flavor that combines with olive oil for a smooth, rich mouthfeel. Optionally add in some garlic and fresh herbs (like parsley or basil) for a dressing that works as well on salads as it does for these grilled vegetables! During grill season it makes for a delicious dressing to fresh (or grilled) tomatoes and watermelon, too!
If you like regular Ranch Dressing, then this Healthy Ranch Dressing should be the next on your list. Unlike most store-bought Ranch dressings, this healthy homemade salad dressing avoids extra fats, sugars, cholesterol, and sodium. Instead, it uses a yogurt and/or buttermilk base combined with garlic and onion powder, fresh dill, salt, pepper, and just enough sugar to balance the flavors. Best of all, you can use it for a salad (like this healthy Cobb salad or sweet kale salad) then save the leftovers as a dip (for veggies and healthy pizza!) or drizzle for the rest of the week!
This Healthy Honey Mustard Dressing is one of the first homemade 'clean eating' healthy salad dressing recipes I made after discovering that most store-bought options contain a label filled with chemicals and preservatives. This dressing is made up of just 5 clean ingredients (plus salt, pepper, and water) for a sweet, tangy, silky salad dressing. After enjoying it with leafy green salads, can even use the leftovers for dipping (like this almond chicken and veggies) and marinating baked chicken breast!
This Carrot Ginger Salad Dressing lies somewhere between the honey mustard and Asian dressing with added creaminess and nutrients from carrots. It combines ginger, honey, sesame oil, rice vinegar, soy sauce, and carrot for a healthy homemade salad dressing that is zingy, bright, and super fresh. All you need is a blender and a few minutes, then you'll be struggling not to drizzle it over everything (at the very least lots of leafy salads and stir-fries!
More Healthy Recipes to Try
10 Healthy Salad Dressings – Grilled Chicken Salad with Poppy Seed Dressing
One of our favorite healthy salad dressings! Creamy, low fat poppy seed dressing paired with ultimate grilled chicken salad is a main salad lunch or light dinner idea that you will make over and over again.
Print
Rate
Servings:
4
servings (as a main)
Ingredients
Healthy Poppyseed Dressing
Grilled Chicken Breast
1

large boneless & skinless chicken breast

cut in half lengthwise

1

tbsp

olive oil

extra virgin

1/2

lemon

zest and juice of

1

small garlic clove

grated

1

tsp

oregano

dried

Scant of 1/4 tsp salt

1/4

tsp

ground black pepper
Grilled Chicken Salad
Mixed baby greens

1

cup

raspberries

strawberries or blueberries

1

cup

grape tomatoes

cut in halves

1/4

cup

feta or goat cheese

crumbled

1/2

cup

toasted mixed nuts

unsalted

1/3

cup

red onion

thinly sliced
Instructions
To make poppy seed dressing: In a small bowl add yogurt, maple syrup, vinegar, mustard, poppy seeds, onion powder, salt and pepper. Stir well with a fork to combine. Set aside.

To make grilled chicken: In a large bowl add chicken, olive oil, lemon zest and juice, garlic, oregano, salt and pepper. ; Stir with tongs and let marinate for 30 minutes.

Grill on medium high heat (450 degrees F) for 10 minutes, flipping once. Rest under foil for 5 minutes.

To make grilled chicken salad: In a large salad bowl, add greens, sliced grilled chicken breast, raspberries, tomatoes, feta, nuts and red onion.

Drizzle with healthy poppyseed dressing and toss gently to combine. Serve immediately.
Make-Ahead: You can prepare all the elements in advance. Marinate chicken overnight, store salad ingredients in airtight container, and you can make the dressing up to a week (or more) in advance!
Store: If the salad is dressed, then make sure to eat it on the same day (within 12 hours). If the salad, dressing, and nuts are stored separately, then you can store them for up to two days, covered, in the refrigerator.
Notes
Greens: Substitute your favorite salad greens – kale, arugula, baby spinach etc. 
Nuts: You can use any raw nuts like cashews, pecans, pistachios, pine nuts or walnuts. 
Chicken: Chicken thighs or shredded chicken would work as well.
Try this salad with the raspberry vinaigrette or balsamic for variety! 
Nutrition
Serving:
1.5
cup
|
Calories:
305
kcal
|
Carbohydrates:
18
g
|
Protein:
19
g
|
Fat:
19
g
|
Saturated Fat:
4
g
|
Cholesterol:
48
mg
|
Sodium:
496
mg
|
Potassium:
544
mg
|
Fiber:
5
g
|
Sugar:
8
g
|
Vitamin A:
397
IU
|
Vitamin C:
16
mg
|
Calcium:
155
mg
|
Iron:
2
mg
Join today and start saving your favorite recipes
Recipes and images are a copyright of ifoodreal.com. It is against the law to republish recipes anywhere including social media, print and all world wide web. Nutritional info is provided for informational purposes only and to the best knowledge.