Healthy Homemade Salad Dressings from tangy, light and refreshing, to rich and creamy. Easy to make with wholesome, clean ingredients that pack in flavor, you'll never reach for the store bought stuff again!
Looking for even more healthy inspiration? Why not browse through my entire list of healthy salad recipes!
If you want a never ending supply of inspiration for fun, fresh, and interesting salads then having a few healthy homemade salad dressing recipes in your arsenal is a must!
Honestly, I believe a lack of dressing ruins even the best planned salad, especially for those who are already weary of more salad recipes.
Luckily, making healthy salad dressings at home is ridiculously simple. Most rely on less than 10 ingredients, just a few minutes to prepare and can often be stored for between 1-2 weeks!
And why stop at salad dressings? Make healthy BBQ sauce, Thai sweet chili sauce, and chimichurri sauce recipe, too!
Why Make Homemade Salad Dressings?
Unfortunately most store bought salad dressing options, including low fat, are packed with sugars, chemicals, and unnecessary ingredients.
Plus, let's be honest, one of the biggest benefits of making your own healthy salad dressings are that you are able to be in complete control of the ingredients and able to customize them to your individual taste.
That way you can achieve delicious results every single time without the long list of artificial and unhealthy ingredients. More so, 90% of the time, making your own salad dressing at home costs far less, too!
What Makes a Salad Dressing Healthy?
Wholesome, clean ingredients is at the top of the list! Sometimes it's as simple as making a few healthy ingredient swaps. Think yogurt in place of mayo!
Healthy fats come next, whether it's using extra virgin olive oil or yogurt as the base while avoiding hydrogenated and unhealthy fats! Also, keep an eye on sugar and sodium levels, and use just enough to balance the dressing.
How to Make Salad Dressing at Home?
Each recipe will have its own complete set of directions, but rest assured there is nothing complicated about making your own dressings at home. Minimal ingredients, simple steps, a few kitchen tools and you are well on your way.
Put all ingredients in a jar and shake to combine.
Alternatively, you could place in a bowl and stir to combine.
Place ingredients in a food processor or blender and pulse or blend to combine.
And that's it for the most part, easy peasy!
How to Store Healthy Salad Dressings?
While each salad dressing may differ slightly with its storage recommendations, most often storing them in a mason jar with a lid is your best option! If you happen to have a glass salad dressing jar, that is great too.
If it is an oil based dressing the oil may solidify and separate during refrigeration. That is normal! Just bring it to room temperature and shake your jar to combine it again.
How Long Do Homemade Salad Dressings Last?
Again, each recipe may differ but most will last between 1 – 2 weeks with refrigeration. If it contains dairy, it will be safe to use for one week, but an oil based dressing can last up to 2 weeks or more.
FAQs
What's the healthiest salad dressing?
I don't think there is any ONE healthiest option, as long as they're made with healthy, wholesome ingredients like these recipes!
What are some serving recommendations for homemade salad dressings?
Of course with salad is an obvious answer! Use on green salads and vegetable salads. But you could also use them as a marinade for chicken or even to jazz up your brown rice.
Raspberry vinaigrette is quick and easy to make, contains just 6 simple wholesome ingredients and has the perfect balance of sweet and sour!
It's great for hot summer days and pairs well with grilled chicken salad and strawberry spinach salad.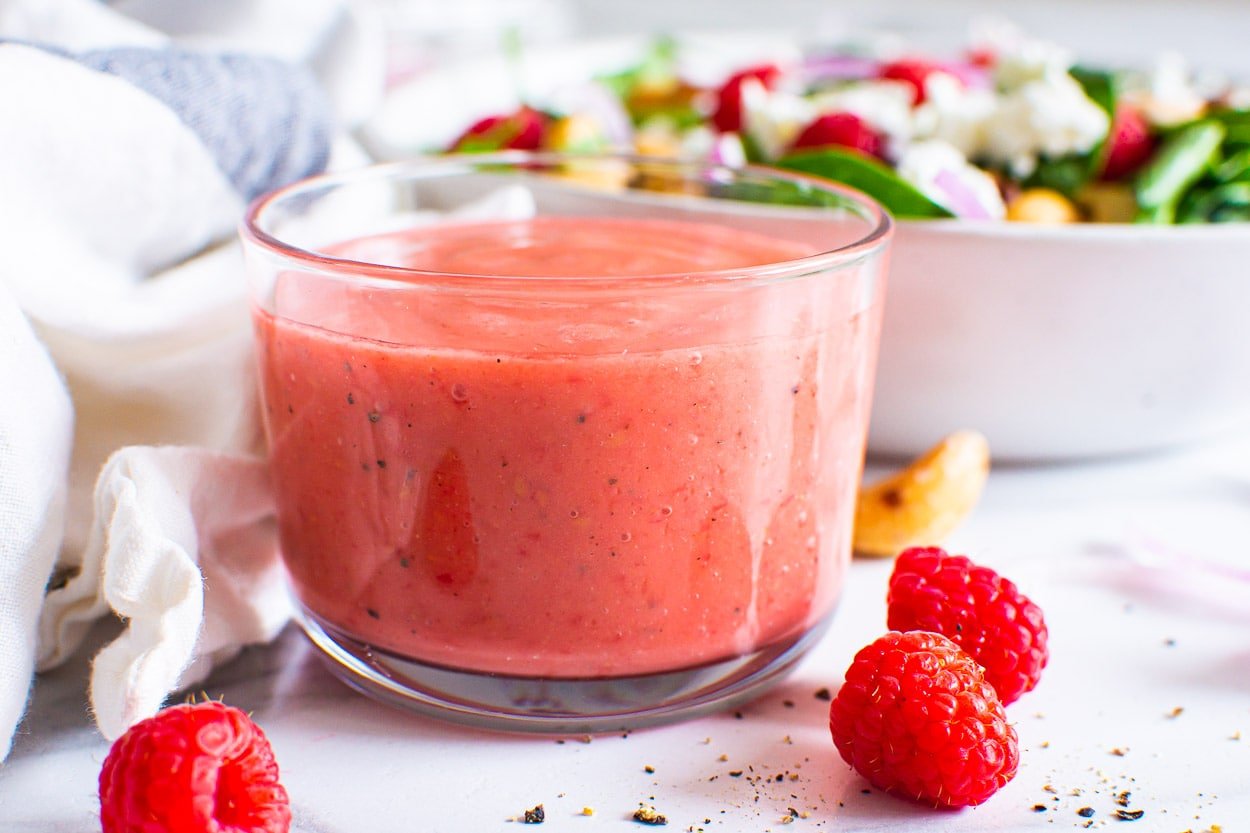 Avocado cilantro dressing is creamy, fresh and zesty! With just 5 simple ingredients and no unnecessary sugars, preservatives, or other additives.
This dressing goes particularly well with Mexican and Tex-Mex salads, like Mexican bean salad, mango black bean salad, or Mexican kale salad!
This healthy poppy seed dressing is one of my favorite all-purpose salad dressings.
It's light and creamy with a subtle sweet onion flavor and slight crunch from the poppy seeds. It requires just 8 kitchen staple ingredients and 2 minutes to prepare, try it with sweet kale salad recipe.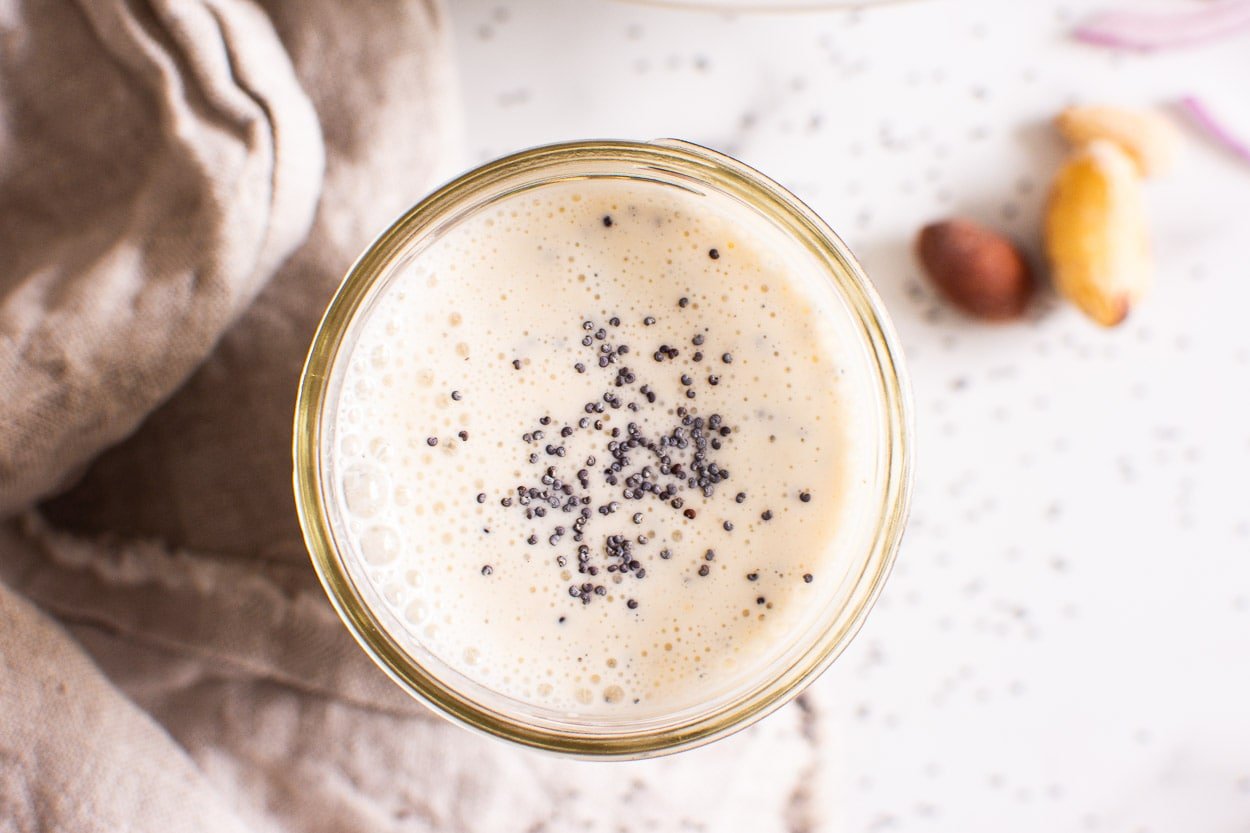 Asian salad dressing is ready in under 5 minutes and is sweet, tangy, and zesty with the addition of ginger, rice vinegar, and sesame seeds.
It's light, flavorful and pairs well with Asian chopped salad or use it to marinate meat (like grilled chicken breast) or in Asian slaw.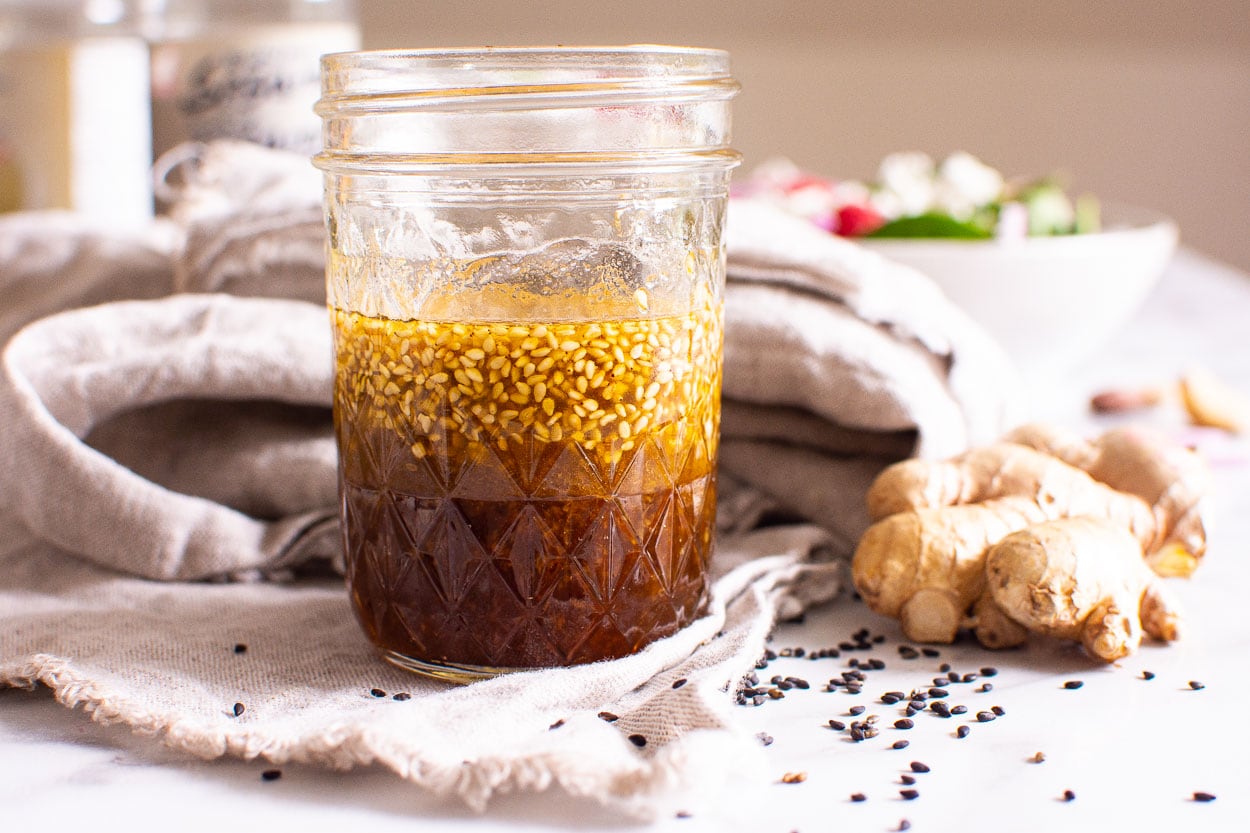 Made with Greek yogurt this lightened up healthy Caesar dressing has all the classic taste! Use on any leafy greens or pair it with healthy Caesar salad and healthy croutons. Add grilled chicken for a meal idea!
This creamy lemon tahini dressing pairs well alongside quinoa falafel and takes only minutes to prepare.
However, it also makes for a great all-purpose dressing particularly with Middle Eastern cuisine and simple salads like this lemon kale salad.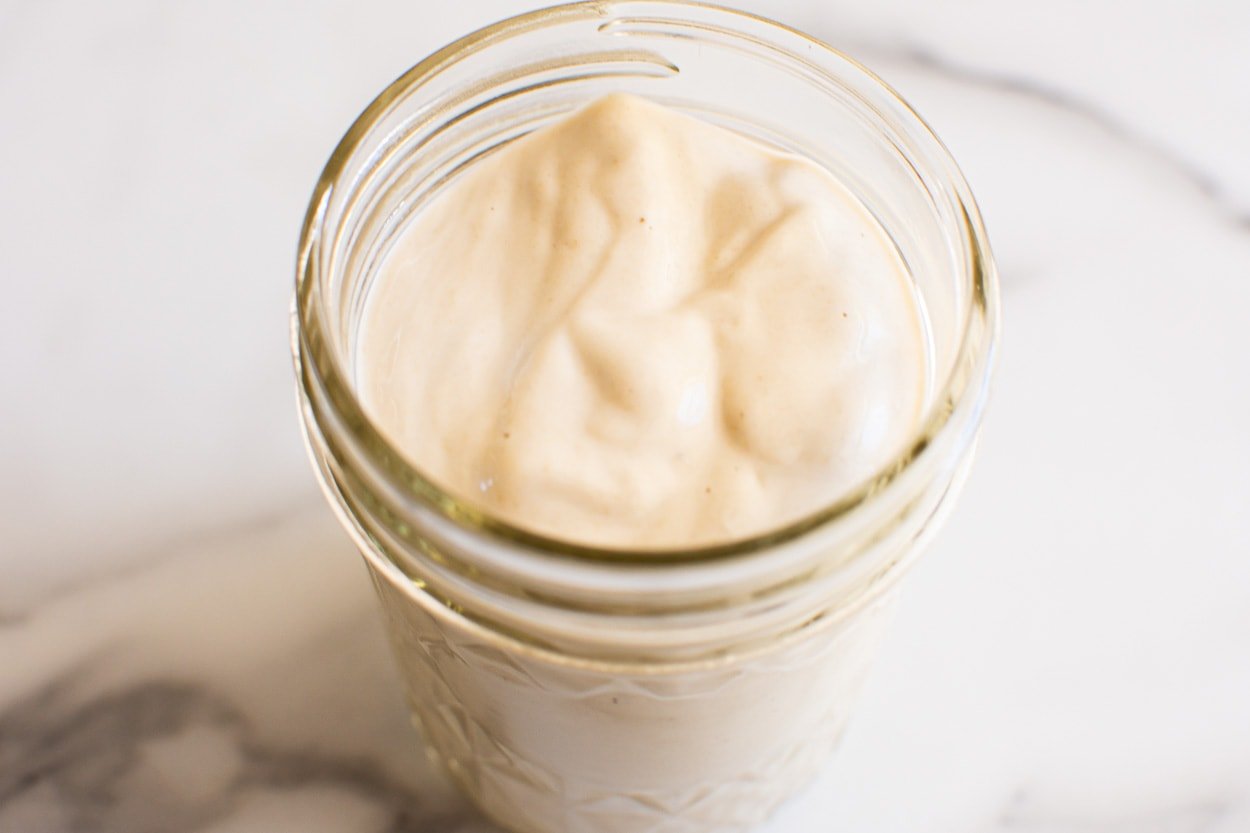 If you're a fan of peanut butter, then you have to try this 5 ingredient easy peanut sauce. It's creamy, slightly sweet, slightly savory, and packed with umami flavor.
It takes just minutes to prepare and is then ready for pairing with peanut slaw or Pad Thai zucchini noodles.
Simple garlic olive bread dip that doubles as a healthy salad dressing! Balsamic vinegar has a sweet, tangy, complex flavor that combines with olive oil for a smooth, rich mouthfeel.
It works just as great on salads as it does as a marinade for grilled vegetables!
Healthy ranch dressing has a Greek yogurt base combined with garlic and onion powder and fresh dill. It's a thinner version of my Greek yogurt veggie dip.
Use it for a salad, then save the leftovers as a dip for veggies and the rest of the week!
This Healthy Honey Mustard Dressing is one of the first homemade 'clean eating' healthy salad dressing recipes I ever made and it contains just 5 clean ingredients.
Use it on leafy green salads, for dipping almond crusted chicken or marinating baked chicken breast!
Carrot Ginger Salad Dressing lies somewhere between the honey mustard and Asian dressing with added creaminess and nutrients from carrots. It's zingy, bright, and super fresh.
All you need is a blender and a few minutes, then drizzle it over everything including salads or 30 minute meals like stir fries!
Best Healthy Salad Recipes
More Healthy Recipes to Try
10 Healthy Homemade Salad Dressings: Poppy Seed Dressing
This Healthy Poppy Seed Dressing recipe is made with yogurt instead of mayo for a light and creamy salad dressing
Ingredients
Healthy Poppyseed Dressing
Grilled Chicken Breast
1

large boneless & skinless chicken breast

cut in half lengthwise

1

tbsp

olive oil

extra virgin

1/2

lemon

zest and juice of

1

small garlic clove

grated

1

tsp

oregano

dried

Scant of 1/4 tsp salt

1/4

tsp

ground black pepper
Grilled Chicken Salad
Mixed baby greens

1

cup

raspberries

strawberries or blueberries

1

cup

grape tomatoes

cut in halves

1/4

cup

feta or goat cheese

crumbled

1/2

cup

toasted mixed nuts

unsalted

1/3

cup

red onion

thinly sliced
Instructions
In a small bowl, add yogurt, maple syrup, vinegar, mustard, poppy seeds, onion powder, salt and pepper.

Stir well with a fork to combine. Drizzle on a salad of choice or transfer to a jar with a tight lid and refrigerate for up to a week.
Nutrition
Serving:
1.5
cup
|
Calories:
305
kcal
|
Carbohydrates:
18
g
|
Protein:
19
g
|
Fat:
19
g
|
Saturated Fat:
4
g
|
Cholesterol:
48
mg
|
Sodium:
496
mg
|
Fiber:
5
g
|
Sugar:
8
g