15 minute Caprese Pasta with fresh tomatoes, mozzarella, and basil, coated in a simple olive oil dressing. Perfect for tomato season and bursting with classic Italian flavors.
Other quick and easy pasta recipes we love are pasta with zucchini and tomatoes and cottage cheese pasta.
Welcome tomato season with delicious caprese pasta! This 15 minute meal makes the perfect light and quick dinner without heating up the kitchen! Add a simple lettuce salad and enjoy a healthy weeknight meal that screams summer!
It's also great for feeding a crowd as everyone loves the combination of juicy tomatoes, creamy mozzarella, and fresh basil. Vegetarian pasta caprese was a hit with my boys, so was baked chicken caprese and caprese chicken skillet.
I love serving pasta caprese on its own or with yogurt marinated chicken or grilled chicken thighs.
Ingredients for Caprese Pasta
Caprese pasta recipe contains simple ingredients with the light and refreshing taste of caprese pasta salad!
Uncooked spaghetti: I personally like spaghetti caprese, or even angel hair pasta because they both cook quickly.
Olive oil: Extra virgin olive oil has the best flavor and yields a good pasta sauce texture.
Fresh garlic cloves: Use fresh minced garlic. I don't recommend jarred minced garlic. This dish relies on fresh garlic flavor a lot!
Seasonings: Simple and flavorful, all you need is Italian seasoning, salt, and pepper.
Tomatoes: Fresh from your garden, or local farmer's market. Roma tomatoes or vine tomatoes are best for pasta sauces. Cherry tomatoes and grape tomatoes would work too.
Mozzarella cheese: Adds creamy bites to pasta caprese. You can cube fresh mozzarella cheese or buy fresh mozzarella pearls from the deli.
Fresh basil: A final burst of color, freshness, and taste.
How to Make Caprese Pasta
You are just 4 simple steps away from the easiest pasta dinner! Here's how to make caprese pasta.
There is also a full recipe card below.
Cook pasta: In a large pot add cold water, a pinch of salt, and spaghetti; then bring to a boil. Cook until al dente, stirring occasionally, for about 8-10 minutes, then drain.
Heat aromatics: While your noodles cook, preheat a large skillet on low heat. Add olive oil, garlic and Italian seasoning and cook for 30 seconds to 1 minute. Stir constantly so garlic does not burn.
Finish the pasta sauce: Add tomatoes, salt and pepper to the skillet and stir. Let it simmer for 2-3 minutes.
Combine remaining pasta ingredients: Turn off heat, add cooked spaghetti, then use tongs to gently mix until nicely coated in sauce. Add cubed mozzarella and gently stir again. Garnish with fresh basil leaves and serve tomato mozzarella pasta hot.
Tips for Best Results
Here are some helpful tips for this refreshing caprese pasta recipe.
Cook pasta al dente: The texture should have a slight chew, you don't want it undercooked and crunchy or overcooked and mushy. The average time for al dente pasta is 8-10 minutes, depending on type, make sure to plan ahead and follow package instructions.
Transfer spaghetti fresh from the pot: Don't drain it in colander and let it sit, this will cause the noodles to stick and you'll lose that perfect texture. I like to grab spaghetti with the tongs, dripping some of that cooking liquid into the skillet making for the most saucy and fresh pasta caprese.
Reserve pasta water: This dish is quite saucy, but it's always a good idea to set aside some pasta water just in case you want more.
Use fresh ripe tomatoes: Juicy is best. I used Roma tomatoes, so they can release juices and make the sauce right in the skillet.
Use quality olive oil: It's essential when making such a simple dressing.
Add cheese last: The mozzarella will soften as you toss everything together. Add it at the very end with heat off, so it doesn't melt completely.
Serve immediately: This caprese pasta recipe tastes best fresh, when it's most saucy!
What Do I Serve Pasta Caprese with?
This bright and tangy caprese pasta will be a summertime favorite, or anytime. It's super easy to make with fresh ingredients, no oven, and ready in no time. The options are endless and the reviews will be 5 stars!
When I want to keep it super simple, I toss together a healthy Caesar salad and add crusty bread to soak up the sauce.
For a more filling dinner, some grilled chicken breast and grilled vegetables with balsamic marinade really hits the spot.
And when we have friends over for wine, I like to serve it alongside air fryer chicken wings.
How to Store
Store: Place spaghetti leftovers in an airtight container and store in the fridge for up to 2-3 days.
Freeze: I do not freeze pasta, I find it goes soggy when thawed.
FAQs
Do mozzarella balls melt in pasta?
If the mozzarella balls get too hot they will melt in the pasta, resulting in stringy pasta. Add the fresh mozzarella balls last, the residual heat will soften the cheese.
Why is caprese called caprese?
Caprese in Italian is called Insalata caprese, which means "salad of capri". The caprese salad is named after, and is believed to have originated from the island of Capri.
Can I use burrata cheese instead of mozzarella?
Yes, top each plate of pasta caprese with a ball of burrata at the end.
What is the best pasta to use to make caprese pasta recipe?
I like to use spaghetti or any long, thin noodle because the sauce coats the strands nicely.

You can also use short pasta such as penne, bowtie pasta, or rotini pasta. And of course gluten-free pasta, just be sure to follow the package instructions for al dente pasta.
What else can I add to caprese pasta?
Drizzle with balsamic glaze or balsamic vinegar to enhance the flavor. Add roasted peppers for added sweetness or red pepper flakes with garlic and spices for some heat. You can also drizzle olive oil on each plate, or a splash of fresh lemon juice before serving.
More Easy Recipes to Try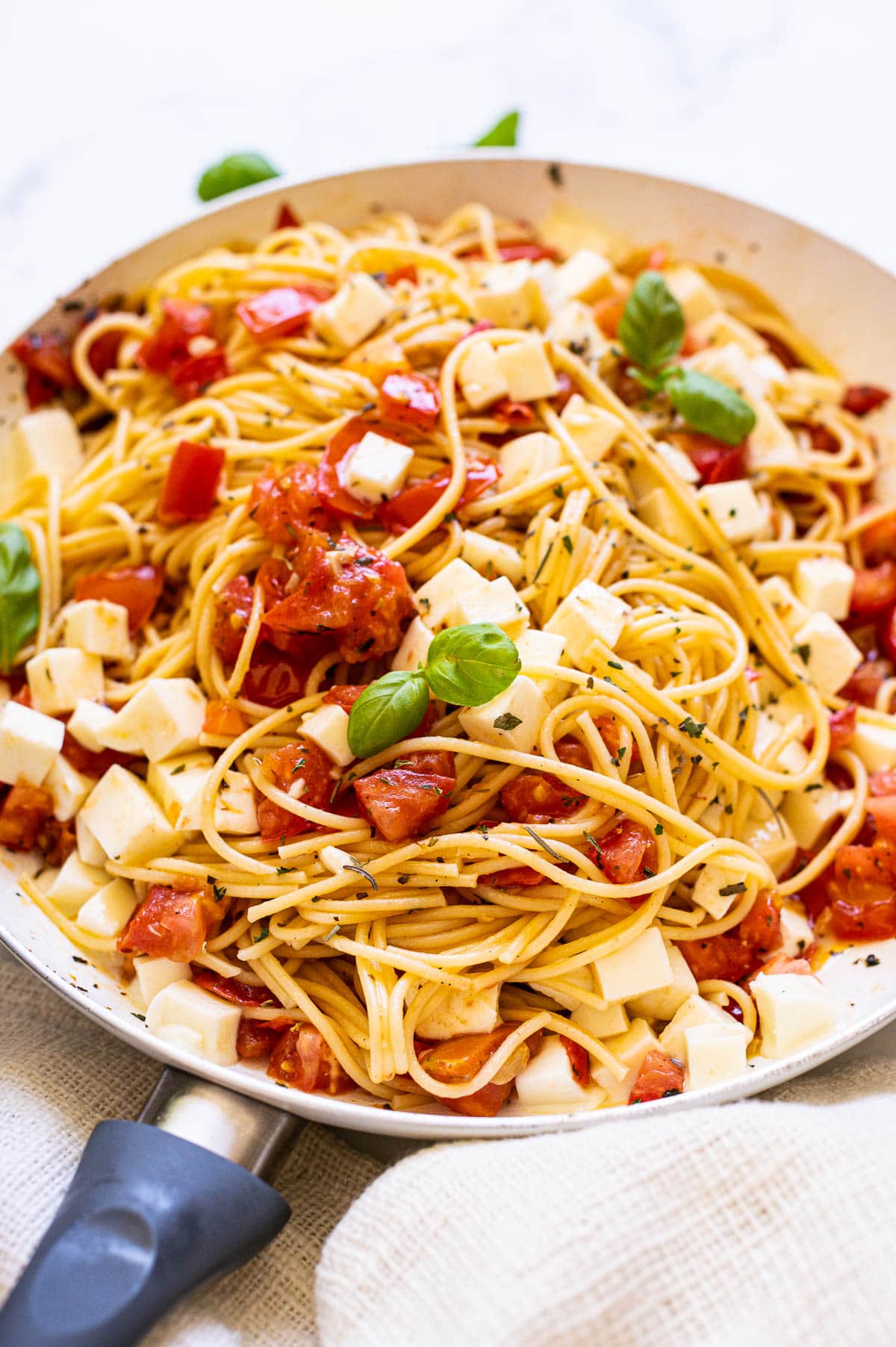 Caprese Pasta
15 minute Caprese Pasta with fresh tomatoes, mozzarella, and basil, coated in a simple olive oil dressing. Easy vegetarian weeknight meal!
Instructions
Bring a pot of salted water to a boil and add spaghetti. Cook until al dente, stirring occasionally, for about 8-10 minutes.

Meanwhile, preheat large skillet on low heat and add olive oil, garlic and Italian seasoning. Cook for 30 seconds to 1 minute, stirring constantly.

Add tomatoes, salt and pepper; stir and simmer for 2-3 minutes. Turn off heat and add cooked and drained spaghetti. Mix gently with tongs to coat in sauce. Add cubed mozzarella, give a few more gentle stirs and garnish with basil.

Serve immediately while hot, on its own or with caprese chicken.
Notes
Store: Refrigerate spaghetti in an airtight container for up to 2-3 days.
Freeze: Do not freeze as pasta generally does not freeze well.
Nutrition
Calories:
347
kcal
|
Carbohydrates:
32
g
|
Protein:
14
g
|
Fat:
18
g
|
Saturated Fat:
6
g
|
Cholesterol:
30
mg
|
Sodium:
436
mg
|
Fiber:
2
g
|
Sugar:
3
g