This Chicken Noodle Vegetable Soup is pure comfort food made from scratch in 40 minutes. It is perfect on a cold winter night or year round because it's so delicious!
You might also like my Instant Pot chicken noodle soup and crock pot chicken noodle soup.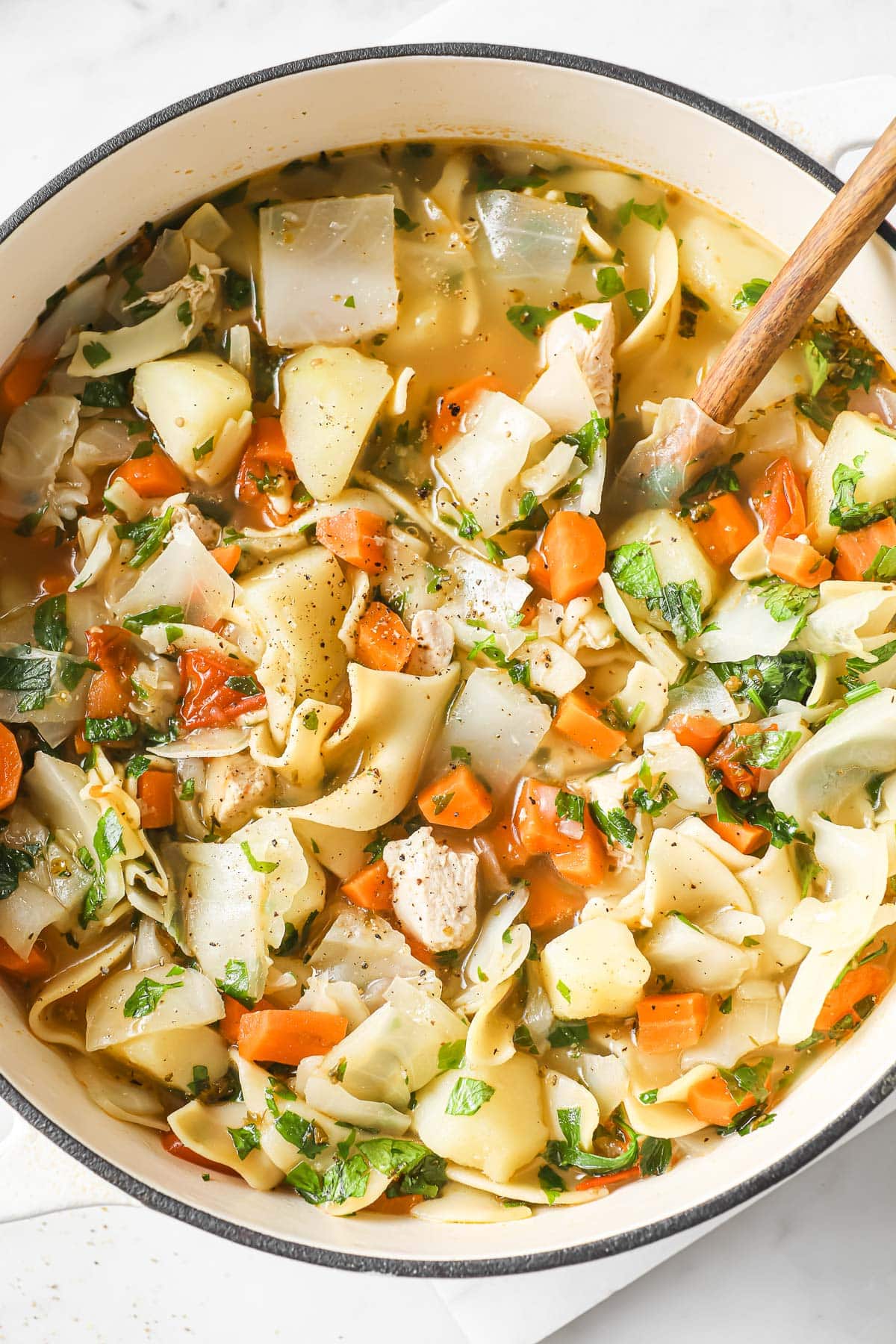 This chicken noodle vegetable soup is easy comfort food and my boys couldn't get enough of it. It comes together in 30 minutes and is a great way to "clean up" your veggie drawers.
I make soups year round because that's how I was raised. My grandma made this soup all summer long. I remember it as more of a summer version of her classic chicken noodle soup recipe. But today we are lucky to be able to make it any time of the year.
Key veggies in this recipe are cabbage, potato and carrot. Sometimes she also added peas, green beans, and bell pepper. But never without potatoes and carrots, that's a must soup base in Ukrainian cuisine.
Then you add a dollop of sour cream and this becomes the best chicken noodle soup you ever tried! Your entire family will love it!
Ingredients You Will Need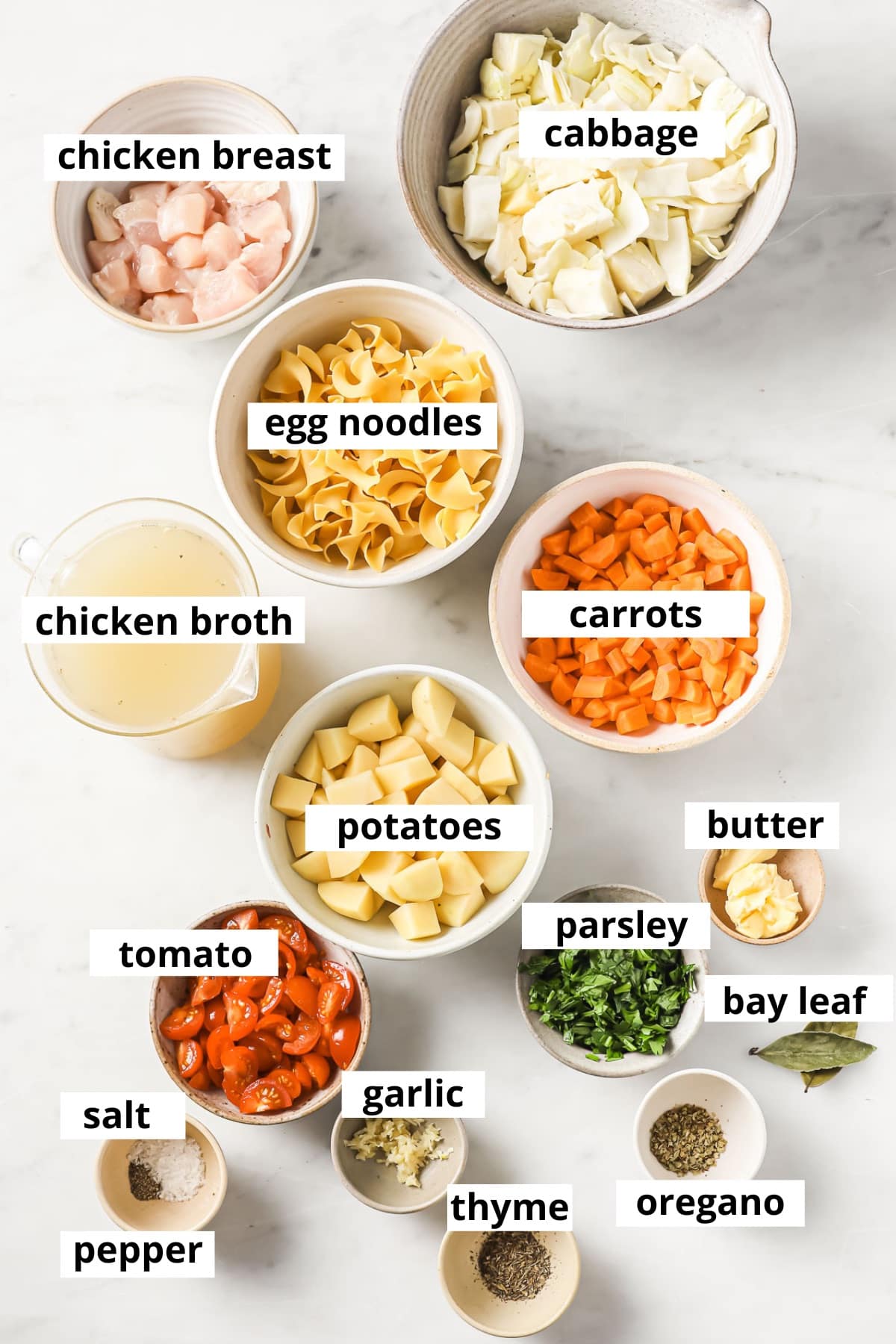 To make this chicken noodle soup with vegetables you will need very simple ingredients like fresh veggies, chicken and a few pantry staples.
Chicken breast: I used one large cubed boneless skinless chicken breast. You can also use 2-3 large boneless skinless chicken thighs.
Cabbage: Coarsely chopped green cabbage adds volume, flavor and lots of nutrients. You can also use red cabbage, savoy cabbage or Taiwanese flat cabbage.
Tomatoes: Three large juicy tomatoes like tomatoes on the vine or Roma tomatoes. I had grape tomatoes on hand and that's what I added because they are quite fragrant. I just love the addition of fresh garden tomatoes in the soup combined with garlic and fresh herbs.
Other fresh vegetables: I added carrots and potatoes. You can also throw in a few celery ribs.
Pasta: Wide egg noodles, thin egg noodles or any large flat pasta will work. Regular, whole wheat pasta or gluten-free pasta is OK.
Chicken broth: You could use low sodium chicken broth or stock from a carton, a chicken base with water, homemade chicken broth, Instant Pot chicken broth or Instant Pot beef bone broth.
Spices: Dried oregano, dried thyme or try my Italian seasoning recipe instead. Salt and pepper.
Butter: I love to add just a tablespoon of butter or rich olive oil to rather fat-free soups like this one. It adds a depth of flavor.
Fresh herbs: Fresh parsley like Italian flat leaf parsley or fresh dill. Also fresh basil would add nice Italian flair. Try chives for a mild onion flavor. Truly anything you have on hand.
How to Make Chicken Noodle Vegetable Soup
To make chicken noodle vegetable soup you will need just one pot and 30 minutes of your time.
This homemade soup is ready in 4 simple steps. This is just a quick overview, there is full recipe card below.
Heat up chicken stock: Add chicken stock to a large soup pot or Dutch oven and bring it to a boil. If you are making homemade chicken stock from scratch right before, then it will be hot already.
Cook chicken and cabbage: Add cubed chicken breasts, cut up cabbage and bay leaf. Cover and simmer for 10 minutes or until cabbage is somewhat tender. It doesn't have to be cooked completely.
Cook other veggies: Add potatoes, carrots, tomatoes, butter and seasonings. Simmer covered for another 10 minutes or until potatoes are tender when pierced with a knife.
Add pasta: Now you want to add egg noodles and cook them for just 5 minutes. They cook very fast. Turn off heat, add lots of chopped parsley and minced garlic, stir and adjust any seasonings to taste.
Tips for Best Results
Use quality chicken broth: Flavorful chicken stock is everything in this vegetable chicken noodle soup. The darker it is, the more flavor. If you are wondering what is a good brand to use, I recommend Pacific Foods. Unfortunately, I don't suggest to use water instead.
Don't be afraid to season: When it comes to soups, I season a few times during cooking. Especially if you are making chicken broth from scratch. Season broth before adding meat to see if the flavor pops.
Use leftover rotisserie chicken: It doesn't really cut cook time in this homemade chicken noodle soup recipe because cabbage needs good 20 minutes of simmering anyways. I recommend to use about 3 cups of cubed or shredded chicken chicken and add all the veggies at same time. You can also use any leftover chicken.
Chicken breasts vs. chicken thighs: Usually chicken breasts do not give enough flavor to a soup but because this recipe uses a variety of vegetables and a dollop of butter, it comes out delicious. If you are not convinced, use chicken thighs and of course chicken meat will be more tender and soup more flavorful because of extra fat.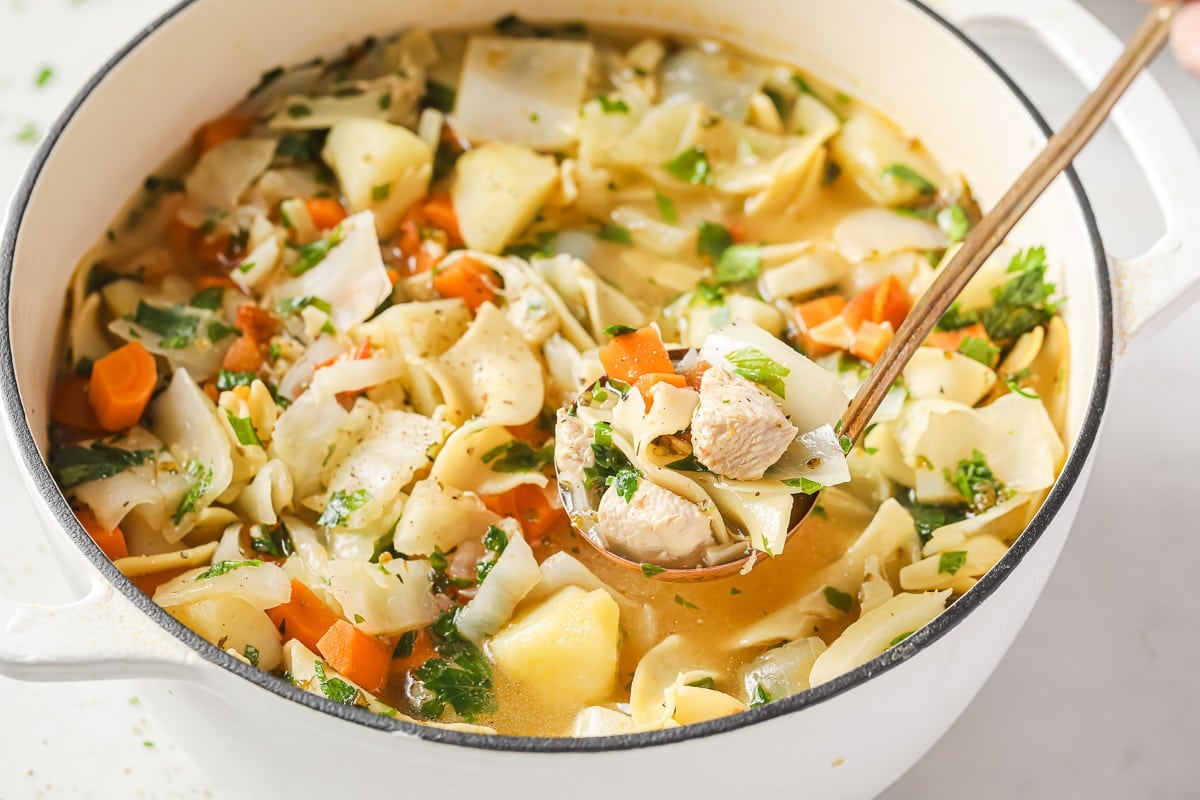 Serving the Soup
Let it stand for 5-10 minutes before serving, if you have time. Flavors really develop and soup tastes even better than right off of the stove.
Serve a bowl of chicken noodle vegetable soup while it's hot with a slice of crusty bread, croutons in the bowl or cornbread on a side.
If you like creamy chicken soup, I highly recommend to add a dollop of sour cream or yogurt. When combined with flavorful broth, tomatoes and parsley, it tastes heavenly!
This soup is a complete meal. If you wish, you can serve it with a simple salad like lettuce salad.
How to Store and Reheat
Store: Refrigerate leftover soup in an airtight container for up to 2 days. If you would like the soup to last longer, I recommend to cook noodles separately, keep them in the fridge and add to the soup before serving.
Same goes for freezing the soup, I suggest to freeze it only without pasta for 3-4 months in an airtight container allowing some room for expansion.
Reheat: Because pasta absorbs so much liquid, the chicken noodle vegetable soup was a bit too thick the next day. I added some chicken broth to it, warmed up on a stove top and my kids licked the bowls!
As long as you dont have to add a lot of extra chicken stock, the flavor of the soup shouldn't be affected much.
FAQs
What else can I add to make soup taste better?
Freshly squeezed lemon juice or lime juice for citrusy notes like in lemon orzo chicken soup. A spoonful of freshly grated parmesan cheese for cheesy notes. A dash of turmeric for a pop of color and immune boosting health benefits.
What other vegetables can I add?
Add mushrooms, broccoli, green beans, peas, zucchini, corn, bell pepper along with butter, carrots and potatoes in step 3. Use sweet potato instead of regular potatoes to add more nutrition to chicken noodle soup with veggies.
Can I make it ahead?
Yes. To make ahead, make soup without noodles for up to 3-4 days in advance.
More Chicken Soup Recipes to Try
You can also browse through my entire collection of healthy soups recipes!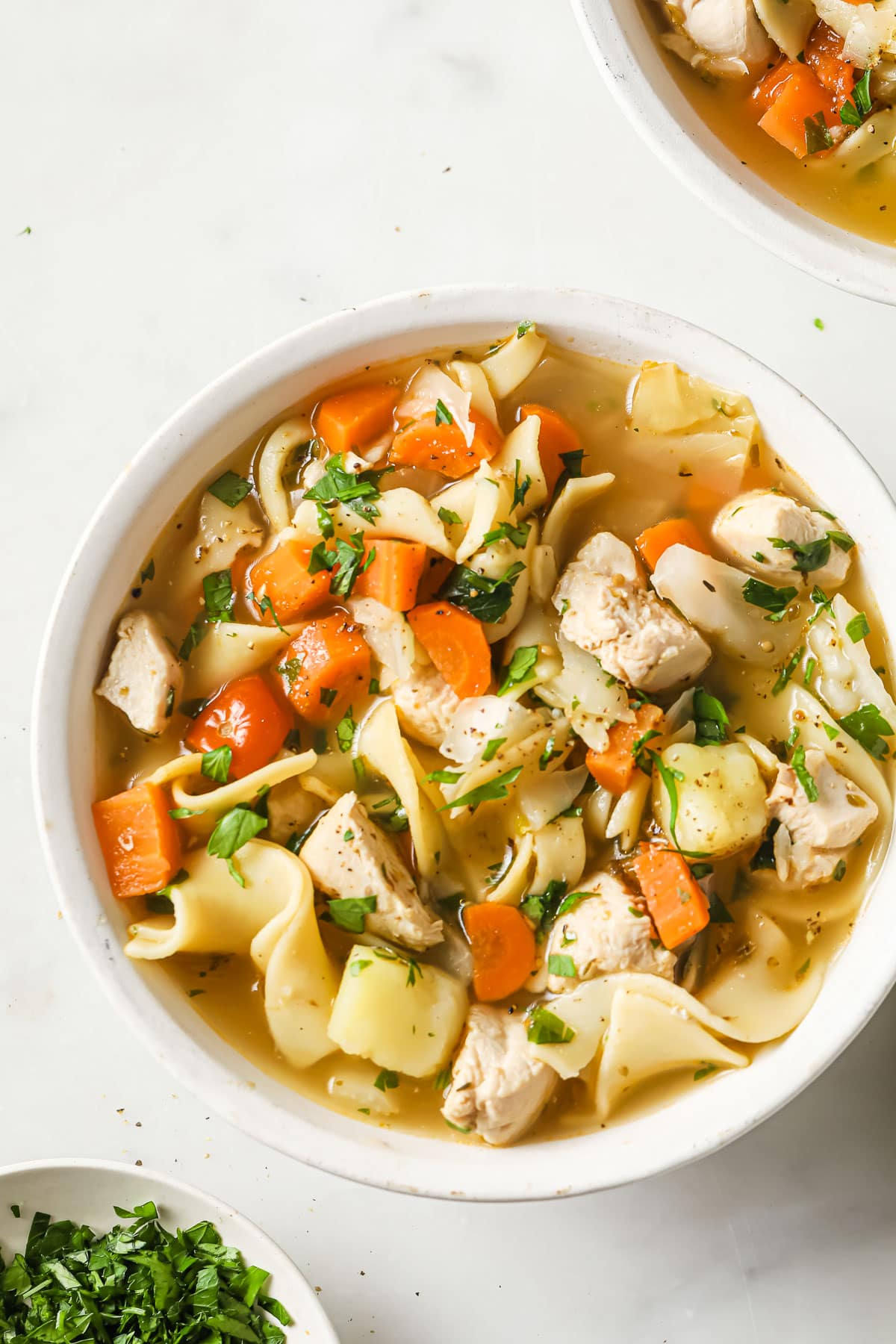 Chicken Noodle Vegetable Soup
This Chicken Noodle Vegetable Soup is pure comfort food made from scratch in 40 minutes. It is perfect on a cold winter night or year round because it's so delicious!
Instructions
Add chicken broth to a large pot and bring to a boil.

Reduce heat to low – medium and add chicken, cabbage and bay leaves. Cook covered for 10 minutes.

Add butter, carrots, potatoes, tomatoes, oregano, thyme, salt, pepper and cook for another 10 minutes.

Add egg noodles, cover and cook for 5 more minutes or until pasta is cooked.

Add garlic and parsley. Serve hot.
Notes
Slow cooker: Add all ingredients, except pasta and parsley, to a large slow cooker and cook on Low for 6 – 8 hours or on High for 3 – 4 hours. Add pasta in the last 20 minutes of cooking.
Store: Refrigerate in an airtight container for up to 4 days.
Freeze: Freeze in airtight container for up to 3 months, without pasta though.
Reheat: Simmer soup on low in a saucepan. You can even do this with frozen soup.
Nutrition
Serving:
1.67
cups
|
Calories:
219
kcal
|
Carbohydrates:
30
g
|
Protein:
16
g
|
Fat:
5
g
|
Saturated Fat:
2
g
|
Trans Fat:
0.1
g
|
Cholesterol:
34
mg
|
Sodium:
527
mg
|
Fiber:
4
g
|
Sugar:
5
g