All you need to make Healthy Homemade Sourdough Croutons is bread, olive oil, salt, pepper and optional fresh garlic. This simple basic recipe for homemade croutons will bring all your soups and salads to life!
Use them on salads including the classic healthy Caesar salad with a healthy Caesar dressing.
Why You'll Love Making Healthy Croutons
Adding crispy homemade croutons to salads and soups is a great way to liven them up with a bit of crunch in every bite!
Of course, we all adore them on traditional salads like a healthy Caesar salad but try adding them to lettuce salad recipe. In Ukraine, we always topped soups like split pea soup and healthy chicken noodle soup with croutons.
I like to use sourdough bread because it provides the added nutritional benefits from the fermentation process which, as you may or may not know, is amazing for gut health.
Not to mention sourdough itself is a delicious tasting bread with a slight tang, so it doesn't need much seasoning at all!
Sourdough croutons also hold up to dressing without becoming soggy, and they're customizable so you can season them to your liking. I enjoy them with just salt, pepper, and a bit of fresh garlic, but you can make them as well-seasoned as you like.
They are so easy to make and a great way to reduce waste by using up any leftover bread. This simple method with easy instructions will have you enjoying these crunchy bad boys in under 20 minutes!
Ingredients For this Recipe
A few pantry staples are all you need. If you've got extra seasoning you want to add, go for it!
Sourdough bread loaf: Ideally, you want to use an uncut loaf so you can control how large your crouton cubes are. If you're using pre-sliced bread, you'll end up with smaller cubes. In this case, you might want to use a little less oil so that way the smaller cubes don't absorb too much oil.
Olive oil: You can use olive oil, avocado oil, grapeseed oil or any oil taste of which you like. To make croutons healthier we skip the butter, but you can use all or some parts of it as well.
Seasonings: Honestly, a little salt and pepper are all you need to jazz up these healthy croutons. Adding fresh garlic is optional but it is a great way to boost up the flavor a bit. Especially if you're looking for a way to add more garlicky flavor to your soup or salad.
How to Make Sourdough Croutons
I'm breaking down the easy steps into even easier steps! The "hardest" part of this recipe is to slice bread into cubes, then toss with seasonings and bake. Here is how I made this easy souton recipe!
Step 1: Season the Bread Cubes
Start with preheating the oven to 375 degrees F, so by the time you are done seasoning croutons, you can just pop them in the hot oven.
Then line baking sheet with parchment paper for easy clean up. Add cubed bread in a pile in the center.
Drizzle the bread cubes quickly all around with olive oil. Then sprinkle with salt and pepper. If using optional fresh garlic, "sprinkle" it on top as well.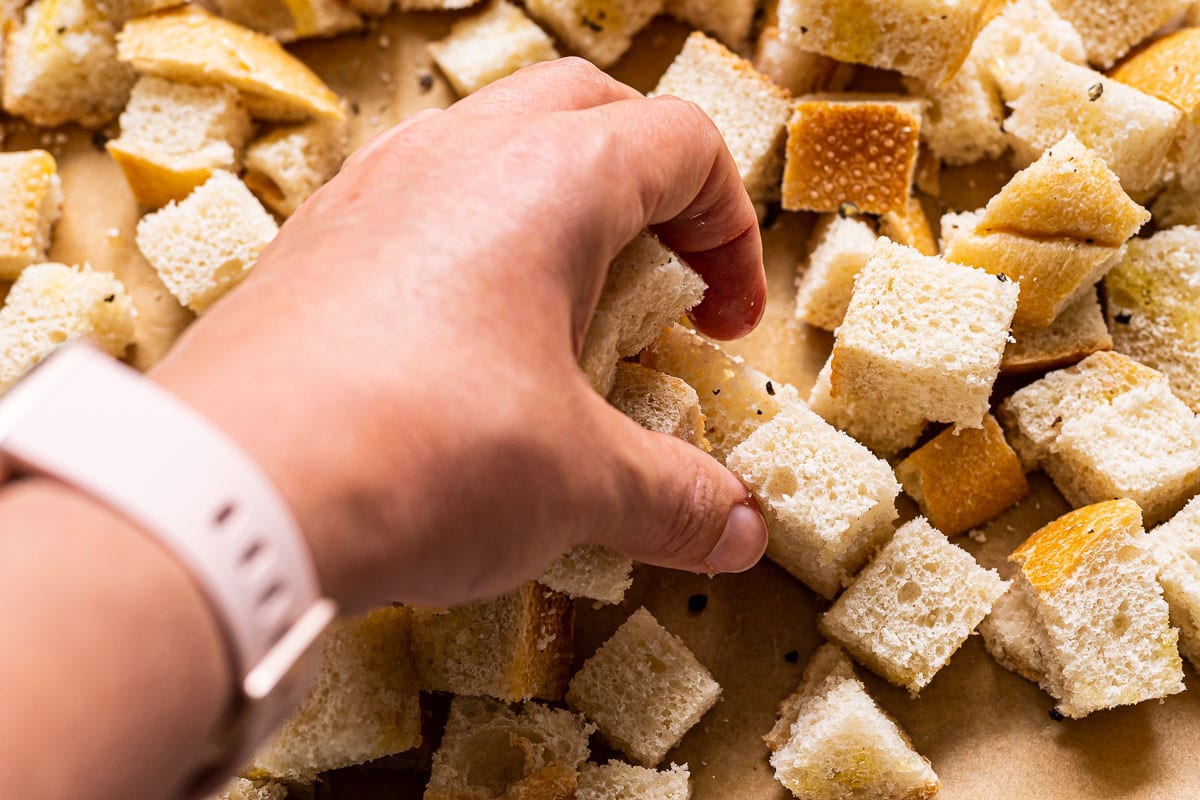 Step 2: Toss Bread Cubes to Coat
Toss everything together using your hands. It's much easier to ensure all the pieces are seasoned. And there is no need to dirty a bowl.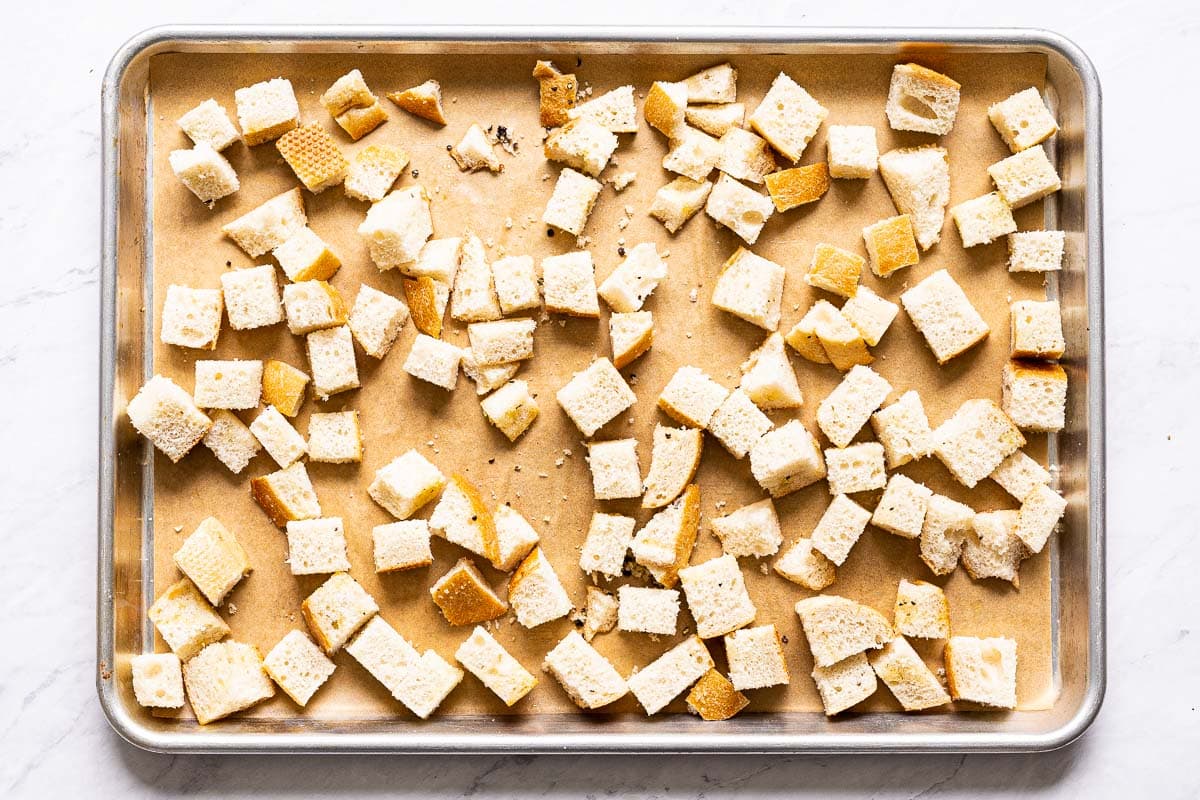 Step 3: Spread Into a Single Layer
Spread the cubes out into a single layer on a baking sheet. Make sure they're not too close together or overlapping.
You want the heat to circulate all around each piece so that they all end up equally crispy.
Step 4: Bake and Cool
Bake for 20 minutes, stirring once halfway. They will be nice and golden when they're done but not completely crisp yet.
They won't reach their maximum crispy potential until they have completely cooled, so make sure to give them time to cool!
Serving Suggestions
Obviously, once croutons have cooled you'll find it hard to resist eating them right off the tray!
Vegetable soup or healthy chicken wild rice soup would be great with croutons on top.
Traditionally, we go for smooth creamy soups like Instant Pot butternut squash soup or this creamy butternut squash soup because the crunch is a nice balance!
Using them on salads like a cucumber tomato salad or this traditional Greek salad is probably one of my favorite ways because once that dressing gets absorbed into that toasty little bread cube, it's irresistibly yummy!
How Long Do Croutons Keep?
Healthy homemade sourdough croutons will keep for up to 5 days at room temperature.
The key is to allow them to cool completely before storing them. If there is any residual heat whatsoever, the steam will create too much moisture making them soggy very quickly.
After a while, they may get soggy eventually anyway. In which case, pop them back in the oven, toaster oven, or air fryer to crisp up. 325 degrees F for 5 minutes should do the trick.
If using the air fryer, check on them at 2 minutes, so they don't burn.
FAQs and Expert Tips
Can I use other bread types to make healthy croutons?
Definitely! Rustic loaves like rye, whole wheat or ciabatta are my favorite, but any will do. Sliced bread, gluten-free bread, white or whole grain bread.
Does the bread have to be stale?
No. Croutons will turn out equally crispy with fresh or stale bread.
Can I make these in the air fryer?
You can. However, a couple of things to keep in mind. The contained heat will toast them faster, so it's important to keep an eye on them. Pause to shake every couple of minutes and check to see how quickly they're crisping up.
Can I use butter instead of olive oil?
Totally! Add melted butter instead of olive oil.
More Healthy Bread Recipes
Healthy Homemade Sourdough Croutons
All you need to make Healthy Homemade Sourdough Croutons is bread, olive oil, salt and pepper. Bring your soups and salads to life!
Instructions
Preheat oven to 350 degrees F and line baking sheet with parchment paper.

Add bread, drizzle with olive oil, sprinkle with salt and pepper, and toss with your hands. After spread evenly into a single layer.

Bake croutons for 20 minutes or until golden brown, stirring once. Then cool completely to help them crisp up.
Notes
Store: In a resealable Ziploc bag or airtight container for up to a week. If they lose crispness, bake them in the oven or air fryer for 5 minutes at 325 degrees F.
You can use any other rustic bread like whole grain, ciabatta etc. to make croutons.
Bread doesn't have to be stale.
Nutrition
Serving:
0.5
cup
|
Calories:
125
kcal
|
Carbohydrates:
15
g
|
Protein:
3
g
|
Fat:
6
g
|
Saturated Fat:
1
g
|
Sodium:
244
mg
|
Fiber:
1
g
|
Sugar:
1
g