This flavourful Chicken Lentil Soup has chicken, lentils, leafy greens, and corn simmering in herb-infused chicken stock with coconut milk. Made in a slow cooker or stovetop, your choice!
Our other favorite easy and healthy lentil soups are this red lentil soup and reader favorite Instant Pot lentil soup recipe. Enjoy!
Chicken and Lentil Soup
Chicken lentil soup is an inexpensive way to make a filling and hearty meal. There really is nothing better than anticipating taking that first spoonful just by the smell in your kitchen!
This soup is packed with protein, iron, good fats, fibre, vitamins, and so much flavour. It is easy to make with simple wholesome ingredients. When made in the slow cooker, it's ready for you at the end of a long day. It can also be made on the stovetop in an hour!
I absolutely love cooking with lentils! Whether it's a curry type of dish like this lentil curry recipe or pressure cooker dal, or a lentil casserole recipe (yes!), I know dinner will be ready quick, affordable and healthy! Ukrainian in me loves budget-friendly meals.
Serve with a topping of crunchy tortilla chips, a side of easy kale salad and enjoy a healthy and delicious way to stay warm this season!
Ingredients for Chicken Lentil Soup
Chicken: Boneless, skinless chicken breasts. Keep them whole as you will shred the chicken breast towards the end.
Lentils: Dry green or brown lentils, rinsed, and drained. You can soak your dry lentils overnight if you choose. This aids in digestion and will also cut down the cooking time.
Liquids: Low sodium chicken stock. I, myself, use water with 2 organic no sodium bouillon cubes. Full fat or light coconut milk in a can. Yes, it adds nice sweetness not only to a curry but also to soups like this lentil soup, chicken butternut squash soup and even sun dried tomato soup.
Seasonings: Garlic powder and salt.
Veggies: Corn, canned, or frozen. Dark leafy greens such as spinach, kale, or swiss chard. You will probably want to roughly shop your greens before adding to the soup. They will wilt considerably, so no need to chop too small. Onion sprigs, finely chopped.
Herb: Cilantro, finely chopped.
Optional Garnish: Tortilla chips, crumbled on top, or keep them whole to dip!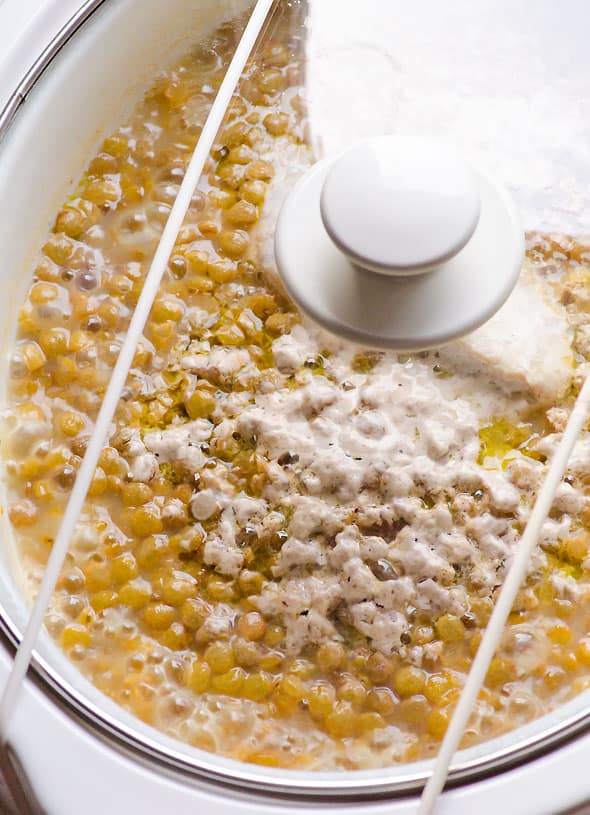 How to Make Chicken Lentil Soup
Stovetop method
Combine: In a large pot, add chicken stock (or water and bouillon cubes), coconut milk, chicken breasts, garlic powder, and salt and bring to a boil. Add lentils and stir to combine.
Simmer: Reduce heat, cover, and simmer until lentils are tender.
Slow cooker method
Combine: Add chicken stock (or water and bouillon cubes), coconut milk, garlic powder, salt, and lentils. Stir to mix and submerge the chicken in the liquid.
Slow cook: Cover and cook either on high or low until chicken is done and lentils are tender.
Both methods: Remove chicken and shred with two forks and return to the pot. Add in remaining ingredients and stir to combine.
Serve immediately with crushed organic tortilla chips on top and lemon kale salad!
How to Store, Freeze and Reheat
Storing: Keep in the fridge for up to 5 days in an airtight container.
Freezing: Once completely cooled, store in a freezer-friendly airtight container for up to 3 months.
Reheating: You can reheat from frozen covered on the stovetop on low heat. You can also thaw in the fridge overnight beforehand.
Tips and variations
Green or brown lentils: You want to use either of these as they hold their shape better than other lentils. Red lentils tend to dissolve and become mushy.
Dry and uncooked: Lentils absolutely do not need to be soaked ahead of time. It is a choice as to whether or not you want to!
Can not carton: The reason for this is simply the amount of water. Canned coconut milk is much less diluted than it's carton counterpart.
Any broth: This recipe is flexible in how you deliver the broth. You can use chicken or veggie stock, bouillon cubes, or homemade! For a quick and easy homemade veggie broth, save your veggie scraps! Over time collect them and boil them with whatever added flavours you'd like. It is a great way to create less waste and save money!
Instant Pot bonus: To make this soup in a pinch, add all ingredients (minus spinach) to the Instant Pot and pressure cook everything for 15 minutes.
More Favorite Lentil and Soup Recipes
Chicken Lentil Soup
This flavourful Chicken Lentil Soup has chicken and lentils simmering in herb-infused chicken stock.
Ingredients
1

large onion

finely chopped

1

large carrot

chopped

1

tbsp

olive oil

extra virgin

2

tbsp

tomato paste

1

tsp

cumin

1

tsp

garlic powder

1 1/4

tsp

salt

1/4

tsp

ground black pepper

1

lb

chicken thighs

bone in and skinless

2

cups

green lentils

rinsed & drained

10

cups

water

1/3

cup

cilantro

finely chopped
Instructions
Preheat large pot or Dutch oven on medium heat and swirl oil. Add onion and carrot, saute for 4 minutes, stirring occasionally.

Add tomato paste, cumin, garlic powder, salt and pepper; saute for another 30 minutes, stirring frequently.

Add chicken, lentils, water and bay leaves. Bring to a boil, cover and cook on low for 40 minutes.

Remove chicken on a plate, shred with 2 forks and return chicken to the pot.

And cilantro, stir and serve soup hot.
Notes
Store: Refrigerate in an airtight container for up to 5 days.
Freeze: Fully cook, cool completely and freeze in an airtight container for up to 3 months. Thaw on a stovetop covered on low.
Nutrition
Serving:
2
cups
|
Calories:
431
kcal
|
Carbohydrates:
43
g
|
Protein:
29
g
|
Fat:
16
g
|
Saturated Fat:
4
g
|
Trans Fat:
0.1
g
|
Cholesterol:
74
mg
|
Sodium:
577
mg
|
Fiber:
21
g
|
Sugar:
3
g