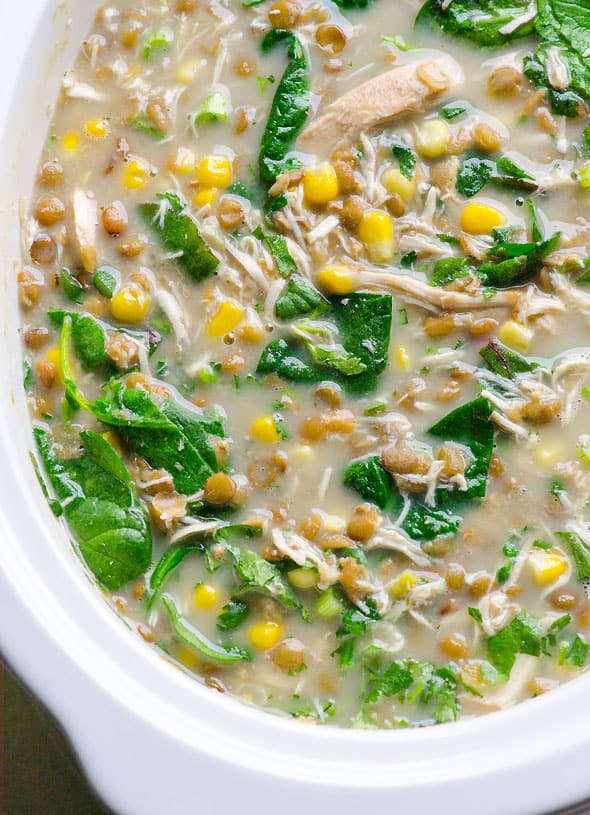 You know how some recipes have stories?! My story behind this to-die-for Tex Mex flavoured slow cooker chicken lentil soup with corn unfolded as following. Friday is my day off. Well, I mean a day off from being a blogger. Moms are really never off, let's be real. Friday is the day when I do chores piled up over a week. So, this Friday a chore was painting doors and trims. I'm slowly refreshing all of them throughout the house. Yes, I love painting and handyman work. Alex jokes that I will never be without a job, just in case. And he is right!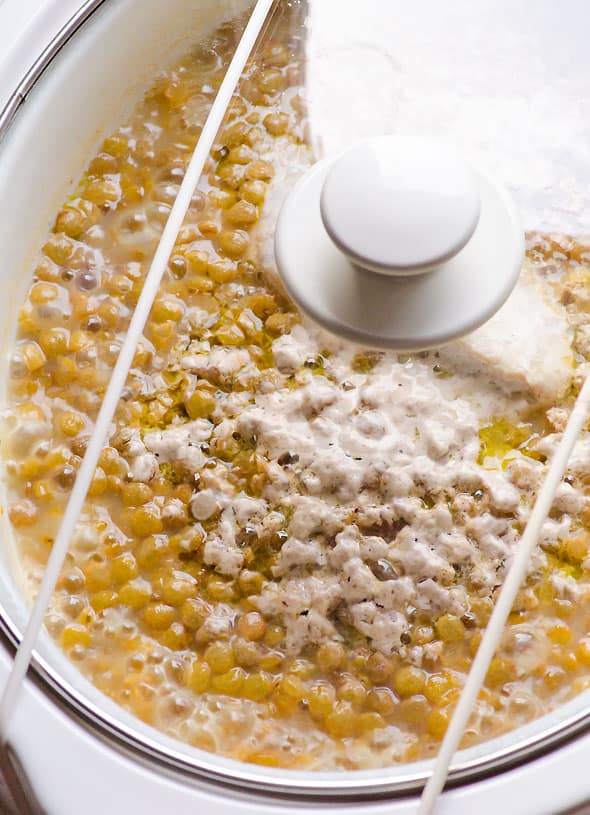 So, before I started painting I had to think of a dinner. I always think of dinner in the AM to avoid major panic attack in the PM. Slow cooker and soup – never failed me yet. Only one time when I was so tired on a Friday night that I managed to throw lentils, water, salt, spices and bay leaves in a slow cooker.
Boy, was it a disappointment that even avocado couldn't save. However, that disaster has led to a red lentil vegetable lentil soup with two spices success later. Oh, and if you are into lentils + spices, be sure to make Moroccan lentil salad.
However, another time I made a soup with coconut milk, lentils and chicken and it was delicious. So, that is where I was going with this slow cooker chicken lentil soup. I did that first and went on painting. When chicken was falling apart 4 hours later, I shredded it.
Then I thought how nice would it be to sweeten the soup. Corn! Frozen corn! We did a Costco run the night before so I had lots of options. Again, we spent $760. It is insane but there is nothing I can do because we eat a lot. However, $110 was a membership renewal, $30 ski gloves, $30 tax software and $75 ski passes. So, OK, $520 for food. Insane amount, still. What can I do?! We all eat. My 9 year old eats like my husband, and I eat a lot too.
Then I had these greens, again from Costco, and thought how great they would add volume to a soup, just like spinach in my spinach lentil soup. Greens never disappoint. They shrink a lot after being submerged in a hot liquid, so do not worry about the amount. You can use ANY greens like kale, spinach, dandelion and even beet greens.
This slow cooker lentil soup came out to die for! As I was pouring it into bowls at 4 PM (me and kids couldn't wait for dinner) I craved organic tortilla chips on top. Again, all from Costco in ginormous bags (=> my full Costco shopping list). All my 3 men snack constantly. It is insane but only fruit and veggies wouldn't do it. It has to be cheese, crackers, chips etc. on top.
I also wanted to take this opportunity and thank you for being understanding while my website was down numerous times this week. It has been insane on my end because the traffic sky rocketed after New Year and it was taking time to upgrade hosting. But I think it is done and over and should be no more down time. If you have issues with any recipe, try to clear cache on your browser. You can Google how to do that for your browser. If you need help, shoot me an email.
Enjoy!
Print
Slow Cooker Chicken Lentil Soup
Slow Cooker Chicken Lentil Soup Recipe is Tex Mex flavoured soup with coconut milk, corn, green lentils, spinach, chicken and crushed tortilla chips on top.
Author:
Prep Time:

5 minutes

Cook Time:

4 hours

Total Time:

4 hours 5 minutes

Yield:

6 servings
Ingredients
8 cups chicken stock, low sodium*
14 oz can coconut milk, full fat
2 tsp garlic powder
1 1/4 tsp salt
1 1/2 cups green lentils, dry
3 large (2 lbs) chicken breasts, boneless & skinless
3 cups corn, frozen or canned
3 handfuls greens like spinach and kale
1/3 cup cilantro, finely chopped
3 green onion sprigs, finely chopped
Tortilla chips, for garnish (optional)
Instructions
In a large slow cooker, add chicken stock, coconut milk, garlic powder, salt, lentils and stir to mix. Submerge chicken in the liquid, cover and cook on Low for 8-10 hours or on High for 4 hours. You could also cook soup on a stovetop for 45 minutes or so.
Remove chicken and shred with 2 forks; return to the slow cooker. Add corn, greens, cilantro and green onion; stir well. Serve hot with crushed organic tortilla chips on top if you wish (I recommend!!!).
Store: Refrigerate in an airtight container for up to 5 days.
Freeze: Fully cook, cool completely and freeze in an airtight container for up to 3 months. Thaw on a stovetop covered on low.
Notes
*I used boiling water with 2 organic no sodium chicken bouillon cubes.
★ Did you make this recipe? Please give it a star rating in the comments.