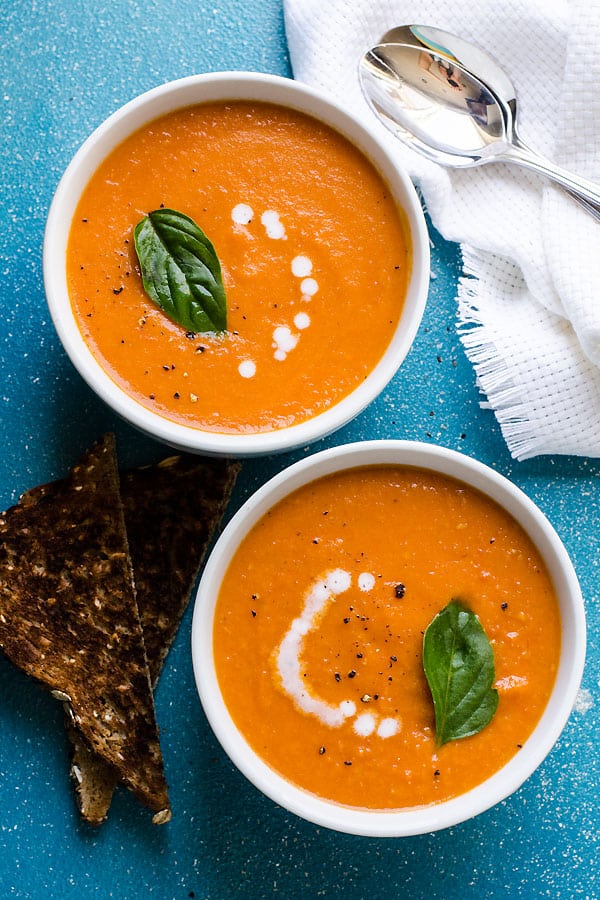 This post is brought to you by high quality German brand Braun and the juiciest summer beefsteak tomatoes ever.
We just got back from Osoyoos. We did sooooo much in blasting +35C heat – laid by the pool for 2 days straight. That is it, my friends. I really enjoyed doing nothing and could do that for another week.
On the way back we stopped at probably 10 fruit and vegetable stands coming back with 20 lbs of cherries, 10 lbs of peaches and a big bag of juiciest beefsteak tomatoes ever.
Come summer I am obsessed with tomatoes! I buy bananas like a zoo keeper during fall-winter months and tomatoes like an Italian in summer. I enjoy them in so many ways: sliced with salt and pepper, on avocado toast and in salads. And now in soup…creamy sun dried tomato soup. You know me – it is dairy free and silky smooth and creamy without any cream. You just try and you shall see, and once you love it try more coconut milk base soup recipes like chicken lentil soup.
This year I made a pledge to make more quick soups during summer – cold like avocado bisque and hot like salmon tomato soup. And that is what this sun dried tomato soup is – it takes literally 15 minutes. So, you can have a filling meal without heating up your kitchen. And it is full of flavour without roasting tomatoes in the oven which I believe you would appreciate in July.
Once everything is cooked you help the flavours marry each other with a hand blender. I never owned high quality hand blender so using Braun to blend this soup was a new experience for me. Braun is part of DeLonghi Group which is a German brand I have known growing up in Ukraine. Needless to say we didn't own one but their products were considered very high quality. 25 years later Braun is back in the kitchen just in time for busy summertime. I finally got my hands on one and let me tell you this blender did not disappoint.
You can see in the video I was taking a bit of time to press the button but there was no splashing or suction thanks to Power Bell system. The power button gave me as much power as I wanted thanks to Smart Speed technology. And lastly but not less important – I removed the stainless steel blade with a simple click and placed it in a dishwasher. Oh, how may times I refrained from using my generic brand cheap immersion blender because I had to wash the whole thing under the tap. And how much I loved not sticking a piece of plastic into a hot soup…Well, you know me. I don't even own a microwave.
I am yet to try other attachments of Braun Multiquick 7 but judging by 4.5 star reviews on Amazon I won't be disappointed. Just like you wouldn't be disappointed with this creamy dreamy sun dried tomato soup. I promise! It is to die for summer soup with simple ingredients!
How to Make Sun Dried Tomato Soup
Enjoy the soup and follow Braun for more kitchen inspiration on Pinterest and Facebook!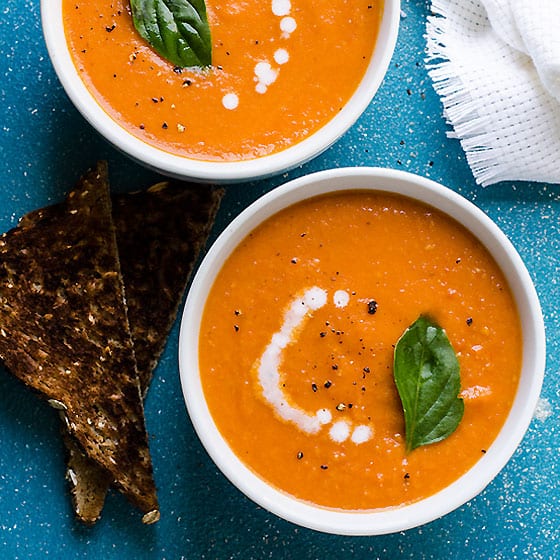 Sun Dried Tomato Soup
Creamy Sun Dried Tomato Soup – vegan tomato soup recipe with coconut milk. This dairy free healthy cream of tomato soup takes only 15 minutes.
Instructions
Preheat medium size pot on low heat and swirl oil to coat. Add garlic and cook for 30 seconds, stirring occasionally. Add tomatoes and cook for 8-10 minutes, increasing heat to medium and stirring occasionally.

Add sun dried tomatoes, coconut milk, water or broth and salt. Stir, cover and cook for 5 minutes.

Remove from heat and using

an immersion blender

puree until smooth. Add ground black pepper to taste and serve hot garnished with basil. Sprouted toast would be nice too.
Notes
Store: Refrigerate in an airtight container for up to 5 days.
Freeze: Fully cook, cool completely and freeze in an airtight container for up to 3 months. Thaw on a stovetop covered on low.
Nutrition
Serving:
1.5
cup
|
Calories:
367
kcal
|
Carbohydrates:
22
g
|
Protein:
6
g
|
Fat:
31
g
|
Saturated Fat:
22
g
|
Sodium:
519
mg
|
Fiber:
6
g
|
Sugar:
14
g