Healthy Tomato Soup is a 5-minute, easy homemade soup with canned tomatoes and minimal ingredients. Serve with a melty grilled cheese sandwich for lunch or a light dinner.
We also love this cilantro tomato salmon soup and this lentil spinach soup.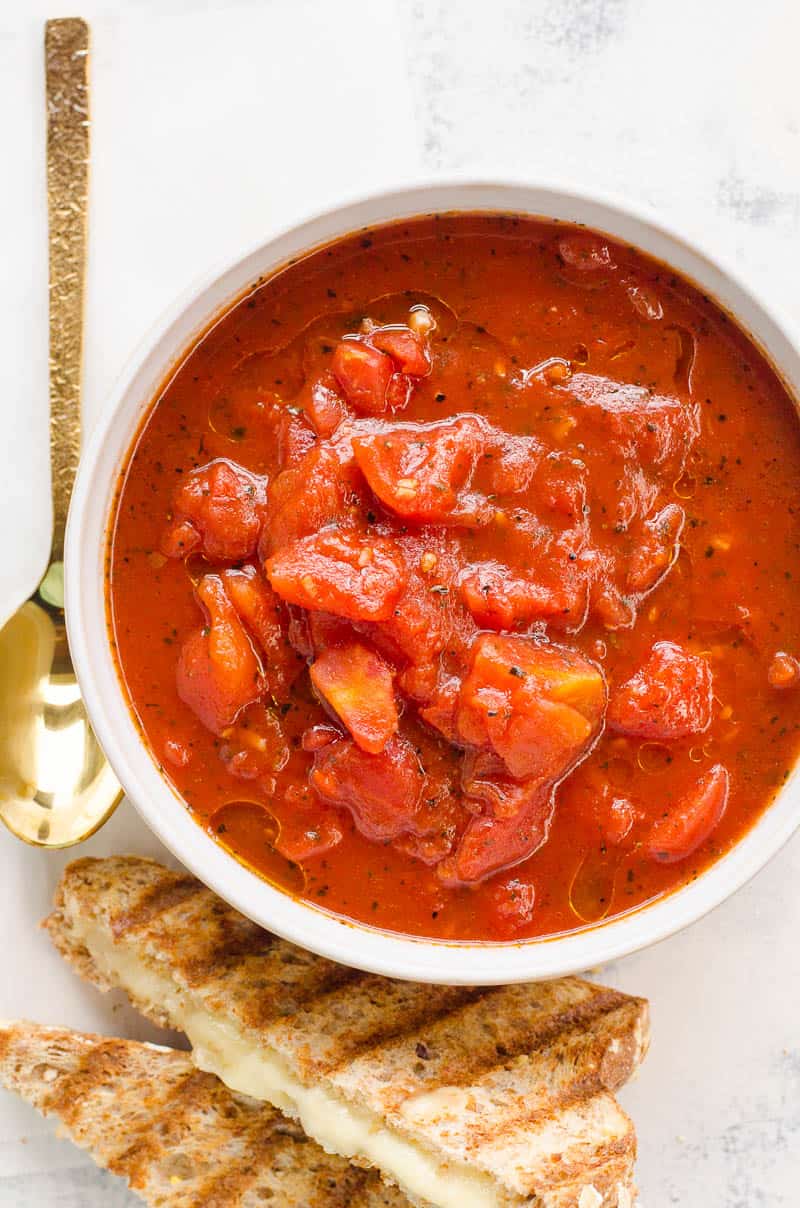 This healthy tomato soup recipe, or "lazy borscht" as my husband calls it, is exactly that. Lazy. In the best way possible. It's seriously a glorified can of tomatoes!
The thing about store-bought soups from a can is that they come with tons of added unnecessary ingredients and at the very least, higher levels of sodium.
So, whenever possible, I make my homemade soup right from scratch, like this sundried tomato soup (also, a must-try). I'm not roasting any tomatoes, or simmering for hours, which is a life-saver when I'm in a time crunch.
Why You'll Love This Recipe
It's a quick, easy, and vibrant homemade soup made in minutes.
A jazzed-up, healthier, and wholesome version of a canned tomato basil soup.
A grilled cheese and tomato soup classic pairing is a filling lunch or light dinner idea.
It's so cheap! It won't break the bank, and the kids will love it.
It's easy to customize the seasoning and can be made just the way you like it.
Double or triple the recipe if needed!
Gluten-free, dairy-free, sugar-free, wheat-free, naturally vegan but ALL the flavour!
Ingredients for Healthy Tomato Soup
Canned diced tomatoes: Low sodium cans, you'll need about two to make two large servings or about 4 small servings. You can swap with tomato sauce too if you'd like (see notes below)! I recommend buying organic tomatoes, when possible. Kirkland signature canned tomatoes come in cans without BPA.
Olive oil: A healthy fat to help saute the garlic and herbs and bring out aromas and flavours.
Garlic cloves: Minced fresh garlic adds just a bit of that garlicky flavor that goes well with anything tomato-based.
Oregano & basil: A blend of a couple of dried herbs is all you need to give the diced tomatoes some pizzazz. Use any blend of Italian herbs you'd like, tomato basil soup is tops in my book!
Balsamic vinegar: Adding this kind of vinegar is not only giving it a bit of a sweet and tart flavouring but it will also add some color, giving the bright red soup a deeper colour.
Salt & pepper: To taste. Since we're using low sodium canned tomatoes, you might find you want to add more salt.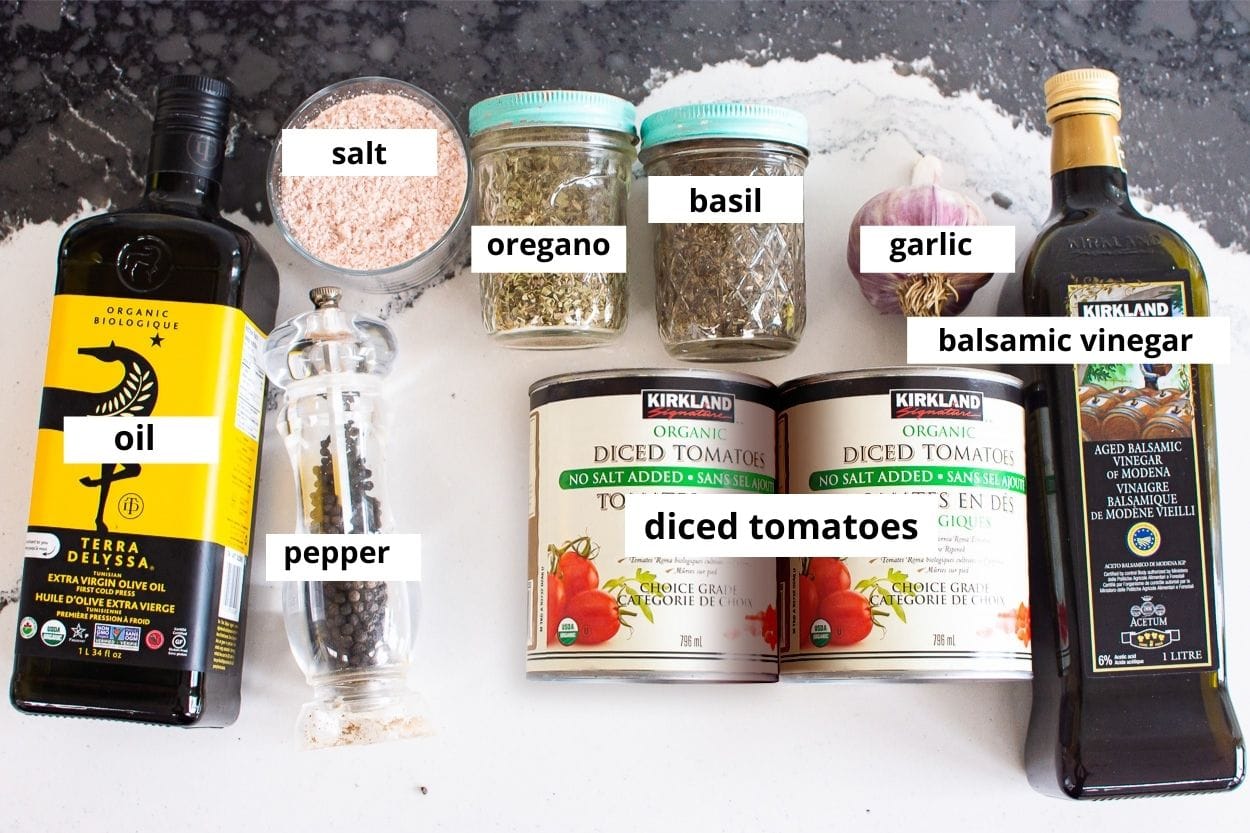 How to Make Healthy Tomato Soup
Start by sauteing garlic and herbs in extra virgin olive oil. The rule is to have the pot hot and then warm oil in it. The best!
Add garlic and herbs. Saute for 30 seconds stirring constantly to avoid burning. Cooking spices first helps them to release their maximum flavor.
Add tomatoes. Stir in your low sodium diced tomatoes, tomato sauce or combine both.
Then add balsamic vinegar, salt, and ground black pepper to taste. Simmer for 3 minutes until hot or just warmed through.
That's it! Serve with a cheesy, crispy golden grilled cheese sandwich for dunking. So easy, tasty, and healthy!
What's the Difference between Sauce and Diced Tomatoes?
If you like chunky healthy tomato soup, use diced tomatoes.
If you like more creamy soup, use 1 can of diced tomatoes + 1 can of tomato sauce.
If you like very smooth tomato soup, use all tomato sauce.
I recommend to buy low sodium canned tomatoes and add salt to taste. You will consume less sodium this way.
Optional Add-In's and Variations
This soup is very forgiving with seasonings. Use more fresh garlic or a variation of dried herbs. Italian seasoning is always great. Add more basil for a tomato basil soup, which is also delicious!
If you like the idea of using canned diced tomatoes (or that's all you have on hand) but want a smooth soup, use an immersion blender to give it a creamy texture and consistency.
For a bit more of a cream-based soup, like tomato bisque, add some plain Greek yogurt or heavy cream to your soup.
To keep it dairy-free but still get it a bit thicker, add in some beans! Either mash some of them or keep them whole. Use any bean you like, but buttery white beans would be awesome.
Throw in any added veggies you'd like such as cooked zucchini, onion, carrots, celery or diced potatoes!
Add some cooked pasta for additional texture and heartiness.
With the addition of diced chicken breast.
Tips for Best Results
Each ingredient is customizable from the tomatoes, the seasonings, and even the oil you're using.
It's called a healthy tomato soup recipe for a reason! So, to maximize nutritional benefits, look for high-quality ingredients. Organic whenever possible, low sodium, and high-quality oil and vinegar.
Garnish with chopped fresh herbs and fresh grated parmesan to maximize flavor, fresh basil is especially great for tomato basil soup!
FAQs
Is tomato soup good for you?
Yes! In my world, it is, even if it starts from a can! Here's why tomato soup is often considered heart healthy.
Canned tomatoes are packed with vitamin C and fiber just like fresh, in-season tomatoes. Ironically, canned tomatoes (as opposed to fresh) are a better source of the antioxidant lycopene that helps to lower the risk of heart disease, prostate cancer, and poor eyesight. Who knew?! We aren't adding any crazy additives like flour, sugar, or high levels of salt, so it's pure, simple, and healthy. Add in a nutrient-rich salad on the side and you're golden.
Is easy tomato soup low sodium?
It's as low sodium as you make it. Looking for low sodium diced tomatoes is the best way to keep it low sodium. Everything else in this soup recipe is low sodium. Being able to control the amount of salt you add in helps too. Just be mindful if you start adding in additional seasonings to read the labels because sodium can be sneaky.
How many calories for homemade soup with tomatoes?
There are 146kcal in 2 cups of this homemade soup.
What type of tomatoes is best for soup?
For a quick and easy soup like this one, I'd say any low sodium can of diced tomatoes. If you are using fresh tomatoes and will be dicing them yourself, roma or plum tomatoes are great. If you want to up the flavour, roasting tomatoes ahead of time is a whole other level of good!
Can I use fresh tomatoes for easy tomato soup?
Absolutely, you can. Of course, it will no longer be a 5 minute recipe, but the extra time, if you've got it, is worth it!
How can I thicken tomato soup?
Depending on whether you're wanting to keep it dairy-free or not, adding a bit of tomato paste, Greek yogurt, heavy cream, or creamy buttery beans will all help to thicken the soup.
What can I put on top of tomato soup?
You could serve it with a few crispy, chunky croutons or keep it simple with a few fresh basil leaves. Make a classic grilled cheese sandwich and serve it placed across the bowl on top (or cut into small squares and use those as your croutons – swoon!). Crackers are another option, some people like to crumble up crackers and drop them on top of the soup.
Serving Recommendations
Make grilled cheese with whole grain, sourdough, sprouted wheat, or Ezekiel bread to keep it healthy. I simply pop a few slices of cheese between 2 slices of organic sprouted bread and melt it on a panini press. So good! You could also make healthy tuna melt for a variation on the classic.
Remember, each of us has our own definition of "healthy" and "balanced" and we all have different dietary needs. All we can do is eat intuitively to whatever works for us, and enjoy every bite!
If you want to add a side salad to your meal try a creamy cucumber salad to cut the acid from the tomatoes, a lemon kale salad with garlic and parmesan or cucumber and tomato salad to add some leafy greens to your menu and loads of nutrients or add some extra protein with this healthy chicken salad! Find more ideas on this list of best healthy sides (there are 65!).
Can I Make It Ahead?
Make Ahead: Make in advance for healthy meal prep, plus the flavor profile will really develop as it 'sits' making it great leftovers. Reheat on stovetop over medium heat or in microwave.
Store: Store covered in an airtight container in the refrigerator for 3-5 days.
Freeze: Prepare soup and let it cool completely. Pour into freezer safe container with lid and leave a few inches of space for the soup to expand. Secure with air tight lid, write the date and store up to 3 months.
Thaw overnight in the refrigerator and reheat. Note: Freezing works best if you have not added in any additional 'cream' to the soup. If you plan to add milk/cream/yogurt, wait to do so until the soup has thawed during reheating.
More Healthy Soup Recipes to Try
Alternately, browse all my all healthy soups and stew recipes to find one your family will love.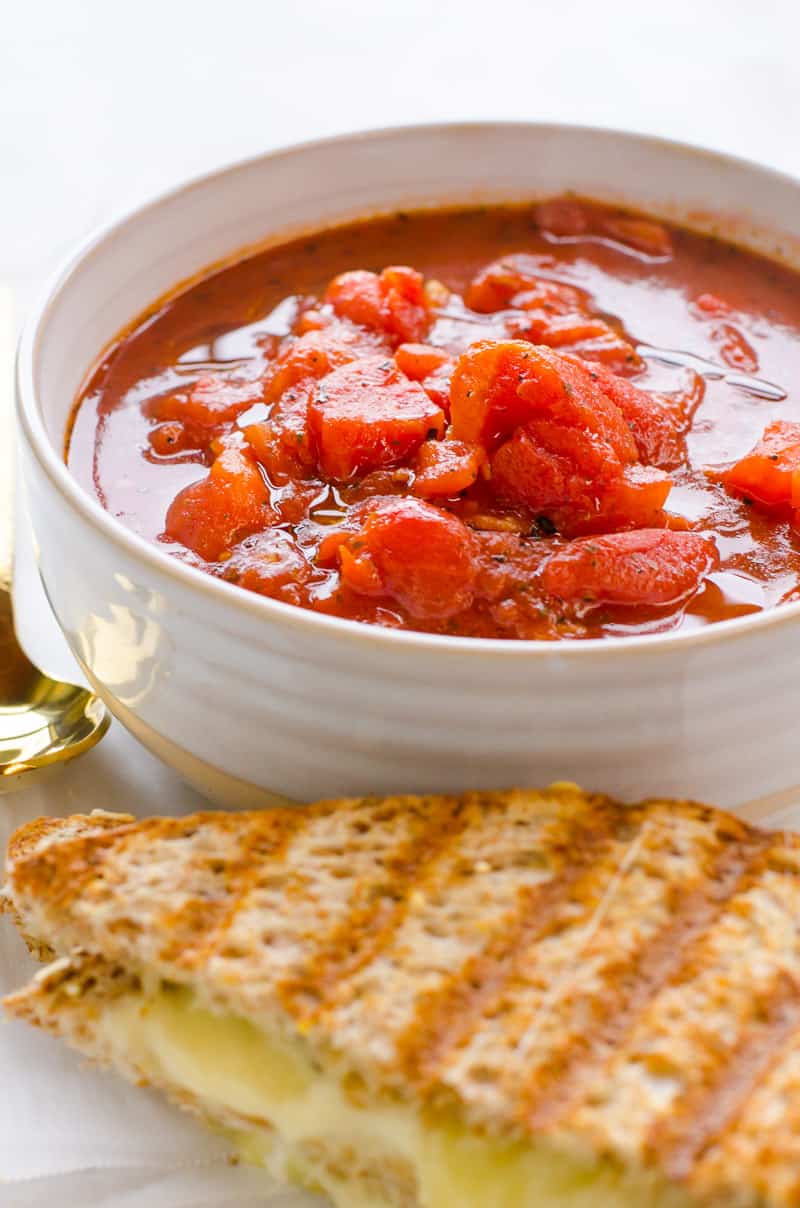 Healthy Tomato Soup
Healthy Tomato Soup is a 5-minute, easy homemade soup with canned tomatoes and minimal ingredients. Loaded with amazing taste plus all of the familiar flavours of classic tomato soup without the need to simmer on the stove for hours. Serve with a melty grilled cheese sandwich for lunch or a light dinner.
Instructions
Preheat medium pot on low-medium heat and swirl olive oil to coat. Add garlic, oregano and basil. Saute for 30 seconds, stirring constantly.

Add canned diced tomatoes, balsamic vinegar, salt and pepper and let simmer for 3 minutes or until warmed through.

In the meanwhile, make grilled cheese. Serve with hot soup. So easy, tasty and healthy!
Notes
Store: Store in an airtight container in the refrigerator for 3-5 days. Reheat on stovetop over medium heat or in microwave.
Freeze:

Place in a container with a lid and allow space for the soup to expand. Store up to 3 months. Thaw overnight in the refrigerator and reheat.

Low sodium tomato sauce works great in place of diced tomatoes. You can also use half sauce and half diced.
Use an immersion blender to give it a creamy texture and consistency.
For a cream-based soup like tomato bisque, add some plain Greek yogurt or heavy cream to your soup at the end.
Any dried Italian herbs or seasoning is great!
Add more garlic and fresh basil at the end if you wish. This soup is super easy and forgiving!
For tomato vegetable stir in any cooked veggies you'd like such as zucchini, onion, carrots, celery or diced potatoes!
See recipe post for more tips and FAQs.
Nutrition
Serving:
2
cups
|
Calories:
146
kcal
|
Carbohydrates:
17
g
|
Protein:
1
g
|
Fat:
7
g
|
Saturated Fat:
1
g
|
Sodium:
658
mg
|
Fiber:
4
g
|
Sugar:
10
g