Learn How to Cook Quinoa on the Stove for perfectly fluffy, tender results every single time. Helpful tips go over cooking time, water to quinoa ratio, storage information, and how to use this protein packed superfood.
You might love learning these other foolproof methods for cooking Instant Pot quinoa, Instant Pot brown rice, or how to make cauliflower rice!
Quinoa is one of my favorite additions to a well balanced meal!
It's high in protein, naturally gluten free, low GI, and cholesterol free. With all that healthy plant based goodness, you can probably see why I love it so much!
This powerhouse plant based ingredient shows up time and time again in my cooking from wholesome black bean quinoa casserole to fresh Mediterranean quinoa salad.
When cooked incorrectly, quinoa can become a mushy, heavy, or even crunchy and burnt mass. Meanwhile, cooked correctly, quinoa is light and fluffy with a nutty, earthy taste and clear individual grains.
Follow my method below on how to make quinoa perfectly every single time!
Ingredients You'll Need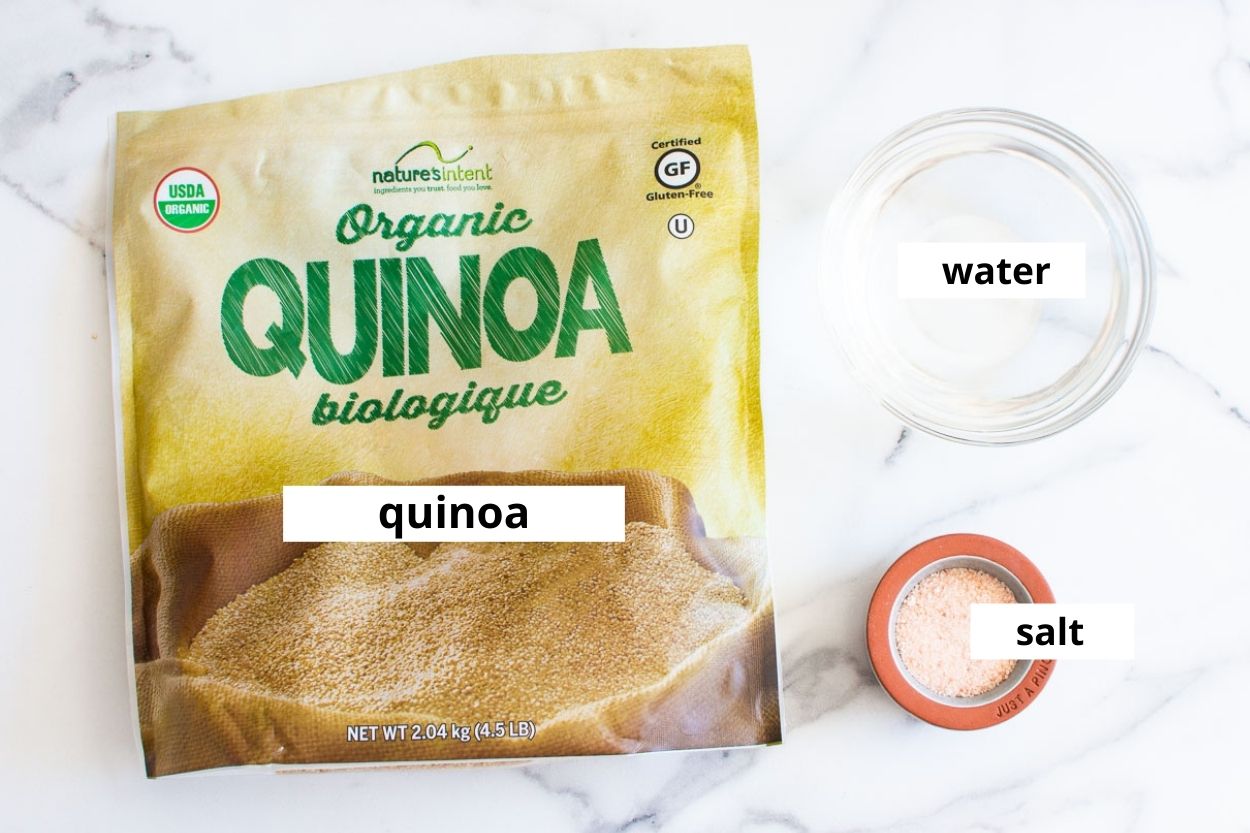 You can find quinoa in a variety of colors, white, red, black, and tri-color. Each color will cook the same, but white has the mildest flavor.
Best Quinoa to Water Ratio
Many sources recommend a 2:1 ratio of water to dried quinoa. However, having cooked this time and time again, I now use a ratio of 1 3/4:1.
This amount is just enough to cook the quinoa perfectly, with the remainder evaporating during the 'steam' step for wonderfully fluffy results.
Stick to this ratio for perfect quinoa cooked on the stove top! Add too little water, and the quinoa can begin to stick or burn to the bottom of the pan. Too much water, and the quinoa will become a mushy mess.
Do I Need to Rinse Quinoa?
I don't do this as I've found that most brands I've used rinse the quinoa before it is packaged. It's also a pain to remove all the quinoa from your fine mesh strainer after soaking and rinsing the quinoa.

There are a couple of reasons to consider rinsing your quinoa, though.
First of all, quinoa like many grains and pulses, contains some phytic acid which can be reduced upon soaking.
Secondly, quinoa contains a natural coating called saponin which some say taste slightly bitter or even soapy if not rinsed away.
How to Cook Quinoa on Stove
Cooking quinoa on the stovetop is a relatively easy process. If you want to pre-soak or rinse the quinoa, then feel free to do so before starting.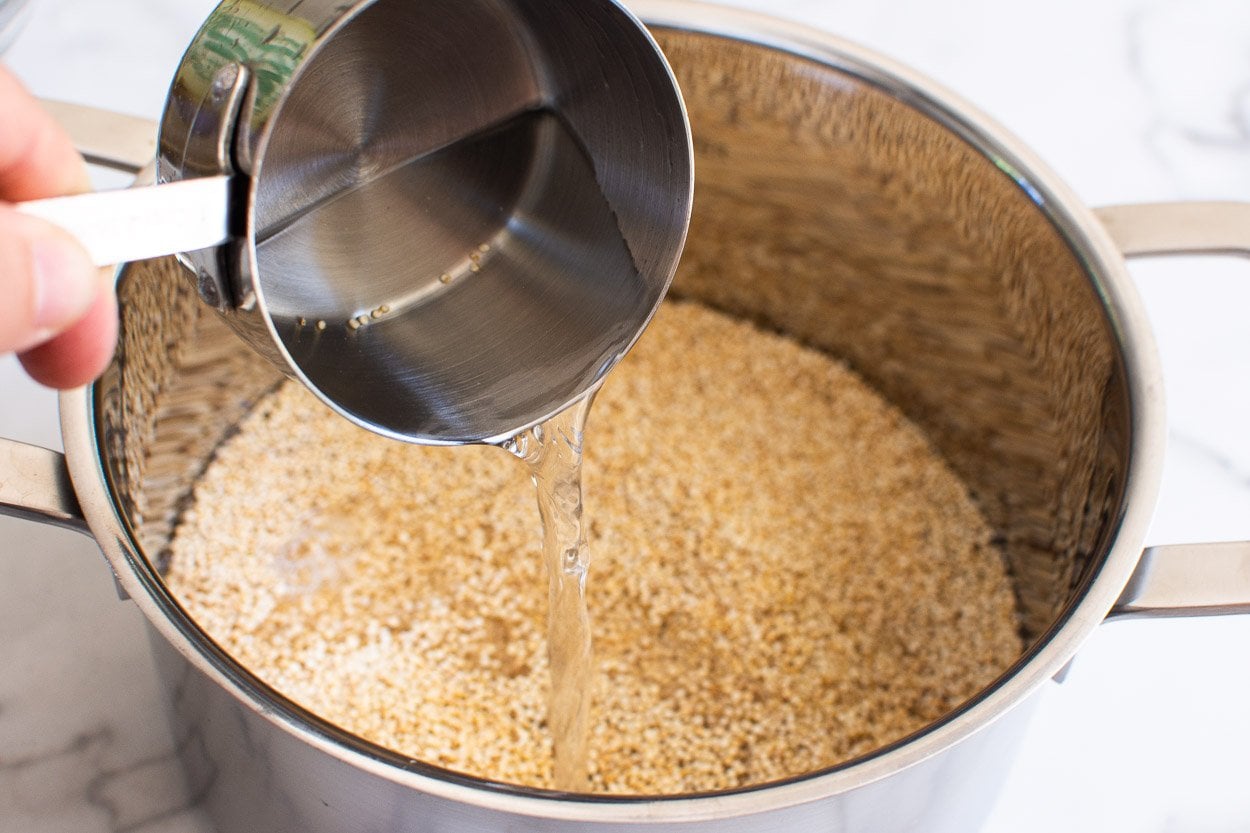 Add the ingredients to a pot: In a medium pot add the rinsed quinoa, cold water (or stock), and a pinch of salt.
Bring to a boil: Cover the pot with a tight-fitting lid and bring it to a boil.
Simmer the quinoa: Once it starts to boil, reduce the heat to low and allow it to simmer for 12 minutes. Don't open the lid or stir the quinoa during this time!
Leave to steam: Then, remove the pot from the heat and allow it to stand and 'steam' for a further five minutes with the lid still on.
This step is crucial for evaporating any remaining water from the bottom of the pan for fluffy quinoa and individual grains.
Don't be tempted to lift the lid!
Fluff it: Finally, remove the lid and use a fork to gently fluff the quinoa grains. It's ready to enjoy!
How Much Does 1 Cup Quinoa Yield?
One cup of dry quinoa yields around three cups cooked. Keep this in mind when determining how much you need to cook.
How to Flavor Quinoa?
This stovetop method is basic quinoa recipe. Add some variety with these minor changes:
Toast the quinoa: To increase the rich nutty flavor of the quinoa, you can first dry toast the seeds before adding the water and salt to the pot. Simply heat the quinoa over medium heat for several minutes until it smells fragrant and starts making a slight popping noise then continue with recipe.
Add in butter or oil: A tablespoon of olive oil, coconut oil, or butter will result in slightly 'richer' quinoa.
Use broth: For more flavorful quinoa, skip the water and use broth or stock instead when cooking quinoa on the stove.
Add a bay leaf: Similar to rice and other grains, you can add extra flavor with the addition of a bay leaf to the pot while it cooks. You can include this when cooking with water or broth.
Other flavors: You can also easily increase the flavor of this cooked quinoa by adding some fresh garlic or herbs like rosemary, thyme, or dill.
FAQs
What is quinoa?
Quinoa is considered an ancient grain but it is actually a superseed that originates from South America.

Additionally, it is considered a complete protein. This means that it contains all nine essential amino acids that our body does not produce on it's own. It's gluten free and perfect for adding to any vegetarian meals as a protein source.
How can I tell my quinoa is done cooking?
All liquid will have absorbed and tiny air holes will appear on the surface. Further, the grain will have popped open, revealing the germ of the kernel.
What if I have liquid left at the bottom of the pot?
If you have followed this method for cooking quinoa there should not be liquid leftover. If you accidentally added too much liquid, you can either drain the liquid after the 10 minute rest period or let it rest longer and the liquid should absorb into the quinoa.
Can I use this method to cook other colors of quinoa?
There are three main types of quinoa: white, red, and black. A fourth variety would be a tri-color which contains a bit of each color.

As a general rule, the darker the quinoa, the longer it takes to cook. Red quinoa may only take several minutes extra (2-3 minute). Meanwhile, black quinoa can take an additional five minutes.

It's also important to note that the flavor of all three varies, too. Whereas white quinoa is relatively neutral with a slightly nutty flavor, red and black quinoa have bolder, earthier, nuttier flavors.

The important thing to remember is that the ratio of water will not change regardless of color.
Does quinoa cook similar to rice?
It is fairly similar in that I use a simmering method to slowly reduce the water while cooking the quinoa. However, the times and water ratio vary.
Do I need to soak quinoa before cooking it?
No. While most find that rinsing removes the saponin, if you are unsure or have purchased from a bulk food bin, you may want to soak quinoa.

If you want to soak the quinoa, add it to a large bowl with water and soak for 2 to 5 minutes to overnight. Drain, rinse and proceed with cooking. Soaking may reduce the cooking time of the quinoa by several minutes, so keep an eye out.
How to make fluffy quinoa?
The key to fluffy quinoa is to let it sit covered for 10 minutes after it is done cooking and removed from the heat source. After 10 minutes, gently fluff with a fork to separate the grains.
Best Way to Store Cooked Quinoa
Storing: Refrigerate the cooked quinoa in the pot you cooked it in or an airtight container for up to one week.
Freeze: Allow the quinoa to cool and transfer to large Ziplock bags, spreading into a thin, flat layer. Then freeze cooked quinoa for up to 3 months. To thaw, allow it to sit on the kitchen counter for 1-2 hours.
Reheat: The quinoa can dry out somewhat when stored, so I like to add a splash or two back to it when reheating.
Reheat the quinoa on the stove by simmering over low heat with a splash of water or broth, occasionally stirring until warm. It may need more than one splash of liquid during the reheating process.
Favorite Quinoa Recipes to Try
Quinoa is a truly versatile addition to your kitchen repertoire. Use instead of rice for dinner or here are just a few ways you can use it any time of the day!
You might also enjoy browsing through this compiled list of quinoa recipes!
How to Cook Quinoa on the Stove
Learn How to Cook Quinoa on the Stove for perfectly fluffy, tender results every single time!
Instructions
In a medium pot, add quinoa, water and pinch of salt.

Cover and bring to a boil.

Reduce heat to low and simmer for 12 minutes. Do not open the lid!

Turn off heat and let stand for 5 minutes.
Notes
Store: Refrigerate quinoa in the pot you cooked it in or airtight containers for up to 1 week.
Freeze: Freeze cooked quinoa laying flat in resealable plastic containers or airtight containers. It freezes beautifully for up to 3 months.
Reheating: Make sure to fluff quinoa first and then add a splash of water or broth. Reheat by simmering on low heat in a pot while covered, stirring and checking if it needs more liquid a few more times.
Do I have to rinse quinoa? Some quinoa recipes recommend rinsing quinoa before cooking it. This is more of a recommendation than a requirement. Quinoa has a natural coating of compounds called saponins that some may find bitter or soapy. Meanwhile, others might say that it just has an earthy flavor. You can rinse, if you wish.
Nutrition
Serving:
1
cup
|
Calories:
156
kcal
|
Carbohydrates:
27
g
|
Protein:
6
g
|
Fat:
3
g
|
Saturated Fat:
1
g
|
Sodium:
2
mg
|
Fiber:
3
g