Parmesan Pumpkin Quinoa with Spinach is 30 minute meal with fluffy quinoa, sweet and savory sauce and fresh spinach!
Spinach artichoke quinoa casserole and kale and quinoa salad are other quinoa recipes showcasing favorite fall flavors!
Parmesan pumpkin quinoa with spinach is a nutritious and comforting fall dish! It's perfect to use as a healthy side dish or a complete meatless meal all on its own.
It's an easy and deliciously cozy meal that your body craves when you've had maybe one too many desserts!
I love pumpkin spice everything as much as the next person, but what we're talking about here is pure creamy pumpkin loaded with nutrients and fresh flavor.
I have used it to make healthy pumpkin pie and healthy pumpkin muffins but I'm just as excited to use it in savory dishes like this one.
I know you and your family will love it too!
Ingredients You'll Need
Here's what you need to make this healthy, naturally gluten free, and wholesome pumpkin quinoa dish!
Quinoa, uncooked
Large onion
Garlic
Extra virgin olive oil
Chicken stock
Salt
Pepper
Parmesan cheese
Baby spinach leaves
Recipe Tip
Use leftover quinoa. If you don't need to cook up some fresh quinoa because you have leftovers, use it instead. This is why I like to cook up big batches of quinoa and freeze portions of it for later.
How to Make Pumpkin Quinoa
A wholesome delicious one pot meal has never been easier!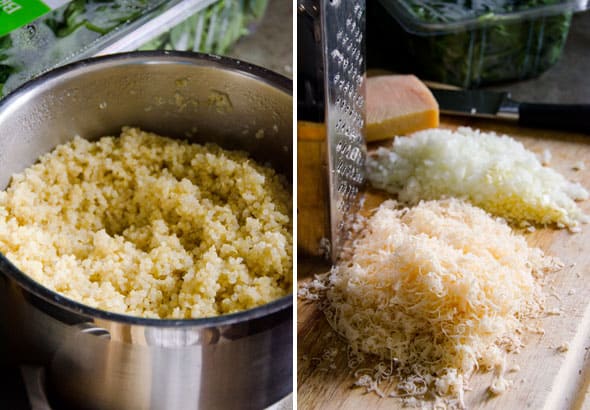 Cook up some fresh quinoa or use any leftovers you have. Set it aside. You'll need 3 1/2 cups of cooked quinoa for this recipe. See below for further details.
Get ahead by grating fresh Parmesan from a block and setting that aside too.
Preheat a large deep skillet over low-medium heat. Heat the olive oil and sauté the onion and garlic until translucent. Stir occasionally. Then, you'll add the pumpkin purée, chicken stock, salt, and pepper.
Bring to a boil then reduce the heat to low and let it simmer uncovered for 5 minutes.
Melt in the Parmesan cheese, remove it from heat and add the quinoa and spinach. Give that a gentle stir to combine. If it's too thick for your liking, add a bit more broth. Serve hot!
Recipe Tip
Separation of liquid. You may notice this because of the Parmesan cheese. It's completely normal, just stir it and it's good to go.
How to Cook Quinoa
You can find the detailed instructions here, how to cook quinoa on the stove or make Instant Pot quinoa. No matter what method you use, you'll need quinoa and water. Then you cover it, cook, and fluff.
Variations
The quinoa and pumpkin are the base of this dish but you can be flexible with most of the other ingredients.
Additional veggies. Throw in some bell pepper, carrots, broccoli, zucchini, or mushrooms.
Use kale instead of spinach. Chop it up fine before adding. Massage it first, if you'd like to tenderize it a bit.
Other stock. To make this vegetarian, use vegetable stock instead.
Different cheese. Swap the Parmesan for feta cheese, or use a bit of both. They are both briny and salty, although feta will be a bit stronger.
FAQs
Can I make this recipe vegan?
Yes, if you use vegetable stock and skip the Parmesan. If you have a vegan cheese you like, try adding that instead.
How should I store this quinoa recipe?
Keep any leftovers in an airtight container in the fridge.
How long does this pumpkin quinoa keep?
Up to 4 days. It will thicken as it sits and cools, so you may need to add a splash of broth while you reheat it.
Can I meal prep this quinoa recipe?
Sure thing. The best thing to do is make the quinoa ahead of time. This will save you a ton of time. Grate your cheese, and keep that in the fridge for days.
Serving Suggestions
Here are some main dish ideas to round out your fall menus. Serve Parmesan pumpkin quinoa with spinach on the side of:
More Quinoa Recipes to Try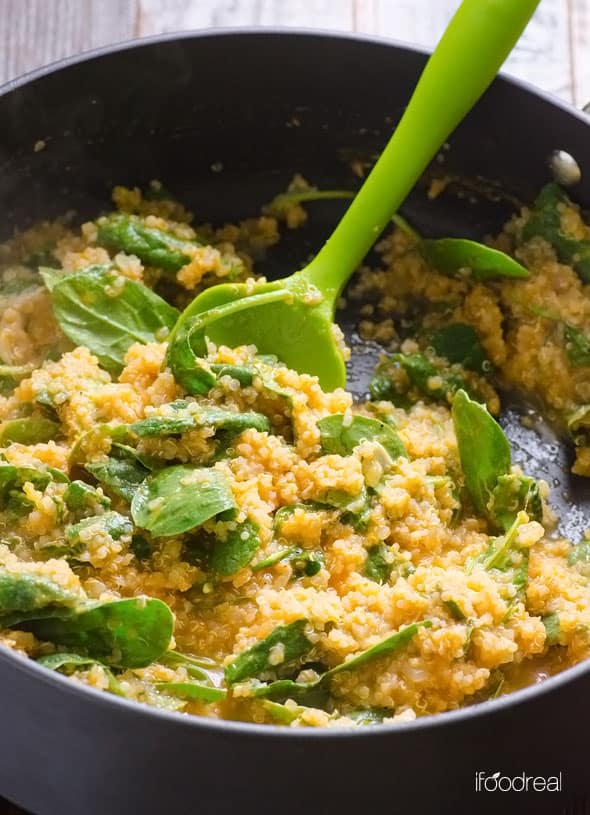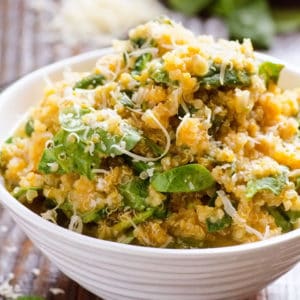 Parmesan Pumpkin Quinoa with Spinach
Parmesan Pumpkin Quinoa with Spinach is 30 minute meal with fluffy quinoa, sweet and savory sauce and fresh spinach!
Instructions
In the meanwhile, preheat large deep skillet on low – medium heat and add olive oil. Add onion and garlic, saute until translucent, stirring occasionally. Add pumpkin puree, chicken stock, salt, pepper and bring to a boil. Reduce heat to low and let the sauce simmer for 5 minutes uncovered.

Stir in Parmesan cheese until melted. Remove from heat and add quinoa and spinach. Stir gently to combine. Adjust thickness with extra chicken stock if desired. I like my quinoa saucy and hot. Because of Parmesan cheese, liquid separation with time is normal. Just give it a good stir. Serve hot.
Notes
Store: Refrigerate in an airtight container for up to 3 – 4 days.
Nutrition
Serving:
1
g
|
Calories:
329
kcal
|
Carbohydrates:
40
g
|
Protein:
16
g
|
Fat:
13
g
|
Saturated Fat:
4
g
|
Cholesterol:
16
mg
|
Sodium:
970
mg
|
Fiber:
5
g
|
Sugar:
3
g