This list of 45 Best Ground Turkey Recipes is perfect for those wanting to take advantage of this lean, lower-calorie meat for healthy, wholesome meals but aren't sure what to cook with ground turkey. This list contains one-pot, Instant Pot, crockpot, low-carb, soup, casserole, and plenty of ground turkey dinner ideas- including simple mid-week meals and meals to impress!
You can also browse through my complete collection of recipes for ground turkey, ground chicken, and ground beef!
Why These Recipes Solve 'What to Cook with Ground Turkey'?
As a healthy-eating blog, I've made it a mission to make hearty, wholesome family favorites but 'lighter.' In many cases, that means making simple ingredient swaps – like using yogurt in place of mayo/fats, sprouted spelt flour in place of white flour, and lean ground turkey in place of ground beef. While there's nothing wrong with ground beef in moderation (I actually prefer it in skillet enchiladas), turkey has become my go-to protein of choice for lighter, lower-calorie meals (that don't sacrifice fantastic flavor!). Of course, it helps that it makes for an excellent substitute for beef in almost every recipe.
Even more so, ground turkey is incredibly easy to prepare, inexpensive, mild in flavor, yet soaks up the flavors it's cooked with. All in all, this makes an excellent choice for healthier meals and inspired this list of what to cook with ground turkey. Not only does ground turkey contain less cholesterol, saturated fat, and calories than lean ground beef, but you can still choose fat % levels to mix and match with the healthy ground turkey recipes of your choice. Because of all of the above, this ingredient is a great protein choice for anyone trying to eat healthier.
Luckily, I've now compiled the below list of my 45 best ground turkey recipes – specifically designed with turkey in mind – for delicious, nutritious, and perfectly cooked results every single time. So whether you're looking for an appetizer, side, light lunch, or ground turkey dinner ideas, there's something for everyone below! Even better, many options are 1 lb ground turkey recipes – easy to use the entire pack of meat in one go!
Top Tips for Recipes Using Ground Turkey
If you're not used to cooking with this lean meat, it's easy to make mistakes in the cooking process and end up with bland, dry, or tough meat. Though the ground turkey recipes below were all designed specifically with turkey in mind – here are still a few easy tips to remember when using ground turkey!
Season the meat well: In comparison to other ground meats, turkey is leaner and blander. I like to see this as a positive, though, as it means I can get creative with my seasonings and add it to flavor-packed meals. Then, it's anything but bland!
Don't overhandle the meat: This goes for most meats, to be honest. Whether you're making meatloaf, matballs, or patties, be careful to only lightly handle the meat and mix it with any addition ingredients until 'just combined'. Otherwise, you run the risk of tough overworked meat!
Be careful not to overcook: Ground turkey is lean, which means that overcooking (even just for a few minutes) that lead to dry, crumbly, bland meat. You can use a meat thermometer to make sure the turkey reaches an internal temperature of 165F/74C so it's safe to eat without becoming overcooked.
Find simple ways to add moisture: As it is a lean meat, the reduced fat makes for less 'juicy' results. Luckily, as you'll find in the below, there are easy ways to work around this. For example, adding moisture-rich ingredients like zucchini to meatballs and patties, etc.
Adjust the fat content: While ground turkey is naturally leaner than ground beef, there are still fat % options. Make sure to use the correct one for the recipe you're making. For example, I like to use use the leanest options for meals with lots of sauce (soups, stews, etc) and slightly less lean for 'drier' recipes. It's important to note that you should pay attention to the packaging, as you are able to get ground turkey made from light or dark meat, or a combination of the two. The exact amount of dark meat will impact the fat and calorie content – with 100% dark meat containing almost as much fat and calories as ground beef.
FAQs
What does ground turkey taste like?

Unsurprisingly, ground turkey tastes like turkey! In comparison to other ground meats, it's drier and has a subtler flavor. However, it also does a great job at taking on the flavors of what it's being cooked with. That means it's excellent for adding to dishes with lots of spices and flavor – like the below list of ground turkey recipes!
Is ground turkey better for you than ground beef?

While both are nutritious, ground turkey is general far leaner than beef and contains a lower amount of saturated fats, making it the 'healthier' option for those watching their fat and calorie intake.
Should you season ground turkey before cooking?

I would recommend that you do – with at least salt and pepper. However, you'll notice that I specify whether or not to (in the recipe card) for each recipe below.
Why is my ground turkey dry?

You've likely overcooked the meat if it's too dry. Because ground turkey is naturally lean meat without much fat content, it means that it's less forgiving than fattier meats to being overcooked (even by just a few minutes). The results are ground turkey that's dry and crumbly. Be careful to follow my ground turkey recipes below to avoid dry meat!
Why is my ground turkey tough?
Like with many types of meat, over-handling and over mixing can lead to tough results. Therefore, when making any ground turkey product (like meatballs or meatloaf) that combines the raw meat with lots of other ingredients and relies on mixing, do so carefully and until 'just combined' to avoid overworking it.
What color should ground turkey be?
Ground turkey is light pink and has very little smell. The longer it sits in your fridge, it may turn slightly gray/brown. However, make sure to smell for any odd odors (especially sour) or look for slimy residue to ensure that it's OK to use.
Ground Turkey Meat Recipes
These Ground Turkey Tacos are just one of many taco recipes my family and I adore- this time as a simple 1 lb ground turkey recipe. They're saucy, flavorful, and ready in under 30 minutes. Loaded up with all your favorite toppings (like easy guacamole, pico de gallo, and Instant Pot refried beans), and it's sure to be a taco night you won't soon forget!
Transforming turkey tacos into a fully-loaded (yet Healthy) Taco Salad is a must for any Mexican/Tex-Mex loving foodie. This salad is jam-packed with ground turkey, corn and other veggies, leafy greens, cheese, and a healthy homemade dressing. The results are a filling salad perfect for serving at potlucks and picnics!
These tender, bite-sized Mexican Meatballs combine ground turkey with warm Mexican spices for a quick and flavorful appetizer, side, or part of a main! Best of all, they're baked in just 15 minutes!
For my standard Turkey Meatballs recipe, these tiny morsels of flavor ditch calorie-dense bread as a binder, instead using moist and nutritional zucchini. The meatballs are then baked to perfection with a slightly golden outside and tender, juicy middle – perfect for serving in place of regular beef meatballs!
Nothing says fall like a healthy Stuffed Acorn Squash 1 lb ground turkey recipe -with turkey, kale, and the perfect blend of warming spices. It is comforting, colorful, and loaded with earthy flavors. Plus, you can enjoy it as a simple mid-week meal or impress guests at a holiday gathering or dinner party!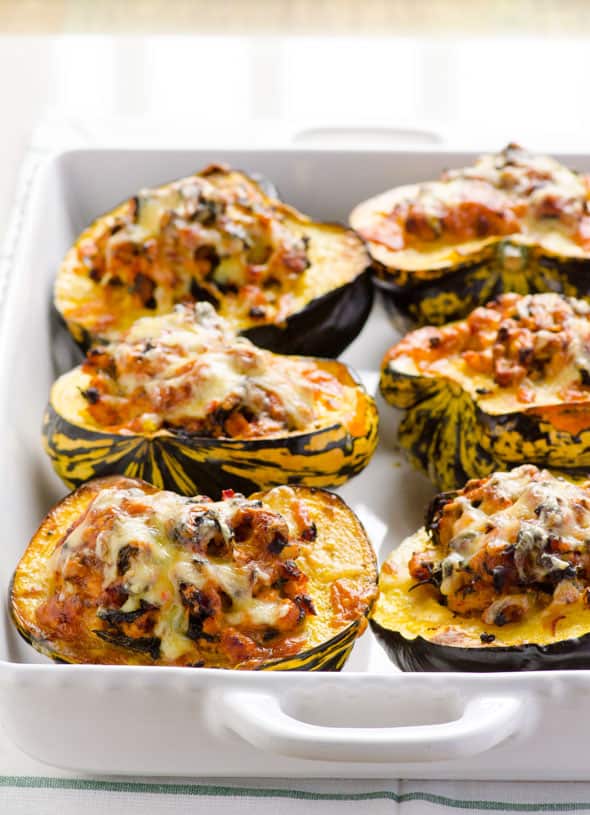 These lean Healthy Turkey Burgers are prepared with just five ingredients and are wonderfully moist and flavorful! Whether you grill them or make them on the stovetop, add them to your healthy grill recipes rotation, and they'll disappear in front of your very eyes!
This Turkey Meatloaf takes a comfort-food classic and gives it a lighter, leaner make-over. This simple ground turkey dinner idea is packed with flavor and moistness, topped off with a simple ketchup glaze for a simple, crowd-pleasing family favorite, ready to enjoy with mashed potatoes and steamed vegetables!
This Homemade Meat Sauce is a winning combination of lean ground beef and ground turkey in a delicious tomato sauce simmered on the stovetop! It's perfect for any pasta noodles and to make ahead for easy meals.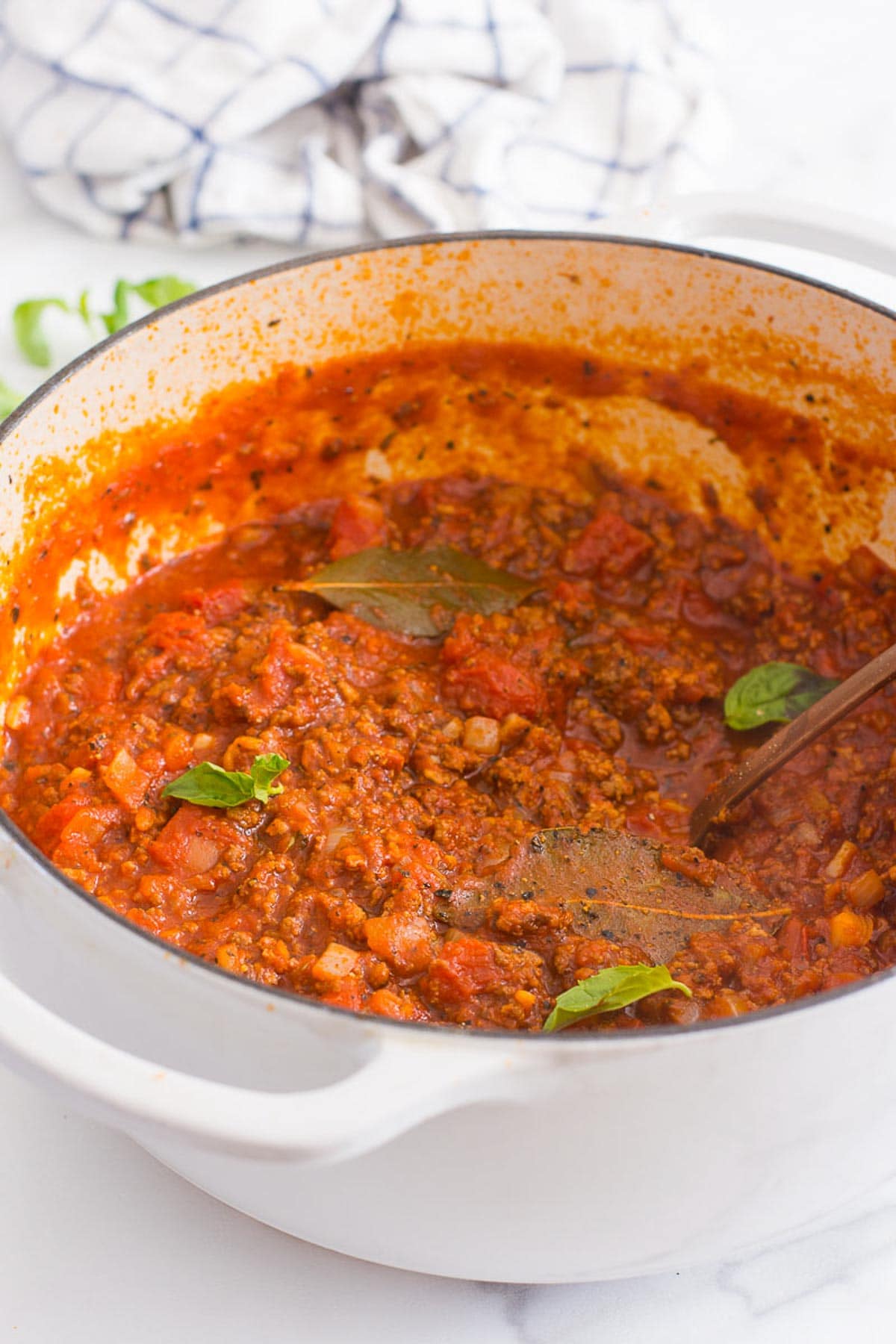 One Pot Recipes Using Ground Turkey
This Ground Turkey and Broccoli Pasta requires just one pot, 30 minutes, and is a simple 1 lb ground turkey recipe for a healthy yet hearty mid-week meal. This simple, hearty pasta dish combines ground turkey with broccoli, tomatoes, and just enough parmesan cheese to feel decadent while remaining healthy. Enjoy alone or with some bread (and olive oil dip) or a green leafy salad!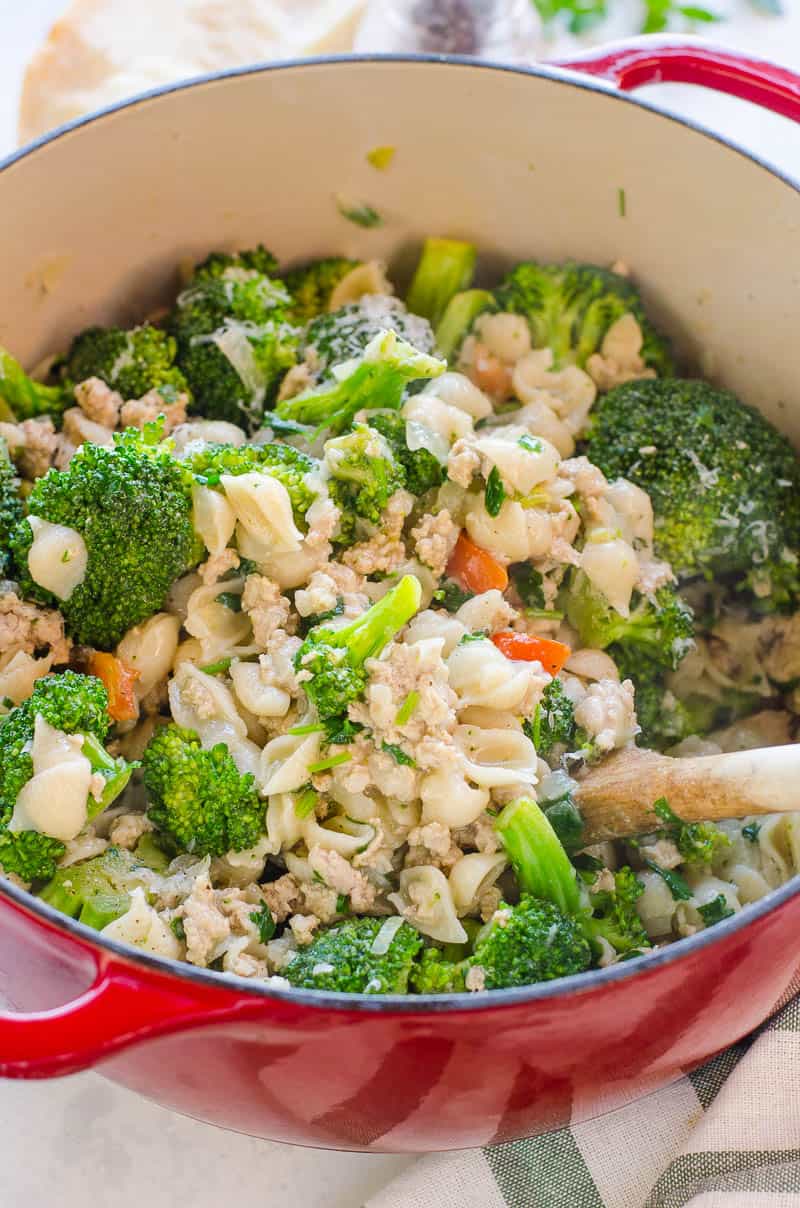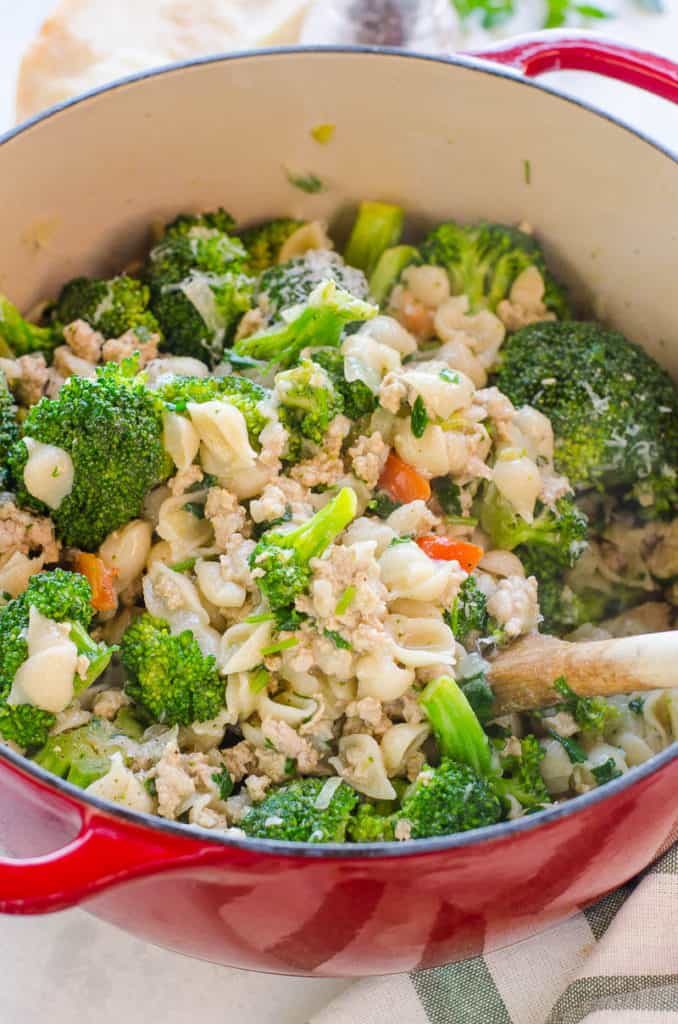 For yet another way to enjoy turkey tacos, why not try this Taco Skillet. This single pan compiles everything you love about tacos; tender, juicy protein, tortillas, cheese, and all your favorite toppings, liked diced avocado, loaded up on the top. The result is a quick and easy mid-week meal in just 25 minutes! You may also love this healthy taco pasta in one pot.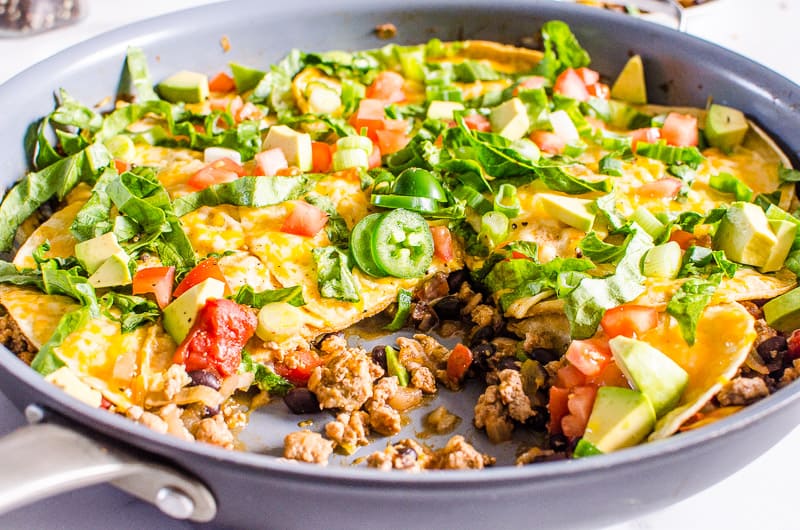 One Pot Taco Pasta with Pumpkin
This pasta dish is pure Fall comfort in a bowl and a great ground turkey dinner idea. Made in just one pot, this Pumpkin Taco Pasta is healthy, wholesome, and filling with a combination of ground turkey, peas, sweetcorn, black beans, and pumpkin, and all in under 30 minutes!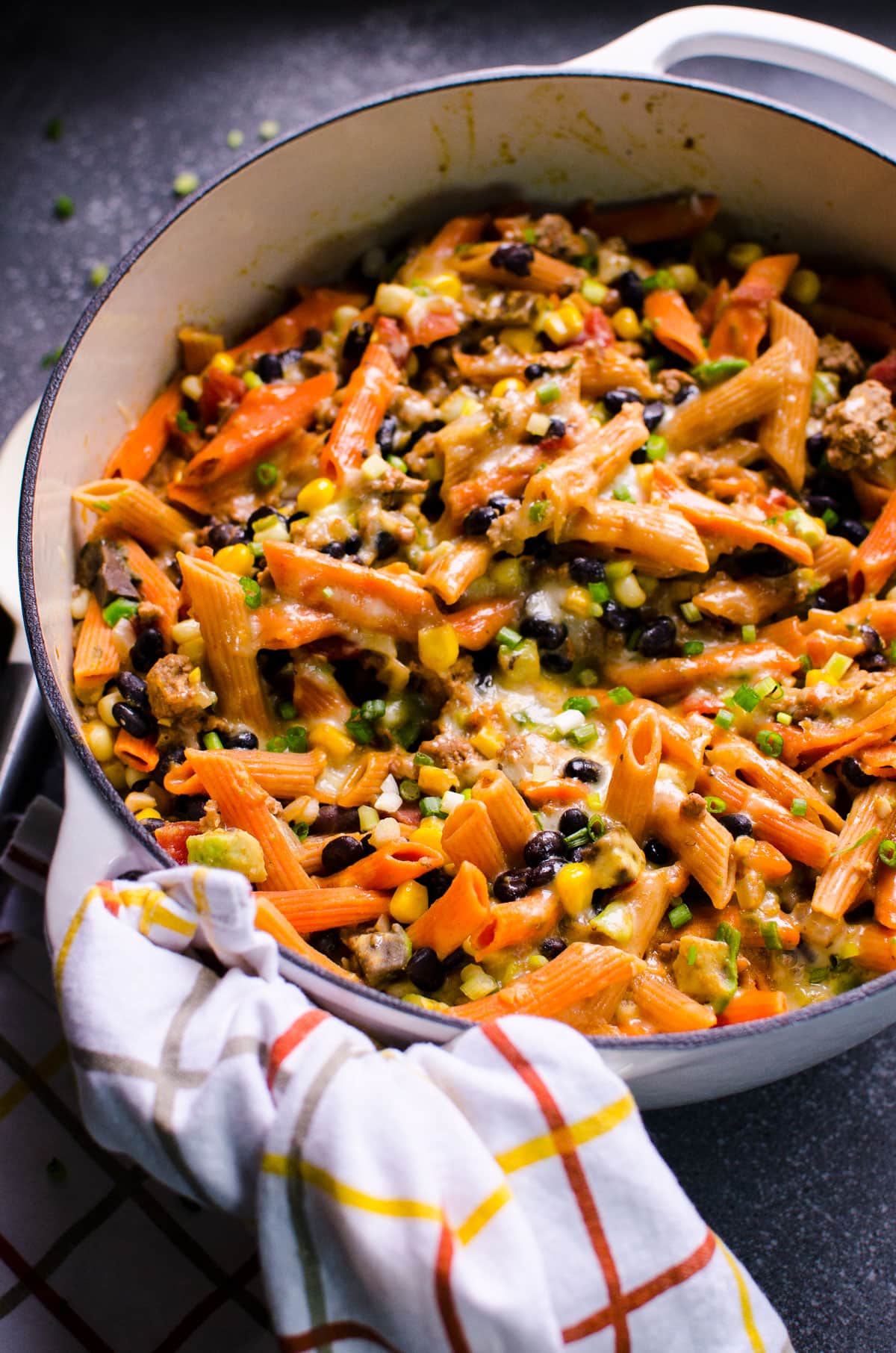 If you're looking for a simple 1 lb ground turkey recipe with minimal effort, then this one-pot Ground Turkey and Potatoes complete meal is for you! This dish combines healthy lean protein with complex carbs and nutrient-dense broccoli for a hearty, wholesome meal!
As a Ukrainian, I couldn't even begin to count the number of times I've eaten cabbage rolls. Yet, even I'm not too fond of the long and arduous process of filling and rolling each one. Luckily, this one-pot Unstuffed Cabbage Rolls combines all the traditional elements but with just a fraction of the time and effort!
Instant Pot Ground Turkey Recipes
If you love regular stuffed peppers, you're sure to love this Instant Pot Stuffed Pepper Soup. With a combination of ground turkey, rice, veggies, and a chunky tomato broth – this soup is everything you love about stuffed peppers but ready in your pressure cooker within 30 minutes.
As ground turkey dinner ideas go, this simple Instant Pot Turkey Chili is a family favorite for those cooler fall/winter months. It combines lean ground turkey with plenty of protein-dense beans, veggies, and warming spices. Using an Instant Pot, this hearty chili is cooked in just 15 minutes, yet it tastes like it's been slowly simmering all day – for rich and complex flavors!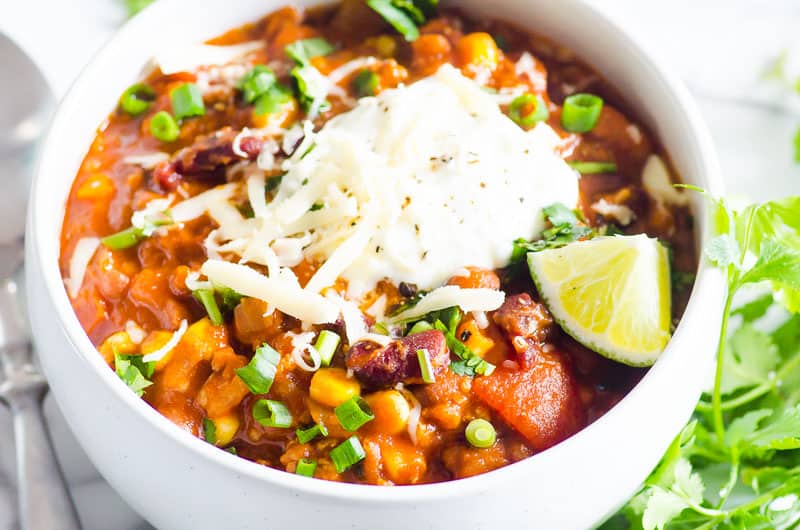 Yes, I'm at it again with another 'taco' related entry, this time in the form of a hearty, comforting soup. This Instant Pot Taco Soup combines all the best elements of juicy turkey tacos (cheese included!) for a ground turkey recipe the entire family will love!
You might have thought I was finished with the turkey meatball recipes (having already included 3 in this list so far) but, not yet! These Instant Pot Turkey Meatballs are a simple and flavorful ground turkey dinner idea, cooked with or without a sauce and ready in under 20 minutes. Even better, these meatballs can be made with any ground meat and are tender, juicy, and gluten-free – perfect for serving over mash or pasta/spaghetti!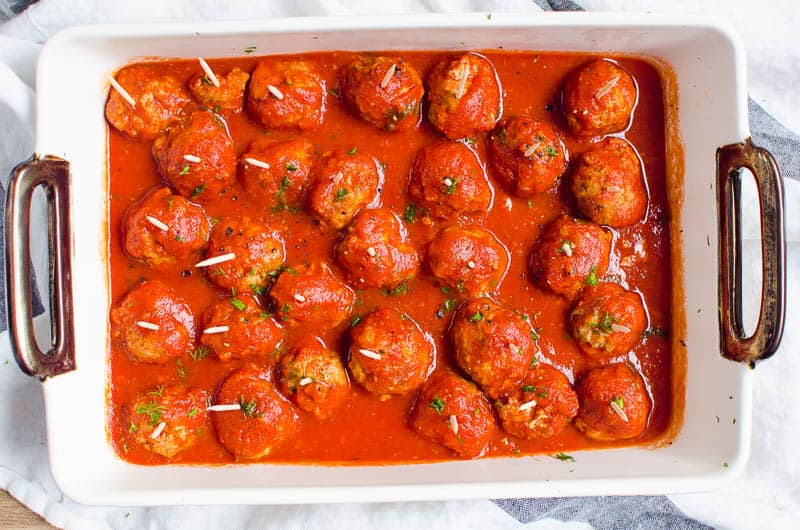 This Instant Pot Meatloaf and Mashed Potatoes is a classic comfort food meal ready in under one hour (taking just 25 minutes to cook the meatloaf!) and using just a single Instant Pot (with stackable pans) for a whole meal-in-one!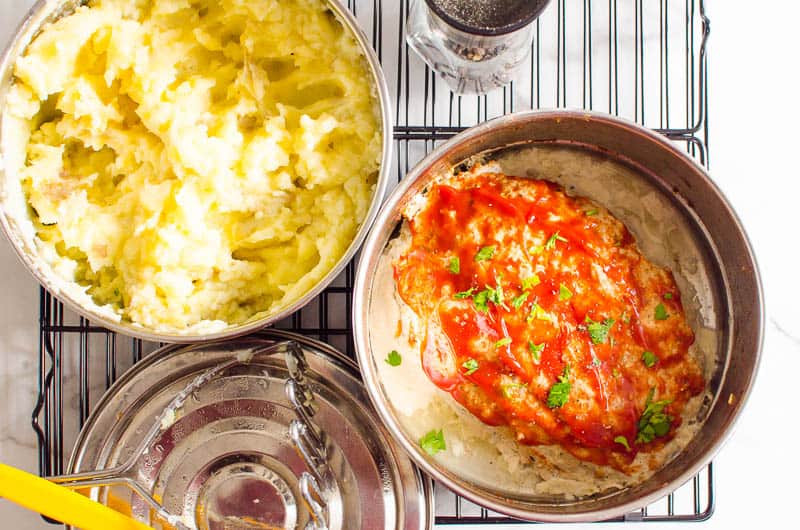 If protein is what you're after, this simple 1 lb ground turkey recipe has it! These Instant Pot Ground Turkey Quinoa Bowls combine the quinoa, ground turkey, and mixed vegetables with a Chinese takeout-inspired sauce for a healthy ground turkey dinner idea that's packed with color and flavor.
Who doesn't love lasagna?! Especially when it's been made even 'lazier,' piling up the ingredients in your instant pot and cooking to perfection. This Instant Pot Lasagna is super flavorful, comforting, and ready in no time. Plus, this ground turkey dinner idea is excellent for producing a leaner version of a family classic!
I've already shared one-pot unstuffed cabbage rolls, and now it's time to take this simple, wholesome meal to an Instant Pot. These Instant Pot Cabbage Rolls are packed with the traditional flavors but at a fraction of the time, thanks to your nifty pressure cooker!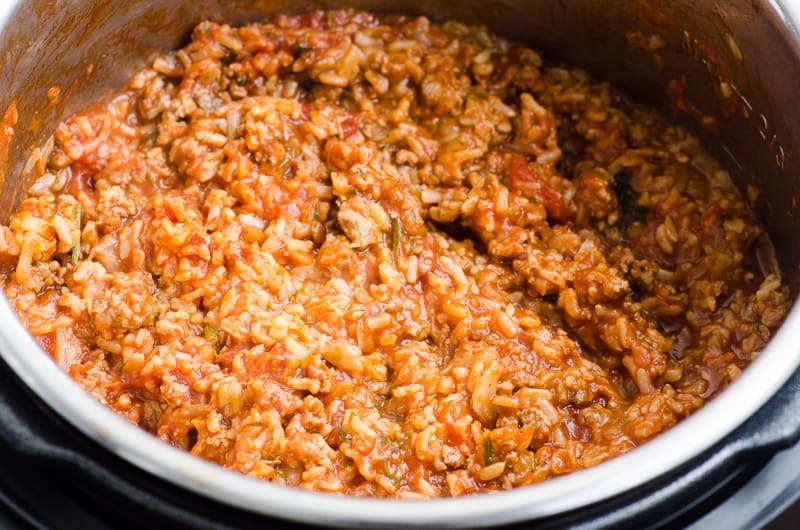 If you're looking for a simple, last-minute, mid-week meal that the entire family will love, then I introduce you to this Instant Pot Spaghetti – taking just 10 minutes to cook and 30 minutes overall. This one-pot pasta dish combines lean and tender ground turkey with a rich tomato sauce and spaghetti. Then, top it all off with a sprinkle of cheese for a meal that packs in a lot of flavor with minimal effort!
I've already shared my take on stuffed pepper soup above, but now it's time for the classic. These Instant Pot Stuffed Peppers are packed with ground beef or turkey, rice, simple seasonings, and a zesty tomato sauce. When cooked in an Instant Pot, not only is the filling cooked to perfection but the peppers steam and become wonderfully tender – no more do you have to worry about dry and unappealing looking baked stuffed peppers!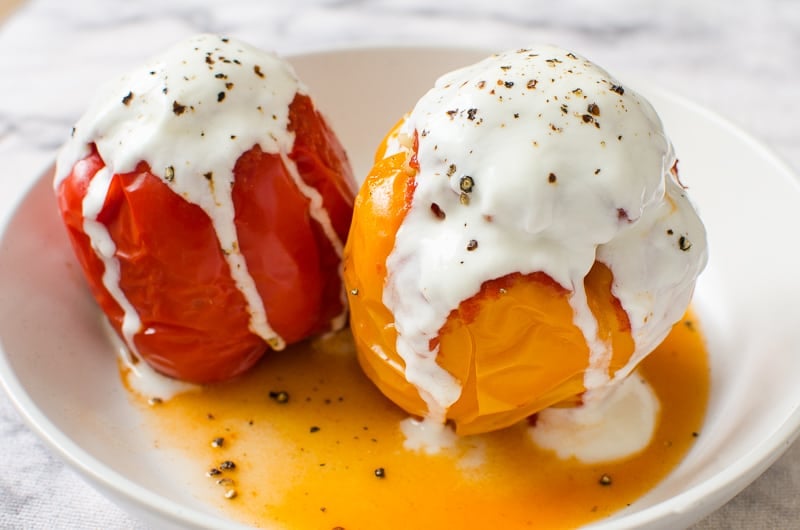 If you're wondering what to cook with ground turkey on days when you lack effort but want something hearty and comforting, then this Instant Pot Goulash is a perfect choice. Combine ground turkey (or beef) with pasta, tomatoes, and melty cheese for a one-pot meal in under 30 minutes that your family will love!
This Instant Pot Bolognese makes a delicious Italian meat sauce in just 40 minutes instead of simmering for hours. It captures all the same hearty and flavorful elements of a traditional slow-cooked bolognese sauce but in just a fraction of the time. Plus, this ground turkey recipe is leaner than the regular version yet still packed with flavor!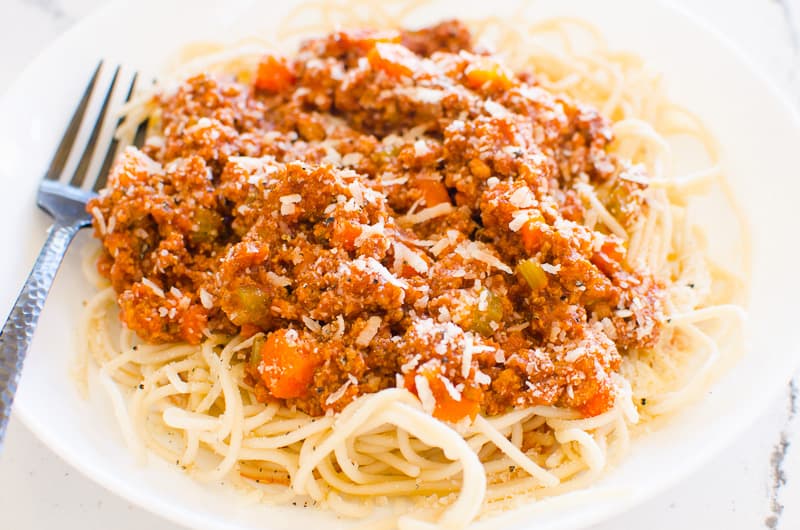 Ground Turkey Crockpot Recipes
We've already shared a baked and Instant Pot version; now it's time for a low and slow Slow-Cooker Turkey Meatloaf. Plus, this recipe is even leaner – replacing some of the meat with protein-dense lentils and breadcrumbs for oats. The result is a dish packed with protein, flavor, comfort, and yet lighter and healthier for all!
I've already shared an Instant Pot version of this dish above, but now it's time to take things back to the classics. This Ground Turkey Chili is packed with all your favorite chili elements but, inspired by The Biggest Loser, uses ground turkey for a leaner, healthier comfort classic that's low on calories but big on flavor!
This Porcupine Meatballs recipe is made incredibly easy, relying on uncooked rice, ground turkey, and eggs for hearty, flavorful meatballs that are ready to bake, slow-cook, pressure-cook, or freeze for later. Even better, these ground turkey meatballs ditch a classic tomato sauce for a flavor-packed liquid broth instead, perfect for spooning over the cooked meatballs.
Low Carb Ground Turkey Recipes
I'd say these are the last meatball entry on this list of ground turkey recipes, but I'd be lying (what can I say, I'm obsessed!). This time we're taking things to SouthEast Asia with these flavorful Thai Meatballs. These bite-sized morsels may look like regular meatballs, but they're packed with Thai flavors like curry paste, fish sauce, ginger, basil, and coconut milk- both in the meatballs and sauce. Perfect for serving over the grain of your choice for a delicious Thai-inspired dinner!
With stuffed pepper soup and Instant Pot stuffed peppers already out of the way on this list of ground turkey recipes, now it's the turn of the classic, but with a Mexican twist. These Mexican Stuffed Peppers combine flavorful ground turkey with rice (or cauliflower rice for low-carb), corn, and black beans, all mixed with a simple Mexican spiced tomato sauce then baked and topped with cheese. The results are a hearty, wholesome, flavorful mid-week lunch or dinner!
Looking for a low-carb, reduced-calorie version of a family classic?! I've got you! This Cauliflower Shepherd's Pie swaps out ground beef for lean ground turkey and tops the meaty mixture with a lower-carb cauliflower mashed potatoes recipe and just enough cheese to feel decadent without weighing down the dish!
This low-carb Ground Turkey Skillet is a summer must-try, combining lean turkey with in-season juicy tomatoes, firm-tender zucchini, flavor-packed pesto, and freshly grated parmesan cheese. The results are a low-effort, low-carb meal in under 30 minutes!
This Mexican Cauliflower rice gives Mexican rice a low-carb makeover – combining ground turkey, mixed vegetables, warming Mexican spices, and a flavorful tomato sauce with cauliflower rice. The results are a quick, simple, and tasty low-carb side dish!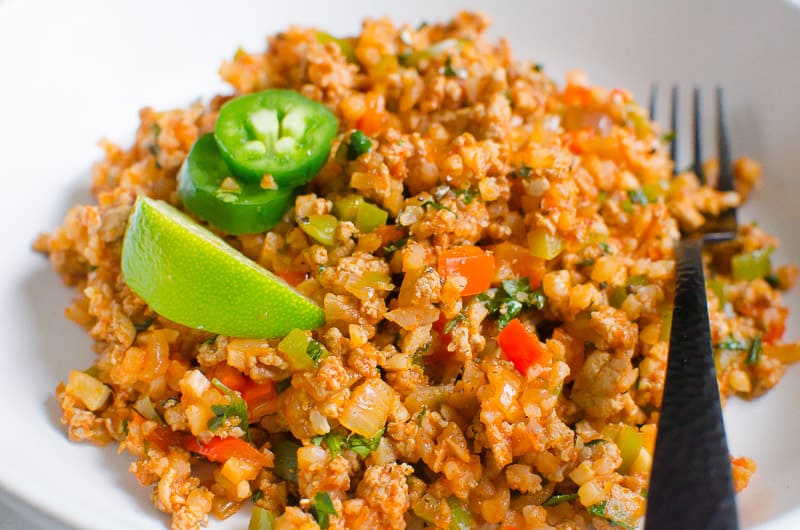 These mini Turkey Sliders are given a low-carb makeover – ditching the bun for fresh and crunchy wrapped lettuce instead. But don't worry, ditching the bread doesn't mean ditching all the magic as these turkey burgers are still topped with bacon, cheese, and all the traditional fixings – just in a smaller, healthier parcel! Perfect for serving as an appetizer or party food!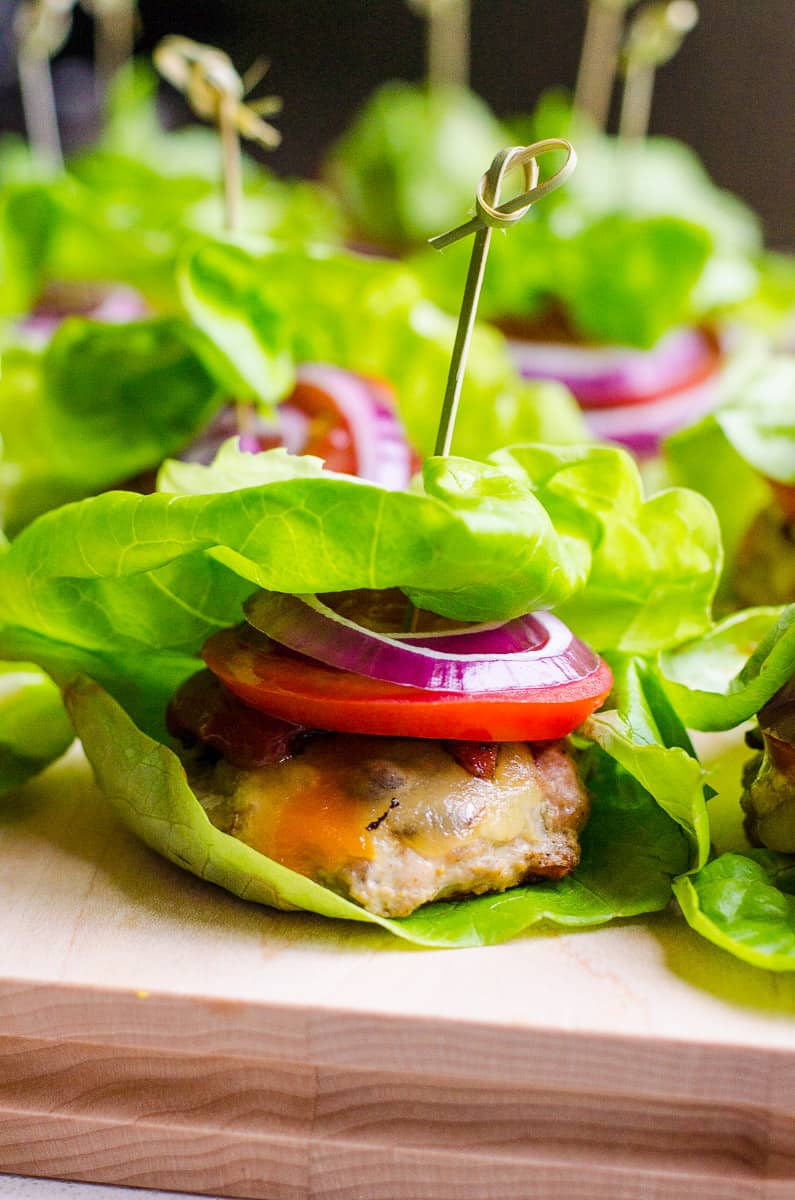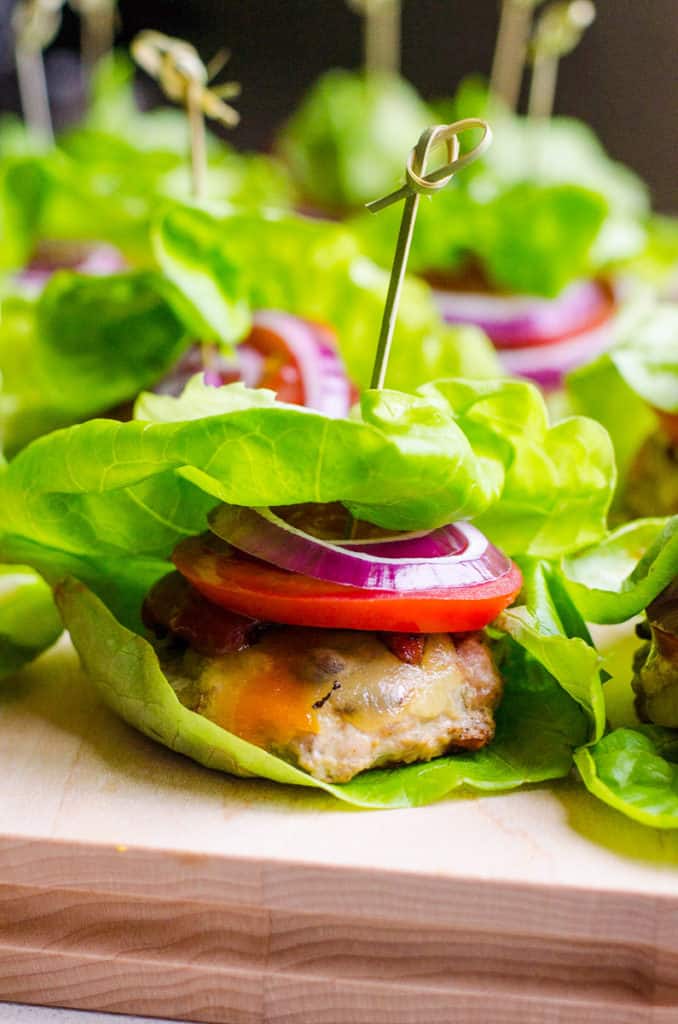 Ground Turkey Soup Recipes
Having already shared an Instant Pot version of this hearty family favorite above, this Ground Turkey Taco Soup takes things back to the classic – with a stovetop or slow cooker cooking methods. The result is an excellent ground turkey dinner idea, bursting with flavor from the turkey, beans, corn, and flavorful broth – then topped with all your favorite toppings!
This stovetop Stuffed Pepper Soup has everything you love about stuffed peppers but without all the work. It's made with simple ingredients like ground turkey (or beef), rice, bell peppers, and tomatoes for a hearty, cozy, comforting ground turkey dinner idea!
For a simple, hearty ground turkey dinner idea, then this Ground Turkey Stew has it all. This recipe combines ground turkey with cannellini beans, kale, Kalamata olives, and fresh herbs for a Mediterranean-inspired meal. Plus, this stew tastes even better on day two – perfect for whipping up a large batch and keeping the leftovers refrigerated for days.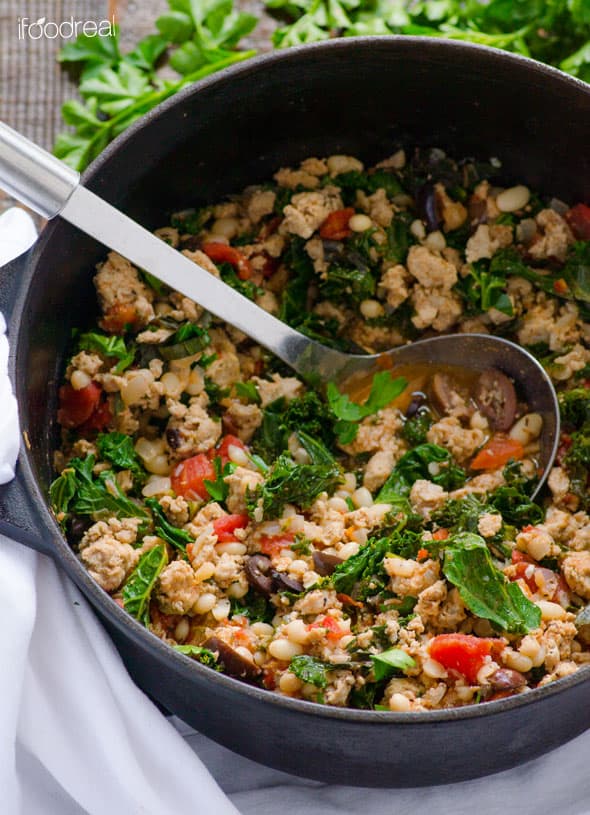 Okay, this is officially the last meatball-related recipe on this list, and we're ending on a bang with this hearty, wholesome, flavorful Turkey Meatball Soup! With a combination of mixed vegetables, pasta, and meatballs in a hearty broth, this soup is a crowd-pleaser that even your children will love, serve with olivier salad on New Years!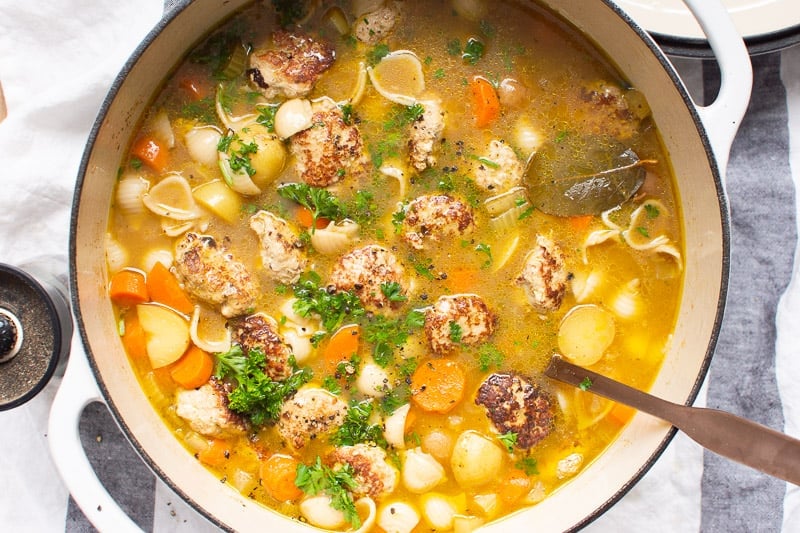 Ground Turkey Casserole Ideas
This Healthy Mexican Casserole is a simple and flavorful 1 lb ground turkey recipe, combining the turkey with veggies and beans layered between tortillas, then baked until perfection with a gooey cheese topping. The result is a healthy comfort meal loaded with classic Mexican flavors!
When spaghetti squash season comes around, I love turning to it for simple dishes like Tex Mex spaghetti squash boats, and this simple Spaghetti Squash Casserole. This 1 lb ground turkey recipe combines tender spaghetti squash with lean turkey, tomato and mushroom sauce, topped off with a panko crumb crunchy topping. The results are sure to impress the entire family!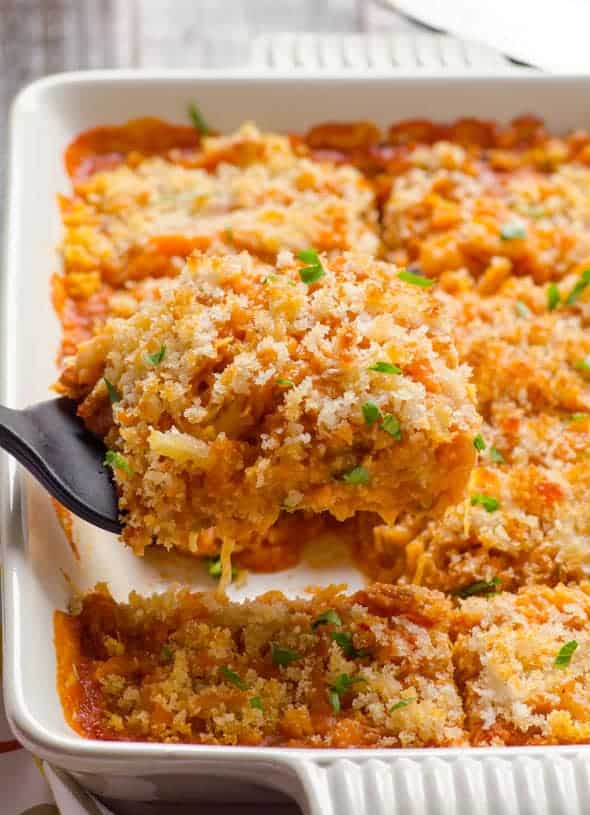 This Ground Turkey Quinoa Casserole is a budget-friendly crowd pleaser. It combines protein-dense quinoa with lean turkey, mixed vegetables, a tomato sauce, and cheese! Plus, you can even make it with leftover quinoa, meal-prep it, or freeze it for later – for a versatile ground turkey recipe!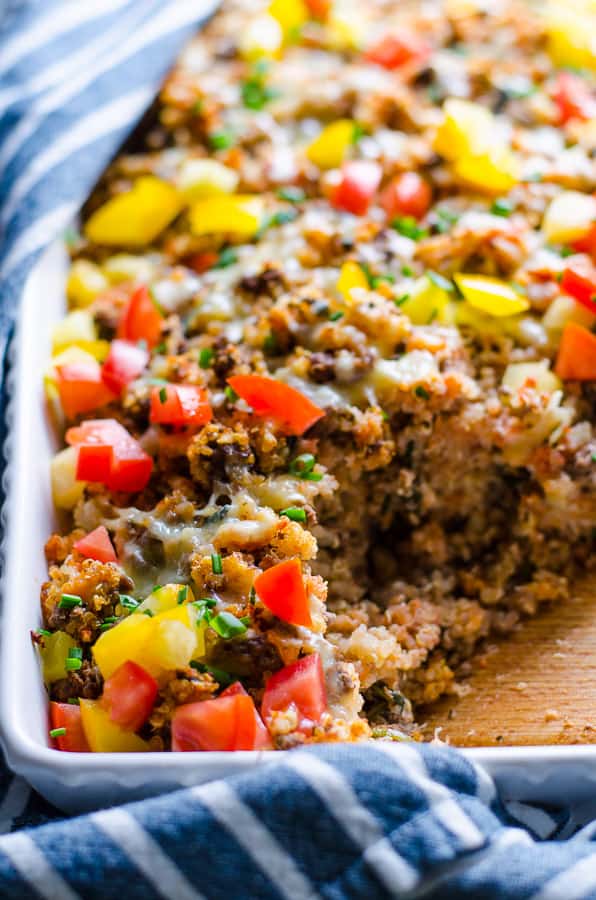 This Ground Turkey Pasta Bake is a simple and flavorful 1 lb ground turkey recipe, combining the lean meat with whole wheat pasta, kale, an aromatic flavor-packed sauce, and gooey cheese. The result is a restaurant-quality meal made with household staples!
This Zucchini Lasagna is made low carb with layers of zucchini instead of pasta and a flavorful healthier lean meat sauce and gooey cheese. This zucchini lasagna recipe is guilt-free comfort food with the traditional flavor and rich texture of classic Italian lasagna but only 318 calories per (huge) slice.
More Healthy Recipes to Try
45 Best Ground Turkey Recipes: Low Carb Ground Turkey Skillet with Pesto
Low Carb Ground Turkey Skillet is one of the best ground turkey recipes ready in less than 30 minutes! Made with simple ingredients like zucchini, tomatoes and pesto, this skillet dinner is max on flavor and will become a new family favorite.
Instructions
Add ground turkey and cook for 5-7 minutes, constantly breaking into pieces and stirring.

Add zucchini, stir and cook for another 3-4 minutes, stirring occasionally.

Turn off heat, add tomatoes and pesto, then stir.
Notes
Store: Refrigerate in an airtight container for up to 3 days. Do not freeze as zucchini do not freeze well. If this recipe is too much, cut it in half.
Reheat: Reheat on a skillet with a splash of water while covered. Simmer on low, check and stir every 3 minutes until warmed through.
Tomatoes: Regular tomatoes will work too, they just break down more.
Parmesan cheese: Freshly grated Parmesan adds more flavor.
Onion: Replace with about 1 tbsp of onion powder or flakes.
This recipe makes a lot: And since you can't freeze leftovers, if you are cooking for 2 people, cut recipe in half.
Make sure you have proper cooking vessel: I use 14″ Green Pan, this 12 " skillet might work too because it seems deeper. A Dutch oven would be great!
Stop cooking zucchini before they look ready: Zucchini contains 90% if not more water, to avoid mushy veggies, do not overcook. Stop cooking while squash still looks firm and crisp, it will get there with residual heat.
Other cheeses zucchini skillet: Instead of Parmesan cheese you can add slices of fresh mozzarella cheese and let them melt under the lid. Or even crumbled feta cheese or regular cheese.
Ground meat: Ground chicken, beef, venison or lamb will work as well.
Nutrition
Calories:
356
kcal
|
Carbohydrates:
13
g
|
Protein:
41
g
|
Fat:
16
g
|
Saturated Fat:
3
g
|
Cholesterol:
87
mg
|
Sodium:
510
mg
|
Fiber:
4
g
|
Sugar:
9
g