Healthy Carrot Cake Bars made with almond flour, no refined sugars, and all the carrot cake flavors and textures we love with a healthy cream cheese frosting to match!
This recipe is a no-fuss version of my slightly more elaborate almond flour carrot cake and healthy carrot cake!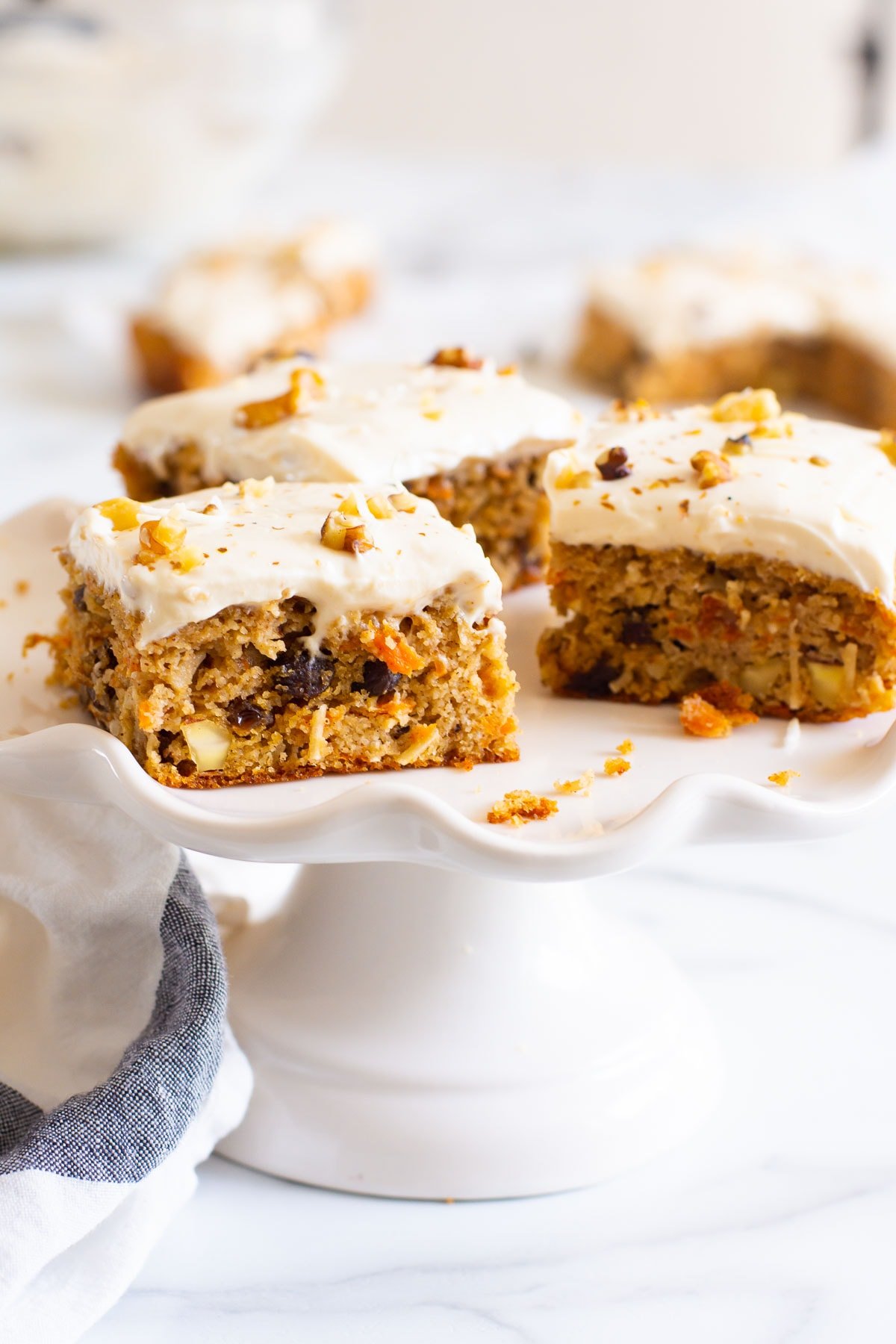 I made this one night when I was craving a deliciously moist carrot cake with a luscious cream cheese frosting but didn't want to make an entire layer cake!
As much as I normally love healthy carrot muffins, carrot cake baked oatmeal, and baked oatmeal bars with carrots, none of them were gonna cut it that night.
It had to be cake!
So, I made a shortcut version and had the best of both worlds. An easy gluten-free single-layer cake spiced with cinnamon and loaded with carrots and raisins.
Of course, I had to top it with a healthy cream cheese frosting. I mean, I was feeling lazy, but not that lazy!
Is It Carrot Cake or Carrot Cake Bars?
It's both! The ingredients are the same as a cake but in smaller quantities because you're just making one layer. Then you slice them into bars and eat them as such. They're portable which is great for packing in lunches, and an easy way to serve a paleo-friendly and gluten-free crowd.
Why You Will Like This Recipe
Carrot cake is a traditional cake reserved for occasions like Easter, Mother's Day, Christmas holidays, you name it.
Sometimes we just don't have the time to make an elaborate dessert but need something delicious and impressive. This is it. Guests will devour it and appreciate the aromas when it's freshly baked!
Ingredients You'll Need
You probably have everything you need already. If not, nothing will be hard to find!
Baking essentials: Eggs, milk, a neutral-tasting oil, pure vanilla extract, baking soda, baking powder, and salt. The oils I recommend are olive oil, avocado oil, liquid coconut oil, or even butter would be great.
Almond flour: I use super fine blanched almond flour. Not almond meal. It'll look light and almost powder-like. You can buy it at any grocery store or save money and make homemade almond flour.
Maple syrup: The flavor of maple adds another element, especially during the fall and winter. You can use any sweetener, liquid or dry, that you want. Honey is another great choice.
Shredded carrots: Freshly grate your own just before adding them in for maximum flavor and moisture.
Optional: Raisins, unsweetened coconut flakes, chopped walnuts or pecans are all classic carrot cake ingredients but totally flexible. Keep what you like and omit what you don't, based on taste, allergies, or dietary restrictions.
Cooking spray: I use misto.
Healthy cream cheese frosting: The BEST frosting made without refined sugar or butter. You also have the option of using my healthy buttercream frosting or Greek yogurt frosting.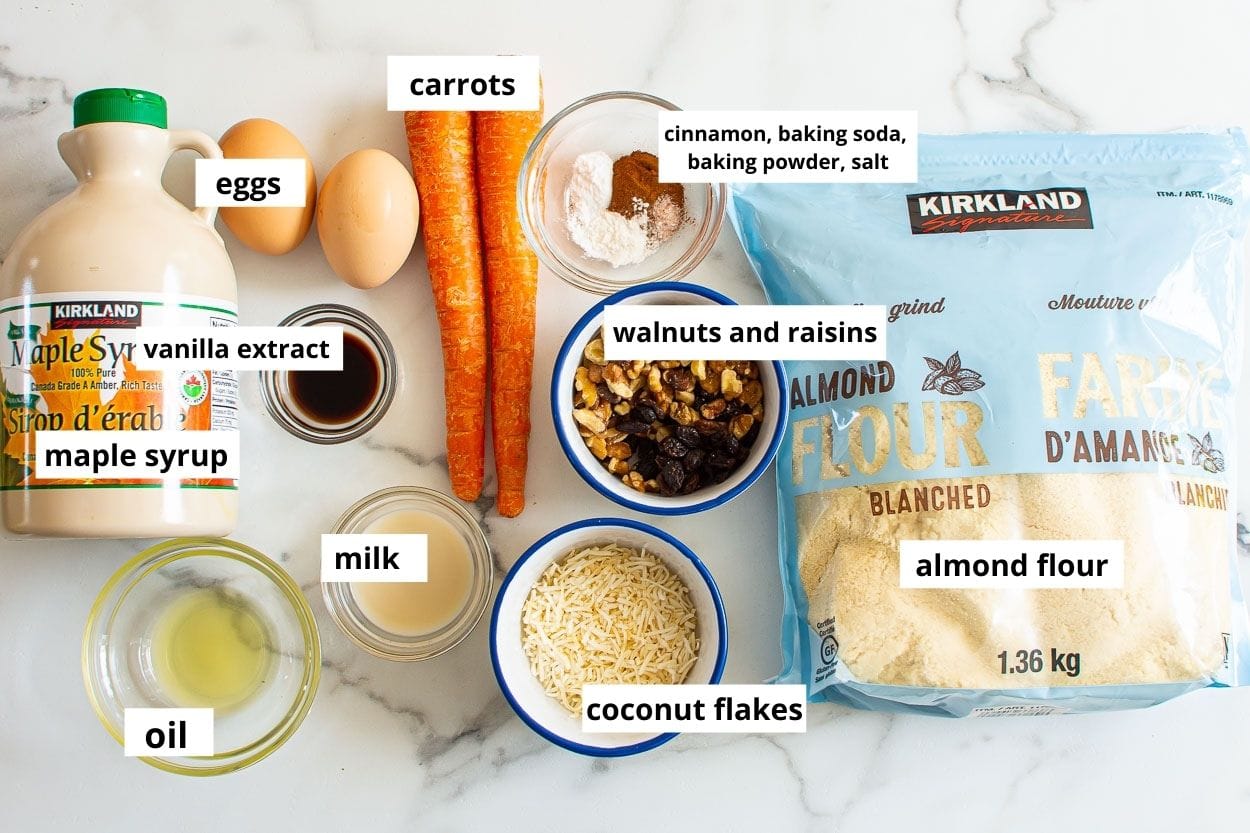 How to Make Healthy Carrot Cake Bars
Step 1: In a large mixing bowl, add everything except the almond flour and optional add-ins. This includes the eggs maple syrup, milk, oil, vanilla, cinnamon, baking soda, baking powder, and salt.
Then you'll add the almond flour, carrots, raisins, and coconut flakes and stir well to combine.
Step 2: Pour batter into a parchment-lined 8×8 baking dish that's been sprayed with cooking spray. Level it with a spatula and bake on the middle rack of the preheated oven for 30-35 minutes.
When it's ready, the edges and top will be golden brown.
Step 3: Remove cake from the oven and allow it to cool for 5 minutes before removing it from the dish. Use the parchment paper to lift it out onto a cooling rack.
Frost, only once it has completely cooled.
Healthy Cream Cheese Frosting
While the cake is in the oven, that's a great time to whip our healthy cream cheese frosting recipe! Then store it in the fridge until you're ready to spread it.
Once you've slathered a layer on top, finish it off with a sprinkling of extra walnuts. Slice into bars and enjoy!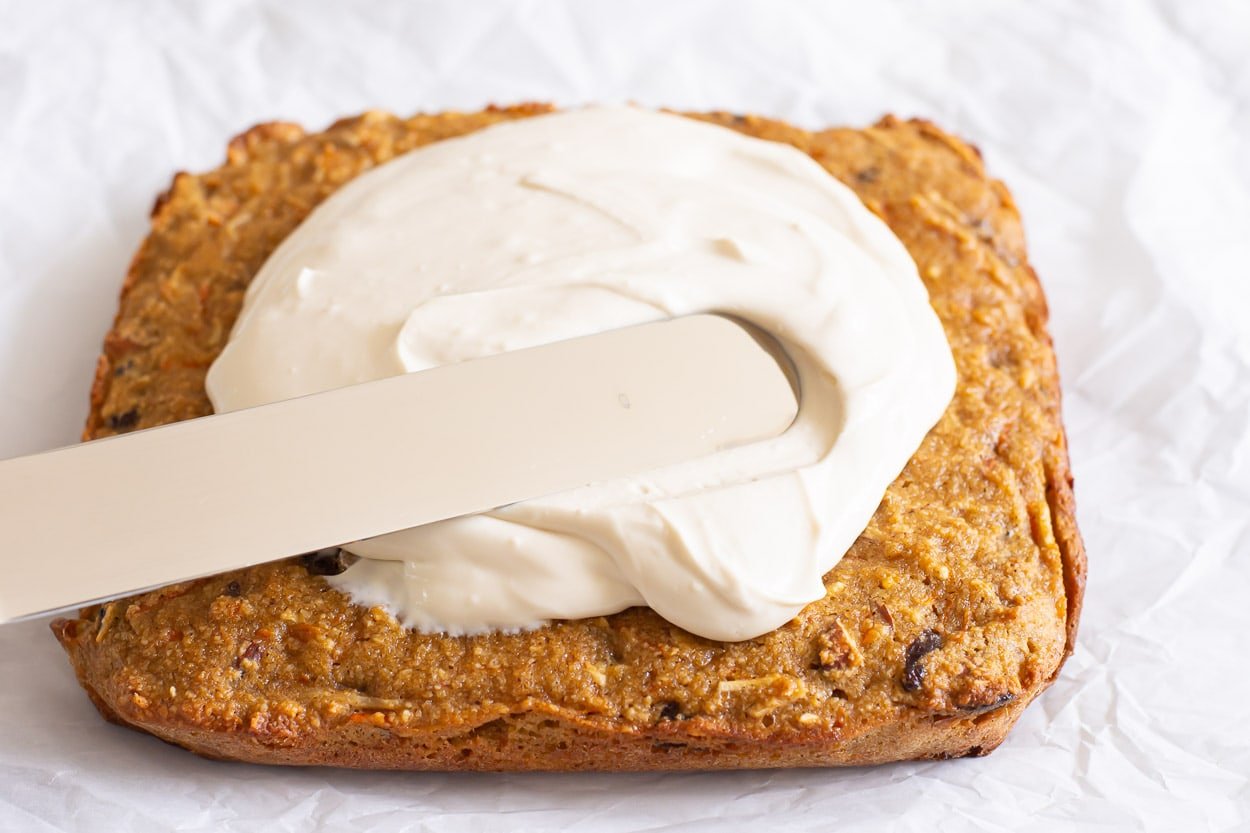 Can These Be Made Vegan?
Turn these healthy carrot cake bars into vegan carrot cake bars with a few simple swaps. Learn how to make a chia seed egg and use it instead. Also, any non-dairy milk will work.
Can I Use Any Other Types of Flour?
Unfortunately not! The properties of almond flour are pretty specific to just almond flour. Using other kinds will result in a different texture and definitely a different flavor!
If you're not interested in keeping it gluten-free, then you could bake half recipe of my healthy carrot cake and cut into bars.
FAQs
Can I add protein powder to these?
Yes, you can add one scoop of unflavored or vanilla whey or plant-based protein powder to the batter.
Can I add crushed pineapple to carrot cake bars?
Yes. Add up to 1/3 cup of well-drained and squeezed crushed pineapple or pineapple pieces.
Can I make these sugar-free?
Yes. Use any dry or liquid sugar-free sweetener like stevia or erythritol.
Can I make these into cupcakes?
Yes. Follow the same directions, fill the muffin tin to about 3/4 of the way and bake for 17-20 minutes. Use a toothpick to check to see if they're done at 17 minutes. Top with thick Greek yogurt frosting for healthy dessert!
How Should I Store Leftover Healthy Carrot Bars?
Keep them covered in an airtight container and store them in the fridge for up to 5 days.
Are These Freezer Friendly?
These healthy carrot cake bars freeze super well. I like to flash freeze them on a baking tray first. Keep them separated so they don't freeze in a clump.
Then, transfer them to a freezer-friendly bag or airtight container and pop them in the freezer. For the next 3 months, you can reach into the freezer and grab one whenever you want!
Other Delicious Spring Dessert Recipes to Try
You may also love to browse over 20 almond flour recipes!
Healthy Carrot Cake Bars (Gluten Free)
Healthy Carrot Cake Bars made with almond flour, no refined sugars, and all the carrot cake flavors and textures we love with a healthy cream cheese frosting to match!
Instructions
Preheat oven to 350 degrees F. Line square 8 x 8 baking dish with parchment paper and spray with cooking spray. Set aside.

In a large mixing bowl, add eggs, maple syrup, milk, oil, vanilla, cinnamon, baking soda, baking powder and salt. Whisk. Add almond flour, carrots, walnuts, raisins and coconut flakes. Stir well to combine.

Transfer batter into previosuly prepared pan, level with spatula and bake on a middle rack of the oven for 30-35 minutes or until edges and top are nice golden brown.

While cake is baking, make the frosting and refrigerate.

Remove cake from the oven, wait 5 minutes and then holding onto parchment paper flaps remove cake onto a cooling rack to cool off completely before frosting.

Spread frosting on top of the cake and garnish with extra walnuts. Cut into 9 bars and enjoy!
Notes
Store: Refrigerate in an airtight container for up to 5 days.
Freeze: I like to freeze carrot bars on a baking tray (not touching) until solid and then transfer them to an airtight container for up to 3 months.
Almond flour: I recommend sticking to this flour because it's quite different than others.
Oil: I used avocado oil. Light olive oil, melted coconut oil or butter are great too.
Sweetener: You can use honey or any other liquid sweetener (dry can work as well), just keep in mind taste might change (especially with honey).
Add-ins: Like raisins, walnuts and coconut flakes are for flavor, customizable and can be omitted or swapped (allergies and taste).
Frosting: You can also use my healthy buttercream frosting or all Greek yogurt frosting.
Nutrition
Serving:
1
bar
|
Calories:
187
kcal
|
Carbohydrates:
19
g
|
Protein:
6
g
|
Fat:
11
g
|
Saturated Fat:
2
g
|
Trans Fat:
1
g
|
Cholesterol:
36
mg
|
Sodium:
102
mg
|
Fiber:
3
g
|
Sugar:
12
g