My right thumb's knuckle can't heal properly because I keep grating carrots day after day, baking oatmeal breakfast bars and scooping carrot cake truffles. As I grow up, the more I follow my heart – doing what makes me happy. And right now happy means a lot of carrots baked with a million of superfoods, topped with creamy Greek yogurt "frosting" and eaten for breakfast.
Skies know, I suck at cooking breakfast more than oatmeal, so it better be ready for me in the morning. Because honestly what is out there quick, tasty and healthy for breakfast besides grains and smoothies? Oatmeal?! Bleh.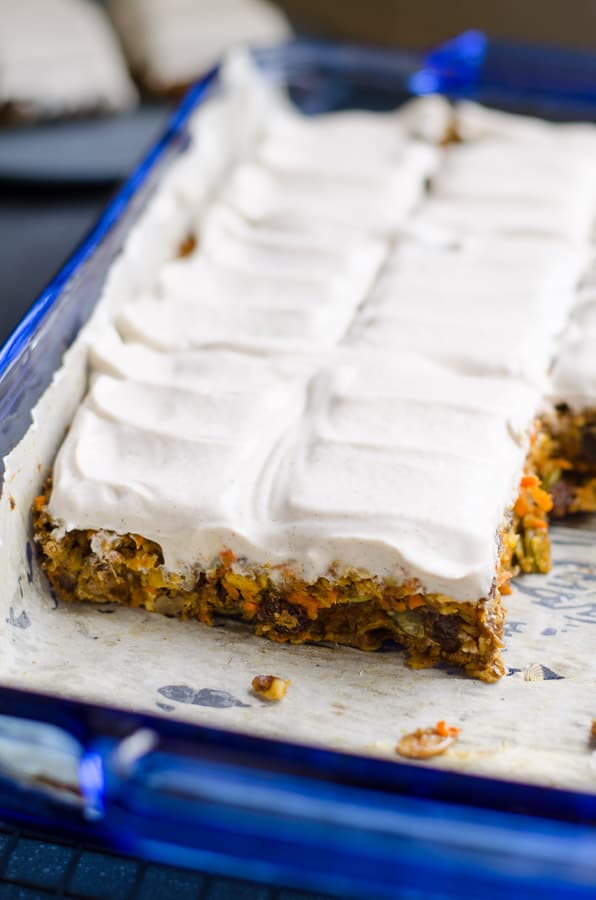 Last week I made healthy brown rice pudding, which was delicious and we have been enjoying for 3 days. Of course it got old quickly and now I totally understand the American meal rotation concept. So in a search to make oatmeal for breakfast exciting again, I decided to bake together all of the following superfoods and see what happens: carrots, raisins, walnuts, pumpkin seeds, chia, oats and applesauce.
The dough/batter (I always struggle with which one is which) will be thick and chunky. Once you press it into the baking dish, it will all bake together and you end up with baked oatmeal basically, super healthy one.
But leaving it like this is not super exciting for me, but you can. I always think of vegans how much harder it is to make sauces, spreads and anything moist for them. Would be so wonderful to just buy a tub of delicious plant based yogurt and smother it on everything but reality is different.
While I'm not vegan I do understand the importance to limit animal products and eat more plants. This week, once again we ended up surrounded by young men and women who had tumours removed and who have passed away from tumours progressing. I don't know, being healthy for me and my kids always keeps me in check, and you know when you get that kind of news you become even more cautious and aware, unless you chose to be ignorant. So in attempt to use as less animal products as possible, I successfully used 2 flax eggs instead of regular eggs. All other ingredients come from plants, yay.
But here is Greek yogurt… Oh well, here is organic Greek yogurt and it goes on my baked oatmeal breakfast bars because… it just goes there. It makes these carrot oatmeal bars balanced and wonderfully moist, and really it is not that much per bar. Last time we ate meat was Sunday, and today is Wednesday. Last night for dinner was Italian chickpea soup, for breakfast oatmeal, and for lunch again soup. I think I can have a bit of yogurt.
It is amazing how many inner struggles a woman goes through every day, right?!
2 things these healthy homemade oatmeal bars taught me:
You can use any flour – whole wheat, spelt or gluten free. Last week while shopping in Kroger, I finally picked up a bag of GF flour to try, because I get so many questions. Haven't baked muffins with it yet but I will. Again, only people with true Celiac disease (1% of humans) need to use GF flour. I was curious. Once again, gluten free doesn't mean healthy.
Greek yogurt makes a wonderful "frosting" if you drain it through cheesecloth for a few hours. Isn't it a miracle?!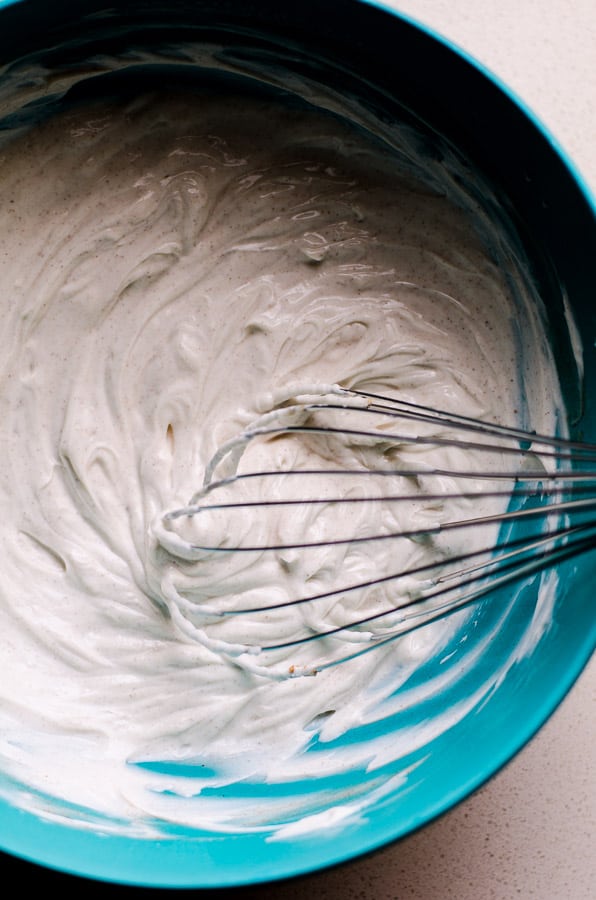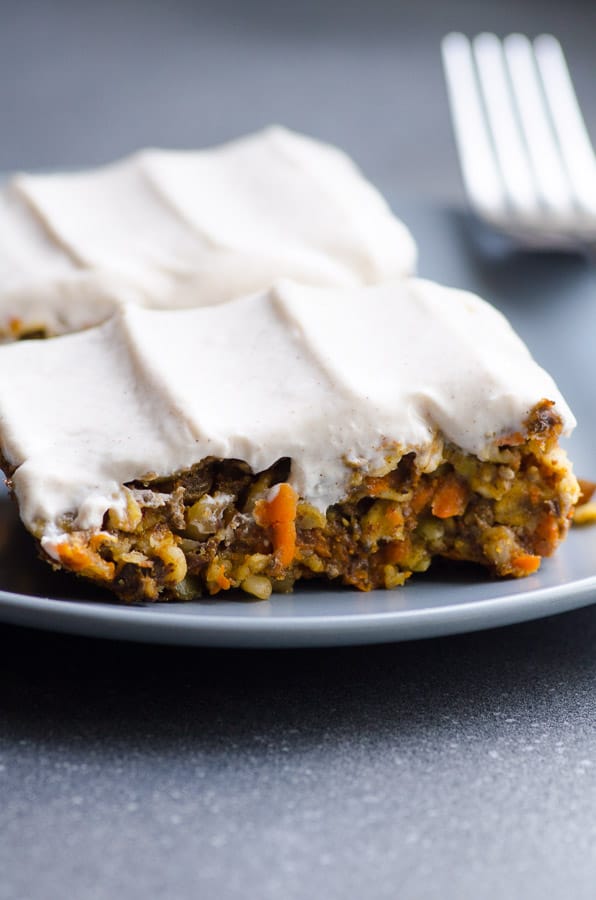 I remembered how proper tatziki recipe calls for draining seeded cucumber and Greek yogurt. And how every time I open a tub and there is whey collected on top, which I always drain (a habit). And I thought "Why don't I try to drain Greek yogurt and use as a "frosting"?". I think if you leave it draining overnight, you can make amazing farmer's style cottage cheese.
So things worked out and we have breakfast besides Nature's Path cereal and toasts for a few days again. In fact, these baked oatmeal breakfast bars are a great snack, after school and/or an hour before a sport activity. Kyle loves them, Adam hates them. But we all know the other more persistent mom to make kids eat healthy is me, so I will try again soon. Because hard work pays off and health is the most important thing in the whole entire world, and because it all starts from the inside. Health means happiness and wealth; not the cars, houses and closets (however money do help A LOT). I learnt in life, it is important to pause and analyze in order to keep things in perspective and a healthy mind.
Be healthy!
Love Carrots in Baked Goods? Try These:
Baked Oatmeal Breakfast Bars with Carrots
To die for healthy and easy Baked Oatmeal Breakfast Bars Recipe with applesauce, carrots, oats, chia, raisins, walnuts, pumpkin seeds and Greek yogurt frosting. Make once, eat all week.  Don't be intimidated by a long list of ingredients - majority are pantry items and spices.
Print
Rate
Instructions
Line

a collander

with

cheesecloth

folded 4 times and place over a smaller bowl, so it is hanging and not touching the bottom. Add yogurt and let drain in the fridge for 2-4 hours, up to 6 hours is OK.

Preheat oven to 375 degrees F, line

9 x 13 baking dish

with

unbleached parchment paper

and spray with cooking spray. In a large bowl, add eggs, milk, applesauce, maple syrup, oil, vanilla extract, cinnamon, nutmeg, baking powder, baking soda and salt; whisk well to combine. Add carrots, oats, flour, chia, raisins, walnuts, and pumpkin seeds; using spatula mix very well.

Transfer mixture to previously prepared baking dish, level with spatula and then press into the dish. Bake for 30 minutes, remove from the oven and let cool off until room temperature.

Prepare frosting by whisking together Greek Yogurt Frosting ingredients in a bowl. Then spread on top of baked oatmeal and using serrated knife cut into 16 bars.
Store: Refrigerate covered tightly with plastic for up to 7 days.
Nutrition
Serving:
1
bar
|
Calories:
279
kcal
|
Carbohydrates:
29
g
|
Protein:
10
g
|
Fat:
16
g
|
Saturated Fat:
2
g
|
Cholesterol:
22
mg
|
Sodium:
198
mg
|
Potassium:
335
mg
|
Fiber:
5
g
|
Sugar:
8
g
|
Vitamin A:
2706
IU
|
Vitamin C:
2
mg
|
Calcium:
117
mg
|
Iron:
2
mg
Join today and start saving your favorite recipes
Recipes and images are a copyright of ifoodreal.com. It is against the law to republish recipes anywhere including social media, print and all world wide web. Nutritional info is provided for informational purposes only and to the best knowledge.