Easy Healthy Lemon Bars with delicious shortbread almond flour crust and a zesty light lemon filling! These lemon squares are also naturally sweetened for a perfect spring treat!
If you love lemon desserts, check out this healthy lemon zucchini bread, healthy lemon poppy seed muffins, and lemon zucchini muffins.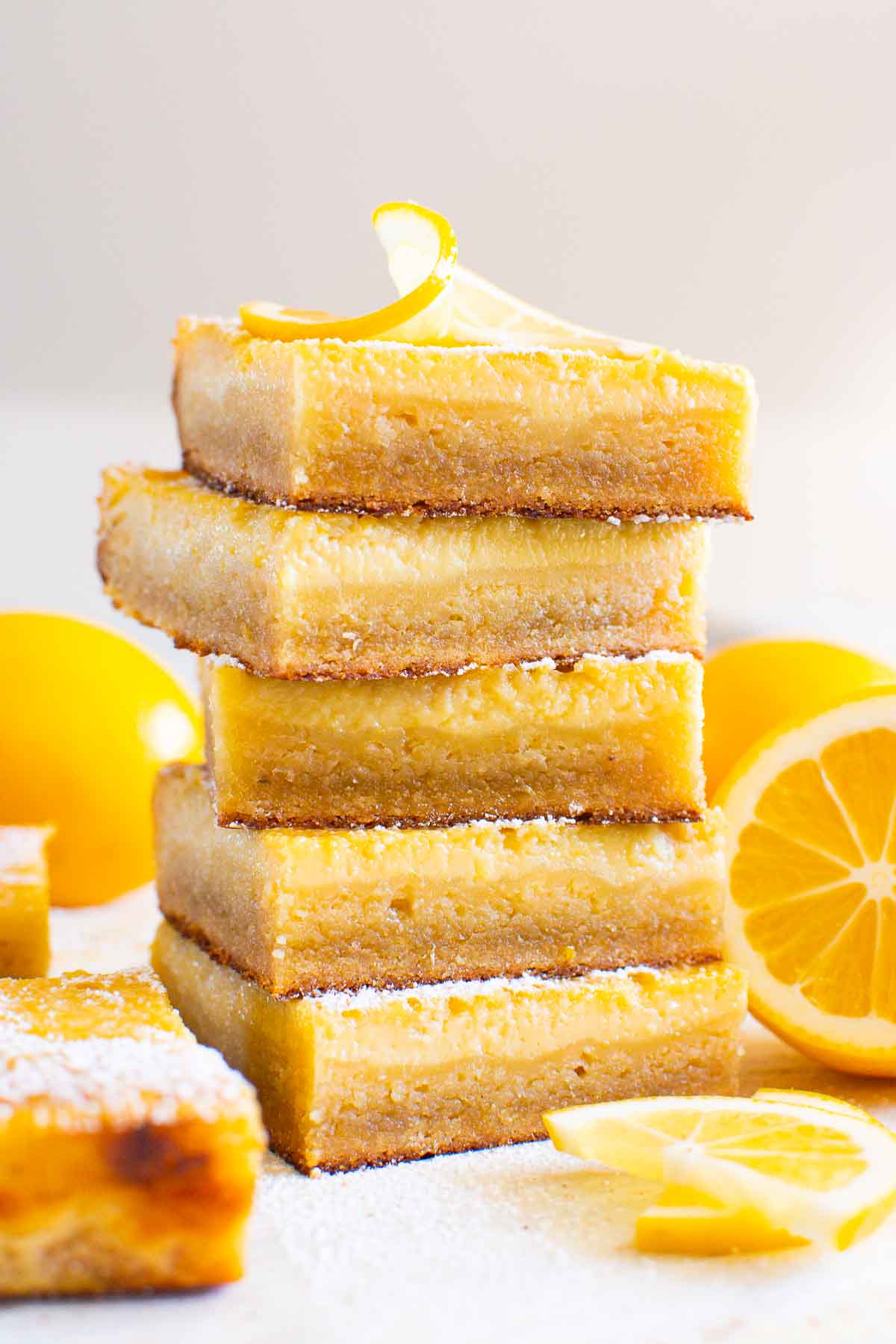 A smell of freshly cut lemon every morning when I make lemon water has inspired these healthy lemon bars. Don't you love it too?!
Unlike traditional lemon bars filled with more butter, refined sugars, and white flour, this healthy lemon bar recipe uses unrefined maple syrup, almond flour, and lower quantities of sugar and butter.
We also love these healthy lemon cookies and healthy lemon poppy seed bread come springtime. I think you should try too!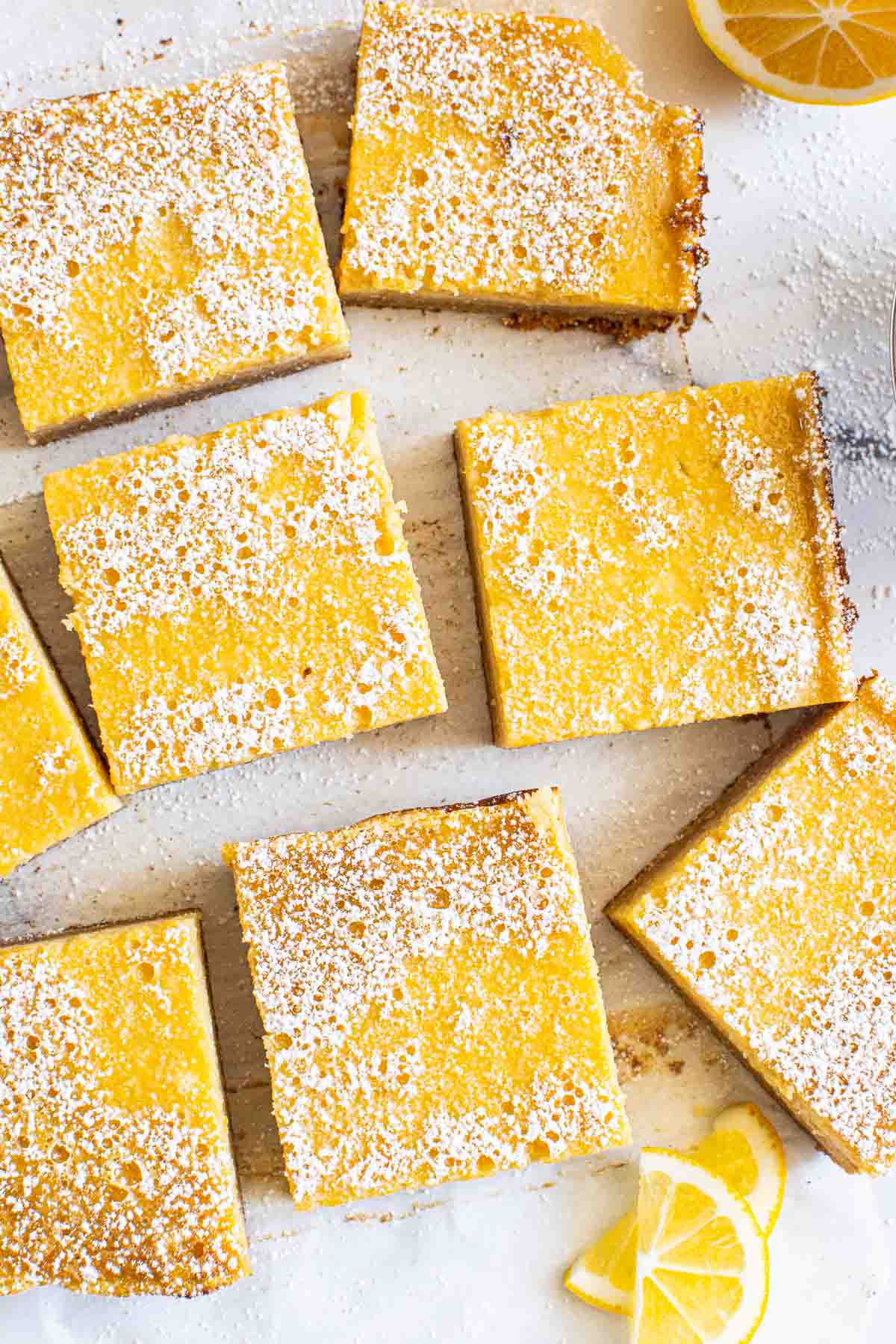 Better yet, even with those ingredient swaps, these lemon squares still taste creamy, sweet, and like most decadent lemon dessert!
In fact, these almond flour lemon bars make for a wonderful addition to any potluck, game day, BBQ or Easter party. Just keep in mind they taste best when chilled, so plan ahead. And this is the best healthy lemon bar recipe ever because it has to be chilled only for 1 hour!
You may also love to browse these 20 almond flour recipes!
Ingredients to Make This Recipe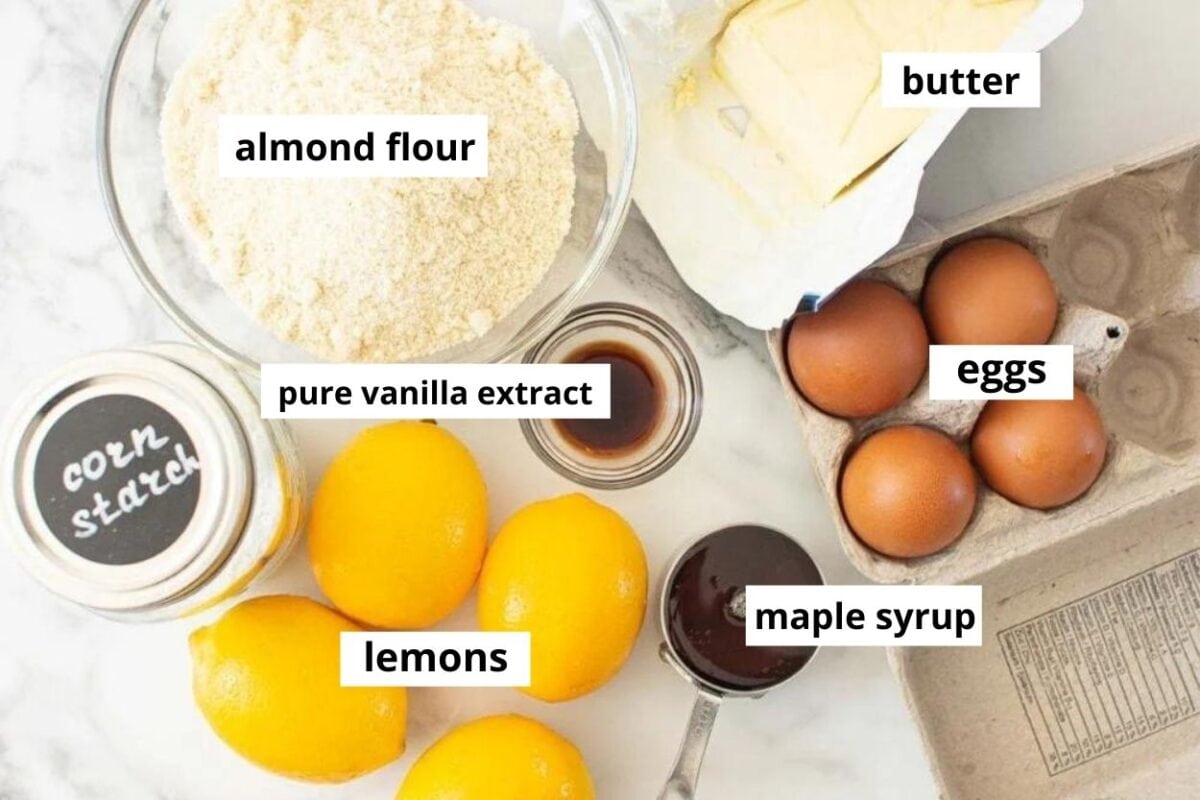 Believe me when I say these are easy healthy lemon bars. All you need is 7 ingredients and that is including vanilla extract. You can whip them up any time with simple pantry and fridge staples.
Here is a breakdown what you will need:
Almond Flour: It is the perfect choice for a healthy lemon bars recipe as it's fluffy and moist. You can use store-bought almond flour or here is quick and easy almond flour recipe. You may also be able to use almond meal.
Cornstarch: This will help absorb extra moisture in the dough. Arrowroot powder or tapioca starch would also work.
Butter: This will help to bind everything together. You can use melted coconut oil instead for dairy free lemon bars.
Eggs: You need four large eggs. No need them to be at room temperature.
Lemons: You'll need lemon juice and zest. For these healthy lemon bars, I love to use fresh, juicy Meyer lemons, not bottled juice! Regular lemons work as well and you will need 4-5 lemons. Buy an extra one in case they turn out less juicy.
Maple Syrup: It is healthier and refined sugar free. Feel free to swap it out with another liquid sweetener like agave or honey (will have a stronger flavor).
Vanilla Extract: I use pure vanilla extract for the best results.
I also use Misto cooking spray.
How to Make Healthy Lemon Bars
This healthy lemon bar recipe couldn't be easier to make. Alternatively, you could make healthy lemon squares, 12 or 18 depending on how big you want them. Or bite-sized little lemon slices, just chop each square into four smaller pieces for 36 pieces or make 16 larger squares.
Here is what you have to do:
Prep the pan and make the crust: Line an 8 x 8-inch baking dish with parchment paper, leaving a slight overhang. Stir well all crust ingredients and press into a pan. Then bake it for 15 minutes.
Make the lemon filling: Meanwhile, as the crust cooks, whisk lemon filling ingredients until there are no cornstarch lumps and egg strands left.
Bake the bars: Carefully pour the filling in one corner of the pan while crust is warm, and bake for a further 15-20 minutes, or until the lemon bar filling is firm with a slight jiggle in the middle.
Chill and slice: Let the bars cool for 30 minutes at room temperature and then about an hour in the refrigerator until firm. Then cut the square into 9 equal pieces, optionally dust with icing sugar, and serve!
Recipe Tip
If you have difficulty cutting through these healthy lemon bars, it's a good idea to wipe the knife down between each cut. That way, it'll be easier and less messy!
Love strawberries? Try these healthy strawberry bars with an almond flour crust, too!
FAQs
Can I use different flour?
I do not recommend to use a different flour. I designed this healthy lemon bar recipe to use almond flour and any other flour will act quite differently.
Can I substitute the eggs?
Unfortunately, no, I do not recommend to use any egg substitute as this gluten free lemon bars recipe relies on a custard like filling the eggs produce.

You will end up with a completely different texture and flavor.
Can you overcook lemon bars?
Yes you can overcook lemon bars. When overcooked, the lemon custard can curdle, so be careful not to whack up the heat higher than suggested or overcook them. While curdled lemon bars will probably taste OK, they don't look great.

Overbaking these healthy lemon bars can also cause the tops to crack a bit! All ovens vary and I tested this recipe in 2 ovens and baking time varied from 15 to 20 minutes.
Why did the bottom of my crust burn?
In order to prevent your crust from burning, I recommend to avoid using a glass baking dish. Use ceramic or metal baking square dish.
More Tips for Best Results
The crust floated into the filling during baking: To avoid crust mixing with the filling, make sure to check the crust for cracks after baking. Then pour filling immediately while the crust is hot and do so slowly in the corner of the pan.
Air bubbles in the lemon bars: If you have little air bubbles at the top of your baked lemon bars, don't panic. This is normal and is just air releasing and rising from the eggs. Also don't whisk too much air into the filling.
My lemon filling has white specks in it: Next time make sure to whisk the eggs better. White specks are cooked egg whites.
Adjust the lemon and/or sugar: Made a batch and wish they were more sharp or sweet? No problem, just adjust the amount of lemon juice or maple syrup next time!
How to Store Lemon Bars
You can store these healthy lemon bars in a cool, dry place for 1-2 days or the fridge for up to 5 days.
You can also make them the day before, store in the fridge and slice before serving. If you want to dust them with powdered sugar, then only do so right before serving. Otherwise, the sugar will melt into the bars.
Can I Freeze Them?
Yes, you can freeze gluten free lemon bars. Place them on a baking tray, not touching, and freeze until solid. Then transfer to a freezer-safe bag for up to three months and just pop one onto the counter (or within the fridge) to thaw. You might also like these healthy key lime pie bars!
Recipe Tip
This is a great recipe to make ahead for Easter or Mother's Day! You could also make ahead healthy carrot cake bars and make an elegant dessert platter full of seasonal treats.
More Healthy Dessert Bars
Check out my complete collection of healthy dessert recipes too!
Healthy Lemon Bars
Easy Healthy Lemon Bars with delicious shortbread almond flour crust and a zesty light lemon filling! These lemon squares are also naturally sweetened for a perfect spring treat!
Instructions
Preheat oven to 350 degrees F. Line square 8 x 8 baking dish with parchment paper and spray with cooking spray. Set aside.

In a medium bowl, add almond flour, 1 tbsp cornstarch, melted butter, maple syrup and vanilla extract. Stir with spatula until well mixed, transfer to prepared baking dish and flatten with hands and spatula into an even layer. Bake for 15 minutes.

In the meanwhile, in a large bowl, add eggs, lemon zest, lemon juice, maple syrup and cornstarch. Whisk very well until no white strands.

Remove crust from the oven and very carefully pour filling on a side on top (abrupt pouring will lift the crust). Place back in the oven and bake for 15-20 minutes or until firm but still a bit jiggly in the middle.

Remove from the oven and let cool on the counter for 30 minutes. Then transfer to the fridge to firm up for another hour.

Cut into 9 squares, dust with icing sugar (if you wish) and serve chilled.
Notes
Store: In a cool dry place for a few days or freeze for up to 3 months.
Freeze: I like to freeze lemon bars on a baking tray (not touching) until solid and then transfer them to a freezer safe bag for up to 3 months. Whenever you want one, just pop it out onto the counter or within the fridge to thaw.
Honey: You can use honey but lemon bars will have more overpowering taste of honey. It is personal preference.
Bottled lemon juice: I recommend to use freshly squeezed lemon juice for best taste.
Cornstarch: It thickens the filling and absorbs the moisture in the dough. You can substitute with arrowroot powder.
Coconut oil: I believe you can use instead of butter, I have not tested though. Butter makes crust more soft and less crumbly.
See recipe post for more tips and FAQs.
Nutrition
Serving:
1
bar
|
Calories:
294
kcal
|
Carbohydrates:
29
g
|
Protein:
7
g
|
Fat:
18
g
|
Saturated Fat:
5
g
|
Trans Fat:
1
g
|
Cholesterol:
86
mg
|
Sodium:
76
mg
|
Fiber:
2
g
|
Sugar:
19
g