Thick Greek Yogurt Frosting is made with just 3 ingredients and butter or cream cheese is not one of them! It is a simple recipe with no sugar option and it can be piped onto cakes and cupcakes.
Use it as healthy icing alternative on healthy carrot cake or healthy vanilla cupcakes!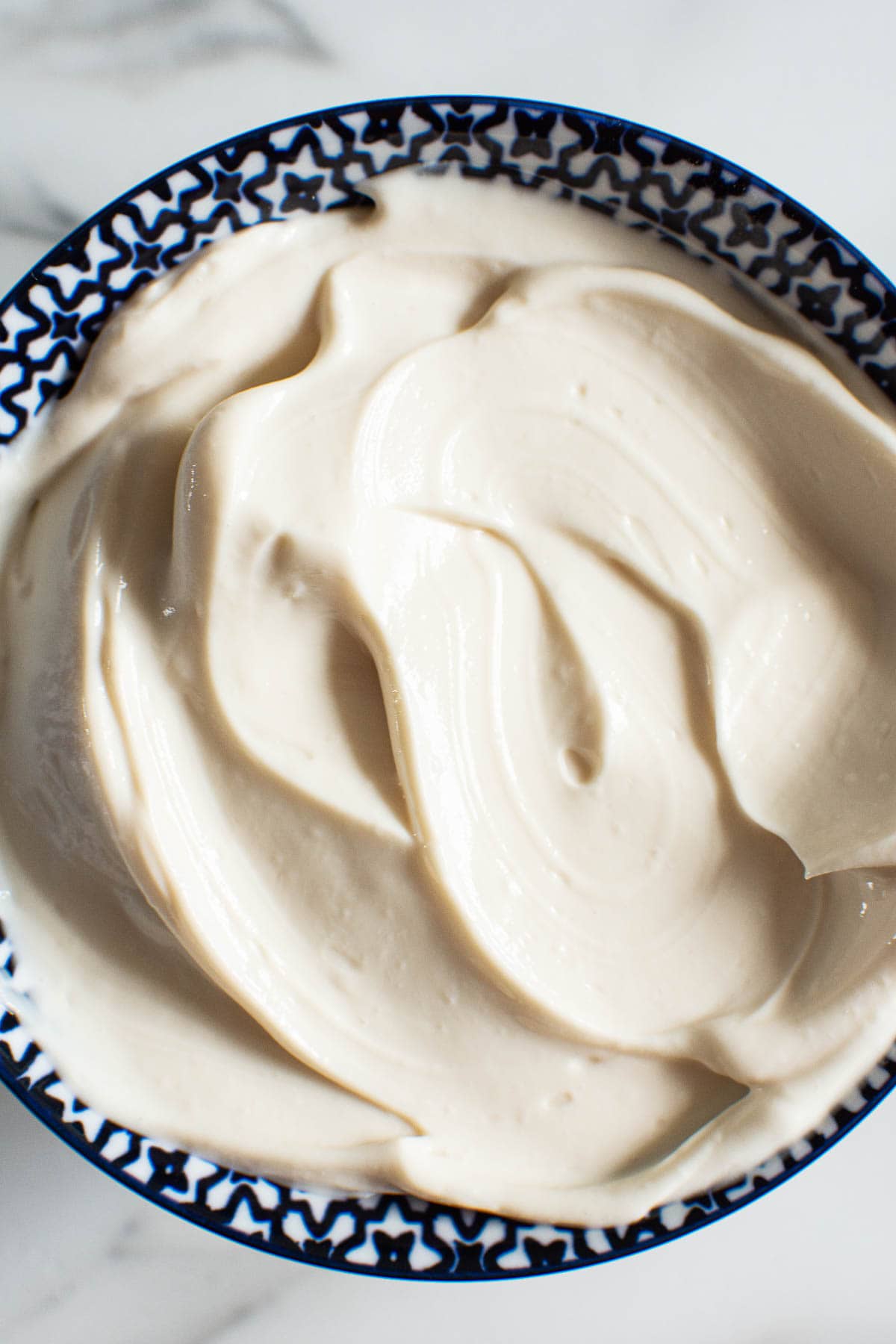 So many cakes and cupcakes deserve to be crowned with a billowy mound of silky frosting!
This healthy Greek yogurt frosting is a great no-sugar alternative to the usual icings that are heavy on sugar, butter and overly sweet.
I do love my healthy buttercream frosting and healthy cream cheese frosting but wanted something even healthier and low fat. I was curious to see if I can make healthier frosting with Greek yogurt that will hold up and could be piped onto cupcakes and cakes.
Great success!
You can either apply it onto cupcakes with the spatula and the frosting will not melt or drip off at room temperature for a few hours. Or you can pipe it.
Ingredients You Will Need
Just 3 simple ingredients go into making this Greek yogurt frosting! Exact measurements are listed in the recipe card below.
Greek yogurt: Use full fat plain Greek yogurt with at least 2% fat content. The higher the fat content, the thicker and creamier it will be. Regular yogurt will be too runny for this recipe but check FAQs for the solution.
Powdered sugar: I use Swerve, confectioners or icing erythritol, because it's made from natural ingredients. You can use regular powdered sugar or any other you like. Just don't replace it with liquid sweetener.
Vanilla extract: A flavor enhancer adding a warm element.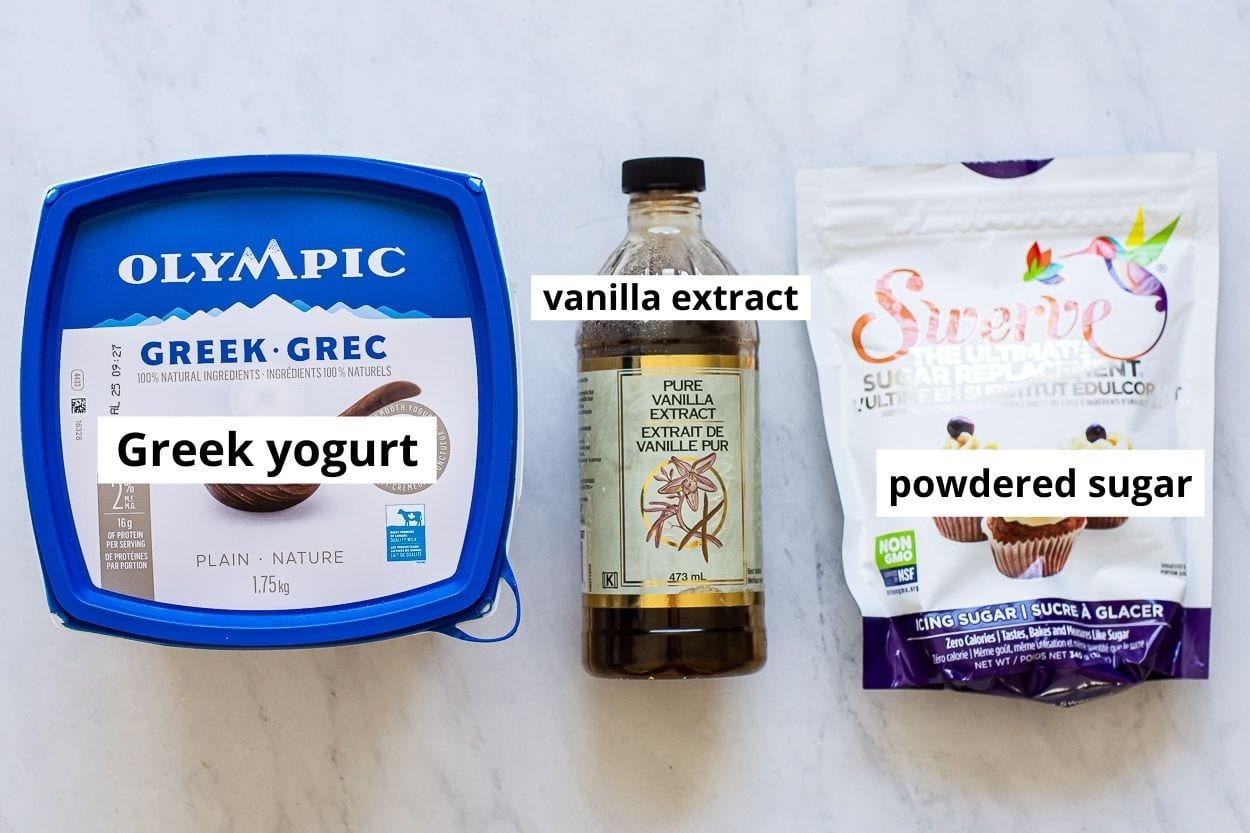 How to Make Greek Yogurt Frosting
A simple step-by-step guide to the easiest frosting with Greek yogurt!
Strain: Greek yogurt is already thicker than regular yogurt but we're taking it even further to make our frosting as sturdy as possible.
Grab a mesh strainer and line it with either coffee filters, a clean linen kitchen towel, or a double folded paper towel. Add Greek yogurt into the strainer and place it over a bowl to drain for at least 6 hours. I did mine overnight.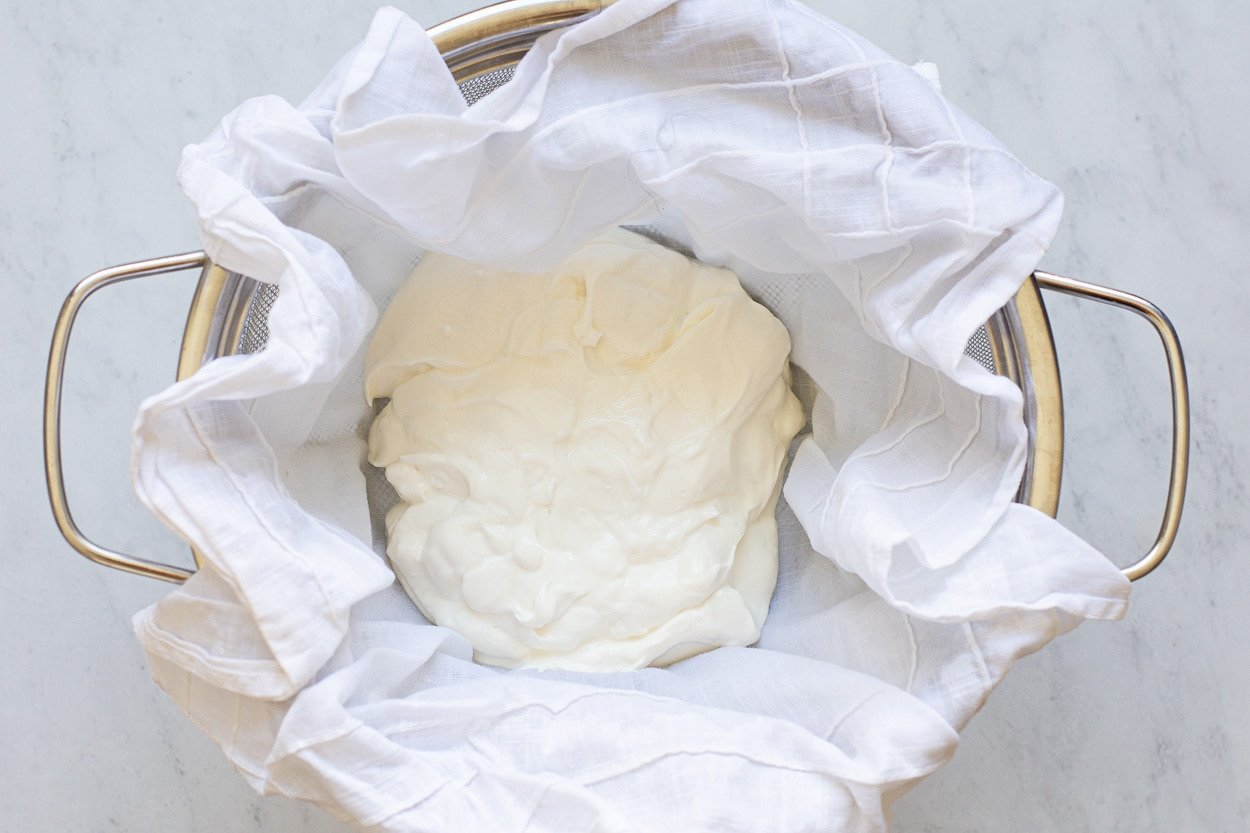 Mix and chill: Once the yogurt has been strained, combine it with powdered sugar and vanilla extract into a large mixing bowl. Use an electric hand mixer to whip everything together into a smooth and creamy consistency, for a couple of minutes. Pause and scrape down the sides as you go.
Transfer the frosting to the fridge until you're ready to use it.
Decorate: Now, the fun part! Use your healthy Greek yogurt frosting on everything! You can use it to frost an 8-9" cake or 6 regular-sized cupcakes.
When using a piping bag use a 2A tip or fill a sandwich bag and cut the tip off. You can also just use a spatula and slather it on!
Shown is 1M tip. See more info on piping below.
Tips for Frosting
Top off your cupcakes, muffins, and cakes, and level up all your baked goods!
Spread it: This method is great for spreading on cakes, layering cakes, or quick bread loaves. You have more room to make mistakes as it has a much more casual look.
Pipe it: There are two ways to pipe this sugar-free frosting for a cleaner, more elegant look. See photos of frosting on healthy lemon poppyseed muffins below for reference.
2A tip: 2A is great for softer frostings. You'll notice the tip is small and round with not too many details in a swirl design to fall apart. Press the tip in the center of the muffin or cupcake and lift while pushing frosting out. You can also use it for piping swirls in a circular motion.
1M tip: Use a 1M tip, which has a start shaped opening. It's great for making roses but you may have more success with using a traditional buttercream because it loses its shape fast. Start in the center and pipe a flat swirl.
I own this simple Wilton cupcake decorating kit and that's where my tips come from.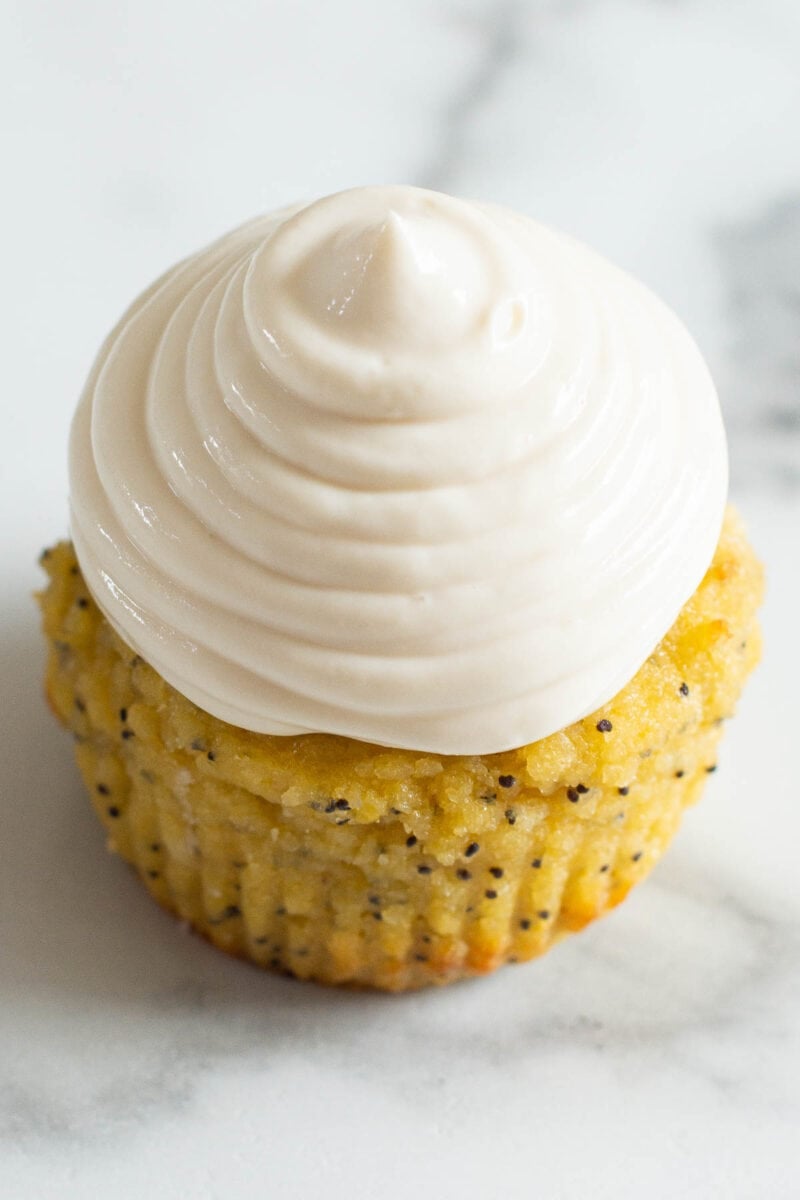 Why Strain the Greek Yogurt?
We strain Greek yogurt to get rid of extra whey liquid. We do this because we're not using any butter or cream cheese that has fat and firms up in cold temperature.
Draining it is one of the tricks we use to expel as much liquid as possible, making the Greek yogurt as thick as possible. Do not skip!
Did you know if you let Greek yogurt strain long enough, it becomes cream cheese?!
How Long Will It Hold?
First of all, my suggestion would be to pipe as close to serving as possible.
However, I have a second thought. If you slather frosting with spatula or pipe with a plain rough tip like 2A, and refrigerate immediately, frosting can hold up for up to 24 hours. In the fridge, of course.
I tested.
How To Make a No Sugar Option?
To make sugar free icing, check out options for sweeteners like erythritol, monk fruit extract, stevia, or Swerve. As long as you're using it in powdered form, it will work. I know it's confusing as Swerve is labeled "sugar" but it's not conventional refined sugar that will affect blood glucose levels.
Unfortunately, liquid sweeteners will only dilute the yogurt making it much too runny.
FAQs
How to make flavored frosting?
You can use flavored yogurt like vanilla Greek yogurt. Or replace the vanilla extract with orange, lemon, almond, or coconut extract for a change.

You could also stir in 1 cup of freeze-dried strawberries that have been blended into powder.
Can I use regular yogurt?
No, not when straining for 6 hours. However, science is that regular yoghurt becomes Greek yogurt then becomes cream cheese. I have successfully done that with my Instant Pot yogurt.

So, if you let regular yogurt strain for 24 hours, then you can use it in this recipe.
How can I make it sweeter?
My recipe isn't overly sweet and adding up to another 1/2 cup powdered sugar is OK. Adjust to taste.
My frosting turned out too thin, how can I thicken it?
There are a few options.

You can place it in the fridge uncovered for a few hours or better overnight, if you have time. Water will evaporate thickening the icing.

Another option is to add more powdered sugar and whip. My recipe isn't overly sweet and adding up to another 1/2 cup sugar is OK.

Also know that traditional powdered sugar does contain cornstarch and it can thicken it more.
How long can Greek yogurt frosting sit out?
I would say frosted cupcakes can be left at room temperature for 2-3 hours. On a hot summer day less, about 1 hour.

But throughout the year I can confidently say you can display a tray of cupcakes at a birthday party and they will hold up.
How to Use Greek Yogurt Frosting
As written, this recipe will make enough frosting to top 6 regular-sized cupcakes or muffins. You can also use it sparingly for a 8 or 9 inch layered cake or 9 x 13 inch sheet cake.
I think it is strong enough to be used in the middle of a cake. If that's your plan, strain the yogurt overnight, preferably.
Use frosting made with yogurt on healthy birthday cake or healthy carrot cake bars.
Heck, use it as a fruit dip for a fresh fruit snack!
How to Store Leftovers
Keep leftover healthy Greek yogurt frosting in an airtight container in the fridge for up to 5 days.
You can also freeze it for up to 3 months and thaw it overnight in the fridge. In both cases, you'll want to re-whip it before you use it.
More Healthy Frosting Recipes
More Healthy Greek Yogurt Recipes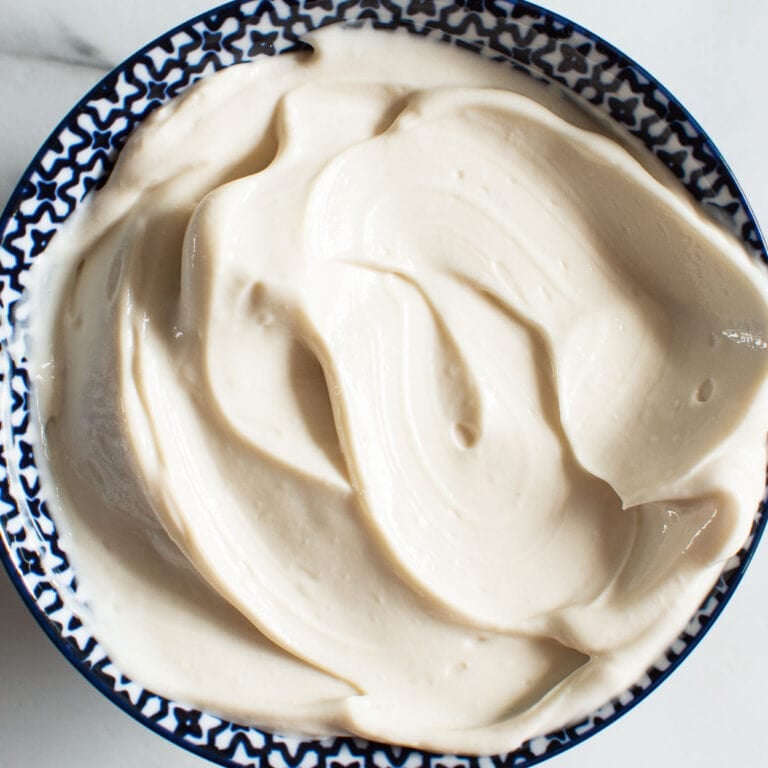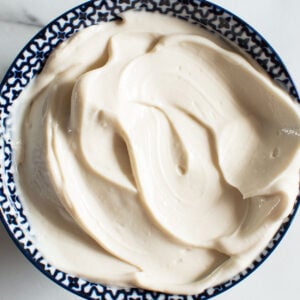 Thick Greek Yogurt Frosting for Cakes and Cupcakes
Healthy Greek Yogurt Frosting is made with just 3 ingredients and butter or cream cheese is not one of them! It is a simple recipe with no sugar option and it can be piped onto cupcakes and cakes.
Instructions
Line mesh strainer with coffee filters, linen kitchen towel or double folded paper towel, add Greek yogurt and place over a bowl to drain. Place in a fridge to drain for at least 6 hours or preferably overnight (I did). Don't skip this step otherwise frosting will be too runny.

In a large mixing bowl, add strained yogurt, powdered sugar and vanilla extract. Using an electric mixer on high speed, whip all ingredients until smooth and creamy, making sure to pause and scrape down the sides. Should take about 2 minutes. Refrigerate until ready to use.

Use frosting on a recipe of choice. This amount is enough to frost a 8-9 inch cake or 6 cupcakes. If using piping bag, use 2A tip (see recipe post for how). Or fill a sandwich bag, cut off the tip and pipe the frosting. Also can spread with spatula on cupcakes.
Notes
Store: Refrigerate for up to a 1 week. Rewhip before using.
Freeze: Freeze frosting in an airtight container or up to 3 months. Thaw in the fridge overnight.
Yogurt: You have to use Greek yogurt and not regular yogurt!
Sweetener: Maple syrup or any liquid sweetener will not work.
Nutrition
Serving:
4
tbsp
|
Calories:
43
kcal
|
Carbohydrates:
18
g
|
Protein:
7
g
|
Fat:
1
g
|
Saturated Fat:
1
g
|
Trans Fat:
1
g
|
Cholesterol:
3
mg
|
Sodium:
24
mg
|
Sugar:
2
g