The best word to describe this healthy coffee cake is moist. The dough itself was very moist from applesauce, topped with juicy berries + crunchy crumb topping and drizzled with coconut milk "icing". Definitely you can bring it to any potluck or gathering and nobody would guess this cake is healthy.
My family was all over it. Boys had it for after school snack every day. I gave a few pieces to my Italian neighbour and she said it was amazing. You know how Italians are with their desserts.
I have tested this healthy coffee cake recipe with spelt and whole wheat flours, both cakes turned out amazing. I used only 1/2 cup maple syrup per entire recipe.
Frozen berries are a perfect way to naturally sweeten quick breads, cakes and muffins. I find most people always have frozen berries in the freezer. I used a mix of these berries and local blueberries. Any frozen fruit would work. My frozen figs would be great too. But if you are making this recipe in summer, of course go for fresh berries.
This coconut drizzle is to-die-for. Looks like icing, doesn't it?! You can use any canned milk, light or full fat. It adds another layer of deliciousness to this whole wheat coffee cake.
As for slicing, it's up to you. First time I cut the cake into 9 slices and found myself cutting a slice in half sometimes. Alex didn't have that issue. Then I sliced it into 16 pieces and found those too small. So, it depends what you feel like and who you are serving. For a potluck, I would cut it in 16 squares for sure. For enjoying at home, I would leave it at 9 pieces per cake. It is only 300 calories and 17 g of sugar per a giant piece.
Enjoy and check out my other frozen berries recipes: blueberry oatmeal crumble bars, quinoa breakfast bake and healthy blueberry muffins.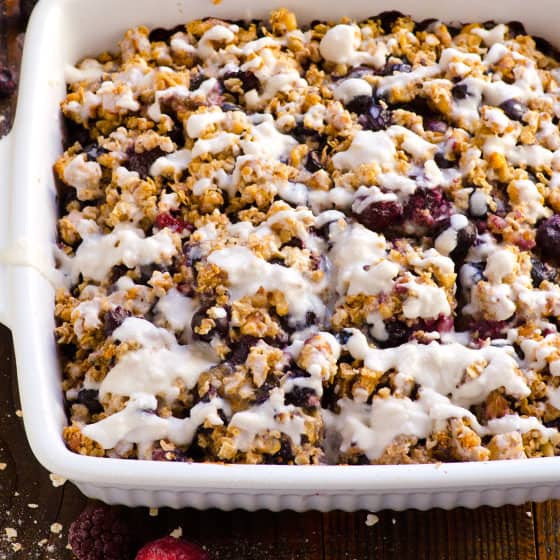 Healthy Coffee Cake
Super moist healthy coffee cake recipe with applesauce, whole wheat flour, berries and the best drizzle in the world. Nobody would guess it is healthy.
Print
Save
Rate
Ingredients
Instructions
Preheat oven to 350 degrees F and grease 8 x 8 square baking dish with 2 tsp coconut oil. Cake pan, angel food cake pan or a bundt cake pan work as well. Set aside.

Make crumb topping: Stir together oats, walnuts, cinnamon and salt. Add maple syrup and coconut oil, and mix until combined. Set aside.

In a medium mixing bowl, stir flour, baking soda, cinnamon, nutmeg and salt. Set aside.

In a large mixing bowl, beat eggs with a mixer on high speed until fluffy, about 2 - 3 minutes. Slowly add maple syrup, then applesauce and finally coconut oil, continuing to mix with a mixer. When all liquids are well combined, reduce speed to low and slowly add flour. Stop mixing as soon as batter forms.

Pour batter into greased pan, lay berries on top, sprinkle with reserved crumb topping and bake for 55 minutes or until a toothpick inserted in the centre comes out clean. Let cake cool on a wire rack for about 1 hour (so drizzle doesn't melt).

While cake is baking, in a small bowl, whisk together coconut milk and maple syrup. Drizzle on top of cooled cake otherwise drizzle will melt. Serve at room temperature.
Store: Refrigerate covered for up to 4 days. Freeze in an airtight container for up to a few months.
Notes
To bring eggs to room temperature quickly, place in a bowl with hot water for 10 minutes.
To soften coconut oil, I place it in a glass jar, in a bowl with hot water for a few minutes. You don't want coconut oil to melt, just to soften like butter.
Any frozen fruit like mango, figs or pineapple can be used.
I break walnut halves into pieces by squishing them hard in my hands.
If using full fat coconut milk DO NOT shake the can. Use the cream on top and add a tbsp or two of any milk or water to make it easier to drizzle.
Some brands of milk, like Thai Kitchen, need to be placed in the fridge overnight to have that cream accumulate on top. You can do that or place whatever amount you want to drizzle in a small bowl in the fridge for 15 minutes to thicken before drizzling.
If using light milk, do not dilute with extra milk or water and place in the fridge for 15 minutes before drizzling, it should thicken a bit.
Nutrition
Serving:
1
slice
|
Calories:
340
kcal
|
Carbohydrates:
44
g
|
Protein:
7
g
|
Fat:
17
g
|
Saturated Fat:
10
g
|
Cholesterol:
36
mg
|
Sodium:
353
mg
|
Potassium:
270
mg
|
Fiber:
5
g
|
Sugar:
17
g
|
Vitamin A:
77
IU
|
Vitamin C:
2
mg
|
Calcium:
52
mg
|
Iron:
2
mg
Join today and start saving your favorite recipes
Recipes and images are a copyright of ifoodreal.com. It is against the law to republish recipes anywhere including social media, print and all world wide web. Nutritional info is provided for informational purposes only and to the best knowledge.