65 Healthy Snack Recipes to get you through the day – this list combines healthy versions of dessert-favorites, high-protein snacks for pre/post workouts, and a selection of sweet and savory options no matter what you're in the mood for! Say goodbye to hanger and bad snacking decisions with these healthy snack ideas!
Love healthy eating? Stay on track all day long with healthy breakfast ideas, delicious healthy salad recipes, easy healthy lunch ideas and healthy dinner ideas.
Why We Love Healthy Snacks?
The truth is, growing up in Ukraine, we didn't really 'snack' – we had three big meals that kept us going throughout the day. However, the lifestyle change and my kids' increase in sports, meant that snacks quickly became a part of our lives.
However, it didn't take me long to figure out that so (so so so) many of the commercially available options are packed with hydrogenated oils, sugars, preservatives, and other odd add-ins. Rather than keeping us going until the next meal, all they do is make you crave more sugar, end up in sugar crashes, and generally fill our bodies with tons of 'empty calories'.
That's where healthy snack recipes come in. These healthy snack ideas combine healthy versions of dessert classics, high-protein options, chocolate, fruity, nutty, etc. So there's something for everyone. Best of all, these snacks are filled with ingredients that will nourish your bodies as well as keep you satisfied until your next meal.
Top tip for healthy snacking: To make sure my entire family relies on healthy snacks, I love to plan ahead. Make sure there are options to grab-and-go in your kitchen, and that way, no one will be tempted to make bad snacking decisions. 
How to Determine If a Snack is Healthy
I feel like this can mean something different depending on who you ask. For some, 'healthy snacks' mean the lowest possible calories or highest amount of calories. Here are a few key things I look out for when determining what healthy snacks are!
High in nutritional value: Rather than focusing on healthy snack ideas that contain as few calories as possible, I recommend looking for healthy snacks that are high in nutritional value; protein, fiber, vitamins, minerals, etc.. Avoid empty calories and choose nourishing ingredients and snacks that will provide your body with energy and nutrients.
Sugar content: We all know that sugar is sugar; however, a healthy snack should focus on unrefined and naturally occurring sugars while minimizing them.
Sodium: The same thing goes for salt; supermarkets seem to love chucking salt into everything in copious amounts. When you make your own healthy snack recipes, you'll realize that just isn't necessary!
Healthy fats: Once upon a time, I was so convinced fat was the enemy. Now I know that it really depends on the type of fat. Avoid snacks with tons of saturated fats. Instead, choose ones with unsaturated fats – monounsaturated and polyunsaturated, which have heart-healthy benefits.
High fiber: Fiber is great for keeping you full for longer, which is precisely what's needed from a healthy snack! More so, fiber helps to control blood sugar levels, lower cholesterol levels, and maintain bowel health. Fiber is the main reason I use whole wheat or spelt flour in my healthy muffin recipes.
Calorie content: I've kept this one last on the list because it's my least important factor when choosing healthy snack recipes. I want my family to eat nourishing, highly nutritional snacks and with that comes more calories. However, I'd much rather eat a 250 calorie protein bar filled with healthy ingredients that will fuel my body than buy a 90 calorie bar filled with sugars/sweeteners, flavorings, chemicals, etc.
My Top Tip: The key thing that I look out for when looking at healthy snack ideas is healthy, wholesome ingredients. I don't think fat or calories should be scary – our bodies need these to run. Ultimately, a snack is to help bridge the time between meals, and you need energy (i.e., calories) to do this! 
Making vs. Buying Healthy Snacks
I know I've hated on commercial snacks a lot already in this post, but I'm not opposed to them all. In fact, I've compiled a whole list of healthy snacks to buy at Costco. The truth is, supermarket snacks can be VERY convenient – which is both a blessing and a curse because it makes us more forgiving of all the bad ingredients hidden inside. Unfortunately, however, the healthiest options usually come with the most significant price tags, too.
Luckily, when making healthy snack recipes at home, you can be 100% in control of all of the ingredients you use, like these healthy banana snacks. More so, they're usually more cost-efficient and are great for those with specific dietary requirements, whether that's paleo, gluten-free, dairy-free, vegan, etc.
More Best Healthy Snack FAQs
Which healthy snacks provide protein after physical activity?
There are tons of ingredients you can add to your healthy snacks for a boost of protein; nuts and nut butter, yogurt, cheese, eggs, quinoa, and even protein powder. I have a whole section of high-protein snacks within this list, including protein balls, protein waffles, protein oatmeal cookies, and protein powder pancakes!
My kids are picky, what are healthy snacks for kids?
I've found that the best way to satisfy picky eaters is with healthy snack recipes of well-loved treats! So keep on scrolling for tons of ideas, including healthy muffins, protein cookies, pancakes, etc.
Can you enjoy snacks while trying to lose weight?
You sure can – in fact, keeping your body nourished with healthy snacks is a great way to stop yourself from giving in to worse cravings. I recommend choosing snacks that are high in protein and fiber. These will keep you fuller for longer, which is a great way to curb cravings while you're trying to lose weight.
Is it okay to snack late at night?
The answer to this question depends on who you ask. For a long time, late-night snacking was linked with weight gain and other adverse effects. However, a small, nutrient-dense snack is fine; I recommend trying to stop eating a couple of hours before sleeping, though. Also, I recommend sticking to healthy snack ideas under 200 calories like fruit, a small number of nuts, crackers, etc. There are even some snacks that help you sleep better; cherries, walnuts (or almonds), and yogurt, for example.
65 Healthy Snack Recipes
Early to Mid-Morning Snacks
This fruity strawberry smoothie contains just 4 all-natural ingredients (and no yogurt) and is packed with protein and vitamins for a healthy (and delicious), way to start the day. Best of all, this healthy snack recipe is kid-approved!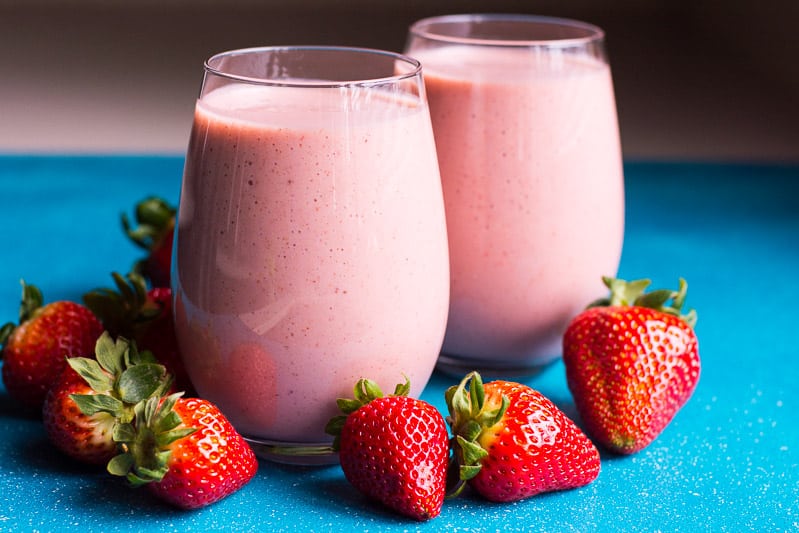 Not only is this quinoa granola packed with protein, flavor, and a crunchy texture, it also contains SIX TIMES less sugar than more supermarket granola! Pair this with yogurt and fruity for a healthy, wholesome dish and no impending sugar-crash!
A healthy chocolate snack? Say no more, I'm in! This chocolate chia pudding is super meal-prep friendly, takes just minutes to prepare, and contains a whopping 16g protein alongside healthy fats, complex carbs, fiber, and antioxidants!
Any healthy snack recipes that can double up as dessert are a win in my books. These whole wheat waffles are a simple, freezer-friendly grab-and-go snack option. Pair them with berries and a drizzle of maple syrup for a snack that satisfies your sweet tooth.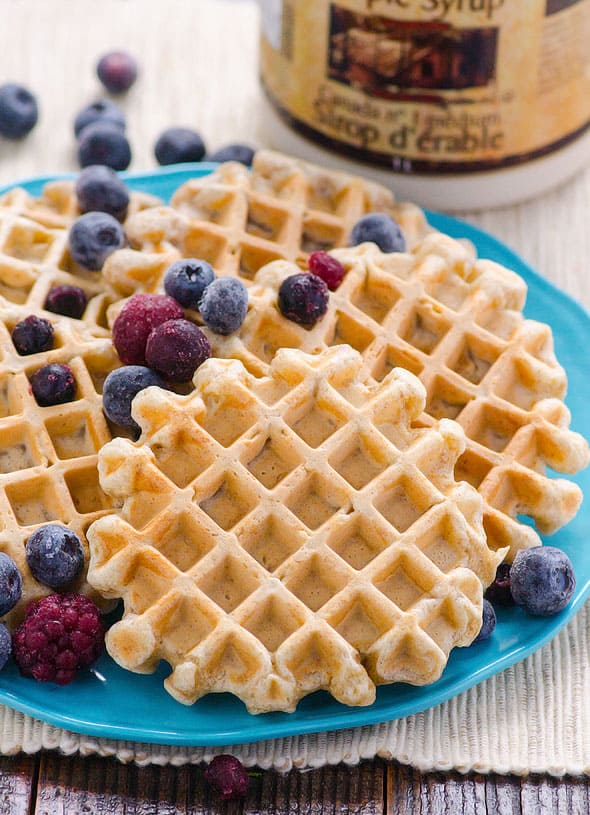 These quinoa egg muffins are the perfect grab-and-go breakfast or mid-morning snack. They are packed with protein, nutrient-dense, and easy to prepare. Best of all you can swap out the veggie fillings for a snack that'll never get boring!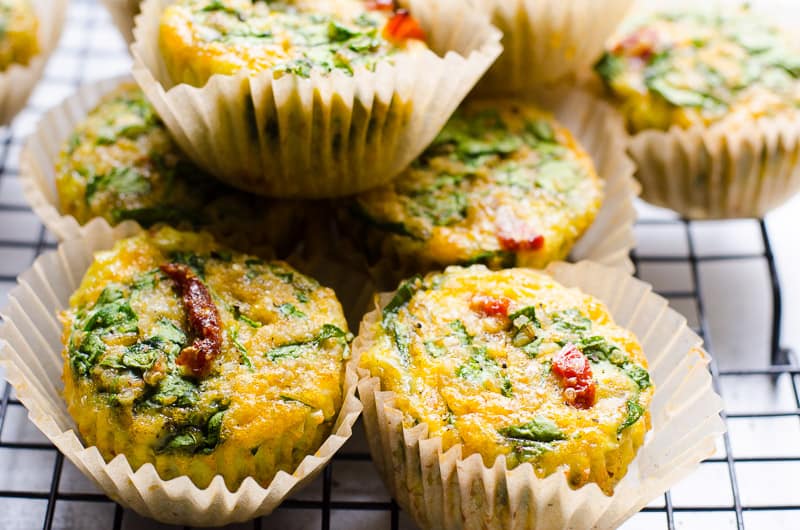 This Instant Pot yogurt is easy to make with just two ingredients and several flavor options. Serve up with fruit, granola, and/or nuts/seeds for a simple, healthy, protein-packed snack (and no unnecessary gums or additives).
If you're a fan of the breakfast muffins mentioned above but own an Instant Pot, then these egg bites will be right up your alley. Combine eggs, veg, and optionally cheese for a simple, delicious snack (and far more cost-effective copycat Starbucks egg bites)!
Regular overnight chia pudding requires just four ingredients for a protein-dense, nutrient-packed, healthy breakfast or post-workout snack. Best of all it's easy to customize with the toppings of your choice, you could try something new every single day!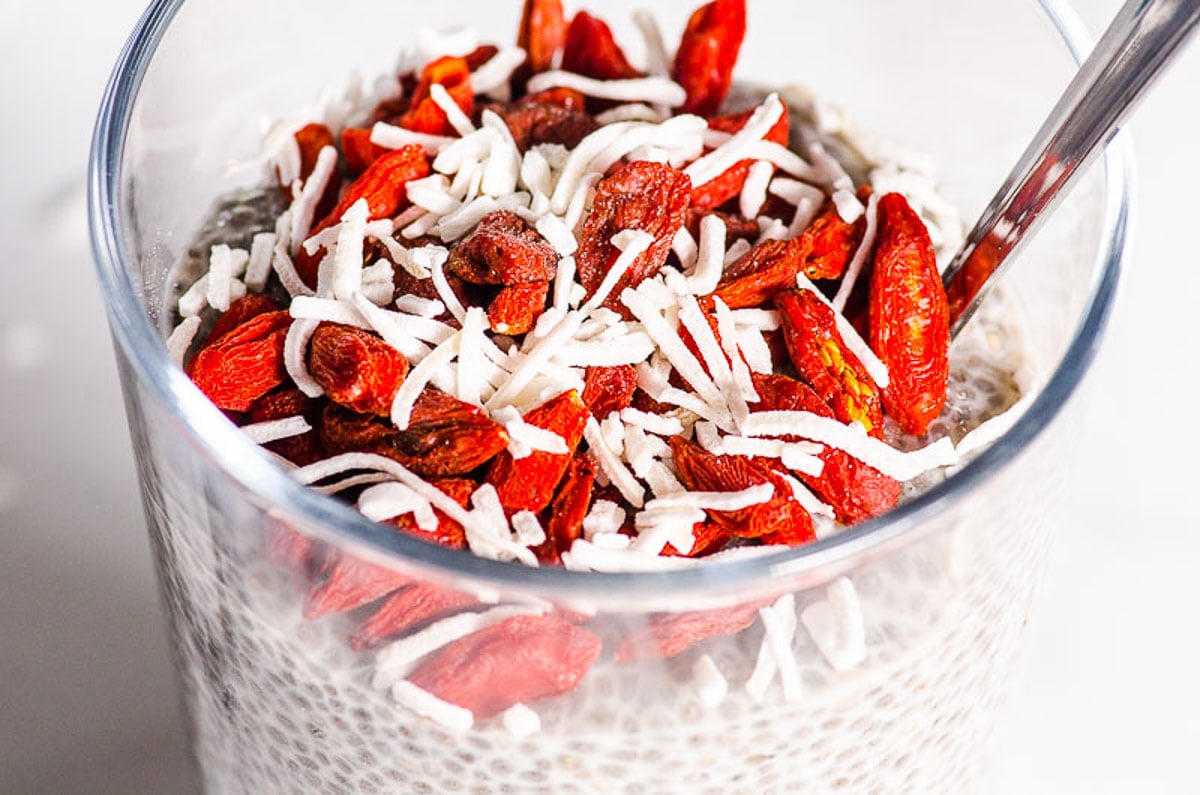 Applesauce contains several vitamins, is low-fat, and is a delicious snack for a sweet tooth with no added sugars necessary! Enjoy alone, with yogurt or ricotta, or top with granola, nuts, or fruit for a quick and simple healthy snack idea between meals!
Healthy overnight oats are the ultimate meal-prep snack/breakfast, mix up the ingredients and allow them to soak overnight then enjoy for the following week cold or warm. Best of all, there are dozens of ways to customize the overnight oats for a different flavor every day of the week! You get all the health benefits of a bowl of oatmeal with a fraction of the effort!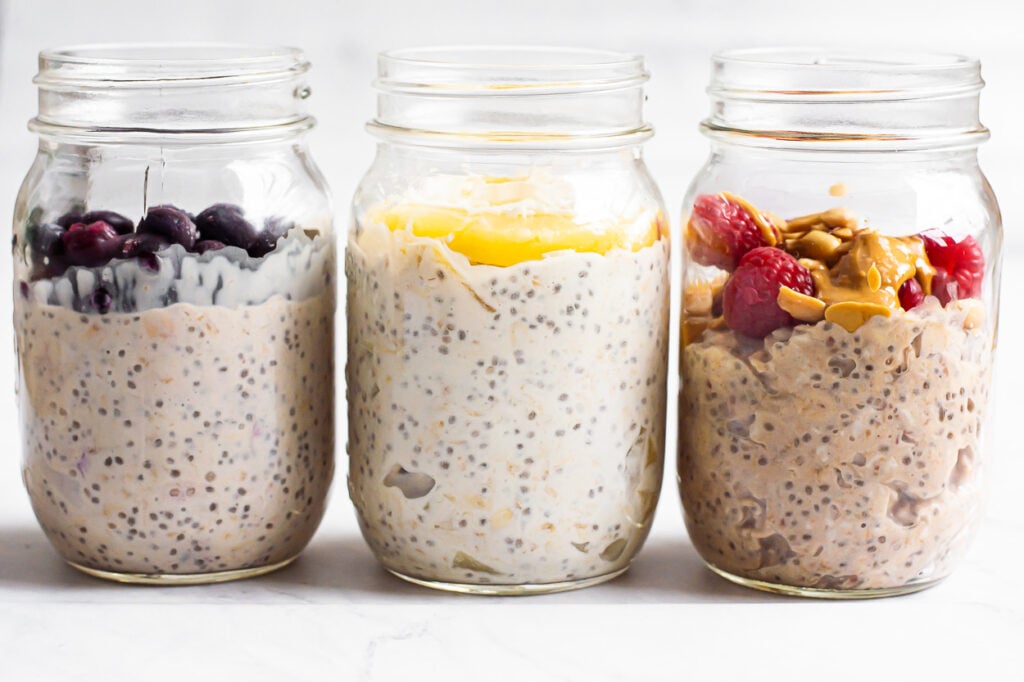 This brown rice pudding doubles up as a nutritious snack and delicious dessert. Combining brown rice with almond milk, chia seeds, raisins, frozen fruit, and Greek yogurt, you have a fuss-free, high-protein treat that can be enjoyed warm or cold!
Inspired by cinnamon toast crunch but…healthy! This homemade cereal combines flax seeds, chia seeds, hemp seeds, and rolled oats, combined with vanilla, cinnamon, and a small amount of sweetener makes for a delicious and nutritious cereal for all!
As the third chia pudding on this list, perhaps you're starting to realize just how versatile this protein-dense healthy snack idea really is. This chocolate banana chia pudding option combines layers of banana and chocolate chia pudding with extra banana slices, cacao nibs, and optional chocolate chips. The result is a dessert-like high-protein snack perfect for enjoying for breakfast, as a mid-morning snack, or post-workout!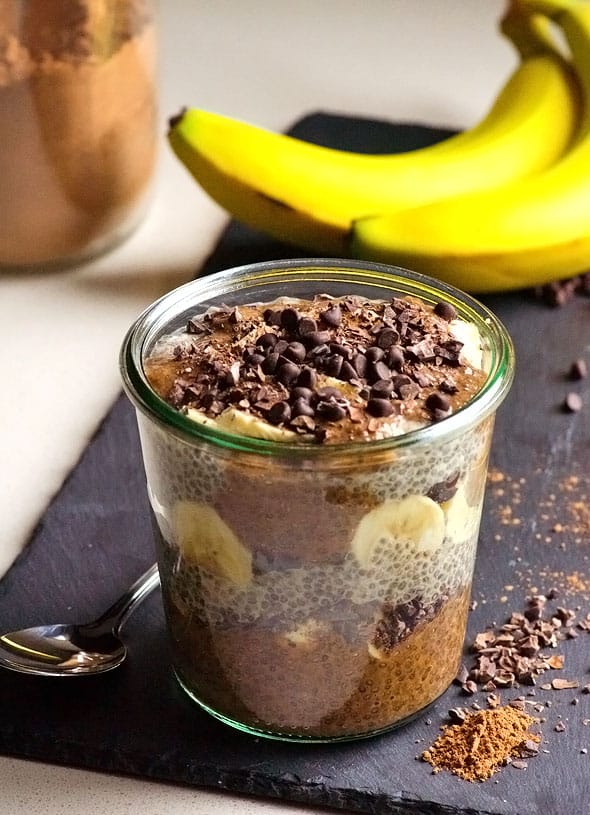 This strawberry yogurt contains just three ingredients; yogurt, strawberries, and maple syrup – for a sweet, fruity, fresh treat! Serve it up alone or with a sprinkle of granola for a quick 5-minute healthy snack! Even better, you can use the same method for other fruity homemade yogurts too!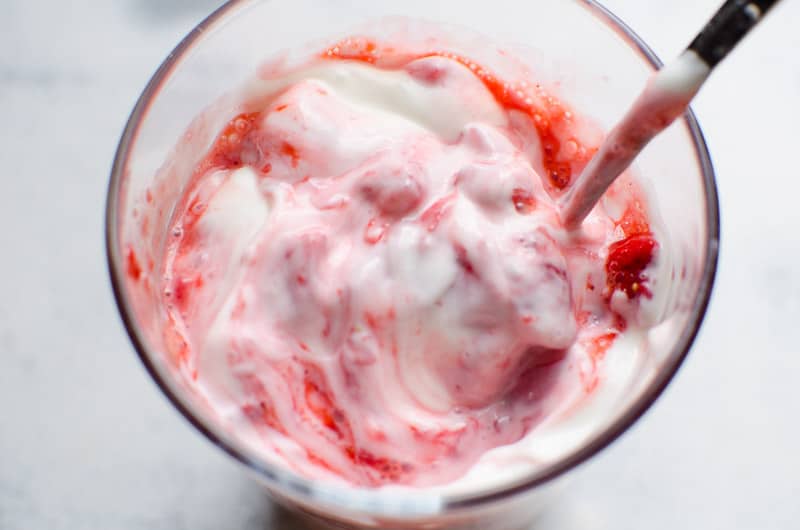 This healthy coffee cake is moist, flavorful, and did I mention that it's cake?! By combining healthy ingredients like whole wheat flour, coconut oil, applesauce, fresh berries, maple syrup, oats, and walnuts – this cake is packed with healthy fats, protein, and nutrients while remaining a crowd-pleaser!
If you're looking for a healthy snack idea your kids will never say no to, then try these healthy banana pancakes. Combining whole wheat flour, banana, milk, and eggs as the main characters, these pancakes are high-protein, high fiber, and can be enjoyed alone or with extra fruit and a drizzle of maple!
Bread and Muffin Snack Recipes
Banana bread is an absolute classic for a reason, but traditional recipes can be loaded with fat and sugar. Luckily, this healthy banana bread using a combination of applesauce, whole wheat flour, and unrefined maple or honey for a guilt-free snack that saves on calories without sacrificing taste!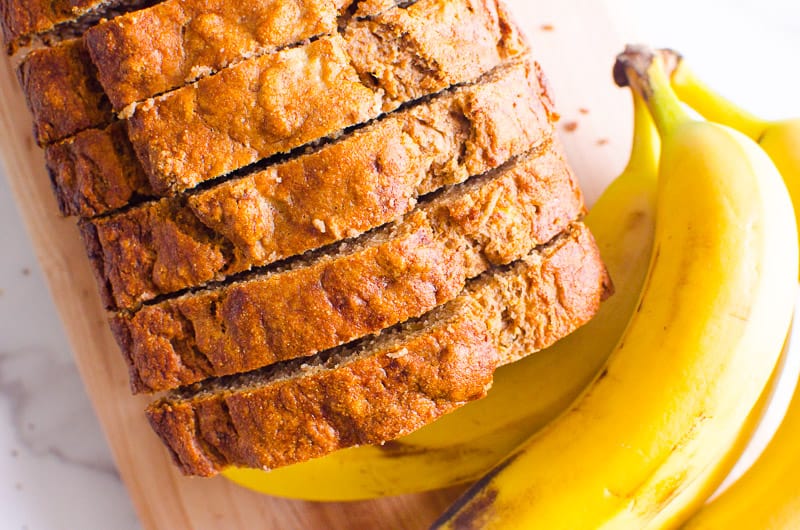 You know how people like to excuse their carrot cake cravings by saying 'it has veggies in it so it must be healthy', well this time it's actually true! These portion-sized carrot muffins combine applesauce, whole wheat flour, oatmeal (or oat bran), and honey for carrot muffins that are super delicious but also nutritious!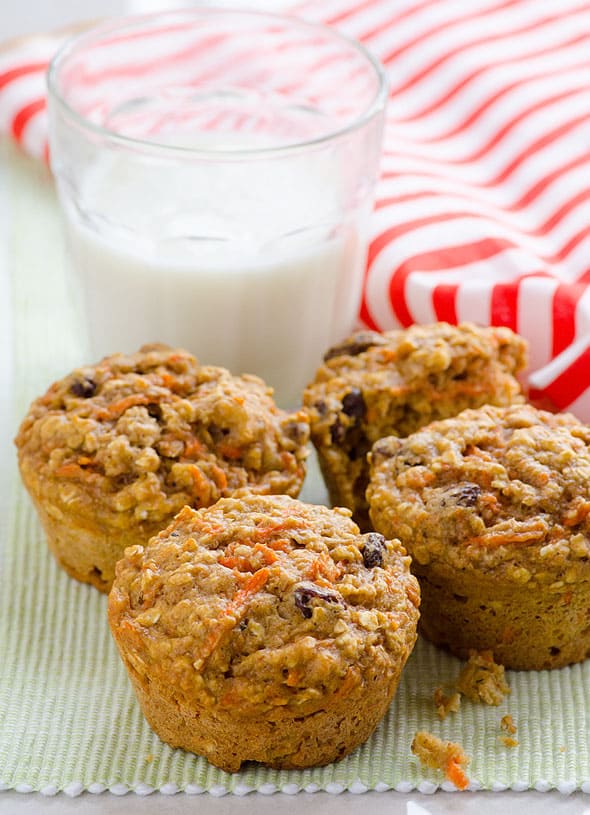 You had me at chocolate! These healthy chocolate muffins use a combination of healthy ingredients, including Greek yogurt and applesauce for muffins that taste like a decadent fudgy treat, yet are surprisingly nutritious. Even better, a single muffin contains 5g of protein, and they come readily 'portion-sized', so you can't accidentally eat too much.
Fresh or frozen strawberries, whole grains, Greek yogurt and maple syrup ensure these healthy strawberry muffins, are both lower in sugar and oil. Serve for a healthy snack, whether you are an adult or kid!
These almond flour banana muffins take the flavor of traditional banana bread, increase the protein and nutrients with the use of almond flour, and supply them to you in a handy portion-controlled muffin!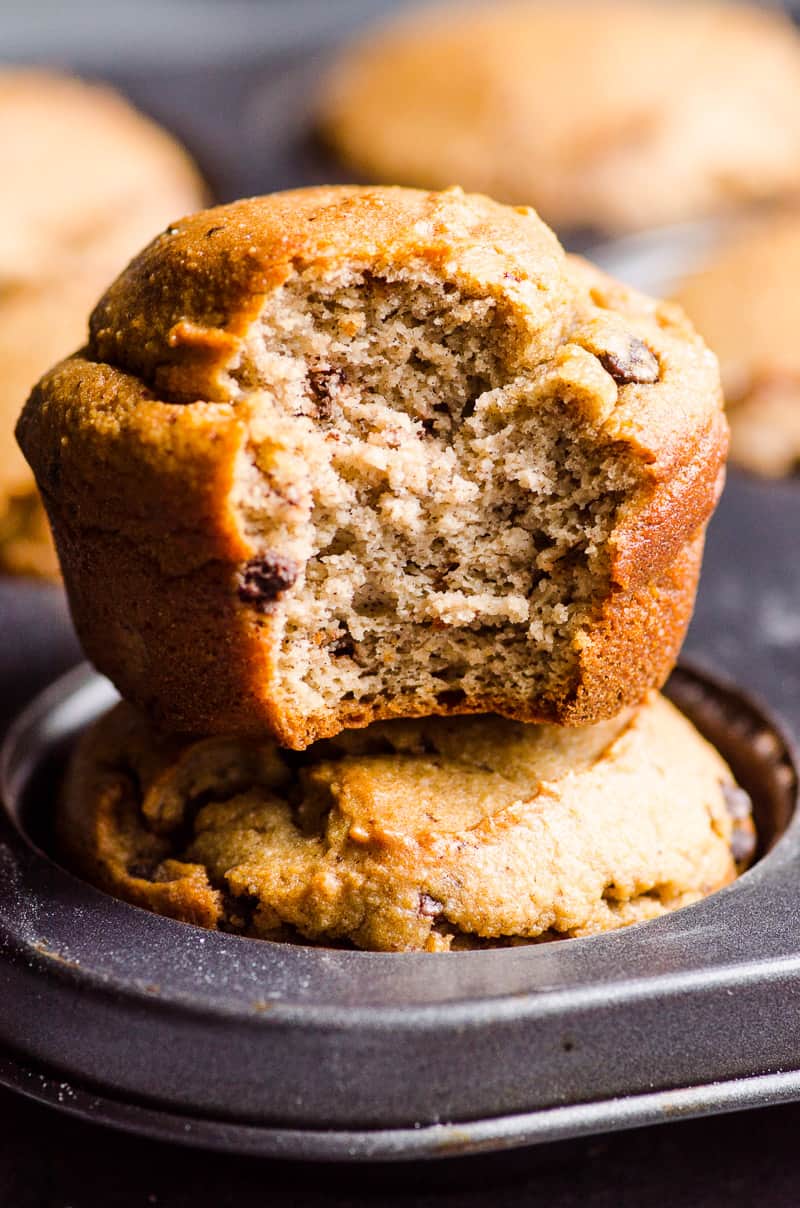 This healthy chocolate bread is fluffy, moist, and packed with rich chocolate flavor and a hidden 'nutty' center. Instead of loading up on empty calories, this chocolate treat combines whole grains, nuts, and unrefined sweeteners for a guilt-free, nutritious healthy snack recipe!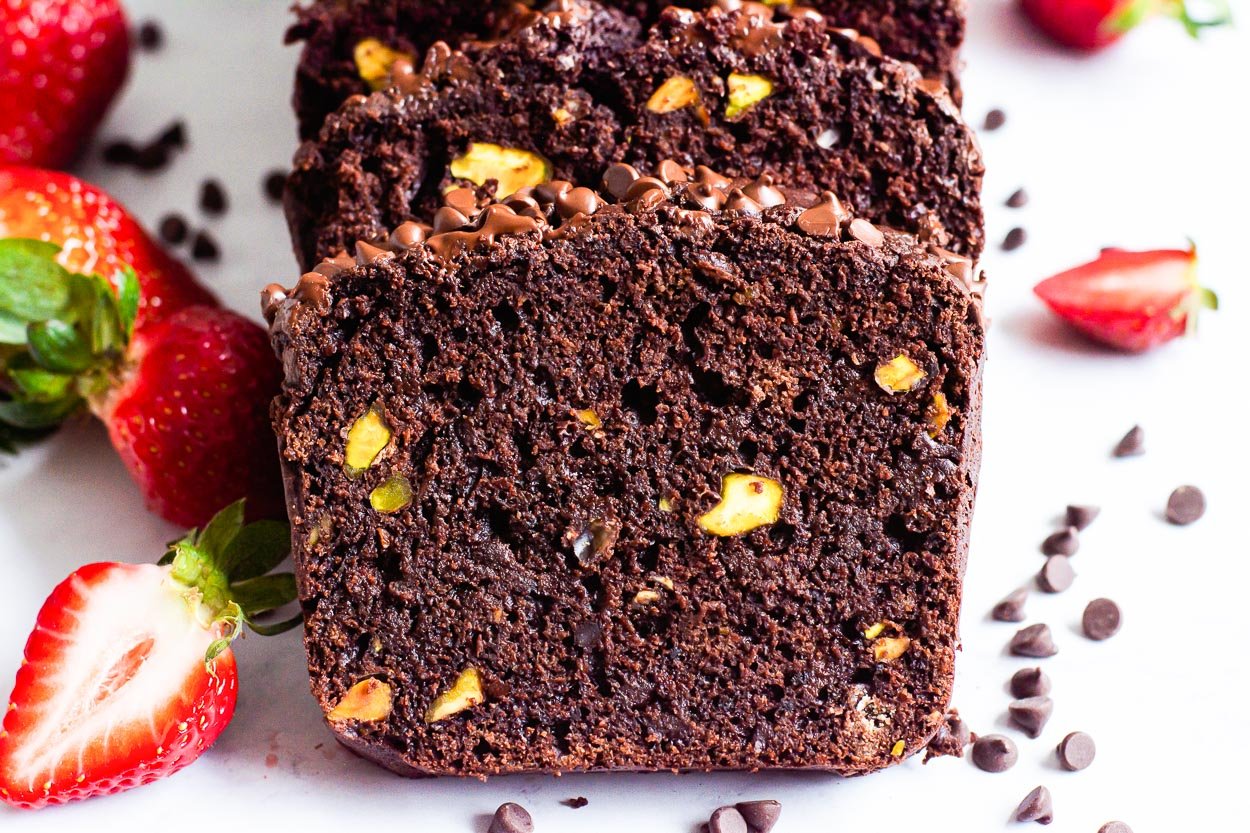 When the fall months come rolling around, I'm whipping out the pumpkin puree, and this healthy pumpkin bread is a great place to start. Combining pumpkin flavor with warm spices, whole wheat (or spelt) flour, and topping the bread off with nutrient-dense pumpkin seeds makes for a delicious fall-based treat!
Wanting something a little more decadent from your pumpkin-based treat? How about swapping out those pumpkin seeds for chocolate chips?! Just because it has chocolate in it, doesn't make this healthy pumpkin chocolate chip bread not worthy of the 'healthy snack' status; just look at its' ingredient list!
Any time that I can 'hide' nutritious ingredients in a baked good, I will – most often with the likes of zucchini. This almond flour zucchini bread is naturally gluten-free, packed with protein, and nutrients yet tastes like a moist, fluffy treat – no zucchini flavor in sight!
By swapping out regular flours for almond flour, you have a protein-rich, naturally gluten-free treat that packs a nutritional punch and tons of healthy fats. Combine that with the wholesome flavors of banana bread and you have yourself a real winner on your hands with this almond flour banana bread!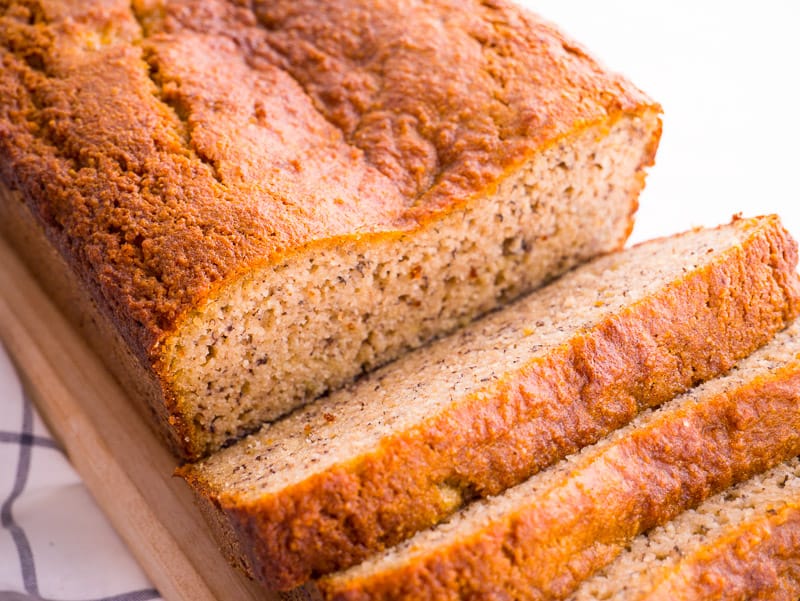 These healthy blueberry muffins satisfies when the craving for bakery style goods hits. With no refined sugar, tons of juicy berries, and being able to freeze wonderfully, these are a great healthy snack recipe to have in your arsenal! You may also love this healthy lemon blueberry bread!
This healthy zucchini bread contains no white flour, sugar, or oil – all without sacrificing flavor or moistness. Instead, this quick bread is lightly spiced with cinnamon and sweetened with honey, for a wonderful treat!
Kids will love these healthy banana muffins, they feel like a treat and yet contain healthy, wholesome ingredients like whole wheat or spelt flour, applesauce, and no sugar! Best of all, this healthy snack recipe is super meal-prep friendly, too!
You've probably picked up on a theme by now, that even if something contains chocolate, that doesn't necessarily make it unhealthy. In fact, dark chocolate is loaded with antioxidants and several health benefits! When you take away the hydrogenated oils, refined sugar, and chemicals found in store-bought muffins, these healthy chocolate chip muffins make for a wholesome treat!
For all apple lovers out there, what could be better than this super moist, fluffy, fruit-packed healthy apple bread?! with four cups of apples and a combination of warm spices, this quick bread tastes delicious but will also help you get one of your 5-a-day!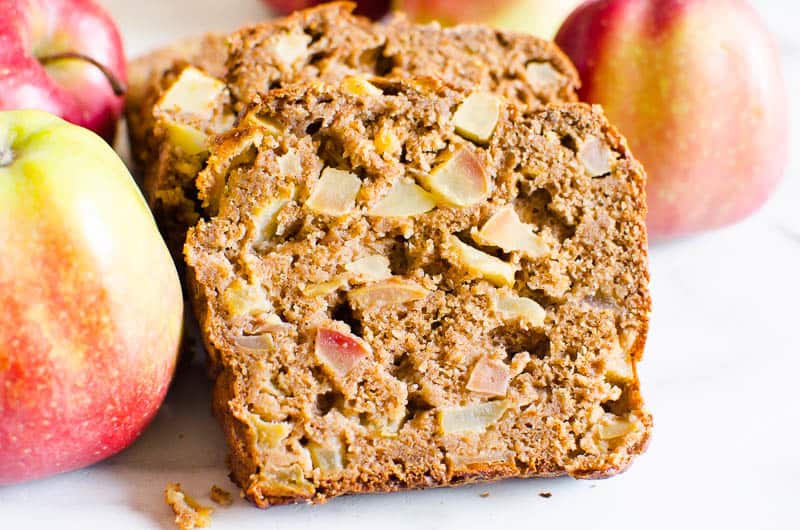 It's not officially Fall until I have a pumpkin muffin in my hand, and these healthy pumpkin muffins make it so I can do so guilt-free! With a combination of whole wheat or spelt flour and unrefined maple syrup, you don't feel guilty adding a dollop of cream cheese for a cheese-cake-like finish!
You may not believe this (until you try it, that is), but lemon and zucchini are a match made in heaven. This healthy lemon zucchini bread is kept ultra-moist with the addition of the squash and yet packs in tons of citrusy flavor. It doesn't taste 'healthy' at all!
These healthy morning glory muffins are absolutely loaded with hearty goodness; apples, carrots, raisins, and then all wrapped up in a moist muffin low in sugar and high in fiber, with a deliciously addictive crispy edge!
If you're looking for a healthy, high-protein bread option, then look no further. This quinoa bread packs in 7g protein per slice and combined the quinoa with oat flour, coconut oil, and almond milk for a naturally gluten-free, vegan bread option. Top it off with a slather of cream cheese for a delicious snack!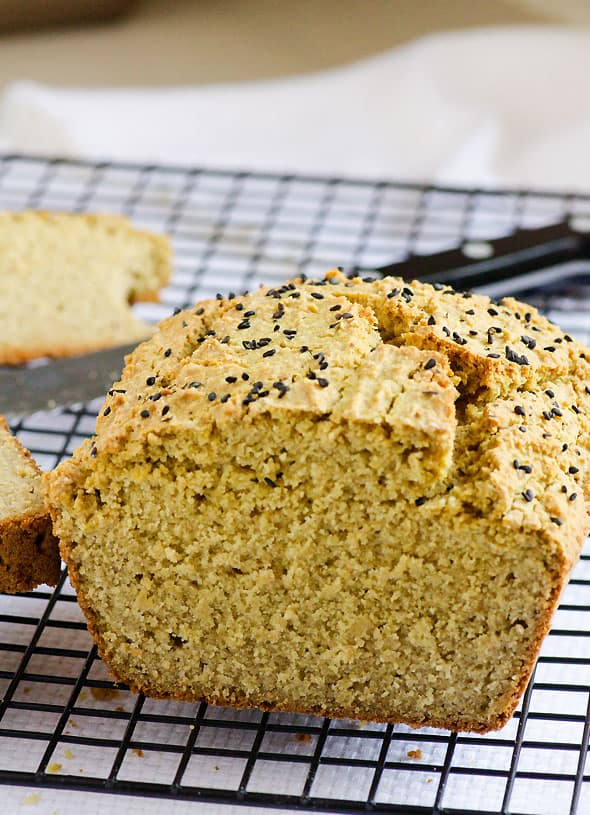 Love the idea of apple bread but want a more portion-controlled option? then these lightly spiced, cinnamon sugar topped healthy apple muffins are the perfect choice for you! Even better, no one would guess that they're actually healthy!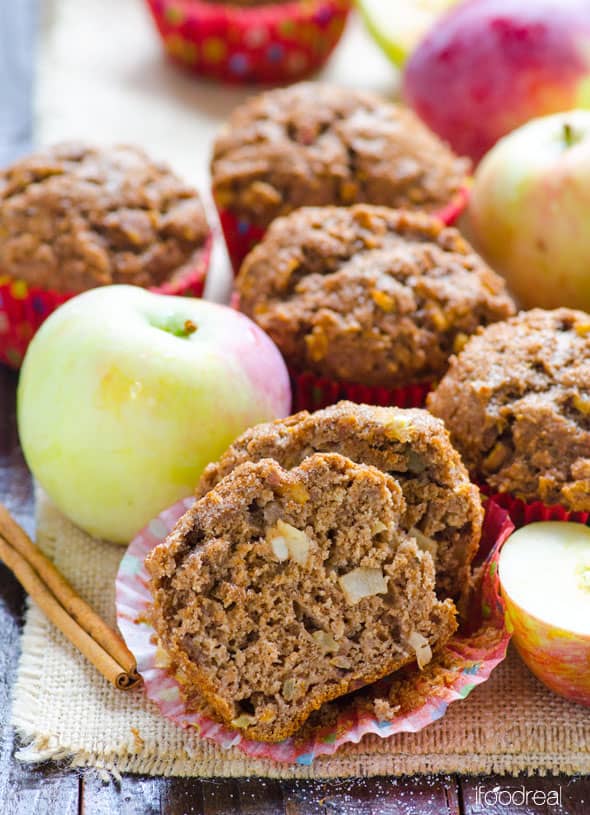 These healthy oatmeal muffins are the perfect grab-and-go treat to keep you satisfied until your next meal. Not only are they made with pantry-basics, but you can make them with either applesauce or mashed banana for a healthy, wholesome treat!
Quick Afternoon Snacks
This simple guacamole requires just 5 fresh ingredients, one bowl, and under 10 minutes to prepare! Best of all, though, it's packed with healthy fats and antioxidants making it a delicious healthy snack idea to serve up with healthy chips, crackers, or crudites!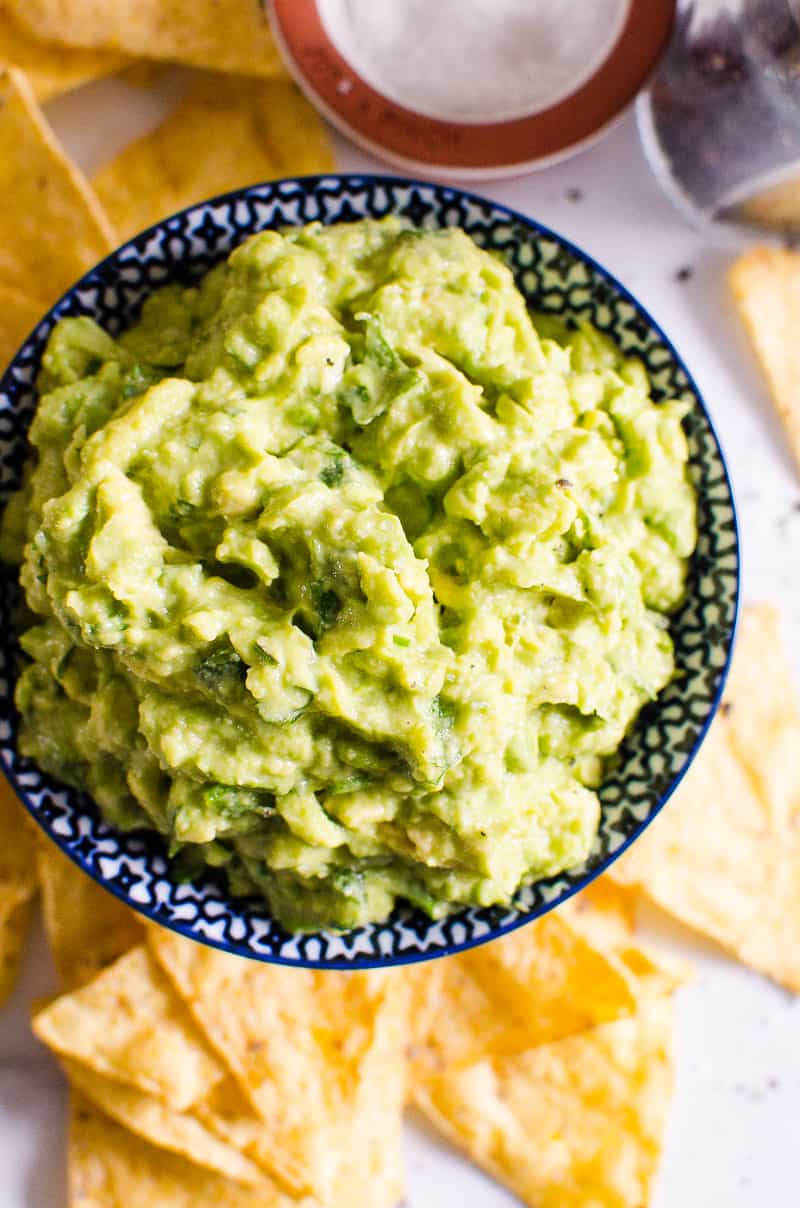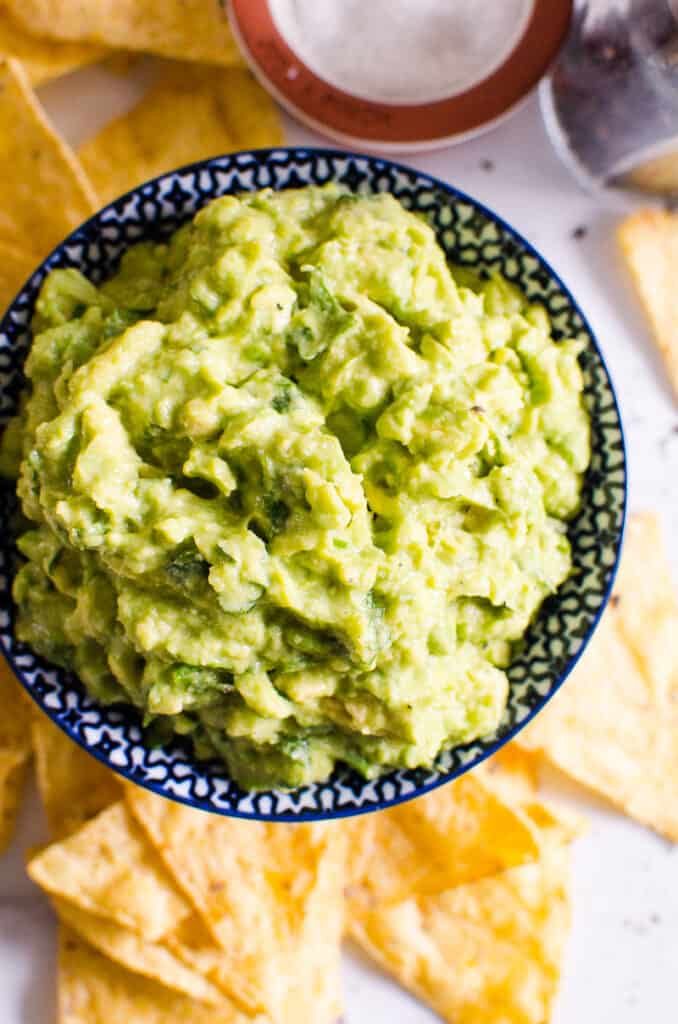 When is hummus not a good idea? This garlic hummus is packed with all the creamy flavor we come to expect in hummus with super fresh flavor, extra garlic infusion, and just 5 simple ingredients. The result is a healthy snack recipe that's packed with protein and can be enjoyed with crudites and crackers!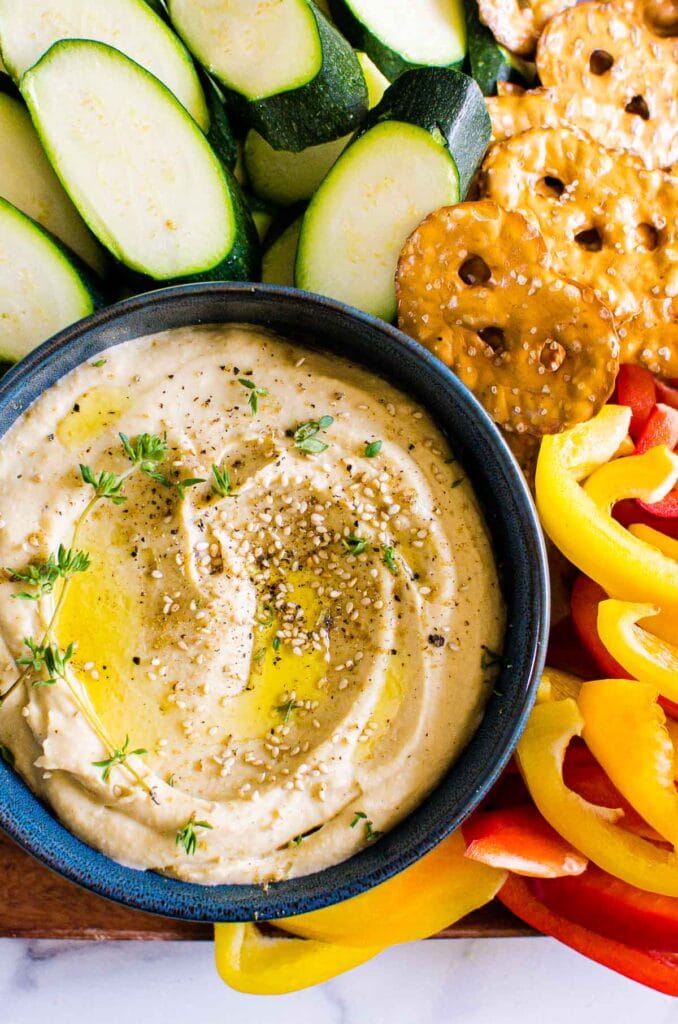 This sweet potato hummus packs in all the health benefits of the original with extra antioxidants, fiber, and vitamins/minerals in sweet potatoes combined with chipotle chilies. The result is hummus that is smoky, sweet, and slightly acidic!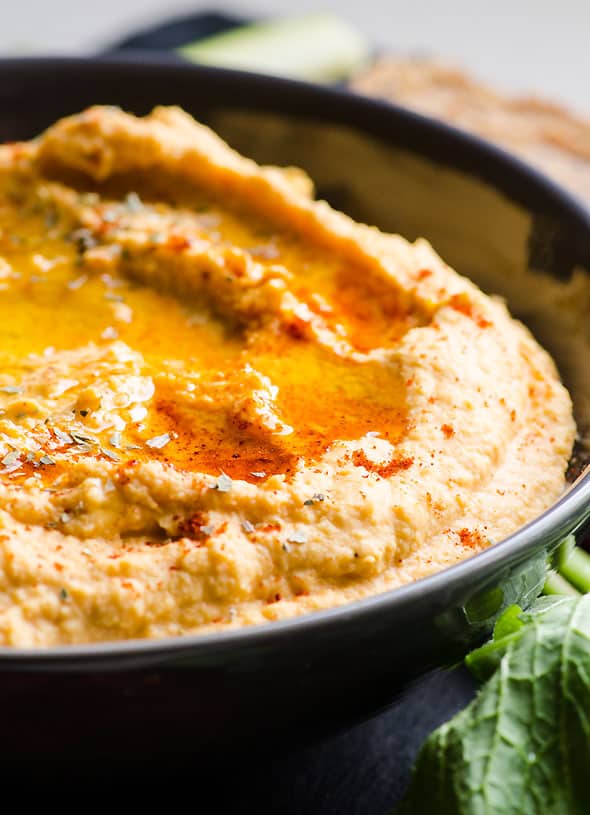 This healthy veggie dip combines the creaminess of Greek yogurt with the tang of garlic powder, and the freshness of dill for a simple yet delicious dip perfect for serving with crudites as a healthy, wholesome snack idea!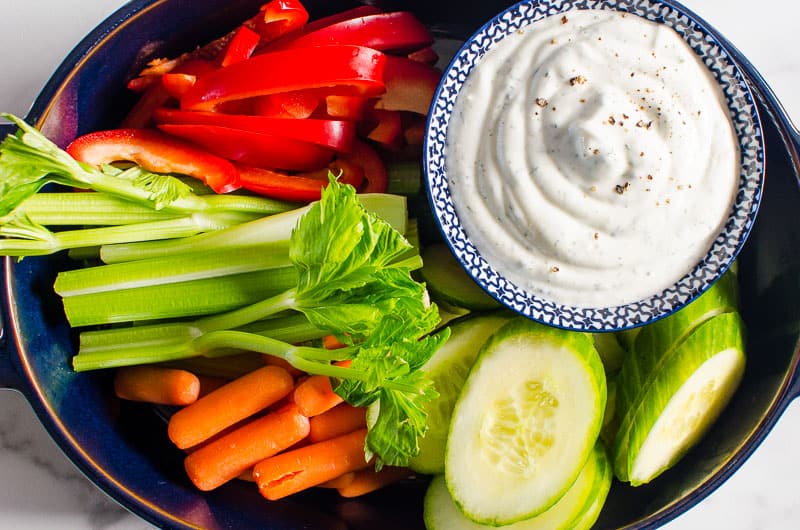 Supermarket healthy french onion dip will be a thing of the past when you try this healthy homemade version. Using a base of yogurt with just a hint of mayo and caramelized onions, this dip is packed with flavor and perfect for serving with veggies and crackers!
High Protein Snacks
I love bite-sized snacks like these no bake protein balls. They are easy to make, packed with nutrients, 5g of protein per portion, and help to curb a sweet tooth! They make for the perfect pre/post-workout snack!
Is it breakfast, dessert, or a snack? Who knows, but I'll enjoy them as all three! These protein waffles are packed with protein powder, greek yogurt, eggs, oats, and no added sugar for a naturally gluten-free, sugar-free snack. And all at a whopping 21g protein per portion!!
Did someone say cookies? Yes, please! These protein cookies combine just 5 ingredients for a naturally sweetened, easily adaptable cookie that packs 6g protein (per cookie!). Now that's a cookie I can stand behind!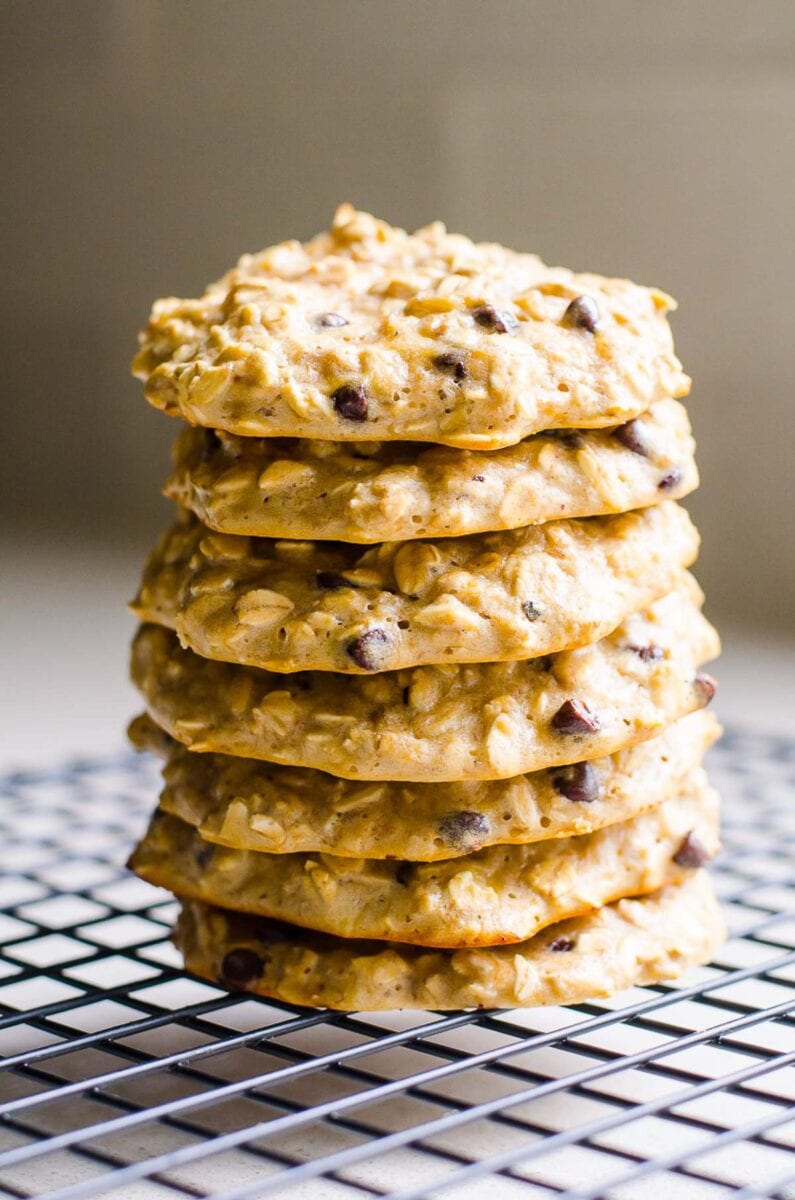 Peanut butter has the magic skills of being able to taste like a decadent treat (Reese's anyone?!) while packing in a protein punch. In fact, these peanut butter protein balls pack in a whopping 10g protein per portion. Even better, these can be made with whey or plant-based protein and will help you get to your next meal!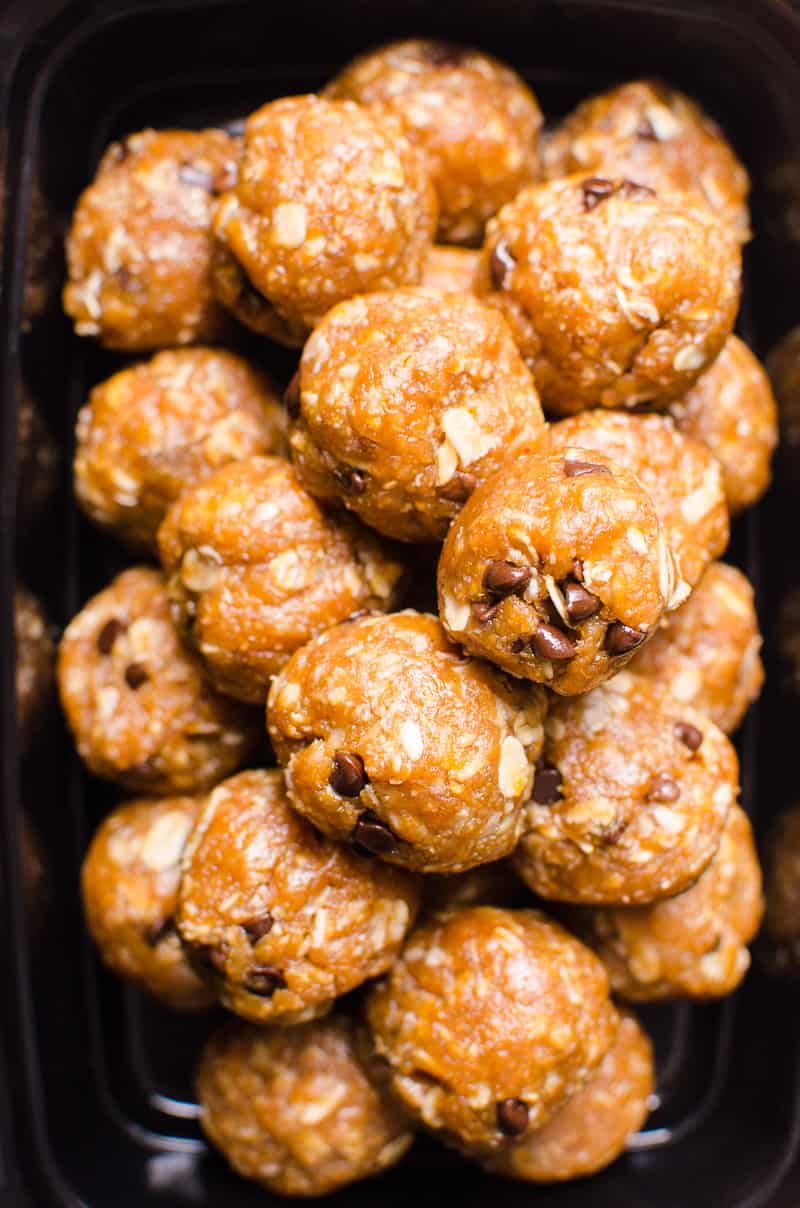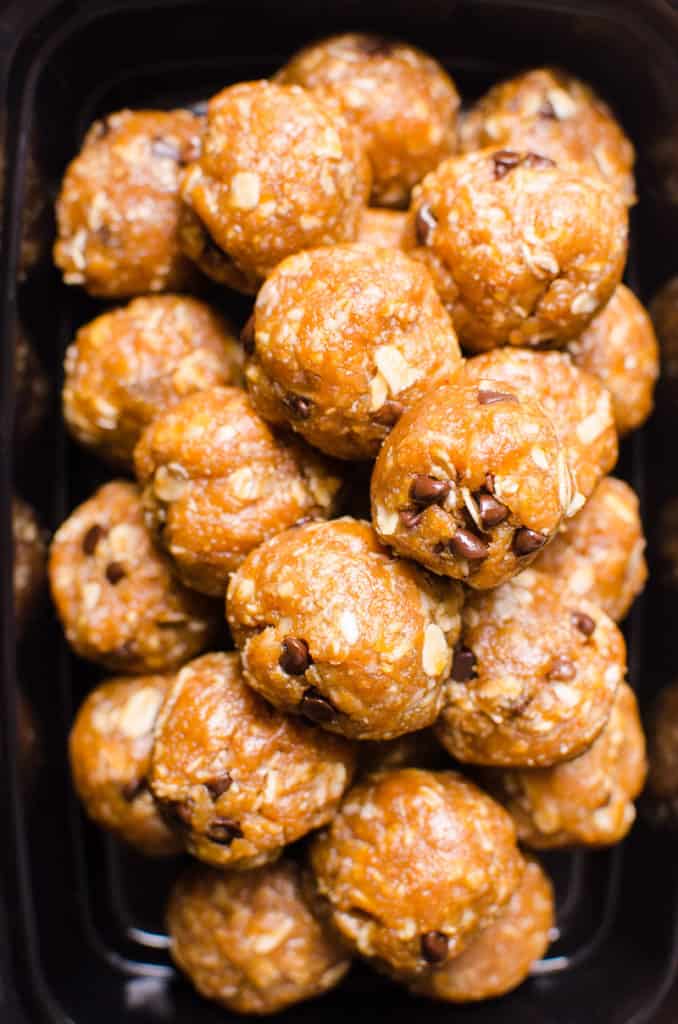 These protein pancakes combine oats, protein powder, and greek yogurt for a simple, moist pancake treat! Even better, each pancake contains just 48 calories and 4g of protein!
These homemade protein bars contain a nut butter base with plant-based protein powder, and a dark chocolate and nut topping for a simple no-bake treat that packs in a whopping 12g protein per bar.
If you combine delicious pancakes with creamy peanut butter and plant-based protein powder, what do you get? These delicious peanut butter protein pancakes. At 13g protein per pancake, these are pancakes you won't regret!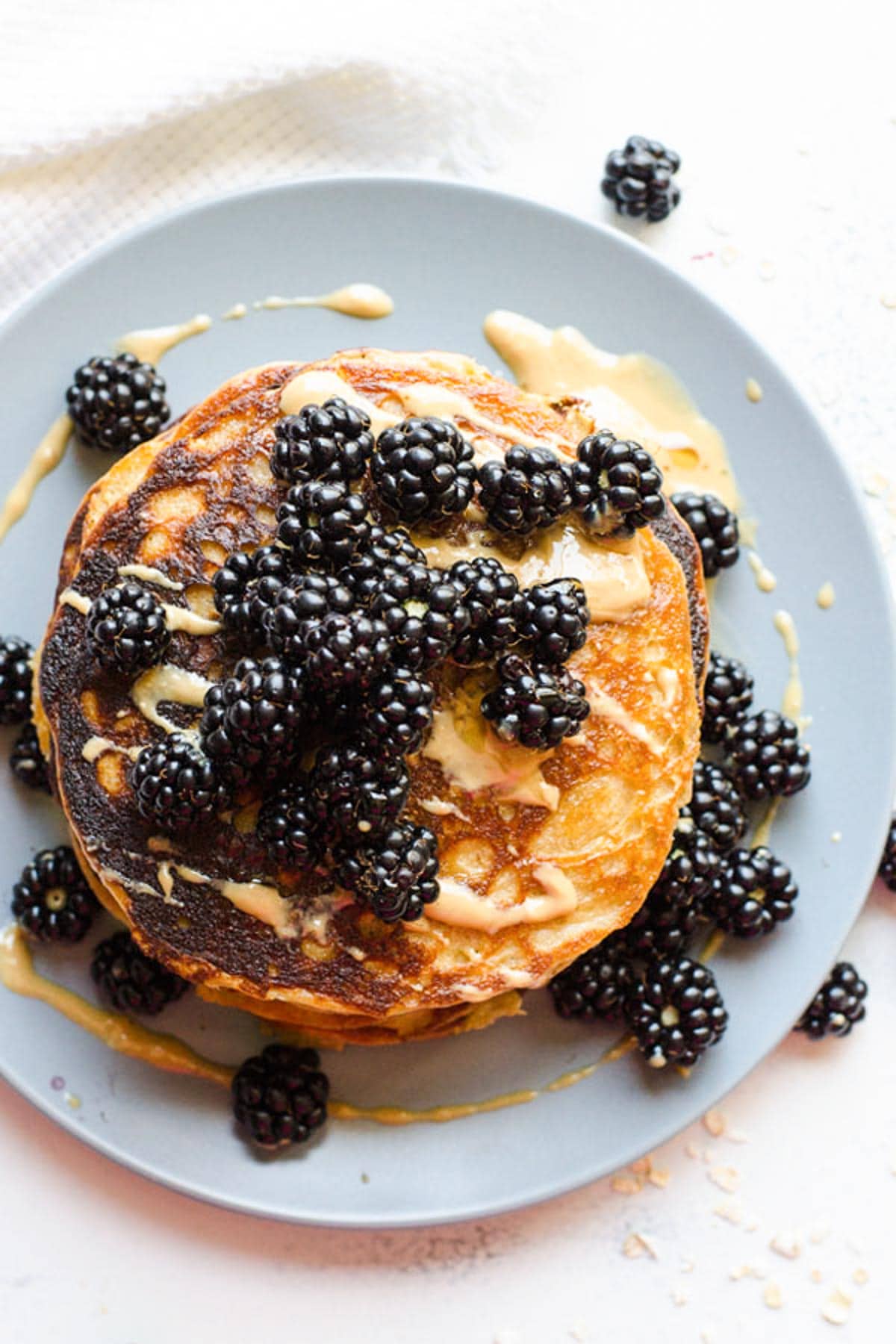 These cottage cheese protein pancakes contain only 1g sugar, 9g carbs, and a whopping 11g of protein per portion by combining cottage cheese and plant-based protein in your pancake batter. Serve up with a portion of fruit for a super-satisfying snack or breakfast!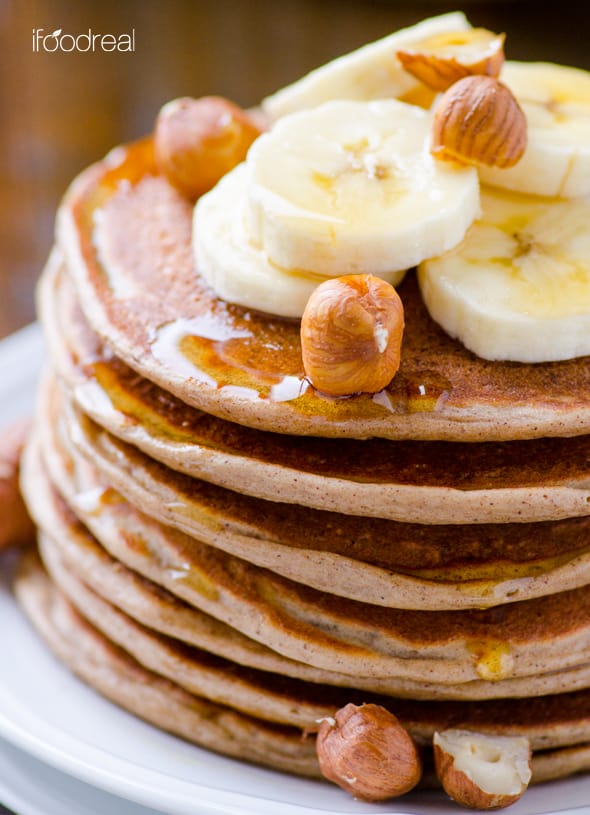 These no-bake protein cookies are packed with a whopping 12g protein per portion, with all-natural ingredients – plus they're gluten-free, refined sugar-free, and vegan! Did I mention that they also taste like chocolate and peanut butter?!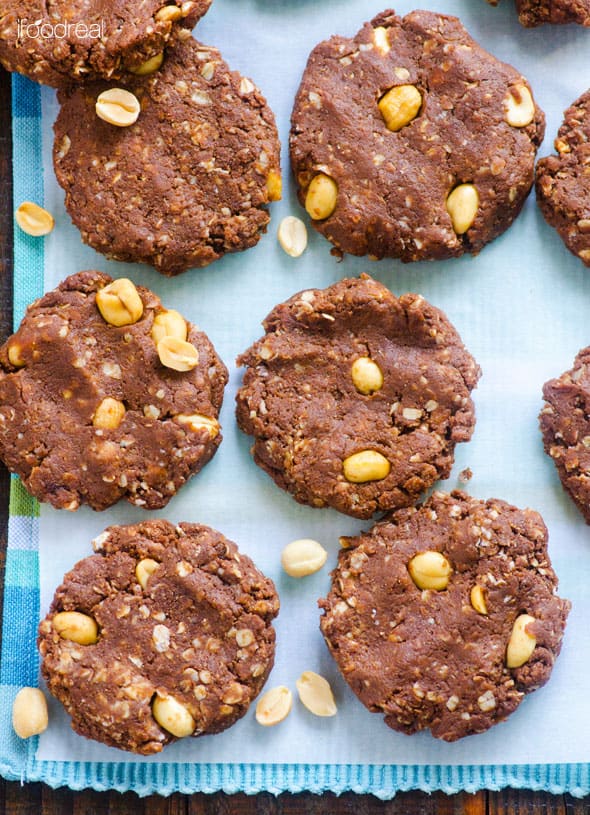 Enjoy an almond joy bar in a healthy bite-sized portion with these melt-in-the-mouth almond joy protein balls. Packed with chocolate, coconut, and almond flavor, these handy grab-n-go protein balls contain 4g per ball!
The chocolate protein cookies are ooey-gooey, packed with flavor, and contain 5g protein per cookie! Best of all, they use simple ingredients and can be made vegan! Plus, it's chocolate!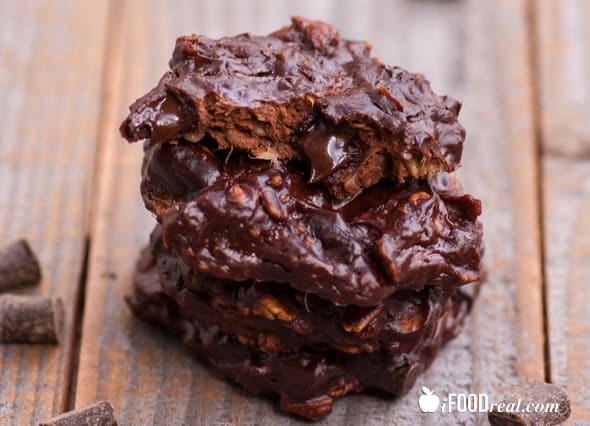 These banana protein muffins are moist and fluffy, made with almond flour and protein powder and contain no added sugar!
Healthy Cookie and Snack Bar Recipes
All you need for these No-Bake Peanut Butter Oatmeal Bars is 8 ingredients, one bowl, and 10 minutes prep. The result is a gluten-free, sugar-free, decadent, slightly fudgy treat that packs in flavor and 7g protein per portion!
If you want something a little lighter (than the previous bars), then why not try these banana oatmeal bars? These combine oats with applesauce, mashed banana, seeds, nuts, and dried fruit for a super healthy, wholesome snack. Plus, each bar contains 5g of protein!
Juicy strawberries, buttery healthy almond flour crust, and a crumble topping make these healthy strawberry oatmeal bars a decadent snack that are also low sugar plus gluten free!
By combining quinoa with oats, nuts, flaxseed, and just a sprinkling of chocolate chips, these quinoa granola bars pack in 8g protein per bar and contain just a fraction of the sugars found in supermarket versions!
If you're a fan of pumpkin-based baked goodies and granola/protein bars, then these pumpkin protein oat bars are perfect for you. Boasting 12g protein per portion, these oat bars are moist, tender, and packed with fall flavors!
I love traditional oatmeal cookies, but not all the sugar that comes with them. Luckily, these sugar-free oatmeal cookies taste delicious with no added sugars at all! Even better, they're naturally gluten-free and vegan, too!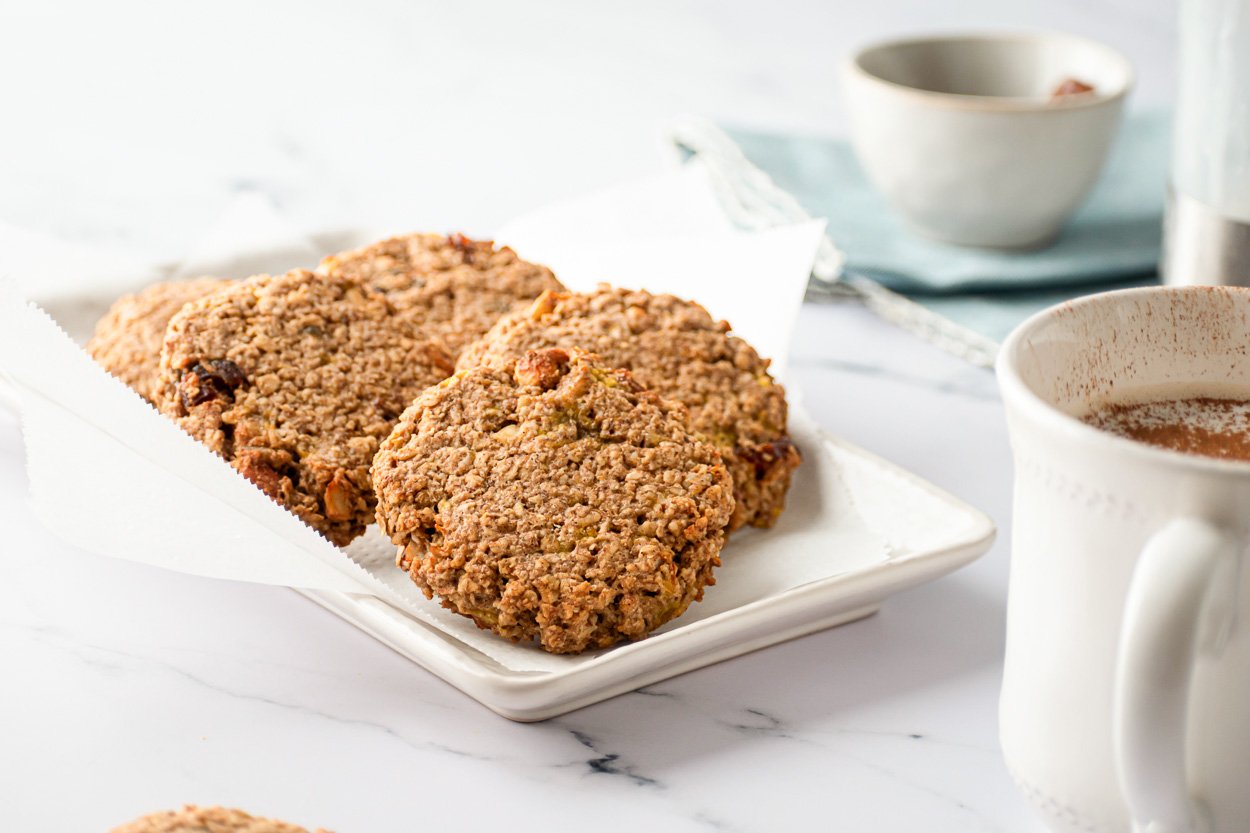 For those who love pumpkin spice and cookies (all of us?), these healthy pumpkin cookies are a must-try. They are free from white flour and refined sugars yet pack in tons of festive Fall flavor!
Perfect snacking or lunch boxes, healthy banana oatmeal cookies are low in sugar and naturally gluten free!
The healthy oatmeal cookies are soft, moist, chewy, and loaded with dark chocolate chips and yet much healthier than commercial versions. Even better, you can whip up a batch in just 30 minutes!
These Oatmeal Cranberry Cookies are soft, chewy, and loaded with a special ingredient – bright red cranberries and a hint of cinnamon and orange. Best of all, you need just one bowl to prepare these naturally gluten-free festive cookies!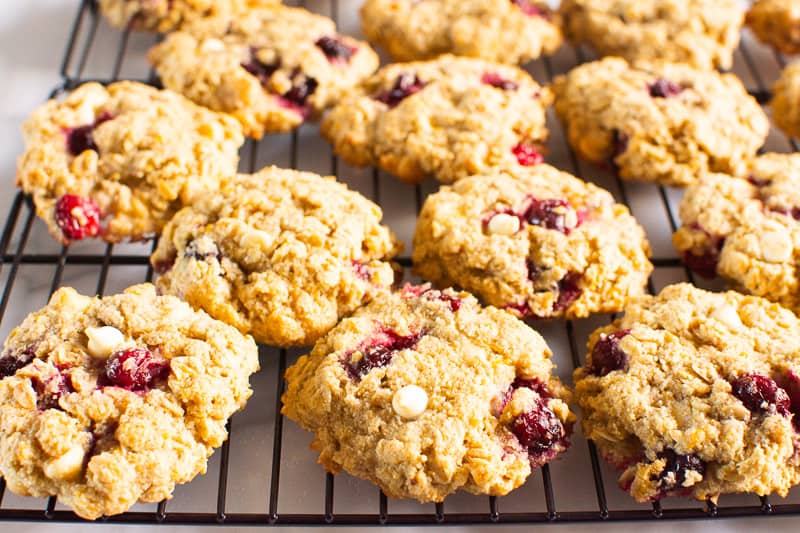 Healthy Peanut Butter Cookies with minimal ingredients, unrefined sweeteners plus naturally gluten free with almond flour! Perfect for kids lunchboxes or a pre/post workout snack.
Light and refreshing Healthy Lemon Cookies are perfect for spring but equally as good year round! Made with naturally gluten free almond flour and topped with healthy lemon glaze, this snack is perfect for brunch, a lunchbox or snack!
This recipe is an absolute must-have in any cookie-loving kitchen! These are the absolute BEST Healthy Chocolate Chip Cookies. They are soft, perfectly chewy, buttery, and loaded with dark chocolate chips- yet still far healthier than commercial versions!
Healthy After Dinner Snacks
These healthy rum balls are fudgy and flavorful with no cream, condensed milk, or added sugar. Plus, they contain just enough rum to feel like a decadent 'adult' treat! You can even share them with friends… if there are any left!
These cacao nib brownie bites are a delicious and nutritious grab-and-go snack, perfect for pre/post-workouts and when chocolate cravings hit! They're packed with antioxidant-rich, fiber-rich ingredients and unrefined sugars, and feel like a naughty treat, but are guilt-free!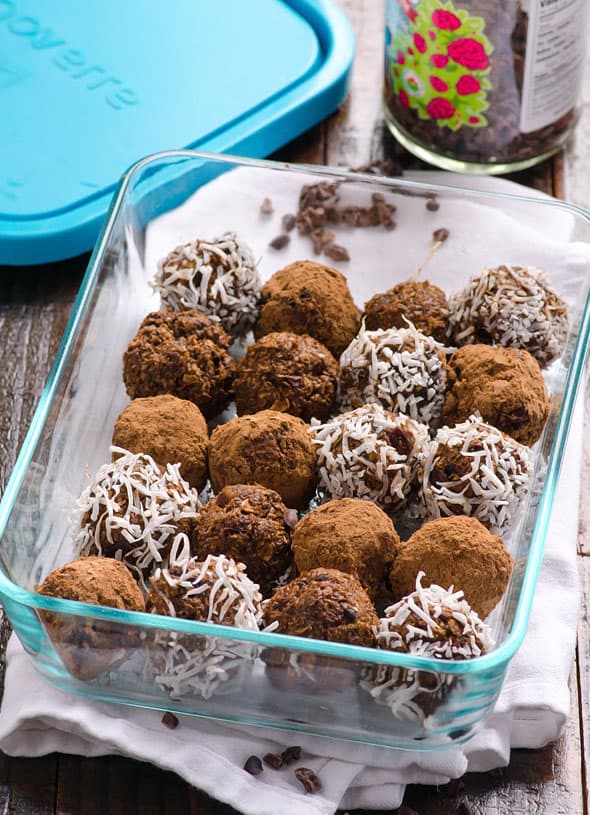 These healthy lemon bars have a moist, fluffy almond flour crust with a zesty, refined sugar-free lemon bar filling! Best of all, though, these gluten-free lemon bars take under 10 minutes of hands-on prep and can be frozen for up to three months – for whenever your sweet tooth rears its' head!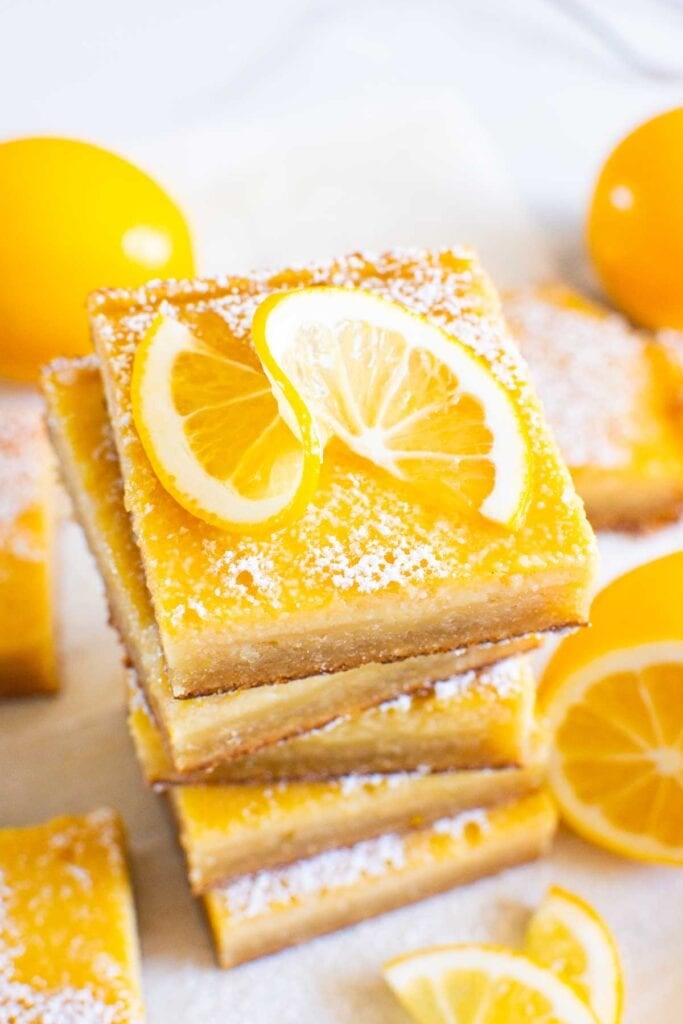 This sweet and refreshing pineapple soft serve is wonderfully flavorful and a delicious copycat of Disneyland's pineapple Dole whip – with none of the chemicals and artificial sweeteners. In fact, all you need for this treat is just ONE ingredient!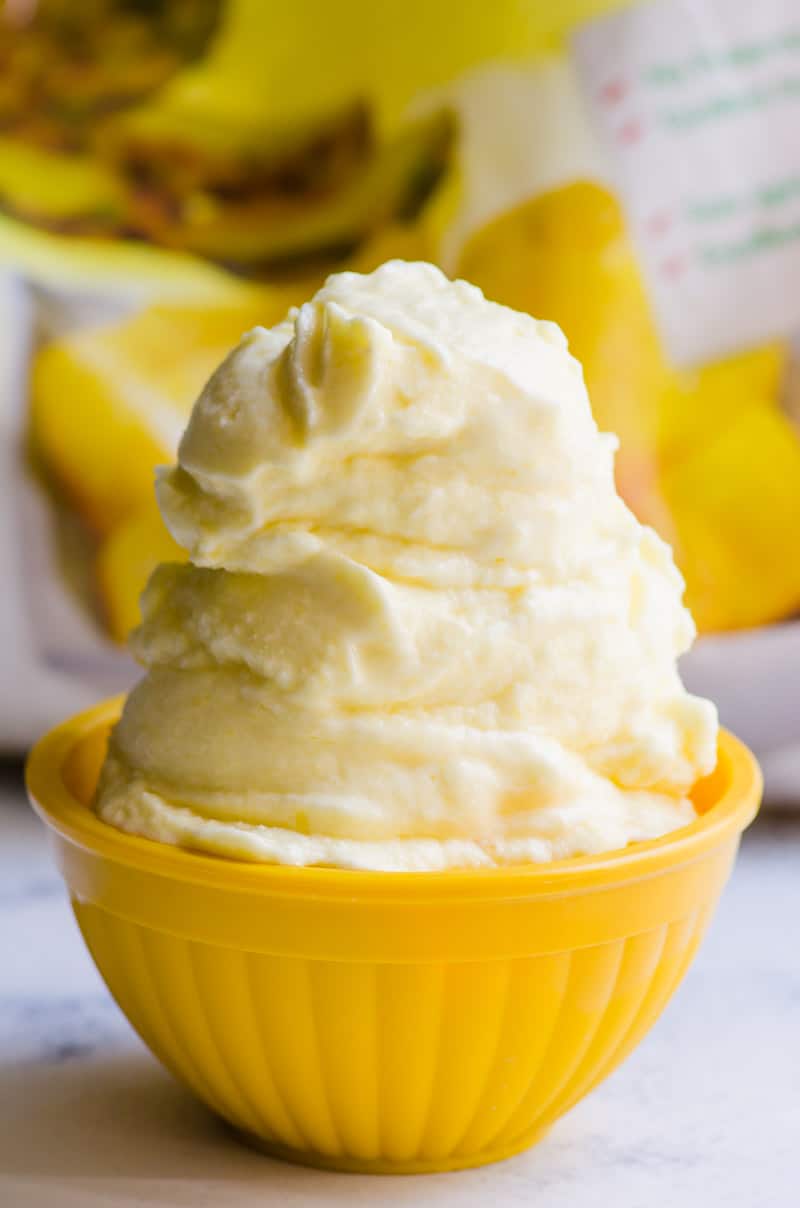 When there's a brownie recipe that's healthy enough to be enjoyed as breakfast, you know I've tried it! These black bean brownies contain no flour, oil, or sugar – and yet they're decadent, fudgy, and I swear you can't even tell that they are made up of a base of black beans (just read the comments if you don't believe me!)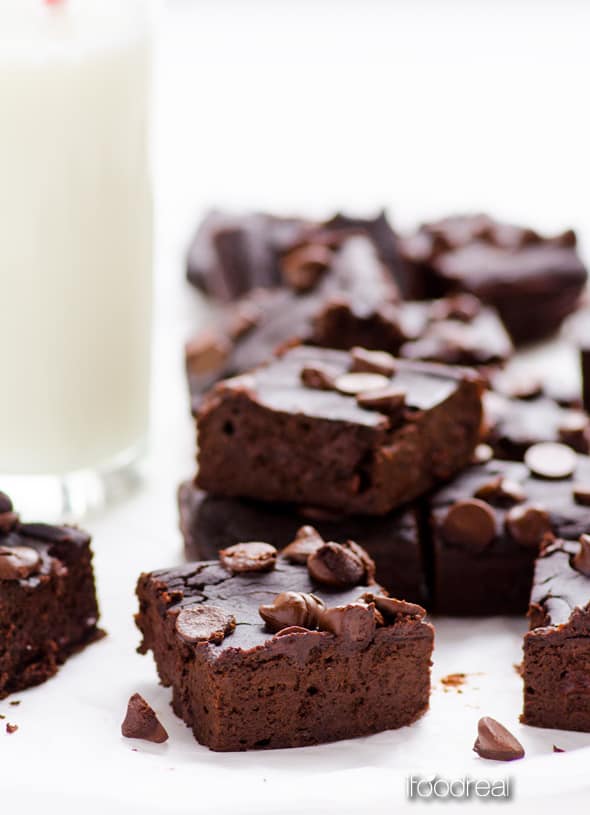 These healthy key lime pie bars contain just 6 wholesome ingredients and are naturally gluten-free, and can be made vegan. These bars are a creamy, filling, and delicious summer treat with a texture between ice cream and a New York-style cheesecake!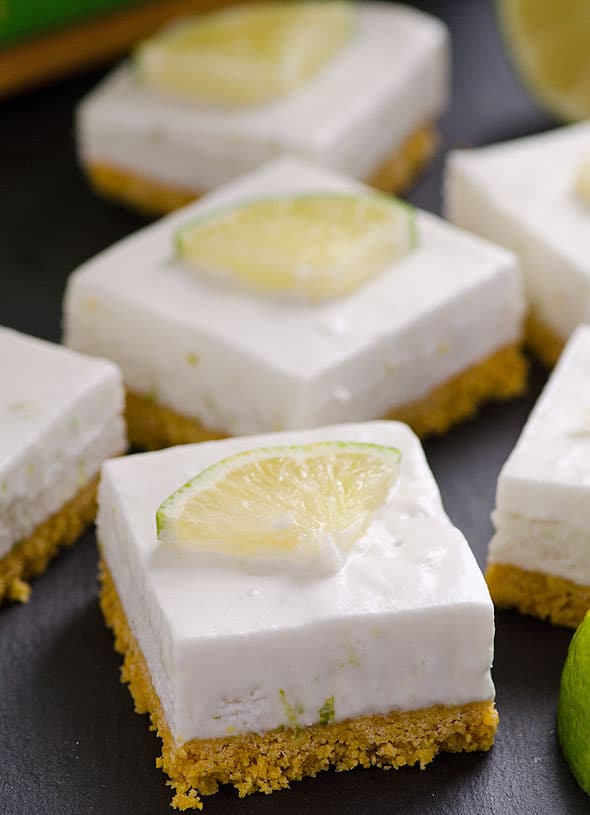 This list wouldn't be complete without a healthy carrot cake. It's moist, flavorful, and even has a thick creamy frosting (with a secret main ingredient)- yet it's so much healthier than regular commercial carrot cake!
To anyone who complains about a lack of frosting on cakes while also attempting a healthy diet, to you I offer this healthy pumpkin cake! It's moist, flavorful, and packed with hidden nutrients. But, best of all it's topped off with a thick and luscious layer of healthy yogurt-based frosting!
More Healthy Recipes
65 Healthy Snack Recipes: Protein Cookies
One of our most popular healthy snack recipes! Protein Cookies are naturally sweetened with bananas and use normal pantry ingredients like oats and peanut butter. Cleaning eating cookies are perfect for breakfast, snack or after a workout.
Instructions
Preheat oven to 350 degrees F. Line large baking sheet with unbleached parchment paper or silicone baking mat, and spray with cooking spray.

In a medium bowl, mash bananas with a fork. Add whey protein powder, oats and peanut butter; stir well to combine (batter's consistency will be runny).

Add chocolate chips and give a few more stirs.

Spoon mixture onto prepared baking sheet (cookies don't spread, so shape them now) and bake for 12-14 minutes (depending on size).

Cool on cooling rack, enjoy as a healthy breakfast or snack.
Notes
Store: Refrigerate in an airtight container for up to 1 week.
Freeze: For up to 1 month. The best way to defrost protein cookies is in a microwave. That way the moisture and softness is restored.
Protein powders: You can substitute unsweetened vanilla whey powder or any other flavored powder you like.
Plant-based protein powder: Is not recommended.
Frozen bananas: Can be used, just remember to thaw first.
Quick oats: Are not recommended as they tend to dry out the cookie.
Nutrition
Serving:
1
cookie
|
Calories:
92
kcal
|
Carbohydrates:
11
g
|
Protein:
6
g
|
Fat:
3
g
|
Saturated Fat:
1
g
|
Cholesterol:
8
mg
|
Sodium:
23
mg
|
Fiber:
1
g
|
Sugar:
4
g