This quick and easy one-pot Chicken Stew is made with chicken, potatoes, and carrots simmered in a deliciously seasoned broth and garnished with fresh herbs. Enjoy with crusty bread for a savory comfort meal!
It is one of our favorite winter dinners along with slow cooker chicken stew and creamy lemon chicken orzo soup.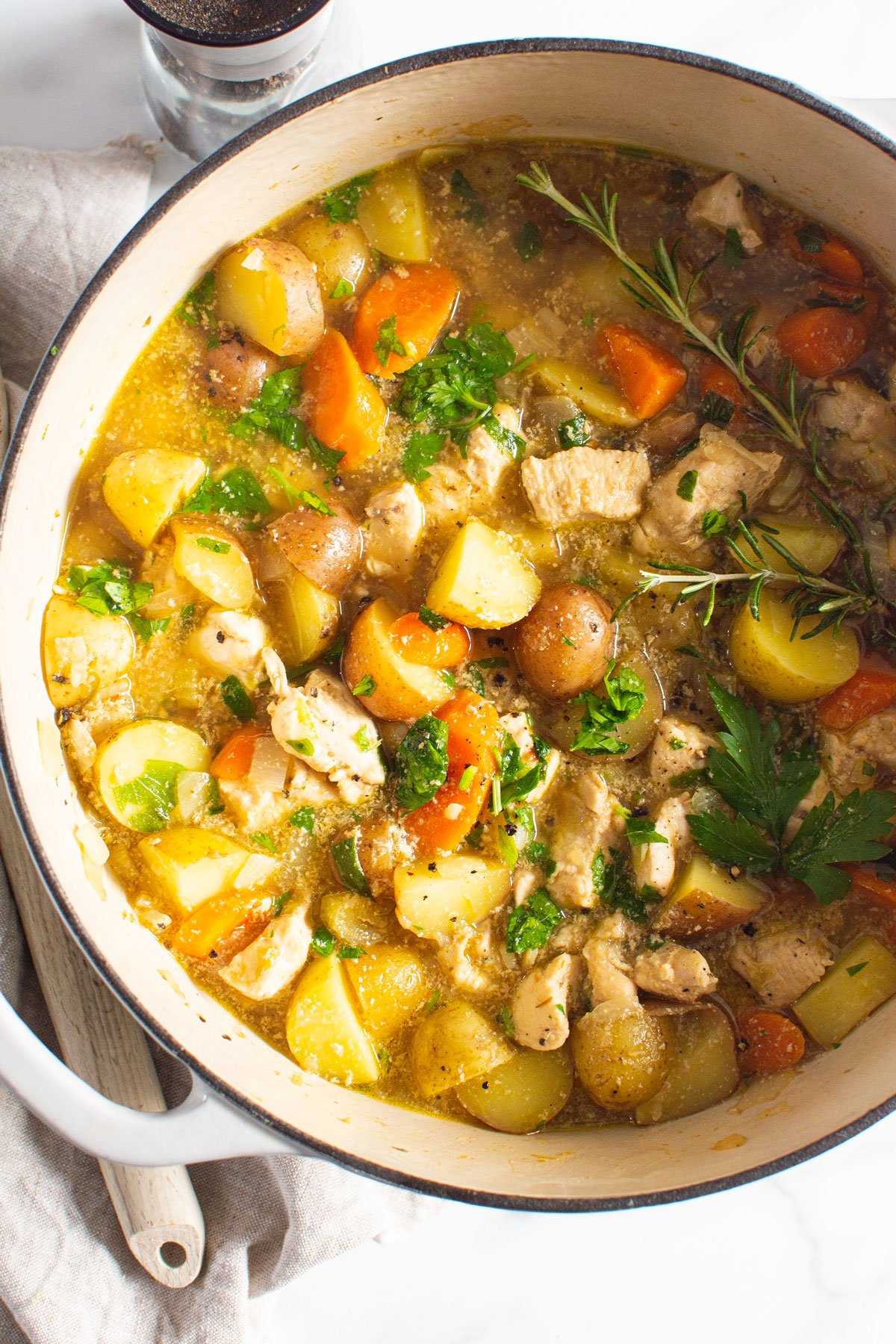 Chicken stew is super easy, done in one pot and ready to serve in under an hour. The infused flavours of herbs and spices create a winning taste combination and the red pepper flakes are an added kick! It's everything you need to get you through cold days.
This is the perfect time of year to stock up on as many warm, healthy, and simple soup and stew recipes as you can get your hands on, like chicken noodle soup and chicken and rice soup!
Cozy up with a hot bowl of this hearty chicken stew, serve with a side salad, and enjoy!
Why Make Chicken Stew Recipe?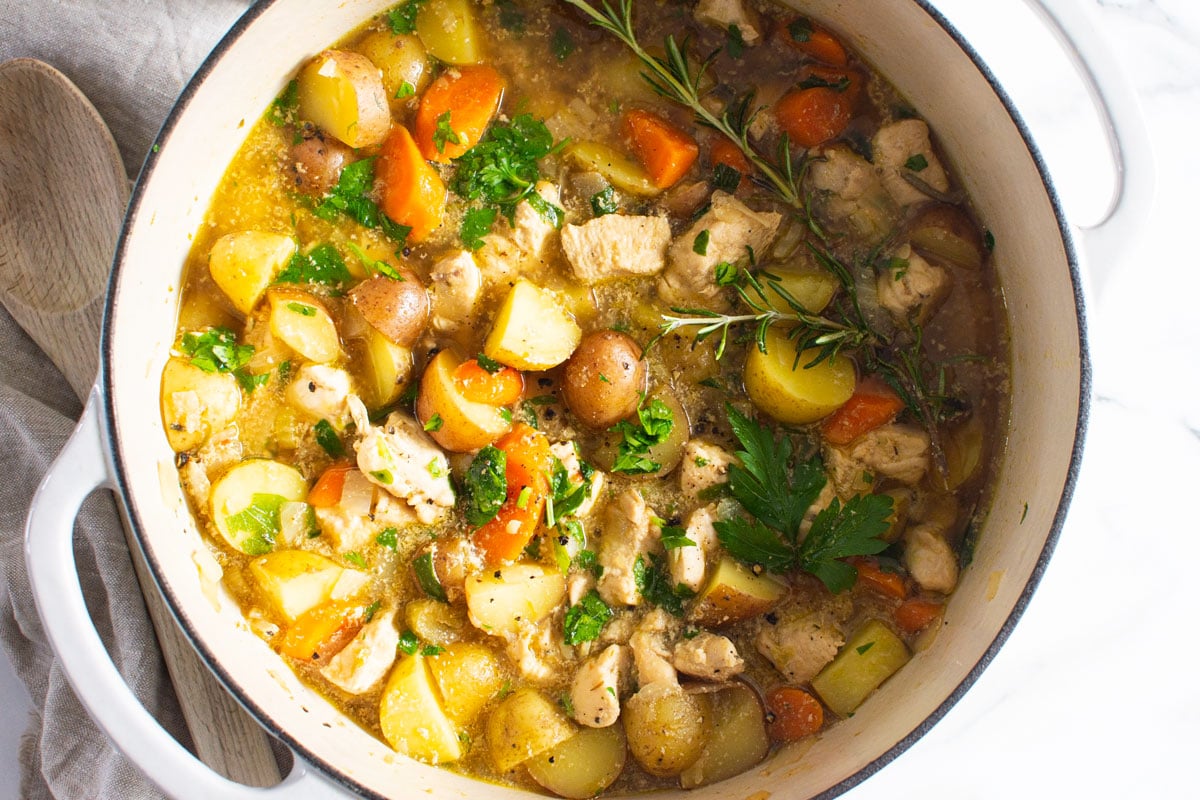 Ingredients for Chicken Potato Stew
How to Make Chicken Stew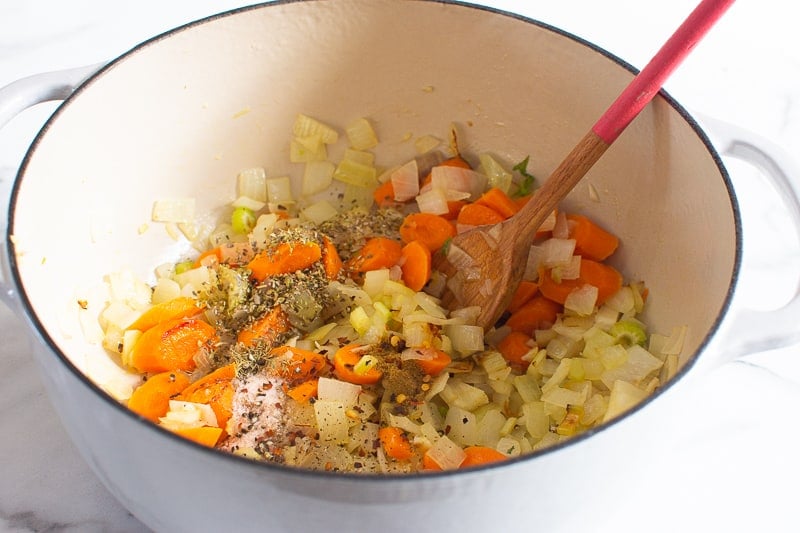 Optional Add-In's and Variations
Tips for Best Results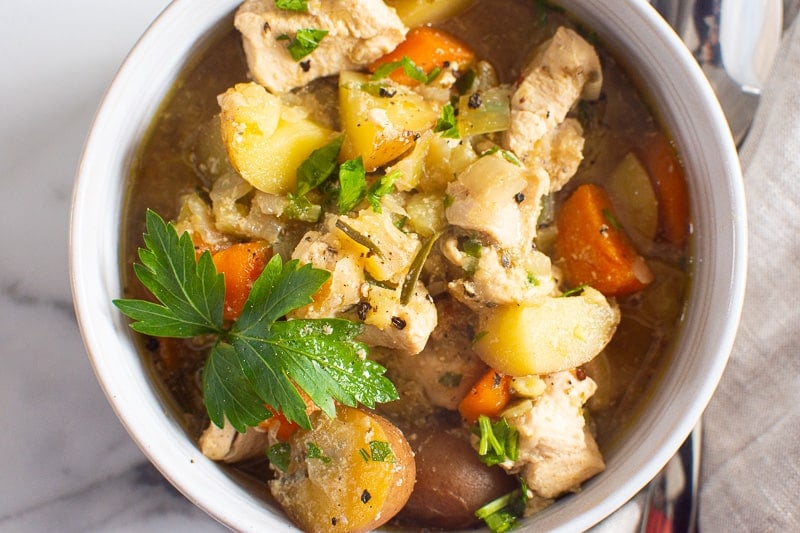 Serving Recommendations
Keep this chicken stew recipe on hand for making a quick and hearty weeknight dinner or a simple comforting meal on a weekend afternoon. Pack the rest away for leftovers and allow the flavors to marry even more the next day!
Serve hot in a small bowl with a basket of bread along with this amazing garlic and olive oil dip and a nice light lemon kale salad.
Making This Recipe in Advance
Store: This chicken stew will keep in the fridge for up to 5 days in an airtight container.
Freeze: If you do freeze, make sure to use a freezer-friendly glass container or resealable silicone bags. Will keep in the freezer for up to 3 months.
Reheat: If frozen, thaw in the fridge overnight or on the counter for 6 hours. Simmer on low heat for approximately 5-7 minutes.
Recipe Tip
Although freezing a stew containing potatoes is possible, it's not highly recommended. Potatoes may change the texture and taste over time and might be a disappointment when reheated.
FAQs
What can I add to stew for flavor?
Other than tender meat and flavourful veggies, most of the flavor in this stew is going to come from the broth and whatever seasonings get added. You can always play around with the amount of seasoning you add or the amount of spice. You can also switch up the seasonings a bit, and add a bit of paprika, lemon pepper, or Italian seasoning.
Is it safe to cook veggies and raw chicken together?
Sure it is. As long as both are fully cooked at the end, they can absolutely be cooked together. In fact, doing so, gives them both added taste.
How do I make chicken stew with dumplings?
Adding yummy fluffy dumplings to your stew is classic! Whether you're making yours from scratch or using a store-bought mix, drop them in towards the last 15 minutes of cook time. Cover and let them expand and cook through. So good!
Does stewing chicken make it tender?
Cooking chicken at just the right temperature with the right amount of juices involved will usually do a good job of keeping it tender. As long as you don't overcook (or undercook) the chicken, you will end up with deliciously tender chicken. Stewing it is just one way. Pressure cooking chicken, using a brine, or marinating chicken are other ways.
Why is my stewed chicken tough?
This happens when chicken is overcooked. It becomes tough and rubbery and no longer as pleasant to bite into. Or chew. To combat this, make sure your pieces are uniform in size and thickness so they cook evenly. Otherwise, some pieces may end up overcooked and some undercooked. Use meatier parts of the chicken so they don't cook too quickly.
More Stew Recipes to Try
More Chicken Recipes to Try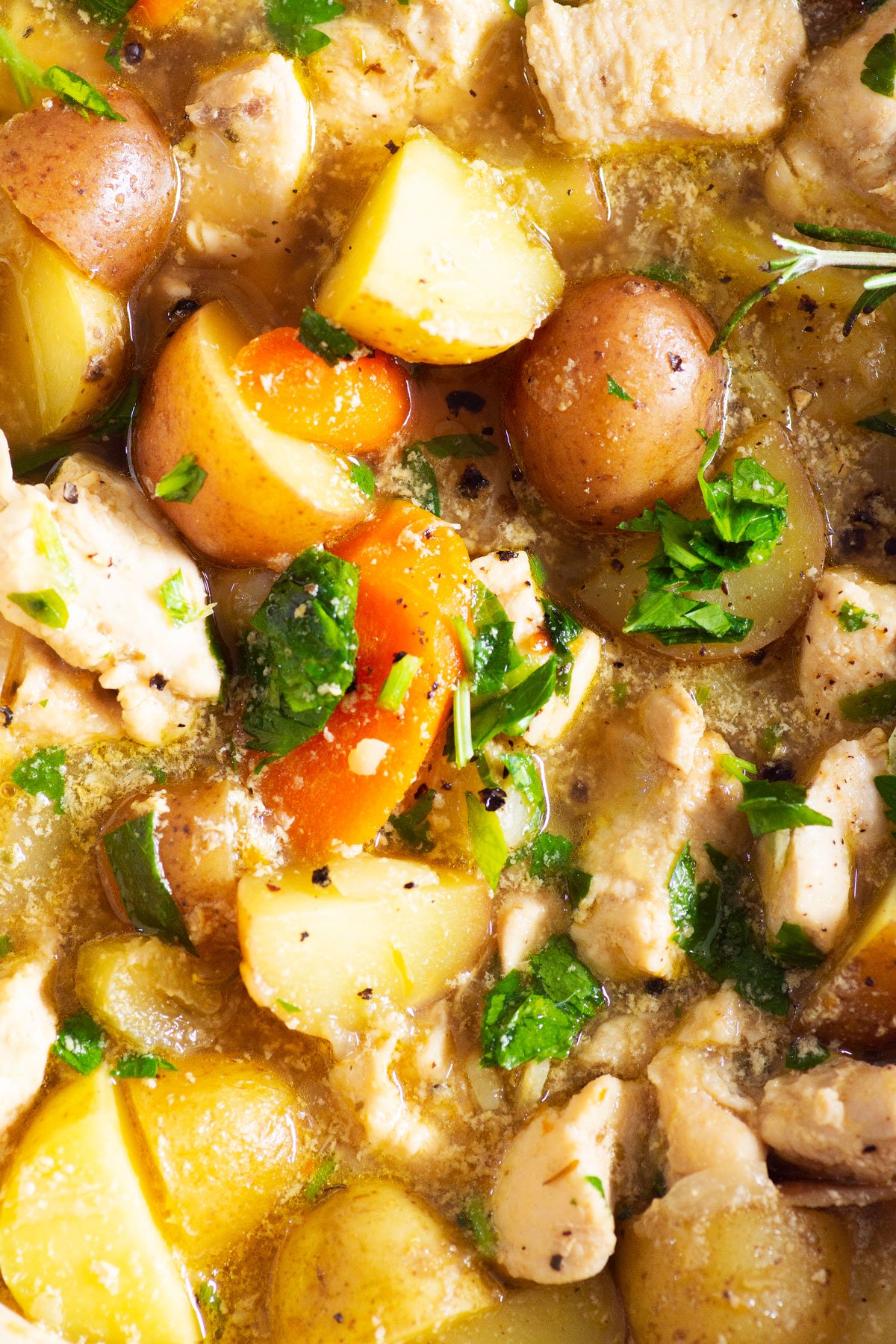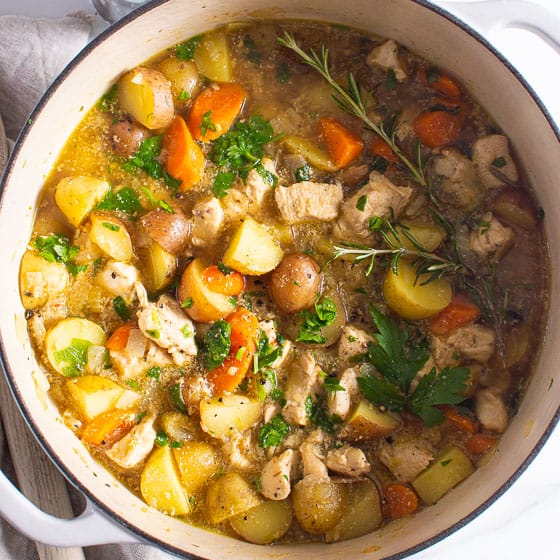 Chicken Stew Recipe
This quick and easy Ukrainian one-pot Chicken Stew is made with chicken, potatoes, and carrots simmered in a deliciously seasoned broth and garnished with fresh herbs. Enjoy with crusty bread for a savory comfort meal!
Instructions
Preheat 6 quart Dutch oven or large pot on medium heat and swirl oil to coat. Add onion, minced garlic, carrots and celery. Saute for 5 minutes, stirring occasionally.

Add chicken, rosemary, oregano, thyme, cumin, salt, pepper and red pepper flakes. Saute for 2 minutes, stirring once.

Add chicken broth, potatoes and bay leaves and stir. Cover, bring to a boil, reduce heat to low and simmer for 20 minutes or until potatoes are fork tender.

Turn off heat, add dill, stir and serve hot. Add grated clove of garlic – yum!
Notes
Store:

Refrigerate in an airtight container for up to 5 days. Reheat portions by simmering in small pot on low heat.

Freeze:

Technically you can freeze this stew. I am personally not a fan but some people do not mind that potatoes change texture. Freeze in a glass container or

resealable silicone bags

  for up to 3 months. Thaw in the fridge overnight or on the counter for 6 hours.

Chicken drumsticks: You can use chicken parts with bone in and skin on. In this case, brown them on both sides first, remove onto a plate and then proceed browning veggies. Also cook with potatoes for about 30 mins.
Potatoes: Red potatoes, white potatoes and baby potatoes will hold their shape better, especially if you are using bone-in chicken pieces and cooking stew longer. However, I love starchy stew russet potatoes make.
Slow cooker or Instant Pot: Slow cooker version brown veggies and meat as per recipe, then add remaining ingredients, cover and cook on High for 3-4 hours or Low for 4-6. Pressure cooker try Instant Pot chicken and potatoes instead.
Double the recipe: Just double each ingredient and be sure to use a large pot or Dutch oven that can hold it.
Other vegetables: You can also add chopped cauliflower, sliced mushrooms, rutabaga or okra.
Thicken the stew: Mash a few potatoes and add them back (works well with russets especially). Or make a slurry of 2 tbsp cold water mixed with 2 tbsp cornstarch.
Nutrition
Serving:
2
cups
|
Calories:
379
kcal
|
Carbohydrates:
35
g
|
Protein:
38
g
|
Fat:
10
g
|
Saturated Fat:
2
g
|
Cholesterol:
97
mg
|
Sodium:
547
mg
|
Fiber:
5
g
|
Sugar:
4
g