Comforting Instant Pot Split Pea Soup is brimming with flavour, budget friendly, and easy to make! It's hearty, protein-rich, and comforting, made with split peas, ham or soup bones, and fresh veggies in a fraction of the time without any presoaking!
Love pulses and love your Instant Pot? Check out Instant Pot ham and bean soup and Instant Pot lentil soup.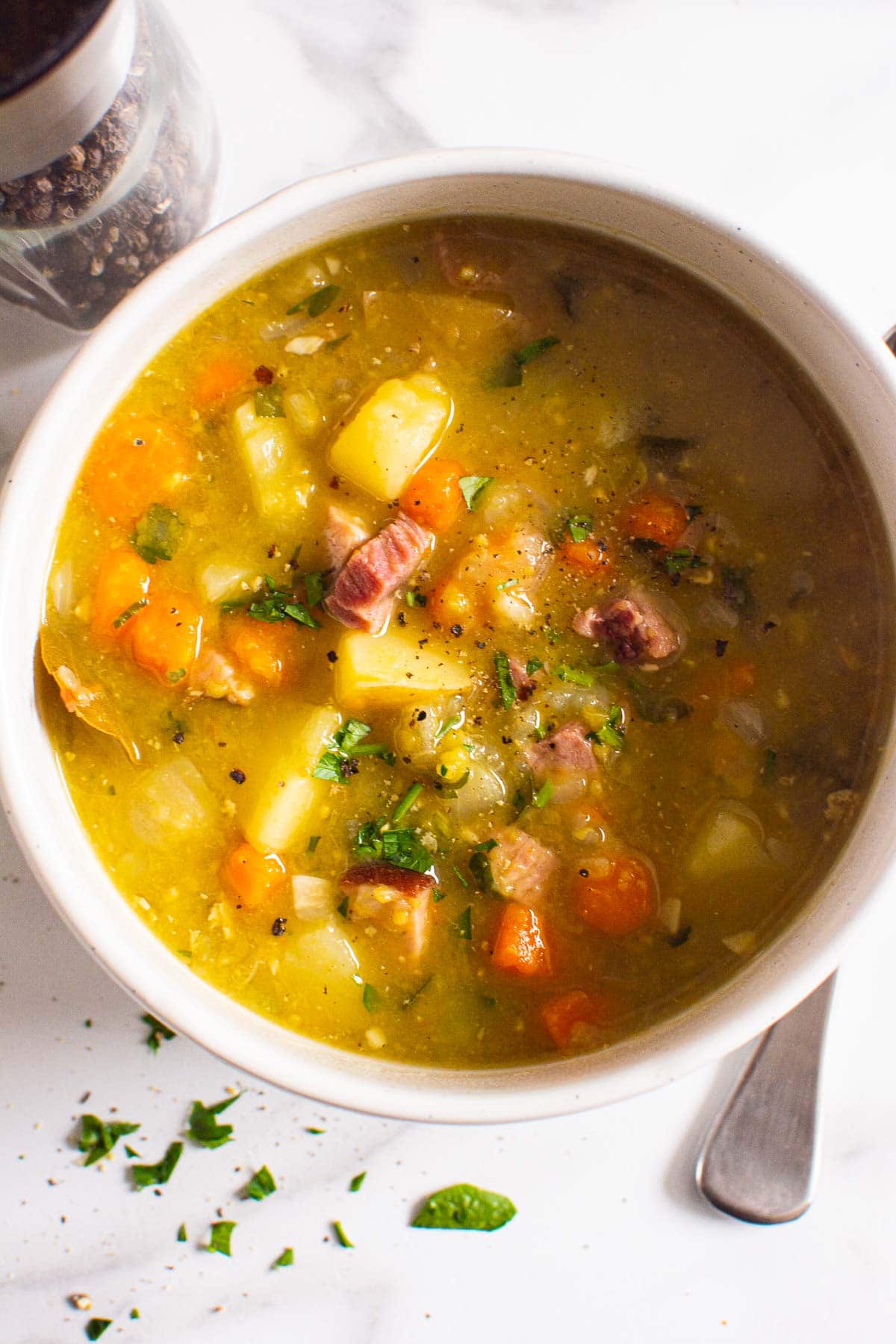 Making Instant Pot pea soup is one of the easiest ways to make this delicious classic soup. I ate this soul-warming, budget-friendly soup a lot growing up as I know most of you did too!
It's so buttery, creamy, thick, and hearty and tastes so good, especially with the addition of smoky, salty ham.
I knew that since I took my grandma's borscht recipe and made an Instant Pot borscht version, I could do the same with her split pea soup recipe. It's one of those mouthwatering soups that gets passed on through generations but with the modern Instant Pot, the pressure cooker does all the work for you in under 1 hour!
Why You'll Love This Recipe
It's delicious: Using a pressure cooker to make soup is a game-changer. As you can tell by my Instant Pot minestrone recipe, using high pressure imparts amazing flavour.
Makes a big batch: It's a one-pot meal hearty enough to satisfy even the hungriest crowds.
A no-fuss soup: It's all made in one pot which means easy clean-up and minimal effort!
Healthy and easy: Simple wholesome ingredients many of which are probably already in your kitchen. This recipe will save you time and money.
Leftovers: This soup not only makes great leftovers for lunch or dinner the next day BUT you can also use leftovers in the soup itself. Leftover holiday turkey or leftover ham bone. Use rotisserie chicken or any leftover homemade broth.
Ingredients for Instant Pot Split Pea Soup
Yellow or green split peas: Split peas sometimes get confused with lentils. While they are both legumes and have a similar appearance, they are not the same.
Meat with bone: My grandma always made split pea soup with soup bones if she had them. She would make a vegetarian version when money was tight. You can use (smoked) ham bone or ham hock, diced ham, chicken, or beef soup bones. After the holidays, you can use a leftover turkey carcass or a smoked turkey leg.
Veggies and aromatics: Potatoes, carrots, onion, garlic, bay leaves.
Liquid: If using meat, you will cook the soup with water. In other cases, you can use chicken broth or vegetable stock/broth from a carton or bouillon cubes diluted in water.
Seasonings: Salt, pepper, fresh herbs like parsley or dill.
One of the main reasons (other than its literal deliciousness) I love this Instant Pot split pea soup recipe is because 99% of the time I already have all of the ingredients in my pantry. Especially when I make vegan Instant Pot split pea soup because I love to keep smoked paprika on hand. I'll use it instead of a ham bone!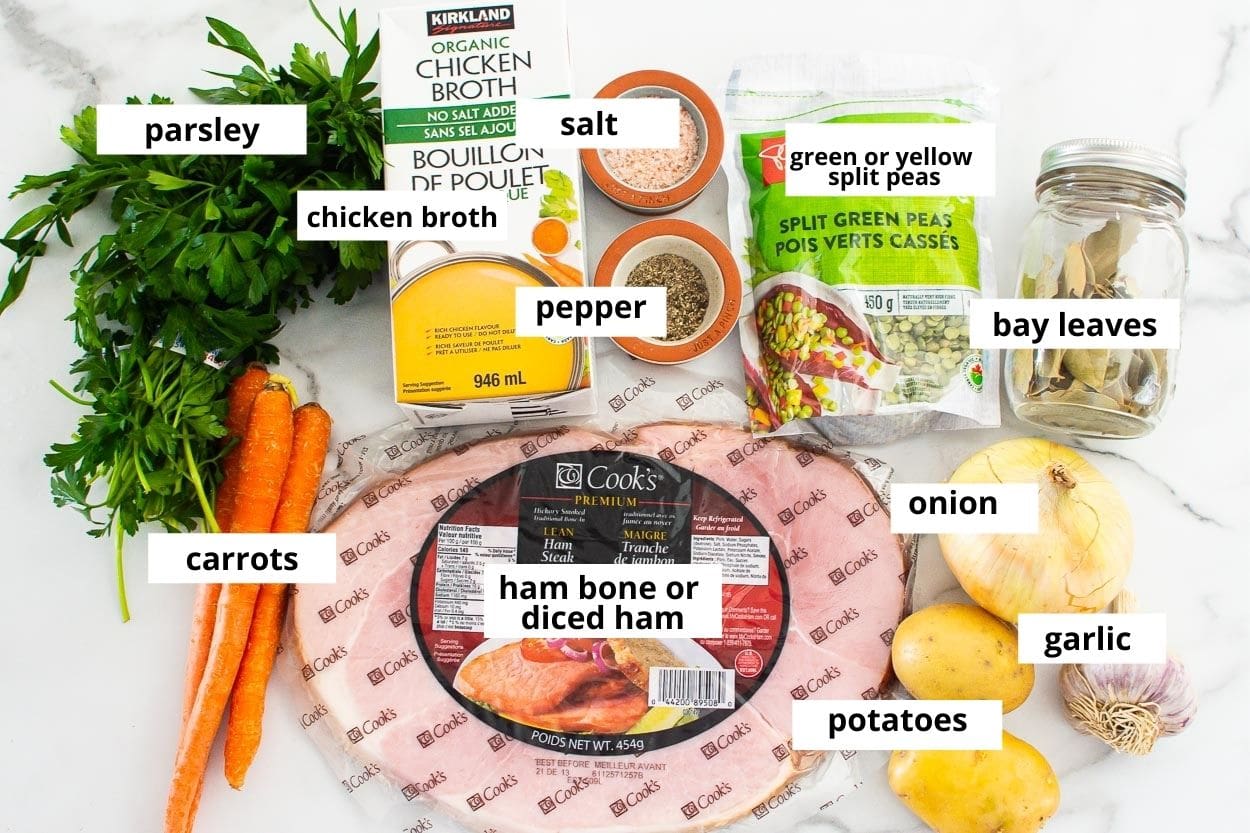 How to Make Instant Pot Split Pea Soup
Rinse peas and rinse them well! There is no need to pre-soak them, which is the beauty of a pressure cooker.
Add all ingredients: In Instant Pot, add meat/bones (if using), onion, carrots, garlic, split peas, potatoes, water or stock, bay leaves, salt, and pepper. No need to sauté onion or garlic in olive oil, as food cooked under pressure comes out more flavorful.
Pressure cook for 15 minutes: Close the lid and set the valve to the sealing position. With pressure building up, cooking time, and a bit of pressure coming down, split pea soup in Instant Pot takes about 1 hour.
Size affects time. Cooking time also depends on whether you use 6 quart or 8 quart electric pressure cooker. There is less liquid to heat in a 6 quart pot which means the split pea soup cooks faster.
Release pressure and season: Once the cooking time is up, press cancel. You can let pressure come down on its own (if you are away) or wait 15 minutes for the liquid to stop bubbling and turn the valve to Venting to release the remaining pressure. Now, add parsley or dill, stir and pour yourself a bowl!
To make soup in the slow cooker: Saute onion and garlic with a bit of butter. Then combine all ingredients in the large slow cooker and cook on Low for 8 hours or on High for 4 hours.
Optional Add-In's and Variations
Keep it vegan/vegetarian: Omit the meat, use vegetable broth, and add smoked paprika or liquid smoke to taste. Do this once the pressure cooker split pea soup has finished cooking.
Cooked bacon or even pancetta is a great alternative to using ham!
Any additional seasoning can be used to please your taste buds! Try a little thyme or red pepper flakes. Finish it off with a squirt of lemon juice for serving. It gives it a vibrant finish to an otherwise rich soup.
Tips for Best Results
Wait 15 minutes before releasing pressure: Even after the soup is done cooking, the liquid is boiling vigorously inside the pot. Let it settle a bit to avoid starchy soup splattering all over your kitchen.
3 quart Instant Pot: Cut ingredients of 6-quart recipe in half and cook for the same time.
Yellow split peas: Yellow peas have a higher starch content which means the texture may differ slightly than if you were to use green peas. Neither one will require an immersion blender, because of how soft and buttery they are, but with yellow peas, you may feel the need to thin it out a bit.
FAQs
Do I have to soak split peas?
No. For some reason, my grandma always soaked split peas in Ukraine many years ago. Maybe we had different split peas or she wanted them to cook faster. Not sure. Today, you do not have to soak split peas or lentils.
Can I make 6 quart amounts in 8 quart?
Yes. You can follow the directions for the 6-quart size in an 8 quart Instant Pot. If you're feeding about 6 people and don't need (or want) any leftovers, then this would be a great idea. The 8-quart amounts would feed the same amount of people but will probably provide leftovers.
Can I use frozen ham bone or carcass?
Yes. If you froze a ham bone or turkey carcass from the holidays, no need to thaw it. Just follow the recipe.
Can you make split pea soup without ham?
Absolutely. You can completely omit the ham and any meat and replace that smoky flavor with smoked paprika or liquid smoke. If you don't eat pork but would like to add some protein you could use chicken or turkey (smoked or not) instead.
How do I make split soup creamy?
Split peas are naturally soft and buttery when cooked. The soup is generally creamy all on its own, so if your soup isn't thick and your peas aren't soft by the time the cooking time is over, it may mean that your peas are old and too dried out. Otherwise, if you are looking for a creamier, thicker consistency, you could try a cornstarch slurry. You probably won't need it though!
Serving Recommendations
This soup doesn't need anything else to complete it. However, I know the hungry teenager situation all too well. Here's what I do sometimes!
How to Store
Storing: Refrigerate in an airtight container or inner pot with a lid for up to 5 days.
It's a thick soup! This Instant Pot split pea soup (vegan or not) thickens with time. With the gelatin in the ham, even more so. It will thin out again as it warms, but you may still need to add a bit of water or broth until desired consistency is reached.
Reheating: Right after cooking, the soup will look watery. In 5-6 hours or overnight, split peas will break down further thickening the soup. Reheat on the stove top or inner pot of the Instant Pot on saute. Along with thinning it out a bit, you might also have to add a bit more salt.
Freezing: Instant Pot split pea soup recipe contains no starchy pasta or thin flesh vegetables, so it's great for the freezer! Once thawed, it tastes as good as fresh.
Freeze in an airtight glass container with some room for expansion for up to 3 months. Thaw in the fridge overnight or on a counter during the day. If in a rush, simmer covered on low, stirring occasionally.
More Instant Pot Soup Recipes
Looking for more dinner ideas? Check out my most popular collection of 45 healthy Instant Pot recipes.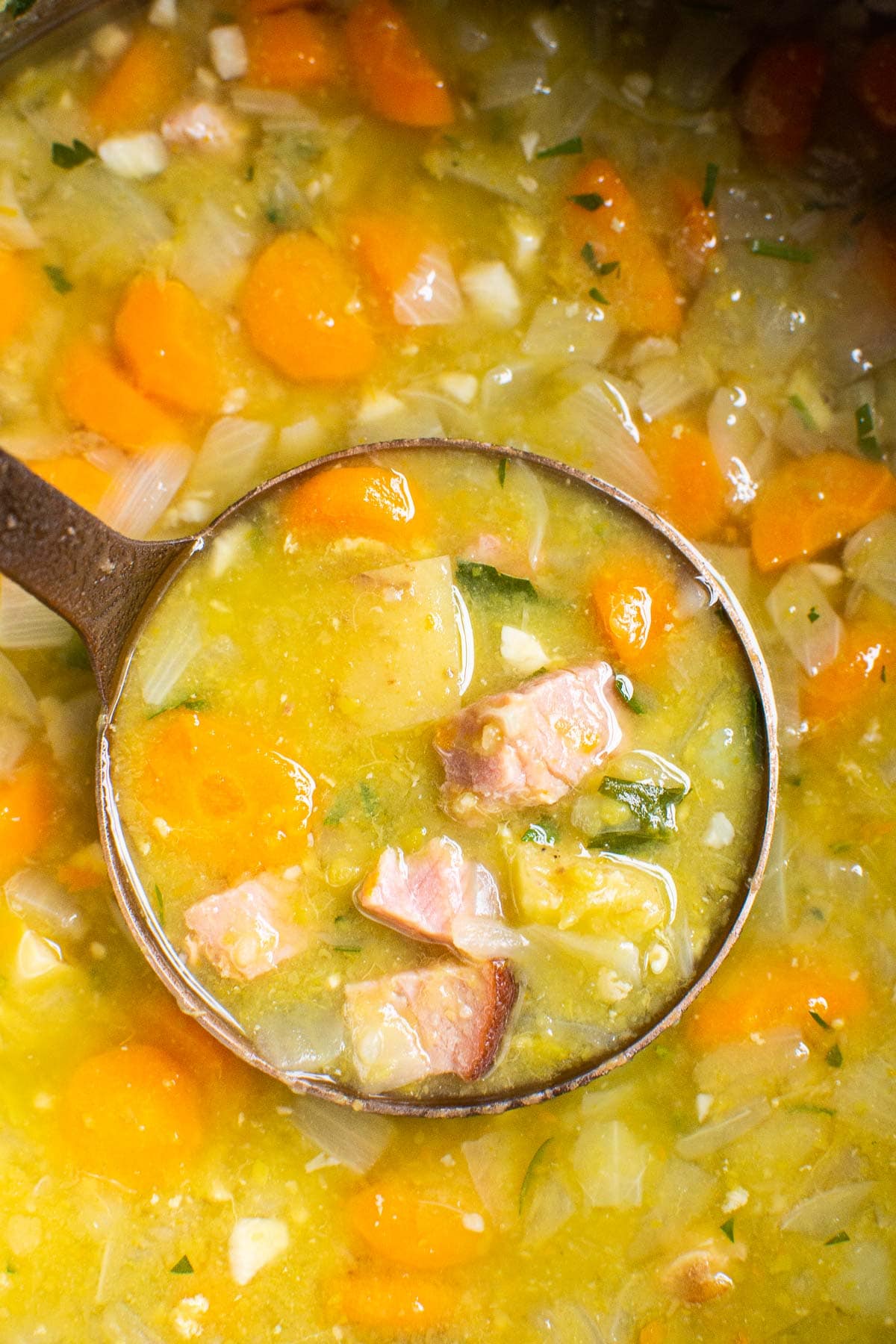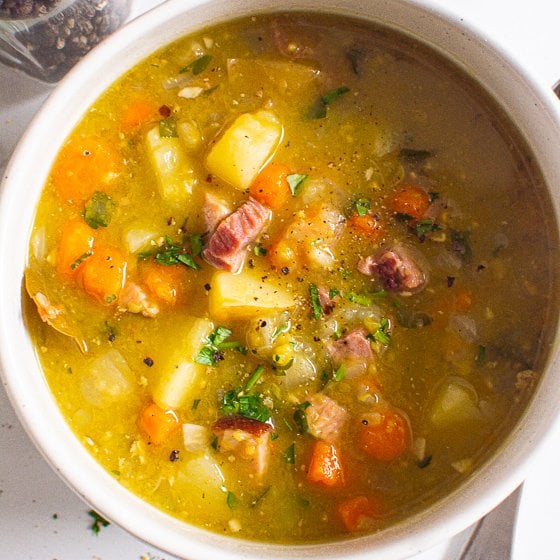 Instant Pot Split Pea Soup
Instant Pot Split Pea Soup is brimming with flavour, is budget friendly and easy to make! Made with split peas, ham or soup bones, and fresh veggies in a fraction of the time without any pre-soaking!
Instructions
In a colander, add split peas, rinse with cold water and set aside to drain. Prep other ingredients.

In 6 or 8 quart Instant Pot, add onion, carrots, garlic, split peas, potatoes, ham (soup) bones or diced ham, water or stock, salt, pepper and bay leaves. No need to stir.

Close the lid, set pressure vent to Sealing and press Pressure Cook on High or Manual for 15 minutes.

After allow the pressure to naturally release for 10-15 minutes to avoid splattering. Then turn valve to Venting. Or you can let pressure subside on its own which will take about 30 minutes – Natural Release.

Open the lid, add parsley and stir. Serve hot with warm crusty bread.
Notes
Store: Refrigerate in an airtight container or inner Instant Pot pot with a fitting glass lid for up to 5 days. Soup gets thicker with time, you may need to add water or broth when reheating to thin it out.
Freeze: Fully cook, cool completely and freeze in an airtight container for up to 3 months. Thaw on a stovetop covered on low.
Too thick or too thin soup? Split pea soup thickens with time. See reheating memo above.
When to add broth and when to add water? If you are using soup bones or ham, you can add water or mix it with broth. If making vegan/vegetarian version, definitely use broth or stock.
Nutrition
Serving:
2
cups
|
Calories:
310
kcal
|
Carbohydrates:
51
g
|
Protein:
24
g
|
Fat:
2
g
|
Saturated Fat:
1
g
|
Cholesterol:
20
mg
|
Sodium:
812
mg
|
Fiber:
19
g
|
Sugar:
8
g