Matcha Chia Pudding is made with 5 simple ingredients and loaded with matcha tea flavor! Start your day right with this powerhouse breakfast.
Along with mango chia pudding and banana chia pudding it's the perfect breakfast, protein-packed snack, or healthy dessert.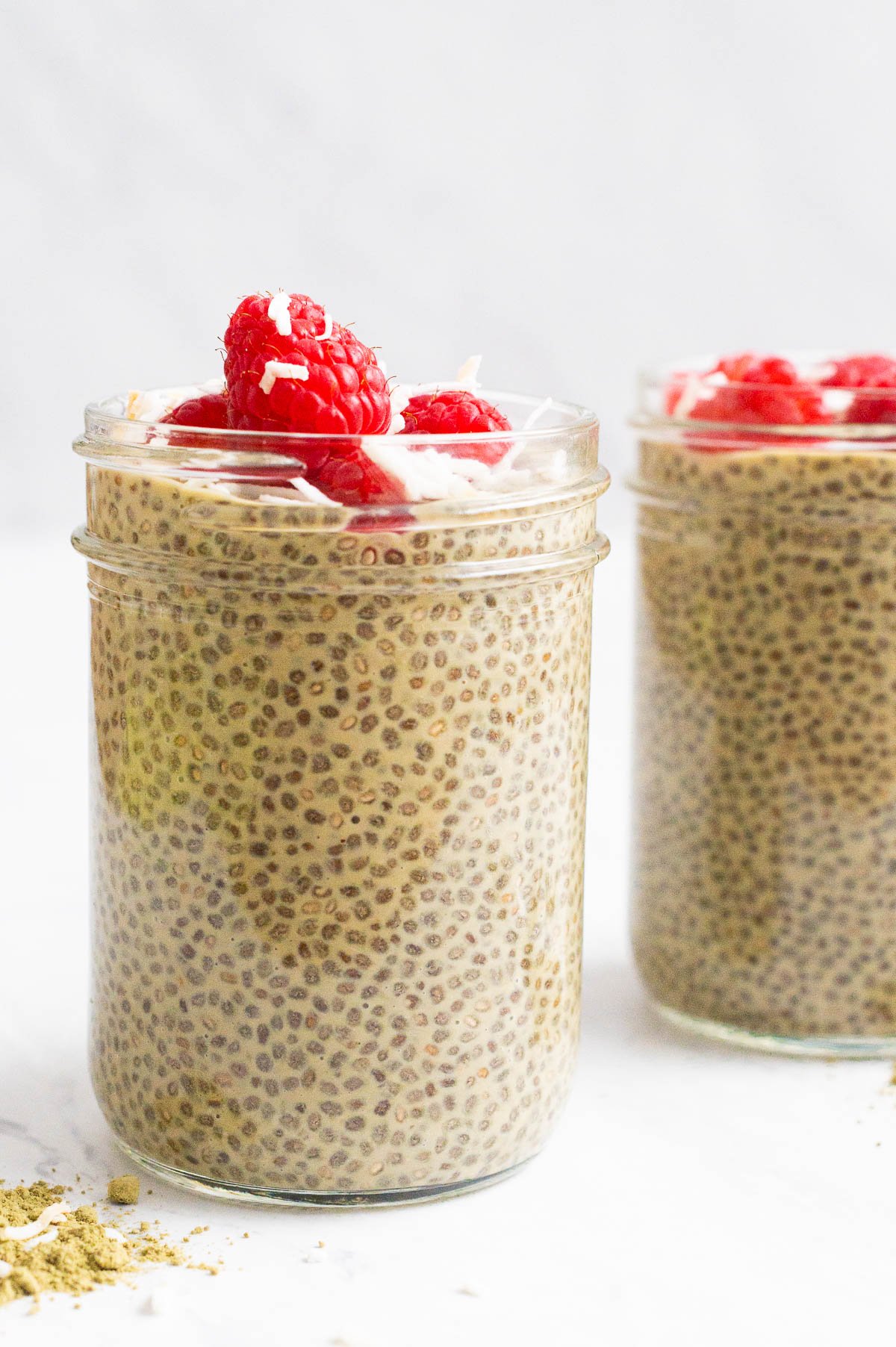 This creamy matcha chia pudding is so sweet and irresistible, you'll want to eat it every day! And because it's gluten-free, packed with fiber, healthy fats, and protein, I say why not?
I started with my basic chia pudding recipe and added green tea powder to create matcha chia seed pudding. A super simple recipe perfect for busy mornings or a midday caffeine boost without the crash.
What Is Matcha and Its Health Benefits?
Matcha is powdered green tea made from finely ground up tea leaves. The powder contains the nutrients from the entire leaf resulting in a greater amount of antioxidants and other amazing health benefits like enhancing weight loss, heart health, and can even boost brain function.
Considered a superfood due to the many health benefits of matcha, we love incorporating it into our diet. It is so versatile, you can drink it hot, add it to your favorite smoothie, or use it in baking and cooking.
Ingredients and Notes
This matcha chia pudding recipe is very easy to make and you'll only need 5 simple ingredients.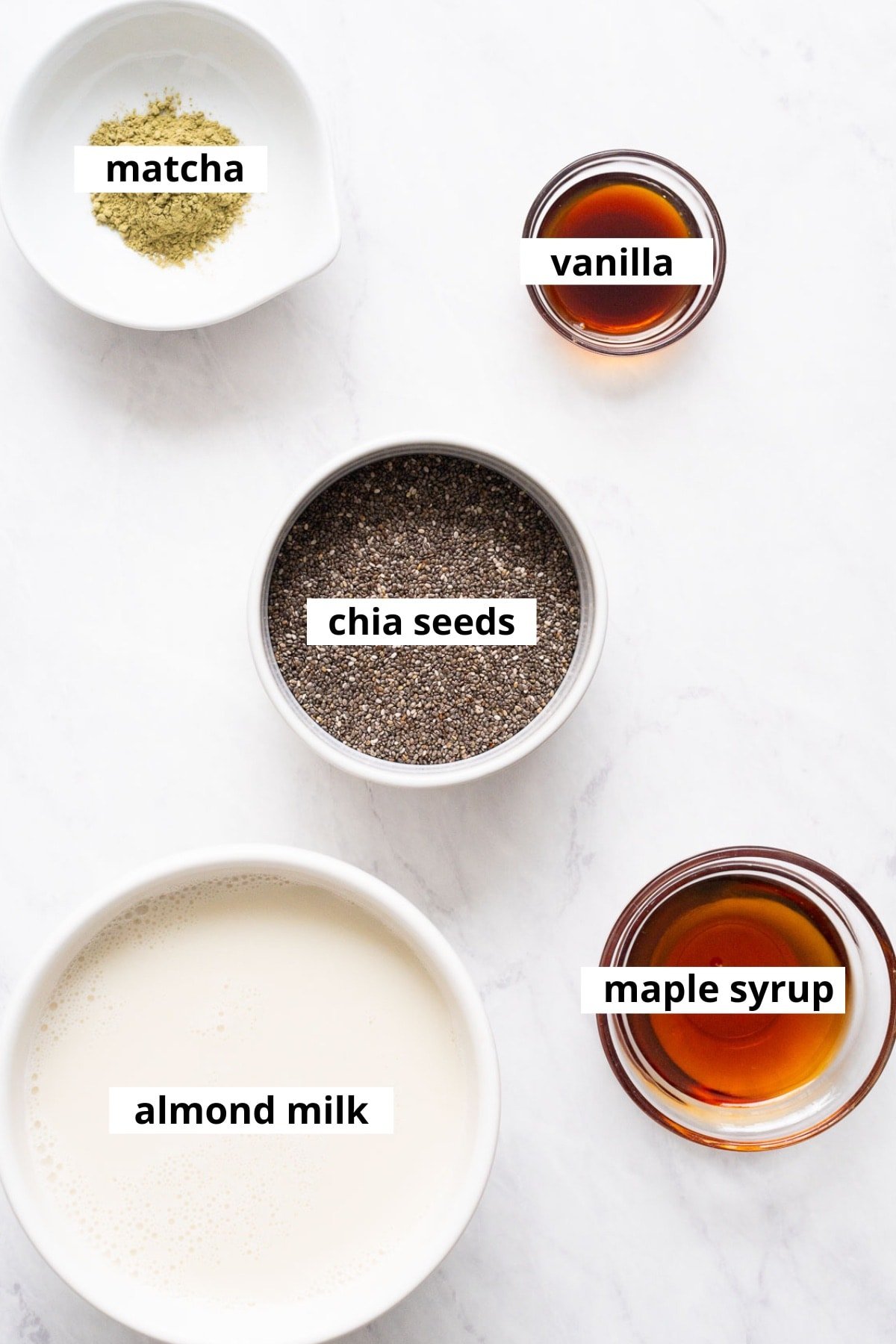 Milk of choice: I like unsweetened almond milk. Any plant-based, non-dairy milk like oat milk, soy milk, cashew milk, rice milk, coconut milk etc. can be used and all contain less calories and fat than dairy milk. However, you can also use dairy milk.
Matcha: Make sure you use culinary grade matcha green tea powder. The only ingredient in the packet should be matcha green tea powder.
Maple syrup: Matcha powder can have a bitter taste, I find that just a little bit of natural sweetener helps make this a sweeter snack. Any liquid sweetener works, honey or agave nectar are other great options.
Vanilla extract: Just a splash is enough to give this matcha chia seed pudding a wonderful vanilla flavor. It will taste like a matcha latte.
Chia seeds: Whole black chia seeds or white chia seeds work, the only difference is the color.
How to Make Matcha Chia Pudding
Here's how to make this matcha chia pudding recipe in 4 simple steps.
Combine and mix: Add milk, chia seeds, maple syrup, vanilla extract, and matcha powder to a large bowl and whisk well.
Rest and mix: Let the mixture sit for 5 minutes and then whisk well. Let it sit for another 5 minutes and whisk once more.
Refrigerate: Cover the large bowl with plastic wrap or divide into single serving, airtight containers and refrigerate overnight or for at least 6 hours.
Serve: Stir and add your favorite toppings, if you wish. Enjoy cold or heat up in the microwave for a warm chia pudding.
Tips for Best Results
Here are some top rated tips for the best chia pudding with matcha powder.
Whisk immediately: Upon adding all ingredients to the bowl, do not let them sit for a while as matcha clumps up quickly.
Blend instead of whisking: For a smoother consistency, add all ingredients to a high speed blender and pulse until combined.
Whisk multiple times: Between the matcha and chia seeds you could end up with a lumpy pudding. I highly recommend whisking multiple times before refrigerating.
Adjust thickness to your taste: It's easy to adjust the thickness of chia seed pudding. If it's too thick add more liquid right away and stir. Matcha green tea will also absorb some of the liquid, it's easier to add liquid after it sets.
For best results refrigerate overnight: In order for the chia seeds to gelatinize, it's best to refrigerate overnight. I find anything less than 6 hours isn't enough time for the pudding to set.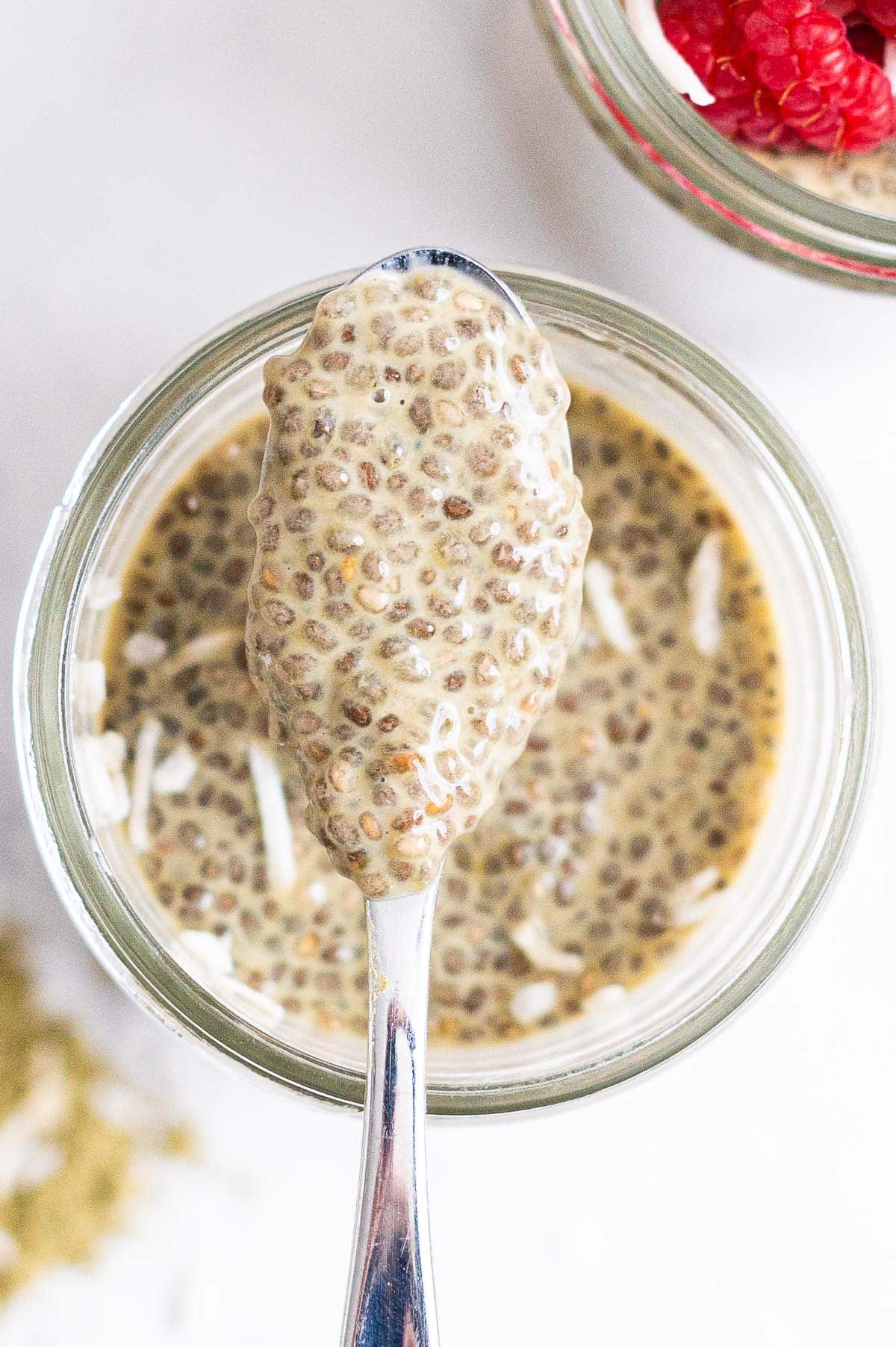 Serving with Various Toppings
I love the slightly sweet taste and the earthy flavor the matcha provides in this chia pudding. It's so easy to mix up each time you make it, you can even enjoy it hot or cold. Here are some delicious topping ideas.
Fresh berries: Bright flavors go great with matcha. Raspberries, blueberries, strawberries are my go-to. Bananas are another great fruit option.
Granola: Adding granola makes it more filling, adds a nice crunch, and will keep you satisfied all morning.
Nuts: Almonds, pistachios, cashews, sunflower seeds, pumpkin seeds.
Yogurt: Top it off with a scoop of yogurt. Use a dairy-free yogurt to keep it vegan.
Shredded coconut: Combine the mild sweetness of coconut with the earthiness of matcha for the perfect flavor.
How to Store
Chia pudding is a staple for me. It lasts in the fridge for up to 5 days so grab your meal prep jars, this is the perfect grab-and-go breakfast!
Store: Store the chia pudding in a mason jar or airtight container for up to 5 days in the fridge.
Freeze: I personally do not freeze chia pudding as its texture becomes gritty upon thawing.
FAQs
What are chia seeds and their health benefits?
Chia seeds are small, powerful, and versatile. They come from the plant Salvia Hispanica L and are a complete plant based protein and excellent source of many essential minerals. Find out more health benefits of chia seeds.
What does matcha chia pudding taste like?
Matcha has an earthy, slightly sweet flavor. Chia seeds do not actually have any taste, so they will absorb whatever liquid or sweetener you have added.
How long does matcha chia seed pudding take to thicken?
Chia seeds absorb liquid immediately but need time to form it's gel-like consistency. For best results, I recommend refrigerating overnight or for at least 6 hours.
Why are my chia seeds not gelling and chia pudding not thickening?
Gelling takes time, if your chia sees are not gelling let them sit in the fridge longer. If the pudding is not thickening, add more chia seeds to the mixture.
More Chia Pudding Recipes to Try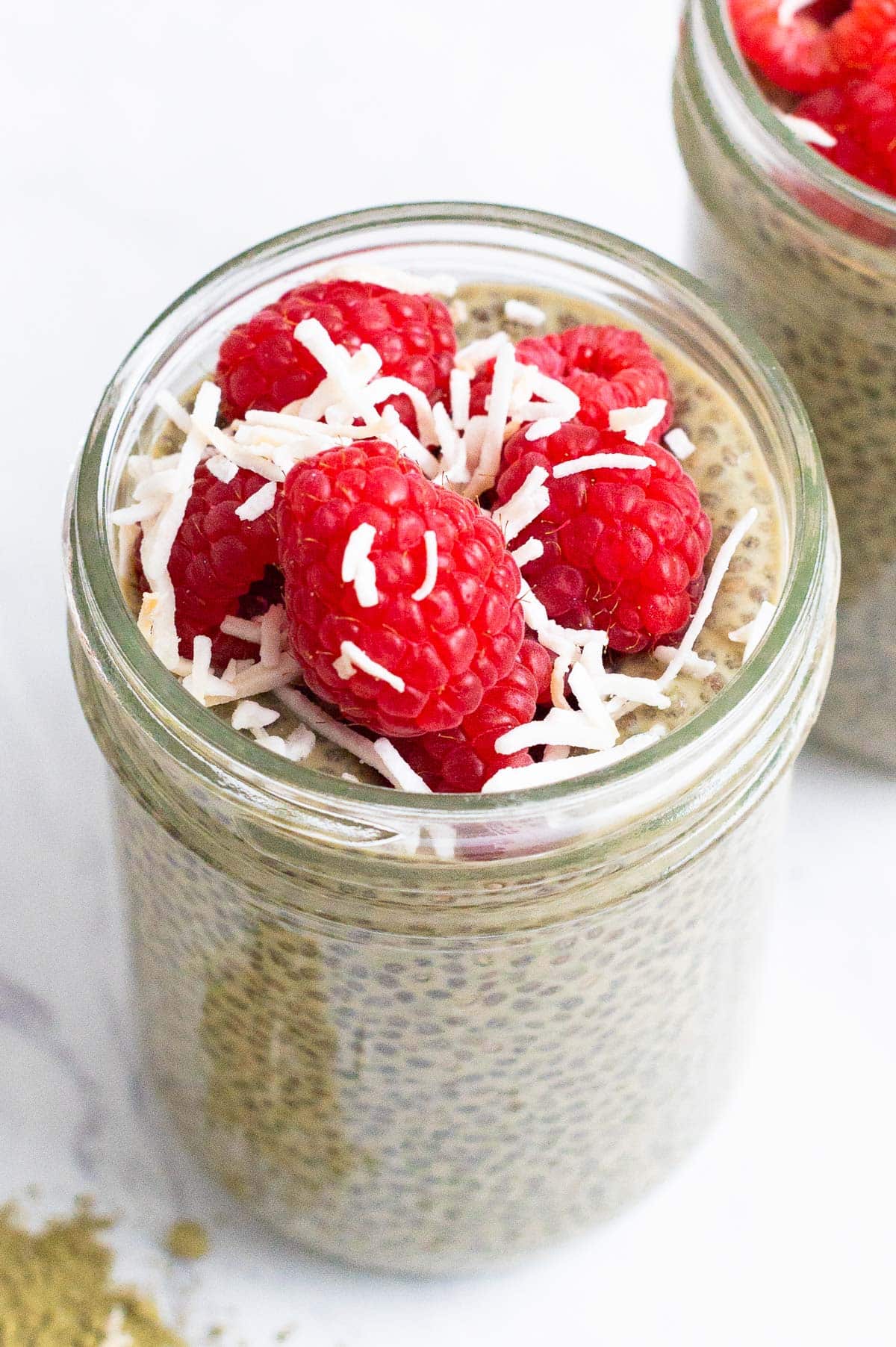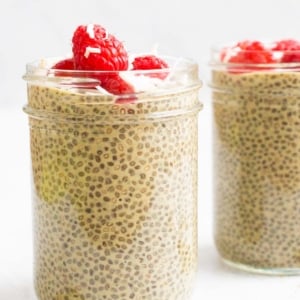 Matcha Chia Pudding Recipe
Matcha Chia Pudding is made with 5 simple ingredients and loaded with matcha tea flavor! Start your day right with this powerhouse breakfast.
Instructions
In a large bowl, add milk, maple syrup, vanilla extract, chia seeds, matcha powder and whisk well.

Let chia pudding mixture sit for 5 minutes and then whisk one more time. Let sit another 5 minutes and whisk again.

Cover and refrigerate overnight or for at least 6 hours.

When ready to eat, give a stir and add your favorite toppings, if you wish. Enjoy cold or warm.
Notes
Store: Refrigerate for up to 5 days. 
Whole chia seeds: You want to use whole and not ground chia seeds to avoid bitter taste and unpleasant texture.
Milk: Best and popular choice is plant-based milk from a carton. You can also use dairy milk.
Too thick or runny: Add a little bit of milk and stir. Or use less milk next time.
Nutrition
Serving:
1
per serving
|
Calories:
161
kcal
|
Carbohydrates:
17
g
|
Protein:
6
g
|
Fat:
7
g
|
Saturated Fat:
2
g
|
Trans Fat:
0.02
g
|
Cholesterol:
11
mg
|
Sodium:
39
mg
|
Fiber:
5
g
|
Sugar:
11
g