Easy Strawberry Chia Pudding made with 6 ingredients and full of fresh fruity flavor. Make it in advance for a healthy breakfast, snack, or dessert that will keep you full for hours!
What Are Chia Seeds?
Today we are making to-die-for strawberry chia pudding! Chia seeds are tiny edible seeds that come from the Salvia hispanica plant. The health benefits of chia seeds are countless and include high levels of antioxidants, omega-3 fatty acids, healthy fats, fiber and calcium.
Chia seeds are one of a few plant-based foods that are a source of complete protein and all nine essential amino acids, a true superfood!
They are super absorbent and can be added into a variety of recipes including salads, protein shakes, smoothies, energy bars, and my personal favorite, chia pudding.
Why You Will Love This Recipe
Tasty: If you love fruity desserts then you will love strawberry chia seed pudding, it tastes like a creamsicle because we add tangy yogurt.
Easy: It's incredibly easy to make, all you need is 5 minutes of prep time and then let it chill.
Good for you: Packed with superfoods, fibers, and protein that will make your day instantly better.
Ingredients for Strawberry Chia Pudding
To make this strawberry chia pudding recipe you will need 6 staple ingredients. If you don't keep chia seeds in your pantry, I highly recommend them!
Fresh strawberries: Use fresh sweet strawberries for best taste.
Greek yogurt: A great source of protein and makes strawberry chia pudding extra creamy. You can also use regular yogurt or vegan yogurt.
Milk: I used unsweetened almond milk but any other dairy-free milk, or even dairy milk works. Oat milk, soy milk, cashew milk, or coconut milk from a carton are all popular choices.
Liquid sweetener: Maple syrup is my go-to because it dissolves better in cold milk. Honey or agave nectar work as well.
Vanilla extract: Just a small amount adds another layer of flavor.
Chia seeds: Please use whole chia seeds and not ground chia seeds for best texture. They can be black chia seeds or white chia seeds.
How to Make Strawberry Chia Pudding
Strawberry chia pudding is made in 4 simple steps. Here is a quick photo overview, there is a full recipe card located below.
Puree strawberries: Add strawberries to a blender or food processor and process until puree forms.
Combine the liquids: To a large bowl, add strawberry puree, Greek yogurt, milk, maple syrup and vanilla extract, whisk very well.
Add chia and let sit: Then add chia seeds and whisk until combined. Let it sit for 10 minutes and stir again.
Cover and chill: Cover the bowl with plastic wrap, or transfer to individual mason jars and cover with lids. Refrigerate for a minimum of 6 hours but I prefer overnight so chia seeds have a chance to absorb all the liquids and flavors.
Serve cold: When ready to eat, stir and enjoy thick and flavorful strawberry chia seed pudding.
Tips for Best Results
Chia pudding is very popular in my household, I've lost count of how many times I've made it. I'm happy to share my top tips for the best strawberry chia pudding recipe.
Stir a few times: This step guarantees a smooth consistency with no lumps. Make sure to stir two times with 10 minutes in between before refrigerating.
Use sweet strawberries: The sweeter the strawberries, the sweeter the pudding. Bland, watery strawberries will not add much flavor.
To thicken strawberry chia pudding: Add up to 1 tablespoon more chia seeds to the mixture and let it sit another hour. Make a note and use less milk for soaking chia seeds next time.
To thin out strawberry chia pudding: Add more milk little by little until you reach your preferred texture.
Try blending it: Use a high speed blender and blend the strawberry mixture first, then add remaining ingredients and pulse until combined. This method is great if you do not like the texture of chia seeds.
Variations
Here are a few easy variations for strawberry chia pudding.
Freeze-dried strawberries: I wanted to keep the recipe simple and they're pricey and hard to find where I live, but freeze dried strawberries will add extra strawberry flavor and nice color. Add 2-3 tablespoons or use 1/3 cup of pulsed freeze-dried strawberries instead of fresh ones.
Strawberry milk: You can find strawberry flavored plant-based milk in most grocery stores and use instead of regular milk. Keep in mind it comes with added sugar, so possibly use less maple syrup.
Other berries: If you don't have strawberries on hand, try raspberries, blackberries, or blueberries.
Make it dairy-free: Easy to do by using plain or strawberry and berry flavored dairy-free yogurt.
Make it high protein: Add a scoop of your favorite protein powder for a supercharged protein pudding.
Make it keto: Replace maple syrup or honey with a sugar-free sweetener and use full-fat coconut milk instead of almond milk.
How Long Does Chia Pudding Last in the Fridge?
Store: Transfer chia seed pudding in grab-and-go mason jars with lids or any airtight container and refrigerate for up to 5 days. It's perfect for meal prep and make ahead breakfast for busy mornings, after school snack, or guilt-free dessert.
Freeze: Chia pudding does not freeze well because its texture becomes gritty upon thawing. Be sure to make only as much as you need for a week or less.
FAQs
Can I use frozen strawberries for strawberry chia pudding?
Frozen strawberries are less sweet because manufacturers select less ripe fruit for freezing.

You can use frozen strawberries but your pudding will be less flavorful, you will need to add more maple syrup. Thaw them first for about 30 minutes on a counter, then puree.
Why didn't my chia pudding thicken?
Chia seeds do not swell if they are stale. I recommend picking up a fresh bag of chia seeds to use for next time.
What is the perfect ratio of chia seeds to liquids?
I find the best ratio of chia seed to liquids is 3/4 cup milk with 3 tablespoons of chia seeds. This will give you the best chia pudding consistency that isn't too soupy or thick and dry.
What does chia pudding taste like?
Chia pudding tastes like a tapioca like pudding. Chia seeds are quite neutral in flavor with a slight Omega taste. When they sit in liquid they will absorb its flavors. Your strawberry chia pudding should taste like a strawberry creamsicle dessert.
Is chia pudding actually good for you?
Absolutely! Chia pudding is packed with many health benefits making it the perfect addition to any healthy, balanced diet.
More Strawberry Recipes
More Chia Pudding Recipes to Try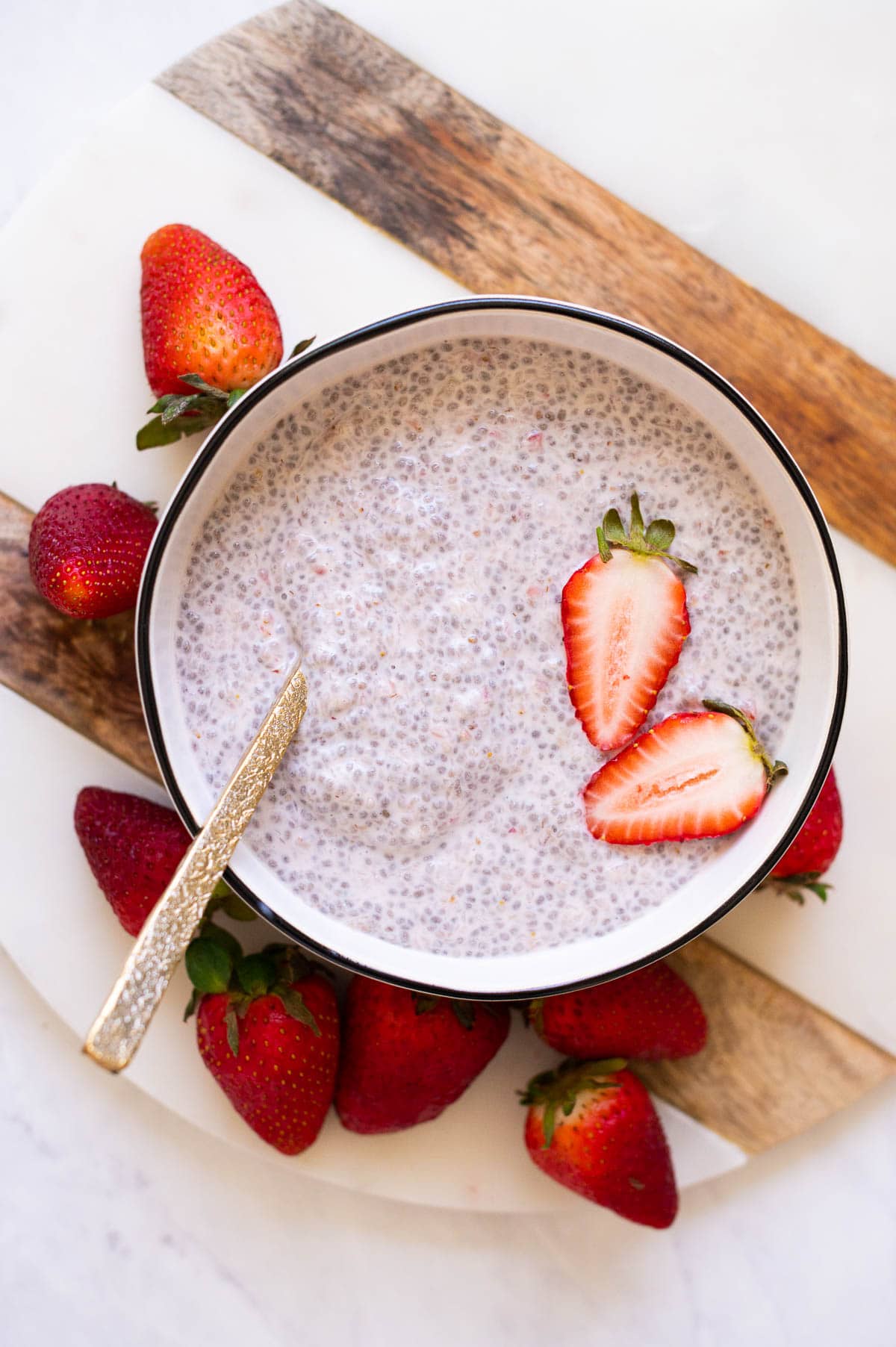 Strawberry Chia Pudding
Easy Strawberry Chia Pudding made with 6 ingredients and full of fresh fruity flavor. Perfect for healthy breakfast, snack or meal prep.
Instructions
In a blender or food processor, add strawberries and process until puree forms.

Transfer strawberry puree into a large bowl along with Greek yogurt, milk, maple syrup and vanilla extract. Whisk very well.

Add chia seeds, whisk again and let sit for 10 minutes. Then whisk one more time.

Cover and refrigerate chia pudding overnight or for at least 6 hours.

When ready to eat, give strawberry chia pudding a stir and enjoy cold.
Notes
Store: Refrigerate for up to 5 days.
Whole chia seeds: You want to use whole and not ground chia seeds to avoid bitter taste and unpleasant texture.
Milk: Best and popular choice is plant-based milk from a carton. You can also use dairy milk.
Too thick or runny: Add a little bit of milk and stir. Or use less milk next time.
Nutrition
Serving:
1
per serving
|
Calories:
258
kcal
|
Carbohydrates:
32
g
|
Protein:
11
g
|
Fat:
11
g
|
Saturated Fat:
3
g
|
Trans Fat:
0.03
g
|
Cholesterol:
16
mg
|
Sodium:
62
mg
|
Fiber:
9
g
|
Sugar:
19
g