Mango Chia Pudding made with 4 simple ingredients and full of tropical flavors. It's a perfect breakfast, snack or healthy dessert.
Banana chia pudding, strawberry chia pudding and coconut chia pudding are other family favorites around here.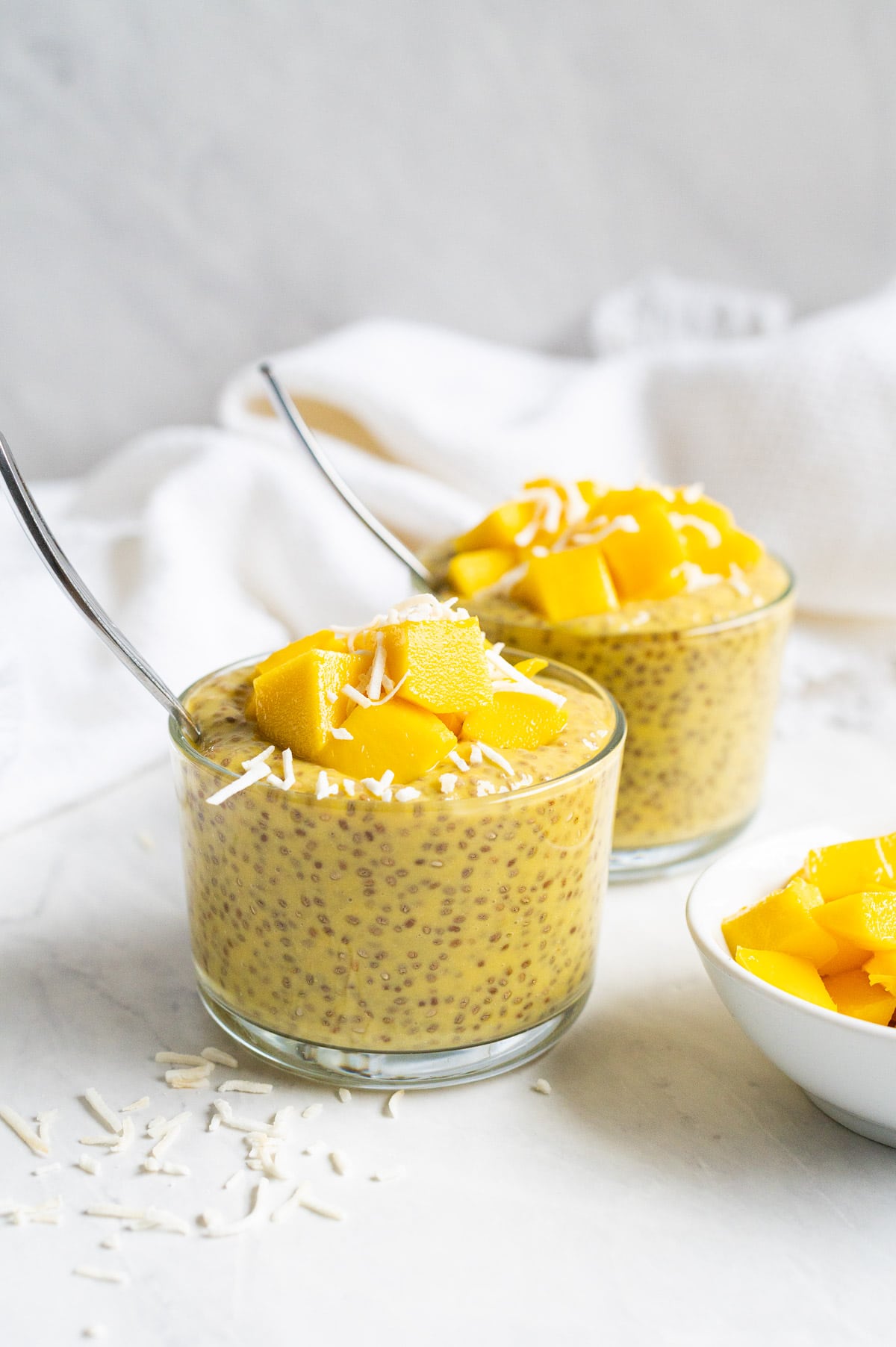 This creamy mango chia pudding not only looks like you want to eat it now, you actually will want to eat it all the time!
My teenage kids love my basic chia pudding recipe but when I add flavors, they are all over it for after school snack or easy healthy breakfast. And it truly makes my heart full they are eating a healthy snack because believe me they eat their fair share of not so good for you food. Life.
According to Healthline, chia seeds are truly a superfood. Its health benefits include high levels of antioxidants, omega-3 fatty acids, healthy fats, fiber and calcium. Chia seeds are one of few plant-based foods that are a source of complete protein and all nine essential amino acids.
Not to mention this mango pudding with chia seeds tastes phenomenal, is vegan and gluten-free! And if you love mango, check out this mango ice cream recipe.
Ingredients you Will Need
To make mango chia pudding recipe you will need only 4 simple ingredients.
Fresh mangoes: I recommend to use fresh ripe mangoes for best taste. Ataulfo mango or more common Tommy Atkins mango can be found in any grocery store. Ripe mango is a bit soft, gives in to the touch and fragrant by the stem. Please see notes about frozen mango below.
Milk: I used unsweetened almond milk but any other dairy-free milk works. For example, oat milk, soy milk, cashew milk, coconut milk from a carton etc. You can also use dairy milk.
Sweetener: Any liquid sweetener of choice like maple syrup, honey or agave nectar. Dry sweetener works as well.
Chia seeds: Whole black chia seeds or white chia seeds. Please use whole chia seeds and not ground chia seeds for best texture and taste.
How to Make Mango Chia Pudding
Here is how to make mango chia seed pudding in four simple steps. I have tested this recipe three times to ensure the mango flavor really shines in this chia pudding recipe.
Peel and cut mango: Peel the outside peel, then remove the flesh around the oval pit inside. Mango chunks do not have to be small or perfectly cut because we will puree them in next step.
Puree it: Add mango and 1 cup milk to a high speed blender or food processor and puree until smooth. Blender purees mango better, making mango chia pudding more flavorful. But food processor can be used in a pinch as well.
Combine all ingredients: Transfer mango puree along with remaining milk, maple syrup and chia seeds to a large bowl.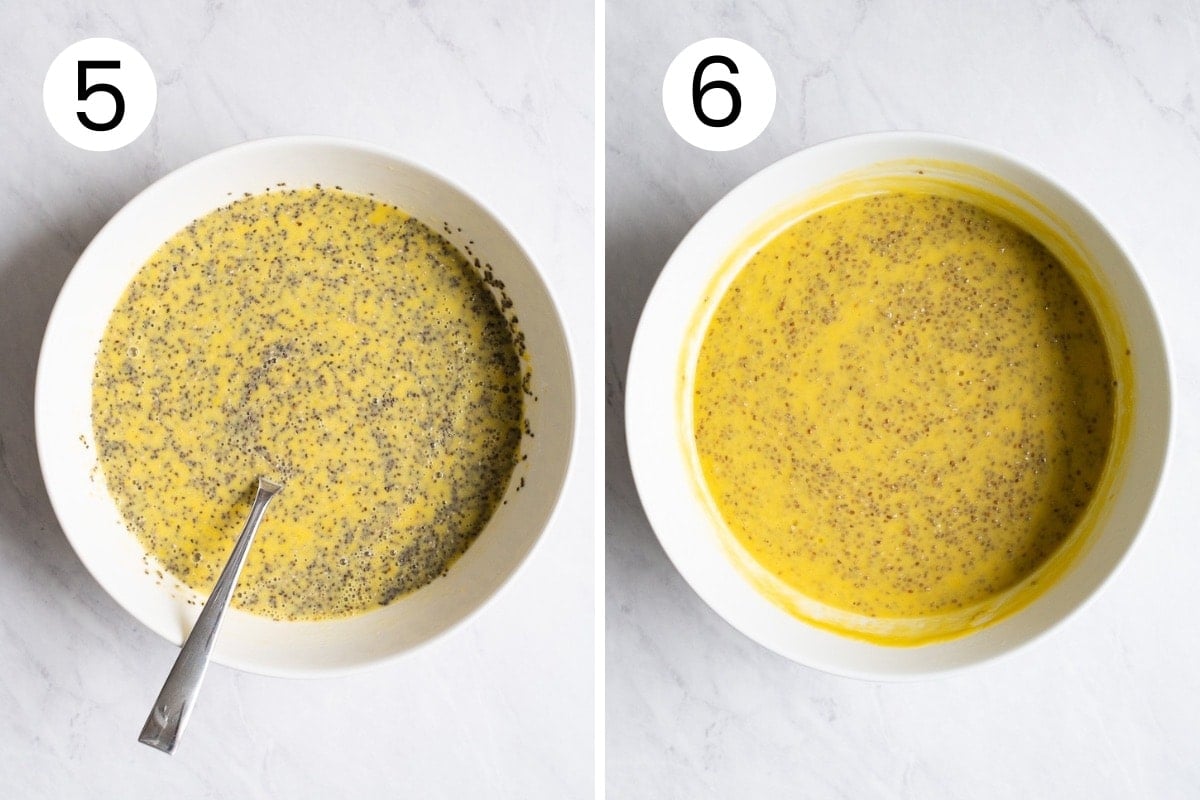 Stir and let sit: Stir everything very well and let chia pudding mixture sit for 10 minutes. Then you want to stir chia seed mixture one more time before refrigeration.
Soak chia pudding overnight: Cover the bowl with plastic wrap or lid. You can also use any large sealed container. Refrigerate for a minimum of 6 hours but I prefer overnight. Next day mango chia pudding is thick and flavorful as chia seeds had a chance to absorb all the liquids and flavors.
Tips for Best Results
I have been making chia pudding for a decade now. So, here are my tips for best chia pudding ever from my kitchen to yours.
Make it in a blender: If you have a high speed blender, you can prepare this chia seed mango pudding in it. First blend mango mixture, then add remaining ingredients and just pulse until combined.
Don't skip another stir: Make sure to stir two times with ten minutes in between before refrigerating the pudding. This extra step ensures a smooth consistency.
Frozen mango: Frozen mango is less sweet because manufacturers select less ripe mango for freezing. You can use it but pudding comes out less flavorful and you will need to add more maple syrup. Thaw it first for about 30 minutes on a counter, then puree.
Adjust the texture: After you try this recipe for mango chia pudding, adjust the texture for next time. If it's too thick – add more milk right away, if it's too thin – use less milk for soaking chia seeds next time.
Serving Chia Pudding
Serve mango chia pudding straight from the refrigerator while cold. Perfect on a hot summer day! You can slightly warm it up in a microwave during winter months.
Our favorite toppings include extra mango, diced kiwi and raspberries. You can also top it with any other seasonal fruits, tropical fresh fruit and berries. Top with coconut flakes and nuts for extra crunch, or drizzle with your favorite nut butter.
Storing Recommendations
Chia seed pudding can be refrigerated for up to 5 days making it perfect for meal prep and make ahead breakfast for busy mornings. Refrigerate in grab-and-go mason jars with lids or any airtight container and serve as much as you need.
Chia pudding does not freeze well because its texture becomes gritty upon thawing. Make only as much as you can consume within a week or less.
FAQs
What does chia pudding taste like?
Chia pudding tastes like pudding. Chia seeds have quite neutral flavor with a slight Omega taste. When they sit in a liquid, they have a chance to absorb its flavors. So your mango chia pudding should taste like mango dessert.
How to peel and cut mango?
To peel mango, use a vegetable peeler. Then cut flesh on both sides of large oval flat pit located inside. Remove remaining mango around the pit. You can also cut on both sides of mango first, then make criss-cross pattern on each half without cutting through the skin. Then remove the cubes.
Can I use frozen mango?
You can, thaw for 30 minutes at room temperature before pureeing. But I do not like to use frozen mango as it is not ripe and fragrant fruit. Be ready for much less flavorful pudding.
Can I add canned coconut milk?
Yes. To make this mango chia pudding taste even more tropical, add a can of full-fat coconut milk or light coconut milk. Plus another 1/2 cup milk of any non-dairy milk from a carton or dairy milk. Please note that nutritional value will change.
More Chia Seed Recipes to Try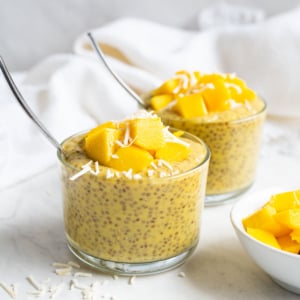 Mango Chia Pudding
Mango Chia Pudding made with 4 simple ingredients and full of tropical flavors. It's a perfect breakfast, snack or healthy dessert.
Instructions
In a blender or food processor, add mango and 1 cup milk, process until puree forms.

Transfer mango puree into a large bowl along with remaining 1 cup milk, maple syrup and chia seeds.

Stir well with a spoon or fork, let sit for 10 minutes and stir again.

Cover and refrigerate overnight or for at least 6 hours.

When ready to eat, give a stir, add more chopped mango and top with coconut flakes, if you wish. Enjoy cold.
Notes
Store: Refrigerate for up to 5 days. 
Whole chia seeds: You want to use whole and not ground chia seeds to avoid bitter taste and unpleasant texture.
Milk: Best and popular choice is plant-based milk from a carton. You can also use dairy milk.
Too thick or runny: Add a little bit of milk and stir. Or use less milk next time.
Nutrition
Serving:
1
per serving
|
Calories:
282
kcal
|
Carbohydrates:
40
g
|
Protein:
8
g
|
Fat:
11
g
|
Saturated Fat:
3
g
|
Trans Fat:
0.03
g
|
Cholesterol:
15
mg
|
Sodium:
53
mg
|
Fiber:
9
g
|
Sugar:
29
g