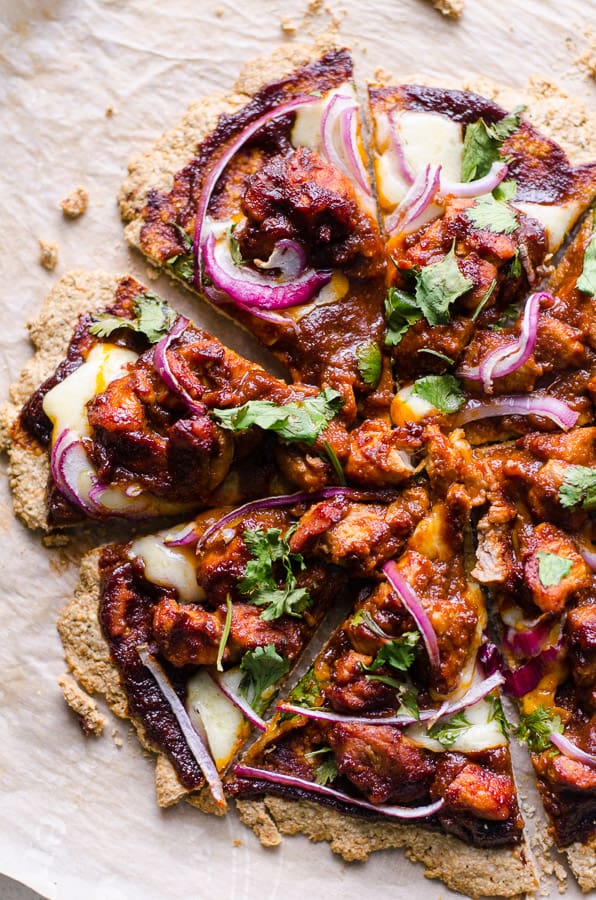 I am here not to tell you that you should drop your family's favourite pizza recipe, stop making pizza or that pizza is bad for you. No, none of that is true. What I am here to offer you is an easy flourless oatmeal pizza crust solution, if you are not "a flour girl" (oops, that sounds weird but I like it) like me and are looking for a simple yet lighter Friday night pizza solution.
What I mostly love about a rolled oats pizza crust is an absence of flour mess and no bloating (I just need to place a printed recipe on my husband's pillow). I do not make my own dough for one of the reasons mentioned before, but rather buy whole wheat pizza dough at my local Italian deli (I special order 10 at a time since it is a special order) and make homemade pizza nights, I absolutely do and will keep doing it. However, it is hard to stop at 2 slices and I end up eating way more and then feeling bloated.
I came to a conclusion that bloating from wheat products is quite "normal" if you eat more than one slice of pizza or a small handful of spaghetti. My stomach just feels heavy and it is not a sign that I am gluten intolerant or sensitive. The key is moderation, in everything. So these 2 reasons above gave me enough motivation to master an oatmeal crust pizza, so I could eat more veggies but still on top of pizza and with cheese. 
Can I confess (have you noticed how honest I am becoming as I age)? I made cauliflower pizza crust recipe only twice in my life. Not because it is bad, not at all, it holds by the slice and is delicious. Because it is just a wee bit too much work and almond flour pizza crust takes much less time.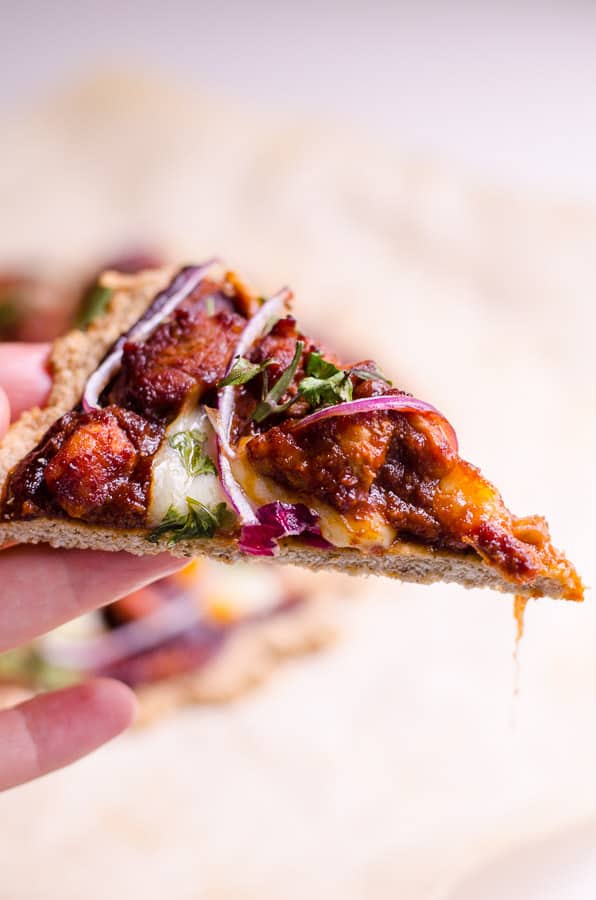 Oatmeal crust does hold toppings quite well and no need for a fork and knife.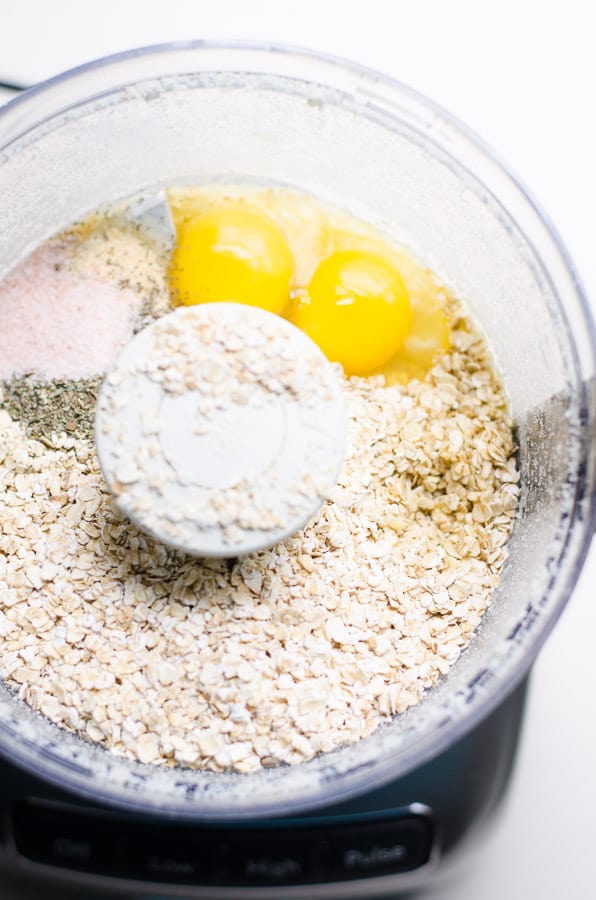 I tried to keep cheese and eggs to a minimum, but let's face it – pizza dough needs a binder since oats do not contain gluten like wheat, to expand and bind together.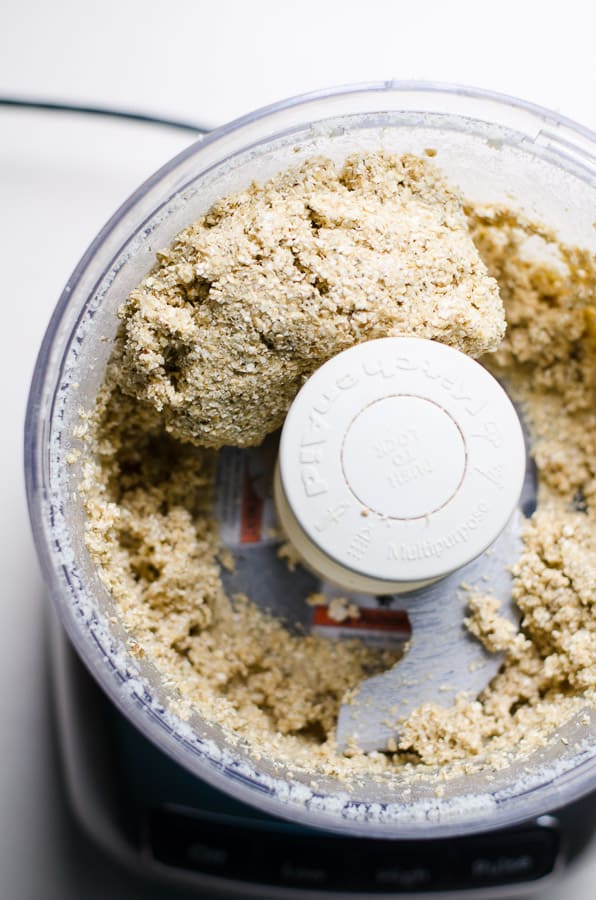 The dough comes out pretty thick.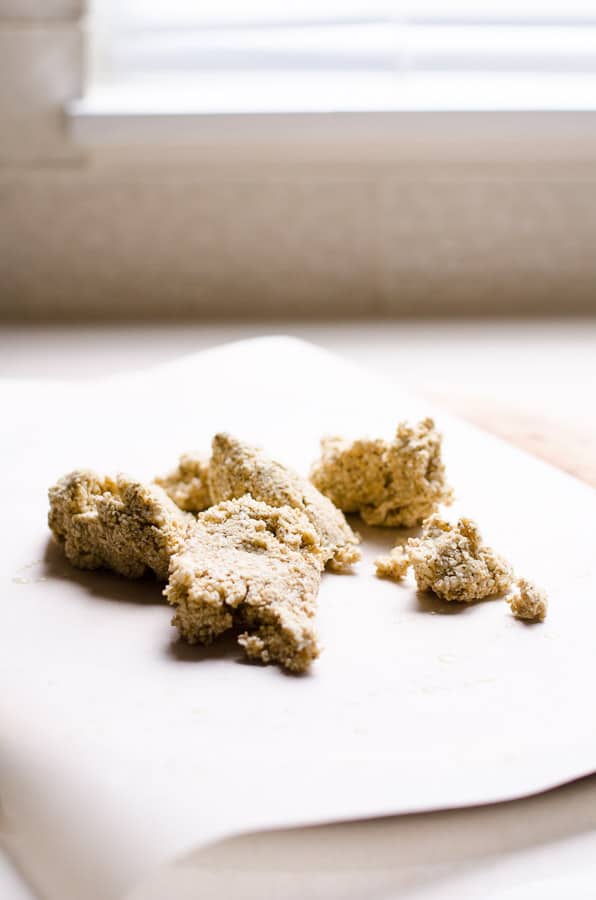 The best way to form a pizza crust is by dropping spoonfuls of dough on a baking sheet and flattening it with wet hands. Wet hands are crucial and think of it similar to working with clay process. Your edges do not have to be perfect, neither does the shape.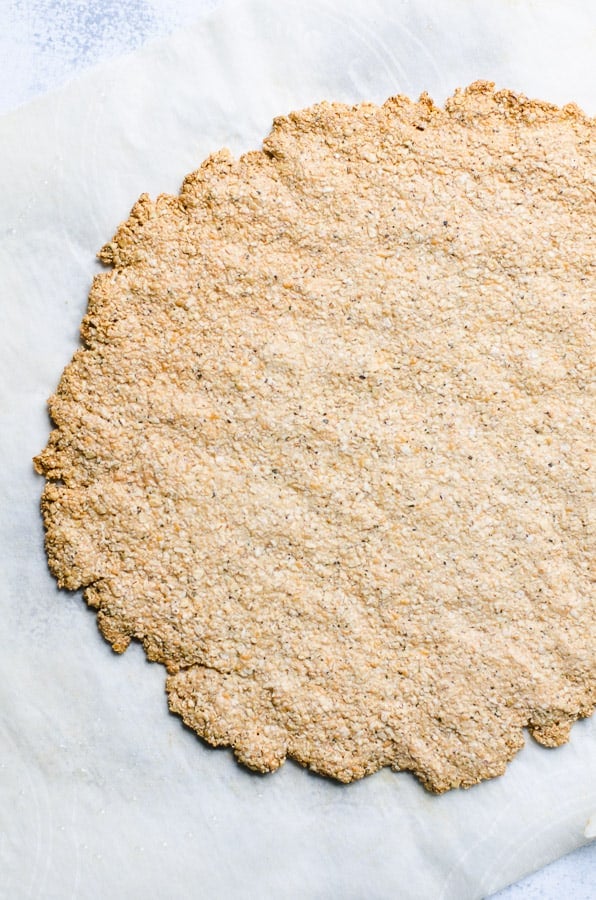 Oatmeal pizza crust comes out a bit lightly brown.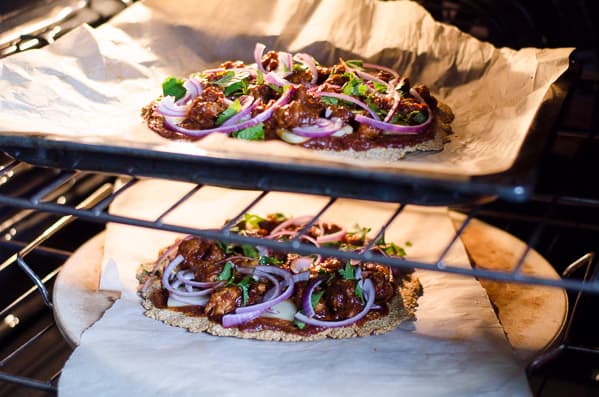 And here is what I learnt about making pizza in America: any shape baking sheet or pizza stone works (lined with parchment paper for an oatmeal crust pizza). You can also bake both crusts at same time on both racks. Obviously, the top one will bake a tiny bit longer, so once the bottom rack pizza crust is ready, take it out and place a top one on a bottom for a few more minutes.
OK, now onto the healthy BBQ chicken pizza I have going on here. You can turn your oatmeal crust into any pizza you want: cheese pizza for kids (and you), vegan pizza with only veggies and dairy free cheese or I chose to make a satisfying meaty pizza. I made a double batch of clean eating BBQ sauce, used some for pizza and we still have leftovers for when it's Alex's turn to cook (he is always looking for a sauce in a fridge, which is a rare commodity to come by in Olena's fridge:)).
So that's it. Easy peasy. Enjoy!
Oatmeal Pizza Crust
Oatmeal Pizza Crust Recipe with simple ingredients, uses a food processor, takes minutes to make and creates no flour mess. Not to mention no bloating and delish healthy BBQ Chicken Pizza Recipe included.
Ingredients
Healthy BBQ Chicken Oatmeal Pizza:
1

lb

boneless chicken thighs and/or breasts

cut up in small pieces

Favourite cheese

sliced

Red onion

thinly sliced

Cilantro

chopped

Oatmeal Pizza Crusts
Instructions
In

a food processor

, add cheese and process on High until fine crumbs form. Add oats, salt, garlic powder, herbs and eggs; process on High until thick dough forms.

Divide dough between 2 previously prepared baking sheets placing it in dollops. Using wet hands, flatten dough and shape it into round thin crust, about 1/4 an inch (just think of the thickness you would like your crust to be - dough doesn't rise).

Bake for 25 minutes (place both trays in the oven at once and then just bake the top one on a bottom rack a few extra minutes). Remove from the oven, top with sauce, your favourite toppings and cheese. Bake at 450 degrees F until cheese is melted.

BBQ Chicken Pizza:

In a large

non-stick ceramic skillet

, add chicken and cook for 10 minutes, stirring occasionally. Add desired amount of BBQ sauce and turn off the heat. Spread desired amount of sauce on previously baked oatmeal pizza crust, top with desired amount of cheese, BBQ chicken, red onions and cilantro. Bake at 450 degrees F until cheese is melted.

You can hold pizza by the slice, it holds very well and the crust is very crunchy and thin like on a thin crust pizza. If you like that! Enjoy!
Notes
Freeze: Crust only. Fully cook, cool completely and freeze in a large Ziploc bag for up to 3 months. Bake with toppings as per instructions + a few extra minutes.
*Make double batch of the sauce - it is so easy to make, goes with anything and keeps refrigerated for weeks.
Nutrition
Calories:
415
kcal
|
Carbohydrates:
57
g
|
Protein:
26.5
g
|
Fat:
10
g
|
Saturated Fat:
7
g
|
Cholesterol:
331
mg
|
Sodium:
1461
mg
|
Fiber:
8
g
|
Sugar:
2
g