Mouth-watering Baked BBQ Chicken Breast Recipe is made with 6 simple ingredients, smothered in BBQ sauce and then baked. It's an easy 30 minute weeknight dinner that turns out delicious every time.
If you love saucy chicken, you must try this simple Instant pot BBQ chicken breast, crockpot BBQ pulled chicken and grilled BBQ chicken breast.
This baked BBQ chicken breast is quickly marinated in a sweet, tangy BBQ sauce and baked until hot and juicy. It's an easy 30 minute dinner for those busy weeknights when you have no idea what to make.
Make oven BBQ chicken with a low-sugar or sugar-free BBQ sauce and serve beside your favorite side dish for a weeknight meal that's wholesome, delicious, and rich in protein. I also make BBQ chicken salad with it.
After you're fully hooked on this flavorful tender chicken, you'll want to try my slow cooker pulled pork and Instant Pot pulled pork.
Ingredients and Notes
This oven baked BBQ chicken breast recipe uses a handful of pantry staples to create a sticky-sweet caramelized sauce that's layered with rich flavor. For this reason, it is one of my kids' favorite chicken breast recipes!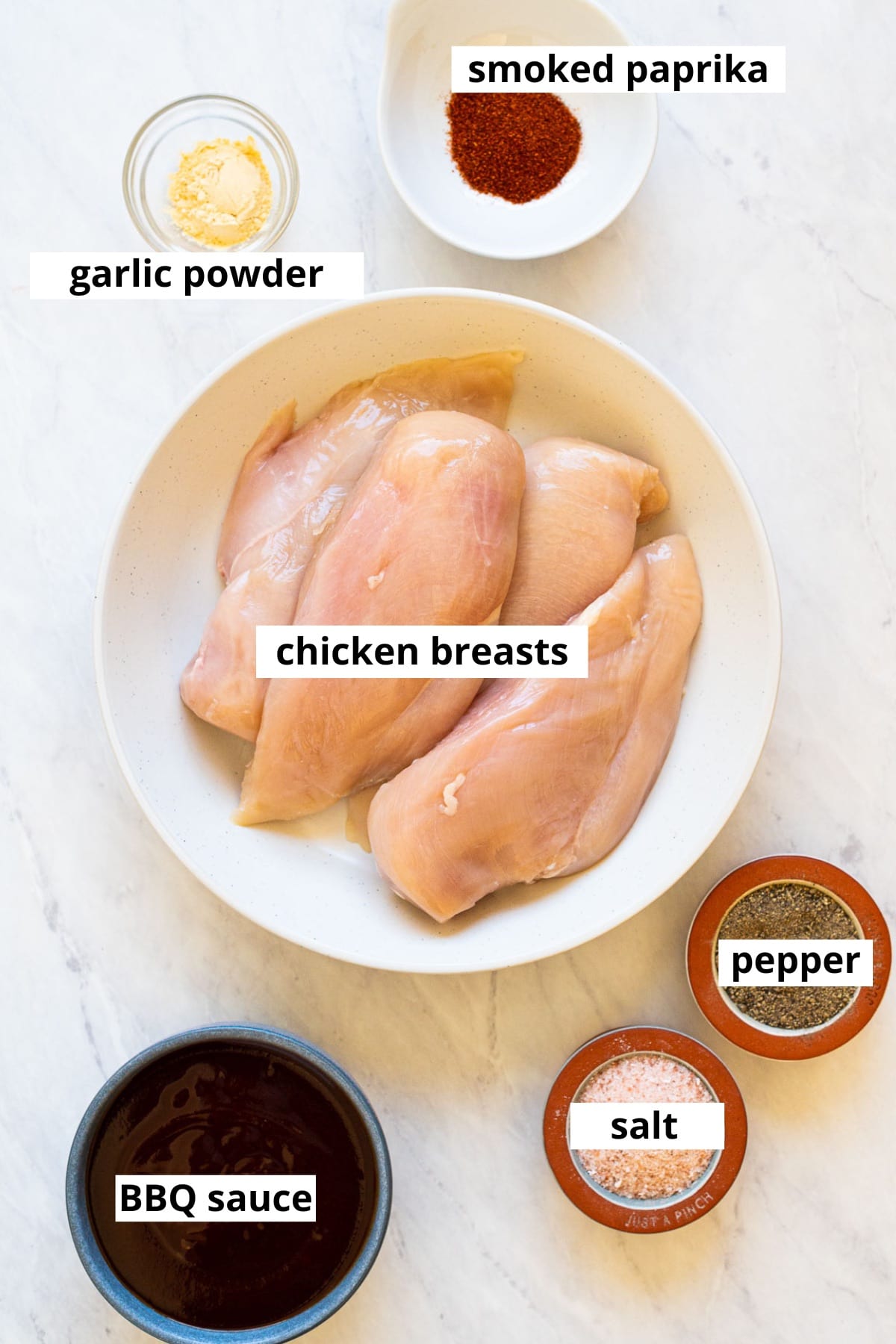 Chicken breasts: 4 large boneless skinless chicken breasts. Mine were about 2 pounds each.
BBQ sauce: You can make your own low calorie BBQ sauce such as healthy BBQ sauce or Hawaiian BBQ sauce recipe, that's easy to make and cheaper than store bought. For today's recipe I used Stubb's.
Seasoning: Combine garlic powder, smoked paprika, salt and ground black pepper. See recipe card below for measurements.
How to Make Baked BBQ Chicken Breast
Here's how to make baked BBQ chicken in the oven in a few easy steps.
Set your oven, grab a large bowl, a large baking dish, and let's cook!
Prep: Preheat the oven to 400 degrees F. Add barbecue sauce, garlic powder, smoked paprika, salt, and pepper to the large bowl and whisk.
Marinate chicken: Add the chicken breasts to the bowl. Using tongs, stir to evenly coat each breast and let marinate while the oven preheats.
Bake the chicken breasts: In large 9 x 13 baking dish, add your chicken breasts in a single layer. Pour the remaining sauce on top and bake your BBQ chicken in the oven uncovered for 25 minutes. Insert a meat thermometer to the thickest part of each breast and make sure it registers 165 degrees F.
Rest and serve: Once chicken is cooked, remove dish from oven, cover with tinfoil and let rest for 5-10 minutes. Spoon some sauce on top, slice and serve with a simple side dish for a full meal that's always a winner.
Tips and Variations for Best Results
Here are some tips for baking the best BBQ chicken breasts in the oven.
Similar size chicken breasts: In order for your chicken to cook evenly, choose chicken breasts that are similar in size. If you cook small and larger sized breasts together, you'll end up with some dry chicken by the time the larger chicken pieces are ready.
Chicken thighs: I like to use boneless chicken breasts because they look prettier but boneless skinless chicken thighs will also work for this barbeque chicken breast in the oven recipe. You could also use bone-in chicken thighs with skin-on, just be sure to adjust the baking time.
Smoked paprika: You can use regular paprika if that's what you have on hand, the result will be a slightly different taste. Smoked paprika really adds that extra flavor we all love.
Healthier BBQ sauce: This healthy barbecue sauce is thick and flavorful with less sugar. You can also pick up your favorite BBQ sauce that's sugar-free from the grocery store to make this a super easy dinner.
Don't skip resting the meat: When you let the chicken rest under aluminum foil, their juices redistribute and the meat becomes even more juicy and tender.
Add some heat: Adding crushed red pepper, cayenne pepper, or chili powder will give this chicken a spicy kick. We sometimes add green onion or red onions as a garnish too.
Serving BBQ Chicken Breasts
Because the BBQ sauce has sodium and sugar, I recommend picking more plain sides with less sauce to keep this baked BBQ chicken breast dish a healthier and lighter meal.
We like to spoon the sauce on top of sides like rice or air fryer broccoli. Some of our other favorite sides include healthy potato salad, Instant Pot potato salad, cucumber avocado tomato salad, and air fryer sweet potato fries.
Recipe Tip
Barbeque lovers can enjoy this recipe any time of year. This savory BBQ sauce is delicious and can be slathered on any of your favorite proteins. Pork, ribs, lamb, even shrimp!
How to Store, Freeze and Reheat
Store: Store leftover chicken in an airtight container for up to 5 days.
If you refrigerate in glass containers and keep the chicken breasts whole, your chicken will retain maximum moisture and leftovers will taste better.
Freeze: Cook, cool completely and freeze whole baked BBQ chicken breasts leftovers in an airtight container for up to 3 months. Thaw in the fridge overnight or on a counter for a few hours.
Reheat: I recommend reheating the chicken in the microwave to prevent the chicken from drying out. Heat until warmed through.
FAQs
What BBQ sauce should I use?
Use your favorite barbeque sauce that's healthy. Whether using homemade or store bought, do not skip the additional spices.
Do you put BBQ sauce on chicken before or after baking?
Marinate the chicken in the BBQ sauce before baking for just 10 minutes. No need to add more sauce during baking, you can spoon or brush sauce on top after baking from the bottom of the baking pan.
Do I need to marinate the chicken in BBQ sauce?
You don't have to use a chicken marinade with this recipe but you can marinate it for up to 24 hours. This recipe is an easy meal prep option. Coat the chicken in the BBQ sauce, cover tightly and store in the fridge overnight. Then pop it in the oven the next evening for a quick weeknight dinner.
Do I have to flip chicken breasts when baking?
No. All you need to do for this easy recipe is to quickly marinate, bake, and serve.
How do I know when chicken is cooked?
As per US food safety, your chicken is ready when you insert an instant-read thermometer into the thickest part of the breast and it reads 165 degrees F.

I highly recommend investesting in a quality meat thermometer. It will become helpful when cooking and checking internal temperature of any kind of meat.
More Baked Chicken Breast Recipes to Try
Baked BBQ Chicken Breast Recipe
Baked BBQ Chicken Breast Recipe with 6 simple ingredients, smothered in BBQ sauce and then baked. Easy 30 minute weeknight dinner idea!
Instructions
Preheat oven to 400 degrees F. In a large bowl, add barbecue sauce, garlic powder, smoked paprika, salt, pepper and whisk. Add chicken breasts, stir with tongs to coat and let marinate while oven is preheating.

In large 9 x 13 baking dish, add chicken breasts in a single layer and pour remaining sauce on top. Bake uncovered for 25 minutes or until internal read thermometer inserted in the thickest part of the breast registers 165 F.

Remove chicken from the oven, cover with foil and let rest for 5-10 minutes.

After spoon some sauce on top, slice and serve with your favorite more plain side like rice and broccoli.
Notes
Store: Refrigerate in an airtight container for up to 5 days.
Freeze: Freeze whole chicken breasts to retain maximum moisture in an airtight container for up to 3 months.
Choose similar size chicken breasts: I used 4 large chicken breasts that were the same in size. If you bake 6 oz chicken breast at same time as 10 oz chicken breast, smaller ones will come out dry by the time larger ones are ready.
Don't skip letting your meat rest: This ensures the chicken juices settle back into the chicken which results in the tender, juicy chicken you want.
No need to add more BBQ sauce during baking or flipping the chicken.
Nutrition
Serving:
1
breast
|
Calories:
322
kcal
|
Carbohydrates:
1
g
|
Protein:
48
g
|
Fat:
6
g
|
Saturated Fat:
1
g
|
Trans Fat:
0.03
g
|
Cholesterol:
159
mg
|
Sodium:
804
mg
|
Fiber:
0.3
g
|
Sugar:
5
g