On Friday, we loaded bikes and these two and off we went. Running away from house chores to create memories for when in nursing home.
Bellingham, WA – have you ever been? We live an hour away across the border. For 7 years we used to visit strictly for shopping – cheap organic cheese & meat, clothing and booze.
2016 is a new era – Canadian $ sucks, I do not eat dairy, we don't drink hard liquor and closets are bursting with stuff. In fact, so full that on Saturday we cleaned them out from all $10 "gotta haves" bought in the same Bellingham. Going to Lululemon for a few main bottom pieces and that is it until winter. Lessons learnt.
Whatever happens, happens for a reason, my friends. Haven't we learnt that yet?!
Due to the above mentioned culprits 8(!) years after moving to PNW we decided to give sightseeing in Bellingham a "go". Loaded up on brochures and maps at a visitor centre, we had to load up bellies before putting kids on a 20 K bike ride. Me and Alex are seasoned parents.
Pizza! Wood fire pizza. Carbs before the workout totally acceptable. OVN was good and well priced. Our Italian friends taught us well to appreciate good pizza. Real pizza. Mine was dairy free which tasted good but Alex's looked better.
While waiting for pizza we admired the partial views. Bellingham is a seaside town. Fishing industry present. Makes sense.
With bellies full, crazies in hands and avoiding all forbidden for parents places we headed to the truck to unload bikes.
Passing by the Alaska Ferry. Did you know? I didn't. Not that I will be going on it in a foreseeable future but good to know. Alex said when we are 70 and free again. Takes 2 days, costs about $2,500 for 4 and departs every Friday from Port of Bellingham. The only place in entire state of Washington offering year round ferry to Alaska. Here you have it.
Passing by more of these. There is a ton of little pubs and restaurants housed in someone's house. That is in a historical district of Fairhaven. Where we parked.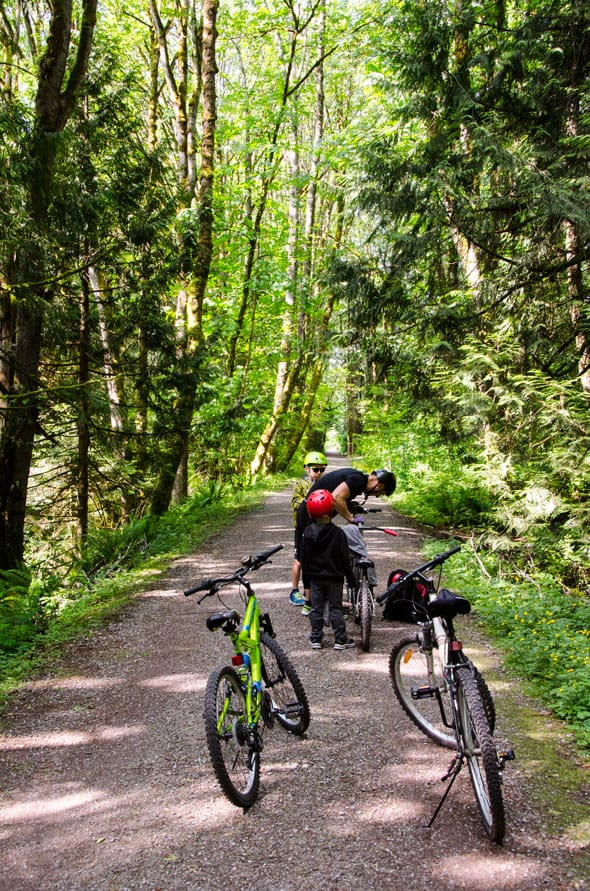 Bikes unloaded. First on Interurban trail. You can get a detailed biking map of Bellingham here. I have to say entire city and Whatcom county are very bike friendly.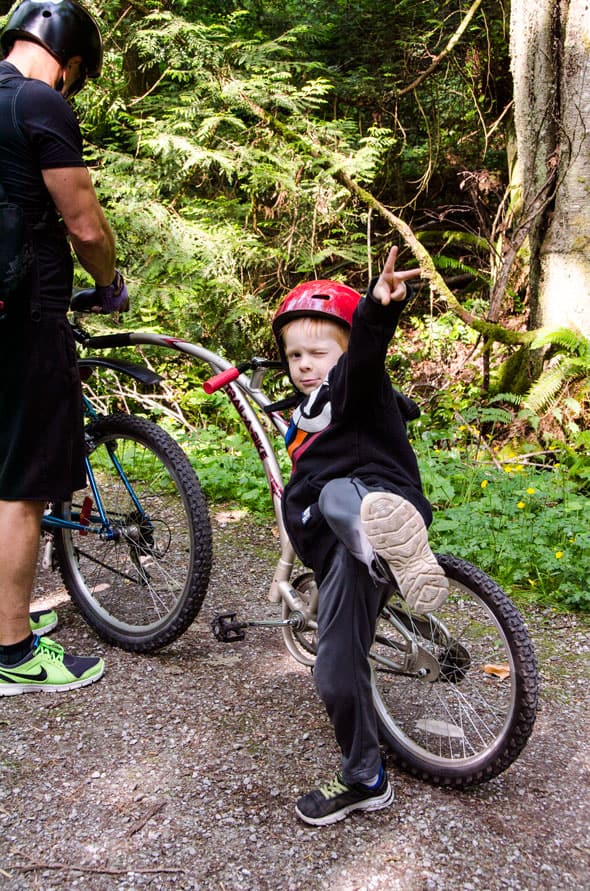 Because we are proud owners of a 5 year old who can ski and skate but refuses to learn to swim and bike, Alex hauls him on this piece of equipment. Which is awesome in case you have a similar "easy going" child.
I have to give him props though. The behaviour like above makes me write posts like this one but hugs below erase it all. Adam knows the way to my heart. More than that he knows when to kiss, hug and say "I love you". Motherhood is a beast.
So, on the bikes we went. The Interurban trail is gorgeous. Under tree canopies, crossing little bridges and loud with birds this time of the year. Lots of runners too but the trail is wide. Except when you get to Arroyo park and want to get to Larrabee park. That part is steep and not for bikes with trailers and small kids. Alex did fall down there because Adam was wiggling at the back and trails are full of stumps.
I on the other hand was enjoying myself in a quiet….LOL. Honestly, this day was easier than staying home with the kids. Alex doesn't share my opinion.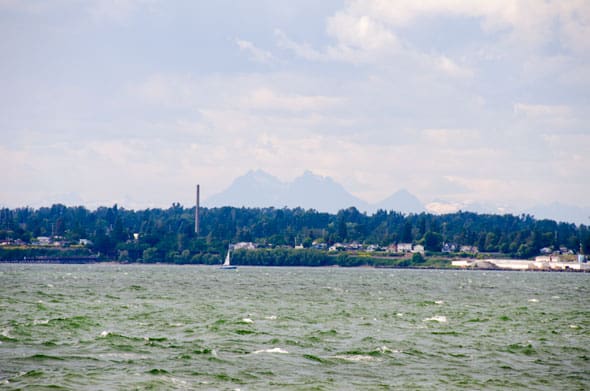 After turning back on Interurban trail we briefly visited Fairhaven park and headed down to the Marine park. From here we could see home – Golden Ears. Home sweet home. It was choppy and windy so we decided to keep going.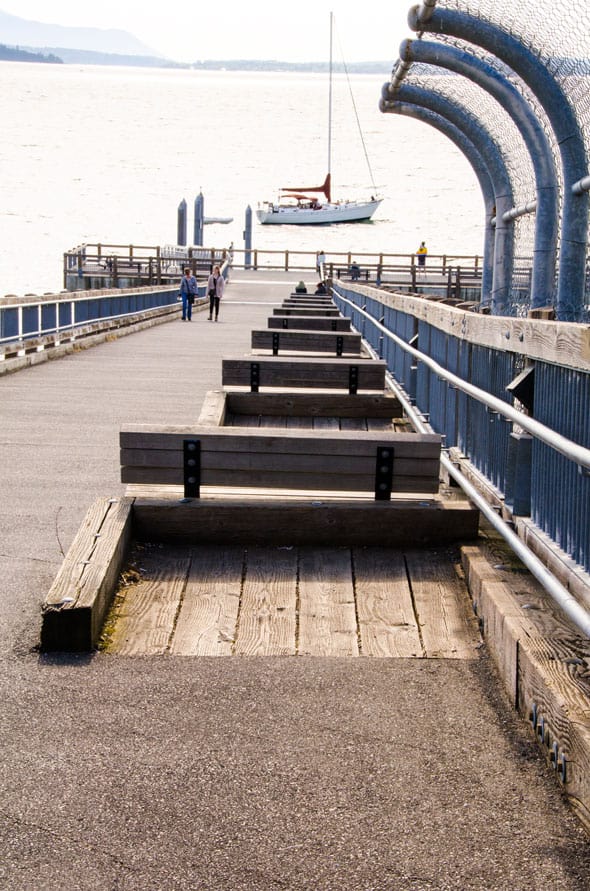 Down the Taylor dock that stretches above the water and leads into Boulevard park. From there we biked a few more miles and turned back to the park's playground because kids were starting to lose it.
I love Boulevard park! Maybe even a tiny bit more than Stanley park. It is well thought park with mature trees, pocket beaches, numerous benches, vast grass areas, 180 degree ocean view and amazing playground.
Good bye, lucky folks heading to Alaska. That must be damn gorgeous!
We rode bikes close to the ferry and watched people loading. There were cars from Oregon and Nevada but mostly gentlemen with white hair, in light blue jean jackets and thick accents. Yellow plates everywhere. For a minute I felt like I visited Mars – distant somewhere there up top Alaska. I should leave the house more often. I really want to travel. One day…
There is also Woods Coffee which I used to love and now so sad I can't drink. Alex lost his coffee soulmate but still enjoyed an Americano with coconut milk.
At 7 PM we were done and decided to head home for dinner. To enjoy $10 70% organic ravioli from Costco with a healthy coleslaw salad. Having spent $53 (CAD $66) on lunch I couldn't bring myself to put a $150 price tag on this day. I have a hard time spending money on eating out.
What a great day and I am so happy I hauled my camera to take these memorable photos. I love re-reading our travel and life posts a few years later.
There is so much more to explore in Whatcom county. Next on our bucket list are Chuckanut drive, museums, lake Padden and hiking around Mt. Baker. In addition to all the travel we have already planned (shared in the newsletter). So much to do this summer! I am not saying you should fly across the country to visit Bellingham but if you are in our woods I highly recommend to drop by.
Where else should we visit in Whatcom or Samish counties?