This easy Chicken Lentil Soup with juicy chicken, tender lentils and chock full of veggies is a complete meal and so easy to make at the end of long day.
Our other favorite lentil soups are this red lentil soup and reader favorite Instant Pot lentil soup recipe. Enjoy!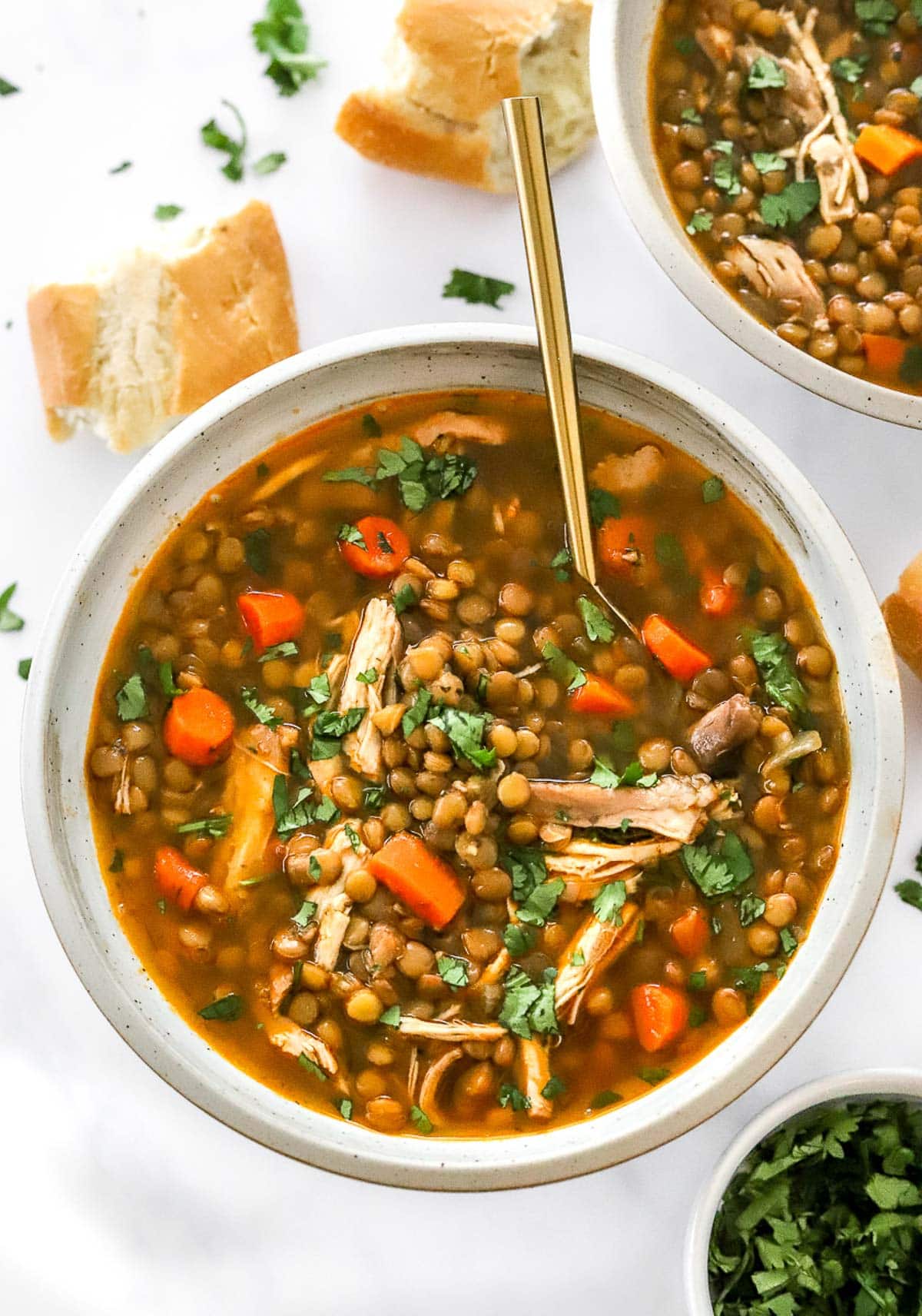 Chicken lentil soup is an inexpensive way to make a hearty meal . There really is nothing better than anticipating taking that first spoonful just by the smell in your kitchen! Chicken and lentils are a match made in heaven.
Not only it is full of wonderful flavor, this delicious soup is also packed with protein, iron, good fats, fiber and vitamins. Plus it is so easy to make with simple wholesome ingredients.
Soup is cooked on the stovetop in an hour. When made in the slow cooker, this healthy soup will be waiting for you at the end of a long day.
I absolutely love cooking with lentils because I know dinner will be ready quick, affordable and healthy! Ukrainian in me loves budget-friendly meals.
Ingredients You Will Need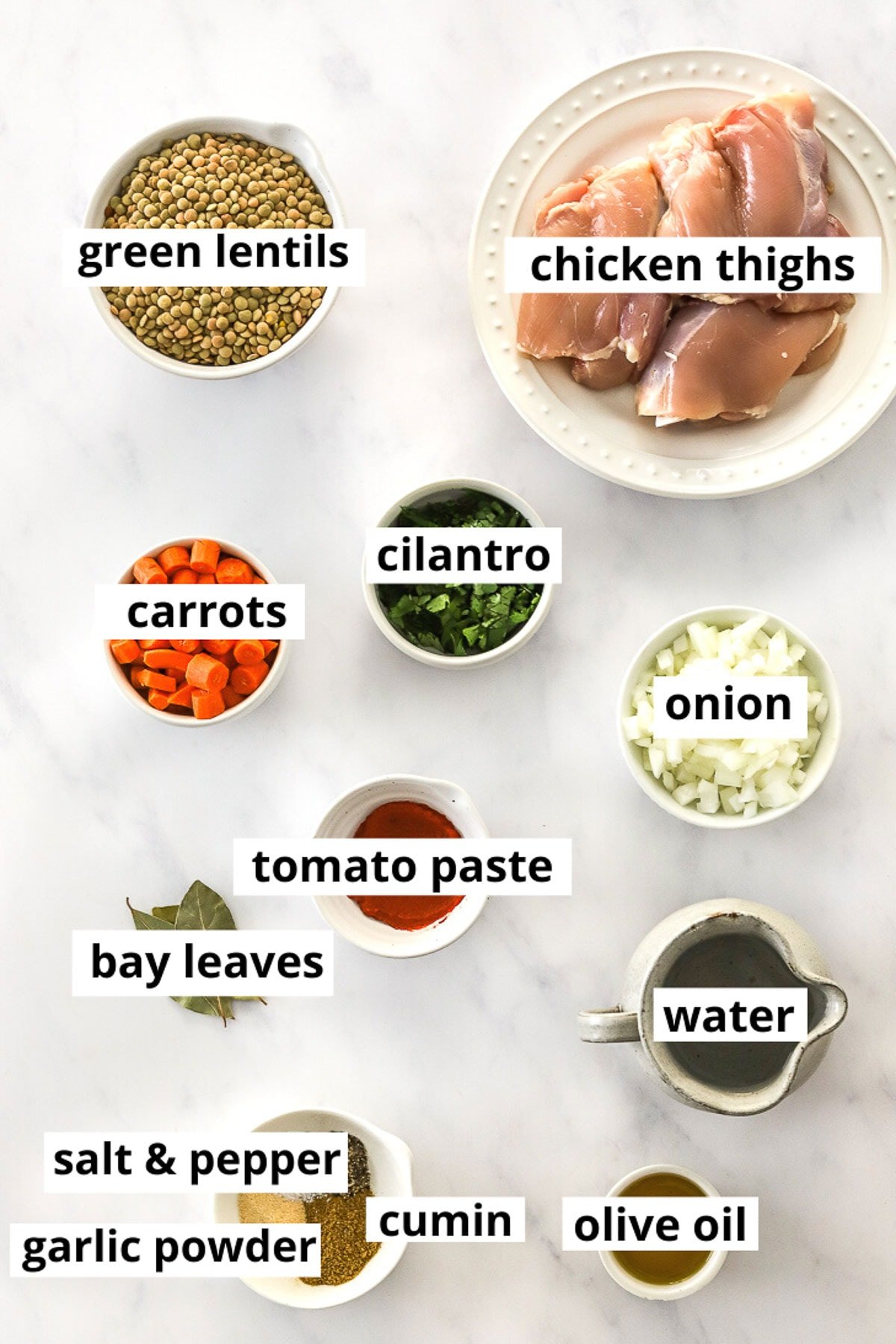 You will need just a few simple ingredients to make this easy chicken and lentil soup. All of them are kitchen staples.
Lentils: Dried green lentils, French lentils or brown lentils. There is no need to soak them, just rinse well and drain.
Chicken: Dark meat like boneless skinless chicken thighs is the best choice. You can also use drumsticks with skin removed. They infuse the water during cooking turning it into a chicken stock.
Vegetables: Carrots and onion.
Olive oil: For frying vegetables in it.
Tomato paste: It adds color and flavor to other pale lentil chicken soup but you can skip it, if you wish.
Seasonings: Bay leaves, garlic powder, cumin, salt and pepper.
Fresh herbs: I used fresh cilantro this time but often I also use fresh dill or fresh parsley.
How to Make Chicken Lentil Soup
Here is a quick overview how to make chicken lentil soup. It comes together in one large soup pot. I like to use large Dutch oven.
Prep lentils: Go through dried lentils to remove any debris or rocks. Then rinse with cold water and drain. Set aside.
Saute veggies: In a large pot, saute onion and carrots with a bit of olive oil on medium-low heat, stirring with a slotted spoon. Then add tomato paste, garlic powder, cumin, salt and pepper and saute a few more minutes. It allows oils in spices to activate and make a flavorful soup.
Combine all ingredients: Then add chicken with lentils, water and bay leaves. Bring to a boil.
Simmer: Reduce heat to low, cover the pot, and simmer for about 40 minutes or until lentils are tender.
Shred chicken: Remove tender chicken from the pot onto a plate or cutting board, shred with two forks and return back to the pot.
Season the soup: Add fresh cilantro, stir and taste. Adjust salt or any spices to taste, if you wish. Ladle soup into bowls and enjoy!
Tips and Variations
Chicken breasts: You can use boneless skinless chicken breasts to make this chicken lentil soup recipe. As it is white meat with less fat and flavor, I recommend to use low sodium chicken broth instead of water.
Rotisserie chicken: Leftover rotisserie chicken would be great in this homemade soup. Shred it into bite-sized pieces and add during the last 10 minutes of cooking. Use low sodium chicken stock instead of water, if you can. The total cook time will also be shorter as you will use cooked chicken.
Slow cooker version: Add all ingredients to a crock pot, cover and cook either on high heat for 4-5 hours or on low setting for 8-10 hours.
Instant Pot bonus: To make this soup in a pinch, add all ingredients to the pressure cooker and pressure cook for 15 minutes on high pressure.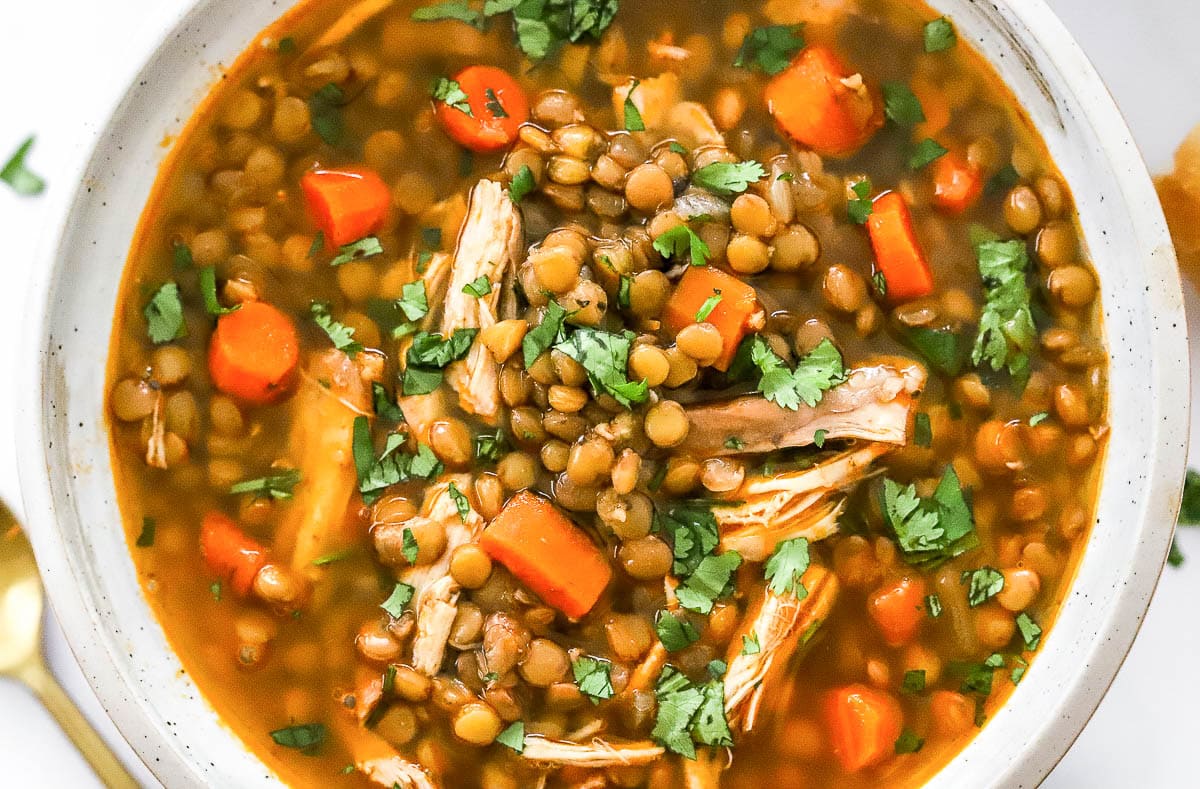 Serving Chicken and Lentil Soup
Serve a bowl of chicken lentil soup with a slice of crusty bread and a side of parmesan kale salad. And enjoy a healthy and delicious way to stay warm during the soup season!
However, to be honest this soup is filling enough to enjoy on its own as well.
How to Store, Freeze and Reheat
Storing: Keep leftovers in an airtight container in the fridge for up to 5 days.
Freezing: Once completely cooled, store in a freezer-friendly airtight container for up to 3 months. This hearty soup freezes well. Make a big batch and freeze in individual containers for easy lunches.
Reheating: You can reheat soup from frozen covered on the stovetop on low heat. You can also thaw it in the fridge overnight beforehand.
FAQs
Do lentils need to be soaked?
No. Lentils absolutely do not need to be soaked ahead of time. It is a choice as to whether or not you want to. You can soak them overnight, if you choose to. This aids in digestion and will also cut down the cooking time.
Can you overcook lentil soup?
Yes and no. If you cook green lentils too long, they fall apart making soup more creamy and mushy. It is a matter of personal preference.
Can I use red lentils?
Yes if you are OK with a more of a creamy lentil soup with chicken. Red lentils tend to dissolve and become mushy.
More Favorite Lentil Soup Recipes
More Favorite Chicken Soup Recipes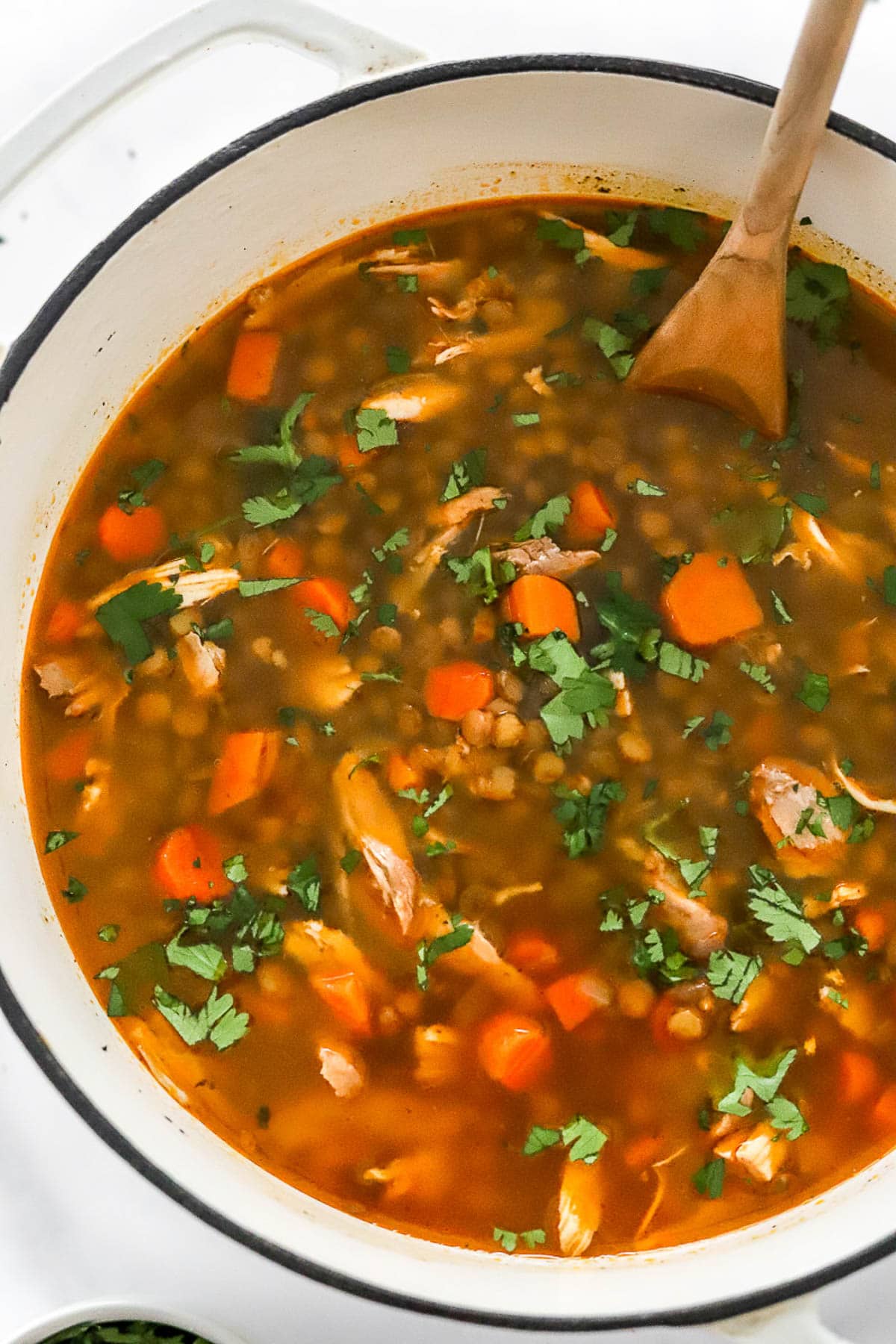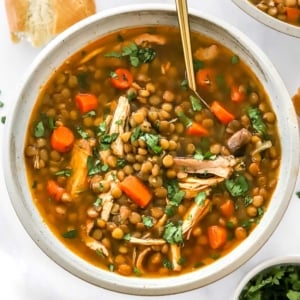 Chicken Lentil Soup
This Chicken Lentil Soup with juicy chicken, tender lentils and chock full of veggies is a complete meal and so easy to make at the end of long day.
Instructions
Preheat large pot or Dutch oven on medium heat and swirl oil. Add onion and carrot, saute for 4 minutes, stirring occasionally.

Add tomato paste, cumin, garlic powder, salt and pepper; saute for another 3 minutes, stirring frequently.

Add chicken, lentils, water and bay leaves. Bring to a boil, cover and cook on low for 40 minutes.

Remove chicken on a plate, shred with 2 forks and return chicken to the pot.

And cilantro, stir and serve soup hot.
Notes
Store: Refrigerate in an airtight container for up to 5 days.
Freeze: Fully cook, cool completely and freeze in an airtight container for up to 3 months. Thaw on a stovetop covered on low.
Nutrition
Serving:
1.5
cups
|
Calories:
328
kcal
|
Carbohydrates:
33
g
|
Protein:
22
g
|
Fat:
12
g
|
Saturated Fat:
3
g
|
Trans Fat:
0.05
g
|
Cholesterol:
56
mg
|
Sodium:
434
mg
|
Fiber:
16
g
|
Sugar:
3
g