It is still much of a lentil casserole season in Vancouver despite almost mid-April. It rains, the air is warm and cherry blossoms are almost here, but it's not quite a spring we are used to in PNW. I do not mind cloudy skies because it means comfort food cooking without sweating in the kitchen, and probably because we just got back from such a long time in the sun. I didn't get tired from the sunshine but heat is very exhausting, makes you wanna do nothing, and I'm definitely not the one who likes to do nothing.
I can't say I love lentils, I like lentils, just like my kids – spinach lentil soup, green lentil curry and red lentil vegetable soup are in our regular dinner rotation. Don't get me wrong we all loved this cheesy lentil bake, including the kids (Yes, they eat lentils, however earlier yesterday Adam had a friend over, so he asked me to make them cow's mac and cheese and after I gave them this outstanding organic ice cream, so I figured that is why my boys loved lentils even more because I buttered them up with more preferable food before – just being honest because my life runs on balance and not perfection). Or maybe because I'm the one who is cooking. Somehow, food made by someone else always tastes better. This week Alex made my chicken stir fry and I was surprised to learn it is my recipe. "Oh, this is good!" said I, not that I am surprised my food tastes good but because stir fry didn't taste like "my" food. You know what I mean.
So, yesterday was my turn to cook (believe it or not we are trying this method now because marriage is a compromise) we had this vegetarian lentil bake recipe with green lentils, onions, carrots, celery, cream of mushroom soup and a lot of brown mushrooms for dinner.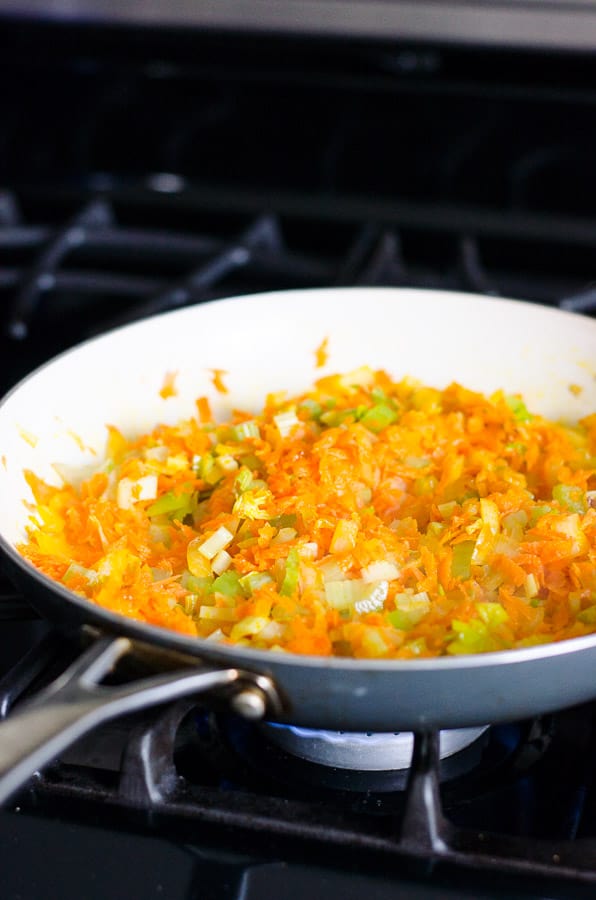 In a world of an Eastern European cook, there is no meal that fried onions and carrots can't fix, talk to my husband – 95% of his meals start with just those ingredients. And it works. Very simple step but the combo makes any grain, vegetable or meat flavourful and moist. So good that weirdly I ran out of carrots and had to shred baby carrots, which is not my activity of choice as I shred some of my own skin in the process too, so buy big carrots. And if you add garlic, we all know how that will go.:)
I was shopping at Fred Meyer and bought a few cans of Simple Truth organic cream of mushroom soup. Ingredients' list is pretty good, and so is the price. I know Pacific Foods makes one too, just in a tetra pack probably with the same BPA as in a can, just a tad more expensive. Of course, you could make a cream of mushroom soup from scratch but it is an extra step which I think would make me look like this perfect housewife aka granola which I am not (I personally think I fit this definition half way and probably all the way in the eyes of majority of modern moms who rely heavily on processed foods). When eating clean you have to pick your battles if you live the real life, and I do pick mine. I do turn to organic prepared foods occasionally so I can enjoy life. Last time I checked, life is not only about "things I HAVE to do". Next time I would like to try a version of this baked lentil casserole with brown rice or whole grain pasta.
As for the weekend, boys have ball hockey and a Birthday party, and we have a few get togethers with friends, and the ultimate goal is to buy a new mattress. I sold our old bed, bought a new one except the mattress, so now we sleep with the boys which is starting to lose its excitement. As for me personally, what I would like this weekend is to keep this invisible bubble of calm and peace around me, where all the little meaningless things of outside world can't get through. Have a great weekend!
Print
Lentil Casserole with Mushrooms
This lentil casserole is a cheesy vegetarian lentil bake recipe with brown mushrooms, green lentils, carrots, onions and celery, baked to a hearty healthy casserole perfection with melted cheese on top.
Author:
Prep Time:

7 minutes

Cook Time:

1 hour 5 minutes

Total Time:

1 hour 12 minutes

Yield:

8 servings
Ingredients
1 large onion, finely chopped
3 large celery stalks, finely chopped
2 large carrots, coarsely grated
3 tbsp coconut or avocado oil
1 lb brown mushrooms, sliced
1 tsp garlic powder
1/2 tsp thyme
1 1/2 cups green lentils, dry & rinsed
10-12 oz can/pack organic cream of mushroom soup (like Pacific Foods or Simple Truth)
1/4 tsp salt
Ground black pepper, to taste
2 cups water, boiled
1 cup (4 oz) any hard cheese, shredded (I used Mozzarella)
Cooking spray (I use Misto)
Instructions
Preheat oven to 375 degrees F and spray large (9×13) baking dish with cooking spray.
Preheat large non-stick ceramic skillet on medium heat and swirl 2 tbsp oil to coat. Add onion and sauté for 3 minutes, stirring occasionally. Add celery and carrots, sauté for 5 minutes, stirring occasionally. Transfer to previously prepared baking dish (everything gets mixed here).
Return skillet to high heat and add mushrooms. Sauté for 5-7 minutes or until a bit browned, draining liquid into the baking dish as necessary (flavourful broth for baking) and stirring occasionally. Transfer mushrooms to the baking dish.
Return skillet to low heat and add remaining 1 tbsp of oil, along with thyme and garlic powder. Cook for 30 seconds, stirring constantly. Add lentils and cook for 2 minutes. Add water, bring to boil and transfer to the baking dish scraping the bits off the bottom of the skillet.
Add mushroom soup, salt and ground black. Stir well, cover and bake for 30 minutes. Uncover and bake for another 15 minutes. Then sprinkle with cheese and bake for 5 more minutes or until cheese is melted. Remove from the oven, cover and let stand for about 20 minutes (very important – casserole is just tastier this way). Serve hot on its own or over spinach, greens, brown rice or whole grain pasta.
Store: Refrigerate in an airtight container for up to 3 days or freeze for up to 3 months.
★ Did you make this recipe? Please give it a star rating in the comments.