Learn how to cook Instant Pot Brown Rice with perfectly fluffy results using my fail proof recipe. This hands off method works for basmati brown rice, long grain brown rice and short grain brown rice and is great for busy weeknights or meal prep!
Once you master this, try Instant Pot rice and beans or Instant Pot chicken wild rice soup.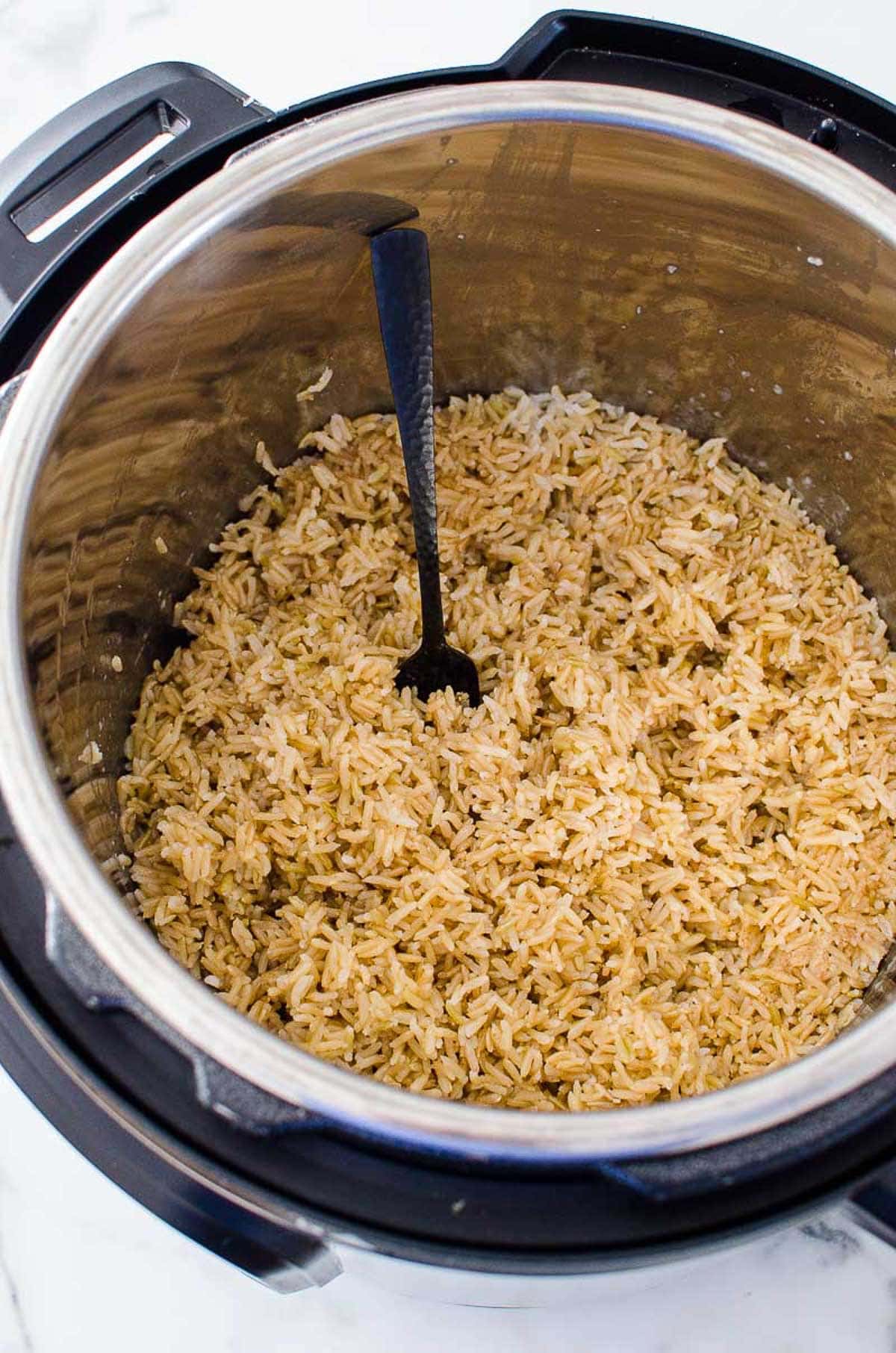 If you aren't already a fan of pressure cooking, then this Instant Pot brown rice recipe will most certainly win you over!
Learning how to cook brown rice in the Instant Pot takes away all of the worries that happen when cooking it on the stovetop and you get perfect brown rice without even having to watch it at all!
Make a big batch of brown rice for healthy dinner sides and portion it out to help with meal prep or freeze it for later. This is such a huge time saver for busy weeks! Use it in salads, burritos and more.
We use it in anything from Instant Pot chicken rice soup to desserts like this brown rice pudding!
Easy, reliable results with no worries of your rice being too mushy, overboiling, undercooked, or worse burnt!
That's what you get with perfect every time brown rice in Instant Pot.
Types of Brown Rice You Can Use
I am super happy to report that Instant Pot brown rice doesn't discriminate! The following 3 types of brown rice came out perfect. Not mushy, incredibly fluffy, and no leftover water.
I was blown away myself that even short grain brown rice was perfectly cooked with a bite. I tested the following:
Basmati brown rice
Long grain brown rice
Short grain brown rice
How to Cook Brown Rice in Instant Pot
It really couldn't be simpler to make Instant Pot brown rice! All you need is just brown rice and water. Let me show you how!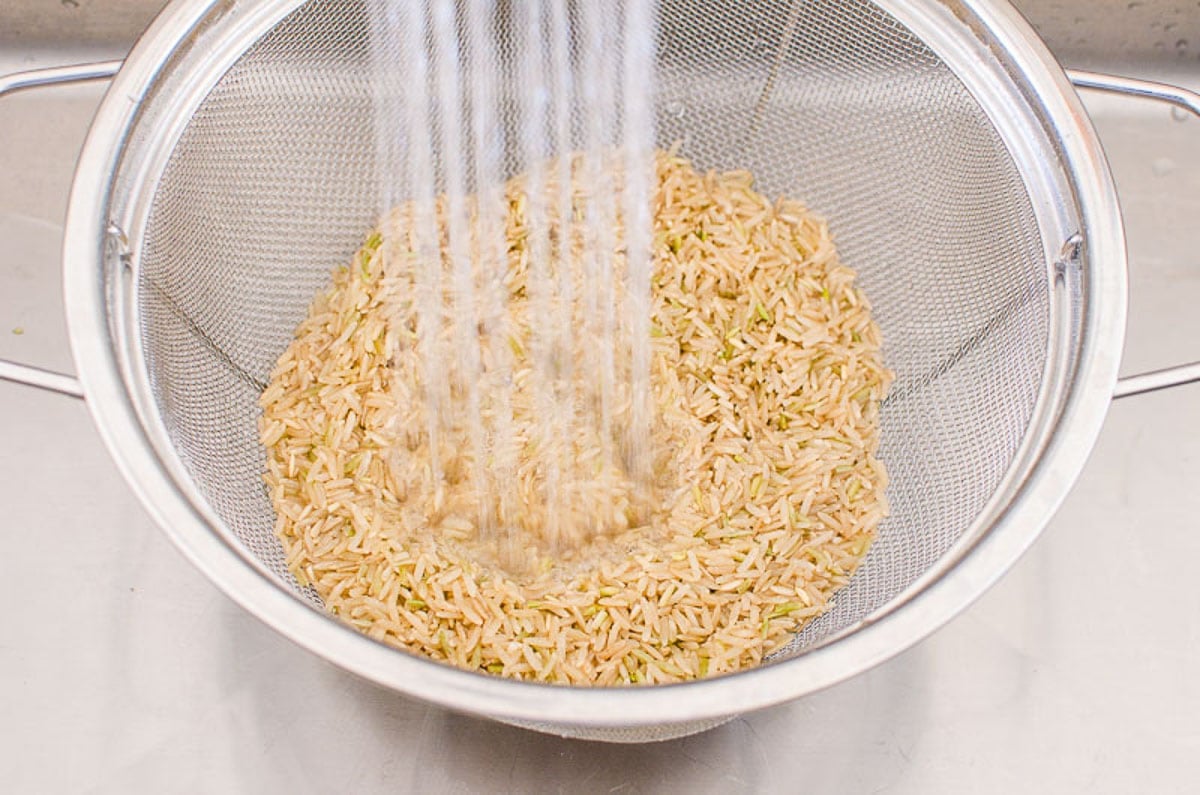 Rinse rice: My grandma always told me to rinse rice to remove extra starch. It helps to avoid each cooked rice grain clumping together and to keep them all separated.
I recommend this for my Instant Pot chicken and rice, too!

Add water: 1 cup brown rice to 1 cup of water. This is because in a pressure cooker liquid does not evaporate like on the stove.
Season rice: I believe a touch of salt is all that is necessary. Salt helps flavors of any food shine.
Cook for 20 minutes on high pressure. Do not use the Rice button as it cooks on Low pressure and is only good for white rice.
Release pressure only with Natural Release: This ensures the brown rice sits and absorbs any remaining liquid and becomes perfect. Takes about 15 minutes.
Fluff with a fork: Never stir cooked rice to make rice mushy. Separate the grains by fluffing it with a fork.
Instant Pot Brown Rice Tips
Water to rice ratio stays the same whether you cook 1 cup or 5 cups of rice.
Cooking time stays the same for any amount of rice.
Size of Instant Pot: You can use any as long as you don't fill it more than 1/2 full.
Altitude: Pressure cooking time does differ very slightly based on the altitude where you currently are. As well, even the same type of rice can be of different quality or age. If your brown rice comes out a bit crunchy or mushy, add or reduce a few minutes to the brown rice cooking time. Not a big deal.
Just look at this perfect brown basmati rice in Instant Pot. And even the short grain rice is perfect! C'mon, get excited with me!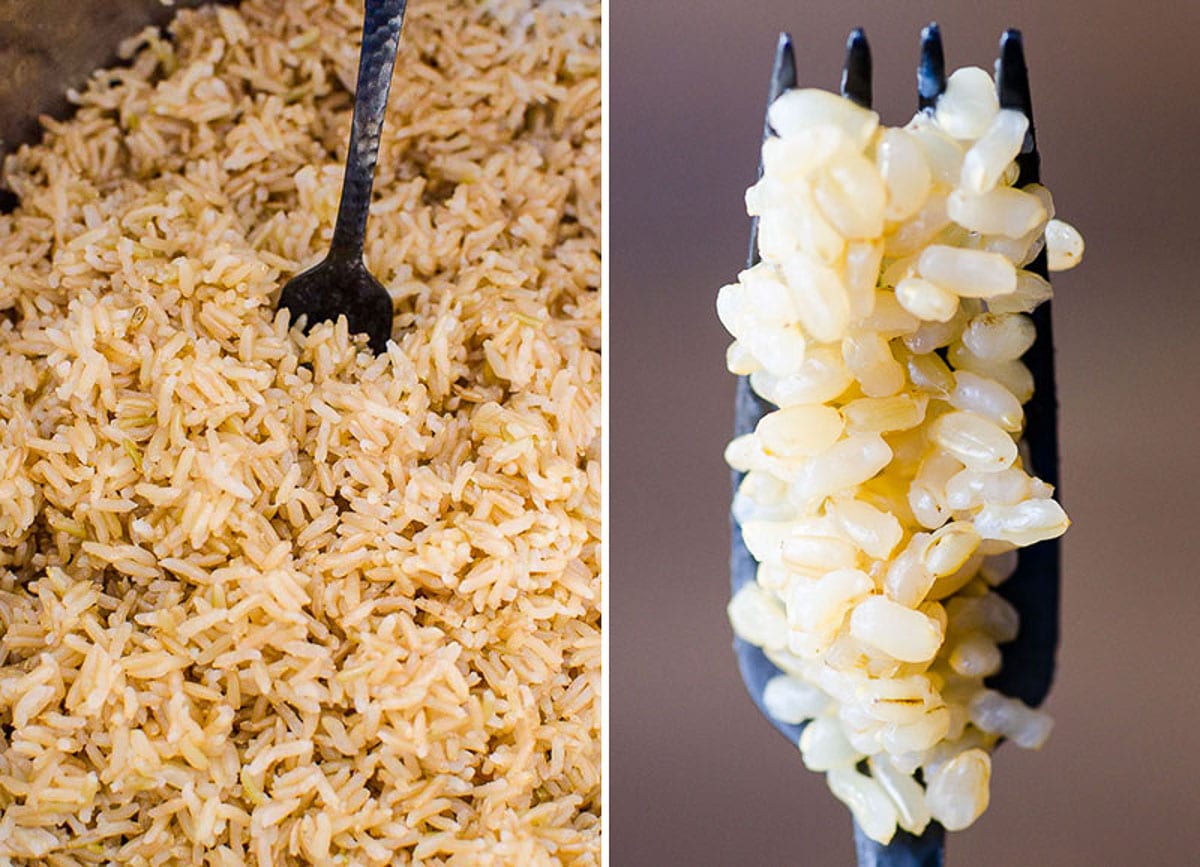 FAQs
Can I use the rice button on my Instant Pot for brown rice?
The button is intended for white rice. Since brown rice and white rice have very different cook times, the low pressure used when pressing the button isn't enough to cook the brown rice in the time given.
How much does 1 cup of brown rice makes cooked?
Rice expands when it's been cooked and has absorbed all of the liquid. Therefore, 1 cup of uncooked brown rice makes 3 cups cooked. So, lots!
Why is my brown rice mushy?
If you don't properly rinse your rice to rid it of as much starch as possible, you could end up with mushy rice. You also need to make sure to follow the 1:1 ratio direction, 1 cup of water for 1 cup of rice, exactly as directed.
Why is my brown rice chewy?
It goes back to how well you rinsed the starch off and how much, or how little, liquid you used to cook the rice. It's important to follow the instructions because believe me, I've tested it over and over again and this is the best recipe for perfectly cooked rice.
How To Use Brown Rice
I often serve brown rice as a side to any of these healthy chicken recipes! Here are a few other favorite ways:
Make Ahead, Storing and Freezing Instructions
Cooling: Cool rice quickly by spreading it in a wide and shallow dish. Placing outside, if it's cooler and no animals around, helps too.
Storing: Cook and cool. Store rice in an airtight container for up to 5 days. Perfect for meal prep.
Freezing: Freeze rice in airtight containers or in a resealable plastic bag, letting out as much air as possible, for up to 3 months.
When ready to eat, take it out of the freezer in the morning and thaw on a counter.
Reheating: To reheat rice, add to a small pot with a splash of water and cook on low covered, stirring every few minutes. Add more water if necessary.
Cold or frozen rice can be added to soups, casseroles and salads without the need to thaw first.
More Instant Pot Rice Recipes
More Favorite Instant Pot Basics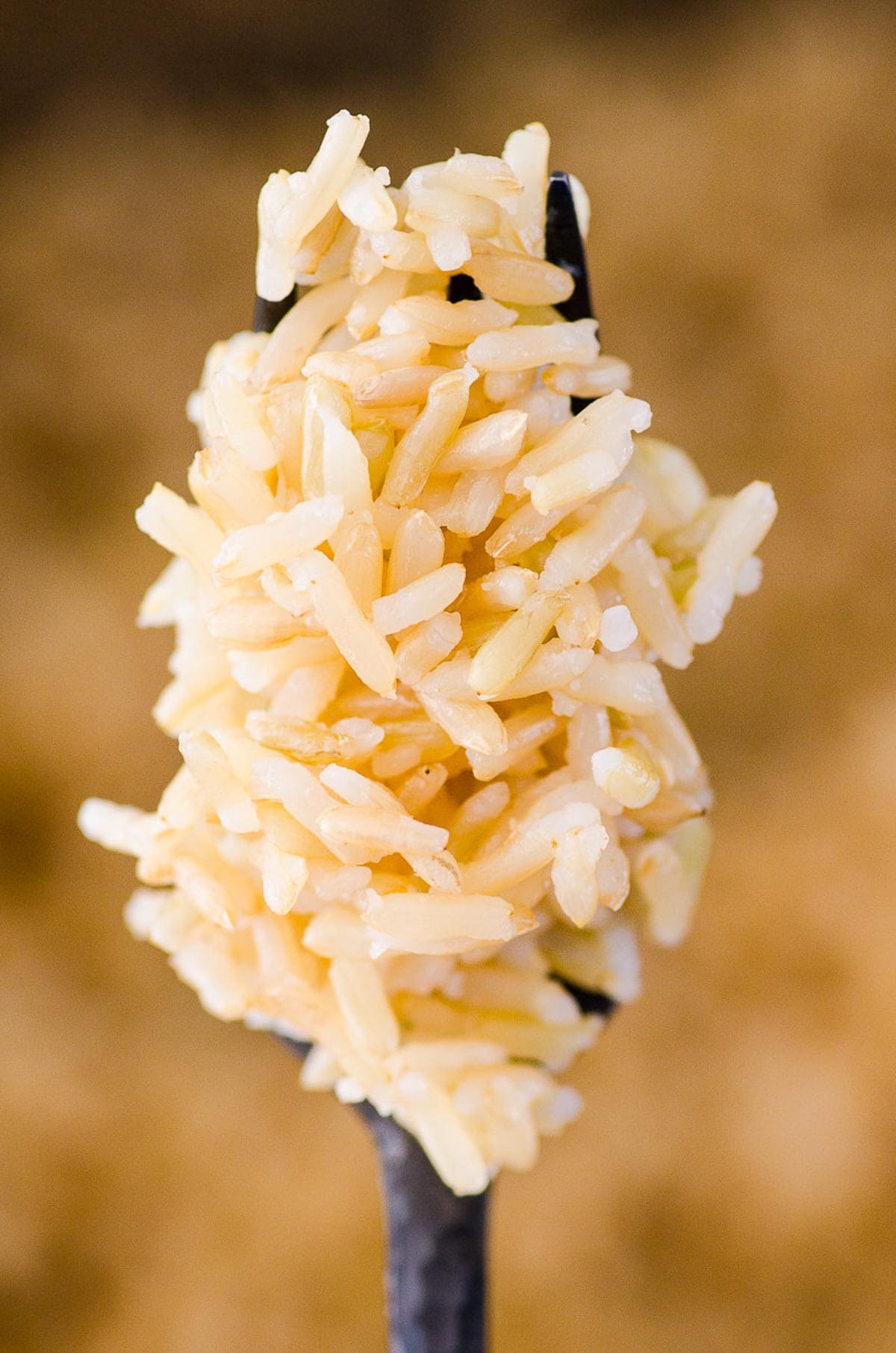 Instant Pot Brown Rice
Learn how to cook Instant Pot Brown Rice with perfectly fluffy results using my fail proof, hands off method. This recipe works for any brown rice!
Instructions
In Instant Pot, add brown rice, water and a pinch of salt. Close the lid, set pressure vent to Sealing and press Pressure Cook on High or Manual for 20 minutes.

Pressure Release for 6 quart Instant Pot: Do Natural Release by allowing pressure come down on its own for perfectly cooked rice. Do not do Quick Release by turning pressure valve to Venting position. Rice won't be cooked.

Pressure Release for 8 quart Instant Pot: Do Natural Release by allowing pressure come down on its own for soft rice. If you like a bit crunchy with a bite rice do Quick Release after 10 minutes of Natural Release.

Open the lid and fluff rice with a fork. That's it!
Notes
Store: Refrigerate in an airtight container for up to 5 days.
Freeze: Fully cook, cool completely and freeze in an airtight container for up to 3 months. Thaw in a fridge or on a counter.
Types of brown rice: I have tested long grain, basmati and short grain brown rice. All came out perfect with same cooking time.
More or less rice: You can cook less or more rice with same 1:1 rice to water ratio and cooking time.
Nutrition
Serving:
1
cup
|
Calories:
275
kcal
|
Carbohydrates:
58
g
|
Protein:
6
g
|
Fat:
2
g
|
Saturated Fat:
1
g
|
Sodium:
8
mg
|
Fiber:
3
g