Instant Pot Brown Rice comes out perfectly fluffy every time using my failproof pressure cooker recipe. Chewy, soft, nutty and simply THE BEST!
Just look at it!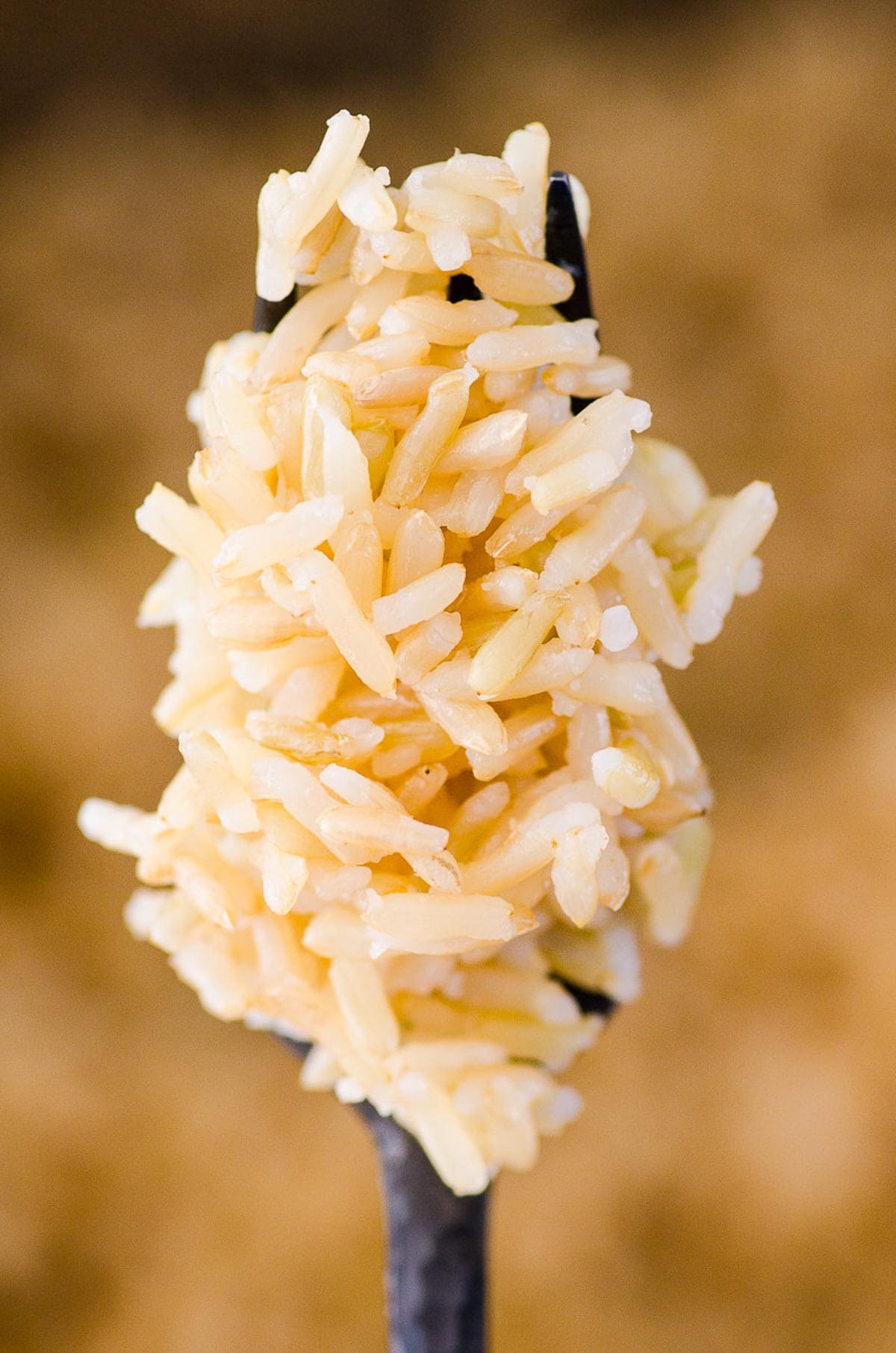 Instant Pot Brown Rice Recipe
Isn't this Instant Pot brown rice just perfect? Almost each grain is separate.
After cooking 10 cups of brown rice I may say I have perfected pressure cooker brown rice. The best part about cooking brown rice in Instant Pot is that you don't have to watch it.
Yes, it still takes same 45 minutes from start to finish but you are free to do other chores. This hands off method saves time for sure!
Types of Brown Rice You Can Cook in Instant Pot
I am super happy to report that the following 3 types of brown rice came out perfect – not mushy, fluffy and no leftover water. I was blown away myself that even short grain brown rice was perfectly cooked with a bite.
Basmati brown rice
Long grain brown rice
Short grain brown rice
How to Cook Brown Rice in Instant Pot
Rinse rice: My grandma always told me to rinse rice to remove extra starch. It helps each cooked rice grain to come out more separated from others.
Water to rice ratio: 1 cup of brown rice to 1 cup of water. That is because in a pressure cooker liquid does not evaporate like on the stove.
Season rice: I believe a touch of salt is all that is necessary. Salt helps flavors of any food shine.
Cook for 20 minutes on high pressure. Do not use Rice button as it cooks on Low pressure and is good for white rice.
Release pressure only with Natural Release: This ensures brown rice sits and absorbs remaining liquid and becomes perfect. Takes about 15 minutes.
Fluff with a fork: Never stir cooked rice to make rice mushy. Separate grains by fluffing with a fork.

Still on a fence about Instant Pot? Check out which one I recommend to buy from my experience. Own one but still not 100% confident around it? Read my Instant Pot guide.
Tips for Perfect Brown Rice
Water to rice ratio stays the same whether you cook 1 cup or 5 cups of rice.
Cooking time stays the same for any amount of rice.
Size of Instant Pot: You can use any as long as you don't fill it more than 1/2 full.
Flavorings: You can add 1 tbsp butter or olive oil before or after cooking. Also can use any low sodium broth or stock instead of water or parts of it.
Altitude: Pressure cooking time does differ very slightly based on altitude you live at. Also even same type of rice can be of different quality or age. If your brown rice comes out a bit crunchy or mushy, add or reduce a few minutes to cooking time. Not a big deal.
Just look at this perfect brown basmati rice in Instant Pot! And even short grain is perfect!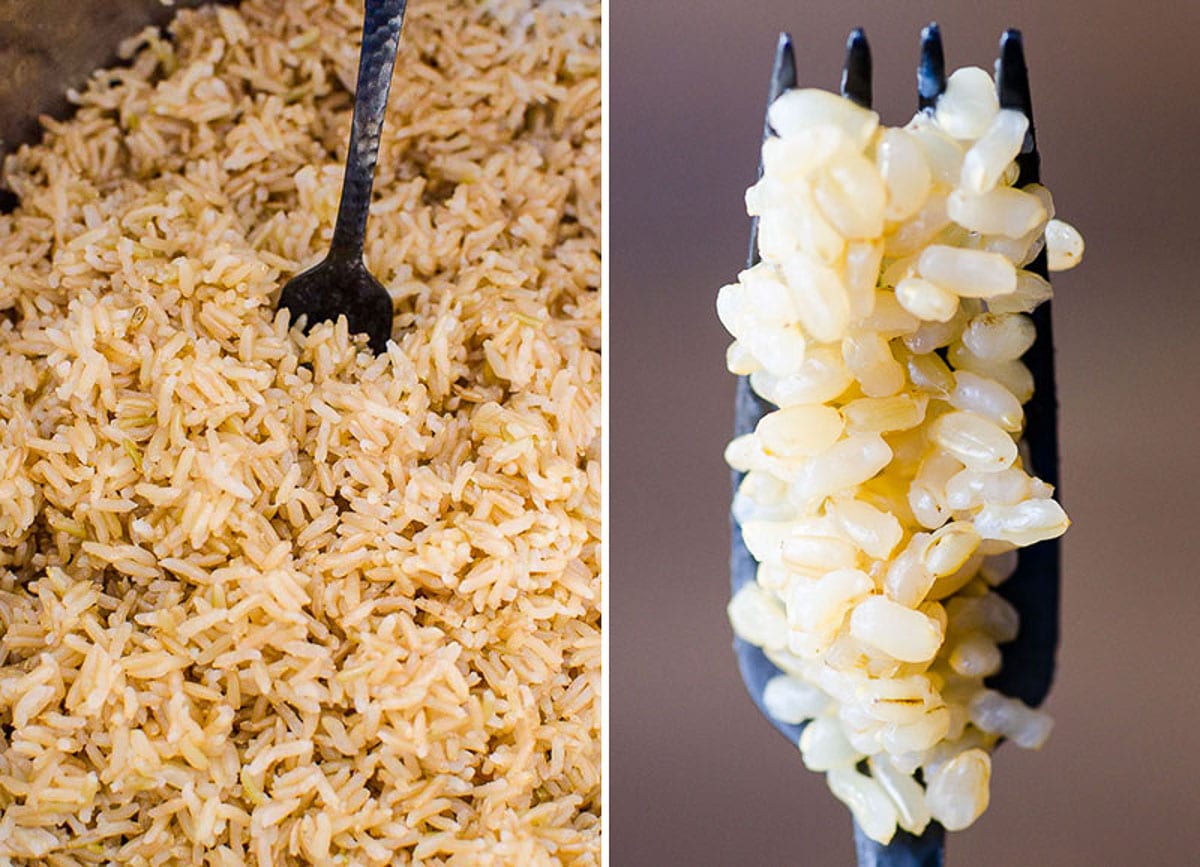 Serving Suggestions
I cook brown rice mostly to go with our favorite Asian dishes.
How to Store, Freeze and Reheat Rice
Cooling: Cool rice quicker by spreading it in a wide and shallow dish. Placing outside, if it's cooler and no animals around, helps too.
Storing: Cook and cool. Store rice in an airtight container for up to 5 days.
Freezing: Freeze rice in airtight containers or in a resealable plastic bag (let out as much air as possible) for up to 3 months. When ready to eat, take it out from the freezer in the morning and thaw on a counter.
Reheating: To reheat rice, add to a small pot with a splash of water and cook on low covered, stirring every few minutes. Add more water if necessary. Cold or frozen rice can be added to soups, casseroles and salads as is.
More Basic Instant Pot Recipes
Did you know we have entire Youtube channel dedicated to healthy Instant Pot recipes and tips? Make sure to subscribe and hit the Bell icon not to miss new videos.
Instant Pot Brown Rice
Instant Pot Brown Rice comes out perfectly fluffy every time using my fail proof pressure cooker recipe. Chewy, soft, nutty and simply THE BEST!
Print
Rate
Ingredients
2

cups

brown rice

rinsed and drained*

2

cups

water

Pinch

of salt
Instructions
In Instant Pot, add brown rice, water and a pinch of salt.

Close the lid, set pressure vent to Sealing and press Pressure Cook on High or Manual for 20 minutes.

After 20 minutes, Instant Pot will beep and display will say OFF. And now it needs to bring pressure down before you can open it, which will be indicated by a dropped down float valve.

Pressure Release for 6 quart Instant Pot: Do Natural Release by allowing pressure come down on its own for perfectly cooked rice. Do not do Quick Release by turning pressure valve to Venting position. Rice won't be cooked.

Pressure Release for 8 quart Instant Pot: Do Natural Release by allowing pressure come down on its own for soft rice. If you like a bit crunchy with a bite rice do Quick Release after 10 minutes of Natural Release.

Open the lid and fluff rice with a fork. That's it!
Store: Refrigerate in an airtight container for up to 5 days.
Freeze: Fully cook, cool completely and freeze in an airtight container for up to 3 months. Thaw in a fridge or on a counter.
Notes
*I have tested long grain, basmati and short grain brown rice. All came out perfect with same cooking time.
You can cook less or more rice with same 1:1 rice to water ratio and cooking time.
Nutrition
Serving:
1
cup
|
Calories:
275
kcal
|
Carbohydrates:
58
g
|
Protein:
6
g
|
Fat:
2
g
|
Saturated Fat:
1
g
|
Sodium:
8
mg
|
Potassium:
204
mg
|
Fiber:
3
g
|
Calcium:
28
mg
|
Iron:
1
mg
Join today and start saving your favorite recipes
Recipes and images are a copyright of ifoodreal.com. It is against the law to republish recipes anywhere including social media, print and all world wide web. Nutritional info is provided for informational purposes only and to the best knowledge.