Instant Pot Brown Rice or the best tutorial how to cook not mushy any type of brown rice in your pressure cooker.
Your Instant Pot is awesome for cooking staples like quinoa, black beans, chickpeas and bone broth. Still on a fence about Instant Pot? Check out which one I recommend to buy from my experience. Own one but still not 100% confident around it? Read my Instant Pot guide.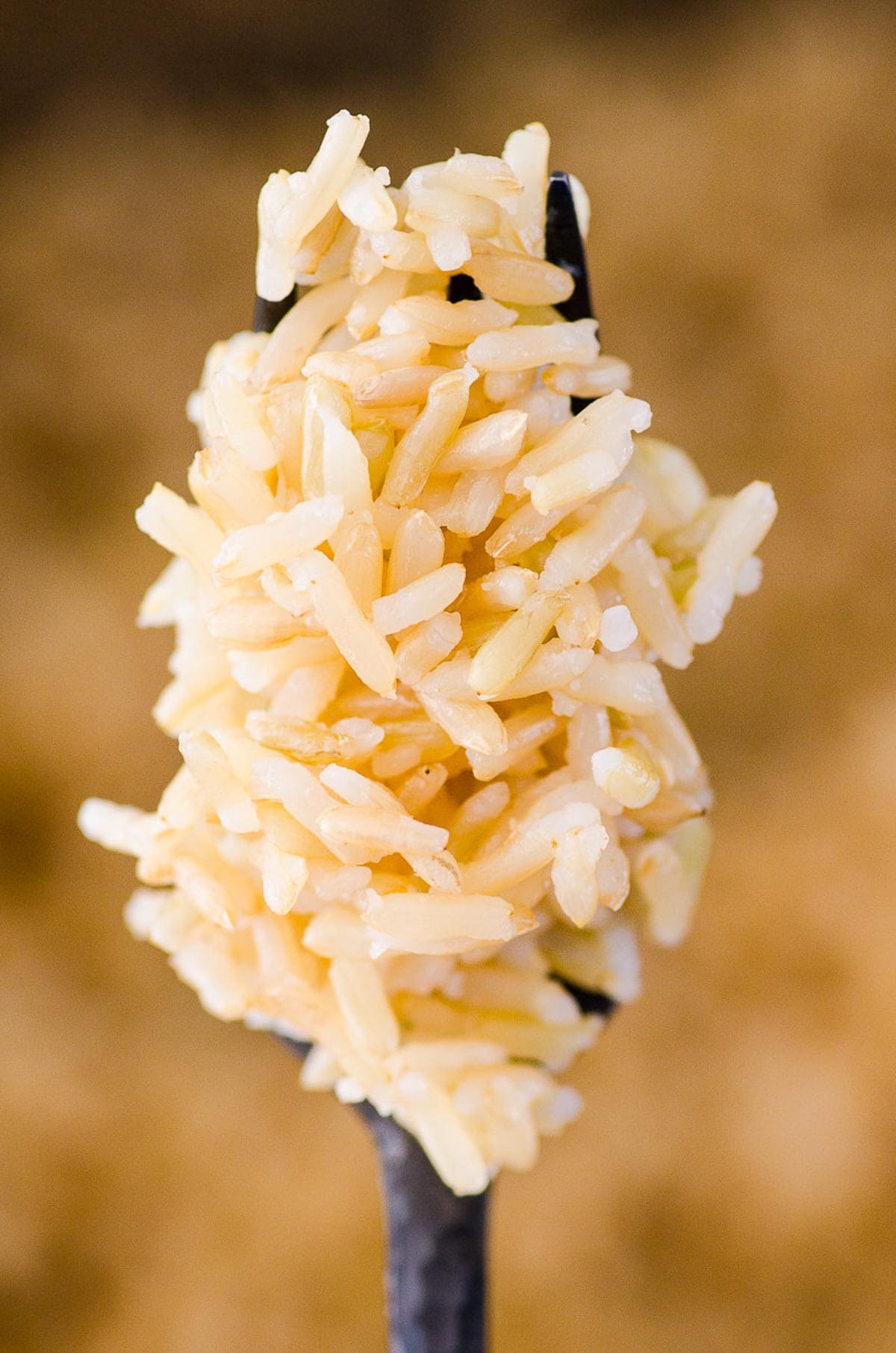 Pressure Cooker Brown Rice
Isn't this Instant Pot brown rice just perfect? Almost each grain is separate.
After cooking 10 cups of brown rice I may say I have perfected pressure cooker brown rice. The best part about cooking brown rice in Instant Pot is that you don't have to watch it. Yes, it still takes same 45 minutes from start to finish but you are free to do other chores. This hands off method saves time for sure!
What to Use Brown Rice for?
I cook brown rice in pressure cooker mostly to go with our favorite healthy Asian dishes.
After testing this recipe I ended up with 25 cups of cooked rice. So I made my healthy rice pudding. This baby kale salad or sweet chili sauce salad are perfect candidates for leftover brown rice as well.
Looking for more dinner ideas? Check out my most popular collection of 30 healthy Instant Pot recipes.
Types of Brown Rice I Tested
I always buy same brand of organic long grain brown rice at Superstore. For the sake of experiment, I tried 3 kinds of rice: basmati, long grain and short grain brown rice.
I am super happy to report that all of them came out perfect – not mushy, fluffy and no leftover water. I was blown away myself that even short grain brown rice was perfectly cooked with a bite.
Let's go over the process.
Rinse or Not to Rinse Rice?
I am team "rinse rice".
My grandma always told me to rinse rice to remove extra starch. It helps each cooked rice grain to come out more separated from others. Also I rinse rice like any other grain for hygienic reasons. I don't know what processing facility it came from, how dirty were the hands that touched it etc.
Only seed I don't rinse is quinoa, haha. I just can't get past cleaning the mesh strainer from it. And it comes pre-washed.
Water:Rice Ratio
It is 1:1. 
Surprised? I was too. But cooking 1 cup of brown rice in 1 cup of water makes that perfect fluffy brown rice. That is because in a pressure cooker liquid does not evaporate like on the stove. And it is regardless whether you cook 1 cup or 3 cups of rice.

Also, a million $ question – should you season rice?
I believe a touch of salt is all that is necessary. Salt helps flavors of any food shine. I do not add onion, spices or oil because we are making simple brown rice to be served with something else.
How Long to Cook Brown Rice in Instant Pot?
20 minutes.
I tried cooking rice with more water for 15 minutes and brown rice came out more soft. Not bad at all, just not as separate. The trick to perfect rice lies in the next step as well.
One thing to keep in mind. Pressure cooking time does differ very slightly based on altitude you live at. Also even same type of rice can be of different quality or age. If your brown rice comes out a bit crunchy or mushy, add or reduce a few minutes to cooking time. Not a big deal.
To Cook More or Less Rice
I get this question with all of my Instant Pot recipes – "how much ingredients and what is cooking time for double or half the recipe?".
No matter if you cook 1 cup or 3 cups of rice, use the same 1:1 rice to water ratio and same cooking time. In any size or kind of pressure cooker. As long as there is twice more room inside the pot for rice to expand. You can cook 2 cups of brown rice same way in 3 qt., 6 qt. or 8 qt. Instant Pot.
Quick or Natural Release?
Only Natural Release.
If you want perfect rice let pressure come down naturally inside your Instant Pot. This ensures brown rice sits and absorbs remaining liquid and becomes perfect. Takes about 15 minutes. If you rush and do Quick Release, rice might come out crunchy and sitting in a small pool of water.
Just look at this perfect brown basmati rice in Instant Pot! And even short grain is perfect!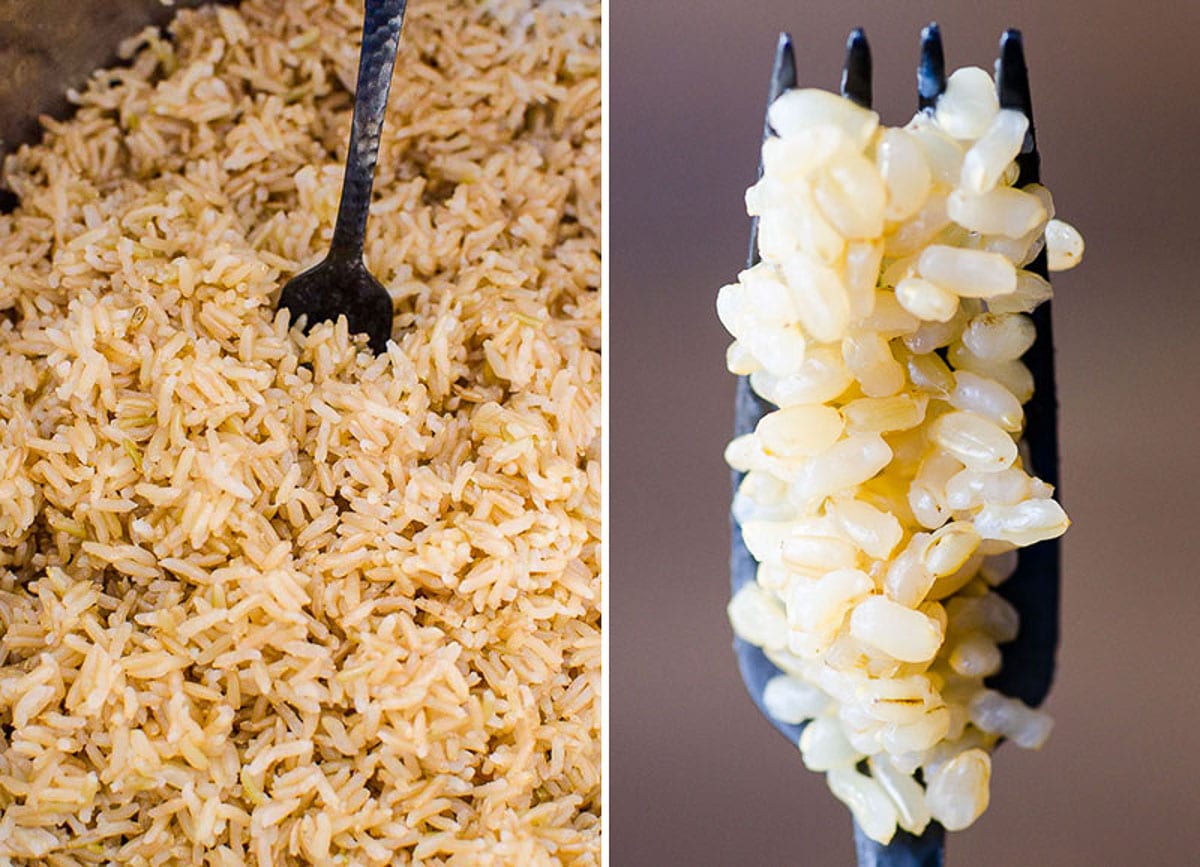 Can You Freeze Rice?
Ahem. Yes. What a girl to do with 25 cups of cooked rice?
Pressure cooker rice is perfect to meal prep and freeze. Then on a weeknight, you don't have to worry about another thing to cook. Just don't forget to take it out of the freezer in the morning and thaw on a counter. After work make a quick saucy main and you are golden!
More Instant Pot Recipes with Brown Rice
Did you know we have entire Youtube channel dedicated to healthy Instant Pot recipes and tips? My goal is to help you become confident with your Instant Pot by demonstrating each delicious foolproof recipe in step-by-step videos.
Make sure to subscribe and hit the Bell icon not to miss new videos.
Print
Instant Pot Brown Rice
Instant Pot Brown Rice or the best tutorial how to cook not mushy any type of brown rice in your pressure cooker.
Author:
Prep Time:

1 minute

Cook Time:

15 minutes

Total Time:

16 minutes

Yield:

5 cups

1

x
Category:

Side Dish

Method:

Instant Pot

Cuisine:

North American
Scale
Ingredients
2 cups

brown rice, rinsed and drained*

2 cups

water
Pinch of salt
Instructions
In Instant Pot, add brown rice, water and a pinch of salt.

Close the lid, set pressure vent to Sealing and press Pressure Cook on High or Manual for 20 minutes.
After 20 minutes, Instant Pot will beep and display will say OFF. And now it needs to bring pressure down before you can open it, which will be indicated by a dropped down float valve.
Pressure Release for 6 quart Instant Pot: Do Natural Release by allowing pressure come down on its own for perfectly cooked rice. Do not do Quick Release by turning pressure valve to Venting position. Rice won't be cooked.
Pressure Release for 8 quart Instant Pot: Do Natural Release by allowing pressure come down on its own for soft rice. If you like a bit crunchy with a bite rice do Quick Release after 10 minutes of Natural Release.
Open the lid and fluff rice with a fork. That's it!
Store: Refrigerate in an airtight container for up to 5 days.
Freeze: Fully cook, cool completely and freeze in an airtight container for up to 3 months. Thaw in a fridge or on a counter.
Notes
*I have tested long grain, basmati and short grain brown rice. All came out perfect with same cooking time.
You can cook less or more rice with same 1:1 rice to water ratio and cooking time.
★ Did you make this recipe? Please give it a star rating in the comments.