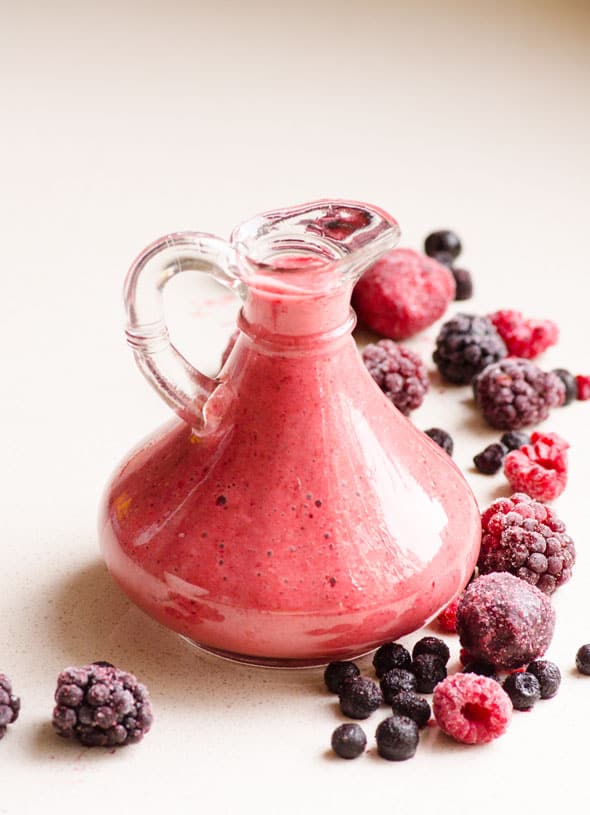 Today is Good Friday but the truth is I am writing this berry salad dressing post on Wednesday afternoon. Behind the scenes of a food blogger's life also include completely unbalanced nutrition days: healthy homemade cereal for lunch.
I am sitting on a couch and still feeling the high from a morning 30 minute workout with Chalene. I don't know, she is my favourite! She does it for me. Honestly, I do not love indoor exercises and would much rather do fun outdoor activities. But when indoors I can do only Chalene.
So, I did my workout. Before that I did necessary food blog grocery shopping. Before that morning kid routine (ouch). After a workout I consumed a frozen yogurt recipe I made for a client. An hour later I had avocado broccoli slaw salad I made for another project. Now I am finally sitting down and enjoying the post-workout high in my butt and glutes.
Today's post is very pink which my life lacks completely. Alex wouldn't let me buy anything remotely girly or pink for the house. Pink neighbour's cherry blossoms, pink flowers on my counter and pink berry salad dressing it is then.
I am always ahead or behind the masses. I managed to put together an Easter kind of menu ideas in my newsletter. But other than that I honestly do not understand why I can't have a pink salad for Easter?! Like how Easter dinner is different from Thanksgiving or Christmas one?! I saw woman behind me buying turkey in a store today. Huh?! Turkey. For Easter? Again?!!!! What holiday does America not eat turkey?
Like does anyone serve boiled coloured eggs for Easter dinner? So, I honestly don't understand why greens and beans recipe, broiled asparagus with garlic or brie stuffed chicken can't be at a celebration table. Why does it have to be turkey, eggs and carrots?! We are not bunnies. We have got California and Mexico around the corner supplying us with any produce all year round. Frozen, fresh or jarred – we got it all.
Man, we have LA housewives checking into 40K per night suites in Dubai. Like 4 suites per night for 5 nights. Isn't that a waste?! How many hungry people you could feed for that money?! What a screwed up world we live in which I honestly think is going only down. You know I am right. Peeled and packaged avocados and bananas, unrecycled Starbucks and Keurig cups (think how many!!!), flavoured water, 46 year olds dead from cancer. Our laziness and stupidity makes us sick.
This berry salad dressing literally took me 2 minutes to put together. How hard can it be to throw a cup of frozen berries, a few splashes of oil, vinegar and salt in a food processor, and press a button?! You have a healthy salad dressing for a week ahead, just like carrot ginger salad dressing and healthy honey mustard dressing. And yet people complain they have no time to cook healthy. That is pure excuse.
I hear it from sports parents whose 2 kids play 2 sports each. I will never get it why spend so much time and money on sports (considering 99.9% of kids won't become Olympian athletes) and as a consequence feed entire family junk food. I just don't get it! Primary benefit of child's sport activities are fun and development, which should not come at a cost of family's health and well-being. I am yet to meet a mom who is struggling with weight that is happy and full of energy.
My goodness, ladies, love and take care of yourself. You deserve it and your family will have a happy & healthy wife and mom. The problem is there is not enough education in the masses and an abundance of processed foods on grocery shelves. I bet if latter didn't exist, everything else would fall into place. 2 minutes you take today to make this berry salad dressing will pay off with normal cholesterol test results tomorrow and happy you self!
Happy Easter to your an your family. Have fun colouring, collecting and eating eggs. Life is fragile and time really flies by…
Berry Salad Dressing
Berry salad dressing with your choice of fresh or frozen berries, olive oil and apple cider vinegar. Creamy berry vinaigrette. Make ahead and refrigerate.
Print
Rate
Instructions
Storage Instructions: Refrigerate in a glass airtight container for up to 2-3 weeks.
Notes
*White wine or balsamic vinegar would work.
**I used a frozen mix of strawberries, blueberries, cherries and raspberries.
Nutrition
Serving:
2
tbsp
|
Calories:
89
kcal
|
Carbohydrates:
2
g
|
Protein:
1
g
|
Fat:
9
g
|
Saturated Fat:
1
g
|
Sodium:
146
mg
|
Sugar:
2
g
|
Iron:
1
mg
Join today and start saving your favorite recipes
Recipes and images are a copyright of ifoodreal.com. It is against the law to republish recipes anywhere including social media, print and all world wide web. Nutritional info is provided for informational purposes only and to the best knowledge.