Quick and easy raspberry vinaigrette with 6 simple ingredients plus naturally gluten free, dairy free, and refined sugar free! With it's perfect balance of sweetness and tang from fresh raspberries and subtle citrus, it will be a new favorite in your healthy salad dressing recipes rotation.
Armed with this vinaigrette and healthy salad recipes – clean eating on a budget is literally only moments away. And with these healthy grill recipes and list of healthy snack recipes there really is no excuse not to eat good for you food all summer long!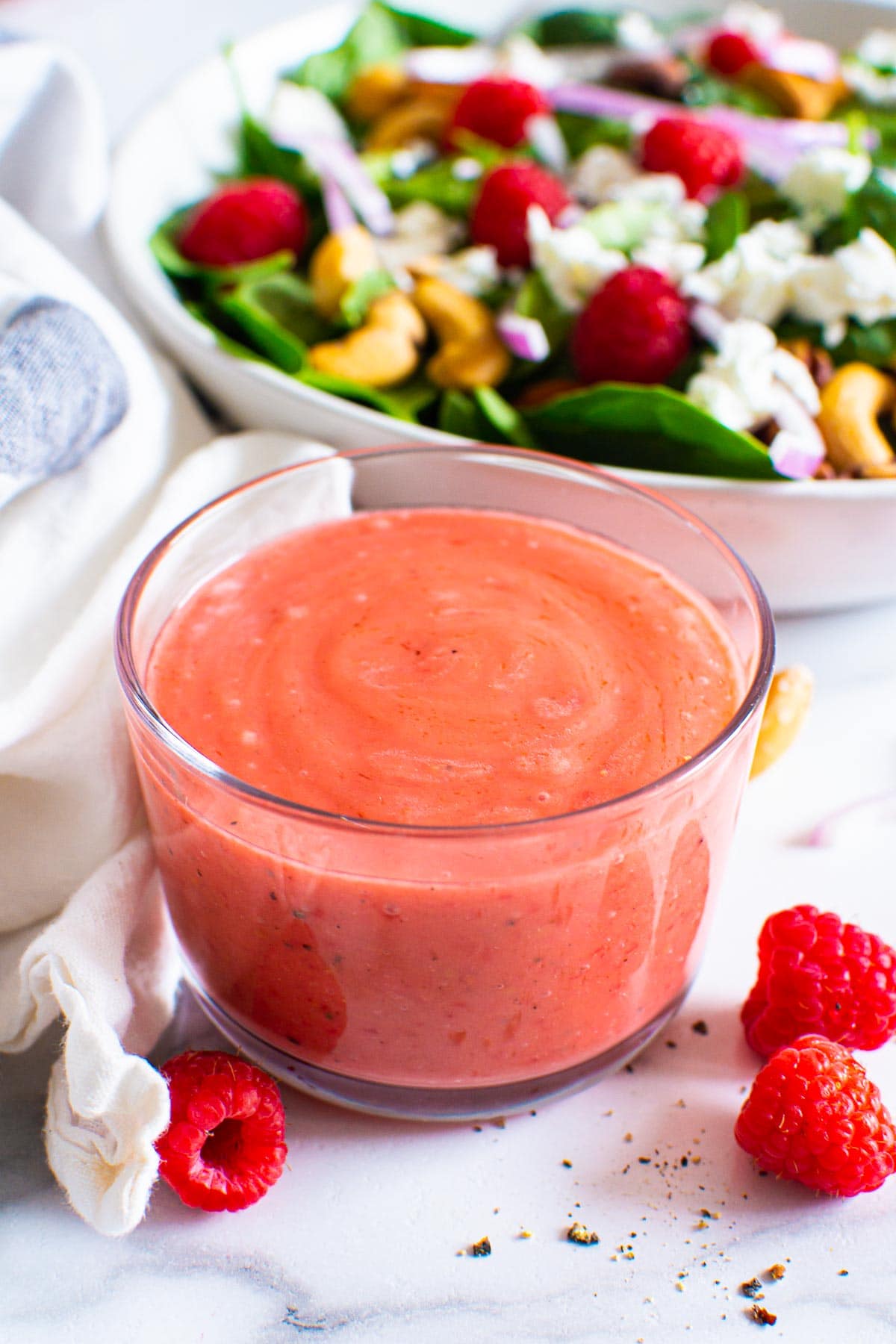 Healthy summer eating just got a whole lot easier and tastier! This raspberry vinaigrette is a naturally sweetened salad dressing that doesn't come overloaded with sugars, dyes, and preservatives. It is a velvety smooth vinaigrette that has a deep delicious raspberry base and an ever so slight tang. It is the perfect summer salad dressing, especially when you want a change from Asian salad dressing or poppy seed dressing. It's light, it's vibrant, and absolutely refreshing!
As soon as nice weather hits, I say "see ya later" to my favourite indoor workout buddy Chalene and start hitting the outdoors for all my exercise. There is a cycle that happens, the more you exercise the more your body craves nutrients. The more nutrients your body gets, the more energy you have to exercise. It's all connected, and I am so happy to help guide you through your journey to making healthier choices.
This healthy homemade vinaigrette can actually be made with any berries, so it's nice that is flexible, especially if you've got an abundance of other berries laying around. Once you make this dressing from scratch, I can guarantee you, you'll never buy store-bought again. It's made with just 6 relatively inexpensive ingredients, all of which you probably have already. Whip it up on days when you just want something a little extra special! It's so good, your kids will be begging for a second serving of salad!
Raspberry vinaigrette with grilled chicken salad seems like the natural choice for this dressing, which is great on its own, but in smaller portions salad works really well as a side dish. I love serving a main like this brie stuffed chicken with a variety of veggie sides like greens beans recipe and broiled asparagus recipe as well as a salad and that way everyone is nourished and no one leaves hungry!
Why This Raspberry Vinaigrette Recipe Works?
It's healthy and fresh and still caters to your sweet tooth.
Budget-friendly and smarter to make a homemade dressing than to buy one.
It tastes amazing with all of that raspberry goodness.
Lasts for up to 3 weeks which means salads all day every day!
A great way to use up loads of raspberries you picked (or picked up).
This is a customizable dressing that can be made with any berries.
Vibrant natural color without dyes makes a beautiful addition to any salad.
You can control the ingredients and decide what goes in and what stays out.
Ingredients for Homemade Raspberry Dressing
Raspberries: You can use fresh or frozen and can also swap for any other berry you'd like.
Olive oil: Since this dressing has so few ingredients, using high-quality oil makes all the difference. Look for a cold-pressed, extra virgin oil, if you can. Organic wherever possible.
Apple cider vinegar: Whenever possible, look for raw apple cider vinegar "with the mother." It's got loads of health benefits and gives the dressing a zesty tang. A nice balance to the sweet!
Maple syrup: You can also use honey as a natural sweetener. Complements the raspberries nicely and gives this dressing its needed sweetness without being overwhelming.
Salt & pepper: To taste! Pink Himalayan salt is great, but any salt will work.
How to Make This One-Step Salad Dressing
Just follow these steps. Ok, step. There's really only one. This berry salad dressing literally took me 2 minutes!
Combine everything in the food processor and blend until smooth. That's it, that's the step.
Now you have a healthy salad dressing for the week ahead, and if you want to switch it up with Japanese carrot ginger dressing, is is another quick, easy, and healthy dressing to keep a jar of.
I know sometimes it can feel like there are not enough hours in the day to eat healthily. I have come to learn that it's all about how we prioritize our time. We all have the same 24 hours in the day, but it's how we use them that counts. Nothing is more important than our health and well-being, for ourselves, and our kids. Unfortunately, we've been taught that healthier eating is too expensive and convenience means eating processed food. It's time to reprogram and unlearn what we've been taught, so I am happy to share with you, it does NOT have to be this way.
#olenafact: You too can eat healthy on a budget, without spending hours in the kitchen, and it all tasting delicious too.
So cut the crap. The food and the excuses 😉
The 2 minutes you take today to make this berry salad dressing will come with major rewards tomorrow. You're worth it!
Add-ins and Variations
Acid: You can use white wine, balsamic vinegar, or lemon/lime juice instead of apple cider vinegar for a flavor variation. Are you lucky enough to have raspberry vinegar on hand? Use it!
Frozen berries: If using frozen, you can use a mix of strawberries, blueberries, cherries, and raspberries if you'd like! You can of course stick to using only frozen raspberries or maybe a combination of just two (raspberries and blueberries are great).
Pro Tip: When using frozen berries, you'll need to add 2 Tbsp of water to thin it out.
FAQs
Is raspberry vinaigrette vegan?

Yes. If you don't use honey and stick to using maple syrup, this dressing is vegan.
Can I use fresh raspberries in this salad dressing?

You can and you should! Fresh raspberries lead to fresh flavors. Sweet, bold and so good! Whether you get them from your garden, the farmer's market, or the local grocery store, make sure to wash them first.
Is raspberry salad dressing healthy?

It is when I make it 🙂 This recipe contains all the good things you'd expect from a healthy dressing. A simple list of fresh, quality ingredients, each one having its own nutritional benefits. Antioxidants from the berries, the anti-inflammatory properties in the ACV, minerals from the pink Himalayan salt, and of course, the good fat from the olive oil. A healthy salad dressing that tastes this good makes eating salad much more fun. So that's a win!
Serving Recommendations
This dressing pairs well with many of your favourite salads. The sweet and tangy balance means it is versatile and can go both ways!
You could even use raspberry vinaigrette as marinade for grilled chicken – just follow the marinating directions from our chicken marinades recipes!
Making this Dressing in Advance
Make-ahead/Store: Dressings are a staple around here, especially in the spring and summer. Having them prepped and ready to go makes eating fresh salads super convenient. It can be stored for up to 3 weeks in a glass jar with an airtight lid, so making it a few days before you need it is perfect. If you make a lot, you can store in smaller portions and take little jars for lunch. A great way to meal prep your salads. Just give it a shake before pouring if you've noticed it has settled.
More Raspberry Recipes
More Homemade Salad Dressings to Try
Browse all my favorite healthy salad dressings!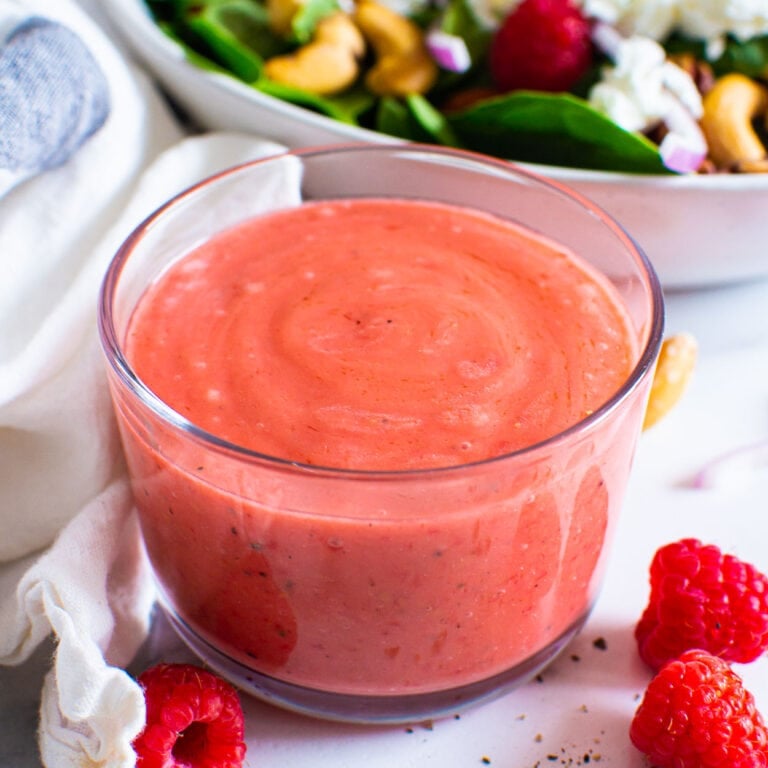 Raspberry Vinaigrette
This quick and easy raspberry vinaigrette is made with 6 simple ingredients and has the perfect balance of sweetness and tang. This recipe is naturally gluten-free, dairy-free, and refined-sugar-free and loaded with fresh raspberries, subtle citrus, and a smooth texture. This dressing is a welcome addition to all of your favourite summer salad recipes!
Instructions
Storage Instructions: Refrigerate in a glass airtight container for up to 2-3 weeks.
Notes
Acid: White wine, balsamic vinegar or lemon/lime juice would work.
Frozen berries: When using frozen, I like to use a frozen mix of strawberries, blueberries, cherries and raspberries. Can also use frozen raspberries alone or combined with frozen blueberries (very common in our freezers). You will need to add about 2 tbsp of water to thin vinaigrette out.
Nutrition
Serving:
3
tbsp
|
Calories:
189
kcal
|
Carbohydrates:
7
g
|
Protein:
1
g
|
Fat:
18
g
|
Saturated Fat:
2
g
|
Sodium:
292
mg
|
Fiber:
2
g
|
Sugar:
5
g