Overnight Oatmeal is healthy easy breakfast for lazy people like me.:) You can meal prep overnight oats in a jar for up to 5 days and enjoy warm or cold every morning during the work week.
Again, "lazy" like me? Then check out my chia pudding, egg muffins and other 35 healthy breakfast ideas that will help you to eat healthy breakfast.
What Are Overnight Oats?
Overnight oatmeal are raw oats mixed with milk and soaked overnight. Hence, the name. Milk soften the oats eliminating the need to cook oatmeal on the stove.
The most easy way to make overnight oats is in individual jars. Glass Mason jars with metal or plastic lid are the most common.
Makes for easy "grab and go" healthy, affordable and tasty breakfast solution for busy mornings.
Ingredients You Will Need
To make basic overnight oats recipe you will need 4 simple ingredients:
Oats – There is a difference which type of oats you use to make overnight oatmeal, in terms of nutrition and texture. The major differential between oats is different fiber content. The more processed oats, the lower is  fibre. The lower nutrition, the lower satiety.
Milk – Any plant based milk like almond milk or regular dairy.
Maple syrup  – I wouldn't recommend using honey because it doesn't dissolve well in cold milk.
Vanilla extract – Make sure it's pure and not the artificial kind.
Types of Oats You Can Use
Overnight oats recipe can be made with quick, rolled, steel cut or even quick cooking steel cut oats.
1. Quick or Quick Rolled Oats
Quick oats are whole oat groats that are first steamed and then flattened into flakes on a machine. They are the most processed oats with the highest glycemic index (GI) of 66. It means you will feel hungry the soonest after eating quick oats.
Final texture: Quick (instant) oats produce the softest overnight oatmeal with creamy consistency, soaking up milk the fastest, so you can eat them 6 hours after preparation (make in the morning, eat for an afternoon snack).
2. Rolled or Old Fashioned Oats
Rolled oats are steamed for shorter time than quick oats, producing more nutritious oatmeal with GI 42-55 and chewy texture.
Final texture: Rolled (old fashioned) oats "cook" as fast as quick oats and produce a soft textured oatmeal with a bit of chewiness.
Steel Cut or Irish Oats
Steel cut oats are uncooked whole groats that have been cut into smaller pieces with steel blades (hence, the name). Because they are not processed, they contain the highest amount of fibre and protein.
Final texture: Steel cut oats produce the chewiest (crunchiest) overnight oatmeal and definitely have to be soaked overnight. They will stay crunchy for days and texture is a matter of personal taste. Overnight oatmeal's consistency will be more runny than with other types of oats because steel cut oats are not as absorbent.
Quick Cooking Steel Cut Oats
Quick cooking steel cut oats are lightly toasted whole oat groats cut into smaller pieces than steel cut oats. They are my favourite oats to use for making overnight oatmeal because they offer almost the same nutritional benefits as steel cut oats, with a softer texture closer to rolled oats. And probably because I can buy a huge bag at Costco dirt cheap. Quick cooking steel cut oats have to be soaked overnight like steel cut oats.
Final texture: Soft with a bit of a bite.
How to Make Overnight Oats
Add milk, maple syrup, vanilla and oats to any glass container with a lid.
Stir well with a spoon.
Refrigerate overnight.
In the morning, if overnight oatmeal is too thick, adjust with milk. Also add more maple syrup if desired.
Mix Ins and Toppings Ideas
Foreword – I am a busy working mom of 2 boys who play a lot of hockey. After making overnight oats in jar for 4 years, I came to a conclusion that my favourite kind is basic overnight oats recipe. My life is complicated enough. I do not need to complicate my oatmeal. I just need to eat an oatmeal and not a chocolate bar for breakfast.
If life sucks that morning or you simply have not acquired a few kids, feel free to add the following:
Chocolate chips
Fresh or frozen fruit
Cinnamon or nutmeg
Pecans or other nuts
Coconut flakes
Peanut butter and jam
Yogurt
How Long Overnight Oats Last?
5 days. There are really no ingredients to go bad in a jar with overnight oats. If you refrigerate them of course. But for the best fresh breakfast experience consume within first 5 days.
Warm or Cold?
I know many cannot eat a cold breakfast. Or let's say it's January. Sure thing, warm up the oatmeal in a microwave or on a stovetop in small pot.
Honestly, I do not have a microwave and warming up overnight oats in a pot defeats the purpose of lazy healthy breakfast. So I eat them cold. I am a mom. Worse things have been done to me.
More Make Ahead Oatmeal Recipes:
Print
How to Make Easy Overnight Oatmeal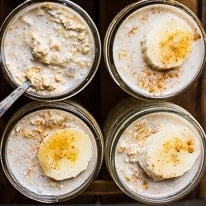 Overnight Oatmeal Recipe with any oats and milk, refrigerated overnight in a jar for up to 5 days for an easy healthy breakfast.
Author:
Prep Time:

5 minutes

Cook Time:

0 minutes

Total Time:

5 minutes

Yield:

1

serving (8 oz jar)

1

x
Category:

Breakfast

Method:

Refrigerate

Cuisine:

North American
Scale
Ingredients
3/4 cup

any milk

2 tsp

 maple syrup

1/2 tsp

 pure vanilla extract

1/2 cup

any oats
Instructions
In any glass container with a tight seal lid, add milk, maple syrup, vanilla and oats; stir well with a spoon. If you would like to add toppings in the morning, use bigger jars. If you want to use smaller jars (pictured), add scant (1-2 tbsp less) of milk and oats, so jars don't overflow.
Refrigerate overnight. When ready to eat, stir and top with favourite toppings: nuts, berries, fruit, coconut flakes etc. If overnight oatmeal is too thick, adjust with milk. Also add more maple syrup if desired.
Store: Refrigerate for up to 5 days.
Notes
Consistency of oatmeal will depend on the type of oats. I used quick cooking steel cut oats. I wouldn't recommend using honey because it doesn't dissolve well in cold milk.
★ Did you make this recipe? Please give it a star rating in the comments.