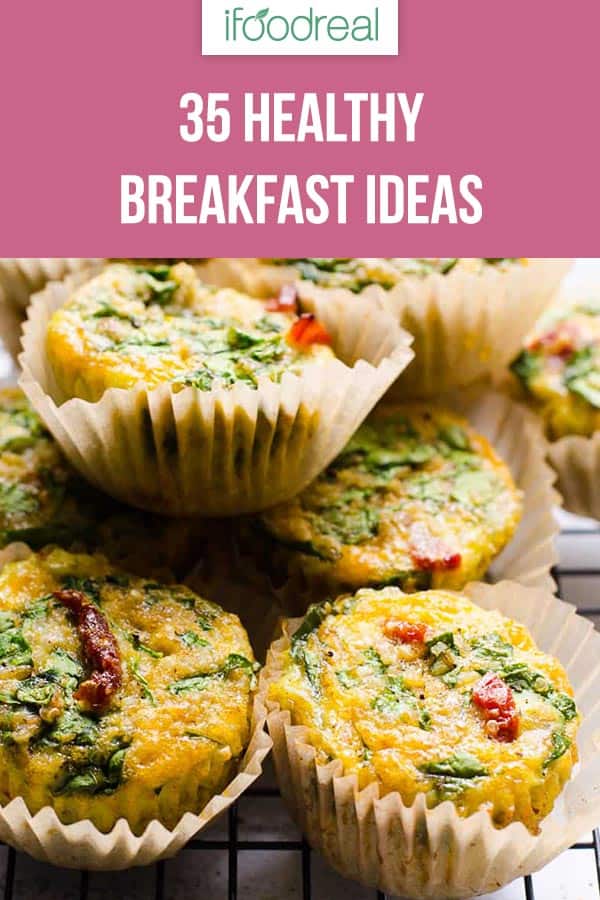 What Are These Easy Breakfast Ideas?
Below you will find 35 quick healthy breakfast ideas that will make you feel full until lunch time.
If you struggle with "What's for breakfast?" or often make unhealthy choices, these breakfast on the go recipes will help.
[convertkit form=977197]
What Is a Balanced Breakfast?
According to University of Washington, start your day right with balanced breakfast rich in complex carbohydrates and protein. If you eat full of empty calories cereal, your sugar levels crash even before 10 AM. That causes low energy and hunger.
Complex Carbs: Simple carbs like white flour are stripped of nutrients that keep you full longer. Causing your sugar levels rise and drop fast, and feel hungry. Complex carbs contain bran, germ and seed filling your belly with fiber, vitamins and slowly digesting ingredients. Aim to include the following in your breakfast: oats, brown rice, quinoa, whole wheat or spelt flour, almonds and anything high in carbs whole foods products.
Protein: Protein helps to build muscle and keeps you full longer. Examples of good breakfast proteins are eggs, nuts, turkey sausage, whole milk yogurt and cottage cheese.
Fiber: Fiber is essential to feel full longer and for regular trips to the bathroom.:) All fruit and veggies, chia seeds and whole grains are high in fiber.
Healthy Fat: Thank goodness day of "low fat" products are over. Good fats like whole milk products, nuts, coconut oil, avocado and chia seeds are good for your heart and skin. In moderation, of course. Like everything.
Low or Natural Sugar: Store-bought breakfasts like cereal and oatmeal are loaded with refined sugar. You don't have to eat plain boring breakfast, no! Instead use natural good for you sweeteners like maple syrup, honey and fruit.
How to Meal Prep Healthy Breakfast
Pick 1-3 recipes from the list below and double or triple it based on how many people in your family.
Go through your pantry and fridge contents and make shopping list.
Cook and cool down (if necessary). Then refrigerate or freeze.
In the morning, grab, go and feel good about your day!
Healthy Pancakes and Waffles
Pancakes and waffles are one of the most easy breakfast options. Freeze them fully cooked in Ziploc bags with as much air out as possible for up to 3 months. When ready to eat, pop straight from the freezer into a toaster. That's it!
Healthy Quinoa and Oatmeal Recipes
Oatmeal doesn't have to be boring! I despise plain oatmeal no matter how good it is for us. Many of these clean eating breakfast recipes are full of superfoods like quinoa, chia seeds and nuts.
Healthy Egg Breakfast Recipes
Nobody has time to make eggs on weekday mornings. At least families don't. Everyone is in a rush! All of these 4 egg recipes make for an easy nutritious breakfast that tastes good even cold.
Healthy Breads and Muffins
If muffins are not loaded with refined sugar they qualify as a good breakfast. All these recipes below are made with whole foods and are refined sugar free. Some are even honey and maple syrup free (see #1).
Healthy Pudding Recipes
Chia pudding makes low calorie breakfast that you quickly whisk and refrigerate overnight. Chocolate one tastes like dessert! Or if you are looking for a more filling quick breakfast idea, make a batch of brown rice pudding with yogurt, chia and berries.
Other Healthy Breakfast Options
And if everything else fails, here is 5 more simple and good for you breakfast food ideas you can make ahead.
Print
35 Healthy Breakfast Ideas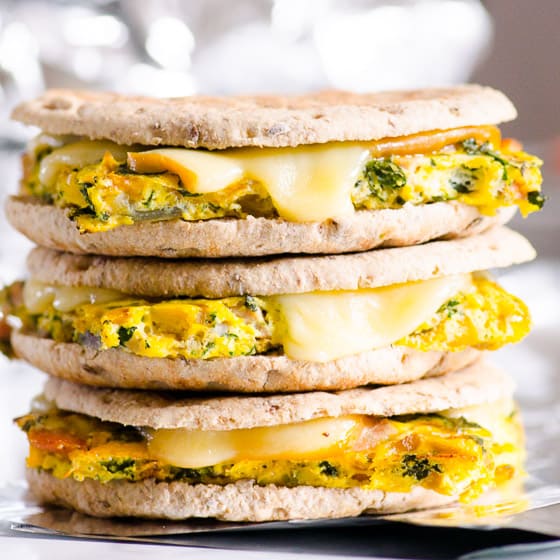 Not a morning person? Me neither. Cook ONCE and eat ALL week. These quick and simple healthy breakfast recipes will keep you full until lunch.
Author:
Category:

Breakfast

Method:

Oven, Stove, No Cook

Cuisine:

North American
★ Did you make this recipe? Please give it a star rating in the comments.