45 Healthy Breakfast Ideas to keep you full until lunch. Not a morning person? Me neither. Cook breakfast once and eat all week!
Need more healthy food ideas? Grab a glass of kombucha and browse a collection of  45 healthy dinner ideas, midday meals and salad recipes.
What Are These Healthy Breakfast Recipes?
Below you will find 45 quick healthy breakfast ideas that will make you feel full until lunch time (but if you do get hungry in between meals, you will need these healthy snacks).
If you struggle with "What's for breakfast?" or often make unhealthy choices, these breakfast on the go recipes will help.
Easy: Simple ingredients.
Convenient: Cook once, eat all week.
Quick: All can be reheated in a microwave.
Yummy: Many taste good cold.
Make ahead: Can be refrigerated for up to 5 days.
Freeze: Many can be frozen.
What Is a Balanced Breakfast?
According to University of Washington, start your day right with balanced breakfast rich in complex carbohydrates and protein. If you eat full of empty calories cereal, your sugar levels crash even before 10 AM. That causes low energy and hunger.
Complex carbs: Simple carbs like white flour are stripped of nutrients that keep you full longer. Causing your sugar levels rise and drop fast, and feel hungry. Complex carbs contain bran, germ and seed filling your belly with fiber, vitamins and slowly digesting ingredients. Aim to include the following in your breakfast: oats, brown rice, quinoa, whole wheat or spelt flour, almonds and anything high in carbs whole foods products.
Protein: Protein helps to build muscle and keeps you full longer. Examples of good breakfast proteins are eggs, nuts and seeds, turkey sausage, whole milk yogurt and cottage cheese.
Fiber: Fiber is essential to feel full longer and for regular trips to the bathroom.:) All fruit and veggies, chia seeds and whole grains are high in fiber.
Healthy fat: Thank goodness day of "low fat" products are over. Good fats like whole milk products, nuts and seeds, coconut oil, avocado and chia seeds are good for your heart and skin. In moderation, of course. Like everything.
Low or natural sugar: Store-bought breakfasts like cereal and oatmeal are loaded with refined sugar. You don't have to eat plain boring breakfast, no! Instead use natural good for you sweeteners like maple syrup, honey and fruit.
How to Meal Prep Healthy Breakfast
Choose: Pick 1-3 recipes from the list below and double or triple it based on how many people in your family.
Shop: Go through your pantry and fridge contents and make shopping list.
Prep: Cook and cool down (if necessary). Then refrigerate or freeze.
Grab and go: In the morning, grab, go and feel good about your day!
Pancakes and Waffles
Pancakes and waffles are one of the most easy breakfast options. Freeze them fully cooked in Ziploc bags with as much air out as possible for up to 3 months. When ready to eat, pop straight from the freezer into a toaster. That's it!
Super easy healthy homemade waffles with whole wheat flour your kids will love! Double the batch, toast frozen for healthy breakfasts and snacks.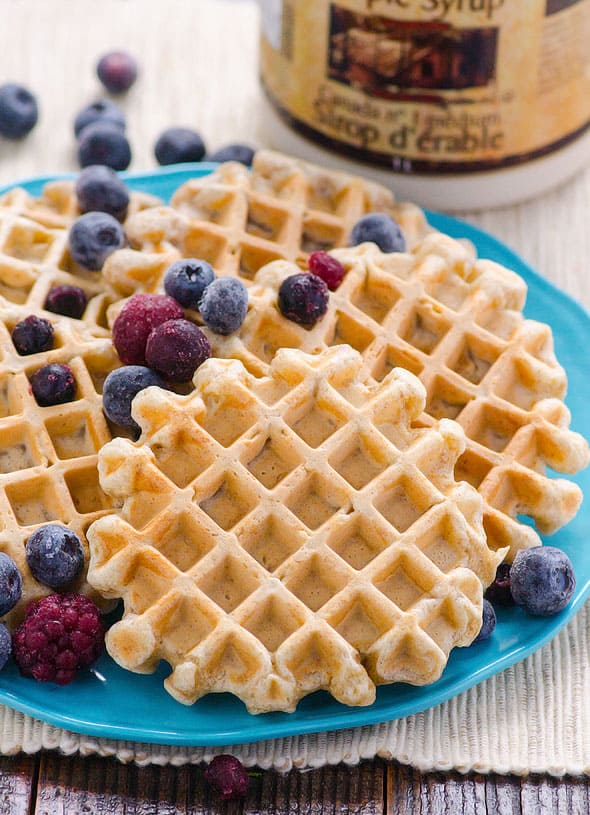 These Healthy Pancakes with whole wheat flour are the most fluffy pancakes in the world! Simple ingredients make this pancake recipe so easy to make anytime.
Almond Flour Waffles Recipe that will exceed your expectations. Delicious healthy waffles with super simple ingredients. See for yourself!
These Almond Flour Pancakes are incredibly fluffy, delicious and made with simple ingredients. Easy low carb pancake recipe and alternative to whole wheat pancakes.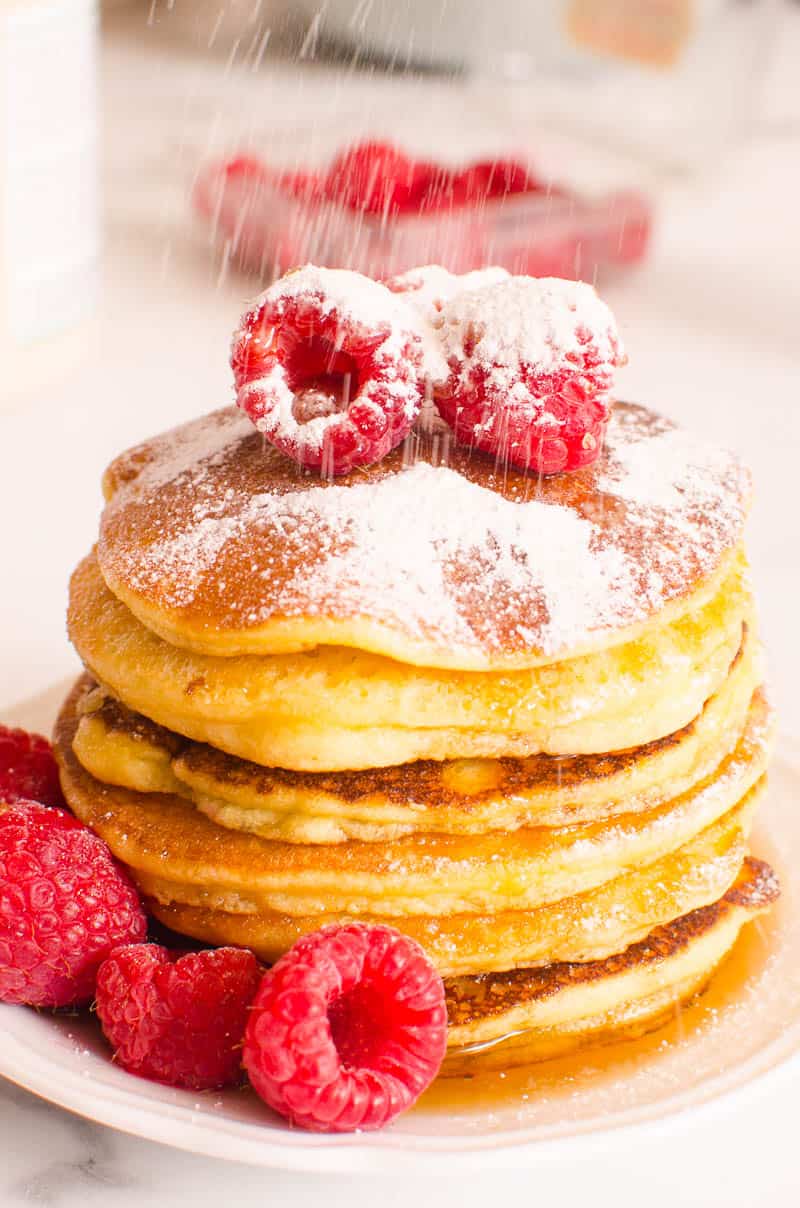 Sweet bananas and whole wheat flour make these a high protein, high fiber breakfast perfect for hungry families! Meal prep these for the freezer to have on hand for busy mornings.
Protein Waffles Recipe with plant based protein powder, Greek yogurt, eggs, oats and no flour or added sugar.
Peanut Butter Protein Pancakes – easy protein pancake recipe with banana, oatmeal and plant based protein powder.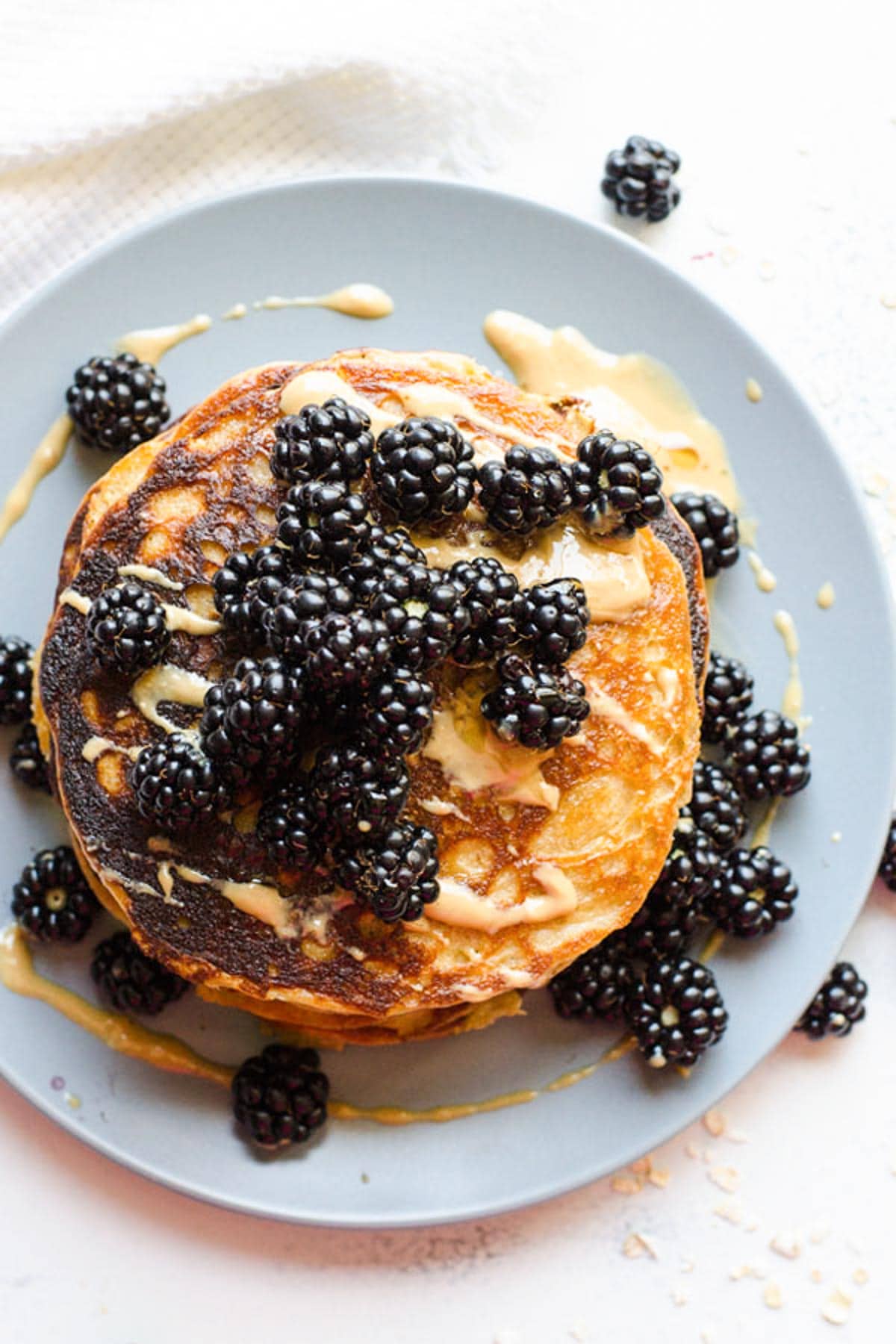 Quinoa and Oatmeal
Oatmeal doesn't have to be boring! I despise plain oatmeal no matter how good it is for us. Many of these clean eating breakfast recipes are full of superfoods like quinoa, chia seeds and nuts.
This Healthy Granola combines rolled oats, dried fruits, seeds, nuts, spices, and natural sweeteners. Loaded with flavour, this easy and delicious grab-n-go snack is a must-try!
Instant Pot Steel Cut Oats are healthy, creamy and the perfect oatmeal waiting for you in the morning. It is a hands off breakfast solution for busy mornings.
Make this Quinoa Breakfast Bake Recipe with berries for a week of healthy and easy breakfasts. Serve warm with creamy yogurt and come back to thank me after.
Overnight Oats are an easy healthy breakfast you can prepare for a busy week ahead. This overnight oatmeal recipe is basic, you can add any toppings and enjoy warm or cold.
Quinoa Granola Recipe that is healthy, easy, toasted, crunchy and most importantly 6 times lower in sugar than any store-bought version.
Sugar Free Oatmeal Cookies are healthy trail mix cookies with oats, flaxseed, bananas, coconut oil, dried fruit and no flour or sugar. Truly sugar free, gluten free and vegan!
Healthy No Bake Peanut Butter Bars recipe with almonds, oats, coconut flakes, natural peanut butter and honey or maple syrup, without a trace of refined sugar or graham crackers.
To die for healthy and easy Baked Oatmeal Breakfast Bars Recipe with applesauce, carrots, oats, chia, raisins, walnuts, pumpkin seeds and Greek yogurt frosting. Make once, eat all week.
Egg Recipes
Nobody has time to make eggs on weekday mornings. At least families don't. Everyone is in a rush! All of these 4 egg recipes make for an easy nutritious breakfast that tastes good even cold.
Healthy Breakfast Sandwich with eggs, veggies and whole wheat bun. Meal prep dozens at a time, freeze and reheat for breakfast from frozen. Perfect for hectic mornings and you have total control over the ingredients.
These Instant Pot Egg Bites make healthy breakfast on-the-go easy. They are copycat Starbucks sous vide egg bites with one main ingredient and same fluffy with no blender. Be ready to be blown away! You can make this Instant Pot egg bites recipe plain or add veggies and cheese. So good either way!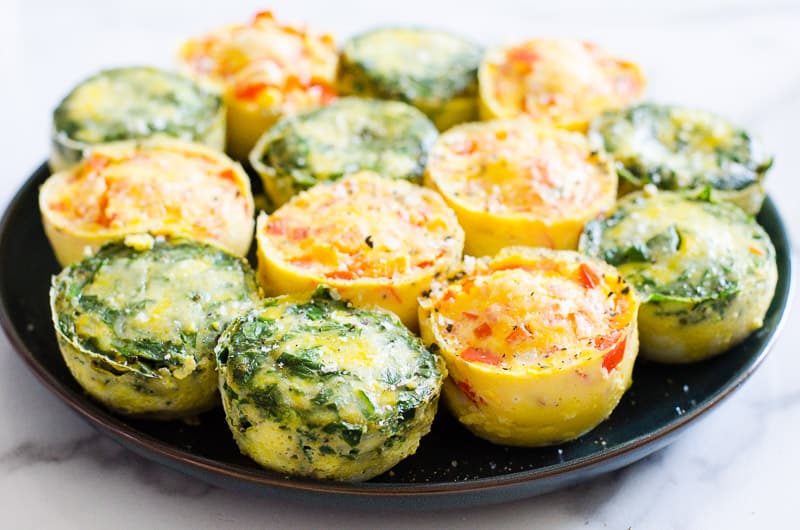 Healthy Breakfast Meal Prep with broccoli, cauliflower, bell pepper, eggs, salsa and whole grain toast for protein packed and veggie loaded breakfast on the go.
This Healthy Breakfast Casserole is delicious, easy and has no bread. Make ahead for a crowd, meal prep or clean out the fridge. This egg bake is veggie, protein and flavor packed.
Melt in your mouth Zucchini Quiche without the crust. Tastes so good cold! Simple ingredients make it an easy quiche recipe to whip up any time life gives you zucchini.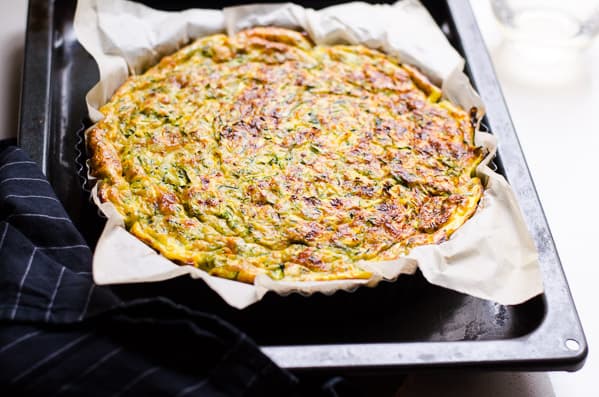 Instant Pot Eggs soft, medium and hard boiled with consistent results every time. They peel easily, are quick to make and make cooking more fun.
Healthy Egg Muffins with fluffy eggs, vegetables and cheese. Make ahead and freezer friendly breakfast on-the-go.
This Crustless Spinach Quiche is custardy, low carb and made with a few simple ingredients. Super easy to pull together for breakfast or brunch, this spinach quiche will melt in your mouth. So good!
Crustless Broccoli Quiche is a lightened up and healthy version of traditional quiche without the pie crust fuss and extra calories. It tastes amazing freshly baked or cold, for breakfast, snack or even dinner.
Sweet Potato Egg Casserole with shredded sweet potato, eggs and spinach. Make ahead healthy egg casserole perfect for meal prep breakfast, brunch and holidays.
Egg Muffins with Sun-Dried Tomatoes
These Egg Muffins are easy, quick and are great for make ahead breakfasts. With quinoa, sun-dried tomatoes, spinach and cheese, these fluffy Breakfast Egg Muffins are hearty and healthy.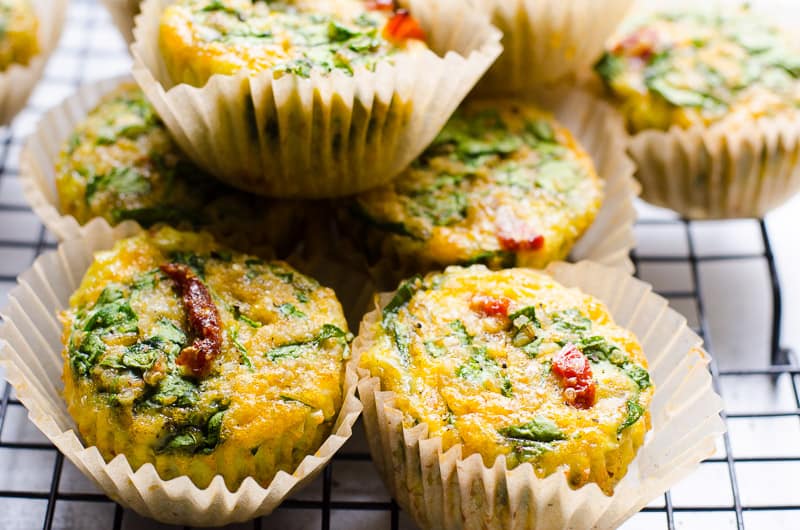 This Vegetable Frittata incorporates leftover veggies, cheese and eggs baked until custardy and creamy. Healthy, protein packed breakfast or brunch.
Quick Breads and Muffins
If muffins are not loaded with refined sugar they qualify as a good breakfast. All these recipes below are made with whole foods and are refined sugar free. Some are even honey and maple syrup free (see #1).
Morning Glory Muffins made with wholesome ingredients, are low in sugar and high in fiber. Nutty and hearty moist muffins with crispy edges for healthy breakfast or a snack.
Easy low carb and gluten free little banana breads with almond flour and no sugar. Healthy enough for breakfast and melt in your mouth almond flour muffins!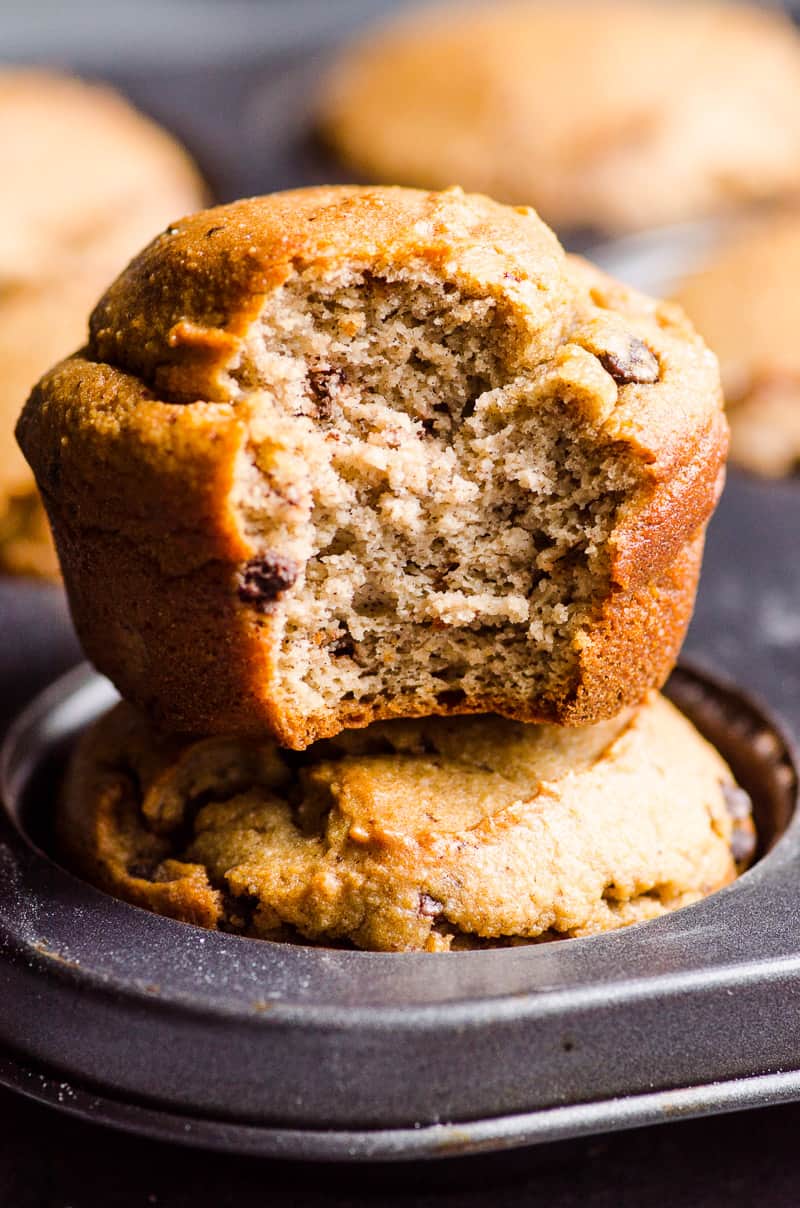 Healthy Banana Muffins with applesauce, whole wheat or spelt flour and no sugar. Moist, delicious, easy and kids love these healthy muffins.
Carrot Muffins made healthy with applesauce, oats or bran, whole wheat flour and honey. Your family will love them!
These Healthy Chocolate Chip Muffins are moist and healthy bakery style muffins with lots of mini chocolate chips that will disappear in seconds. So good and wholesome!
Healthy Blueberry Muffins are extremely fluffy, moist and absolutely delicious with fresh or frozen blueberries. Easy, kid approved muffin recipe with fantastic reviews!
Naturally refined sugar-free, oil-free and with a hint of lemon these gluten free muffins are healthy, delicious and perfect for a grab and go breakfast. Almond flour keeps these gluten free muffins light and fluffy with a slight nutty taste.
Almond Flour Banana Bread is a moist, melt in your mouth loaf your entire family will love! Paleo, low sugar and gluten free. Your kids will go bananas for it!
Healthy Zucchini Bread with applesauce, whole wheat flour and low sugar and low fat. Super delicious, easy and moist recipe.
Almond Flour Zucchini Bread with perfect texture, is incredibly delicious, moist and made with 4 basic ingredients. It tastes like cake and will become a hit and repeat among your family and friends!
Moist Healthy Banana Bread with applesauce, no sugar and low fat. It is so delicious you won't know it is healthy. Comes together in one bowl with simple ingredients.
Healthy Lemon Zucchini Bread that is super moist, lemon-y, sweet and so soft. It will blow your mind! Great for dessert and healthy enough for breakfast or snack.
Chia Pudding and More
Chia pudding makes low calorie breakfast that you quickly whisk and refrigerate overnight. Chocolate one tastes like dessert! Or if you are looking for a more filling quick breakfast idea, make a batch of brown rice pudding with yogurt, chia and berries.
Chia Pudding with perfect consistency and only 4 ingredients. Easy, healthy and tasty breakfast or snack for a busy week.
10 minute Chocolate Chia Pudding that tastes like dessert with nutrition of a breakfast. Refrigerate for up to 5 days for easy healthy breakfast, snack or treat.
Banana Chia Pudding and Chocolate Chia Pudding combined in a healthy version of America's favourite dessert.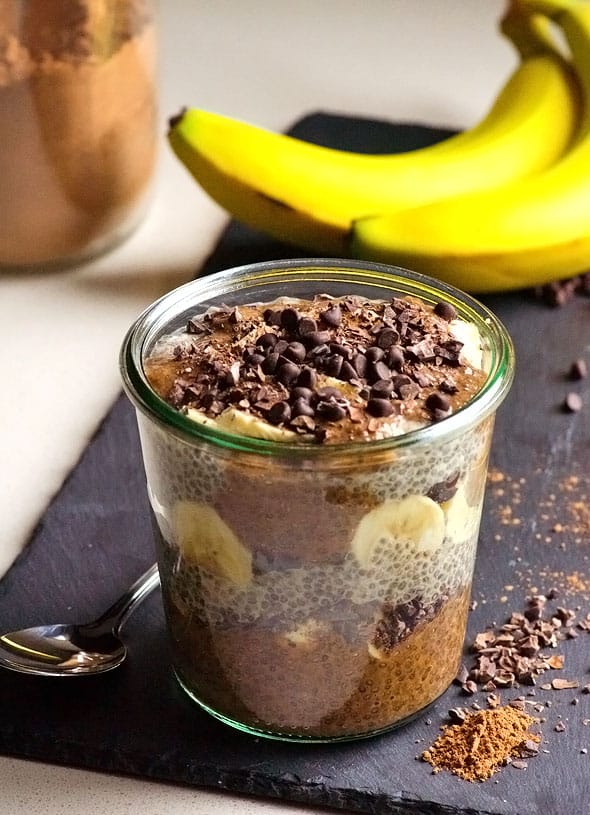 Tired of eggs and oats for breakfast? Try this Healthy Brown Rice Pudding Recipe for a week of easy breakfasts made with brown rice, almond milk, chia seeds, raisins, frozen fruit, maple syrup and Greek yogurt.
Other Healthy Breakfast Ideas
And if everything else fails, here is 5 more simple and good for you breakfast food ideas you can make ahead.
Almond Breakfast Smoothie is a complete healthy breakfast on the go. Make in 3 minutes, sip on while driving.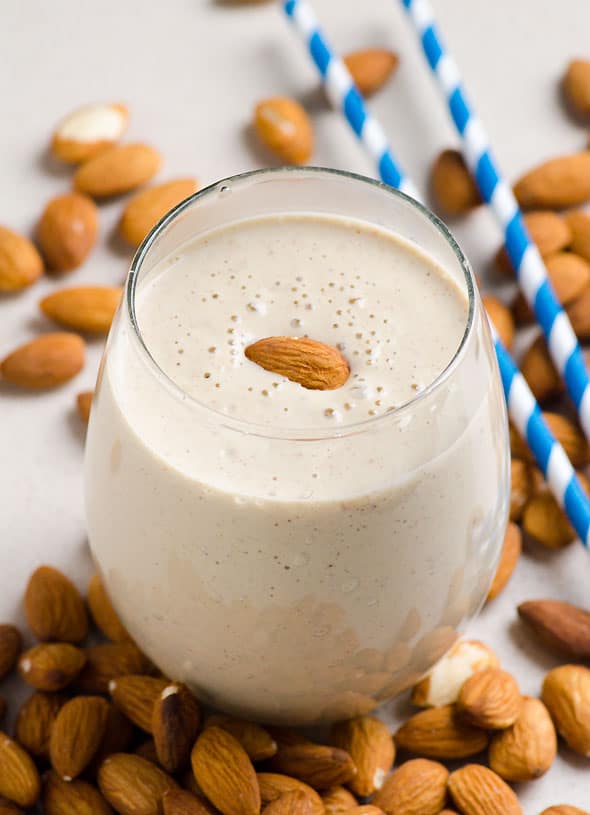 Instant Pot Yogurt with 2 ingredients. Also how to make yogurt without a yogurt button, Greek yogurt, vanilla yogurt, cream cheese and what to do with leftover whey.
Sweet Potato Hash makes a healthy 30 minute breakfast, brunch or dinner. It's an easy and hearty skillet with chopped sweet potatoes, kale, sausage and eggs. So good!
Healthy Blueberry Breakfast Cake is something between bake, cake and casserole. Soft, sweet, easy and absolutely delicious!
More Healthy Recipes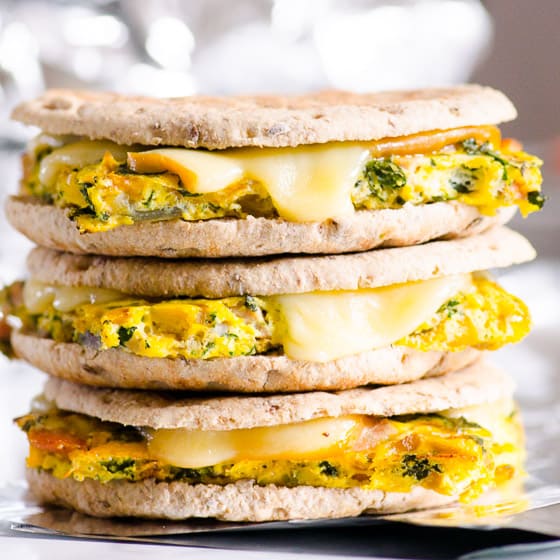 45 Healthy Breakfast Ideas - Breakfast Sandwich
45 Healthy Breakfast Ideas to keep you full until lunch. Not a morning person? Me neither. Cook breakfast once and eat all week!
Print
Rate
Ingredients
12

eggs

large

4

cooked chicken or turkey sausages

diced

1

large onion

chopped

1

bell pepper

finely chopped

5

kale leaves

rib removed and chopped (or a few handfuls of spinach)

1

tbsp

oil

for frying

1/4

cup

any milk or water

1

tsp

baking powder

12

whole wheat burger thin buns

English muffins or bagels

12

slices

of any cheese

Salt

to taste

Cooking spray

I use Misto
Instructions
Preheat oven to 375 degrees Fahrenheit and spray large 16 x 11 rimmed baking sheet generously with cooking spray.

Veggies: Preheat large skillet on medium heat and add oil. Add onion and saute for 3 minutes, stirring occasionally.

Then add bell pepper and saute for another 3 minutes.

Add kale or spinach, a pinch of salt and pepper, and saute for 1 more minute, stirring occasionally.

Eggs: In a large bowl, whisk the eggs, milk, baking powder, a pinch of salt and pepper.

Add cooked veggies, sausage and combine with spatula.

Pour egg mixture onto previously prepared baking sheet moving sausage and veggies around to even them out. Bake uncovered for 25 minutes.

Remove eggs from the oven, loosen them up from the edges with spatula and cut into 12 squares (I use same spatula). Then gently separate squares from the baking sheet on the bottom.

Assembly: Cut 12 pieces of parchment paper 1 inch wider than a bun. Cut 12 pieces of aluminum foil twice wider than a bun. Place egg on the bottom part of bun, top with cheese and then top part of bun. Wrap tightly first in parchment paper followed by aluminum foil.

Reheating: Option #1 (crispy): Remove wrapping and bake in preheated oven to 425 degrees F: fresh - 10 minutes, frozen - 15-20 minutes. Option #2: Place wrapped sandwich onto preheated panini press and cook for 10 minutes - if fresh, 15 minutes - if frozen. Option #3: Remove foil and microwave in 45 seconds increments. Microwaves vary, so you will have to experiment how long. Option #4 (crispy): Bake uncovered in a toaster oven – watch closely for time as ovens vary.
Store: Refrigerate wrapped breakfast sandwiches for up to 5 days.
Freeze: Freeze in a resealable gallon size bag for up to 3 months.
Nutrition
Serving:
1
g
|
Calories:
383
kcal
|
Carbohydrates:
26
g
|
Protein:
23
g
|
Fat:
22
g
|
Saturated Fat:
9
g
|
Cholesterol:
214
mg
|
Sodium:
785
mg
|
Potassium:
318
mg
|
Fiber:
2
g
|
Sugar:
5
g
|
Vitamin A:
3310
IU
|
Vitamin C:
42
mg
|
Calcium:
335
mg
|
Iron:
3
mg
Join today and start saving your favorite recipes
Recipes and images are a copyright of ifoodreal.com. It is against the law to republish recipes anywhere including social media, print and all world wide web. Nutritional info is provided for informational purposes only and to the best knowledge.