The best collection of 45 Healthy Breakfast Ideas on the web! These healthy breakfast recipes are made with simple ingredients, will keep you full until lunch and taste delicious.
Healthy Breakfast Ideas
Breakfast is the most important meal of the day! If you struggle with "What to make for breakfast?" or often make unhealthy choices, these 45 healthy breakfast ideas will help.
We do have a separate category for healthy breakfast recipes here on iFoodReal. But below we have compiled our absolute favorites!
Over 40 healthy breakfasts that will make your belly full until lunch time. But if you do get hungry in between meals, you might wanna check out this collection of healthy snacks.
Why These Healthy Breakfast Recipes Are the Best?
Easy: Simple and affordable real food ingredients you can find at any grocery store, no matter which part of the world you live in.
Convenient: Many of these nutritious breakfasts either keep well in the fridge for days or you can make them ahead. Think a batch of muffins, chia pudding or easy breakfast casserole. Frozen breakfast sandwiches and meal prepped eggs with veggies in containers are perfect for quick grab-and-go and reheating in a microwave at work. Lots of healthy breakfast options here!
Yummy: No matter how healthy is the food, if it doesn't taste good, no one will eat it. All these well-rounded breakfasts are tried, tested and true delicious breakfast recipes on my own family with 2 kids. And many taste good cold!
Bookmark this link for "Shoot, what's for breakfast?" moments. And be healthy! I think it's the best collection of healthy breakfast ideas on the web.
Healthy Pancakes and Waffles
Pancakes and waffles are not easy to whip up on a busy morning, but good news is that they are one of the best breakfast meals to freeze.
Cook the recipe or double it up, let cool completely, place in a Ziploc bag, release as much air as possible and freeze laying flat for up to 3 months.
When ready to eat, pop straight from the freezer into the toaster or microwave.
Super easy healthy homemade waffles with whole wheat flour your kids will love! Double the batch, then toast frozen for easy breakfasts and snacks.
These Healthy Pancakes with whole wheat flour are the most fluffy pancakes in the world! Simple ingredients make this recipe so easy to make anytime.
Light, fluffy and bursting with fresh blueberries, healthy blueberry pancakes are a treat in the summer with fresh picked berries! Make them with frozen blueberries for year round healthy breakfast meals.
Almond Flour Waffles Recipe that will exceed your expectations. Delicious waffles with nutritious ingredients, perfect for quick breakfasts because you can toast them from frozen. See for yourself!
These Almond Flour Pancakes are incredibly fluffy, delicious and made with simple ingredients. Easy, low carb and one of most popular healthy breakfast ideas on our website.
Sweet bananas and whole wheat flour make these a high protein, high fiber breakfast perfect for hungry families! Meal prep these for the freezer to have on hand for busy mornings.
Protein Waffles Recipe with plant based protein powder, Greek yogurt, eggs, oats and no flour or added sugar. It's one of those protein packed morning meals entire family will love!
Simple ingredients like whey protein powder, eggs and banana make up these easy Protein Pancakes perfect for a pre or post workout snack!
Peanut Butter Protein Pancakes – easy protein pancake recipe with banana, oatmeal and plant based protein powder.
A favorite from growing up in the Ukraine! Syrniki are made with ricotta cheese, flour and simple baking ingredients, then pan fried for a light and fluffy melt in your mouth pancakes. Topped with sour cream and fresh fruit, it's delicious! One of my kids' favorite healthy breakfast ideas.
Instant Pot and Air Fryer Breakfast Ideas
I absolutely love small kitchen appliances like Instant Pot and air fryer for easy healthy breakfast ideas. Eggs, casseroles, oatmeal – you got it.
And what I love about both machines is that they are hands off cooking method. Truly set and forget, walk away and breakfast is ready. Perfect for making healthiest breakfast meal prep on a busy weeknight.
Instant Pot Steel Cut Oats are healthy, creamy and the perfect oatmeal waiting for you in the morning. It is a hands off healthy breakfast meal for busy mornings.
Get a perfectly poached egg breakfast every time with this Instant Pot Poached Eggs recipe. Whether you like a slightly solid outside and soft center inside or a softer egg white with a runny yolk, pressure cooker delivers consistent results every time in 2, 3, 4 or 5 minutes!
Air Fryer Breakfast Casserole is one of the best healthy breakfast ideas because it's quick to prepare, versatile, and packed with veggies. Swap out the fillings based on season for a breakfast that will never become boring.
Easy to peel and hands off, perfectly cooked air fryer hard boiled eggs are fantastic for a healthy breakfast option. They can be used in a variety of ways – on toast, with skillet potatoes or just on the go!
Instant Pot Egg Bites make healthy breakfast on-the-go easy. They are copycat Starbucks sous vide egg bites with one main ingredient and same fluffy with no blender. Pair with healthy frappuccino for a real coffee shop at home treat!
Instant Pot Hard Boiled Eggs with consistent results every time. They peel easily, are quick to make and is one of the best breakfast ideas ever invented. Just one ingredient!
Instant Pot Yogurt with 2 ingredients. Also how to make yogurt without a yogurt button, Greek yogurt, vanilla yogurt, cream cheese and what to do with leftover whey.
Healthy Breakfast Recipes with Quinoa, Oats and Chia
Oats are loaded with fiber, so they are one of the most nutritious healthy breakfast ideas. No matter how good it is for us, oatmeal recipes just can't be boring!
I always add vanilla extract, milk, butter and cinnamon to a simple porridge. Then a dollop of yogurt and often some cranberry sauce on top because it's a year-round thing here. I despise plain oatmeal.
So, all of these healthy breakfast recipes are full of superfoods like oats, quinoa, chia seeds, nuts and are not boring. Also avoid eating boring instant oatmeal every morning with these easy make ahead options.
This Healthy Granola combines rolled oats, dried fruits, seeds, nuts, spices, and natural sweeteners. Loaded with flavor, this easy and delicious healthy breakfast on the go is a must-try!
Make this Quinoa Breakfast Bake with berries for a week of easy healthy breakfasts. Serve warm with creamy yogurt and come back to thank me after. Packed with protein, fiber and complex carbohydrates, it's an epitome of a balanced breakfast.
Overnight Oats are an easy healthy breakfast you can prepare for a busy week ahead. This overnight oatmeal recipe is basic, you can add any toppings and enjoy warm or cold.
Quinoa Granola that is easy, toasted, crunchy and most importantly 6 times lower in sugar and healthier than any store-bought version.
Sugar Free Oatmeal Cookies are healthy trail mix cookies with oats, flaxseed, bananas, coconut oil, dried fruit and no flour or sugar. Truly sugar free, gluten free and vegan healthy breakfast recipe.
Healthy No Bake Peanut Butter Bars with almonds, oats, coconut flakes, natural peanut butter and honey or maple syrup, without a trace of refined sugar or graham crackers.
To die for healthy and easy Baked Oatmeal Breakfast Bars with applesauce, carrots, oats, chia, raisins, walnuts, pumpkin seeds and Greek yogurt frosting. Make once, eat all week.
Easy to make with healthy ingredients, these Banana Oatmeal Bars are perfect for a portable breakfast, lunch box snack, or pre workout energy boost!
Overnight chia Pudding with perfect consistency and only 4 ingredients. This is one of the top healthy breakfast ideas on iFoodReal full of health benefits like healthy fats, fiber and plant-based protein. It can also be a healthy snack too!
10 minute Chocolate Chia Pudding that tastes like dessert with nutrition of a breakfast. Refrigerate for up to 5 days for easy healthy breakfast, snack or treat.
Banana Chia Pudding and Chocolate Chia Pudding combined in a healthy version of America's favorite dessert. Easy recipes like this one make homemade breakfast a reality!
Full of pumpkin spice and everything nice! Pumpkin chia pudding can be enjoyed year round but is especially nice during autumn.
With warm spices, carrots, and oats healthy carrot cake baked oatmeal is almost like eating cake for breakfast but way healthier! Serve warm with a dollop of yogurt for a filling meal that will keep you satiated!
Healthy Egg Breakfast Recipes
What I love about healthy egg recipes like breakfast casseroles and muffins, that you can load them up with insane amount of veggies you would have never consumed for breakfast otherwise.
And if you are someone who prioritizes protein intake first thing in the morning, eggs are an egg-cellent choice!
This Low Carb Breakfast Casserole is loaded with fluffy eggs, breakfast sausage, veggies and contains no bread. It is one of the easiest healthy breakfast ideas.
Healthy Breakfast Casserole is delicious, easy and has no bread. Make ahead for a crowd, meal prep or clean out the fridge. This egg bake is veggie, protein and flavor packed.
Melt in your mouth Zucchini Quiche without the crust. Tastes so good cold! Simple ingredients make it an easy quiche recipe to whip up any time life gives you zucchini.
Healthy broccoli cheese egg muffins with fluffy eggs, vegetables and cheese. Make ahead and freezer friendly breakfast on-the-go.
This Crustless Spinach Quiche is custardy, low carb and made with a few simple ingredients. Super easy to pull together for breakfast or brunch, this spinach quiche will melt in your mouth. So good!
Crustless Broccoli Quiche is a lightened up and healthy version of traditional quiche without the pie crust fuss and extra calories. It tastes amazing freshly baked or cold, for breakfast, snack or even dinner.
Sweet Potato Egg Casserole with shredded sweet potato, eggs and spinach. Make ahead healthy egg casserole perfect for meal prep breakfast, brunch and holidays.
These Egg Muffins are easy, quick and are great for make ahead breakfasts. With quinoa, sun-dried tomatoes, spinach and cheese, they are hearty and healthy.
Healthy breakfast ideas do not have to be expensive! This Vegetable Frittata incorporates leftover veggies, cheese and eggs baked until custardy and creamy. It sure is healthy, protein packed and budget friendly morning breakfast.
One sheet pan, creamy sweet potatoes and nutrient dense eggs makes this a perfect healthy breakfast, brunch or even a brinner (breakfast for dinner). And the best part, it's made on one pan.
Baked Cottage Cheese Egg Bites are light, fluffy, and full of protein. Make a batch on the weekend and enjoy all week.
Grab-and-Go Healthy Breakfast Meals
If you are looking for a true meal prep healthy breakfast meals that you can cook and portion out on Sunday, these 2 easy breakfast ideas are for you!
You can freeze breakfast sandwiches for months and reheat at work. The Mexican inspired meal prep tastes even good cold. So good and healthy!
Healthy Breakfast Sandwich with eggs, veggies and whole wheat bun. Make a big batch at a time, freeze and reheat for breakfast from frozen. Perfect for hectic mornings and you have total control over the ingredients. Use thin burger buns like me or whole grain english muffins, either works.
Healthy Breakfast Meal Prep with broccoli, cauliflower, bell peppers, eggs, salsa and whole grain toast for protein packed and veggie loaded breakfast on the go.
Healthy Breakfast Muffins
If muffins are not loaded with refined sugar and all-purpose flour, they qualify as a healthy breakfast. And how convenient they are to grab and run out of the door. Not to mention that I swear my children will eat almost anything in a shape of a muffin.
All these healthy muffin recipes are made with whole foods and are refined sugar free. Some are even honey and maple syrup free.
Healthy Morning Glory Muffins made with wholesome ingredients, are low in sugar and high in fiber. Nutty and hearty moist muffins with crispy edges is one of the best healthy breakfast ideas.
Almond Flour Banana Muffins is easy, low carb, paleo and gluten free banana muffin recipe with no added sugar, melt in your mouth texture and perfect as a healthy breakfast food. This is a reader favorite too!
Naturally refined sugar free, oil free, gluten-free and with a hint of lemon these almond flour muffins are healthy, delicious and perfect for a grab and go breakfast. Almond flour keeps these muffins light and fluffy with a slight nutty taste. You might like to browse all my gluten free muffins!
Healthy Banana Muffins with applesauce, whole wheat flour or spelt flour and no sugar. Moist, delicious, easy and kids love these healthy muffins!
These Almond Flour Blueberry Muffins are packed with juicy blueberries to create tender, fluffy, moist muffins! All you need are 8 healthy, wholesome ingredients to make these naturally gluten-free blueberry muffins.
Healthy Carrot Muffins with applesauce, oats or bran, whole wheat flour and honey. Your family will love them!
Healthy Blueberry Muffins are extremely fluffy, moist and absolutely delicious with fresh or frozen blueberries. Easy, kid approved muffin recipe with fantastic reviews!
Bursting with berries, healthy strawberry muffins are a family favorite, especially in the summertime! Whole grains, low sugar and low oil, these muffins are light and fluffy from Greek yogurt.
Moist and fluffy with yogurt, naturally sweetened and whole grain healthy blueberry banana muffins are bursting with fresh berries! This version of banana muffins will be a new favorite.
Healthy Quick Breads
Moist, lightly sweet, and made with whole wheat flour or almond flour, a slice of quick bread is one of the most glorious healthy breakfast foods.
Even if you are not much of a baker, quick breads are not delicate baking recipes and are easy to make even for a novice cook. As long as you follow the recipe!
Enjoy a slice on its own or spread with a bit of butter, cream cheese or peanut butter. It's all healthy in moderation.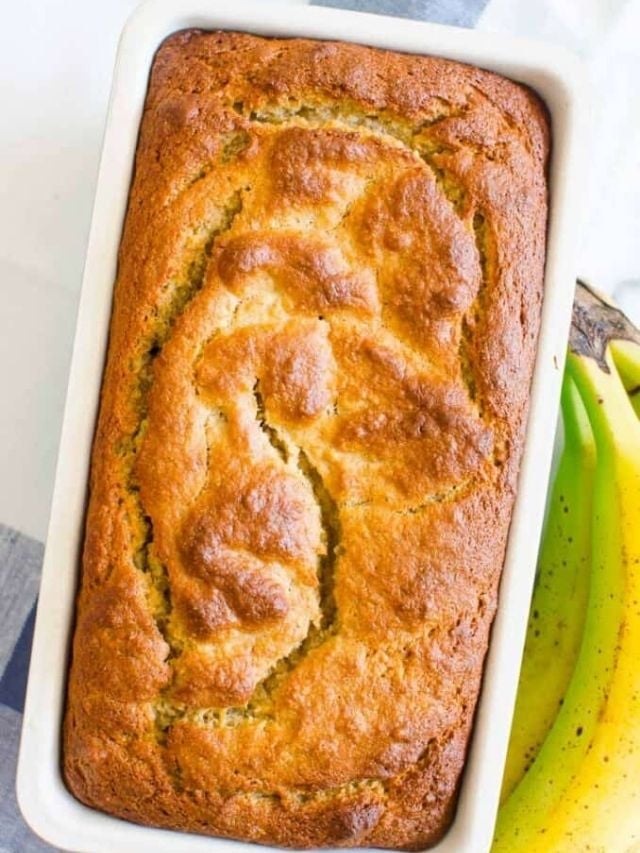 Almond Flour Banana Bread is a moist, melt in your mouth loaf your entire family will love! Paleo, low sugar and gluten free. Your kids will go bananas for it!
Healthy Zucchini Bread with applesauce, whole wheat flour and low sugar and low fat. Super delicious, easy and moist recipe. You may also love healthy zucchini banana bread!
Easy and moist Healthy Apple Bread loaded with 4 cups of apples and warm spices that will make your house smell amazing when baking. Made with whole grains and no refined sugar, this recipe is one of the most hearty and absolutely delicious healthy breakfast recipes.
Healthy Almond Flour Pumpkin Bread is moist and fluffy, packed with warming pumpkin pie spices and topped with crunchy pumpkin seeds. Naturally gluten free, refined sugar-free and oil-free. One of most popular healthy breakfast ideas in the fall!
Almond Flour Zucchini Bread with perfect texture, is incredibly delicious, moist and made with 4 basic ingredients. It tastes like cake and will become a hit and repeat among your family and friends!
Moist Healthy Banana Bread with applesauce, no sugar and low fat. It is so delicious you won't know it is healthy. Comes together in one bowl with simple ingredients.
Healthy Lemon Zucchini Bread that is super moist, lemon-y, sweet and so soft. It will blow your mind! It's one of those easy breakfast recipes that can also serve as an after school snack. Possibly same day because it is so delicious, your kids will eat it 2-3 times!
Healthy Breakfast Ideas with Fruits
Looking for a change to savory healthy breakfast ideas? Meet these healthy breakfast options made with fresh or frozen fruit, seeds, nuts and protein.
Almond Breakfast Smoothie is a well-balanced healthy recipe for breakfast on the go. Make in 3 minutes, sip on while driving.
Tired of eggs and oats for breakfast? Try this Healthy Brown Rice Pudding for a week of easy healthy breakfast ideas. Made with brown rice, almond milk, chia seeds, raisins, frozen fruit, maple syrup and Greek yogurt, it's my dad's recipe.
Healthy Blueberry Breakfast Cake is something between bake, cake and casserole. Soft, sweet, easy and absolutely delicious! It is a new concept but an absolute hit with everyone who tries it! Perfect to impress your family when you are stuck in a breakfast rut.
In Ukraine, my mom or grandma would make these Lazy Pierogi for breakfast! My lazy version of cheese vareniki are sweet dumplings made with ricotta and flour, quickly boiled, and then served with jam.
A refreshing Healthy Fruit Salad is always a welcome first meal of the day! With a zesty honey lemon dressing, everyone will love this blend of grapes, berries, kiwis, pineapple and mango.
Bursting with fresh lemon taste and juicy blueberries this whole grain healthy lemon blueberry bread is a breakfast treat!
Potatoes for Breakfast? Yes, Please!
Still looking for more easy healthy breakfast ideas? Being from Ukraine, I can assure you that we can eat potatoes for breakfast. They are full of complex carbohydrates, fiber, vitamins and nutrients, especially if you keep the skin on.
These Ukrainian Breakfast Potatoes combine crispy skillet potatoes with bacon for a hearty, savory addition to your breakfast table. All you need is just 5 ingredients (salt and pepper included!) for a delicious and easy breakfast!
I hope you enjoy this comprehensive collection of easy healthy breakfast ideas. Which one have you tried? Which one did you like? Please leave me a comment below. Would love to hear from you!
More Healthy Recipes to Try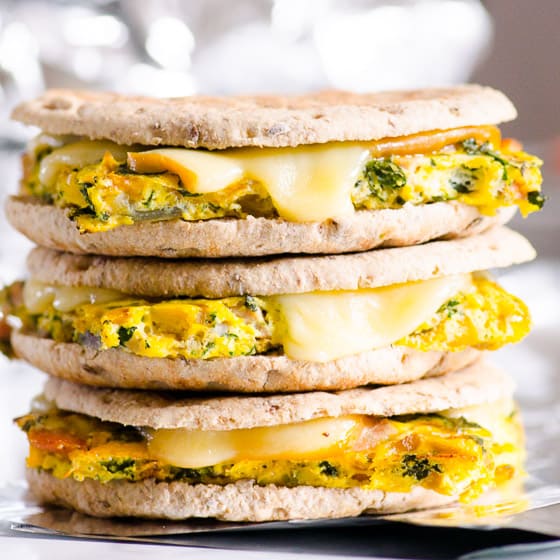 45 Healthy Breakfast Ideas: Breakfast Sandwich
The best collection of 45 Healthy Breakfast Ideas on the web! These healthy breakfast recipes are made with simple ingredients, will keep you full until lunch and taste delicious.
Ingredients
12

eggs

large

4

cooked chicken or turkey sausages

diced

1

large onion

chopped

1

bell pepper

finely chopped

5

kale leaves

rib removed and chopped (or a few handfuls of spinach)

1

tbsp

oil

for frying

1/4

cup

any milk or water

1

tsp

baking powder

12

whole wheat burger thin buns

English muffins or bagels

12

slices

of any cheese

Salt

to taste

Cooking spray

I use Misto
Instructions
Preheat oven to 375 degrees Fahrenheit and spray large 16 x 11 rimmed baking sheet generously with cooking spray.

Veggies: Preheat large skillet on medium heat and add oil. Add onion and saute for 3 minutes, stirring occasionally. Then add bell pepper and saute for another 3 minutes. Add kale or spinach, a pinch of salt and pepper, and saute for 1 more minute, stirring occasionally.

Eggs: In a large bowl, whisk the eggs, milk, baking powder, a pinch of salt and pepper. Add cooked veggies, sausage and combine with spatula.

Pour egg mixture onto previously prepared baking sheet moving sausage and veggies around to even them out. Bake uncovered for 25 minutes.

Remove eggs from the oven, loosen them up from the edges with spatula and cut into 12 squares (I use same spatula). Then gently separate squares from the baking sheet on the bottom.

Assembly: Cut 12 pieces of parchment paper 1 inch wider than a bun. Cut 12 pieces of aluminum foil twice wider than a bun. Place egg on the bottom part of bun, top with cheese and then top part of bun. Wrap tightly first in parchment paper followed by aluminum foil.
Reheating:
Option #1 (crispy): Remove wrapping and bake in preheated oven to 425 degrees F: fresh – 10 minutes, frozen – 15-20 minutes.

Option #2: Place wrapped sandwich onto preheated panini press and cook for 10 minutes – if fresh, 15 minutes – if frozen.

Option #3: Remove foil and microwave in 45 seconds increments. Microwaves vary, so you will have to experiment how long.

Option #4 (crispy): Bake uncovered in a toaster oven – watch closely for time as ovens vary.
Notes
Store: Refrigerate wrapped breakfast sandwiches for up to 5 days.
Freeze: Freeze in a resealable gallon size bag for up to 3 months.
Nutrition
Serving:
1
g
|
Calories:
383
kcal
|
Carbohydrates:
26
g
|
Protein:
23
g
|
Fat:
22
g
|
Saturated Fat:
9
g
|
Cholesterol:
214
mg
|
Sodium:
785
mg
|
Fiber:
2
g
|
Sugar:
5
g