These Blueberry Oatmeal Bars are wholesome, decadent, and packed with juicy blueberries for a fresh and fruity treat any time of the year.
Love grab n' go oatmeal treats? You'll also love these strawberry oatmeal bars and no bake peanut butter oatmeal bars.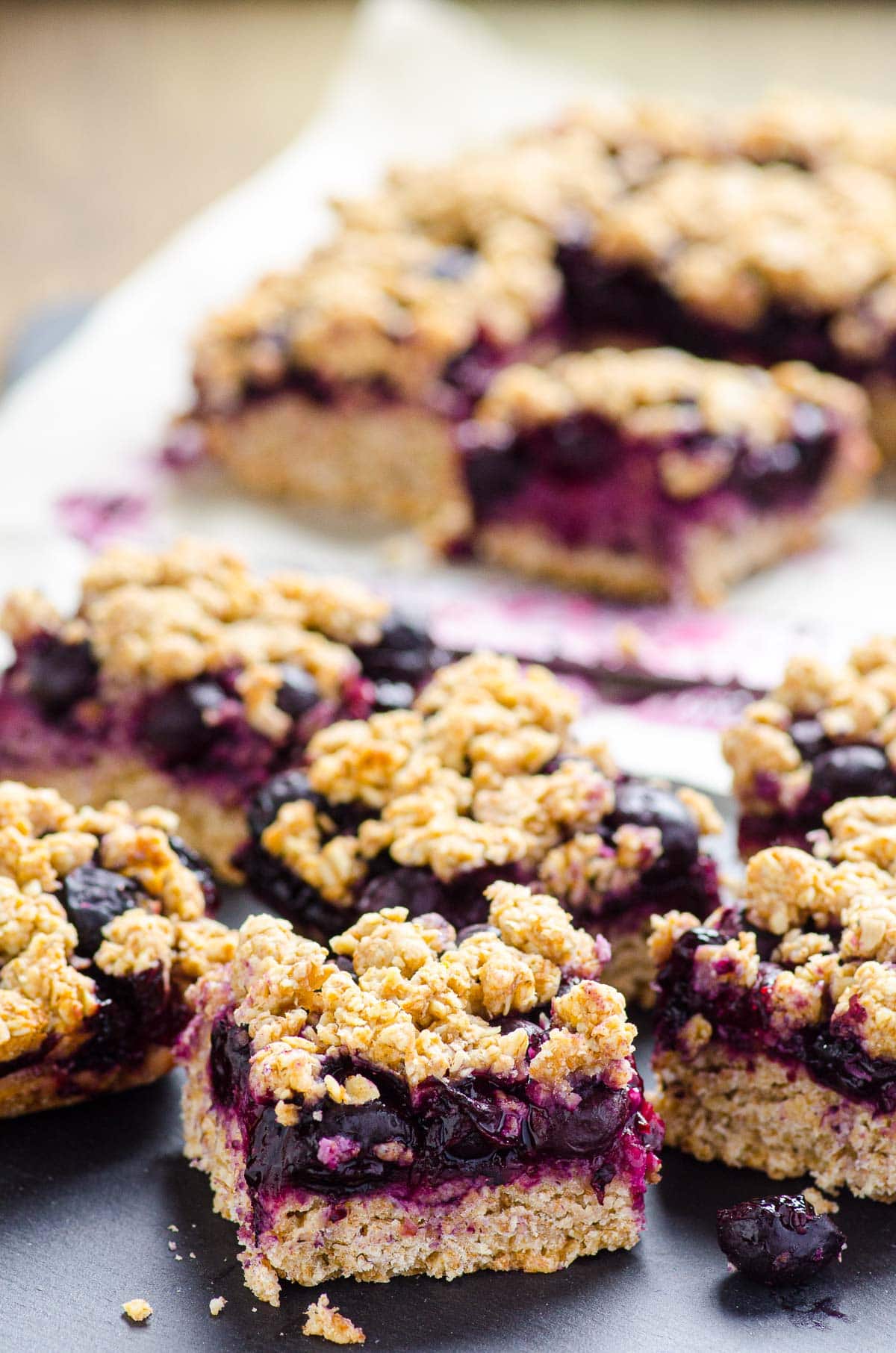 I'll be honest, my mom was never much of a baker although she taught me lots of my favorite Ukrainian classics. But she did enjoy making blueberry oatmeal bars with lots of jam.
These days I omit the sugary jam, filling my bars with lots of fresh, bursting blueberries in every single bite.
Unlike traditional blueberry oatmeal bars, I've made my version healthier using whole wheat flour, oats, applesauce, coconut oil, and unrefined sugars.
Why You Will Love Blueberry Oatmeal Bars?
These blueberry oatmeal bars are very versatile – swap out the fruit based on what's in season (or your freezer)! Use other berries, apples, peach, etc.
They are also almost entirely made up of pantry basics!
These can be made with fresh or frozen fruit so you can enjoy blueberry bars no matter the time of year!
All you need is 12 ingredients and 15 minutes of prep for these blueberry oatmeal crumble bars!
Enjoy these as a healthy grab n' go breakfast, mid-day snack, or even dessert!
Ingredients for Blueberry Oatmeal Bars
To make blueberry oatmeal bars you will need just a handful of simple ingredients.
The Crust
Oats: Quick or rolled oats will work. Use gluten-free certified oats if necessary.
Flour: I recommend using whole wheat flour or spelt flour though white flour will also work. For gluten-free blueberry bars, you may be able to use a general gluten-free all-purpose blend. I don't recommend using almond flour or coconut flour as their absorbency levels will impact the dough and would need additional tweaks.
Sugar: I recommend using maple syrup, cane sugar, or coconut sugar. Read the recipe notes on how they impact the blueberry oatmeal bars recipe.
Baking powder: Will leaven and help to provide a little lift and texture to the crust.
Cinnamon: Technically optional, but delicious.
Salt: Just a little to enhance and add depth to the flavors.
Egg: Just one egg is needed as a binder. Check the FAQs for substitutes.
Coconut oil: I used room temperature coconut oil (not melted) in place of butter. You may also be able to use softened butter but I haven't tried. Don't reduce the amount, or you can end up with a crumble that's too dry and crumbly.
Applesauce: Sweetened or unsweetened applesauce will work. I often make Instant Pot applesauce.
Cooking spray: Needed for the baking pan.
The Blueberry Filling
Blueberries: You can use fresh blueberries or frozen blueberries (thawed in hot water). This recipe works the same with several berries like raspberries, blackberries or Saskatoon berries.
Sugar: Same as for the crust use either granulated or maple.
Citrus: You can use orange or lemon zest for an added layer of brightness and flavor to the blueberry oatmeal bars.
Vanilla: Just a little vanilla extract for tons of dessert-y flavor!
Cornstarch: Will help to thicken any bursting berries into a jam-like consistency.
How to Make Blueberry Oatmeal Bars
Here is a quick overview how to make blueberry oatmeal bars. Full recipe card is located below.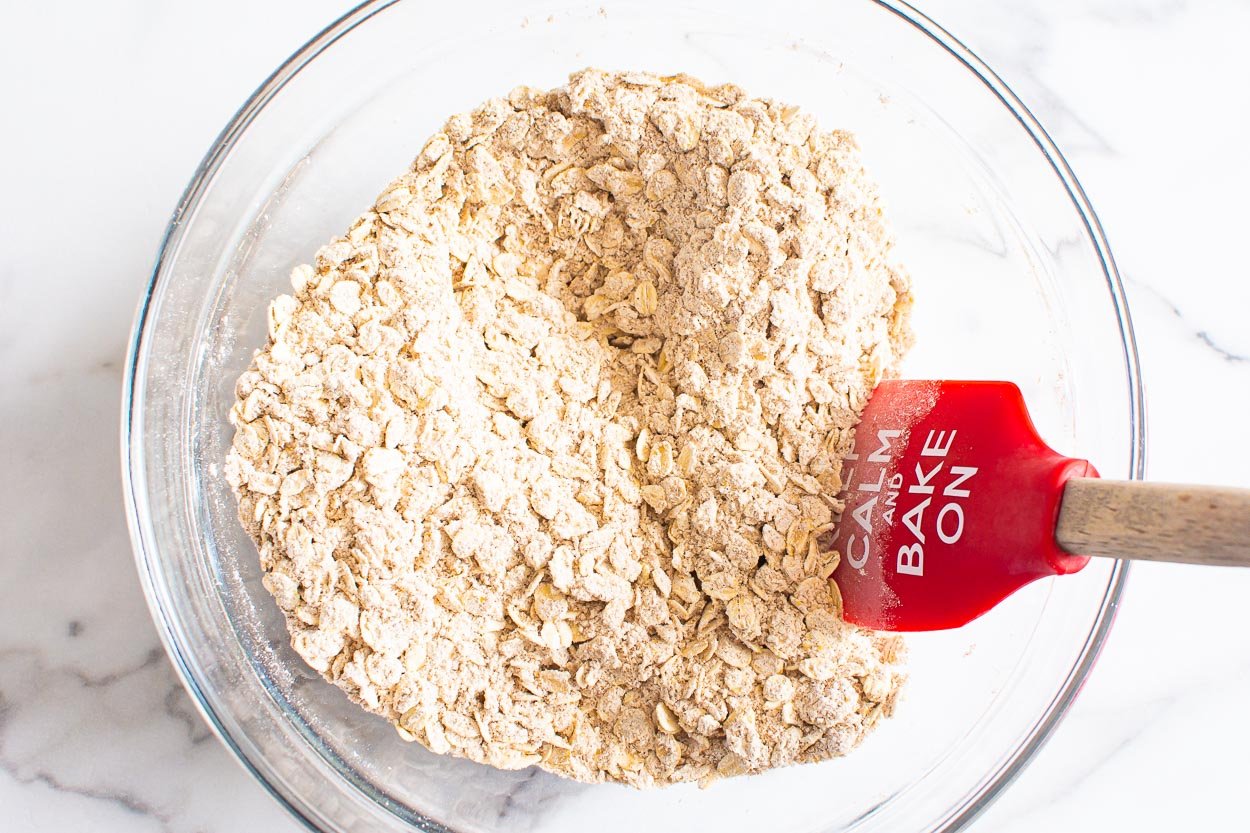 Combine the dry ingredients: In a large bowl, add the oats, flour, sugar (unless you're using maple syrup, then add that with the liquids), baking powder, cinnamon, and salt. Mix well.
Add the wet ingredients: Add the egg, coconut oil, maple syrup (if using) and applesauce and mix with a spatula, changing to your hands towards the end until everything is incorporated.
The dough should be moist and in one piece, not crumbly.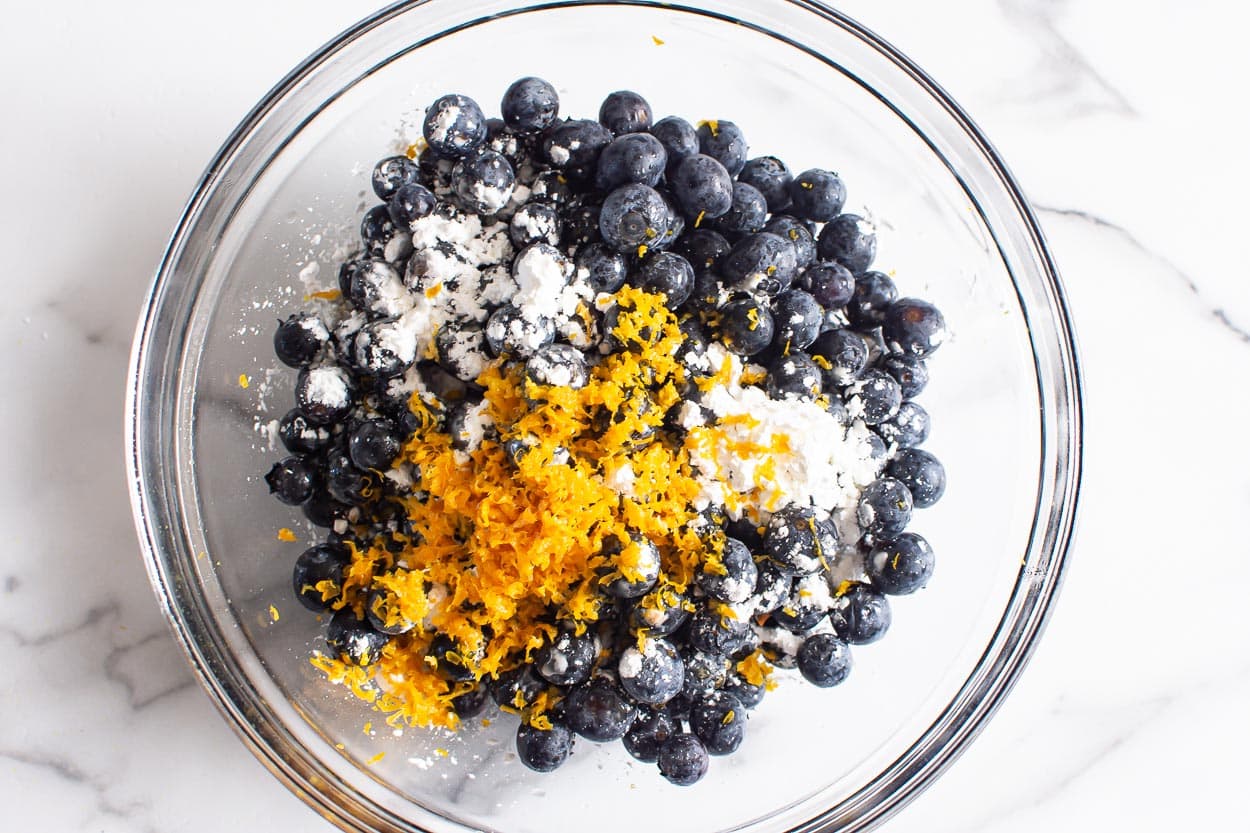 Prepare the blueberry filling: In a medium bowl, combine the blueberries, maple syrup (or sugar), orange zest, vanilla, cornstarch, and mix.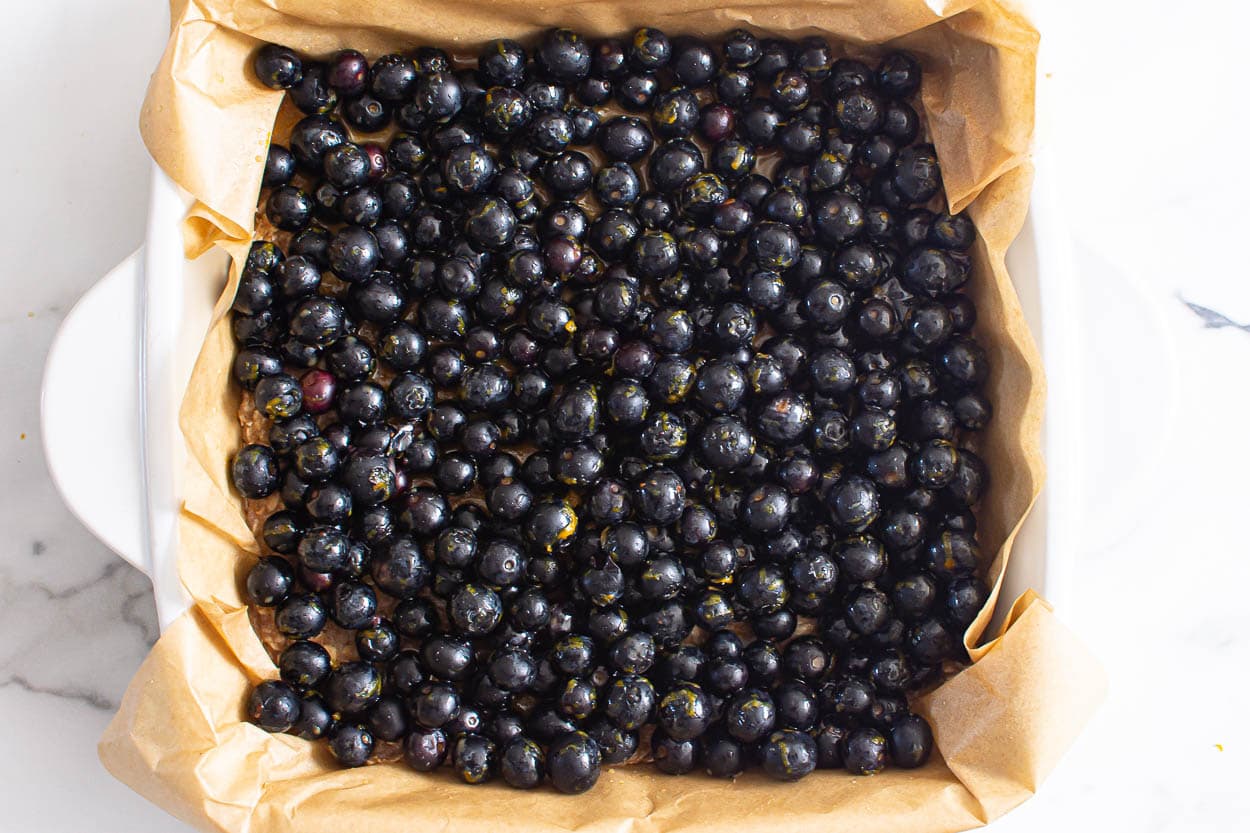 Assemble the blueberry oatmeal bars: Press ¾ of the crust dough into the prepared baking dish flattening it with a spatula or your hands. Press tightly to compact it into a nice cookie like layer.
Then, spread the blueberry filling over the top before crumbling the remaining crust dough over the top in small crumbs which makes the pieces easier to slice after baking.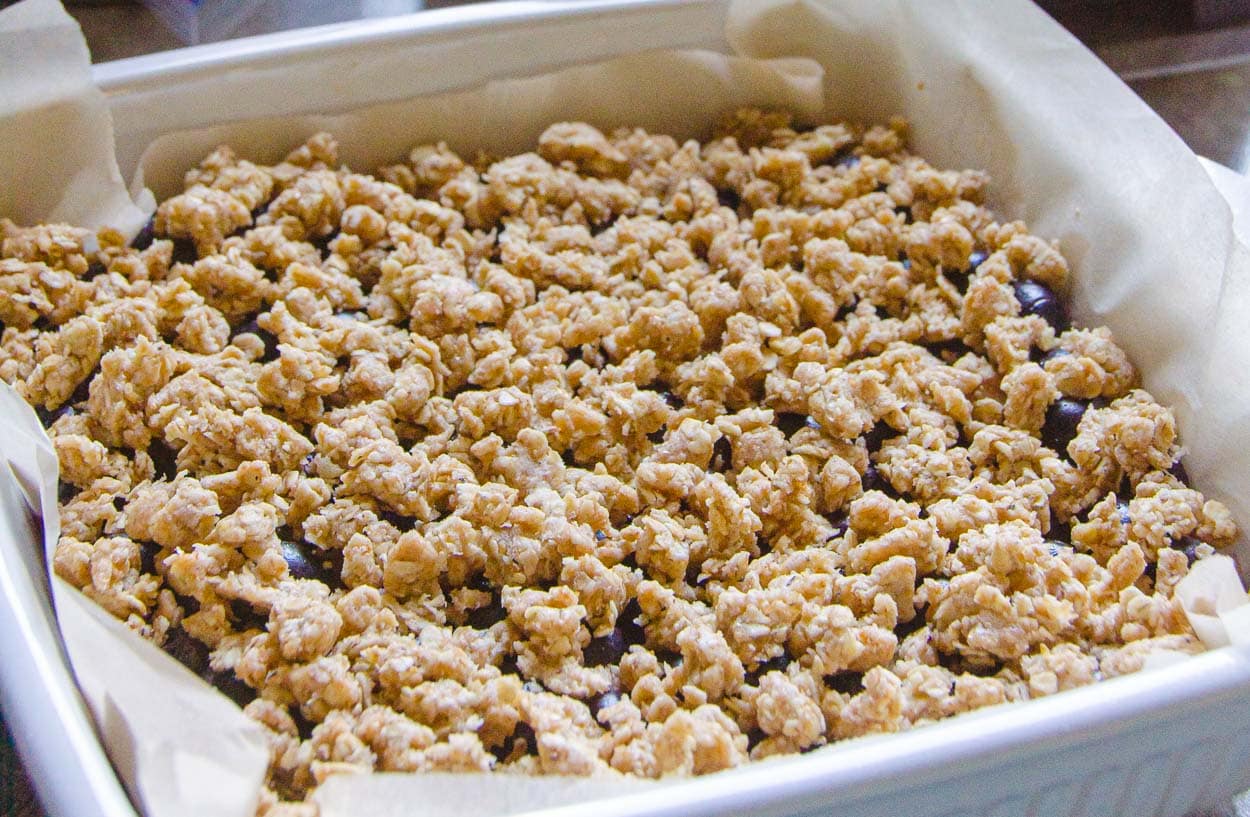 Recipe Tip
The sugar you use will impact the crumb size. Granulated sugar helps to make smaller crumbs, but maple syrup will be slightly larger. Also, don't worry if the blueberry filling has some liquid in it; it will thicken up as it bakes.
Bake the blueberry oatmeal bars: Bake bars for 45 minutes, then remove from the oven and cool completely before slicing into 16 squares.
Make sure to allow the blueberry bars to cool before slicing the squares, as it helps the filling to thicken up further. Otherwise, you'll end up with filling oozing all over the place.
Tips for Best Results
Here are my top tips for the best blueberry oatmeal bars recipe in the world!
Your choice of sugar: I've included granulated sugar and liquid options. I've tried both and prefer granulated as it's closer to the taste and texture of regular crumb bars. Maple syrup yields a fluffier crust.
Experiment with fruit: Based on what's in season, in your fridge or freezer there are several types of fruit you can use to create delicious blueberry oatmeal bars. Just make sure to use the same amount, and you're set!
To quickly soften coconut oil: Depending on the weather, your coconut oil might be in its solid state. To quickly soften it, transfer the amount you need to a small bowl or jar and place that over a dish of hot water for a few minutes. Soon the coconut oil will be soft like butter without having completely melted.
The ratio of topping: Lots of recipes call for half of the crust to be used as the topping. However, that will completely cover your berries. I prefer to use ⅓ for a thicker base and a light coating on top with berries peeking through.
Be careful not to overbake: Or else the blueberry oatmeal bars can become very difficult to slice!
Add-ins and Variations
Chia seeds: Adding some chia seeds to the blueberry oatmeal bars will further help to turn the filling into a jammy consistency. It will also add extra protein to the recipe.
Nuts: You could add some crushed nuts to the top crumble for extra protein and heart-healthy fats. I recommend walnuts!
Chocolate: For a little more of a decadent result you can sprinkle a few chocolate chips over the bars.
Glaze: You could also make a quick sweet glaze. Keep the sugar content low by using a combination of powdered erythritol with a bit of vanilla extract and milk or water. Alternatively, combine the cream from a can of coconut milk with a little maple syrup and drizzle over the top.
FAQs
Can I make this blueberry oatmeal bars without eggs?
As only one egg is required, it may be possible to substitute it with an egg replacement like a chia seed egg or a flax egg. Or adding an extra ¼ cup applesauce (or banana) to the recipe. However, the fruit purees will yield a denser result.

Can I use frozen blueberries?
You sure can. In fact, I prefer using frozen blueberries for this blueberry oatmeal bars recipe. That way, you can make them year-round and even save money. Best of all, I've found that frozen blueberries pop more while baking for more of a jam-like filling.

Just make sure to thaw and drain the blueberries first, so the bars don't become soggy while baking.
Serving Recommendations
There are several ways to enjoy these blueberry oatmeal bars whether it's a quick breakfast, snack, or dessert. You can also enjoy these bars warm or chilled.
Eat blueberry bars alone as a breakfast or quick snack.
Serve up with yogurt for breakfast.
Eat a blueberry bar with a scoop of vegan vanilla ice cream or frozen yogurt for a hearty, wholesome dessert.
Pour over a little custard for a delicious dessert. I recommend warming it up for this version.
Can I Make Blueberry Oatmeal Bars Ahead?
Yes. You can prepare the assembled unbaked blueberry oatmeal bars and store them covered in the refrigerator for up to a day before baking.
Alternatively, freeze for between 2-3 months. You can then either thaw the unbaked bars before baking or bake from frozen, adding extra time until the topping is golden and the blueberry filling begins to bubble.
How to Store
Store: Store blueberry oatmeal bars in a cool, dry place at room temperature for 3 days or refrigerate in an airtight container for up to 5 days.
Freeze: Allow the bars to cool entirely before transferring to an airtight container leaving spaces in-between and with layers of parchment between layers. Freeze for up to 3 months. Note that the crisp texture of the crumble topping will soften upon thawing but they'll taste delish!
Reheat: You can reheat the blueberry oatmeal bars in the microwave for around 30 seconds or until warm.
More Blueberry Recipes to Try
More Bars Recipes to Try
Or you can look through my entire list of healthy desserts, for more inspiration!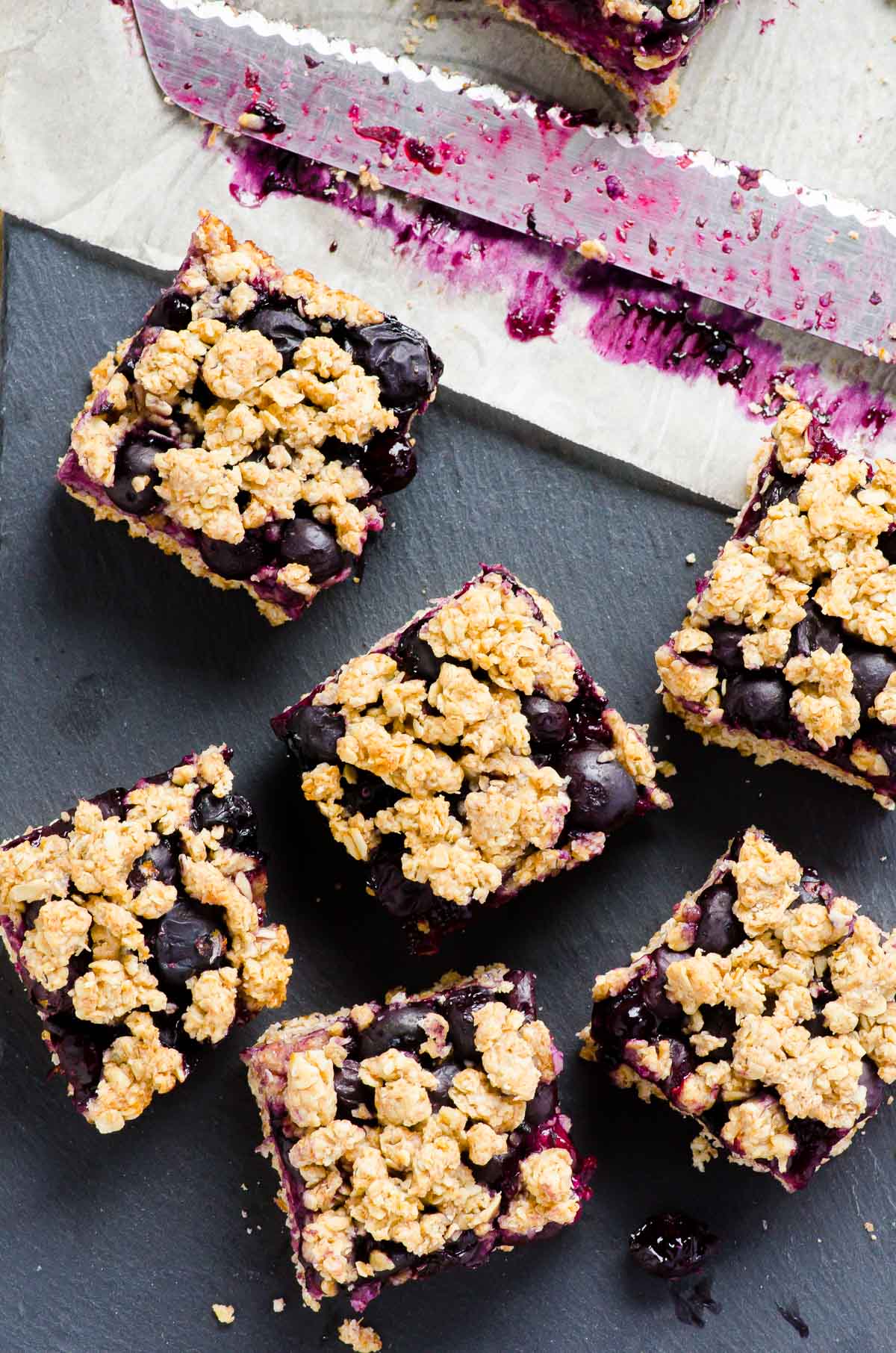 Blueberry Oatmeal Bars
These Blueberry Oatmeal Bars are wholesome, decadent, and packed with juicy blueberries for a fresh and fruity treat any time of the year.
Instructions
In a large mixing bowl, add oats, flour, cane or coconut palm sugar (if using maple syrup add it later with liquids), baking powder, cinnamon and salt; mix well with spatula.

Add maple syrup (only if not using sugar), egg (quickly whisked in a small bowl), coconut oil and applesauce. Mix with a spatula and with your hands more towards the end until well incorporated. Dough will be moist and should stick to one piece, not crumbly.

In a medium bowl, add blueberries, maple syrup (sugar), orange zest, vanilla, cornstarch and stir well.

Place 3/4 dough in prepared baking dish, flatten with spatula and press well with your hands.

Spread blueberry filling on top evenly and crumble remaining dough on top. Make sure crumbs are small – will be easier to achieve with sugar dough, and crumb will be bigger with maple syrup dough.

Bake for 45 minutes. Remove from the oven and let cool completely before slicing into 16 squares.
Notes
Store: Store in a cool dry place for up to 3 days, refrigerate in an airtight container for up to 5 days.
Freeze: Freeze in an airtight container for up to 3 months.
Sweetener of choice: I have included 2 sweetener options: maple syrup or cane/coconut palm sugar. I tried both and I personally prefer the sugar version because bars and their crumb taste and look more like the original. With maple syrup, the bottom layer was a bit fluffier and cake-y but still delicious.
Fresh or frozen blueberries? I also prefer to use frozen blueberries. They pop during baking creating a nice singly thick layer of jam like filling. Fresh blueberries work as well but I found they don't pop as much during baking and stick out.
Flour: You can use only whole wheat or spelt flour. Maybe gluten free flour blend or white flour will work. Almond flour or coconut flours will not work.
Butter: I have not tested but I think it will work. Just make sure it is very soft so you can crumble it.
Other berries: Raspberries, blackberries, Saskatoon berries will work.
Nutrition
Serving:
1
bar
|
Calories:
187
kcal
|
Carbohydrates:
27
g
|
Protein:
3
g
|
Fat:
8
g
|
Saturated Fat:
6
g
|
Cholesterol:
10
mg
|
Sodium:
58
mg
|
Fiber:
3
g
|
Sugar:
11
g