Easy Black Bean Brownies with no flour, no oil and no sugar. You can basically have these fudgy healthy brownies for breakfast.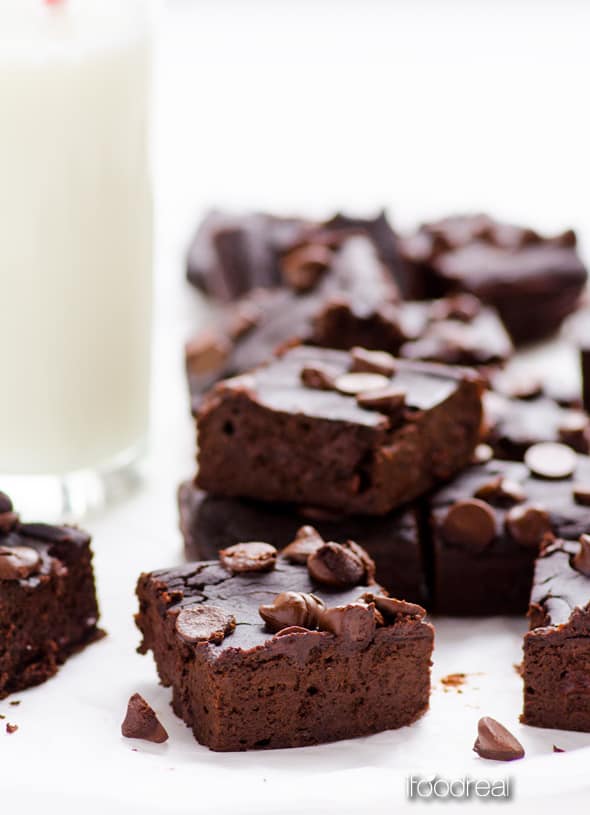 Black Bean Brownie Recipe
You can find fifty 5 star comments below. These black bean brownies are that good! You can have them for breakfast. Yes, they are that healthy! To be exact – sugar free. Kids beg for brownies with black beans. Did you hear me? Children would like to eat beans! Last time one kid called them "beautiful".:)
Are you in? I can guarantee you no one will be able to tell the ingredients this black bean brownie recipe calls for!
Why Use Black Beans in Brownies?
Why use black beans in brownies? Why can't you just make black bean mango salad and leave them alone?
Because it just works. Because flourless black bean brownies are just as easy and fudgy as regular brownies. Because black beans have perfect texture and color to replace flour. And finally, because black beans make eating "all you can eat brownies" concept a reality.
Regular or Medjool Dates?
Most grocery stores carry 2 types of dates: "regular" and Medjool. You can use any. However, I prefer and highly recommend to use Medjool dates. Their meaty and moist texture adds volume and fudgy texture to healthy black brownies. And fresh is best! As dates get older, they dry out and sugars start to crystalize on the outside.
And yes, brownies with dates do not need any other sweetener. Dates contain naturally occuring sugars that are not processed. Essentially, these are sugar free black bean brownies.
Can I Use Stevia or Xylitol?
Many ask if they can skip dates altogether and replace with stevia or xylitol. Unfortunately, you cannot. Simply because dates contribute to the volume of brownie batter. We already skipped flour and oil.
Blender Vs. Food Processor:
I process black bean brownie batter in a high speed blender like Blendtec or food processor. Both work. Batter can have some small chunks of dates and beans. It doesn't have to be smooth.
One thing I can tell you for sure – you will struggle with fitting in all ingredients into a mini food processor. I was being lazy. I didn't want to walk from my studio to the house to get a blender.
I made it work but I don't recommend to load up this little guy that much.
Tips for Best Black Bean Brownies
Drain can with beans. We do not need that gooey liquid.
Line baking dish with parchment paper. It makes brownies easy to cut and remove, and ensures they do not fall apart.
Let brownies cool off almost completely before slicing. I know it's hard but please have patience.
Brownies become even more fudgy the next day.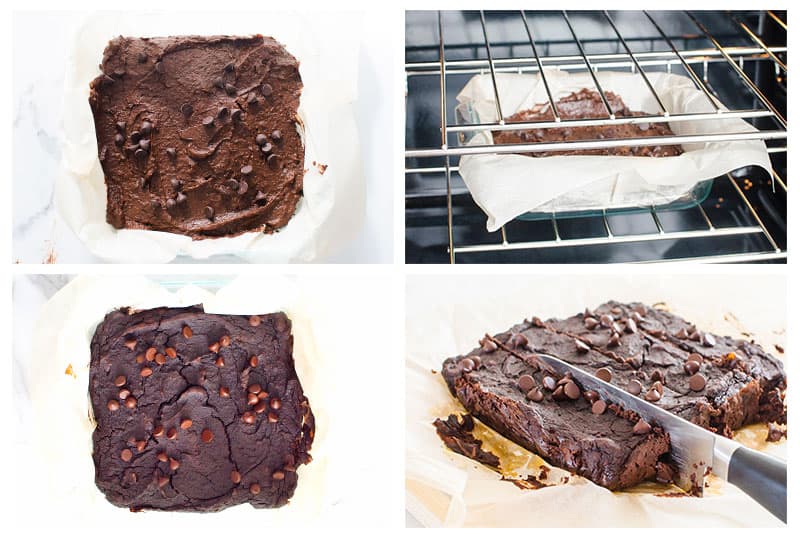 Substitutions for Healthy Black Bean Brownies
I have collected ideas for substitutions from numerous comments below. I follow my simple black bean brownie recipe because I usually have all ingredients on hand. But below is what other readers have tried and worked for them.
Dates
"Did not have dates so we used prunes instead".
"I didn't have dates on hand, so I used raisins…".
Applesauce
"…And I also didn't have applesauce (WHAT?!) so I used an overripe banana".
"I didn't have apple sauce, so I tossed in a small apple" (puree it i an blender or food processor first).
Eggs
" I made them vegan by using 2 tablespoon ground flax + 6 tablespoon water to replace the eggs".
Chocolate Chips
"I also only used 1/8 cup of mini chocolate chips".
"I didn't add the chocolate chips either, to cut down on added sugar, and they still taste great!"
"I didn't have chocolate chips but I did have some cacao nibs, so that's what went in".
Cacao Powder
You can use cocoa powder instead of cacao powder. What's the difference between 2?
As per FoodMatters: "Raw cacao is made by cold-pressing un-roasted cacao beans. The process keeps the living enzymes in the cacao and removes the fat (cacao butter). Cocoa looks the same but it's not.
Cocoa powder is raw cacao that's been roasted at high temperatures. Sadly, roasting changes the molecular structure of the cacao bean, reducing the enzyme content and lowering the overall nutritional value."
Coffee
Brewed coffee adds more depth to chocolate flavor. But you can skip it. Not crucial for the best black bean brownie result.
Black Beans
Black beans are crucial for successful brownies with black beans. Sounds pretty legit.:) Lentils are not a substitute. If you have cooked at home black beans, use about 1 1/2 to 1 3/4 cups.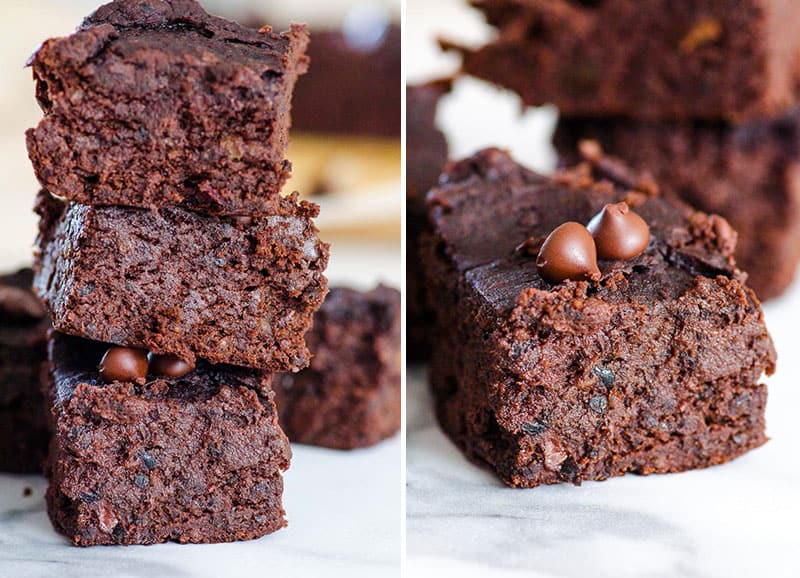 How Many Calories in Black Bean Brownies?
I would like to compare black bean brownie vs. traditional brownie side by side:
Calories: 119 vs. 365 calories
Carbs: 22 vs. 50 grams
Sugar: 14 vs. 33 grams
Saturated Fat: 1 vs. 3 grams
Sodium: 187 vs. 300 grams
Can You Freeze the Brownies?
Yes. Place in an airtight container and freeze for up to 3 months. Thaw on a counter at room temperature for about 30 minutes. I freeze cut up brownies right in Pyrex glass container I bake in. It comes with a plastic lid. Just lift a few with a butter knife and defrost. Perfect!
More Healthy Brownies Recipes to Try
Print
Black Bean Brownies
Easy Black Bean Brownies Recipe with no flour, no oil and no sugar. You can basically have these fudgy healthy brownies for breakfast.
Author:
Prep Time:

5 minutes

Cook Time:

30 minutes

Total Time:

35 minutes

Yield:

16

brownies

1

x
Category:

Dessert

Method:

Oven

Cuisine:

North American
Scale
Ingredients
14 oz

can low sodium black beans, drained & rinsed

2

eggs, large

1/2 cup

applesauce, unsweetened

15

small or 10-12 Medjool dates, pitted (

1/2 cup

packed)

2 tbsp

brewed coffee (optional)

1 tsp

pure vanilla extract

1/2 cup

cacao powder

1/2 tsp

baking soda

1/4 tsp

salt

1/4 cup

+

1/4 cup

chocolate chips
Cooking spray (I use Misto)
Instructions
Preheat oven to 350 degrees F. Line 8 x 8 square baking dish with unbleached parchment paper and spray with cooking spray.
In a powerful blender or food processor add ingredients in the following order: eggs, applesauce, black beans, cacao powder, coffee, vanilla, baking soda, salt and dates; then process until smooth. Add 1/4 cup chocolate chips and stir to mix.
Pour batter into baking dish, top with 1/4 cup chocolate chips and bake for 30 minutes.
Remove from the oven and let brownies cool for 5 minutes. Transfer to a cooling rack and let cool completely before slicing. Cut into 16 squares.
Store: Refrigerate in an airtight container for up to 5 days or freeze for up to 3 months.
Notes
I have to say that it's crucial you use parchment paper and let brownies cool before slicing.
★ Did you make this recipe? Please give it a star rating in the comments.