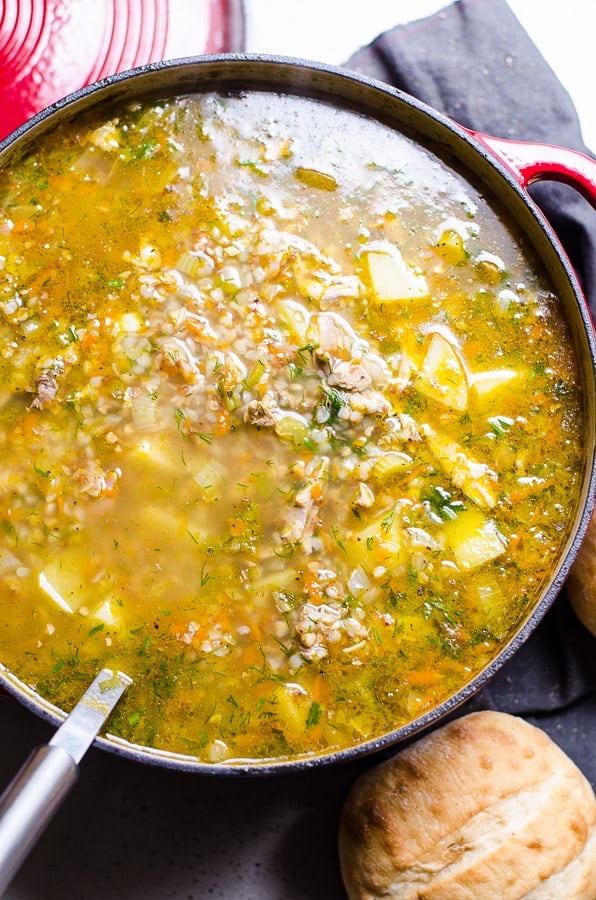 At Easter dinner, I was given a turkey carcass (thank you, Katie – you know me oh so well). It came from a large turkey that fed over 20 people, with a substantial amount of meat on it. How could I say "no"?!
I can't stop but compare my life "before" and "after". Yes, even a turkey carcass does that to me, yes. A carcass from my childhood had no meat on it, just bones, which was used for making 2 soups. You boil the carcass so many times until its broth has almost no floating fat bubbles. Meat of the carcass is stretched to make a filling for a massive amount of bliny, pirogies or stuffed potato patties.
A turkey carcass of my 30s has enough meat for me to nibble on while preparing the turkey stock to cook, after it is cooked, to make the buckwheat soup for 4 people to eat twice, and to freeze another stock with meat for making soup #2. Whoa, that is so much food!
Buckwheat soup might be something you have never heard of and I feel like it is my duty to share with you. I understand it is "different" and something that will never get 10,000 saves on Pinterest, but I'm living new me this year and blogging true myself, and doing what feels right.
You should absolutely try this wholesome buckwheat stir fry, and right now the right thing to do would be to introduce you to a buckwheat soup. Because I feel like quinoa vegetable soup is so boring by now, and you will never ever get the same flavour from quinoa as you get from buckwheat in a soup!
I always have wondered why and how quinoa caught such a popularity in a health world during the last 7 years? Why not buckwheat, it takes the same 15 minutes to cook (one of the quinoa's benefits over brown rice)? Do you know what makes certain health food popular? I would love to hear your thoughts.
You might have seen buckwheat in a bulk section of the store, which is raw and green in colour. What you really need to look for to make proper buckwheat soup is "kasha" aka roasted buckwheat. Thank you to one of my readers that pointed out the difference in local supermarkets. You can find roasted buckwheat in European delis and markets (see my package) or health food stores and aisles chances are like this one). It is crucial that you buy ROASTED buckwheat!
So, this is a true Ukrainian buckwheat soup I grew up with, still make to this day and that my Canadian born kids love (same story with my Ukrainian borscht)! Buckwheat gives soup such a nutty and distinct flavour, you gotta try! I promise you will love it!
If you are itching to make the soup now and do not have a leftover turkey carcass, feel free to use a whole chicken, turkey legs and other parts, soup bones, beef bones, anything goes. Slavic people have invented the so "miracle" bone broth many centuries ago before any American craze and fad had caught it. -;) When I first saw all the hype about bone broth on social media, I literally Googled what it was to make sure I understand it is what it really is. I will never seize to be amazed, I guess.
Just like a true Ukrainian woman, I started soup for dinner at 11AM. This is what my grandma always did. First of all, we ate soup for lunch at 2PM. Secondly, having a pot of soup made eliminates the question "what's for lunch/dinner?" for a few days. It reheats wonderfully. I always say if your goal is to eat healthy, make large pots of food like soup and stews to have on hand.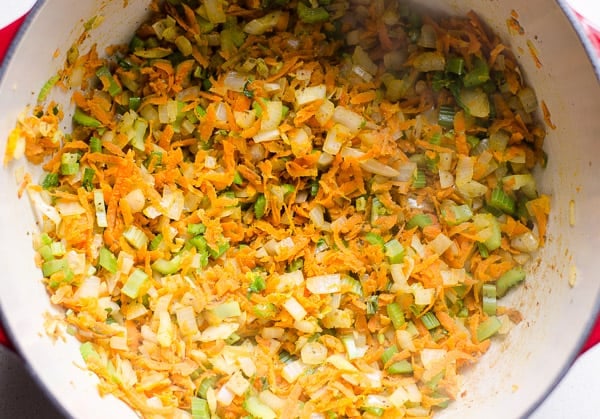 To flavour the soup, traditionally fried onions, carrots and celery are used. Potatoes and buckwheat add healthy carbs and "fill" the soup. And fresh herbs like dill or parsley – another level of flavour.
This buckwheat soup is so delicious, I have been making it all my life and am yet to remember the time I disposed of any leftovers. Never happens.
Did you notice I bought a new dutch oven? Yes, I got sick and tired of my blue one in all soup and stew photos and finally gave in and spent money on a 6 qt. Lodge dutch oven. My blue one is another brand name (I think Lasera or smth like that) and its interior has lost its white colour. I am very curious to see how a well-known brand name holds up.
This is the container with turkey stock and meat I froze for next time. All I will have to do is add vegetables, grain and herbs. Simple, easy, tasty and affordable healthy food!
Have a great weekend! Actually, this buckwheat soup makes a great weekend food covering quite a few meal times.
P.S. Can you believe I used no garlic?!

[ratings]
Print
Buckwheat Soup with Leftover Turkey
Give Ukrainian Buckwheat Soup Recipe with leftover turkey carcass, vegetables and kasha a chance. Healthy, wholesome and delicious soup that makes enough for leftovers and extra stock to freeze.
Author:
Prep Time:

10 minutes

Cook Time:

1 hour 20 minutes

Total Time:

1 hour 30 minutes

Yield:

12 servings
Ingredients
Leftover turkey carcass*
Cold water
3 bay leaves
5 peppercorns
1 large onion, chopped
3 large celery stalks, chopped
3 large carrots, coarsely grated
1 tbsp avocado oil
4 medium medium potatoes
1 tsp oregano, dried
1 tsp thyme, dried
2 tsp salt
1/4 cup dill or parsley, finely chopped
Instructions
In a large stock pot (mine is 12 quart), add enough cold water to cover the turkey, bay leaves and peppercorns. Cover with the lid half way and bring to a boil on medium heat. Reduce heat to low and cook for 1 hour. I highly recommend to transfer some of the stock into a large glass container and freeze for later at this point.
Preheat large ceramic non-stick skillet on medium heat and swirl oil to coat. Add onion, celery and carrots, saute for 5 minutes, stirring occasionally.
Remove carcass onto a large cutting board or platter, and add pan fried vegetables to the pot with stock along with potatoes, buckwheat, oregano, thyme, salt and pepper. Cover and bring to a boil on medium-high heat, then reduce heat to low and cook for 15 minutes.
While soup is cooking, separate turkey meat from carcass. Add some to the container with stock you are planning to freeze (highly recommend). The rest – add to the pot with cooked soup (turn off heat at this point) along with herbs. Serve buckwheat soup hot with a slice of good bread. And don't forget to come back and thank me.
Store: Refrigerate in a pot for up to 5 days or freeze in an airtight container for up to 3 months.
Notes
*You can use raw whole chicken, turkey legs and other parts, soup bones, beef bones. Add a whole onion to cold water with bones (discard when broth is ready) and strain foam occasionally. **Do not buy raw and green in colour buckwheat, it has to be roasted.
★ Did you make this recipe? Please give it a star rating in the comments.