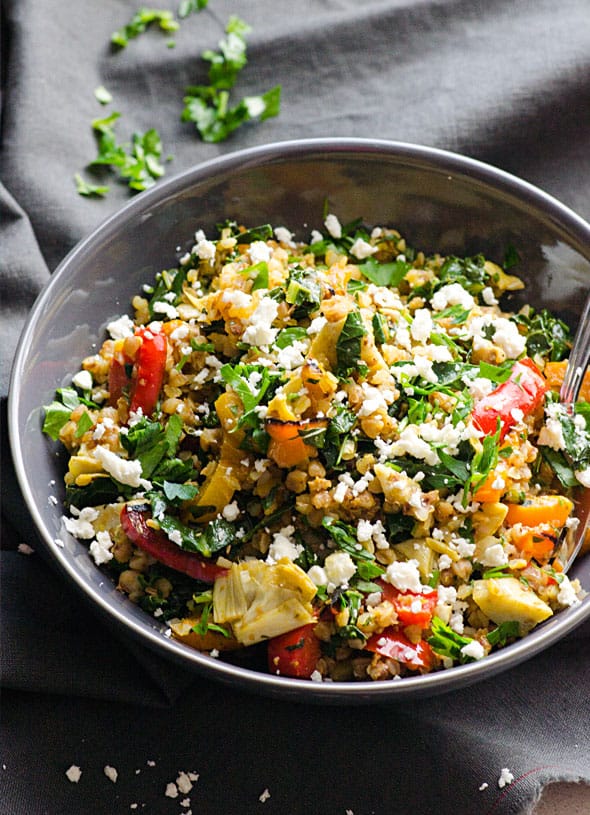 So, this buckwheat recipe that made you probably scratching your head thinking "what is this stuff, Olena?"…
Let me introduce you to Ukrainian quinoa – buckwheat. I honestly am puzzled why buckwheat hasn't exploded in America yet like quinoa has. Buckwheat takes the same 15 minutes to cook, is gluten free and with mind blowing nutritional properties just like quinoa. Very similar high protein and fiber numbers. And it is low glycemic.
So, if you get tired of quinoa once in a while like I do, let me introduce you to a 30 minute vegan buckwheat stir fry that you can put your own spin on depending what is in your fridge.
Here is what roasted buckwheat groats look like. Now, please do not ignore the word "roasted". I highly recommend to buy only dark brown colour roasted buckwheat because groats keep their shape thus not becoming a mush. Plus the taste is to die for! Raw greenish pale buckwheat groats sold in most bulk sections of traditional supermarkets are no good. You will hate buckwheat if you cook that stuff. I do not want to ruin your first impression with this super seed.
And despite its name buckwheat has no wheat or any ties to grains. It is a fruit seed. Just like quinoa is a seed and not a grain.
So, where to buy roasted buckwheat groats?! In ethnic food stores like European and Russian stores. I also have seen it in small grocery stores that carry a variety of specialty foods. Buckwheat might go under name "Kasha". Or luckily Bob's Red Mill knows his stuff and you can buy roasted buckwheat on Amazon. Wohoo.
Technically you could buy raw buckwheat and roast it in the oven but I haven't tried. Share if you have.
Cooking buckwheat takes 15 minutes.You do not need any mad cooking skills, just cook like quinoa or follow the package instructions. Honestly, no rice cooker required. The key is not to open the lid and not to peak inside. Leave the pot alone for 15 minutes on low and your buckwheat will come out fluffy and falling apart. I ate my fair share of mush, so I learnt.
And what does buckwheat taste like?! Well, roasted, nutty and super delicious! Hard to explain. I have the fondest childhood memories of buckwheat and my Canadian born kids love it too. For dinner, we usually had it with ground chicken burgers or boiled European style sausage and pickles on a side. And for breakfast, we would mix hot buckwheat with butter, sugar and milk. Best healthy cereal ever! I should post that recipe.
So, on Monday I decided to make buckwheat stir fry. I had a bunch of vegetables and herbs from Saturday's farmers market. Some leftover artichoke hearts in the fridge and parsley from my garden that had to be used. I snipped it off as I was trimming growing too tall parsley and placed in a glass with cold water. In a fridge, it keeps for a few days – just a tip for you.
I also just received a few free jars of red palm and buttery flavour coconut oils. So, I thought I would add those healthy fats and vitamins to my buckwheat stir fry.
Unfortunately karma was to get me. Seriously. This oil turned out to cost $16. I just purchased new French press because our old one was broken by kids. So, this morning Alex was about to pour coffee, opened the kitchen cabinet to reach for something (I wonder what that was) and this palm oil jar fell out on top of new French press. Ugh. Still good oil and I need to buy new press. That is how money go to waste. Ugh.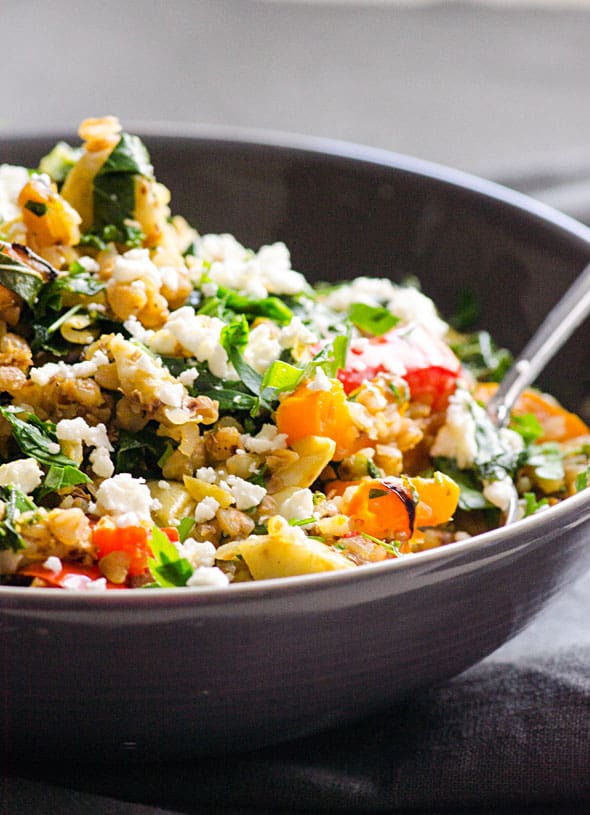 You don't have to use feta cheese on top. I did solely for picture purposes. In fact, I am going dairy free for 3 weeks because I suspect it causes acne on my face. Cystic acne like I have never had before. Last week I enjoyed Greek yogurt a bit too much I think and this week my face is not pretty. So, I am experimenting to see if dairy is an issue. If not, next on the list is coffee. Ouch.
Anyways, enjoy this delicious buckwheat recipe!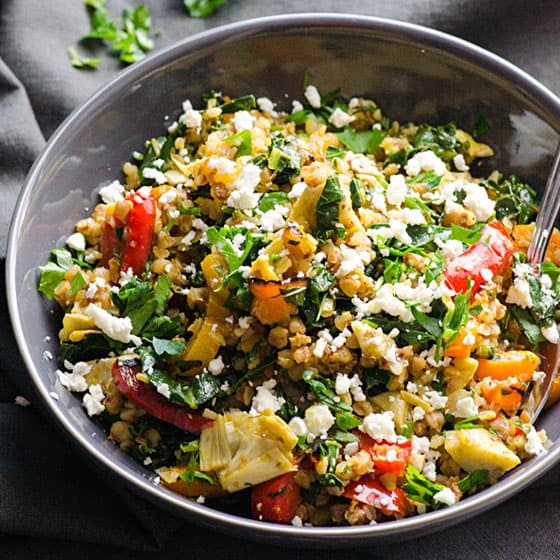 Buckwheat Stir Fry with Kale, Peppers & Artichokes
Buckwheat Stir Fry Recipe with cooked roasted buckwheat groats, kale, pepper, marinated artichokes and optional feta cheese for a healthy 30 minute dinner.
Print
Rate
Ingredients
Stir fry:
1

bunch kale

ribs removed & finely chopped

4

large garlic cloves

minced

4

large bell peppers

cut into strips

2

cups

marinated artichoke hearts

drained & chopped

4

tbsp

coconut or red palm oil

divided

1

tsp

salt

divided

1/2

cup

parsley

finely chopped

1/2

cup

basil

finely chopped
Instructions
My foolproof buckwheat cooking method:
In a medium pot, add buckwheat; rinse and drain with cold water a few times. Add 3 cups water and a pinch of salt. Cover and bring to a boil. Reduce heat to low and cook for 15 minutes. Do not open the lid. Remove from heat, let stand for 3 minutes and fluff with a fork.
Stir fry:
In the meanwhile, preheat

ceramic non-stick wok

on medium heat and swirl 1 tbsp of oil to coat. Add garlic and sauté for 10 seconds. Add kale and 1/4 tsp salt; sauté until shrunk in half, stirring occasionally. Transfer to a medium bowl.

Return wok to high heat and swirl 1 tbsp of oil. Add peppers and 1/4 tsp salt; sauté until golden brown, stirring occasionally. Transfer to a bowl with kale.

Reduce heat to low and add remaining 2 tbsp of oil. Add cooked buckwheat and briefly stir it to coat in oil. Turn off heat. Add previously cooked kale and peppers, artichoke hearts, parsley, basil and remaining 1/2 tsp salt. Stir gently and serve warm.
Store: Refrigerate in an airtight container for up to 4 days.
Nutrition
Serving:
1.25
cups
|
Calories:
263
kcal
|
Carbohydrates:
33
g
|
Protein:
7
g
|
Fat:
13
g
|
Saturated Fat:
7
g
|
Sodium:
503
mg
|
Potassium:
468
mg
|
Fiber:
6
g
|
Sugar:
3
g
|
Vitamin A:
6105
IU
|
Vitamin C:
132
mg
|
Calcium:
83
mg
|
Iron:
2
mg
Join today and start saving your favorite recipes
Recipes and images are a copyright of ifoodreal.com. It is against the law to republish recipes anywhere including social media, print and all world wide web. Nutritional info is provided for informational purposes only and to the best knowledge.