Healthy Buckwheat Stir Fry with vegetables in just 30 minutes. It's nutrient dense and combines your choice of vegetables with grain free, gluten free, nutrient and protein dense roasted buckwheat groats!
Other healthy veggie stir fry recipes our family loves include cabbage stir fry, cauliflower stir fry, and this broccoli mushroom stir fry!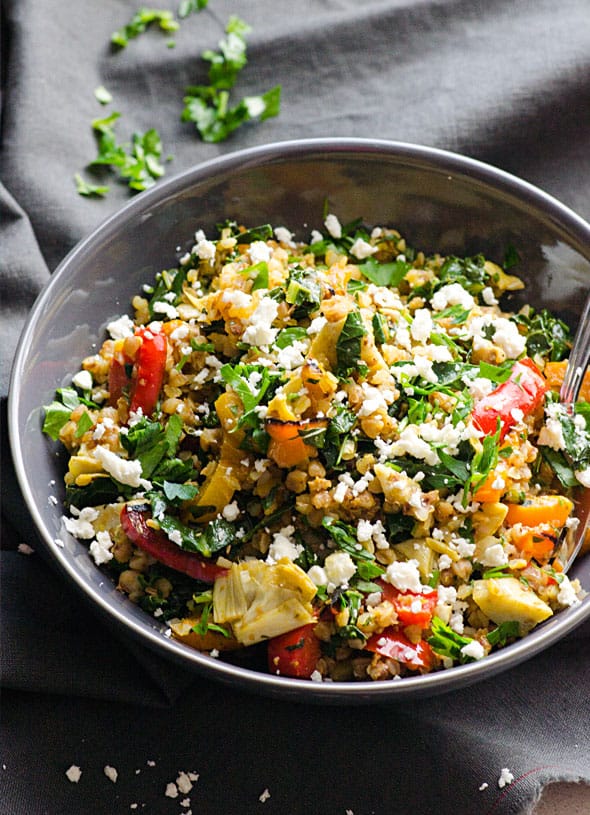 This buckwheat stir fry combines mixed vegetables with kasha, aka roasted buckwheat groats, for a simple meal packed with nutrients.
It's a healthy 30 minute buckwheat recipe with a handful of versatile ingredients, vegetarian friendly and perfect for clearing out your crisper drawers and pantry, just like vegetable soup or easy vegetable frittata.
Best of all, you can enjoy this healthy veggie stir fry with buckwheat recipe as a healthy lunch idea, side or dinner main with tons of proteins and meals! Growing up, we ate a buckwheat dish with ground chicken burgers.
What is Buckwheat?
Though wheat is in its name, buckwheat is a wheat free, grain free, gluten free seed similar to quinoa. In fact, I've nicknamed this pseudo grain as Ukrainian quinoa.
It cooks in just 15 minutes, has a nutty flavor and chewy texture, and I'm honestly shocked that it isn't more popular in America.
Buckwheat contains 155 calories and 6 grams of protein, and 5 grams of fiber per cup. It contains antioxidants, all nine essential amino acids, and several vitamins and minerals, including magnesium, zinc, folate, iron, and vitamin B6.
The combination is beneficial to heart health, blood sugar levels, and makes for a great plant based source of protein, perfect for this simple buckwheat recipe!
What is Kasha?
Kasha is roasted buckwheat and also the name give to buckwheat when it is made into porridge by combining the groats with water! For this savory buckwheat dish you will need roasted buckwheat groats or kasha.
So, where to buy roasted buckwheat groats?! You'll find it in ethnic food stores, particularly Eastern European stores. It's also available in several health food stores or could be bought on Amazon, courtesy of Bob's Red Mill.
Technically you could buy raw buckwheat and roast it in the oven but I haven't tried. Share if you have.
Ingredients and Substitutions
Roasted buckwheat groats: Also called kasha, use dark brown roasted buckwheat groats not pale green raw buckwheat. They taste better and hold their shape best for this buckwheat and vegetable stir fry. You could substitute quinoa.
Water: For more flavor, use homemade Instant Pot chicken stock or vegetable stock instead of water.
Himalayan pink salt: To season the water. Sea salt will also work.
Vegetables: I used bell pepper, kale, and marinated artichoke hearts for this healthy veggie stir fry. However, experiment with your choice of fresh or frozen stir fry veggies.
Aromatics: I used fresh garlic cloves. Adjust the amount to taste.
Oil: Use any neutral cooking oil like coconut oil, avocado oil, or climate pledge friendly red palm oil (pictured below).
Herbs: Use finely chopped fresh parsley and basil for fragrant freshness in this buckwheat dish.
If you have a bunch of fresh herbs in your fridge, place them upright in a glass/jar with some water. It helps keep them fresh for an extra day or two!
Salt: For seasoning. Adjust the amount to taste. Alternatively, you may prefer to use soy sauce or gluten free coconut aminos instead of regular salt for this healthy buckwheat recipe.
How Do You Cook Buckwheat?
Here is how to cook buckwheat for stir fry in 3 simple steps.
First, rinse the buckwheat well. Then add it to a medium saucepan along with three cups of water and a pinch of salt. Cover with a lid and bring it to a boil over high heat.
Then, reduce to a low simmer and cook for 15 minutes without touching the lid.
Finally, remove it from the heat, allow it to stand for three minutes, then fluff it up with a fork.
You can do this at the time of preparing the healthy veggie stir fry recipe or cook it in advance and use day old leftovers for this buckwheat recipe.
How To Make Buckwheat Stir Fry?
Chop the ingredients: While the buckwheat stands, mince the garlic, cube the artichoke, and chop the kale and bell peppers into strips. Also, finely chop the parsley and basil.
Sauté the garlic and kale: Heat a large non-stick skillet or wok over medium heat and add a tablespoon of oil. Add the garlic and sauté for 10 seconds. Then add the kale and ¼ tsp salt. Sauté until it's shrunk by half, stirring occasionally. Then, transfer it to a bowl.
Stir fry the remaining ingredients: Add another tablespoon of oil into the pan, and add the peppers and another ¼ teaspoon of salt. Stir fry until golden brown and tender crisp. Then add to the bowl with the kale.
Assemble the buckwheat stir fry: Finally, add the remaining two tablespoons of oil to the pan. Add the buckwheat and briefly stir fry until it's coated in the oil. Then remove it from the heat, mix in the stir fried vegetables and all the remaining ingredients. Stir gently, adjust the seasoning, and then enjoy this buckwheat recipe immediately!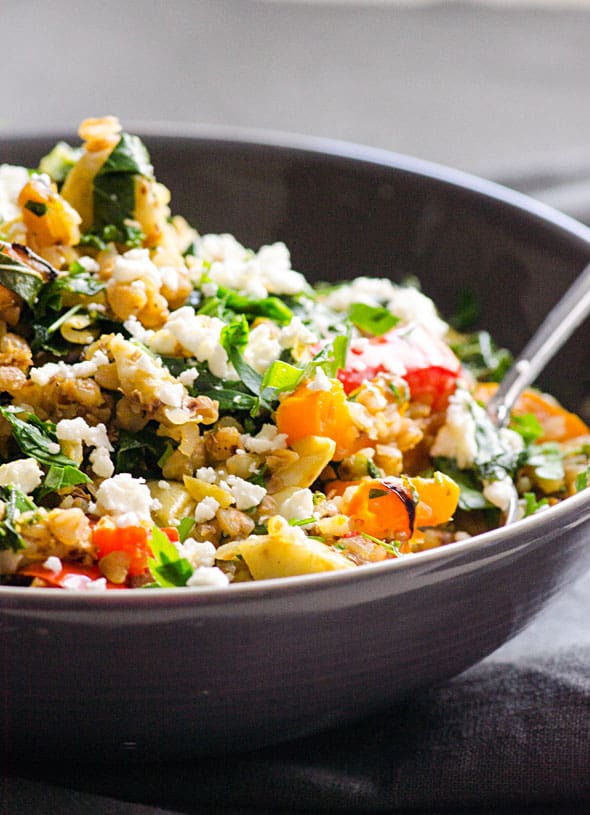 How to Serve
This vegetable and buckwheat stir fry can be enjoyed as is after cooking or sprinkle on a bit of feta cheese for extra creaminess as seen in the photos.
Buckwheat recipe can be served for healthy sides alongside the protein of your choice like baked chicken breast or
ground turkey meatloaf.
Or keep this a vegetarian friendly meal and add heartiness with fried tofu recipe.
FAQs
What is the best water to buckwheat ratio?
I always recommend using a 2:1 ratio of water or stock to the buckwheat groats.
Why is my buckwheat mushy?
First, it's important that you're using roasted buckwheat, not raw. Also, leave the lid completely untouched while it cooks. Otherwise, you can end up with a pan of mush which does not taste good in any buckwheat recipe.
What are other ways to eat buckwheat kasha?
You can enjoy buckwheat in place of grains like rice and quinoa in many dishes, including soups, stews, other stir fries, as a simple side dish, or to make a cold buckwheat salad. You can also enjoy it as a breakfast porridge style dish with sugar, butter, and milk.
Other Healthy Recipes with Grains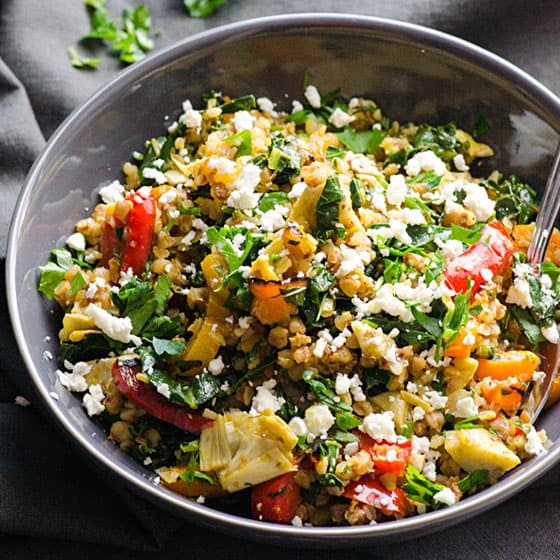 Healthy Buckwheat Stir Fry with Vegetables
Healthy Buckwheat Stir Fry with vegetables in just 30 minutes. It's nutrient dense and combines your choice of vegetables with grain free, gluten free, nutrient and protein dense roasted buckwheat groats!
Instructions
My foolproof buckwheat cooking method:
In a medium pot, add buckwheat; rinse and drain with cold water a few times. Add 3 cups water and a pinch of salt. Cover and bring to a boil. Reduce heat to low and cook for 15 minutes. Do not open the lid. Remove from heat, let stand for 3 minutes and fluff with a fork.
Stir fry:
In the meanwhile, preheat ceramic non-stick wok on medium heat and swirl 1 tbsp of oil to coat. Add garlic and sauté for 10 seconds. Add kale and 1/4 tsp salt; sauté until shrunk in half, stirring occasionally. Transfer to a medium bowl.

Return wok to high heat and swirl 1 tbsp of oil. Add peppers and 1/4 tsp salt; sauté until golden brown, stirring occasionally. Transfer to a bowl with kale.

Reduce heat to low and add remaining 2 tbsp of oil. Add cooked buckwheat and briefly stir it to coat in oil. Turn off heat. Add previously cooked kale and peppers, artichoke hearts, parsley, basil and remaining 1/2 tsp salt. Stir gently and serve warm.
Notes
Make ahead:

You can wash and chop the vegetables 24 hours in advance and cook the buckwheat 1-2 days in advance. Store them in separate airtight containers in the fridge.

Store: Refrigerate in an airtight container for up to 4 days. Reheat in microwave or stovetop.
When using frozen vegetables; There is no need to thaw them first, meaning less prep time. Instead, simply cook for a few minutes extra as needed.
Prepare the mise en scene: The stir-fry portion of this recipe moves incredibly quickly. For that reason, make sure the vegetables and ingredients are prepped and nearby before you heat your skillet or wok.
Don't touch the lid: When cooking the buckwheat, it's essential to leave it untouched. Otherwise, you'll affect the cooking process and will likely end up with undercooked or overcooked, mushy buckwheat.
Chop the vegetables evenly: That way, they'll stir fry evenly.
See recipe post for more tips and FAQs.
Nutrition
Serving:
1.25
cups
|
Calories:
263
kcal
|
Carbohydrates:
33
g
|
Protein:
7
g
|
Fat:
13
g
|
Saturated Fat:
7
g
|
Sodium:
503
mg
|
Fiber:
6
g
|
Sugar:
3
g